Phuket is world famous not just for all the beautiful beaches and day trips but especially for its infamous nightlife that attracts both young Thai girls from the remotest corners of the country (such as Isaan) as well as male foreign tourists and expats that find their paradise here when they can live out their sexual fantasies in the scene of this tropical wonderland.
The range of nightlife venues as well as the different types on how to hook up with Thai girls in Phuket are as diverse as in the other nightlife hotspots in Thailand like Bangkok and Pattaya. There are countless of beer bars, go go bars, happy ending massage salons, soapy massage parlors, nightclubs, street hookers etc. Not even mentioning all the Farang-friendly Thai ladies with "regular" jobs that are super easy to arrange dates with on Thai Friendly.
Phuket Nightlife Overview
If you're coming to Phuket for partying and the girls, the best place to stay is definitely Patong Beach. It's home of the infamous Bangla Road with countless of go go bars, beer bars and the island's best nightclubs. Leave alone all the massage shops and many many more bars spread all over the place.
Neighboring Karon Beach ranks no. 2 in the nightlife scene and offers dozens of beer bars and (by now even more) dirty massage shops. Kata Beach is similar but rather low key and the options way more limited, and all other beach towns in Phuket may look nice on the postcard but they are more relaxing than fun as they don't have to offer more than a handful of bars.
Phuket Town, the capital of the province on the eastern side of the island does have a lot of bars, nightclubs and Thai style karaoke and coyote places (such as Pink Lady on Phang Nga Road near the bus station). The main bar area in Phuket Town can be found along Ratsada Road with mainly local Thais partying and very few foreigners.
Beer Bars in Phuket
As already explained 80-90% of all beer bars in Phuket can be found in Patong. And again the majority of beer bars in Patong are located on Bangla Road and on the various Sois north of it, as well as on the very southern end of the beach road (see the exact locations on the map below). They are usually equipped not just with sexy Thai girls but also with pool tables (20 Baht a game) and TV screens showing live sports.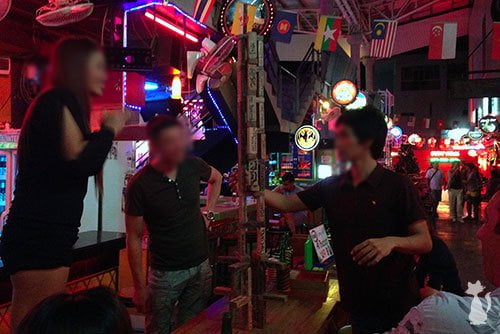 The concept is easy: You take a seat and order a drink that's usually fairly cheap (70-90 Baht per bottle of beer). It won't take long until one of the girls comes to you and starts small talk "Hey, how are you, what's your name, where you from, you come to Phuket for holiday?" After a while she will ask you for a lady drink which averages 200 Baht in Patong (slightly cheaper in Karon & Kata around 150 Baht).
Of course you may take out girls from the bar and then you'll have to pay a bar fine (around 600 Baht). The price for short time (one shot) / long time (several shots, usually until the next morning) has to be negotiated with the girl. The going rates are 1,000 – 2,000 Baht for ST and 2,000 to 4,000 Baht for LT.
Go Go Bars in Phuket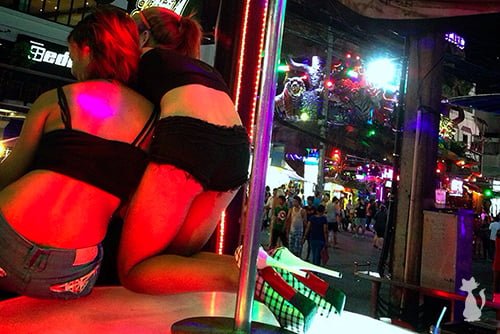 No visit to Phuket without checking out the Go Go Bars. They are all located along Bangla Road and its side Sois in Patong.
They generally don't have admission fees (it's different for the dedicated Ping Pong show venues where they ask for like 800 Baht for a beer). You just go inside, find a nice seat to watch the girls dancing on stage, order your drink, relax and enjoy. Some places have drink specials for 99 Baht, otherwise prices range between 160 and 200 Baht. Lady drinks in Phuket's Go Go Bars are among the priciest in Thailand, usually between 200 and 250 Baht. Similar for the short time rate that's hard to negotiate below 2,000 Baht and bar fines between 800 and 2,600 (!) Baht. Since the offer of Go Go Bars in Patong is huge and their quality very different:
Nightclubs in Phuket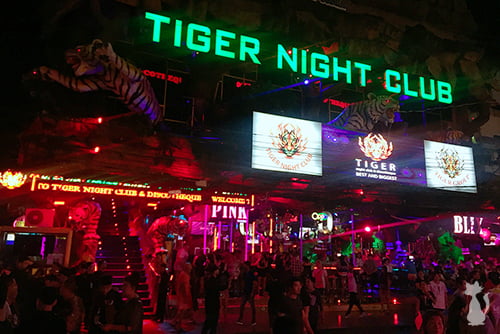 Patong has a diverse nightclub scene and every place tries to attract as many Thai ladies as possible (free entrance, free drinks etc.). Not just the "normal" girls like students or girls with regular jobs but also freelancers and all the chicks from the beer bars, go go bars and massage shops that come to party in the clubs after finishing work. Most night clubs in Patong have no cover charge while some ask for 200 or 300 Baht with that price including one free drink.
The best nightclubs are all conveniently located in the Bangla Road area: Tai Pan Night Club, Tiger Disco & Illuzion.
There are also quite a few clubs in Phuket Town such as Sound and Comics that mainly cater to the local Thais but can be fun for you as a foreigner too.
Soapy Massage Parlors in Phuket
Even though the range of Soapy Massage Parlors in Phuket isn't nearly as huge as in Bangkok, Pattaya and Chiang Mai – there are a couple of places where you can spend a couple of hours and feel like in heaven.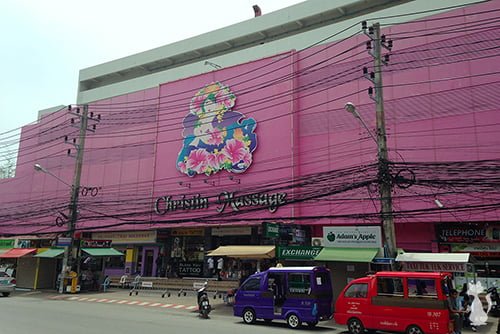 Christin Massage is the biggest and most famous soapy in Phuket. It's the huge pink building you cannot miss on Rat-U-Thit Road. The fishbowl is quite spacious but unfortunately the seating area isn't, so just go right in front of the glass and choose a girl you like. The selection is excellent even in the early afternoon. They used to divide the girls into three categories but now it's one price for everyone: 3,300 Baht for the full 1.5 hour program. Seems pricey, but the girls are extremely hot and make sure you have a memorable time so it's worth it if you compare it to what you normally pay for an average looking go go dancer.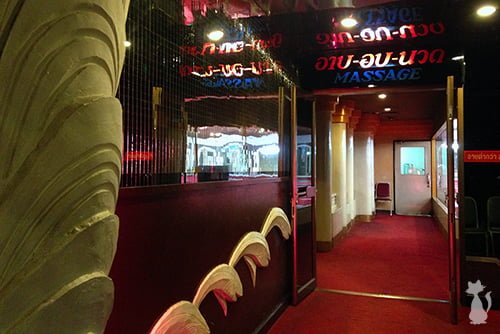 Most of the soapy massage parlors in Phuket Town are closed now (including the Grand Plaza, I checked). One place that is still up and running can be found at the Pearl Hotel and is simply called what it is: Aap-Op-Nuat (อาบอบนวด, bath, steam, massage). The selection and quality of girls isn't nearly as great as in Christin's, no seating area and the rooms are rather small and creepy. The price is 2,600 Baht for all girls, 1.5 hours including everything. The main reason for picking the Pearl Hotel over Christin's is that the place doesn't see a lot of Farangs so it can be a more exciting experience with these girls.
Happy Ending Massage in Phuket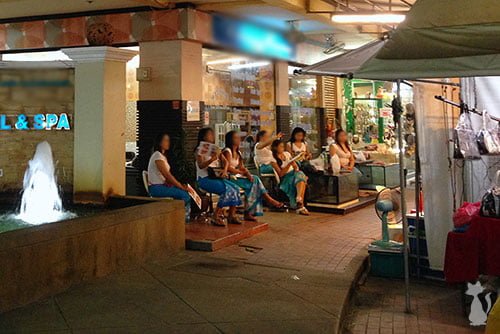 Besides the soapy massage parlors there are countless of small happy ending massage salons spread all around the beach towns. Especially in Patong, it's safe to say that there are now even more of these massage shops than beer bars! Well seems like a lot of girls prefer to just sit and wait for customers while playing on their phones instead of getting bellies by drinking coke and beer all day. Standard rates are 250 Baht for Thai massage and 300 Baht for Oil massage (1 hour). Extras have to be negotiated with the girls, it's generally 300-500 Baht for hand job, 500-800 Baht for blow job and 800-1,500 Baht for sex (the latter two are not always offered).
Ladyboys in Phuket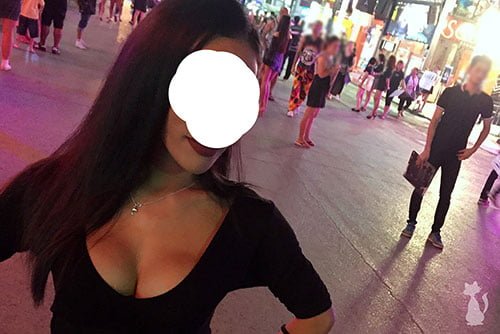 I know most of you guys don't like it when I talk about ladyboys here on Thailand Redcat, but I just noticed that more and more tourists think about trying their services. Thailand is world famous for its shemales, and of course Phuket is one of the main hot spots to meet them. These ladyboys work in the same types of places like the girls – beer bars, massage salons, night clubs, on the streets etc. I thought it's the best idea to cover that topic in a separate guide:
Street Hookers in Phuket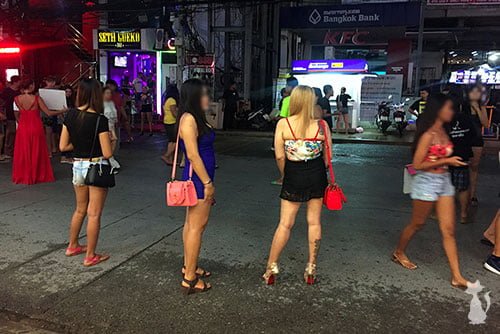 You can save a few hundred Baht avoiding bar fines and getting slightly cheaper rates by picking up a (rather average looking) street hooker on Patong Beach right opposite the entrance to Bangla Road. They usually ask for 1,000 Baht, but it's not hard to get it down to 700 or 800 Baht. Some also do hand jobs on a quiet spot right on the beach for as low as 200-300 Baht.
Another popular area for street hookers is at the clock tower in Phuket Town.
Map of Nightlife in Phuket
Video of Nightlife in Phuket