There are many reasons to give Hat Yai a visit. Some just consider it as a quick stopover on their travels from Thailand to Malaysia as it's the closest major town from the border at Sadao. Hat Yai is also hugely popular among Malaysians and Singaporeans to come for a weekend trip – and many of them not just for cheap market shopping.
No matter if you are spending just one night during your travels south or actually want to explore Hat Yai for several days, as soon as the sun sets you'll ask yourself where to go for a good beer, live music or other entertainment. I have been to Hat Yai six times or so and so here comes my nightlife guide for you.
Bars in Hat Yai
Thamanoonvithee Road has by far the highest concentration of bars in Hat Yai. While the places around the railway station as well as near the Lee Garden Plaza are mostly Farang oriented, the closer you get to the university at the eastern end of the road the more local Thai bars you will find. Most of the bars have daily live music from around 9pm and some also have pool tables and TV screens showing live sports (usually football). You can't really compare the bars in Hat Yai with the ones in other major cities in Southern Thailand like Phuket or Krabi:
You will find only few bar girls working in these places, however that doesn't mean there aren't a lot of nice and open minded Thai ladies hanging out, some of them being freelance hookers and some just out for fun.
Among the most popular foreign oriented bars on Thamanoonvithee Road are Post Laser Disc, The Pubb, Moon Bar, Lion Bar and Rock Palace. The bar scene in Hat Yai is relatively quiet on weekdays while on Fridays and Saturdays you have a lot more of the town's young folk pouring into the bars, especially students and young office workers.
Soapy Massage Parlors in Hat Yai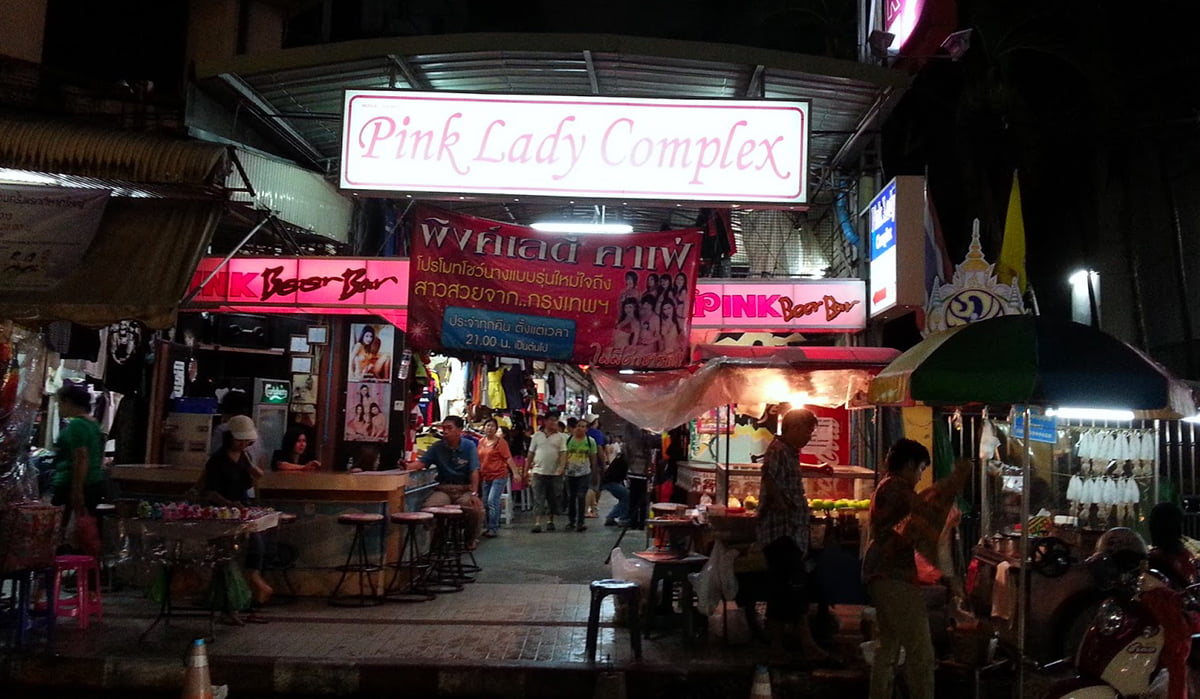 A fair share of the male foreign guests to Hat Yai, especially the Chinese Malay and Singaporeans, don't come for the cheap market shopping and temple exploring, but for the huge variety of commercial sex in town. There are several different options for massages alone: You can book a massage girl at most hotel receptions to come to your room (the going rate is 300 – 400 Baht for a one hour massage and 1,000 Baht to 2,000 Baht for short time depending on how beautiful the girl is and your negotiation skills).
Then there are countless of smaller massage shops all around downtown, especially near Lee Garden Plaza. You can usually tell from the length of the girl's skirts if they offer additional services or not. Rates are similar to the ones mentioned above.
The area around Lee Garden Plaza as well as along Thamanoonvithee Road is where most of Hat Yai's street hookers hang out.
Hat Yai also has a variety of soapy massage parlours. The most famous one is without doubt the Pink Hotel (formerly Pink Lady Complex) located just about 50m from Lee Garden Plaza. The entrance is kind of hidden as you have to walk through a small market first, so look out for the big pink sign on the side of the road. Once you walk in you will just have to let reception know that you are looking for a soapy massage and they will take you to the lobby with the fishbowl arrangement and beautiful numbered white skinned girls sitting behind the glass.
The girls are divided into two groups and it's not the usual fishbowl girl, model and sideliner categorization that you will find in most places in Bangkok and Pattaya, but simply beautiful girls on the one side and extremely beautiful girls on the other side. Rates for the two hour soapy massages are 2,000 Baht and 2,500 Baht respectively.
There is really more to the Pink Hotel than just the soapy massage and that's why it was originally called a "complex". You will find two different types of sexual entertainment here and that's one big bar with working girls and downstairs there is a big stage with comfortable couches where you can hang out and watch up to 70 girls performing songs and dancing to Thai karaoke music.
The girls are employed by the hotel however they do not receive a salary. When they are not on stage they hang out with their male customers buying them drinks or garlands of flowers regarded as a respect for their nice performance or really just another way of tipping. They'll go with you if you pay them.
There is another popular soapy massage place called Chaophya 4, located at the eastern end of Thamanoonvithee Road (see the map below). I haven't been there, but from what I know is the price range is similar to the Pink Hotel and the girls are stunning hot as well.
Happy Ending Massage in Hat Yai
Several massage salons are conveniently located in the main tourist area around Lee Garden Plaza and along Thamanoonvithee Road. The standard rates for a one hour Thai Massage is 300 Baht, but if you are interested in a happy ending (of course you are) then you should really choose an Oil Massage for 400 Baht.
It's usually quite obvious to see which girls are willing to give you a hand job in exchange for a small tip (300-500 Baht) at the end of your massage. Don't expect the hottest masseuses though, the average quality is far lower than in Phuket for example, but there are some exceptions with young and attractive girls. Like the shop you can see in my picture, that's located on Sangchan Road behind Lee Garden Plaza.
Other Nightlife Venues in Hat Yai
There are quite a few other male-oriented nightlife venues in Hat Yai. There is Kiss Channel which is like a mixture of nightclub and coyote bar with live music as well as sexy dancers performing "sexy shows" in hot outfits, and if they are not on stage they come hang out with the male guests.
Then there is the Hostess Cafe in the Sakura Grand View Hotel, maybe the most upscale entertainment venue mainly oriented to Asian business men who don't care about money they spend for some of the hottest and most beautiful girls in town. Again, you have the girls singing karaoke songs on the stage and appreciate drinks and garland flowers as a way of tipping them.
Just next door to the Sakura Grand View Hotel is The Star, which is just the opposite of the Hostess Cafe in terms of the set up, fixtures and furnitures. It's rather a big karaoke bar and some of the girls are quite attractive. Also oriented to Asian clientele, but they welcome Farangs too.
The most famous Ladyboy Cabaret in town is at Hansa Entertainment on Raj Uthit Road. Shows are daily from 6pm to 10pm and after that there are real girls dancing on the stage until about 2pm. It is popular for people attending the cabaret to dine at the Chinese restaurant in the back of the building.
There are quite a few other nightlife venues just next to Hansa Entertainment such as Paragon, a large night club, Bar Berry, offering sexy shows, Hansa Karaoke, where you can choose sexy Thai girls to sing with you in a VIP room, and Sotus Pub, with lots of beer girls.
There are a couple of foreigner oriented strip clubs in Hat Yai. One is called Valentine, located just behind the My House Hotel. The entrance fee is 400 Baht. The other bar is called Hawaii, however I haven't been there. From what I know it is located near the Diana department store.
Find the exact location of all the mentioned places on the map below.
Ladyboys in Hat Yai
It doesn't really matter where you go in Thailand these days and even in the not-so-touristic towns you can find more than enough ladyboys to get naughty with, if that's what you want to do. And Hat Yai is no exception in this category.
You can usually find 1-3 ladyboys in the girly bars described above, and especially Moon Bar is well known for having some of the hottest transgenders. Apart from that, there are also a few street hookers to be found walking up and down Thamanoonvithee Road late at night (from about 11pm), but they look rather scary if you ask me.
And then thirdly you can also meet even more attractive and "normal" ladyboys (no prostitutes) by using the popular ladyboy dating site.
Nighttime Shopping in Hat Yai
There are two night markets in downtown Hat Yai. The rather tourist oriented one can be found just in front of the Lee Garden Plaza / Robinson. It sells anything from handicrafts, fake but fair quality brand clothes and football jerseys to cheap (and pirated) music, video games, computer programs and movies.
The other more local kind of market is located just two blocks from Robinson and here you'll find countless of street restaurants and snack booths, flower vendors (I remember how I once bought a beautiful pink rose there for my girl for 40 Baht a few years ago), and all sorts of different clothes and accessory sellers.
Popular hangout places in the evening for dining, shopping, watching shows and cinema movies are the various shopping malls such as Lee Garden Plaza and Robinson (open from 9am to 9pm) as well as the newest and most sophisticated shopping mall in the whole Songkhla province: Central Festival (open Monday to Thursday from 11am to 9pm and Friday to Sunday from 10am to 9:30pm). Even though the malls close at around 9pm you can still watch cinema movies till around midnight.
Map of Nightlife in Hat Yai
Videos of Nightlife in Hat Yai