One of Isaan's best kept secrets? No doubts about that. You will be surprised by how much Roi Et has to offer after sunset. At least this is what I felt when I came here last week and found there is more nightlife than in more famous provinces in the region like Buriram. So don't make the mistake and come just for two or three nights or you will leave with regrets missing out on that other coyote bar, night club or simply just found out how many of those small special massage salons there are that you first didn't even notice.
The Thai word for nightlife is "tîao glaang kʉʉn" (เที่ยวกลางคืน) which literally translates as "trip in the middle of the night". And this expression is nowhere as appropriate as it is in the provinces where people go out late at night, so it's no different in Roi Et when you drive through mostly dead empty streets after 8pm and the contrast are the nightlife spots where the locals party to loud music, dance and drink until they can't stand anymore.
One last thing I feel it's important to mention before I get into the descriptions, for you to get some orientation: As you can see on the maps after each category like night clubs, outdoor bars, coyote bars and massage parlors in Roiet – the majority, like 80% of all these places are located on the northern end of town. To be more precise: Right at the northern end of the square-shaped canal in the area around the Mai Thai Hotel and Petcharat Garden Hotel.
Bars in Roi Et
It's quite popular for the local Thais to start the evening by dining and drinking beer in their group before going to the club. As a result, you see that most night clubs (s. below) have an open air bar right next to it – different name, same owner.
The most popular such outdoor bar in Roi Et is Suki Lao (สุกี้ลาว) in front of the Rong Beer Pavilion. Well, it's more like a restaurant but it has a life band, huge screen showing live sports (if you want to watch English Premier League games that's the place to go) and there's alcohol on most tables of the locals who are preferably eating Thai barbecue or the typical five or more different types of Isaan dishes they share with each other. A big Leo beer costs 70 Baht here.
Just 50 meters around the street corner from Suki Lao is Hub 5, another great place to start your night out in Roi Et. The Hub 5 is a complex housing three different venues: an outdoor bar, a coyote club (s. below) and a night club (s. below). The outdoor bar has an extremely nice and modern setting, there's a live band and there are also very attractive hostesses in white dresses that happily sit and chat with you if you share your drinks with them. They do serve food, too, and that's what you see a lot of guys doing: Eating and drinking before entering the club or coyote inside.
Many more local bars can be found along the highway 214 and the newest and most modern one is the Buddy Pub and Bistro (same owner as Boozer, the nightclub next to it), which, of course, also has a great live band, and strong cocktails. Don't be surprised though when you order a Mai Tai that costs 100 Baht according to the menu but when the bill comes up it's suddenly 150 Baht. When you ask them to explain the price difference they will say the 50 Baht extra is for adding the alcohol.
Farang Bars and Restaurants in Roi Et

For the same reason as there are extremely few foreign tourists and expats in Roi Et, there are also just a few foreign owned bars in town. The biggest and most popular one is the White Elephant, a German owned restaurant and the best place in Roi Et to meet and chat with other foreigners. Delicious German food and beer (Hofbräu), a free pool table, flat screen TV's with live sport and nice people make it very worthwhile to visit.
A couple of more foreign bars and restaurants like an Italian Pizzeria and Koran BBQ can be found on the western side of the beautiful pond. Look at the map below for the exact locations.
Coyote Clubs in Roi Et
There are no Farang-oriented beer bars and go go bars in Roi Et but instead there are a few coyote clubs that kind of make up for it. The best one with the youngest and hottest girls is Klaem (เคลิ้ม), located in the super hip and modern Hub 5 complex. There is a great and diverse stage with six to eight girls dancing at a time surrounded by comfortable couches as well as semi-private seating areas.
The girls are divided into three categories and drink prices: Bikini (100 Baht), No Bra (that's how they call them, means they're wearing a super hot and transparent silk dress, 150 Baht) and Model (no bra either, 200 Baht). Don't expect these girls to smile at you like in the go go bars, it's rather typical that they completely ignore you (and that's not because you're a Farang, it's the same for the local Thais) until you tell the mamasan to call a particular girl over to sit and drink with you. Be informed that they're usually asking for a minimum of 3 drinks (usually shots). Big bottle of Leo is 139 Baht. The party starts daily at 10pm.
There's another coyote bar on the ground floor of the Mai Thai Hotel or to be more precise Mai Thai Entertainment which is located on the right side of the building. The atmosphere is kind of more relaxed, the room is darker and the coyote girls are going up on stage only once in a while when the live band needs a break. Drinks are 120 Baht for all ladies and some of the most attractive ones may ask for 5 (!) right away. Don't come too early if you want to see action, even at 11am there's only a bunch of guys around but the good thing is you have a better selection of girls before midnight.
Coyote girls are usually not available for take out but you can negotiate with the mamasan if you really want to, then they'll generally ask for something around 2,000 Baht as some sort of bar fine.
Night Clubs in Roi Et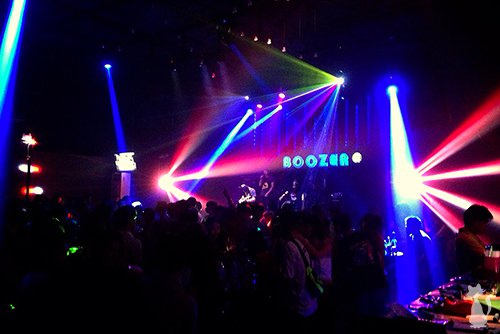 The most popular night club in Roi Et is Boozer. If the locals ask you in the morning what you were up to, it's not uncommon for them to say "You went to Boozer last night mai?" Great live band there that makes everyone dance and sing and what surprised me is the music isn't too loud and deafening like it's the case in most Thai nightclubs. They also got pretty hot and white skinned hostesses all over the place that you can buy shots for 100 Baht each. Bottle prices are more than reasonable priced too: Regency 680 Baht, Red Label 1,100 Baht and Black Label 1,800 Baht.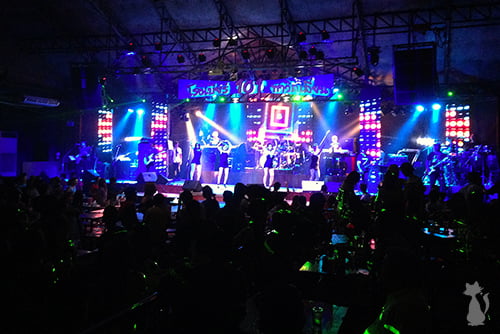 Rong Beer Pavilion is the other hugely popular party place in Roiet for locals and expats (not that there were many) of all ages. It's basically a huge hall with a massive stage where skilled local boys and girls perform Isaan folk and Caraboaw songs while the audience is eating, drinking, dancing, singing and flirting.
They kind of copied the concept of Tawan Daeng with a more modern setting and equipment and so Rong Beer Pavilion is well visited almost every night while the original gets busy mainly on the weekends and during special concerts.
Another night club is in the Hub 5 complex, it's called Mao Man (เมามันส์, literally drunken fun). Thai style setting with lots of round tables all around, virtually no dance floor in front of the stage – people dance in their groups at the table while sharing a bottle of whiskey. Lots and lots of young and cute local girls here and different to the Thai clubs in Bangkok it's not uncommon here that they're looking for eye contact and invite you to join their group drinking at their table.
Karaoke Bars in Roi Et
The concept of the karaoke bars is very similar to the coyote clubs: You pick a girl or two that you like and invite her to hang out with you while paying for her drinks. The main difference is that the girls in the coyote clubs are there to entertain you, first while dancing on stage and then giving her best to make you feel good sitting together. The karaoke girls tend to be more shy at least that's how they behave and it's you to lead the conversation.
There are plenty of karaoke bars spread all around town. The most authentic and friendly place is right across the street from Boozer with fair and easy prices: 100 Baht for a big beer, 100 Baht per hour for a girl to sit with you and 10 Baht per song you like to sing (not compulsory, you may just sit, relax and enjoy). They've also got a few young ladyboys there.
The Hub 5 complex also has private karaoke rooms for 200 Baht an hour (picture), it's actually the same venue as Klaem Coyote so the same drink prices apply. The mamasan told me they do a private show for you for 500 Baht, taking off everything. I wasn't that interested that night as I wanted to check out another place:
The karaoke bar on the third floor of the Mai Thai Hotel (use the hotel entrance not the Mai Thai Entertainment entrance). 189 Baht per girl per hour, VIP room 200 Baht per hour (not compulsory, they got a big public one too), drinks from 100 Baht. Don't come too early as this place is rather a late night hot spot closing at 5am. For 1,600 Baht you can take a girl to one of the hotel rooms for shower and sex. Another karaoke bar can be found behind the Japanese restaurant at the pond.
Soapy Massage Parlors in Roi Et

Roi Et's infamous soapy massage parlor is located in the Mai Thai Hotel – right entrance of the building, second floor. There is no fishbowl with glass but couches instead and the girls are divided into two categories: Moo (mɔ̌ɔ – หมอ, the Thai word for doctor) which are the standard girls and most of them are older than 30 and moms, too. Their price tag is 1,400 Baht. It's well worth to spend a little more and pick one of the sideline girls that cost 2,000 Baht and are incredibly hot, white skinned and attractive they could work for well beyond 3,000 Baht in the massage parlors in Bangkok.
The rooms are rather very basic and kind of like a typical Thai hotel 30 or 40 years ago (that's how old it must be), there's a queen bed, small TV that they don't turn on if you don't like but what really sucks is the bath hub which is way too small. Still all in all good value for money here and since it's the only such massage parlor in town you should definitely give it a try. The location on the map follows after the next category which is kind of related.
Happy Ending Massage in Roi Et
You might quite easily oversee a lot of the small massage salons as the girls are not sitting outside as it's the case in the tourist cities. There are plenty of those spread all around town so just look on the map below. It seems they all agreed to charge the same prices and that's 300 Baht for a Thai Massage and 500 Baht for an Oil Massage.
It usually depends on the girl if she gives you a happy ending for a tip of 500 Baht (negotiable) but the safest option in Roi Et for a massage plus hand job is the salon marked in red on the map. The blue pin illustrates the soapy massage parlor in the Mai Thai hotel.
Roi Et Night Market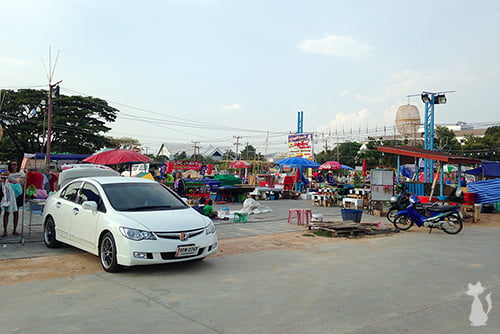 Just to round this post up and that's what I usually do is to tell you where to find the night market which is always a nice place in the provinces to start your evening with authentic and cheap street food and (if you like) shopping of fashion, handicrafts and all sorts of stuff. You can find it at the northern end of town across opposite the Petcharat Garden Hotel. The other popular hangout spot for the locals during the late afternoon and evening is at the big pond called Plan Chai at the center of town, every day full of couples, students, runners or guys who finished work and come here for eating snacks and taking a break.
Map of Nightlife in Roi Et
Videos of Nightlife in Roi Et