There is definitely no shortage of things you can do in Phuket during the day. It's a lot of fun to rent a motorbike and cruise along the scenic coastal roads, from beach to beach, and up to the view point and Cape Promthep. And maybe even the Big Buddha that's located on top of a hill in the center of the island. If you start your trip in the morning, you can easily drive all around the island in one full day, including Phuket Town.
But then after a few days, you will wonder: What am I going to do now, before the bars open? Sure, you can always visit more of the daytime attractions or go on a trip to some island, but there will come the time when you just want to stay in Patong (or whatever other beach town you booked your hotel in).
You probably know what I'm going to suggest you: One of the most popular day time activities in Phuket is to just take a walk around town and see if there's anything "fun" to do. And there's no doubt that you will sooner or later pass one of the countless of massage salons where young Thai ladies in short skirts sit (or stand) outside, and as soon as they see you excitedly yell "Hello, lovely man! Where you going? Welcome massage!".
When you see a girl like the ones in my photos, then it's obviously quite difficult to resist the temptation to try an oil massage for 300 Baht. Especially those people who come to Thailand for the first time usually start their "red light trip" in the massage salons as it's easy to just try it and see what happens.
In this guide I will show you the main areas where you can find happy ending massages in Patong. But before that, let's discuss one thing you might be unsure about if it's your first time here. If not, then you can just skip this section.
How To Spot Happy Ending Massages in Phuket?
It's usually really easy to tell the difference between a "regular" massage salon with no extras and a happy ending massage salon. Just look at the way the girls are dressed: If they wear long and traditional Thai massage dresses, then it's usually massage only. But if they wear short shirts and skirts, then you can assume that she could hold your dick in her hand half an hour later while pouring lots of oil on it.
Also, look at the way the girls are behaving: Are they standing in front of their shops to actively attract customers? Are they yelling at you excitedly? Are they even grabbing you and trying to drag you in like you may know it from the ladyboys? These are all signs that you can expect a hand job or blow job in these places.
Best Places for Happy Endings in Patong
You are probably not surprised when I tell you that the best beach in Phuket for happy ending massages is Patong – it has by far the highest number of shops and ladies. So here are the main areas in Patong with clusters (at least a dozen) of happy ending massage salons:
Rat U Thit Road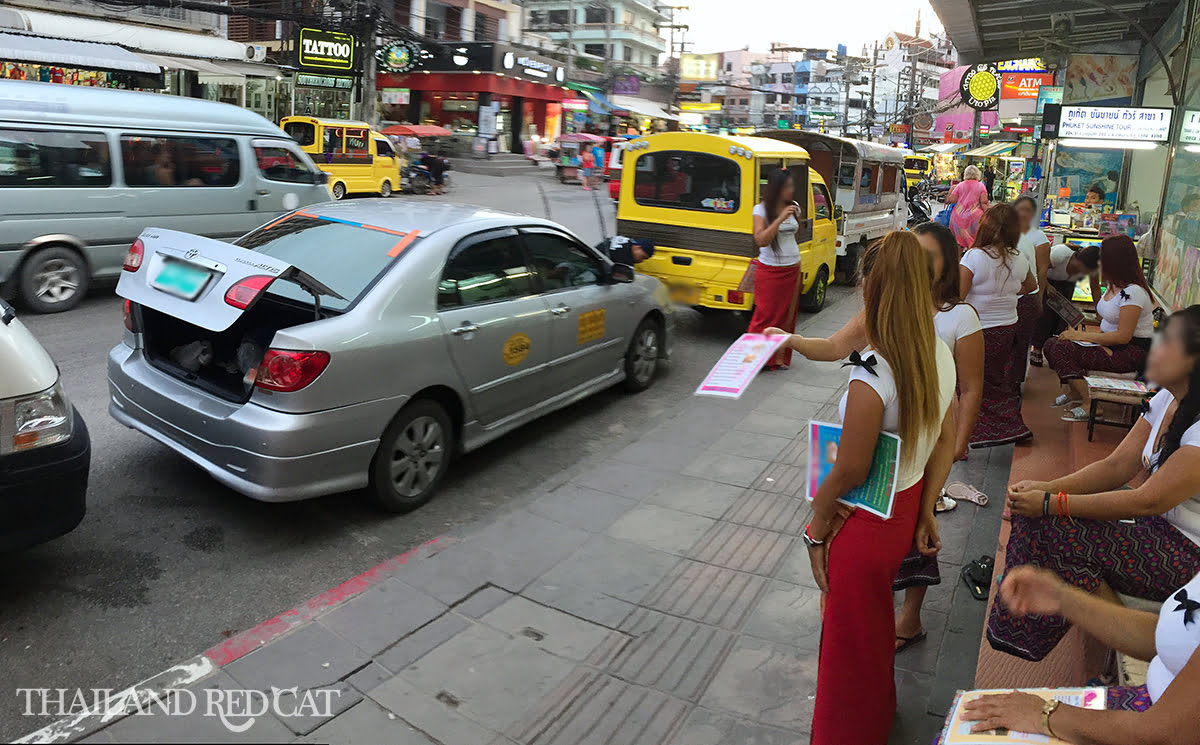 The best area with more than a hundred of massage salons full of young and attractive Thai girls not only in Patong, but in all of Phuket. Rat U Thit Road is the "Second Road" of Phuket, means the street that runs parallel to the Beach Road. Especially the area around Christin Massage (the famous soapy massage parlor) has a big cluster of these massage salons, and that's also where I took the photo above.
It's almost impossible to walk along that street for half an hour and not stop at some point, look at the girl who smiles at you and invites you to "come inside", and you think if you should follow her to release your load in one of the air-conditioned private rooms.
If you don't like any massage girl in this area, a good place to sit down and have a beer is Hooters.
Bangla Road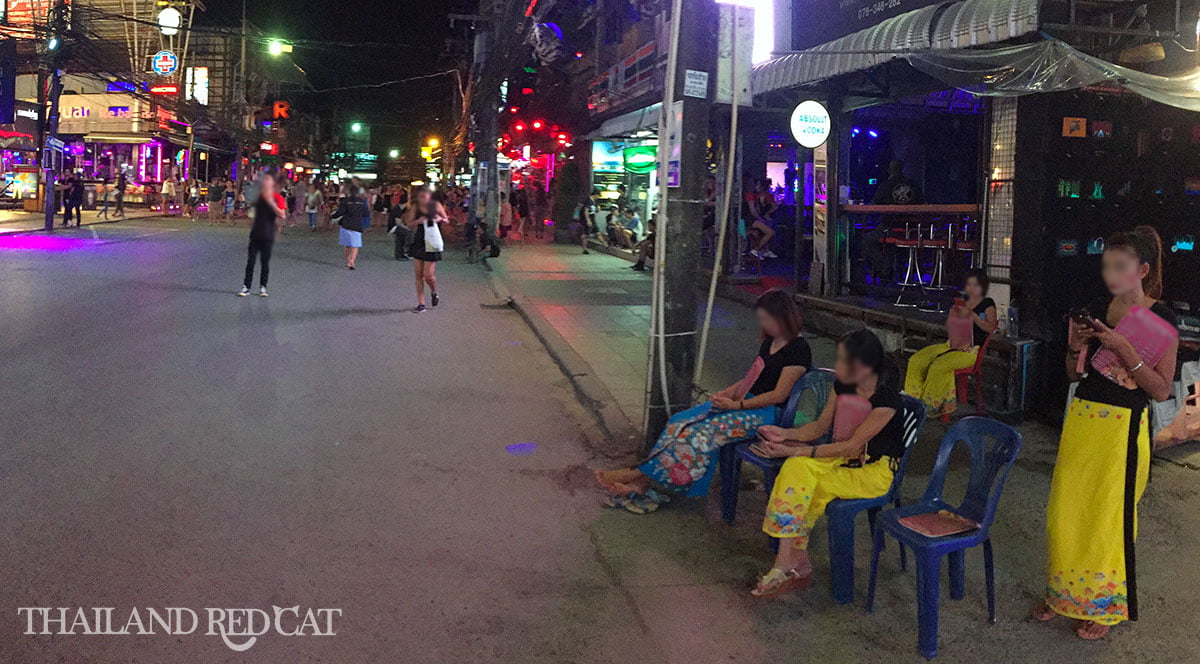 Bangla Road is the most famous street to enjoy yourself with girls in Patong, but when it comes to massages, the offering is rather average. I know, if you look at my photo above that may give you a different impression, and it's certainly possible to find a hot and thin Thai girl on Bangla Road (and that's all you need, isn't it?), but there are just fewer massage salons than in the other areas mentioned on the list.
You can have a stroll around the road and see if you find any nice massage lady there (the highest concentration of massage salons here is in the middle of the street) – otherwise you can have a drink in one of the many girly bars.
If you don't like any massage girl in this area, a good place to sit down and have a beer is Heroes Bar.
Sawatdirak Road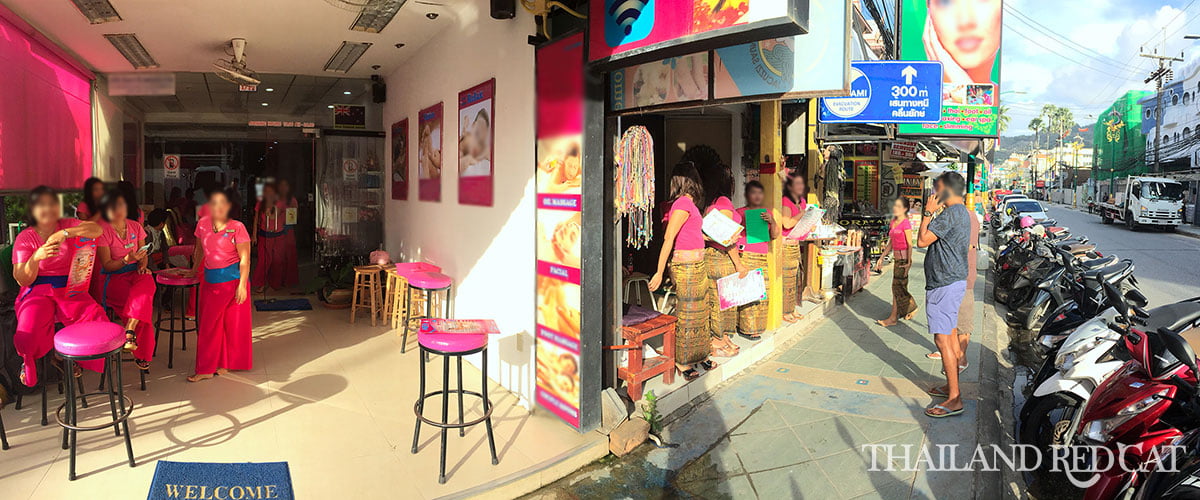 The next hot spot in Patong with plenty of happy ending massage salons is Sawatdirak Road in the northern part of town. Some of these places even offer threesome-massages. You can just pick two of the girls and they will make sure you cannot resist giving them a tip so one of them gives you a oily hand job while the other one massages your breast.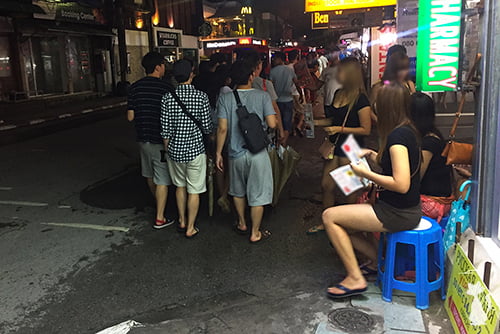 There is another cluster of massage salons close by on Beach Road, and especially late at night you will find the girls offering you hand jobs for 500 Baht (or blow jobs for 700-800 Baht) without even paying for a massage. Not a bad deal. I have marked both areas on the overview map further down the guide. And you can also see how young and hot the girls are in the first part of my video (end of the guide).
If you don't like any massage girl in this area, a good place to sit down and have a beer is Sole Mio Bar.
Phang Muang Sai Kor Road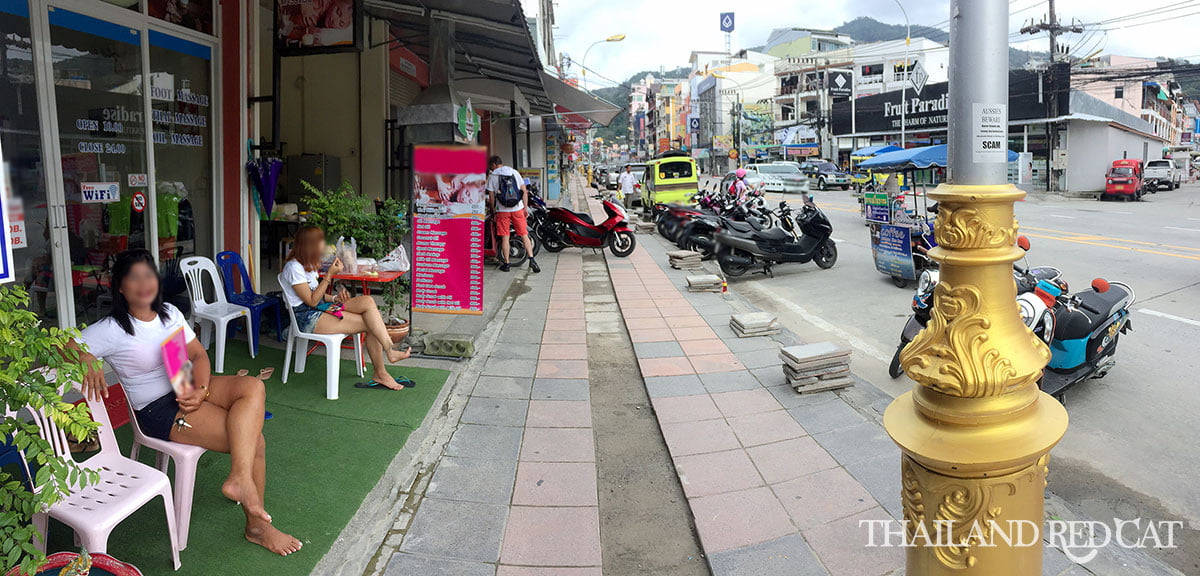 Phang Muang Sai Kor Road is Patong's "Third Road", means the street that runs parallel to "Second Road" (Rat U Thit Road, see above). Even though you can find plenty of massage salons here as well, it's the most quiet area of all the mentioned places here. I would only recommend to check this area out if you didn't find anyone nice elsewhere (which is quite unlikely).
If you don't like any massage girl in this area, a good place to sit down and have a beer is the Patong Beer Bar Complex.
Map of Happy Ending Massage Salons in Patong
Prices of Massages & Happy Endings in Patong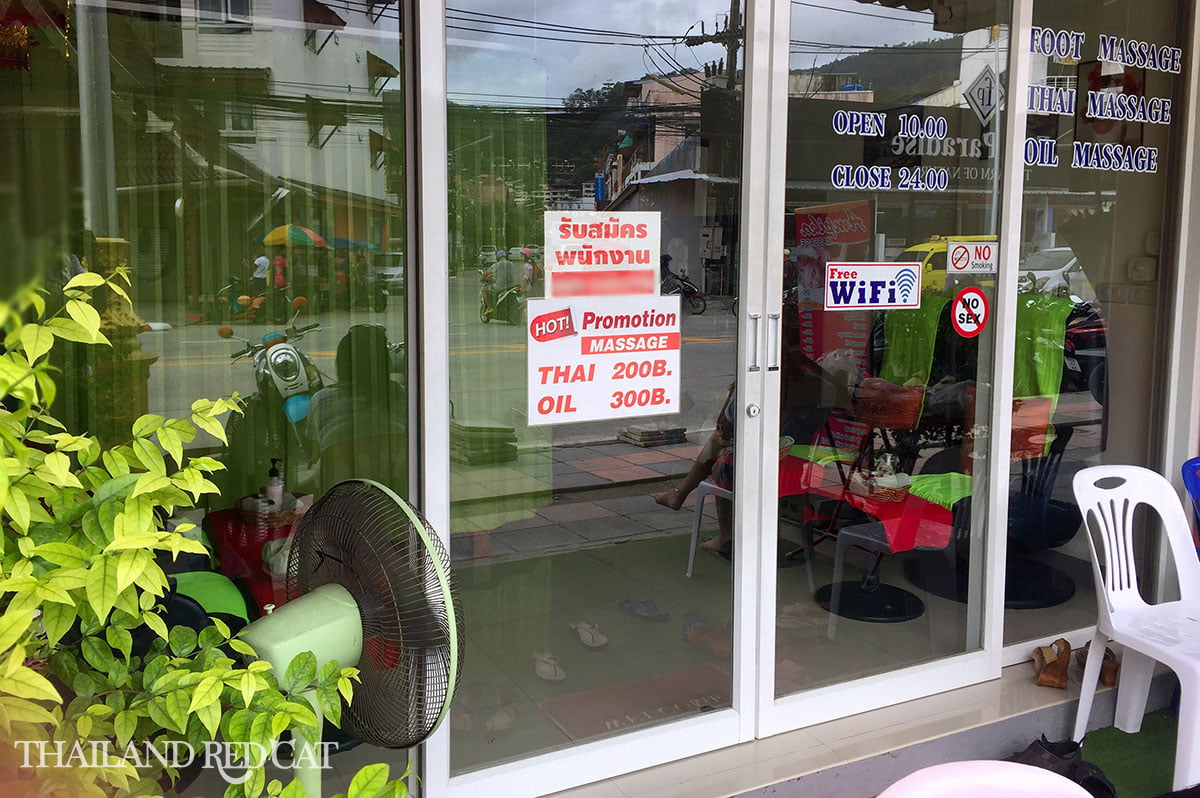 Now that you have a good overview on where to find the main areas with happy ending massages in Patong, you probably also want to know how much everything costs. There are two separate prices you will need to pay:
The price for the massage, which is a fixed price on the service menu, and the price for the happy ending (= hand job, blow job or sex – or maybe even a combination of all three), which is not listed anywhere and needs to be arranged with the girl separately once you are in the room together. Usually half an hour into the massage (or after you turned on your back and she sees that you got a boner) she will ask you "You want special mai"?
The typical prices for massages & extras in Patong (or everywhere in Phuket really) are as follows:
Thai Massage: 200 Baht
Oil Massage: 300 Baht
Hand Job: 500 Baht
Blow Job: 700-800 Baht
Sex: 1,000-1,500 Baht
Important: Not every girl is willing to suck your dick, and even fewer are willing to have sex. If they don't do blow jobs, then they usually say "I don't like", and if they don't do sex, then they usually say "cannot, mai daai", means it's not allowed here.
That said, don't walk into one of these small massage salons and expect the full program. Usually happy ending means hand job, not only here but also in the three other massage heavens of Bangkok, Pattaya and Chiang Mai. If she is willing to provide more than that, then that's a nice surprise, but just don't expect it.
How about Happy Endings in Kata Beach, Karon Beach etc?
Of course you can also find plenty of massage salons in the other beach towns like Kata, Karon and Kamala. But it's not nearly as much fun as in Patong. Just ask yourself: Where do you think most of the young and hot Thai girls go to make the most money? Of course in Patong where most of the tourists are. So just stick with Patong, you can spend weeks there and will not get bored of all the different massage salons in this town.
How about Ladyboy Massages in Patong?
If you still feel bored after a few hand jobs from the girls, you may want to try out something different: A ladyboy massage. Even though there are no 100% ladyboy-only massage salons in Patong, you can find 2-3 ladyboys in a lot of the massage salons on Bangla Road and in the shops next to Christin Massage on Second Road.
Video of Massage Girls in Patong