If you are looking for the perfect island in Thailand that has it all – beautiful beaches, a huge choice of both fine Thai and Western restaurants, shopping malls, and overwhelmingly many Farang friendly Thai ladies – then you will find your paradise on Koh Samui. The largest island in the Gulf of Thailand (even larger than Koh Chang) has the most happening nightlife and the highest number of female Thai sex workers. In other words:
Koh Samui has the best island nightlife in all of Thailand (if we ignore Phuket which is technically an island but doesn't feel like one). And because there is so much going on here and huge differences in the nightlife and girls scene depending on the beach, I think it makes sense to give you a rough overview of the daily entertainment before going into each category.

Koh Samui Nightlife Overview
90% of all Thai-Farang sex on Koh Samui is happening on the beach towns on the eastern side of the island, especially Hat Chaweng and Hat Lamai (Hat is the Thai word for beach). Excuse me, of course I mean 90% of the nightlife spots on Samui are found on the east coast. There is literally nothing to monger on the western and southern coast. Only if you are reaching the island by ferry you are going to see the west coast as the ferry terminal is located there. It takes about 45 minutes to one hour to cross the island from west to east by motorbike.
If you are a single male traveler looking for fun and pleasure with local Thai girls (well, about 60-70% of all hookers on Samui actually come from Isaan) then make sure you book your hotel on Chaweng Beach. Only if you are traveling with your girlfriend and aren't planning a naughty threesome, you may choose instead the more relaxing Lamai Beach which is a few kilometers south of Chaweng and a 20 minutes ride by motorbike. Yes, there are also plenty of beer bars and massage salons (happy ending ones) but not nearly as many and I also found the quality of girls in Chaweng is so much better than in Lamai. The young and beautiful simply go where the money, big hotels and busy nightclubs are.
There are also some hotels on the southern and northern coast, such as Bophut Beach, Maenam Beach and Lipa Noi Beach, but again: Those places are better for reading books all day long and a quiet seafood dinner at night. Yes there is the odd bar or massage salon, but it's nothing compared to Chaweng and Lamai.
Almost ready to go into the various types of nightlife on Samui, but just one more thing I noticed here: The girls are super attentive and yelling at you louder and with more enthusiasm than pretty much anywhere else in Thailand. Even when you drive past a massage salon they try to get your attention. In Pattaya they wouldn't bother and only look up from their phones when you are walking past the store, but here the girls seem more "hungry".
What I also noticed is that most Thai hookers on Samui don't like Farangs who can speak Thai. I used some pick up lines, not just on hookers but also on normal shop employees and they always replied back in English, some hooker even got angry and literally shouted at me "I don't like Farang speak Thai!" Don't want to comment further on it, so let's come to the juicy part of this guide.
Girly Bars on Koh Samui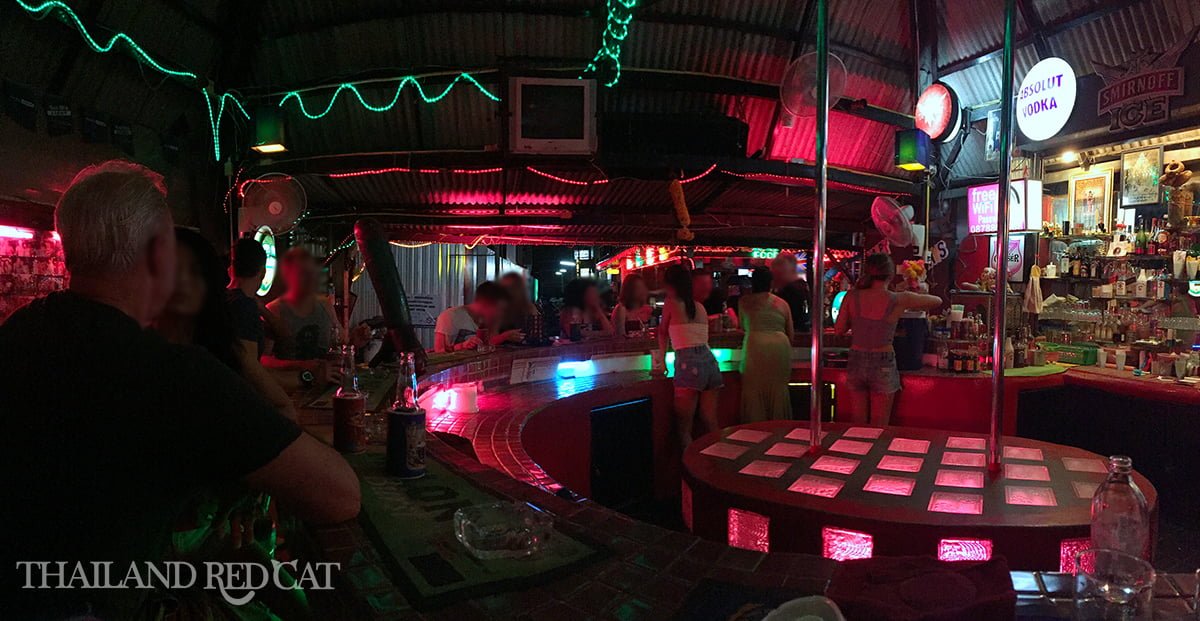 Koh Samui's most famous entertainment strip is Soi Green Mango in Chaweng. It's an about 300 meter long horseshoe shaped alley on the Beach Road and feels like Walking Street light, with a couple of go go bars, three nightclubs and about a dozen of girly bars (or beer bars). The most popular place on Soi Green Mango is Henry Africa's Bar (see first picture of the guide), that is packed every night with mostly tourists, some expats and lots of hot Thai girls who don't carry name tags but are employed by the bar and you can buy them drinks for 90-150 Baht and take out later on by paying the bar fine of 400 Baht. Free pool, 80 Baht Chang bottles (or 120 Baht pints), lots of TVs with live sport and modern yet cosy setup.
If you want my recommendation for the best beer bar on Soi Green Mango, then I'd say Chonticha's (see picture above), it hasn't only the most girls, but also some of the hottest girls on the strip. Beer from 80 Baht, Lady Drinks 150 Baht, Sang Som including mixers 400 Baht and the Bar Fine is 300 Baht. They also got free pool and table tennis. Chonticha's gets so busy on some nights that they close as late as 10am.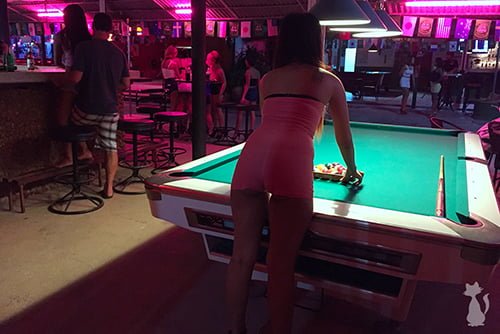 But of course the red light entertainment on Koh Samui isn't limited to Soi Green Mango only. There are countless of more beer bars spread all around Chaweng and Lamai (again, the bars in Lamai aren't nearly as full with girls like those in Chaweng). I have highlighted the main hotspots of bars on the map, they are often clustered together with massage salons (see below). The highest concentration of beer bars on Koh Samui is all along Soi Reggae on the peninsular at Chaweng Lake.
The bar fines in the girly bars are between 300 and 500 Baht and the lady drinks generally cost 150-190 Baht. Short time sex with a Samui bar girl costs 1,000-2,000 Baht (negotiable).
"Normal" Bars on Koh Samui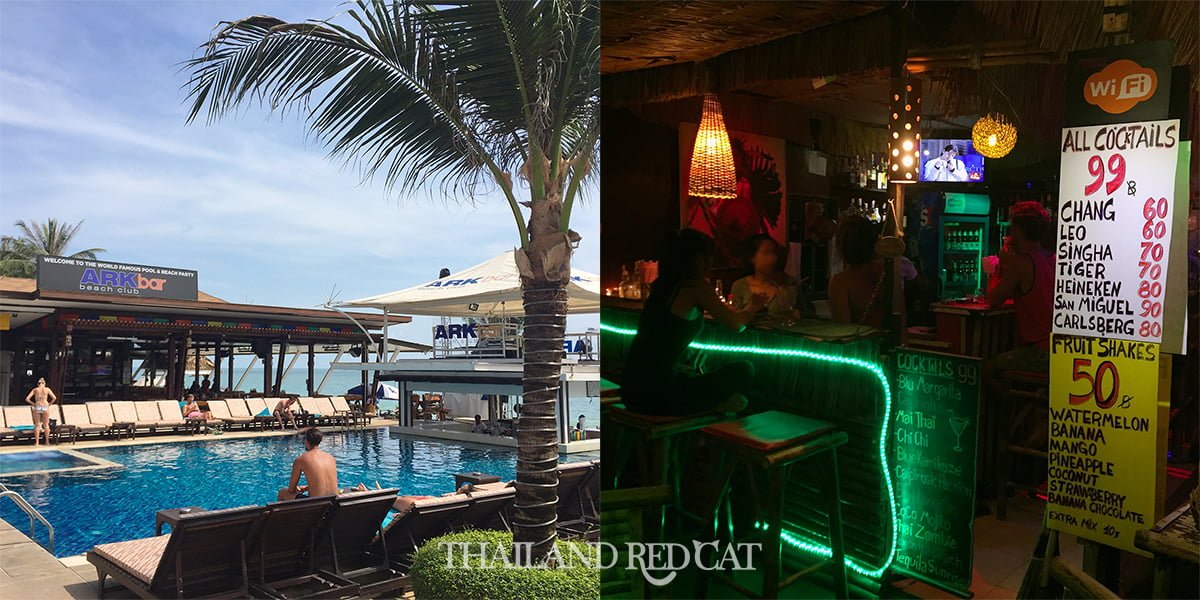 Of course there are also plenty of "normal" bars that don't have prostitutes employed, but then still you will find a lot of freelancers hitting up those bars. You'll see there is no shortage of places to get laid on Samui and the biggest and wildest party place in that regards is Ark Bar Beach Club right on Hat Chaweng. You'll get your 300 Baht whiskey and mixer buckets there and it makes a fine place to meet different people than just Thais.
Other smaller and low key bars like Ketum Bar in Chaweng lure in their customers with comfortable seating, a laid back and romantic atmosphere as well as cheap drinks like 99 Baht cocktails and 60 Baht beers.
Nightclubs on Koh Samui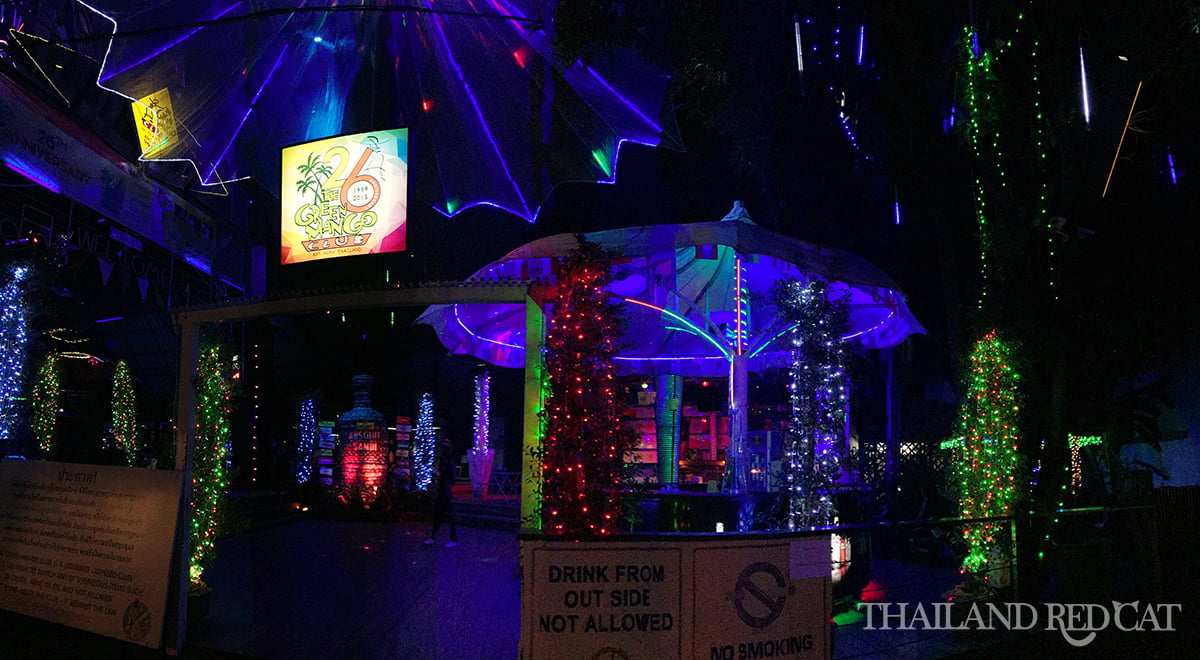 Chaweng Beach is home to all major nightclubs on Koh Samui. And three of the most popular venues are found on the party strip of Soi Green Mango with by far the most popular one being Green Mango Club (which became so legendary during its 26 years history that the whole street got named after it). Just don't make the mistake and come here too early as the action really starts well after midnight when people pour in from the beer bars and get intimate on the atmospheric open-air dance floors. Like in all other night clubs you will find plenty of Thai freelancers as well as "normal" girls who just come to have fun and potentially for one night stands with foreign men.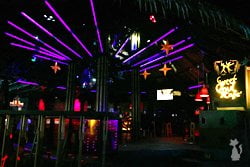 Right opposite is the Sweet Soul Café which is smaller and seems to lose most of the potential customers to the more sophisticated and impressive Green Mango Club. It's still a nice party place with bar stools all around the circle shaped grounds, offering perfect views of both the club and the party strip outside. Another great reason to give the Sweet Soul Café a try is their great drink special: Four shots Vodka bucket with mixers of your choice for 100 Baht. Sound is the third and least visited club on Soi Green Mango.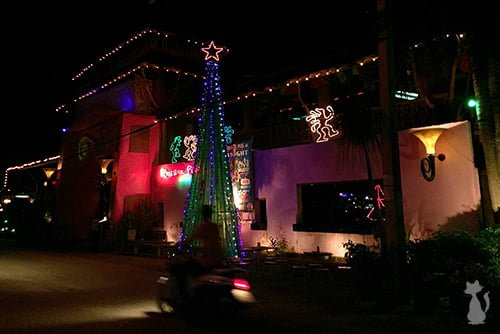 Should you get bored with those places then you might try Q Bar, which is a more upscale venue on top of a steep hill with fine views over Chaweng lake, Ark Bar Beach Club that is just like the name suggests a mix of beach bar and beach club, Reggae Pub (picture) with live music and open air views over Chaweng lake or, if you want to party Thai style like the locals do with a bottle of whiskey and Thai music: X-5 in a quiet road near the airport.
Go Go Bars on Koh Samui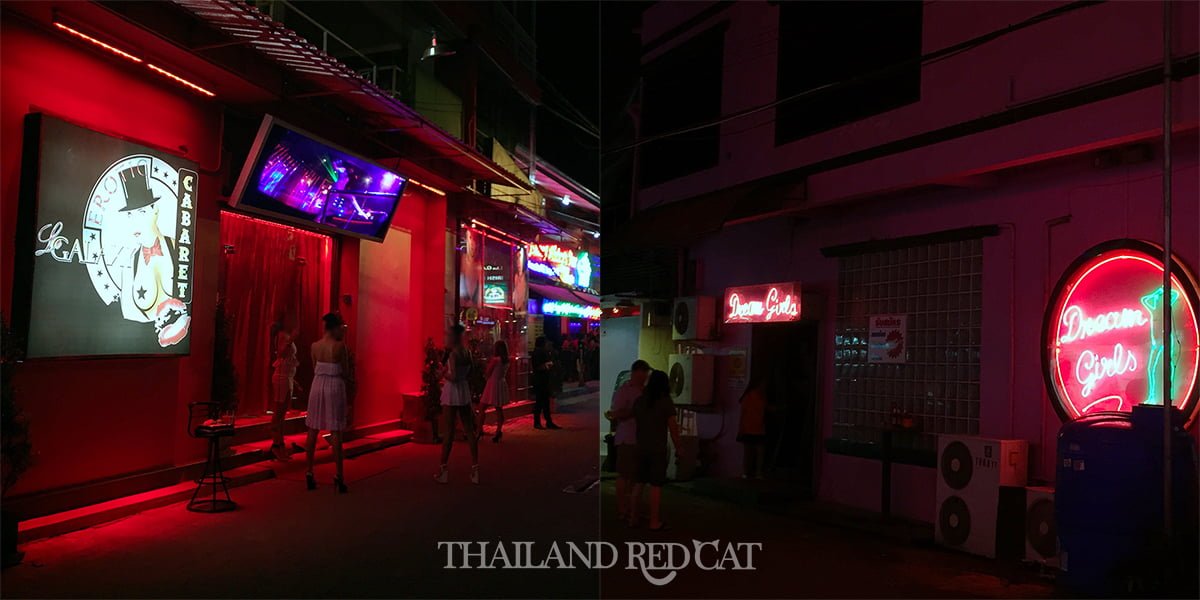 You might think Thailand's only places with foreigner oriented go go bars are Bangkok, Pattaya, Phuket and Chiang Mai. Then you are probably surprised when I tell you that there are also a couple of Go Go's in Soi Green Mango, Chaweng.
One of them is called Dream Girls and has girls even hotter than the ones in the beer bars dancing on the self-rotating stage. That's really cool because no matter where you sit, you can watch all girls closely front and back. There are always half a dozen of dancers on stage trying to make eye contact with the customers while the others walk around and introduce themselves to you before politely asking for a lady drink (190 Baht) and to sit next to you. The atmosphere is pretty laid-back though.
What I don't like is that the girls don't even get topless, it's always bikinis you see. I mean, why go party in a Go Go Bar and pay premium prices when you don't even get to see some nipples? I talked to the mamasan about this and obviously she said that the officials are currently not cooperative in this matter. Drink prices range from 130 Baht for beers to 170-190 Baht for spirits. The bar fine is 800 Baht before midnight and 600 Baht after, not including the dancer's price for sex which is generally 2,000 Baht at least.
There is another Go Go Bar on Soi Green Mango called Galaxy with all Russian girls. It's also worth mentioning that a lot of beer bars on Chaweng are equipped with poles and during busy nights and lots of lady drinks it's not uncommon that some of the girls decide to get wild on the small stages.
Happy Ending Massage on Koh Samui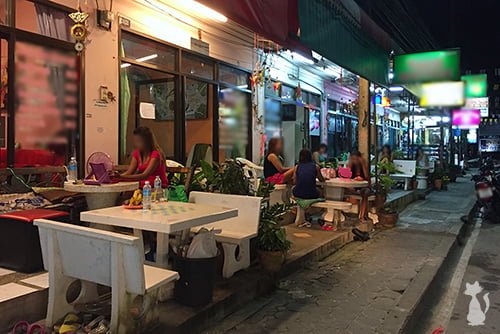 It's almost overwhelming how many hot massage ladies are yelling at you when you are walking, or even driving, along the streets in Chaweng. I have seen the girls nowhere as attentive and eager to make you come in for a "special massage" than here in Koh Samui. You might be thinking I'm exaggerating and it should be no different to Pattaya or Phuket, but believe me, it's one more level up. I think it's got something to do with that there are so few expats on Koh Samui and instead thousands of tourists every year, a lot of them first timers that the massage girls see as the most attractive target.
Massage prices are 200-300 Baht for a Thai massage and 300-400 Baht for an Oil Massage. Don't worry, even if you take the Thai massage and say "okay" half an hour into the treatment to her question "you want special?" or "massage here mai ka?" – she will (and should) still take out the oil bottle to make the treatment a more pleasing one for both of you. Just smile when she suggests 1,000 Baht for a hand job, you should pay no more than 500 Baht for it, if you are a little skilled and lucky you may even get away for 200-300 Baht.
About 60% of all massage shops are found on Chaweng Beach alone, 20% on Lamai Beach and the remaining 20% spread all around the little beaches on the northern and southern coast.
I have highlighted the major clusters with at least half a dozen of massage salons in one area on the map below (yellow pins).
Soapy Massage Parlors on Koh Samui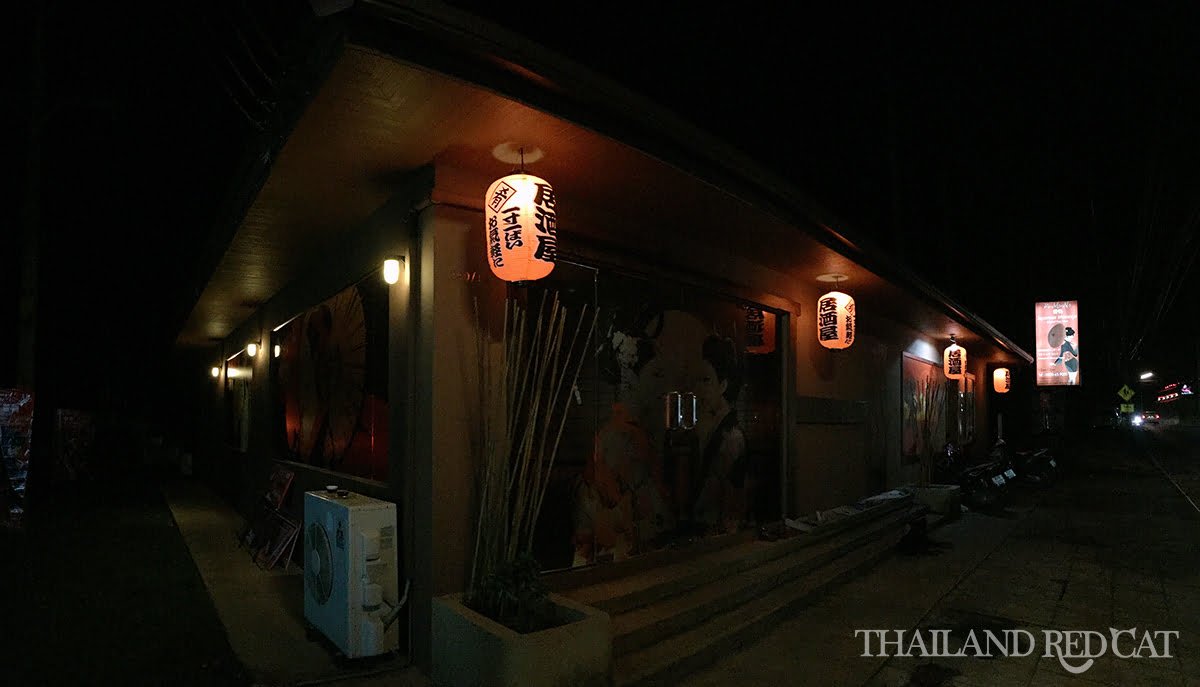 Kind of well kept secrets and only known to few people are the two massage parlors in a quiet street nearby the airport. Pannarai Massage offers Japanese style massages with nuru gel (which basically makes your body hotter than standard oil, and thus brings you on temperature very quickly so you have to be careful to not shoot off your load too quickly). The Thai massage girls here obviously wear sexy red Japanese dresses and upon entry one of them will sit next to you on the couch and present you the menu where you can find services like standard nuru gel massage for 1,650 Baht (HJ, no take off) and if you want the full program it's going to cost you 2,950 Baht inclusive of body to body treatment. If you like prostate massage then you can have that too for an additional 700 Baht.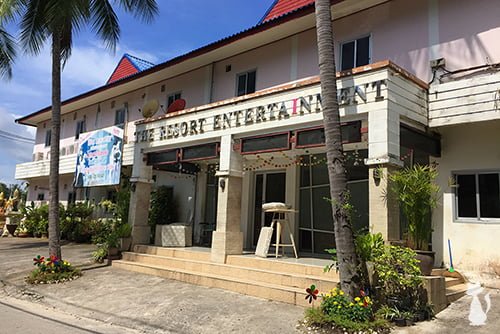 The only soapy massage parlor on Samui is located about 800 meters further down the road and is called The Resort Entertainment. There's no fishbowl though and instead you will be following the mamasan into a spacious room with couches, sit down with her and listen as she presents you the different options: 3,500 Baht for standard room, 4,500 Baht for VIP room with bath and body to body and 5,500 Baht for one of the "models from Bangkok". Yes, these are Farang prices and if you talk with her nicely, you can bring down the prices a little. After you agreed with her on one of the services she will call in the girls who line up in front of you and you make your choice before following her up to the room and enjoy the next 90 minutes in heaven.
Ladyboys on Koh Samui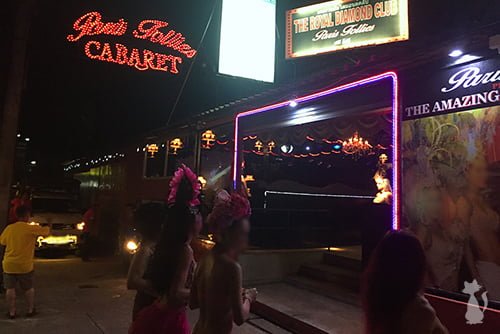 Unfortunately there are no pure 100% ladyboy beer bars on Koh Samui, but if you can afford the couple of hundred Baht extra, then the Ladyboy Cabaret Bars make more than up for it. There are two such places on Chaweng Beach and one on Lamai Beach (see map below). They don't charge entrance fees but the drink prices are rather pricey, generally starting from 260 Baht with the exception being Paris Follies where drinks start at 390 Baht, but it has the hottest transvestites on the island.
The way it works in these places is that you order a drink, enjoy the show on stage (impressive costumes and gestures etc.) and then it's not hard to have an attractive ladyboy to sit next to you. If you like her, you can also arrange to meet her after work at 2am for some naughty fun in your hotel room. Of course another great way to meet ladyboys for free, not just on Koh Samui but all around Thailand is by using the popular online dating site. Also, a lot of massage salons in Chaweng have ladyboys employed, especially those shops at the very northern and southern ends of the beach.
Map of Nightlife on Koh Samui
That was quite an extensive nightlife guide on Koh Samui, I hope that you got some good overview now and as always, I will make sure to update this page in the future so the info stays up-to-date.
Videos of Nightlife on Koh Samui