Bangkok has three foreigner-oriented red light districts: Soi Cowboy, Nana Plaza and Patpong. While 95% of the venues in all of these areas are go go bars, there are some characteristics that are unique to each of BKK's three red light districts.
The prices for drinks in the go go's are in the 140-200 Baht range, lady drinks similar at 150-200 Baht. Bar fines are at 600-1,000 Baht. The bars have no dress code and generally no cover charge, the exception being ping pong shows in Patpong (starting at 500 Baht – be careful, lots of tourist scams).
1. Soi Cowboy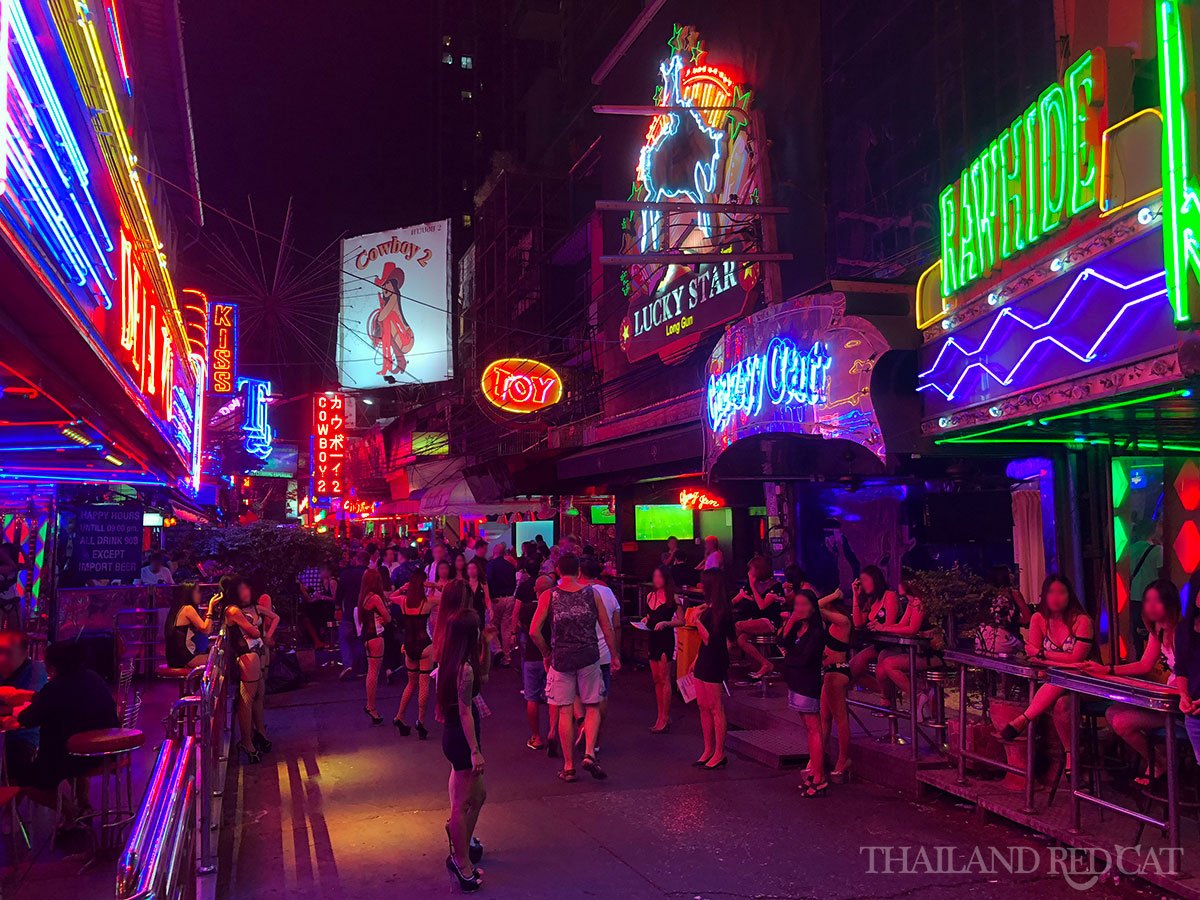 Soi Cowboy is Bangkok's brightest street, a small Soi packed with about 30 go go bars. It is located in the Asoke district, connecting Sukhumvit Soi 23 and Ratchadapisek Road.
If you're wondering where Soi Cowboy got its name from, here's the story: Back in the 1970s US airman T.G. Edwards opened his bar in the Soi where only a few other venues had been in place. With his large belt buckle and cowboy hat he came to work with on a daily basis people gave him the nickname "Cowboy" – thus the name of the street.
Not the most spectacular story but it's the bright lights of this small Soi and everything going on there daily from around 7pm that make Soi Cowboy one of BKK's most famous streets. Soi Cowboy is located right outside the Sukhumvit MRT / Asoke BTS station.
Best Go Go Bars in Soi Cowboy: Baccara, Cowboy 2, Crazy House BKK
2. Nana Plaza
"The World's Largest Adult Playground" says the new sign at the entrance to Nana Plaza on Sukhumvit Soi 4. While this 3-story sex complex easily gets beaten by Walking Street in Pattaya, this is still one of Bangkok's 3 big red-light districts. It is located right in the heart of one of BKK's most popular nightlife areas, Nana, which has tons of international restaurants, luxury hotels, clubs and bars but is mainly known for its bustling nightlife, most of the venues are packed with hookers.
Nana Plaza has about 30 go go bars, and quite a few of them are ladyboy bars. In fact, if you're out for a Thai ladyboy, you probably love it here as the street (Soi 4) right at the entrance of Nana Plaza is also full of ladyboy street hookers. The ladyboy go go bars in Nana Plaza can be found on the eastern side of the complex (coming from the main entrance just walk straight) on all levels 1, 2 and 3.
The action and madness at Nana Plaza, the world's largest "sex complex", starts daily at around 7pm. If you are out for a free ping pong show (means no cover charge) give Angelwitch on the second floor (left side) a visit, it has shows daily from around 10:30pm. Nana Plaza can easily be reached by public transport, just get off Nana BTS station – it's a 5-10 minute walk from there.
Best Go Go Bars in Nana Plaza: Billboard, Rainbow 5, Butterflies
3. Patpong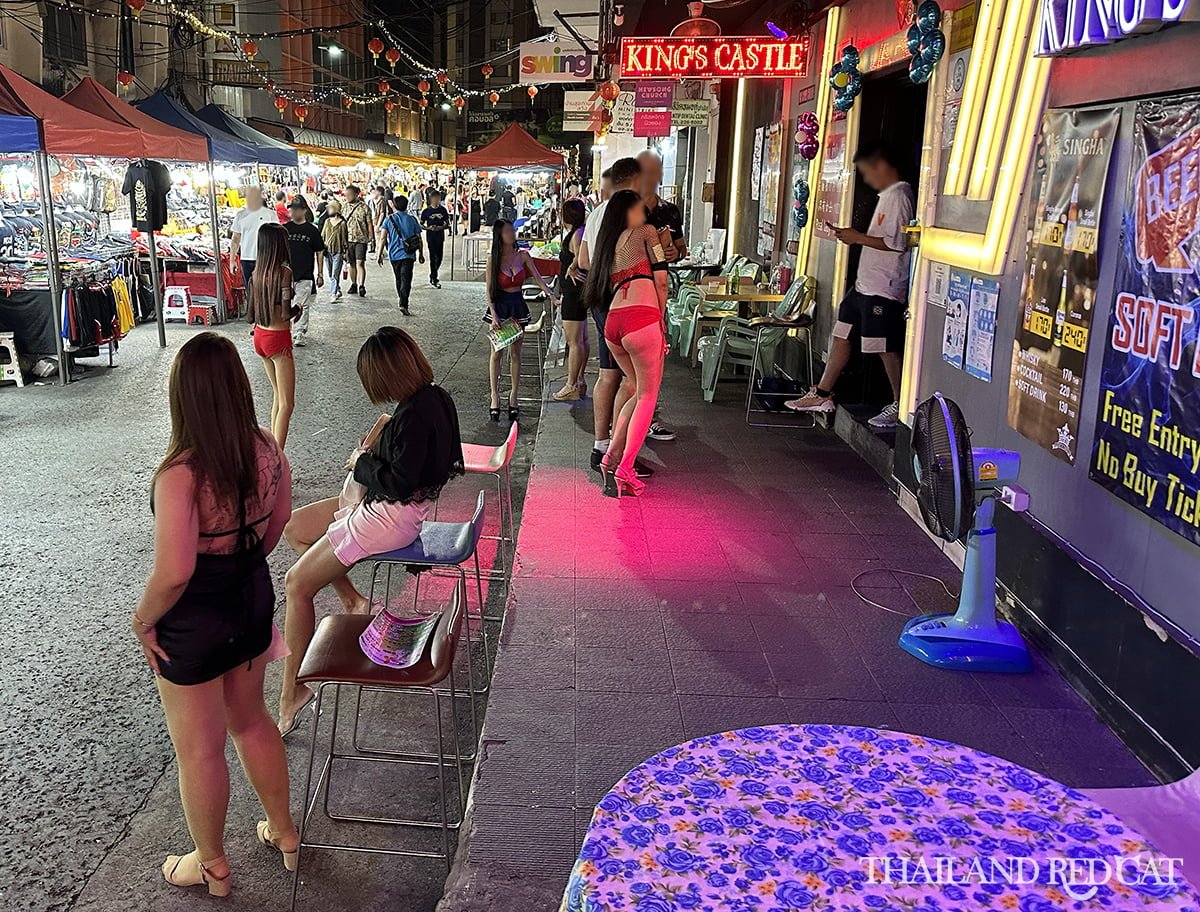 Patpong is Bangkok's oldest red light district. About a dozen go go bars are located on two parallel streets surrounded by Patpong night market – which is catering to foreigners as well.
Patpong is located in the Silom district which is mainly a business area, though easily accessible by public transport (Silom MRT / Sala Daeng BTS). Compared to Sukhumvit a few kilometers north, Silom still tries to catch up with exciting nightlife spots but Patpong and Boyz Town, the town's gay strip right across the street, are what Silom is famous for after sunset.
Beware of ping pong show scams in Patpong. It is not unlikely that you will be approached by two or three different Thai guys carrying ads in their hands and asking if you are interested in watching a ping pong show for only 500 Baht (or so). Usually that's a scam and you may find yourself paying not just 500 Baht for the entrance but also totally overpriced drinks (300 Baht and up) plus forced to take some lady and buy her lady drinks for even higher prices.
I would recommend you to stay away from Patpong if you are out for a ping pong show and head to Spanky's in Nana Plaza or Crazy House in Soi Cowboy instead, shows starting in both venues from around 11pm daily.
Best Go Go Bars in Patpong: King's Castle 1, Black Pagoda, The Strip 2.0
Now that you got a good overview of the different red light districts in Thailand's capital, you might also find my article on the 6 Best Go Go Bars in Bangkok useful.
Overview Map of Red Light Districts in Bangkok
Overview Video of Red Light Districts in Bangkok