Koh Chang has a lot more to offer than beautiful beaches and tropical rainforest. The nightlife on Thailand's third largest island is wild, diverse and thriving. There isn't anything to do on the island's quiet and unspectacular east coast (apart from some remote five star resorts), so if you are out exploring this part of the island by motorcycle you better return before 6pm unless you want to join the locals for a fishing trip out in the ocean.
All the action in Koh Chang after sunset is going on in the beach towns of the west coast.
The first thing you will notice when going up and down the main road from beach to beach on the west coast is how many beer bars there are. Almost every town or village has at least a couple of those Farang-oriented bars with mostly young Isaan girls waiting for guys to hang out with them, buy them drinks and go home together in exchange for paying the bar fine and some pocket money.
By the way: Supply doesn't nearly meet demand in Koh Chang even in high season so it's not unlikely that you are surrounded by three or four girls in these bars all giving their best to make you having a good time.
Girly Bars on Koh Chang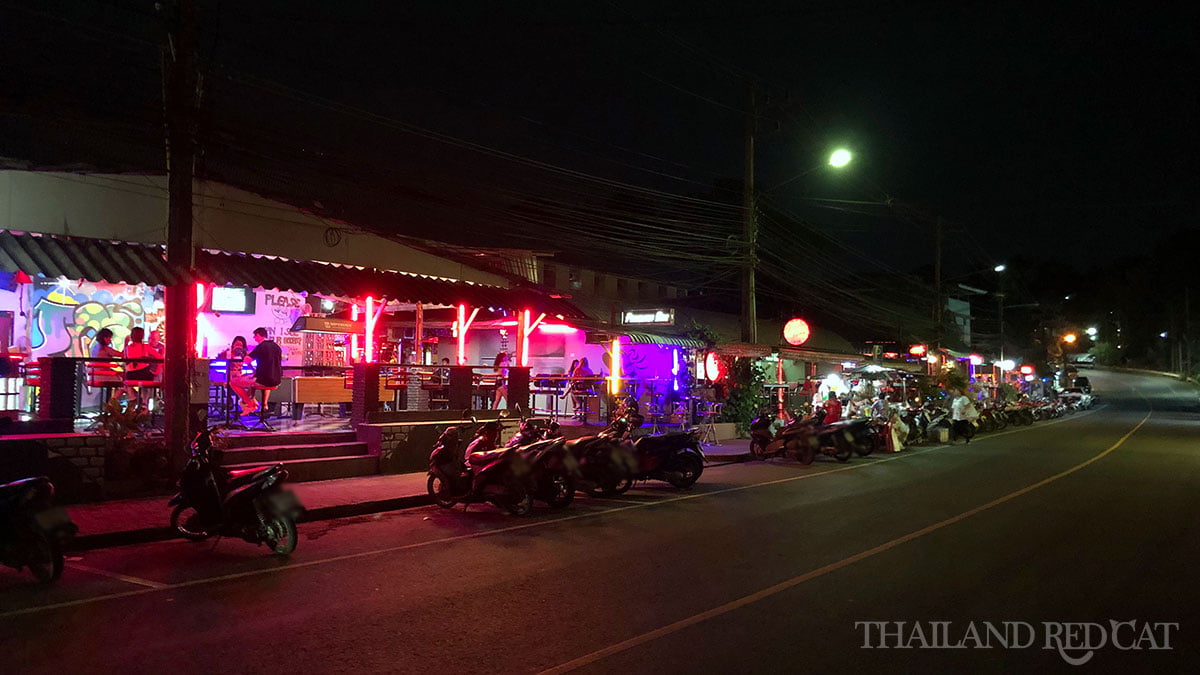 White Sand Beach (Hat Sai Khao), the most developed beach on the island, has by far the highest concentration of girly bars on Koh Chang. Kai Bae Beach (Hat Kai Bae) has also plenty of options and they even got a small bar strip called "Walking Street".
Look at the map below for the exact locations of those beer bar hubs. I have marked only the areas where there is a high concentration with at least ten or more girly bars.
As mentioned, almost every tiny village on Koh Chang's west coast has a few lady bars and they are all kind of the same, so it doesn't really make sense to give you a list of "the 5 best girly bars on Koh Chang". It doesn't really matter if they are called "One Redlight Bar" or "Honey Bar" – they are all kind of similar usually with a pool table, bar stools, bar games, TVs and lots of nice ladies.
Prices: Typical island prices, means a beer costs 90-100 Baht, spirits 150-160 Baht, lady drinks 150 / 200 Baht (no alcohol / with alcohol) and the bar fine is generally 500 Baht.
Night Clubs on Koh Chang
Believe it or not, there is no proper indoor nightclub on Koh Chang. The place that comes closest to a club is The Rockbar on White Sand Beach (left picture above).
The skilled Filipino band is playing western rock n' roll hits and are also open to wishes from the guests. There is no cover charge and it gets busy from around midnight till late. They even have a pool table there which is great to meet other people.
Another nightlife hotspot is the backpacker mecca at Lonely Beach. You can compare it somewhat with Khaosan Road in Bangkok; parties here start in the late afternoon and end somewhere around dawn. Needless to say that a lot of local Thai girls with ordinary day jobs like hotel reception or spa head there to hook up with Farang guys after they finished work.
Two of the most popular outdoor bars on Lonely Beach are Himmel Bar and Ting Tong Bar and Club right next to it.
Apart from all these beer bars, night clubs and backpacker spots there are obviously countless of beachside restaurants that make great party spots at night too. Sabai Bar (right picture above) on White Sand Beach is probably the most popular place in this category – they've got live music and a daily fire show, which is really impressive (see videos below).
Prices: Here are the prices of selected drinks in The Rockbar, which is quite representative for other late night bars on the island (except Lonely Beach, which is slightly cheaper): Chang & Leo 100 Baht, Singha 110 Baht, Sang Som & Mixer 380 Baht, Mount Clair Red Wine 150 Baht, Jack Daniels & Coke 190 Baht, Cocktails around 180 Baht, Mixers 40-50 Baht, Snacks like chips or nuts 40 Baht.
Happy Ending Massage on Koh Chang
Like on most other islands in Thailand, there is no shortage of massage salons on Koh Chang.
And a few places on White Sand Beach and Kai Bae Beach also offer happy endings for a tip of 500 Baht in addition to the service price of 200 Baht for Thai Massage or 300 Baht for Oil Massage.
It's really quite obvious.
Just look at how sexy the girls are dressed and if they are also eagerly offering their service to you ("Hello! Handsome man! Massage one hour!") then you can be pretty sure that extras are being offered.
Night Market on Koh Chang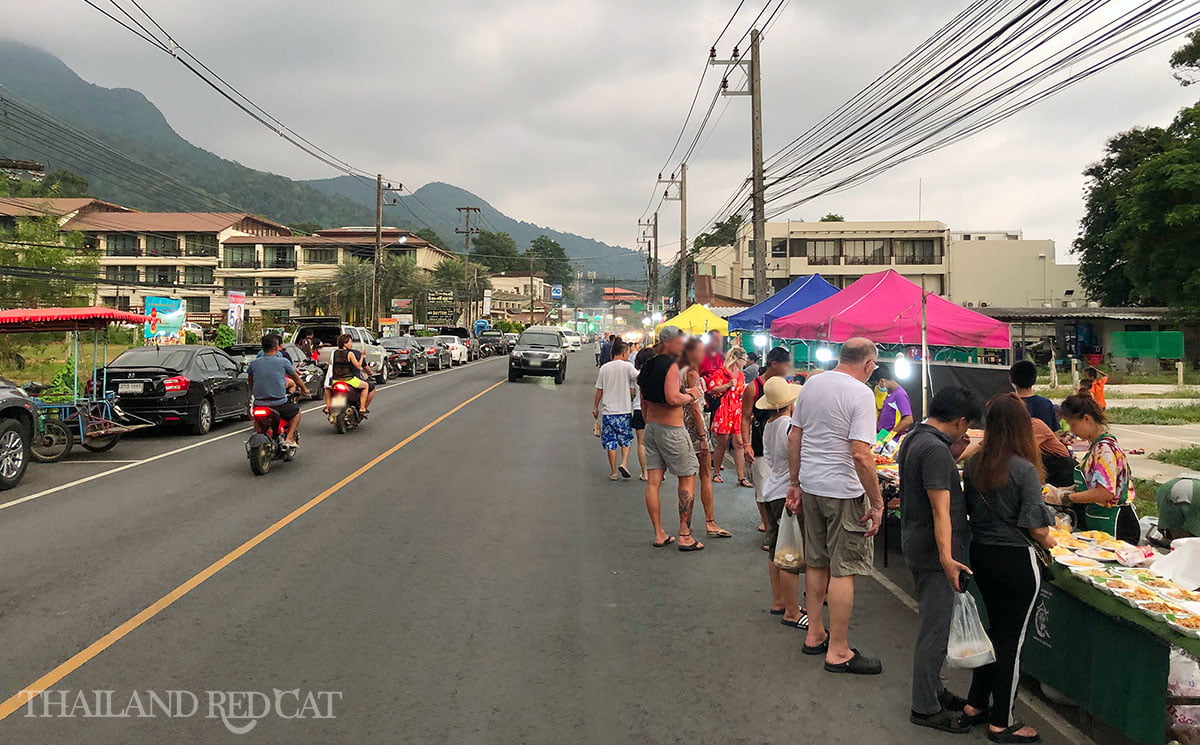 Before I show you the map with all the mentioned places, let's round up this nightlife guide by mentioning the best night market on the island: The White Sand Beach Night Food Market.
If you want some break from the increasingly expensive food in the restaurants in town (or just crave some authentic Thai street food, sweets and drinks), make sure to visit the atmospheric night market right on the main street from about 6pm to 10pm.
Map of Nightlife on Koh Chang
You see the nightlife on Koh Chang has something for everyone. If you come as a couple you rather want to stick with the beautiful beachside bars and restaurants on White Sand or Kai Bae Beach or the multi-culti parties on Lonely Beach.
And if you are a single foreigner it doesn't really matter where you book your hotel – you can find fun and accompaniment on almost every corner of the west coast.
Videos of Nightlife on Koh Chang