Koh Phi Phi is probably the most beautiful archipelago in Thailand. If you decide to travel Southern Thailand, you should not miss visiting there – even if it gets more and more crowded with backpackers, young and middle aged couples and also more and more senior travelers or couples spending their honeymoon in the big resorts there.
The problem with Koh Phi Phi is that the main island is not even 10% of the size of Koh Samui – but it's equally popular. That means it's almost impossible to find a quiet strip of beach or to escape the backpackers in all the bars getting drunk with their cheap whiskey buckets while watching "The Beach" or grooving to reggae music.
That's why I have decided that for my second trip to Phi Phi last month, I will not book a hotel on the island, but instead stay in Ao Nang and from there do a day trip around the archipelago. I had been staying on Koh Phi Phi Don (the main island) seven years ago and when I left there I told myself: "Nice place, but this was a one time experience."
Why Ao Nang? Well firstly, simply because it's the most developed beach town in the Krabi region and that means instead of smoking weed with hippies on overcrowded Phi Phi, I'd rather grab some firm butts in RCA in Ao Nang. Secondly, Ao Nang is the closest access point to Koh Phi Phi (not Phuket!) which results in the cheapest tour prices. And thirdly, I wanted to see Maya Bay – eventually. I'd been living in Thailand for more than four years but still hadn't been there. And if you go to Koh Phi Phi Don, you will have to join another tour to Koh Phi Phi Leh where Maya Bay is located.
I decided to join the 7 Island Tour around Koh Phi Phi. The highlight of that trip is obviously Maya Bay, but the other places sounded interesting, too. I walked along the beach promenade in Ao Nang where countless of small travel agents are found and immediately knew it was a great idea to join that tour: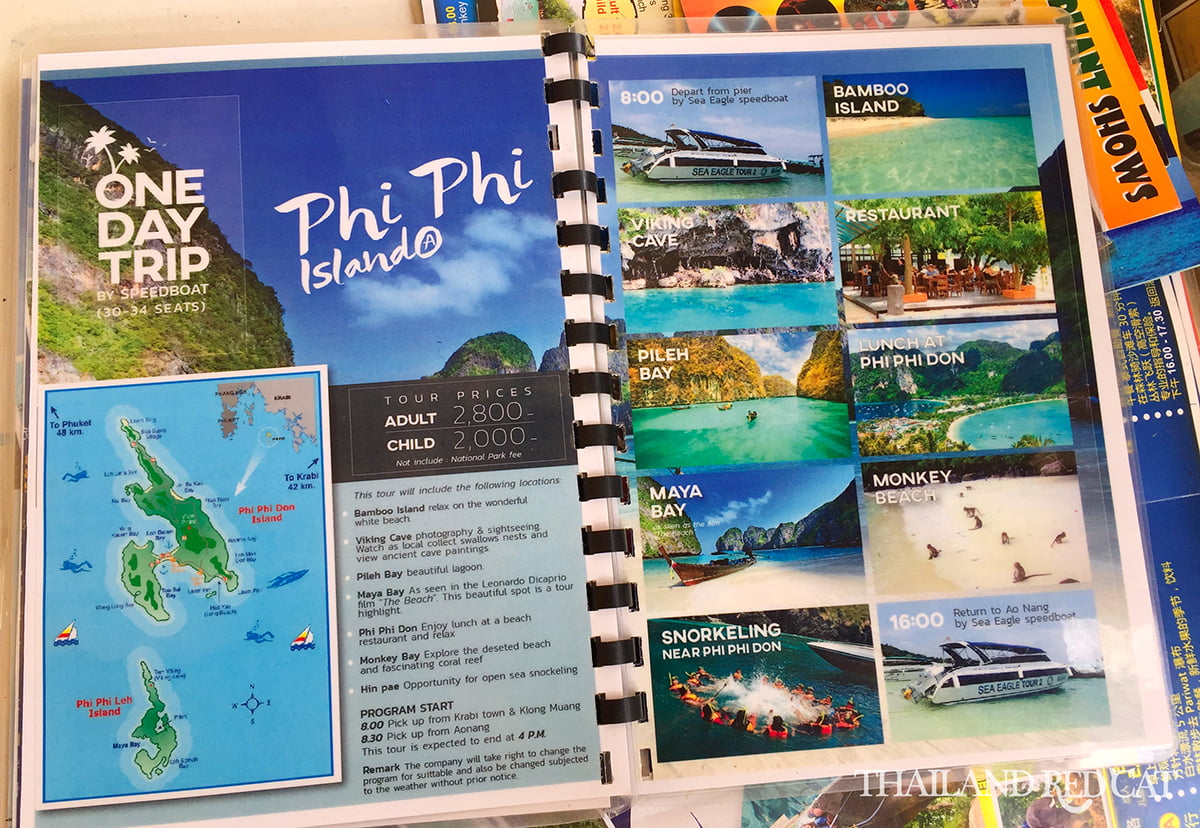 Don't worry, I didn't pay 2,800 Baht. That's apparently the price for the peak season (December – January), but even then I'm sure you would pay less than that. This was November and I paid only 800 Baht – including pick up from the hotel, travel by speedboat, buffet lunch, drinks and snacks and drop off at the hotel. And excluding the national park fee of 400 Baht that had to be paid on the first island.
The following morning a minivan picked me up at my hotel in Ao Nang at 8:30am. It took me and a few other tourists to Had Nopparatthara Pier, which is the main pier in Krabi. Just a short 10 minute drive, it's located on the western end of Nopparat Thara Beach. I have included its location as well as all other places mentioned on the map at the end of the guide.
The company staff already awaited us there.
They checked our names off their list, asked us to pay the 400 Baht national park entrance fee and gave each of us a pink colored wristband – probably because there are so many boats going on this trip every day so nobody gets lost.
We waited for the remaining passengers of our boat and at about 9:15am we followed our tour guide to the speed boat.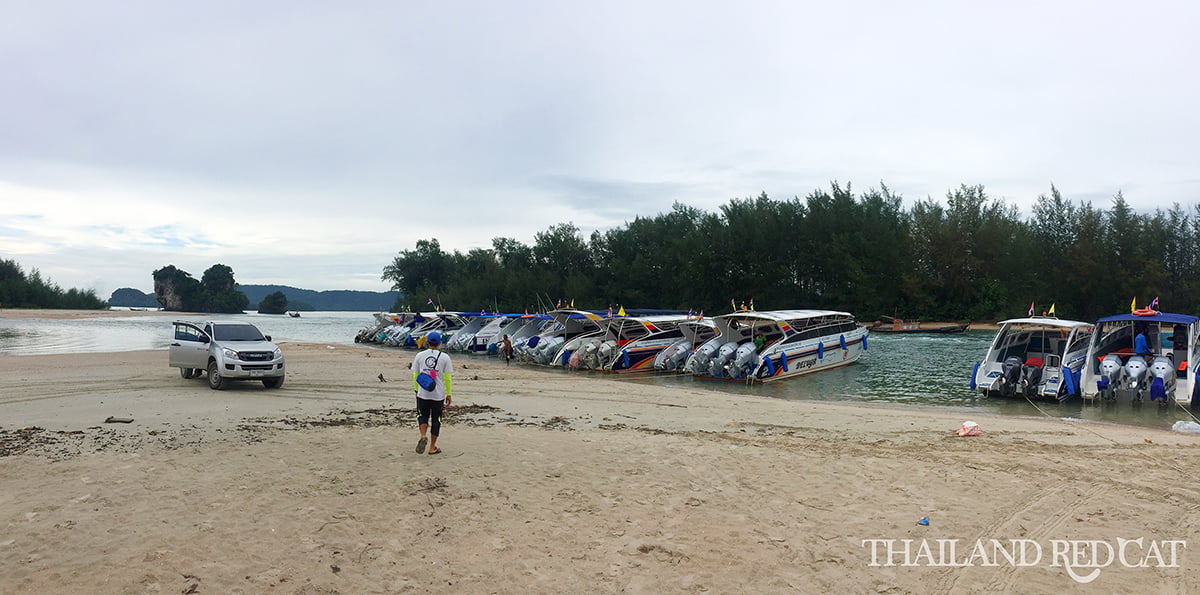 After the standard introduction of the guide and his team (good English skills) we departed from Had Nopparatthara Pier right in time at 9:30am.
After 45 minutes we reached Bamboo island, which is about 80% of the way to Koh Phi Phi.
1. Bamboo Island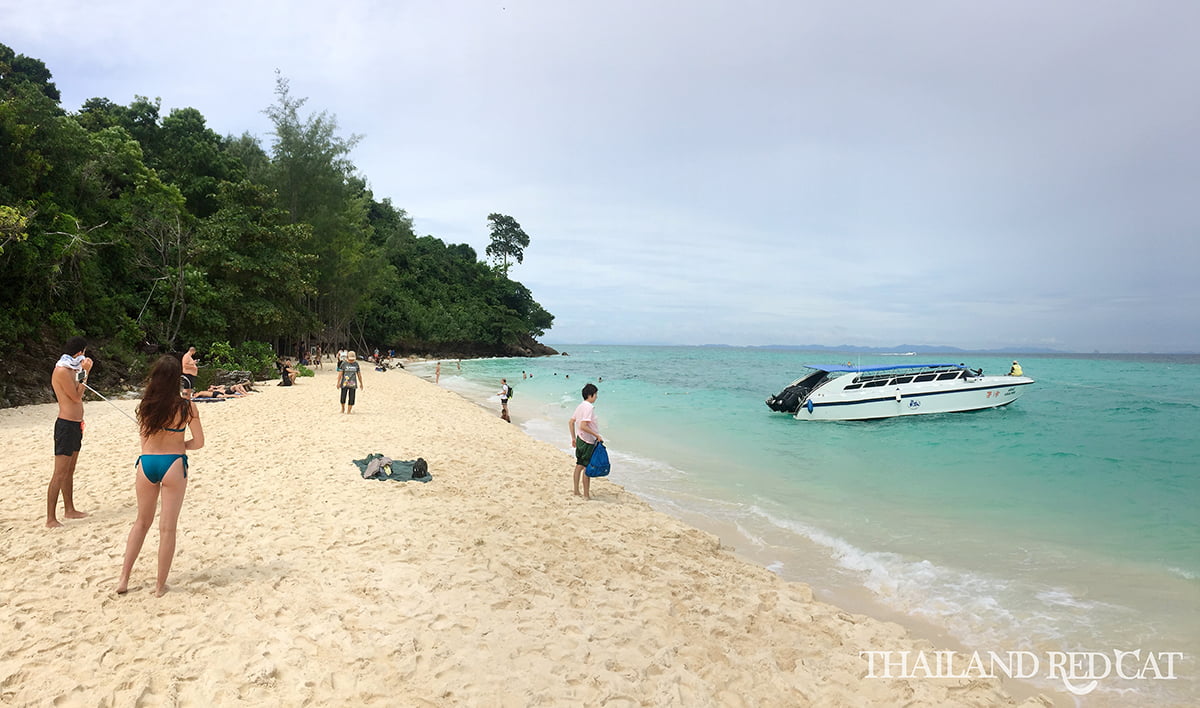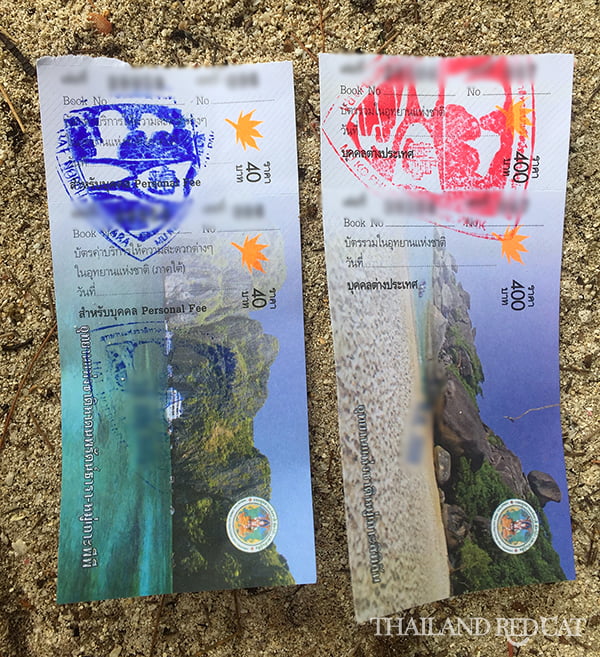 Like you can see in the picture above, this island isn't really that special. I think the main reason why they decided to stop here is first because "7 Island Tour" sounds better than "6 Island Tour" and second because they have a national park office here – the guides paid them the money and in return we received the "entrance ticket".
Which of course nobody checked all day long. And which of course is 10 times more expensive for foreigners (400 Baht) than for Thai people (40 Baht). By the way, I tried to get the Thai price because I have a Thai driving license – but they refused.
Typical for Southern Thailand, up in Isaan I usually get the Thai price.
We had 45 minutes leisure time on Bamboo Island. Some of the people of our boat went for a swim, but I didn't – I knew there were three much better swimming opportunities coming up shortly.
2. Viking Cave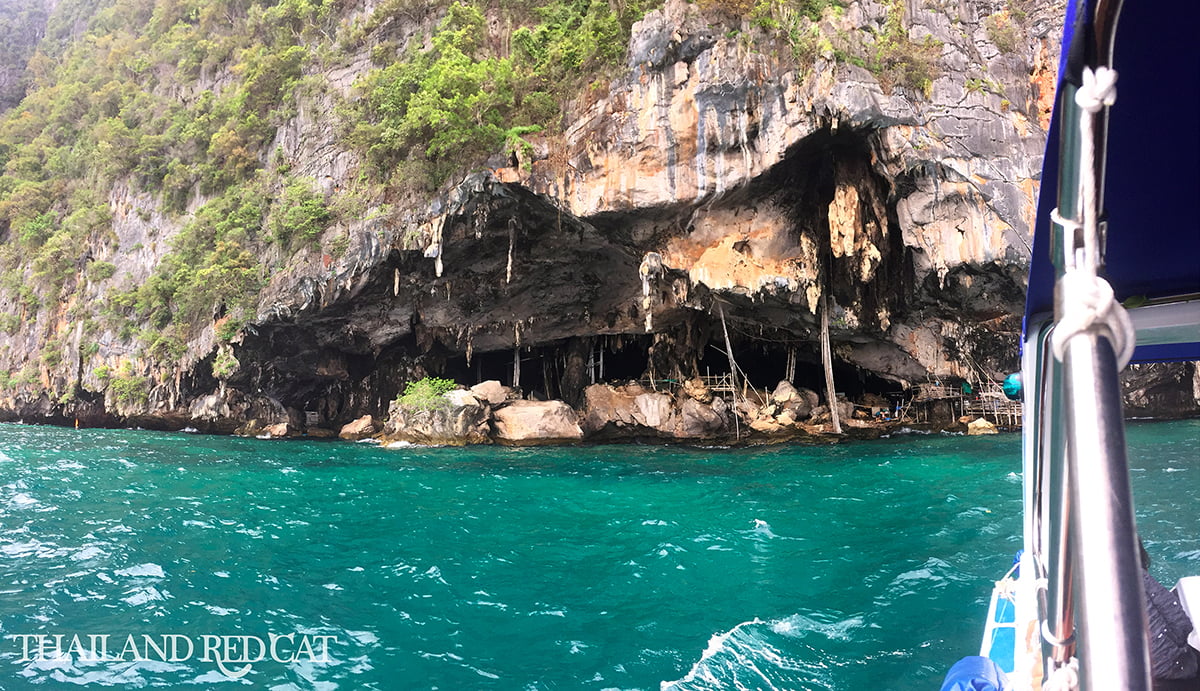 After another 20 minutes ride we reached the second attraction of the tour: Viking Cave on Koh Phi Phi Leh. It's a habitat of birds and privately owned (40 Baht entrance fee). They call it that way because there are paintings of viking boats inside. They were drawn by fishermen who tried to escape from the high waves at night.
Rather boring and I started thinking the whole trip was a rip off. The first 2 out of 7 places were unspectacular – we didn't even get to go inside that cave!
3. Pileh Lagoon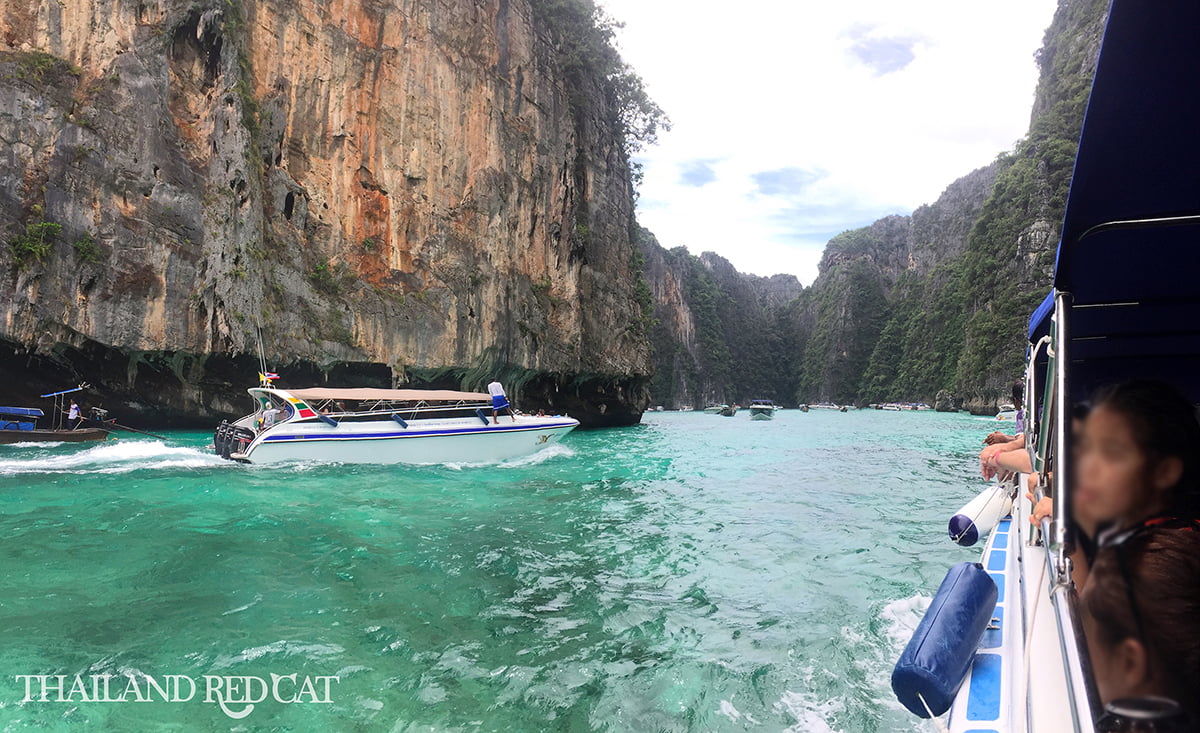 Next was Pileh Lagoon, which is also located in Koh Phi Phi Leh. This was the first time I knew that my money on this trip was well spent – look at these massive limestone cliffs! It felt like cruising inside a Norwegian fjord. Just different.
We went all the way inside the lagoon where our captain dropped the anchor and we were given 40 minutes leisure time. I didn't have to think twice – I quickly threw off my shirt and jumped into the water, soaking in the views of the huge cliffs all around.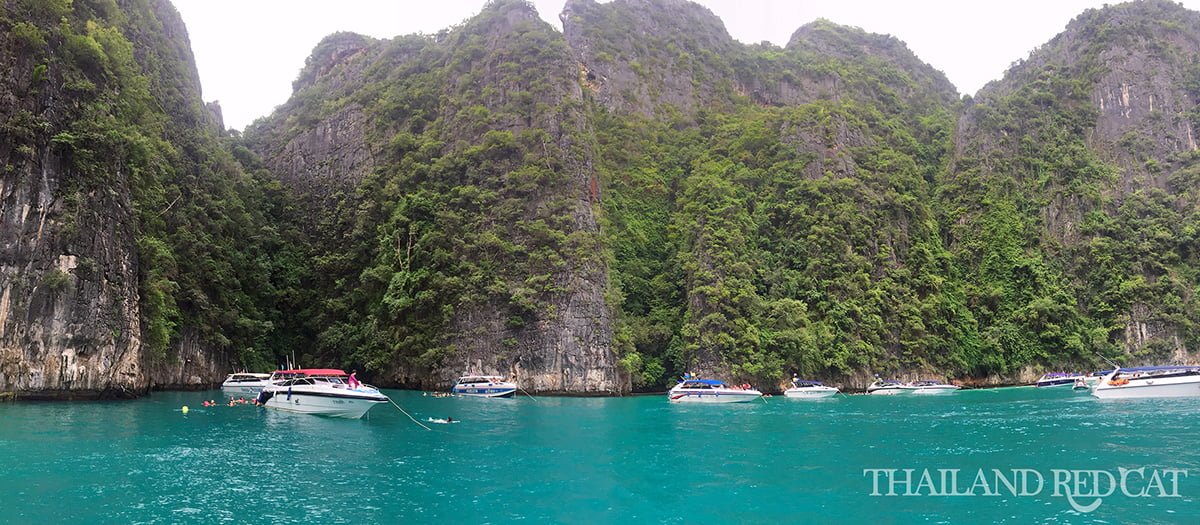 At almost exactly 12 o'clock noon we continued our cruise. We headed to the southwestern part of Koh Phi Phi Leh and after less than 10 minutes we arrived: one of the most beautiful places on earth.
4. Maya Bay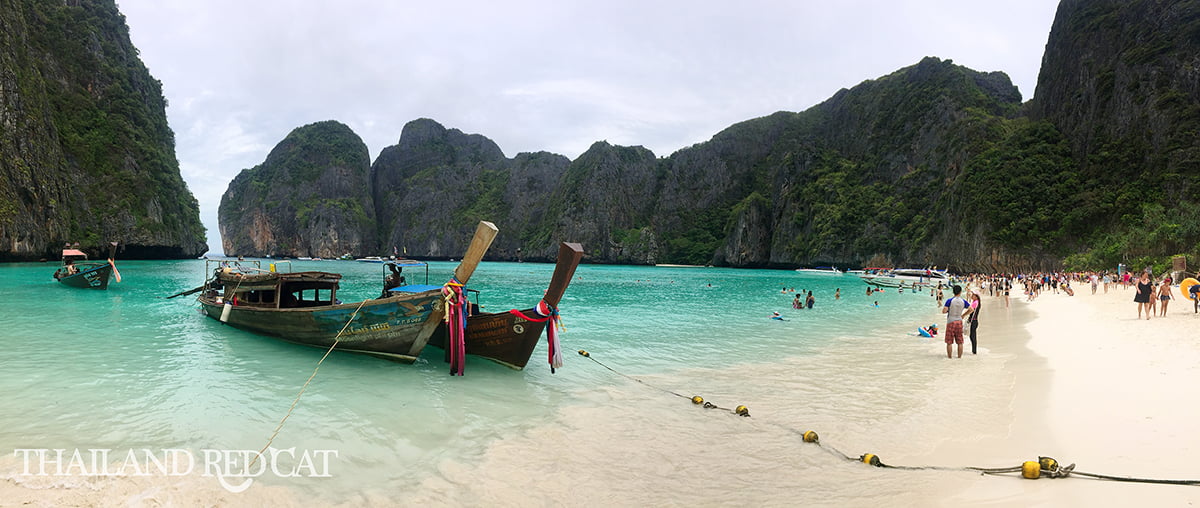 Yes, there are shitloads of tourists all the time. Yes, there are nicer places to go for a swim. But seriously: It's well worth to spend 1,000 Baht to get to see this natural wonder. Just go to the southern part of the beach (where I took the photo) and enjoy the views away from the crowds.
And besides that, there are also plenty of other nice things to look at.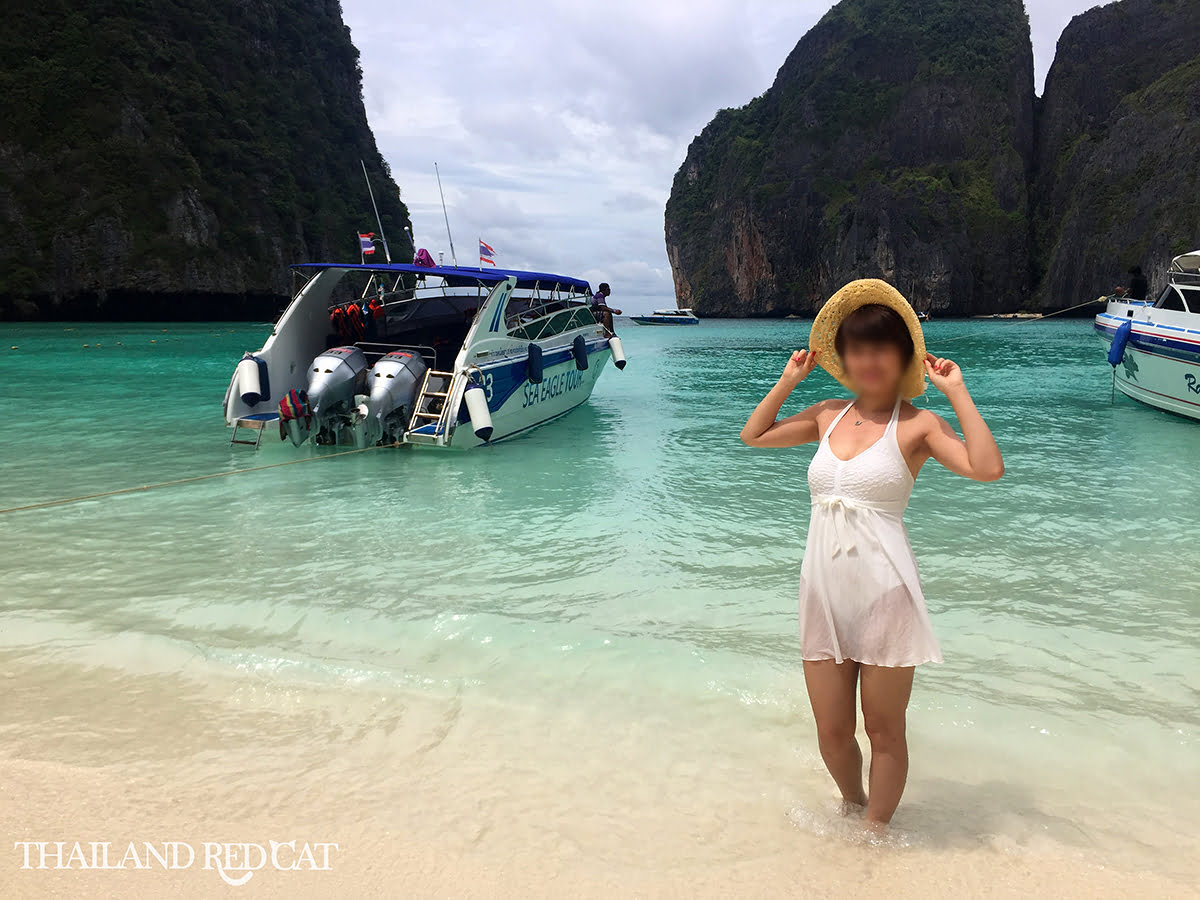 Yes, nice views everywhere you look.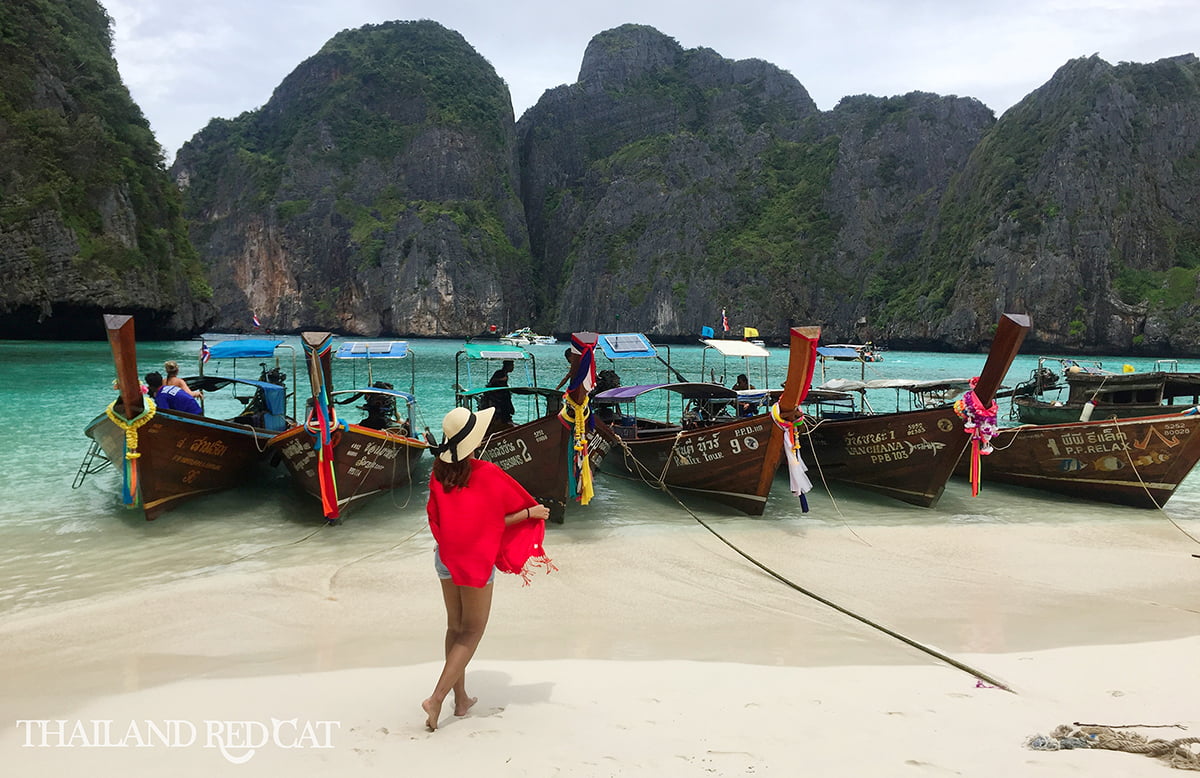 Unfortunately, we only had 40 minutes here. I had rather skipped Bamboo Island (number 1) completely and instead spent more time on Maya Bay.
Anyway, at about 1pm we left this island and cruised towards Koh Phi Phi Don.
5. Monkey Beach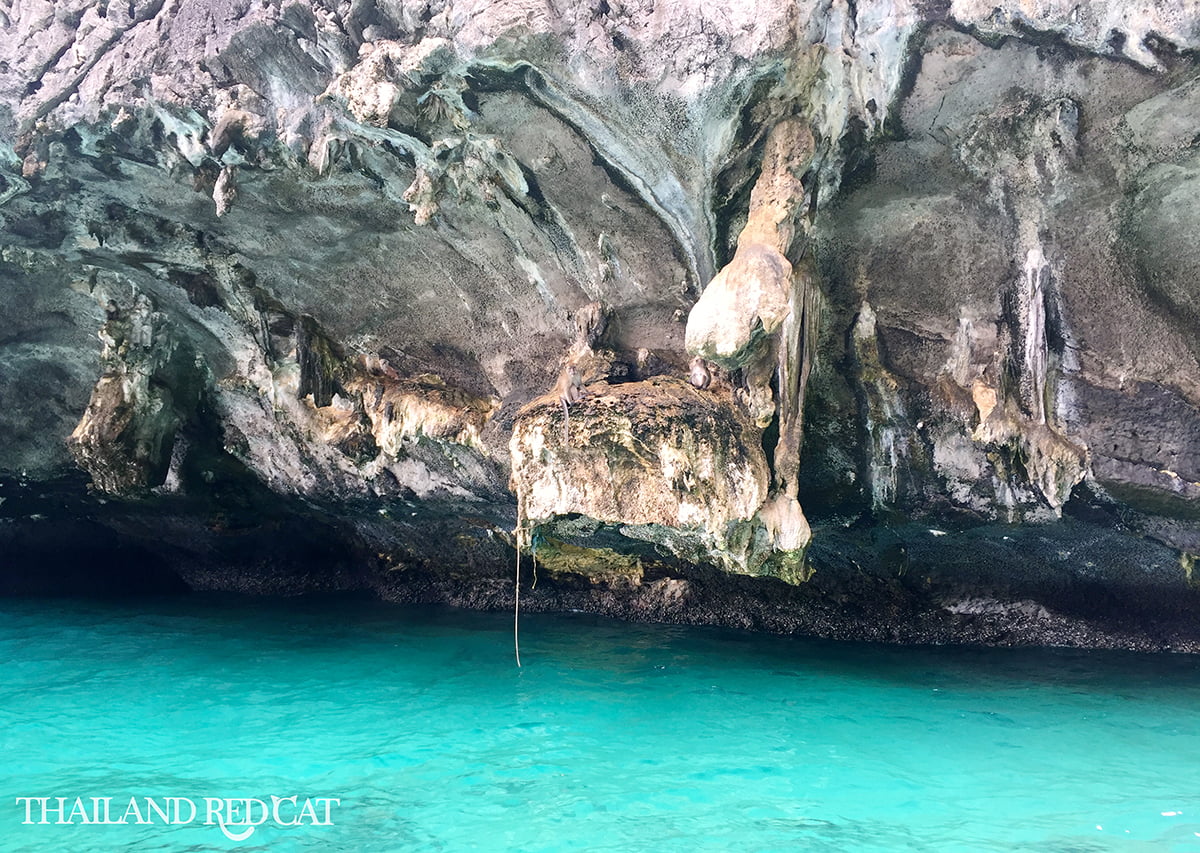 On the southern part of Koh Phi Phi Don is a place called "Monkey Beach" – attraction number 5. Nothing really spectacular, unless you have never seen these naughty Southeast Asian monkeys before. They even sell half day kayak tours on Phi Phi Don where you can feed the animals.
We didn't stop here, but just cruised by slowly so everyone could take their pictures. Then we headed to the tourist area of the island for lunch.
6. Buffet Lunch on Koh Phi Phi Don
Ao Tonsai Pier is the main pier of Koh Phi Phi and here we stopped for lunch. The buffet was quite tasty – a good mix of western and Thai food (pasta, curry, rice, vegetables, fruits, drinks).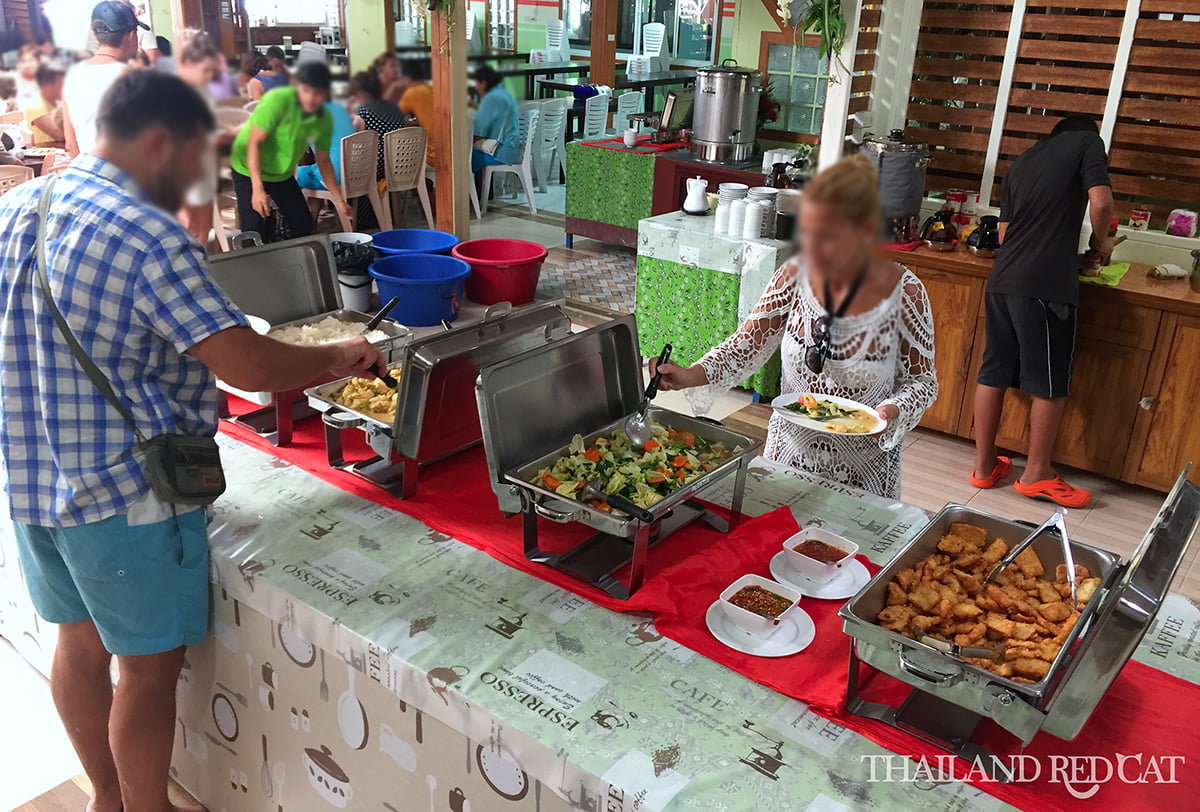 We got 45 minutes on Koh Phi Phi Don, so after lunch I went for a small walk and took some pictures.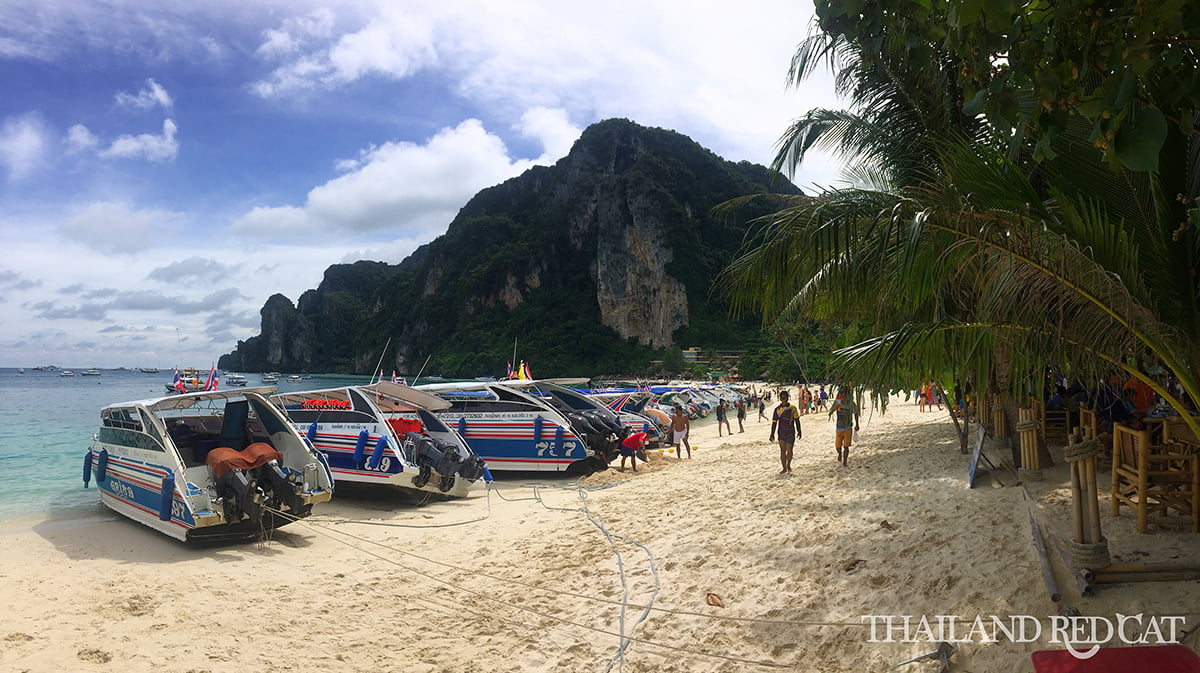 The last part of our trip was snorkeling off Koh Phi Phi Don for 50 minutes – not bad, but not nearly as many colorful fish (and no Nemos) like in Koh Rok where I had been the week before.
7. Snorkeling off Koh Phi Phi Don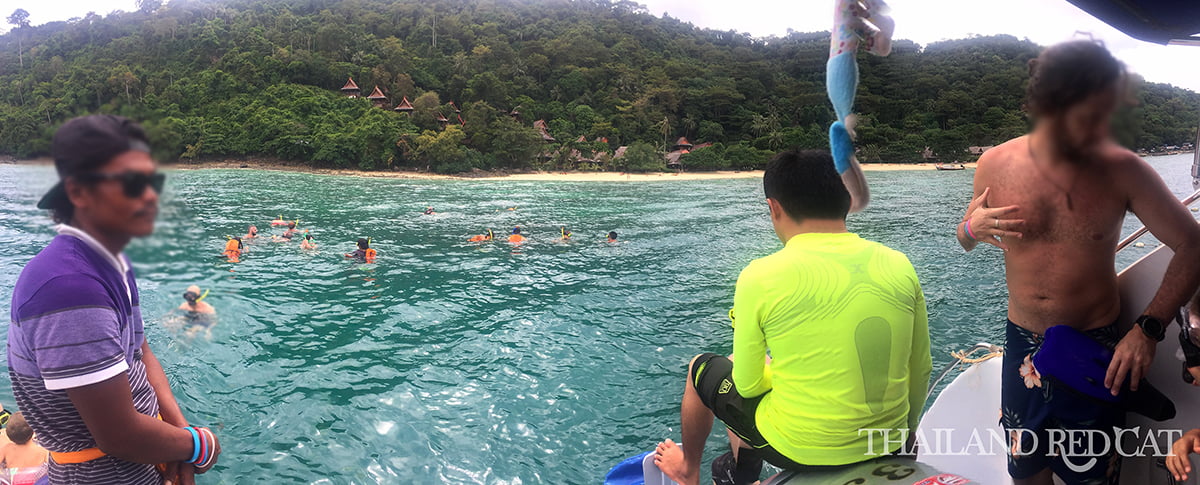 And that was it! We cruised back to Ao Nang where we reached about 4:30pm and they dropped us back to our hotels by minivan.
Should you do it? If you are in Ao Nang or Krabi in general, then I'd say definitely yes. Not only because there isn't anything else to do (except rock climbing in Railay maybe), but especially because the scenery of Koh Phi Phi with its huge limestone cliffs rising dramatically out of the turquoise water are unlike anything else you have seen before.
And if you are still not sure if you should do that trip, check out my video below – all highlights of the 7 island tour in less than 3 minutes.
Overview Map of 7 Islands Tour
Overview Video of 7 Island Tour