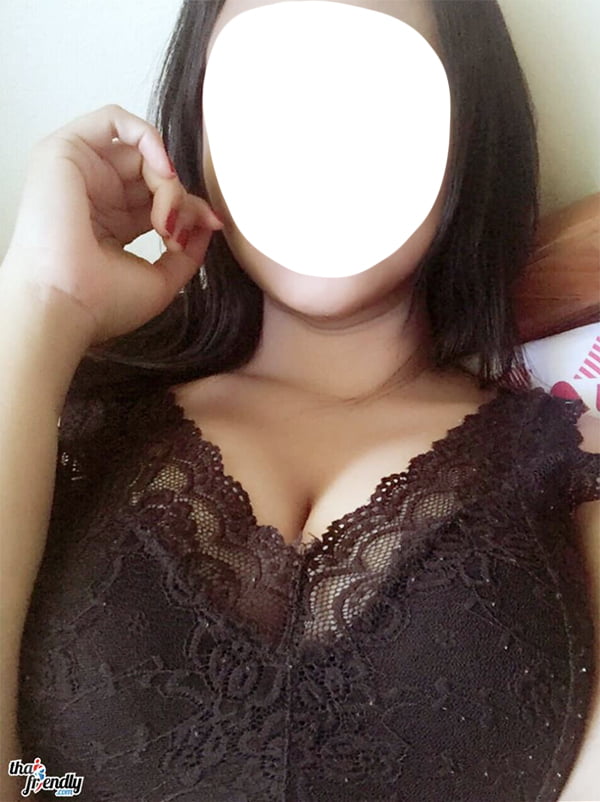 There are so many different ways to meet girls in Bangkok and invite them to your hotel room for sex (sorry, to "watch a movie" of course).
Most popular among the tourists are the bar girls and many other types of hookers in the various entertainment venues, but of course you can also meet and sleep with girls in Bangkok for free by using the extremely popular Thai Friendly Dating Site.
Taking out girls from the Go Go's in Bangkok for some short time sex isn't quite what it used to be.
A lot of girls – especially the most attractive and popular ones – are trying to avoid going to your hotel, especially if it's far away and instead insist either to put their rates up or suggest a short time room just around the corner or often just upstairs on the same establishment so they can come back on stage as quickly as possible looking for their next customer.
Yes, it's not uncommon for some to do several guys every night and be more reluctant to "long time" as ever before.
So unless you don't mind paying a few hundred Baht extra for the short time hotel (basically a very basic room with a queen bed, two towels, enclosed bathroom and usually a couple of condoms that you rent for a couple of hours) you may just want to be smart when booking your hotel in Bangkok by choosing one that's simply very close to the Go Go Bars.
Important: Not all hotels in Bangkok are "guest-friendly", means not every hotel allows you to bring in Thai girls. All of these 5 hotels on my list are guest-friendly and don't charge joiner fees.
Below I list two typical sex hotels each near Nana Plaza and Soi Cowboy which are the most popular red light districts in Bangkok. And just to make things complete also one more that's located near Patpong, the oldest go go bar area in Thailand yet business going down there constantly and if you ask me it's just a matter of a few years until the markets and massage salons will have completely taken over this area.
Best Hotels near Nana Plaza
If your bar girl in Nana Plaza asks you where you stay and you say "Nana Hotel" it will very likely put a big smile on her face and make her immediately respond with "bà" (ป่ะ – let's go). This guest friendly hotel is located right opposite the entrance of Nana Plaza so it takes less than 60 seconds to walk there. I'm sure more than half of all the guests book this hotel knowing they take a girl there for some short time fun and the rest, well, they are usually surprised when they sit in the lobby in the evening and see all the Farangs dragging in and out young Thai ladies in miniskirts and high heels in five minute intervals.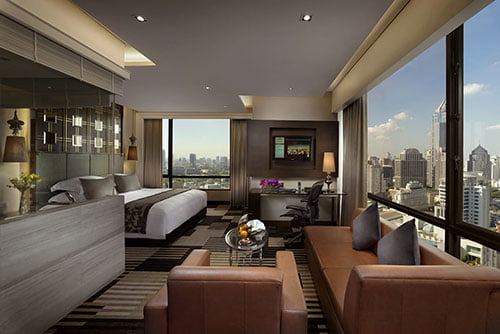 When you enter the courtyard of Nana Plaza and look up to the top floors you will see one of Bangkok's most famous hotels arising right behind it: The Landmark. Even though there isn't a shortcut to reach it from Nana Plaza it just takes 5 minutes to walk to the "mouth" of Soi 4 and down Sukhumvit Road for 100 meters. Your girl will be more than delighted when you tell her you are staying at The Landmark, but don't let her overcharge you since she knows that you can afford this beautiful five star hotel – just stay in the common price range.
Best Hotels near Soi Cowboy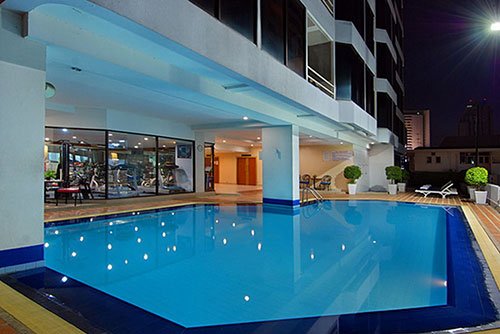 There aren't nearly as many guest friendly hotels within immediate proximity to Soi Cowboy compared to the area around Nana Plaza – but two of the few places are listed here. The first one is called Tai-Pan Hotel in Sukhumvit Soi 23. The best thing about it apart from that it's less than a five minute walk to Soi Cowboy (which is actually a small connecting alley of Soi 23 and Soi 21 or better known as Ratchadaphisek Road) is that standard room rates for this three star hotel go for as little as 1,500 Baht a night – check the availability by clicking the link below.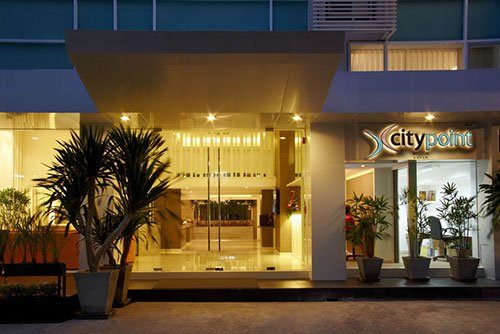 If you (and your girl) don't mind walking 8 minutes instead of 5, the CityPoint Hotel is an excellent alternative to the Tai-Pan Hotel for sex tourists. Located off Ratchadaphisek Road near the Asoke intersection, all of the 30 smoke free rooms are designed with a contemporary flair, relaxing colors and clean linen. The room rates include breakfast for two, free internet access, LCD TVs with about 90 international channels, minibar & fridge, electronic safety box and more – just click the link below to find all information, more pictures and availability.
Best Hotel near Patpong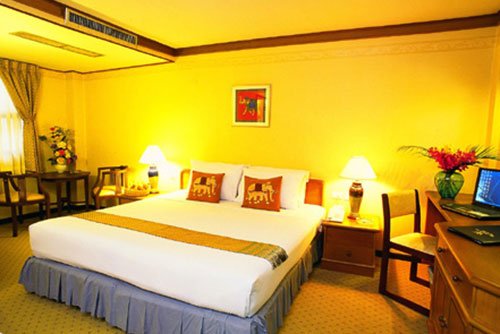 The Wall Street Inn might be the best value-for-money deal in the Patpong area, room rates start from as low as 1,100 Baht a night for this three star hotel. It's located in a short alley right next to Patpong Soi 2. A short 3 minutes walk so you can literally tell your girl to not take off her high heels (that's what they usually do when getting changed while you pay the bar fine). This hotel also has a standard massage salon in case the other ones in this area are too naughty for you.