If you have just arrived in Patong, checked into your hotel, taken a shower and short rest from your travels, then you will ask yourself: What am I going to do first? Chances are that you don't want to go sightseeing until your first full day on the island, so then what to do? Two of the most popular daytime activities for single men in Phuket are going to the beach or to the beer bars (or girly bars, whatever you call them).
Sure, it's also quite tempting to try a happy ending massage first thing after you have arrived here, but then after one hour you will be in the same situation. The girly bars are the most popular place to relax for a few hours, drink cool beer during the hot afternoon hours (or any time of the day really), watch the street life from your seat, maybe watch some TV, maybe play some pool, and probably enjoy yourself with young and sexy Thai girls.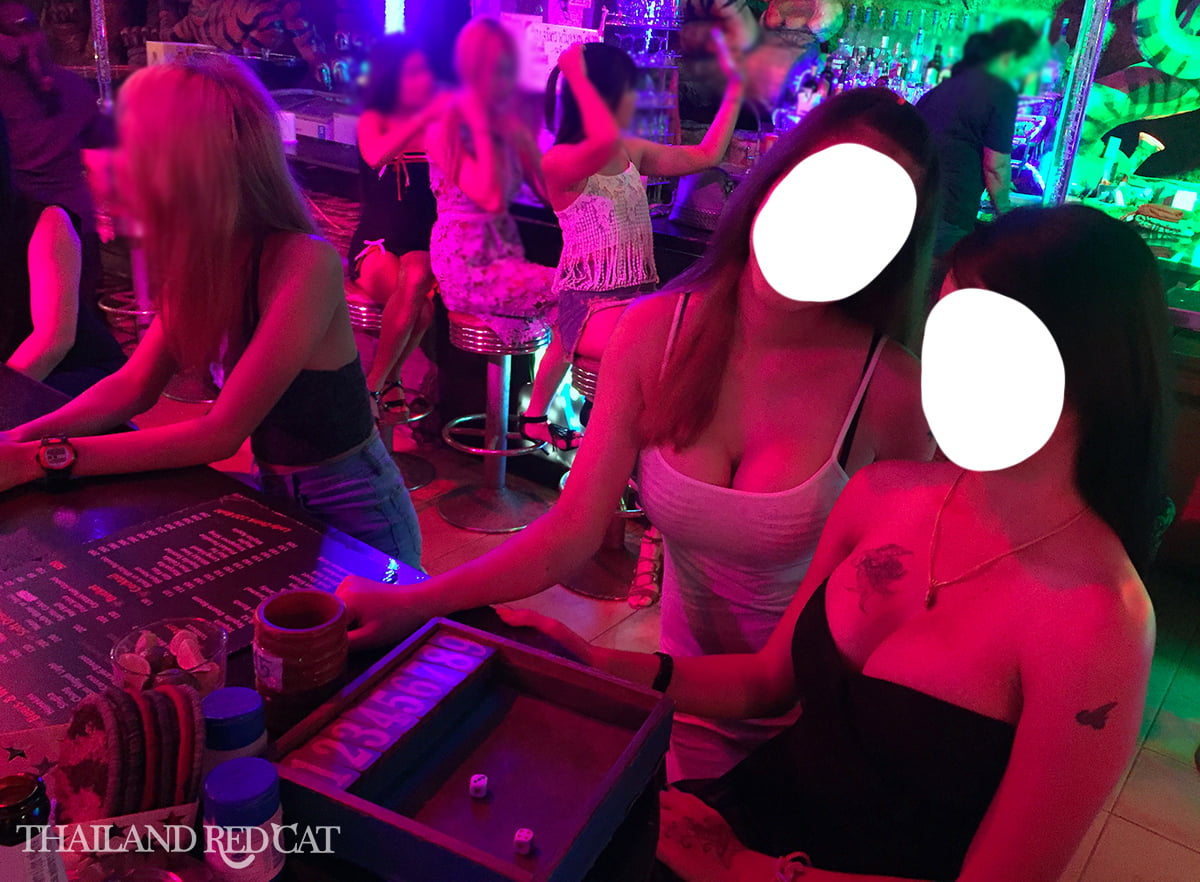 In this guide I will give you the complete overview to the best places with girly bars in Patong, how it works, how much everything costs, and a comparison of bar girls to go go girls and other cities in Thailand. If you already know how it works, then you can just skip the next section. I will just try to make this guide complete so if it's your first time in Thailand you know what to expect when visiting these bars.
How it works
If you have never been to a girly bar in Thailand before, it might feel a bit strange when you walk down the street and suddenly three half naked girls try to get your attention and lure you inside their bar. Don't worry, you can just sit down, order a beer and don't commit to anything. That's what a lot of newbies falsely assume – they think that they have to buy the girls drinks. But you don't, you can just sit there, drink your beer and watch the scene.
You will probably be greeted by one of the ladies soon after you made your order, and she will start some small talk with you. "What your name? Where you from? You come holiday in Thailand? You first time? Where you been here?", are the standard questions that she tries to break the ice with. If you like the girl then you can buy her a lady drink (I will talk about all prices later in this guide), but if not (or you don't want to make a decision just yet) then of course you don't need to buy one. Just smile and tell her politely that you want to "just looking first".
Popular activities in the girly bars other than talking to the girls are playing pool and watching live sport on the TV. Especially playing pool is a great way to meet other travelers and expats, you just need to write down your name on the white board. The winner stays and plays for free, and the loser pays 20 Baht for the game. And yes, if you like a girl and would like to take her back to your hotel for sex, then that's possible of course. You will need to pay her bar fine (and also a lady drink or two before) and arrange a price for short time or long time with her. Once again, check below for the information on the going prices.
The 3 Best Girly Bar Areas in Patong
I think you are not surprised when I tell you that Patong has not only the highest number of girly bars in all of Phuket, but also the youngest and most attractive girls on the island. If you come here for a sex holiday, there is really no reason to leave Patong, at least not for the girls – you have it all here.
And even though you can find the girly bars spread all around Patong, there are a few main areas with big clusters of bars that are the most fun to visit. Here they are:
Bangla Road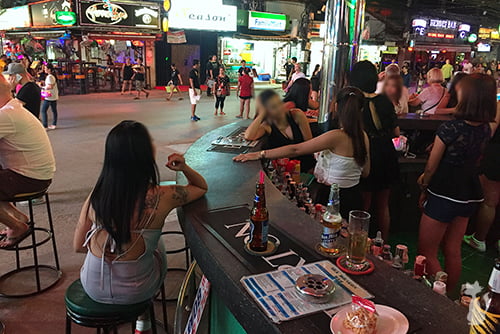 Bangla Road is not only home of the best go go bars in Phuket, but also to the biggest, loudest, busiest and most fun girly bars on the island. You can find the beer bars spread all along the party strip, but there are two big hubs of these bars: Soi Seadragon (photo), which is a side street of Bangla Road, and Tiger Night Club, which is a huge building with lots of impressive tiger sculptures, a disco on the upper floor and about 30 (!) girly bars on the ground floor with even more impressive ladies. That's where I took the first photo of this guide (see above). If you only have enough time to visit one area with girly bars in Phuket, then I would definitely recommend you Tiger. It's a great feeling to sit there and be surrounded by dozens, if not hundreds of some of the hottest bar girls in Patong.
Girls Quantity: 10/10
Girls Quality: 8/10
Prachanukhro Road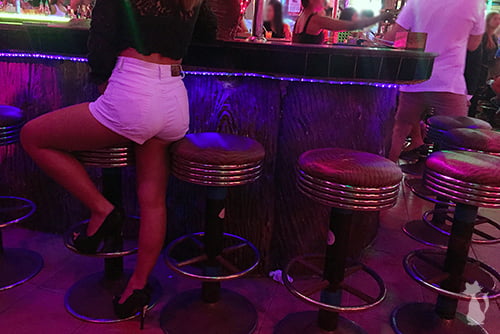 If you take a trip down to the very southern end of Beach Road, you can find a small but neat girly bar complex on the corner of Prachanukhro Road. It's one big, half open air building with about 8 different bars and plenty of sexy Phuket girls (well, actually most of them are no locals but come from other parts of Thailand, especially Isaan, Hat Yai and Surat Thani). The great thing about these joint-bars is that you can sit down somewhere, and even if it turns out that the girls in your bar are not as hot as you expected, you can take a look around to the other bars – and maybe see some hot butt right opposite of you.
Girls Quantity: 6/10
Girls Quality: 7/10
Patong Beer Bar Complex
Probably the most relaxed place to have a cool Singha or two and still being surrounded by lots of hot bar ladies is the Patong Beer Bar Complex. This place is unknown to a lot of tourists, because it's kind of hidden behind Second Road in the southern part of Patong. If you just walk along the street you cannot see it, so make sure you look on my map below for the exact location. There are about 25 small and neat open air beer bars that look like bamboo huts and give you the feeling of the earlier days of Patong's red light entertainment. The girls aren't as hot as in the other two areas on this list, but you come here mainly for the atmosphere and conversation with other tourists and expats.
Girls Quantity: 7/10
Girls Quality: 6/10
There is another, small cluster of girly bars on Beach Road about 300m north of Bangla Road. That area is kind of dying though – every time I go there there are less customers (and girls) in the bars. Anyway, I have marked it on the map below so you can check it out for yourself.
Overview Map of Girly Bars in Patong
Prices for Drinks & Girls in Phuket's Girly Bars
The prices for drinks in Phuket's girly bars are similar like in the other tourist hubs in Thailand. A small bottle of beer costs around 100 Baht and spirits (like gin tonic or black label soda) cost around 160-180 Baht. But what you will find more expensive than elsewhere are the lady drinks – it's almost impossible to find a bar on Bangla Road that charges less than 200 Baht.
In the popular Heroe's Bar it's 220 Baht for a lady drink – here is their full drink menu: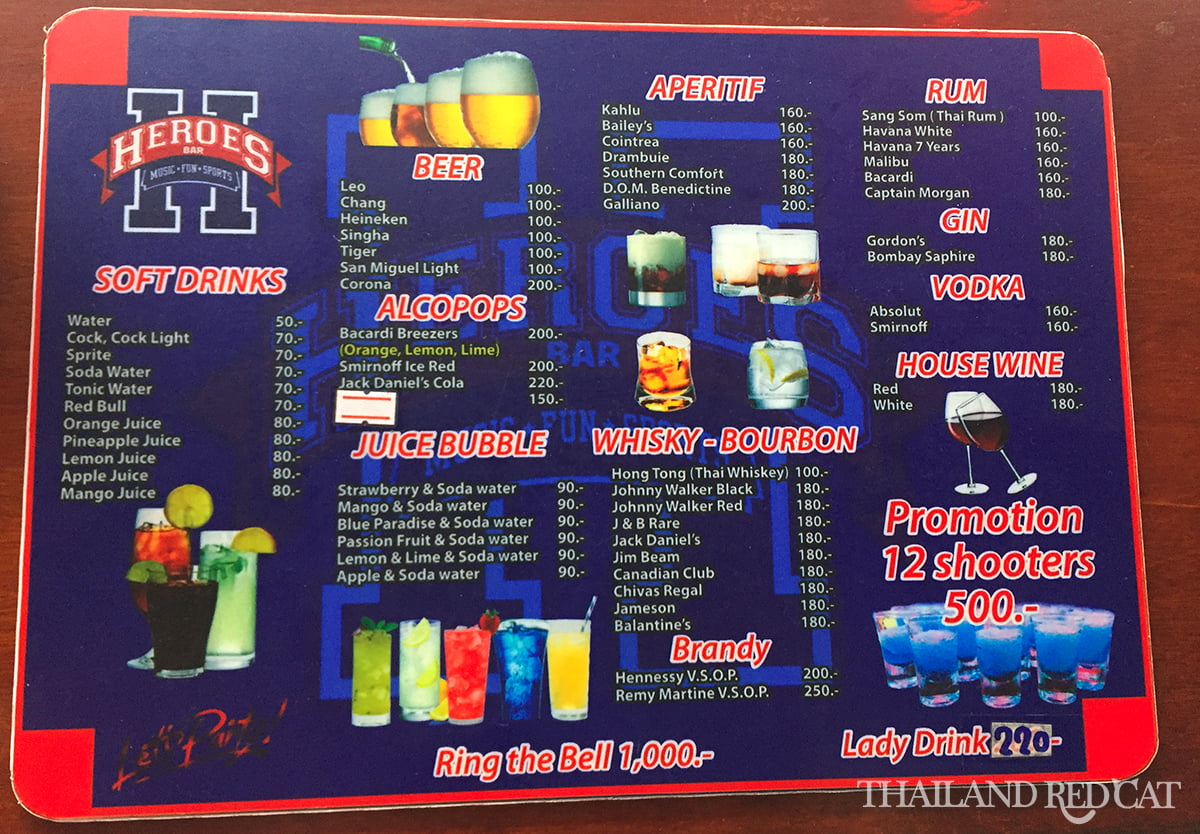 Similar for the bar fines: Most beer bars on Bangla Road charge 1,000 (!) Baht just so you can take the girl with you. And that obviously doesn't include the price for sex, that needs to be negotiated separately.
Typical prices for girls in Patong:
Bar Fine: 500-1,000 Baht (about 500 Baht in the more quiet areas, and about 1,000 Baht on Bangla Road)
Short Time: 2,000 Baht
Long Time: 3,000-4,000 Baht
In other places in Thailand, these would be roughly the prices for the hot go go girls, but that's what you pay for the bar girls here. If you rent a go go girl, you can add another 1,000 Baht or so for the bar fine and the price for sex.
Beer Bar Girls vs Go Go Girls in Phuket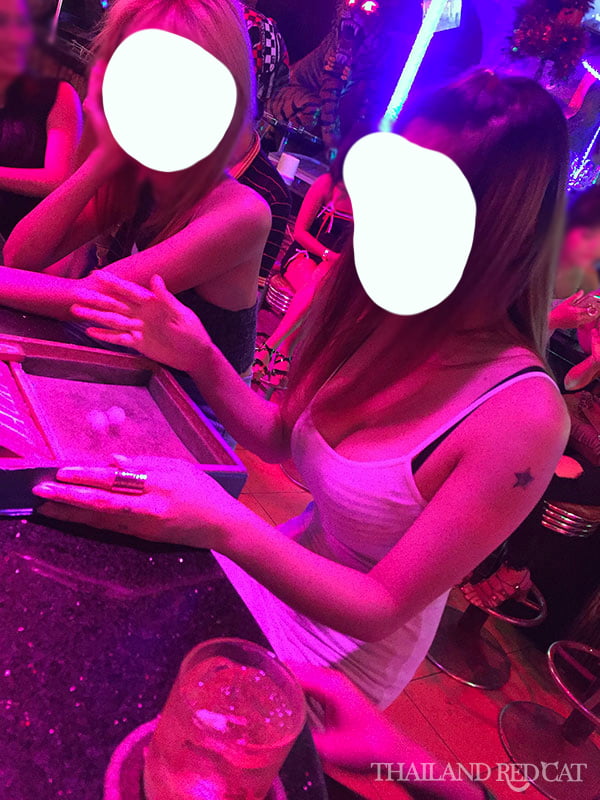 The go go girls are supposed to be the hottest type of hooker in Thailand. I say supposed to be, because times have changed a little and these days a lot of the best talent is simply too lazy to dance on the stage all night. So what happens is that you see more and more young and attractive girls with go-go-ambitions working in the beer bars and massage salons – because it's much easier to play a board game for drinks with the customers than trying to make them horny while dancing on the stage.
On the other hand, the prices for the bar girls aren't as high as for the go go girls. It's almost impossible to go to one of the go go bars in Patong and find a super hot girl who agrees to go for short time for less than 3,000 Baht. But if you asked the girls on my right picture – who could easily work in the go go bar too and make a lot more money there – they would probably join you to your hotel for no more than 2,000 Baht. Sure, you will also need to pay the bar fine, but again that's also cheaper in the beer bars than in the go go bars.
I prefer the beer bars, at least in Phuket. Yes, it's fun to enjoy a cool draft beer for 80 Baht in the go go bars (happy hour) and check out the girls on stage, but I don't see a point paying 50% more for these chicks when I can get a similar quality right next door in the beer bars.
Girly Bars in Phuket vs Bangkok, Pattaya & Chiang Mai
If you have never been to Thailand before, then you will probably love the girly bars in Patong. However, if you are like me and have already been to the bars in Bangkok, Pattaya and Chiang Mai, then you will constantly compare it. I think the atmosphere is generally a little more pushing and business oriented in Patong than elsewhere in Thailand. And it's pricey – even the toilet in Tiger Night Club costs 20 Baht, which is ridiculous.
Sure, the girls in Pattaya are also happy if you buy them drinks, but they are a little softer in their approach to talk with you, and generally they are also more fun and better entertainers. And the drinks are cheaper, too. Bangkok is probably the best place if you just want to hang out with a mate and drink your beer, and maybe play pool. The girls won't bother you if you tell them. That's because a lot of foreigners work there and they just want a place to hang out and relax.
Chiang Mai is alright, but the bars on Loi Kroh Road are not really comparable to the big 3 of Thailand: Less bars, less girls and they are not that attractive on average. Still, it's fun to hang out there, especially in the Chiang Mai Entertainment Complex, and it's the only place where you can get a big bottle of beer for about 135 Baht.
I think the best advice is to not compare it too much – yes, it's more expensive in Patong, but you are probably here only for a few days so that should be fine. You will no doubt have a lot of fun with the girls on Bangla Road, as long as you are willing to pay them their slightly overpriced drinks.
Video of Girly Bars in Patong