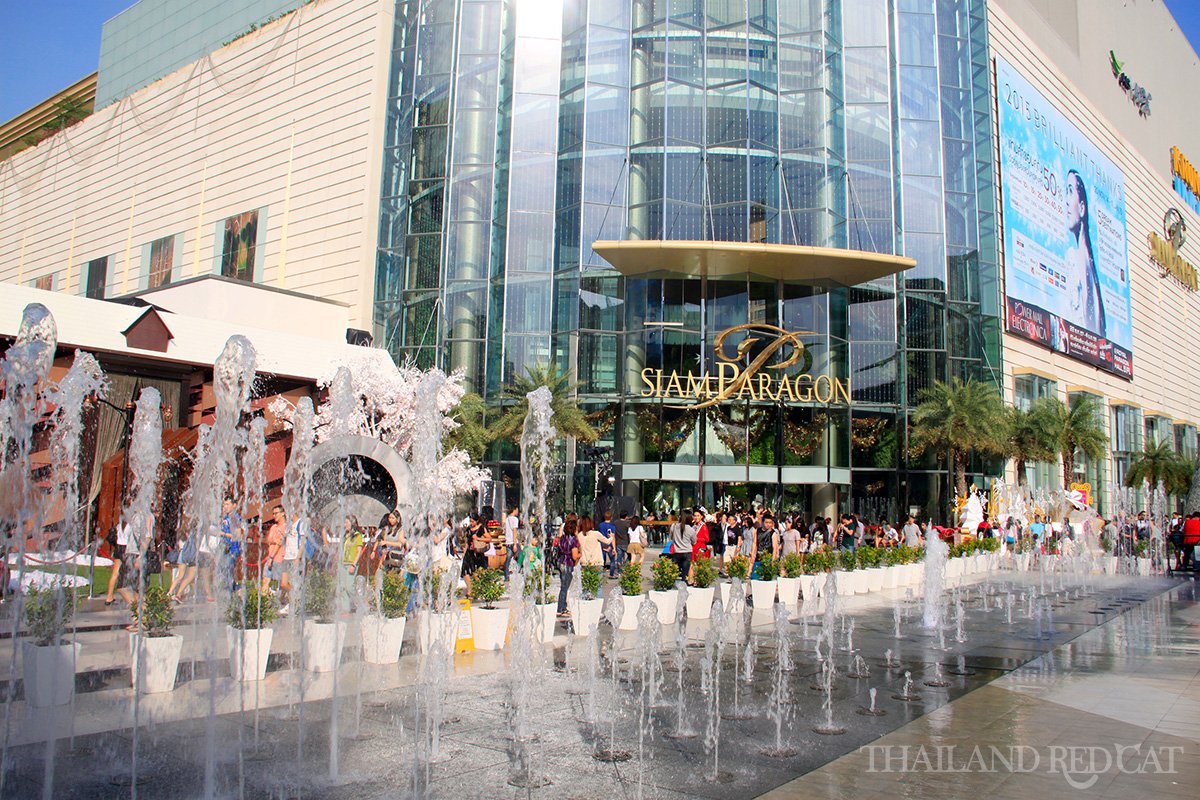 Thailand's hustling and bustling capital is like a giant Disneyland. There is so much to see and to do and even if you come visit here several times or live in Bangkok for long term – there's always something new you can discover.
Good examples are the zoo and the two water and theme parks just 30-45 minutes from the city center that some of you guys might have never heard of. Not even mentioning the unknown number of temples, markets, bars or, well, shopping malls all around the "Big Mango" (in the picture is the hugely popular Siam Paragon – I've also marked it on the map below).
I'm mainly writing this post for the reason that I have always people that visit Bangkok for the first time asking what not to miss out if they just have one or two days to spend in town. And so even there are so many things that make you never want to stop exploring BKK the following 6 highlights should not be missing on your to-do-list.
Temples: The Big 3

No visit to Bangkok without experiencing the big three and the cool thing is that they are all virtually next to each other so you can visit them in one afternoon (or morning).
Even when my parents came visiting me last year and I had already been there serval times, of course I took them to the Grand Palace (1st picture) – BKK's most visited sight, famous for its royal residences, throne halls and the Temple of the Emerald Buddha. Admission: 500 Baht.
Wat Pho (2nd picture) is located right opposite the Grand Palace, another extremely beautiful and larger-than-it-first-seems temple complex, famous for its 46m long and 15m high Reclining Buddha image. Admission: 200 Baht.
And Wat Arun, the smallest of the three complexes, located right across the river from Wat Pho – ferry every 10 minutes, 4 Baht one way, famous for its 66m high central prang surrounded by four smaller prangs, all of them decorated by seashells and bits of porcelain. Admission: free for the complex / 50 Baht admission for entering the central prang.
River Cruise to the Temples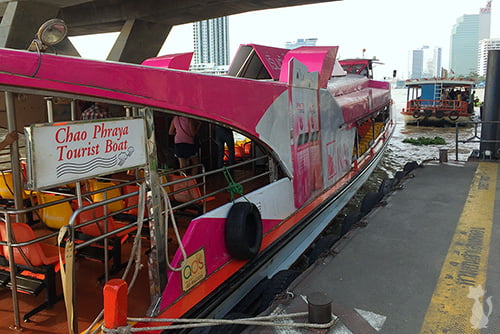 I highly recommend to take the BTS Skytrain to Saphan Taksin Station, where there's the Sathorn Pier right outside (see map below).
The Chao Phraya Tourist Boat is leaving about every 30 minutes until 5pm, the one way fare is just 60 Baht and it's a lot of fun to cruise past the high-rise buildings of the business district and into the old town and get off at Wat Arun. It will be one of the highlights of your trip. Trust me.
Khaosan Road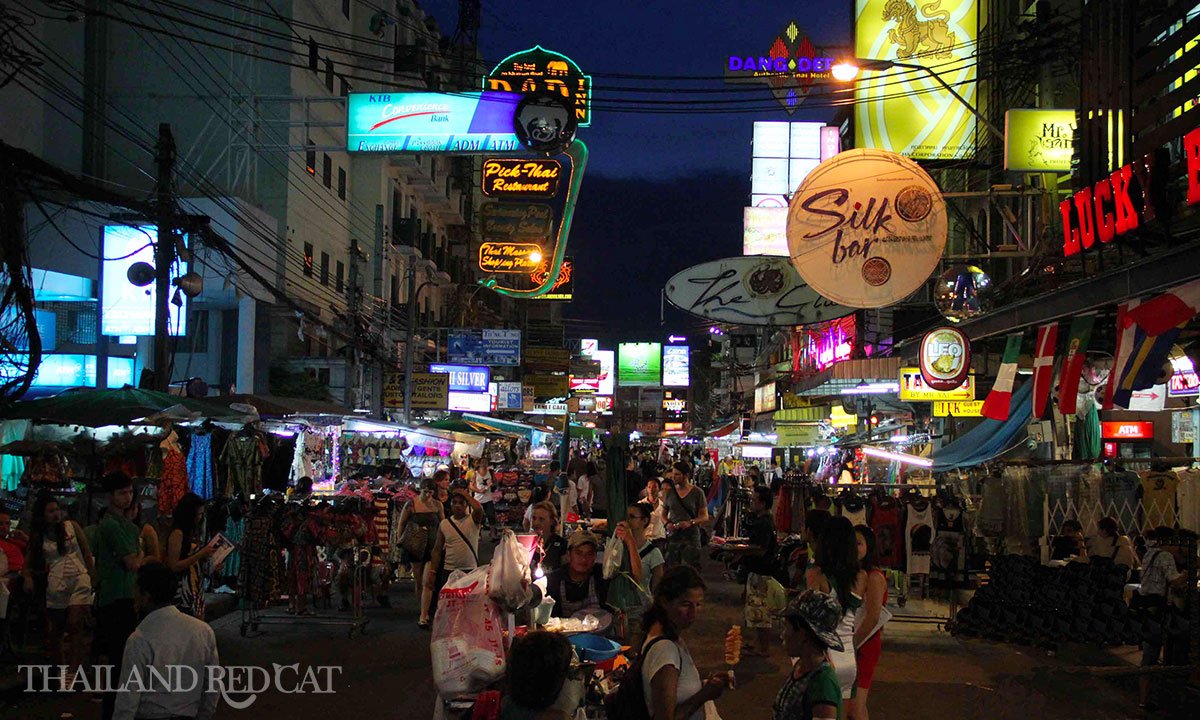 Some love it, some hate it, but this is without doubt Bangkok's most famous street. What used to be a busy rice market is now the hustling and bustling Backpacking Mekka. If you don't know anything about Bangkok chances are that you have at least heard of Khaosan Road.
During my first visits to Thailand I always came here just because it seemed to be the perfect place: Cheap accommodation, a good mix of local and foreign restaurants, day and night markets (though quite tourist oriented like 90% else on this road) and a nightlife that is hard to beat. You can come here at any day of the year, no matter if weekday or weekend and you can party the night away either right on the street or in one of the many bars and clubs along and around Khaosan Road.
Visiting a Sky Bar

One of the most impressive moments of your visit to Bangkok will be taking up the lift to the top of a huge hotel and stepping out on its rooftop "sky bar". There are countless of such places in Bangkok and I've visited many of them. While Bangkok's formerly highest building, Baiyoke Tower II, was definitely worth a visit, the best place to go is Vertigo & Moon Bar on the 61st floor of the Banyan Tree Hotel in Sathorn district.
The views from there are simply amazing, you can see Lumphini park in front and the skyline of Bangkok dramatically arising right behind it. Come visit at around 5pm so you can experience the sunset while having a drink or two at Moon Bar.
Bangkok Parks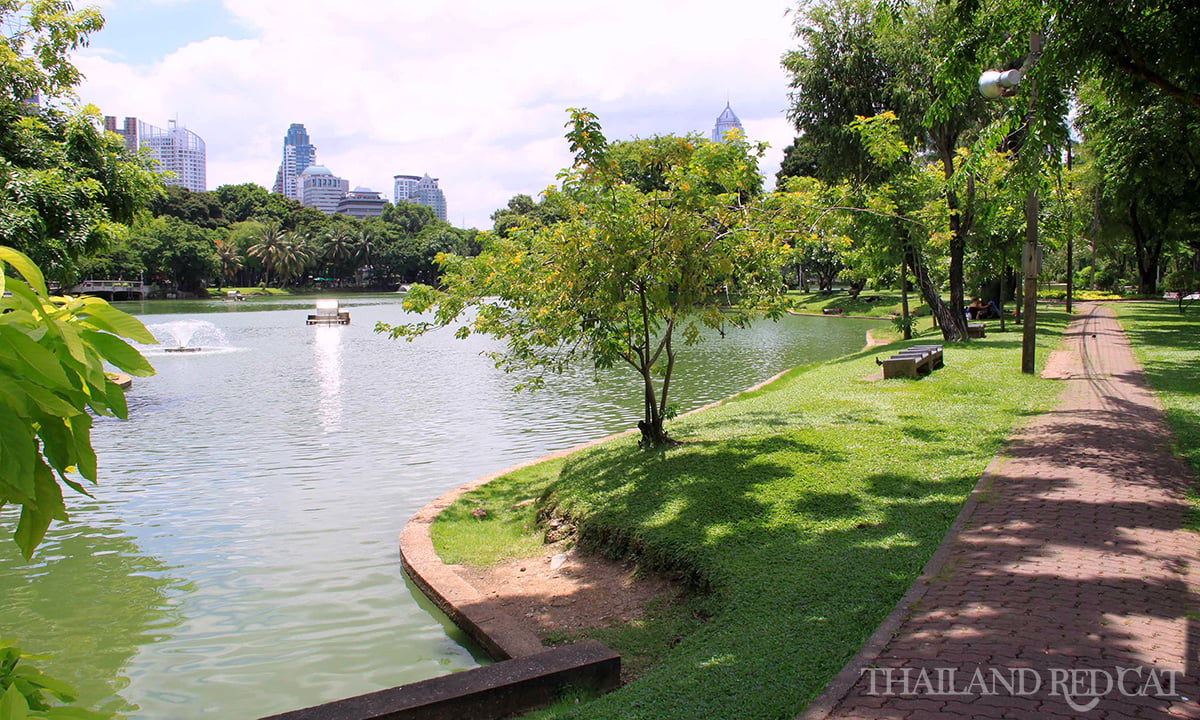 I never thought there would be some quiet and scenic parks in Bangkok until I actually visited them. The three best parks are: Sanam Luang (which means Royal Park or Ground, 10 mins walk from Khaosan Road), Chatuchak Park (next to the famous market and right outside Chatuchak Park MRT Station / Mo Chit BTS Station) and by far my favorite one, Lumphini Park (picture).
Lumphini Park is easily accessible by MRT underground, just get off Silom Station and you're right in front of its southwestern entrance or get off Lumphini Station and you're right in front of its southeastern entrance. The park is quite big, in fact if you look at any map of central BKK it's hard to oversee the green shape of Lumphini park right in the center of Thailand's capital.
The cool thing about Lumphini park is that while it's right in the city center and easily accessible there are surprisingly few people around so you can always come for a run or just relax and take a boat cruise on the lake. Come in the evening at around 5-6pm to join lots of local Thais (and a bunch of Farangs) for aerobic workout with music at the southwestern entrance of the park (Silom MRT).
Snacking & Shopping in the Markets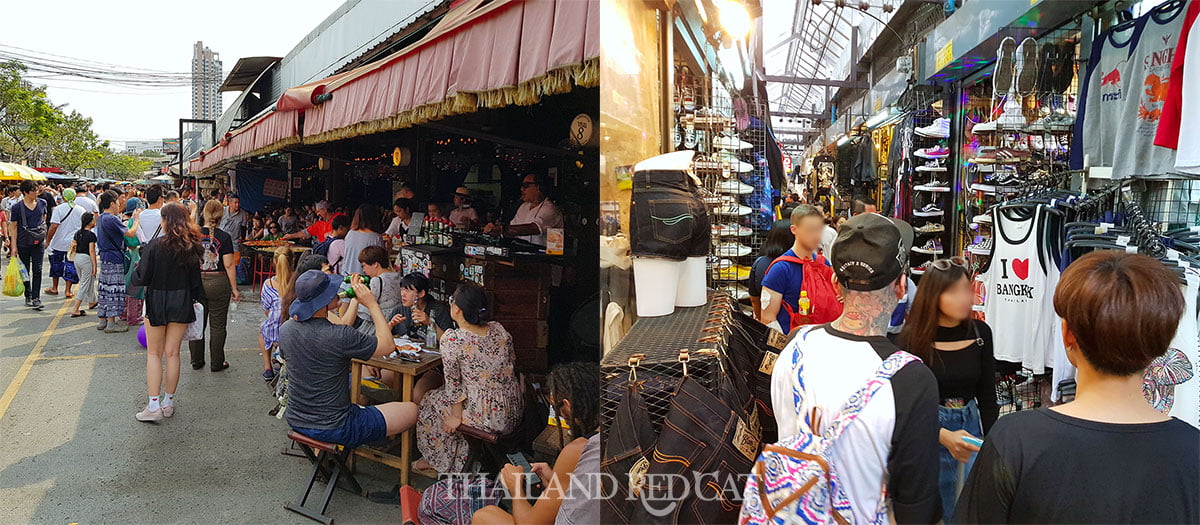 Bangkok is famous for so many things – its countless nightlife spots, temples, street restaurants and… markets. You will find the Chatuchak Weekend Market (picture) in most travel guides claimed as the best market in Bangkok and while its without doubt the biggest one, it has also become quite touristic during the past few years as its being promoted everywhere.
There are some other famous markets in Silom (Patpong Night Market) and in Nana (Sukhumvit Night Market) but they are even worse and 100% set up for tourists everyday from 5pm-11pm. So if you're out to experience something more authentic of course you still have a lot of choices:
Try to head out to the Jodd Fairs Night Market. It's very easy to get there, just take the MRT to Phra Ram 9 Station any day from around 6pm (just before sunset) and the hugely popular market with street food, shopping and lots of hip bars is right behind the Central Rama 9 shopping mall.
Map of Bangkok Highlights
That's six of the best things to do on your trip to Bangkok!
Of course there's a lot more and I haven't even mentioned the nightlife in Bangkok which really deserves its own post.
Videos of Bangkok Highlights
See also: