Did you know that Ayutthaya is an island? Well, I didn't know that either – until my recent visit there and when I received one of these beautiful illustrated and free tourist maps: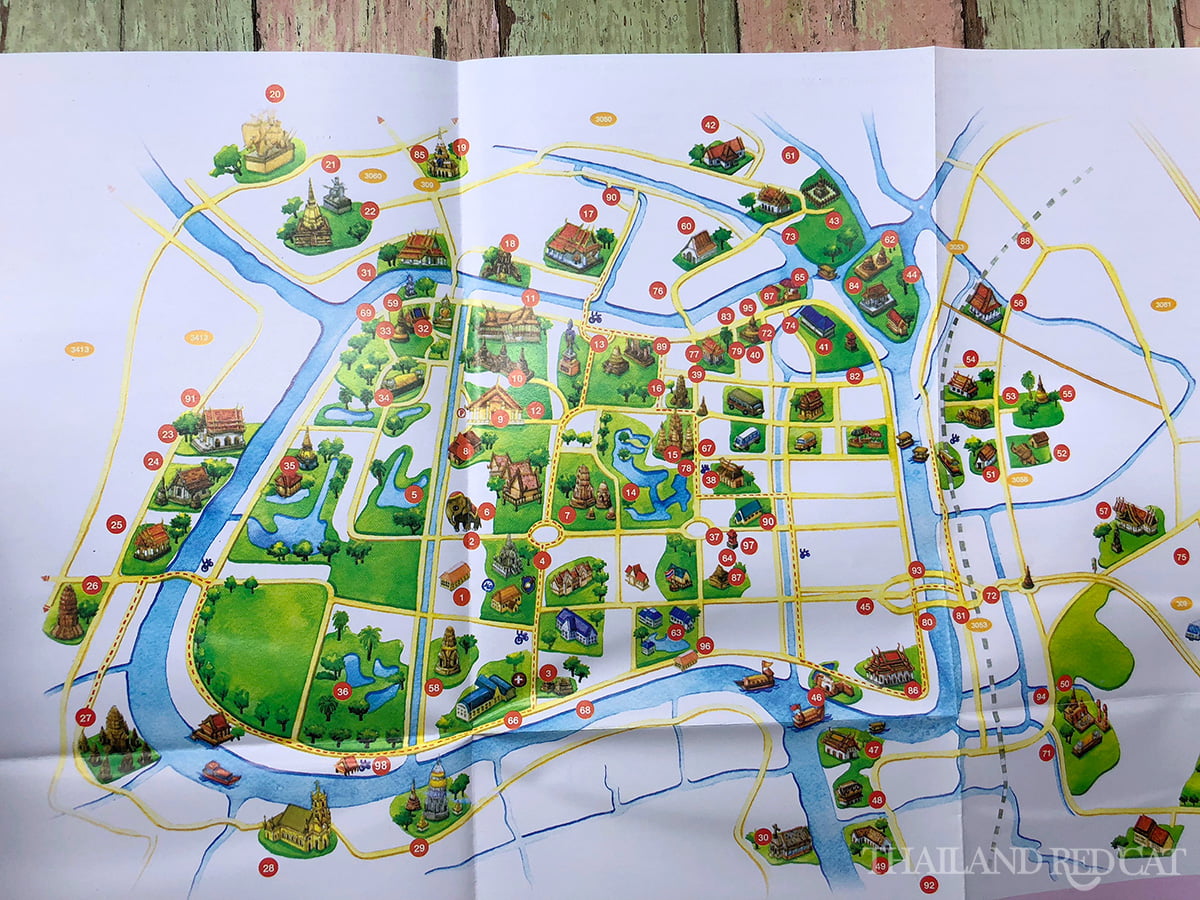 Yeah, I know what you think: That all looks pretty, but nearly a hundred different attractions to see here? After doing some research online and talked to the friendly owner of my idillic guest house (Baan Baimai), it turned out that if you have only one full day in Ayutthaya, it's really enough to visit 4 of the most beautiful and historically most significant temple complexes.
And since I know that a lot of you guys are probably thinking about a day trip to Ayutthaya from Bangkok, I'll show you these 4 sites you might want to visit here.
Tip: The best way to get around Old Town and experience Ayutthaya's nightlife (which is 4km from there on the other side of the river) is not really to rent a bicycle like most of the backpackers do (80 Baht per day), but to rent a motorbike for just about 300 Baht per 24 hours (plus gasoline).
Wat Mahathat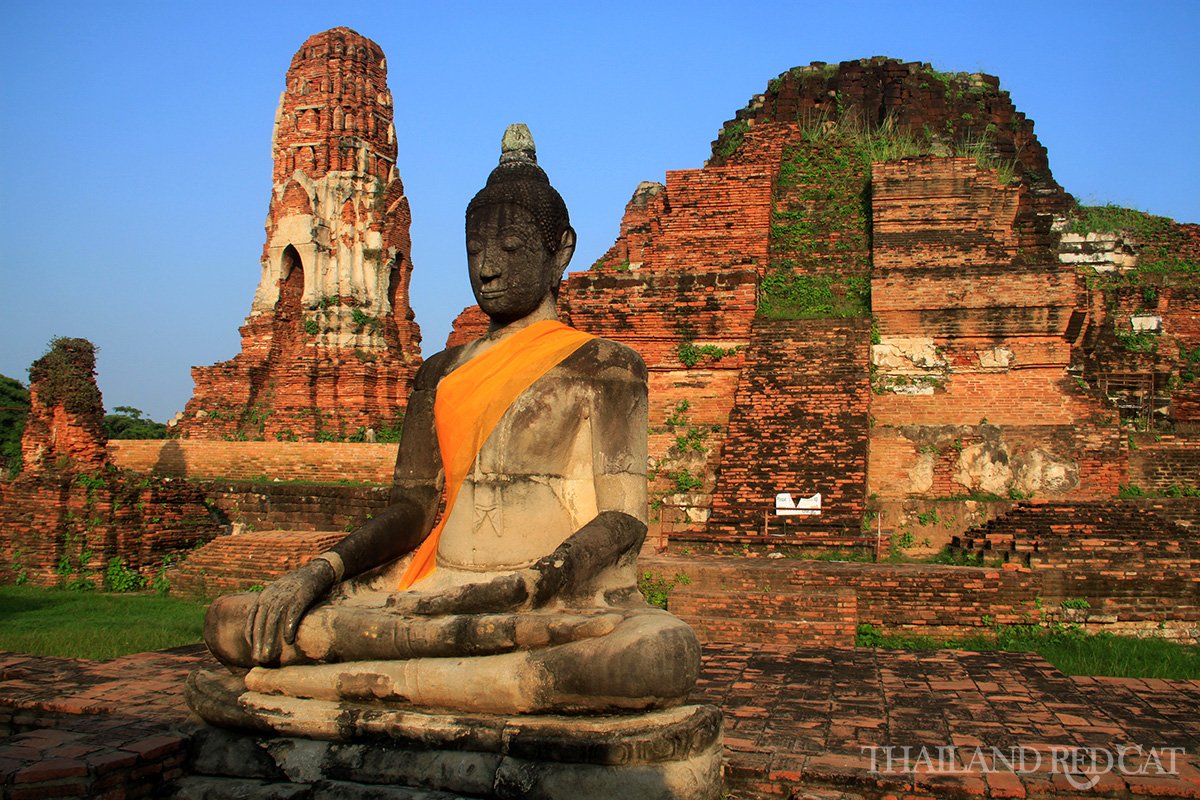 The most visited temple in all of Ayutthaya – Wat Mahathat, which was regarded as the center of Buddhism in the old kingdom. You'll see so many tourist busses (nowadays it's more than 50% Chinese), many of which just pass through the city and pick this one site for their visit.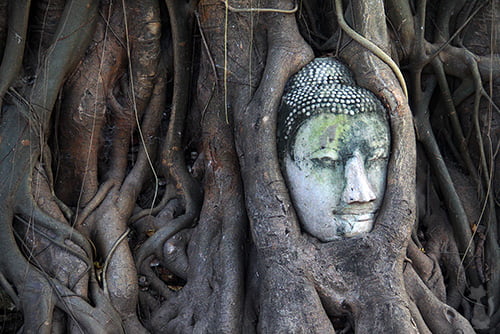 As you can see in my picture, many parts of the temple complex have collapsed over the centuries (it was constructed in 1374), partly because of the brutal attack by the Burmese, and partly because of the natural aging process. The most photographed object in Wat Mahathat is the head of a stone Buddha image within the roots of a mighty tree.
Tip: After visiting Wat Mahathat, it's a good idea to take your lunch (or at least coffee and snack) in one of the cosy restaurants opposite the temple – my recommendation: Coffee Old City for western food or Pa Lek Boat Noodle for local Thai food.
Wat Yai Chai Mongkhon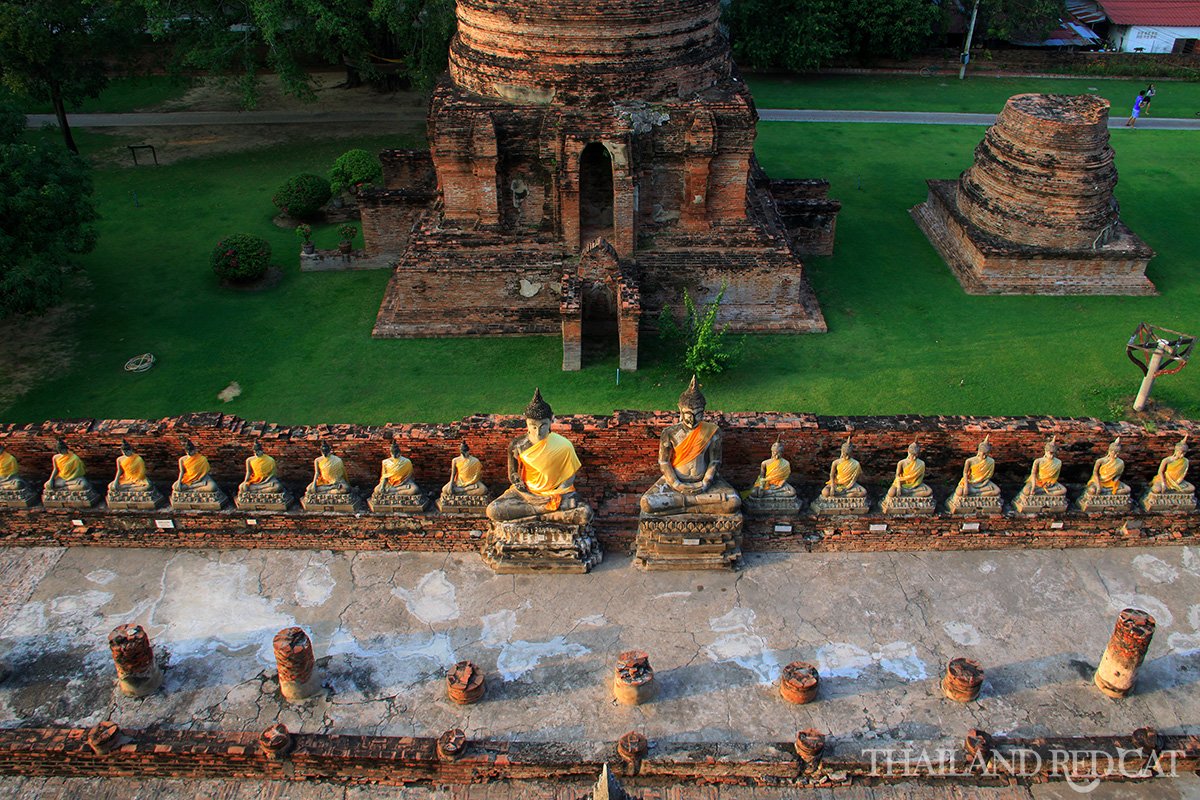 Wat Yai Chai Mongkhon is my favorite temple in Ayutthaya.
There are relatively few foreigners here – probably because most of them just rent a bicycle instead of motorbike and then it's too far for them to make their way to the eastern end (and actually on the other side of the river) of the Old City.
Wat Chai Wattanaram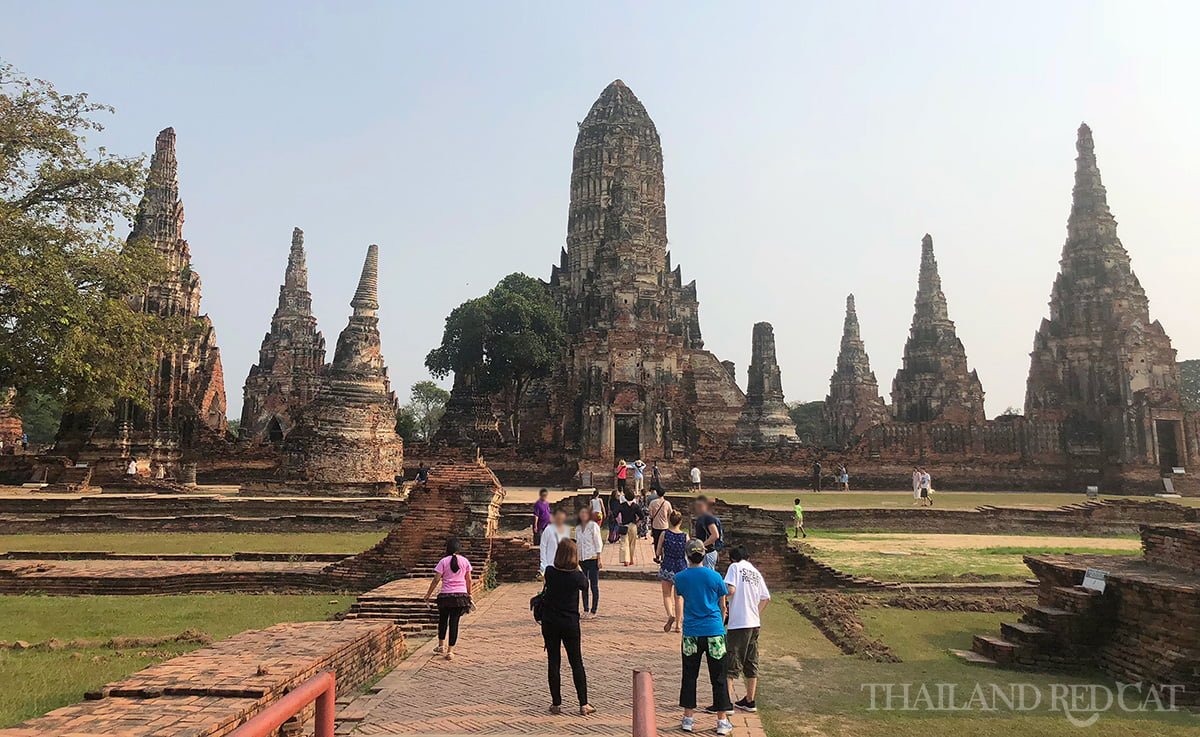 One of the most beautiful and best preserved temples in Ayutthaya is Wat Chai Wattanaram in Khmer style – all of its 8 chedi-shaped chapels surrounding the 35 meter high central prang are in relatively good condition.
The structure illustrates the Buddhist world view of the 14th century – the center of the world is illustrated by the central prang (Mountain Meru), and around that are the 4 smaller prangs illustrating the 4 different continents, swimming into the 4 different directions in the sea.
Reclining Buddha Sai Yat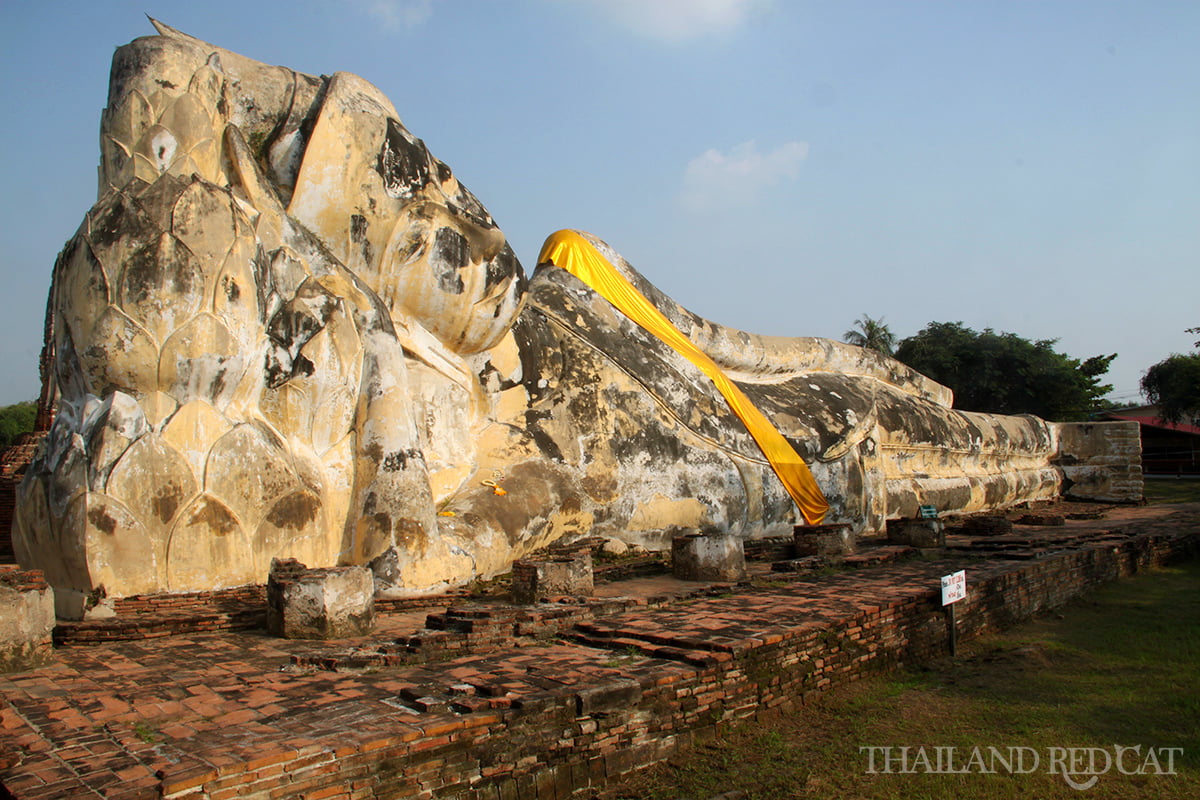 While it's technically not a temple, the 42 meter long and 8 meter high Reclining Buddha Sai Yat is still one of the most beautiful and must-visit sites in Ayutthaya. You will see many Thai people making merit here, and still it's not nearly as crowded with tour busses and package tourists compared to other popular sites in the Old Town.
Tip: If you plan on visiting more than 4 temples, you can also buy the "6 Temple Pass" for 220 Baht (available at all ticket booths). Also, there is a strict dress code for women in most temples – the knees should be covered.
Bonus 1: Ayutthaya Floating Market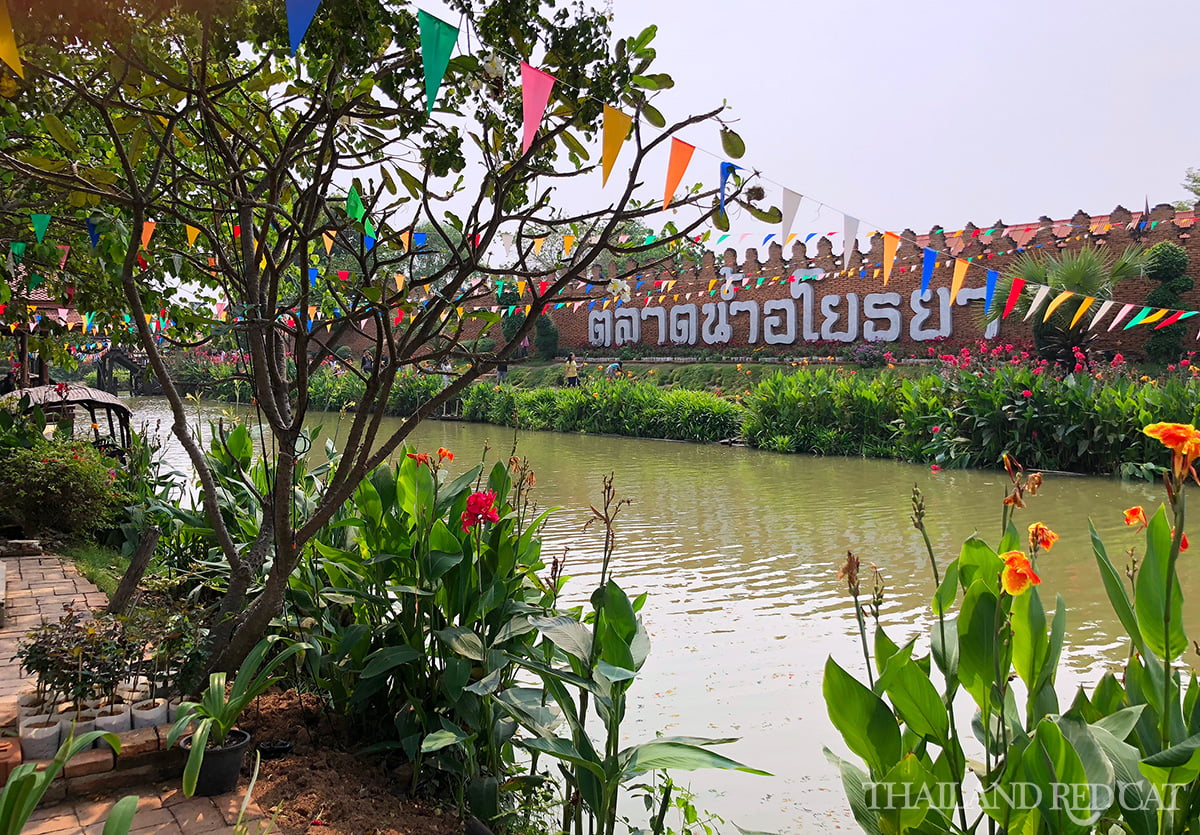 The Ayutthaya Floating Market is a popular place for many tourists to round off their day after visiting all the different temples.
Unfortunately, there is a 200 Baht entrance fee for foreigners (Thai people: free). I personally don't see any point in paying to enter a market, even if it's beautiful and includes a 10-minute boat ride.
So instead, I and my girlfriend went to the local market right opposite which was also really nice, had all sorts of traditional Thai snacks (like coconut cookies and cola ice cream), great iced coffee for 60 Baht, even a Muay Thai fighting ring where they performed shows, and most importantly: free.
Bonus 2: Cat Cafe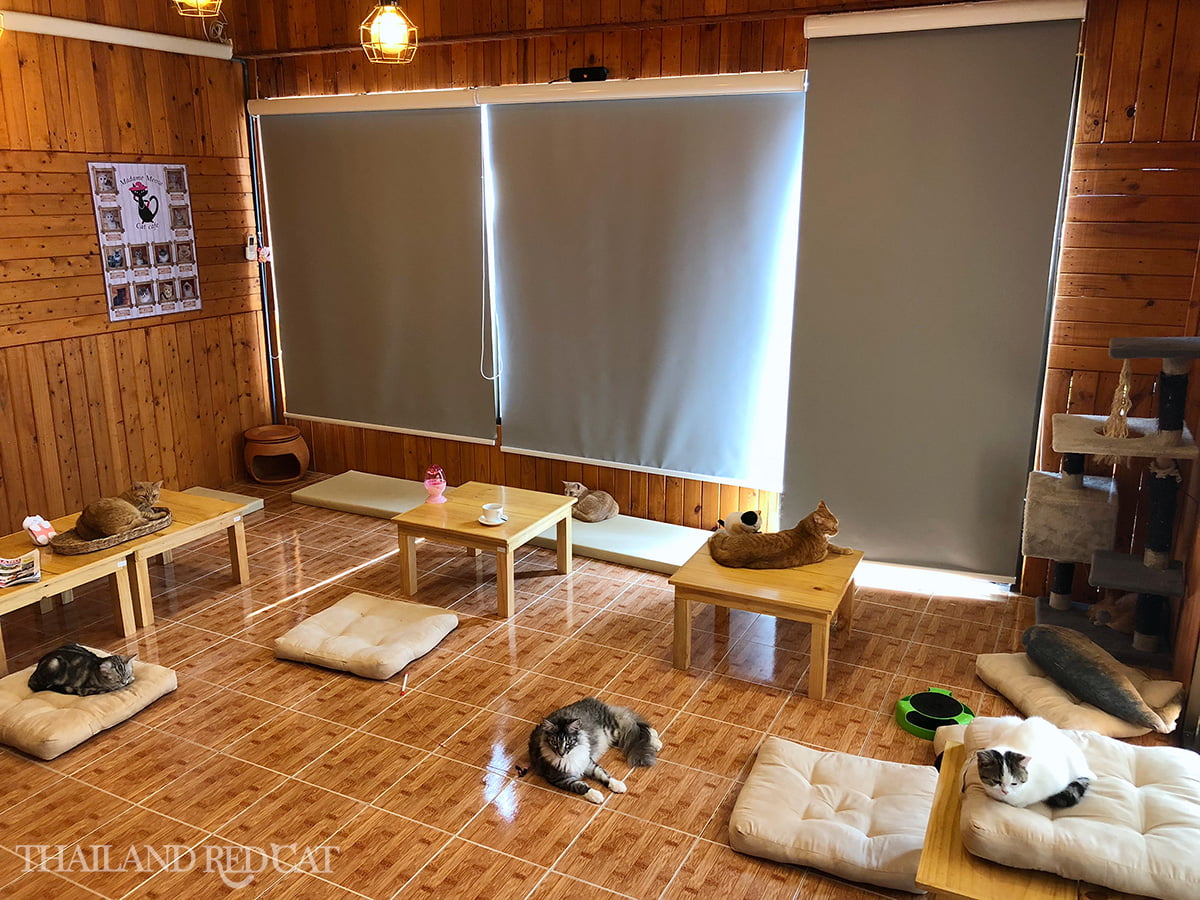 I was quite lucky to discover the Madame Meow Cat Cafe in a little side alley of Grand Street (the main nightlife area of Ayutthaya), because my favorite Cowboy Bar didn't open until 4pm, so I looked for another place to relax and read – and found Madame Meow.
The owners are very nice, their coffee is excellent (make sure to try their signature snack too – ice cake), and the cats are really lovely and not as shy as in most cat cafes in Bangkok where there are just too many customers.
Map of Ayutthaya Highlights
Videos of Ayutthaya Highlights