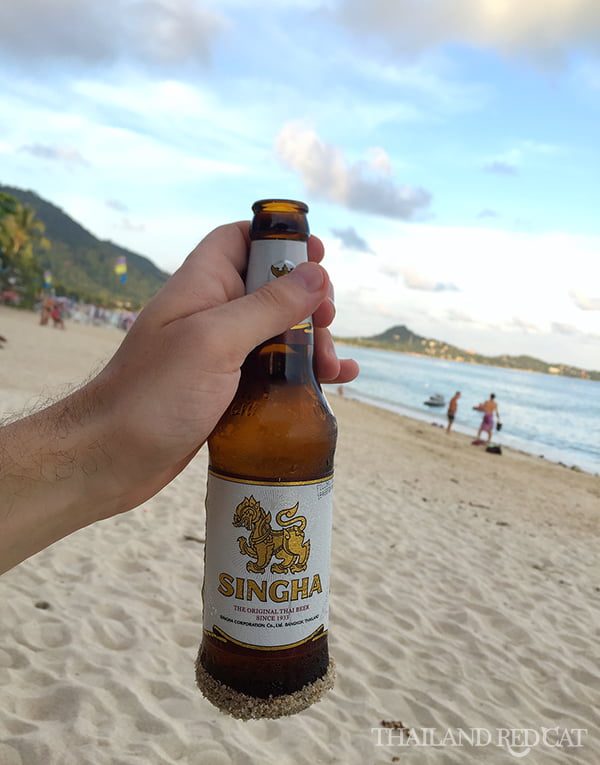 What makes Koh Samui the most visited island in Thailand after Phuket? It's probably the great mix of nice beaches, huge range of hotel choices from cheap backpacker dorms with shared bathroom to five star luxury resorts with private beach, fine restaurants with both Thai and Western dishes, modern shopping malls, a bustling nightlife and several paradise-like spots not just on but also off the island that make memorable day trips.
In short: Koh Samui has something for everyone, no matter if you are a single male traveler keen on hitting on Samui girls, a couple coming here to enjoy their honeymoon or a six-person family that wants to combine comfort with adventure. Koh Samui is also
The island has a population of only 67,000 people but gets visited by more than 1 million people every year
Most sex workers on the island aren't from Koh Samui, not from Surat Thani (the province) or even from Southern Thailand – but instead about 60-70% of them come from the northeastern region of Thailand (Isaan)
The place with the most accidents in all of Thailand (to be more precise: the place with the statistically proven most road accidents per capita)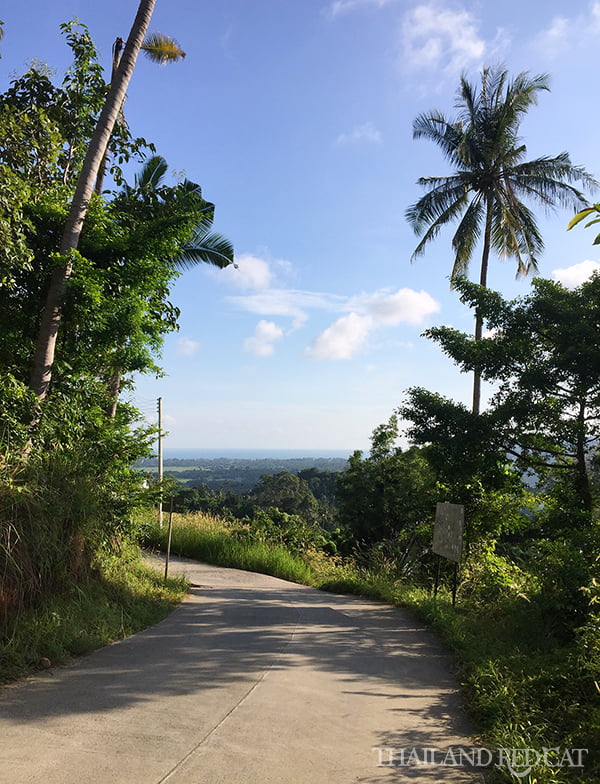 Let me comment on that last bullet point. It really is dangerous to ride the motorbike on Koh Samui. Pretty much everywhere I travel in Thailand, I always rent a bike for the whole length of my stay. And I do have a bike in Bangkok and believe me, even though there are more vehicles on the roads in Bangkok, driving there isn't as dangerous as on Koh Samui.
Why? Well, it seems like the tourists see how fast the local (often underaged without license) Thai boys drive on the island and think they can do it themselves even though they lack experience. And then it's also really tempting to cruise along the scenic coastal roads in high speed. And then also the water streams that randomly flow down the hills and slippery sand on many curves.
I don't want to discourage you from renting (from 200 Baht/day) a motorbike on Koh Samui, because pretty much all of the places I'm about to describe you need to have your own vehicle unless you want to pay for overpriced taxis five times a day. It's just so much easier to have your own vehicle here and be flexible. Just be careful, know your skills, drive slowly and keep on the left side.
So let's come to the fun part, there is really a lot of cool stuff to see and do on this great island – here are my Koh Samui Highlights for you:
3 Best Beaches on Koh Samui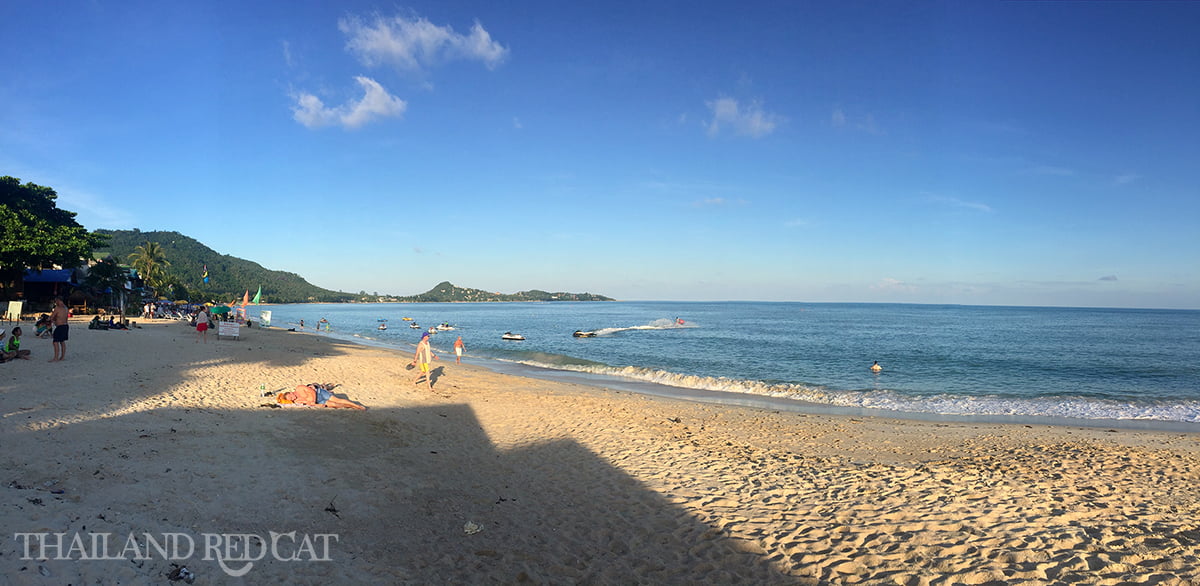 The first thing you probably want to know about is the quality of the beaches. You might have heard of Chaweng Beach, which is comparable to Patong in Phuket and one of the most famous beaches in all of Thailand. However, the downside is that it's quite crowded with families and package tourists.
Chaweng is the number one nightlife spot on the island, but when it comes to relaxation and taking nice photos, then neighboring Lamai Beach (picture above) is definitely a better choice to rent a beach chair and spend several hours under the afternoon sun.

The most beautiful beach on Koh Samui in my opinion is Thongson Bay (picture above), which is a little bit hidden on the very north-eastern tip of the island. If you have a smartphone with mobile data no problem though, just type in "Thongson Bay Villas" and you'll get there easily. Or simply look at my map below. Just follow the road signs saying "Thongson Bay Bungalows". If you aren't totally confused now and just ride your bike there, you'll be rewarded by this little treasure, a small board walk and opportunities for nice panoramic shots.
View Point at The Jungle Club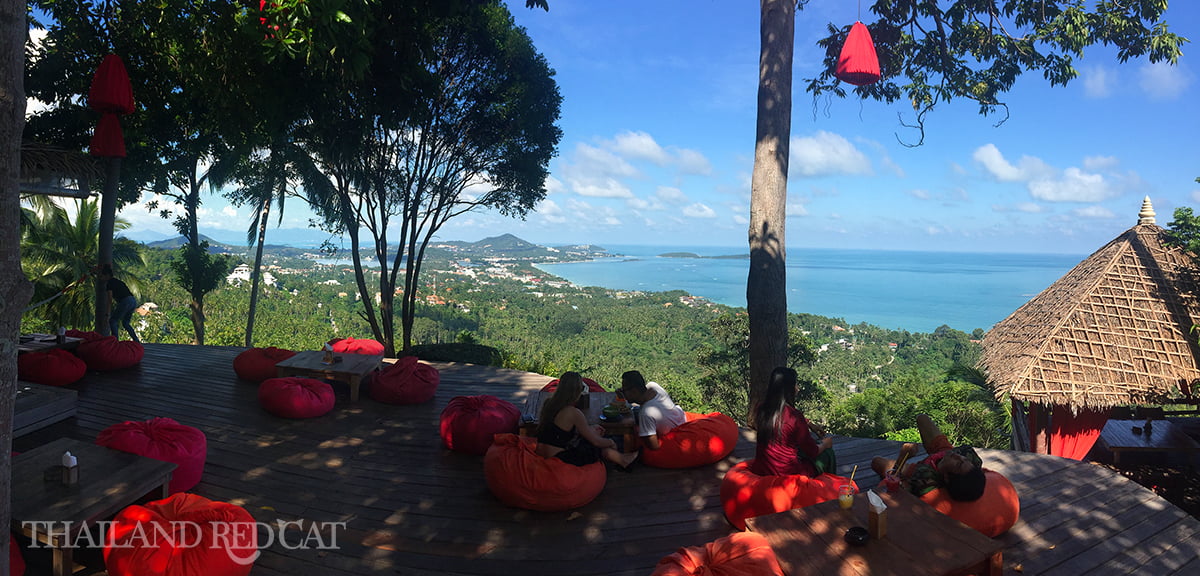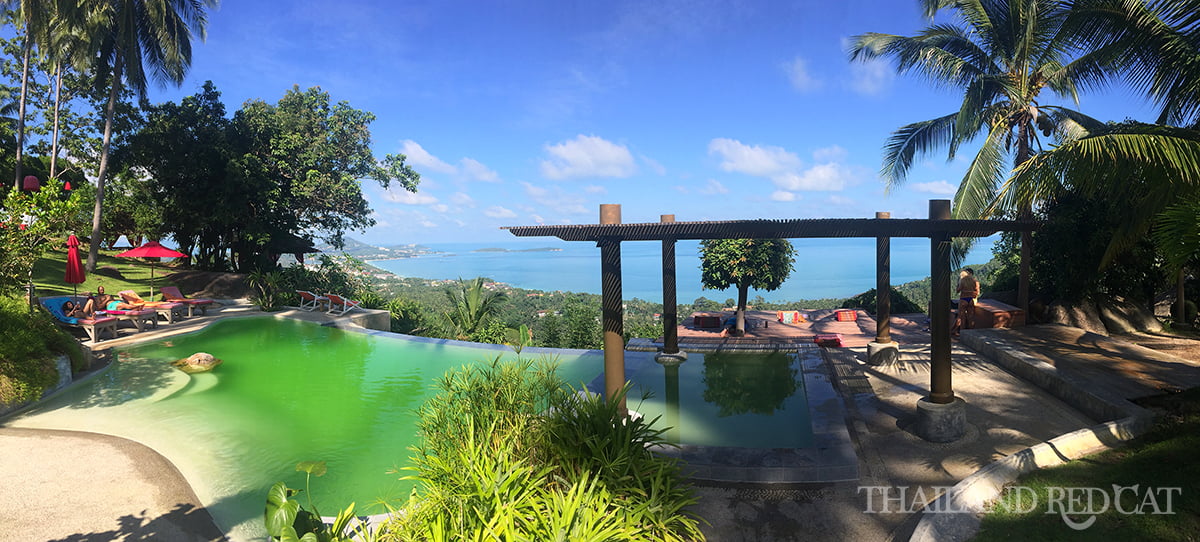 The Jungle Club is a small luxury resort on top of the hill overlooking Chaweng Noi.
The restaurant is open to the public, but relatively few people take the trip up the extremely steep road there, especially compared to other sights like the Big Buddha. It's well worth it though and if you have your own vehicle it literally takes you less than 2o minutes to get there from your hotel in Chaweng. The most beautiful view point on Koh Samui and you can also enjoy some lunch there.
Big Buddha Samui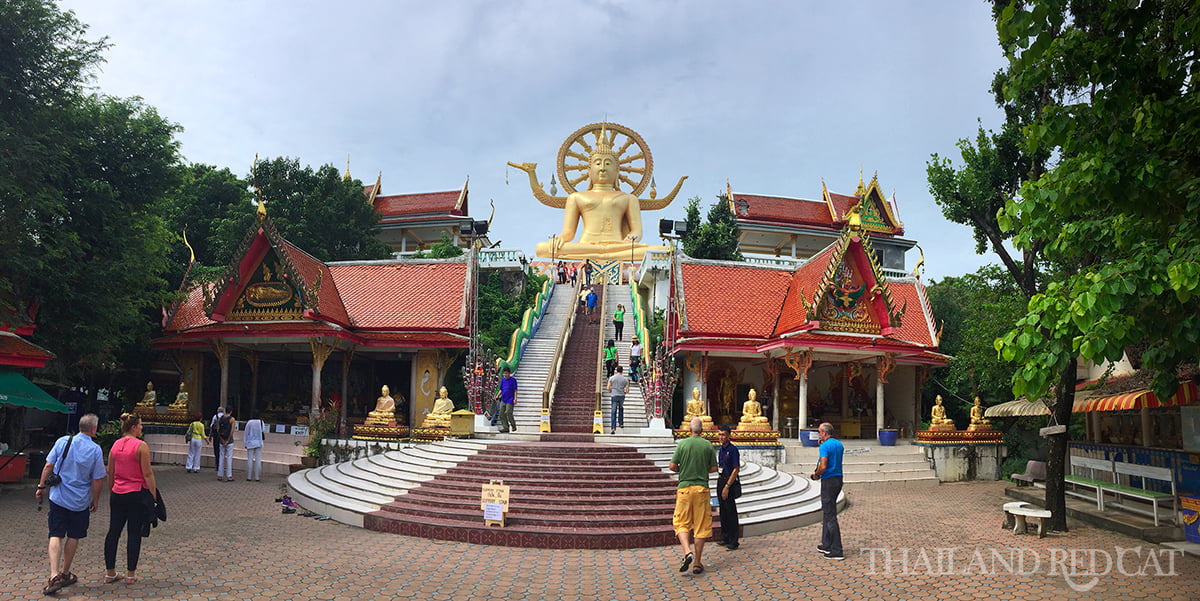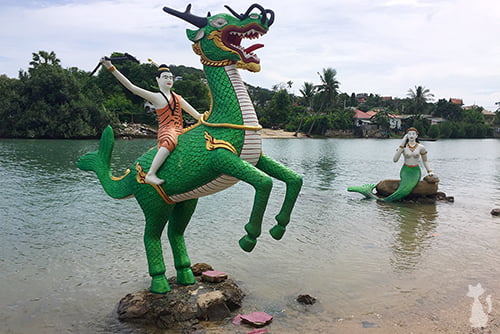 Frankly it's quite overrated, but still worth mentioning as everyone seems to visit it: The Big Buddha of Koh Samui, a 12m high golden Buddha statue on the northern coast of the island. It takes about 20-25 minutes to get there by motorcycle from Chaweng and 40-45 minutes from Lamai.
You'll meet a lot of Chinese package tourists on this site, a little quieter is the area south of the temple (just 50 meters walk) where you can find nice traditional Thai saga figures right in the water. This place makes a nice half-an-hour stop on your way to Thongson Bay (see above).
Wat Plai Laem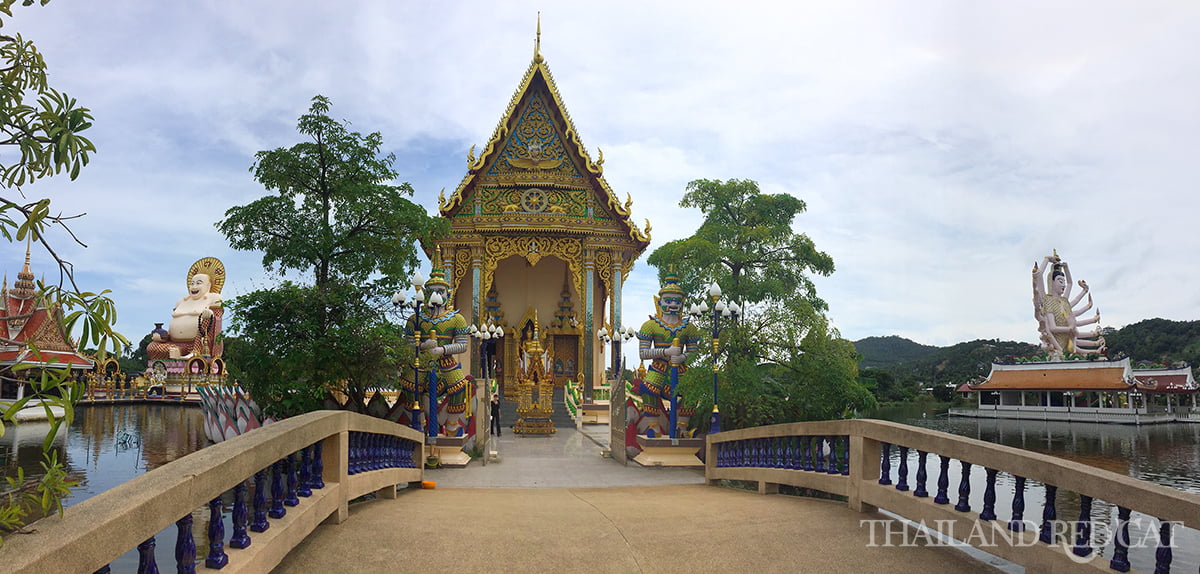 Just about 700m road distance from the Big Buddha is the nicest and newest temple on Koh Samui: Wat Plai Laem. The highlight here is definitely the 18-arm image of Guanyin (Goddess of Mercy) but also the typical huge, white, fat and wealthy Chinese Buddha on the lake is quite picturesque itself. You can feed the fish in the water, just donate some money to the temple and they'll give you a bag of fodder.
There are no entrance fees to both the Big Buddha and Wat Plai Laem as of now.
Na Muang Waterfall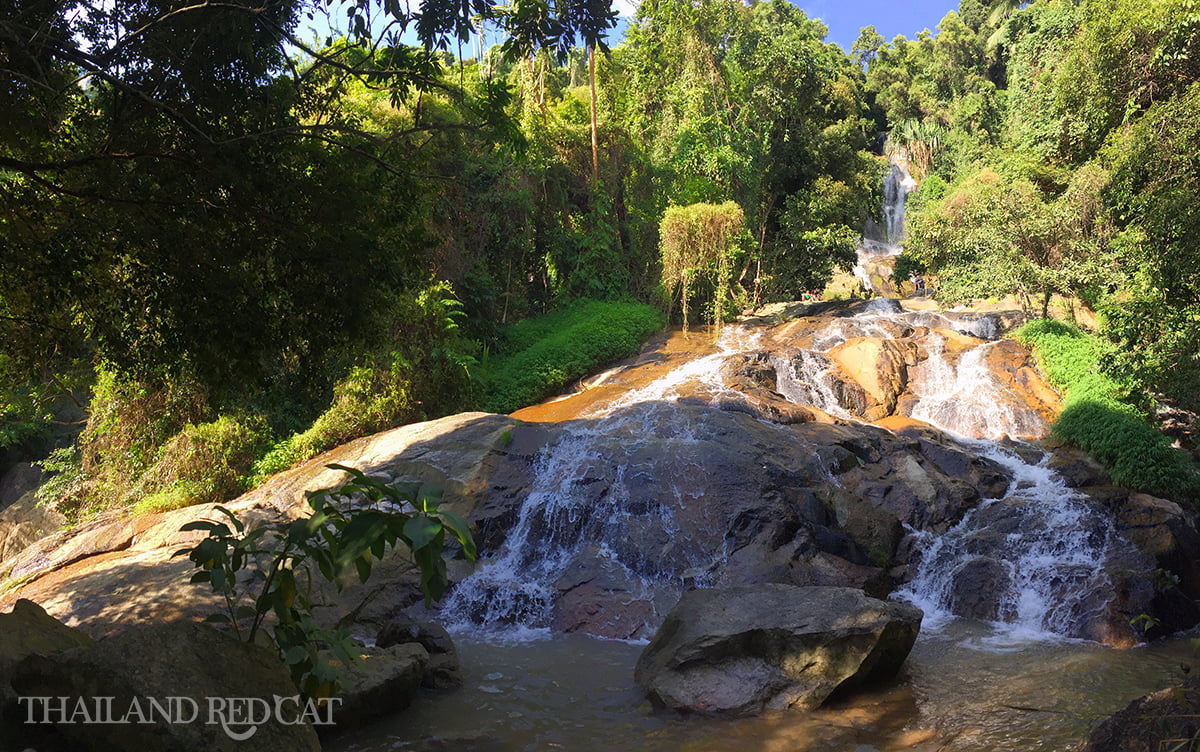 I'm never trying to exaggerate or recommend you to visit places that totally suck. And you might think a waterfall is something you can certainly skip when visiting an island full of nice beaches. Sang Chan Waterfall in Ubon is certainly a candidate for the category "overrated". But Na Muang here on Koh Samui is really one of the most impressive waterfalls I've seen so far in Thailand. It's 80 meters high and the picture is taken halfway up, I hiked even further up and had a nice and cool dip in the water with just a couple of other tourists.
There is another waterfall called Na Muang 1 but this one here, Na Muang 2, is the bigger and nicer one. It takes you about 45 minutes by motorbike from Chaweng to get to the car park. There's also an elephant sanctuary if you want to feed one or just take some pics. From there you have to walk up and down the hill for about 800 meters or 20 minutes. Just as you get to the waterfall, they collect a 50 Baht entrance fee which includes a bottle of ice cold water.
Hin Ta and Hin Yai Koh Samui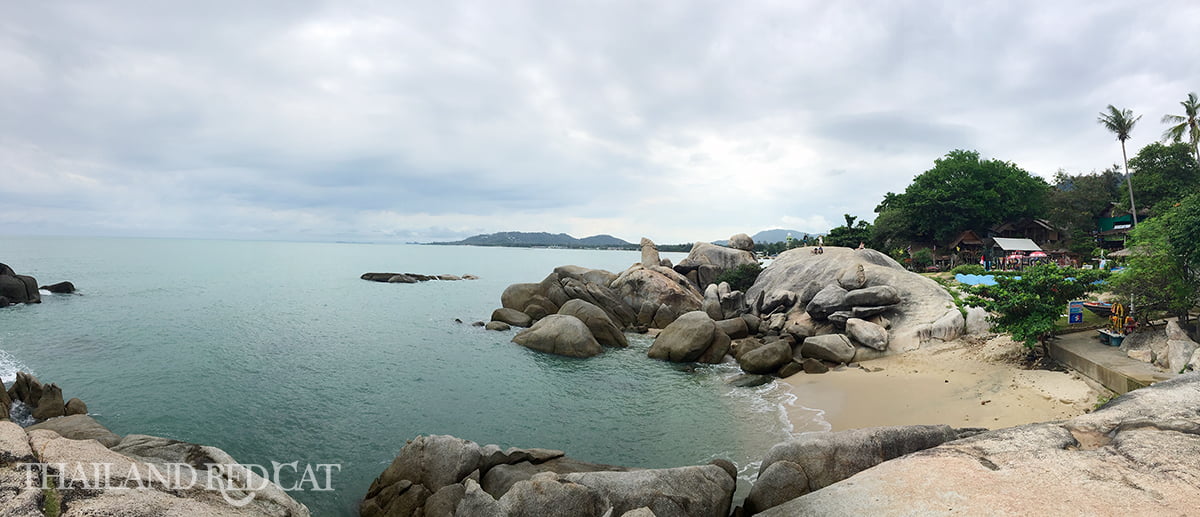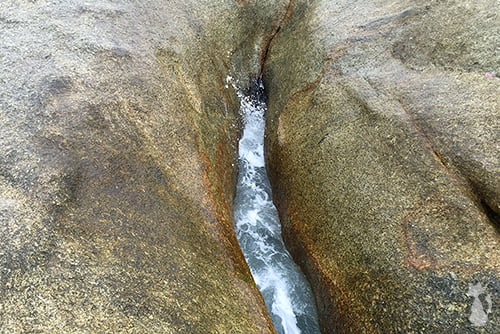 Is it really a coincidence that such natural rock formations happen here in Thailand and not a couple of hundred kilometers down south in Islamic Malaysia? Answer this question for yourself when you stand in front of the massive "Grandfather" and "Grandmother" rocks on the southern end of Lamai Beach, officially known as Hin Ta and Hin Yai.
There is nothing more to say about this place except that there is no admission charge to this natural wonder, but a parking fee of 10 Baht that is collected by a couple of diligent local Thai boys.
Ang Thong Marine National Park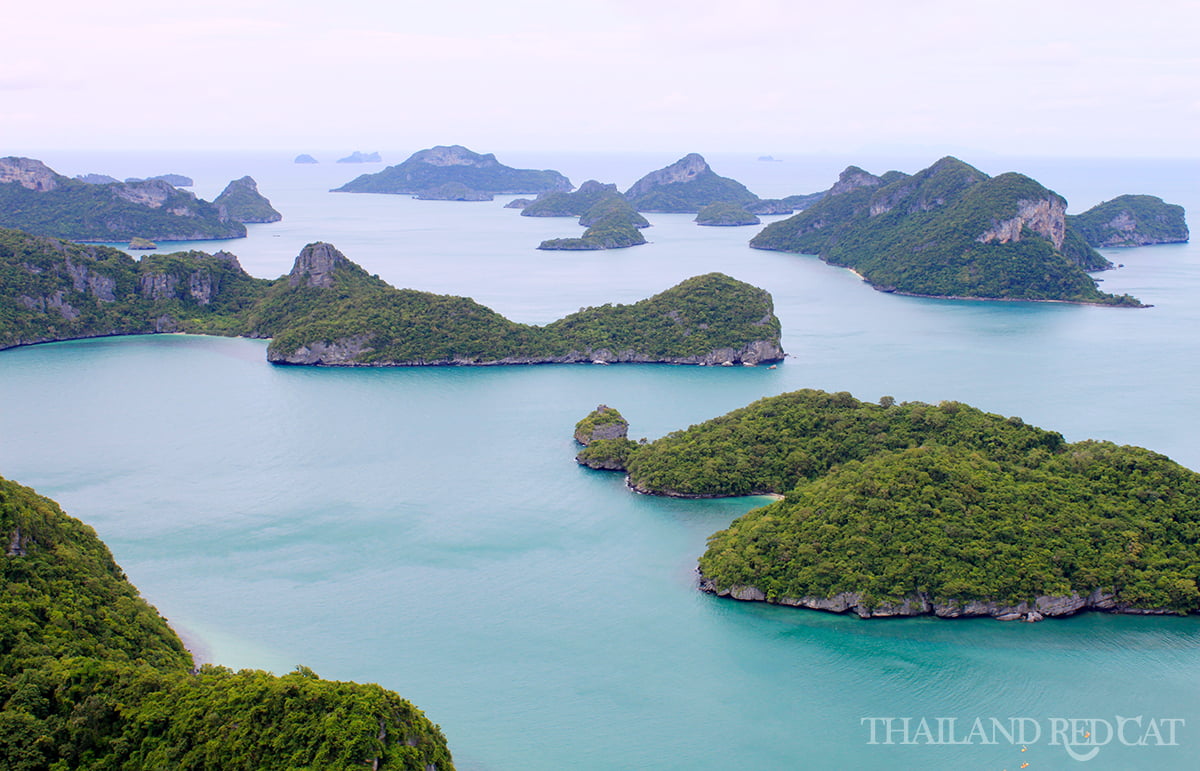 I have kept my absolute number one highlight of Koh Samui for the end of the article not just because it is off the island and you'll need to go on a full day tour to see it, but it's also the single most impressive place in the Gulf of Thailand.
There's a lot more to say about this 42 islands archipelago than I could possibly do in a couple of paragraphs, so check out this post for a full guide on how to get there, how much it costs and what you get to see and do other than the view point over the limestone cliffs.
Map of Koh Samui Highlights
Videos of Koh Samui Highlights