Relatively few people take a trip to Phuket's neighboring beach town of Khao Lak – and even fewer visit the capital town of the same province: Phang Nga.
I have been to both places last month and in today's post I'll try to show you how beautiful it is there so that next time you may give it a try yourself instead of once again going with the crowds and chilling on Phuket's beaches.
Let's start with Phang Nga. I and my girlfriend rented a motorbike right outside Phuket Airport (250 Baht/day) and rode the 62 km to Mueang Phang Nga ("mueang" is the Thai word for town). The trip took us about 90 minutes and as we were coming closer we discovered the huge limestone rocks surrounding the laid-back town.
The most famous one has the shape of an elephant.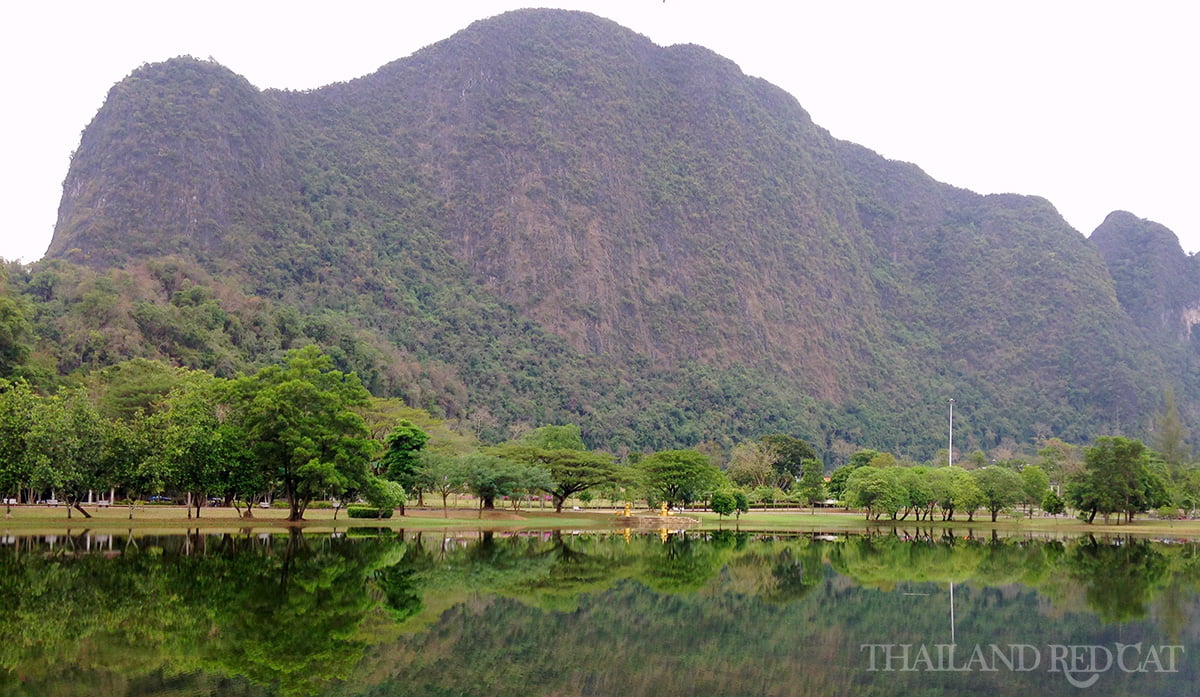 We spent two nights in Phang Nga in a small, but very new and great-value-for-money hotel (490 Baht/night) called T.P. Place. During our whole stay, we saw less than 10 foreigners. Quite surprising, since there are quite a lot of beautiful things to see there.
Phang Nga Bay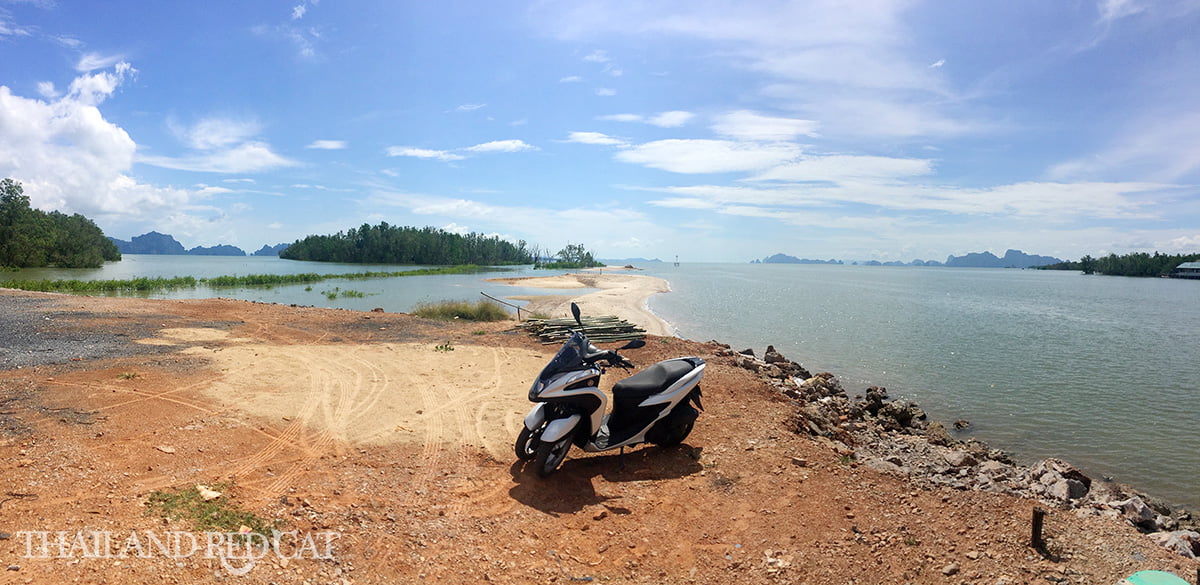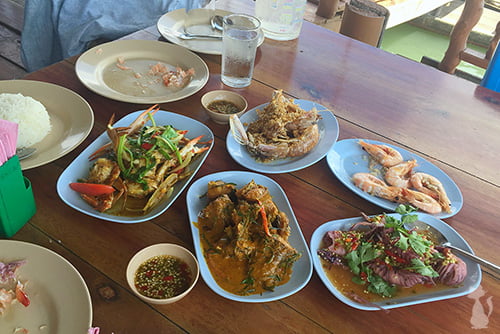 The most famous place in Phang Nga is obviously James Bond Island and you can do day trips from both here and Phuket.
Another place that's very worthwhile to go is Bang Pat (picture), 20km south of town, where several streams flow into the Andaman Sea and where they got a small village with markets and seafood restaurants (amazing value at 500 Baht for 5 different dishes).

There are also a few long tail boat owners around and I was curious so I inquired the price. He quoted us 1,500 Baht for a private two hour boat trip around Phang Nga Bay including James Bond Island. Unbelievably great price and I highly recommend you do that, but since I had done that trip from Phuket two years ago I passed.
View Point at Wat Rat Upatham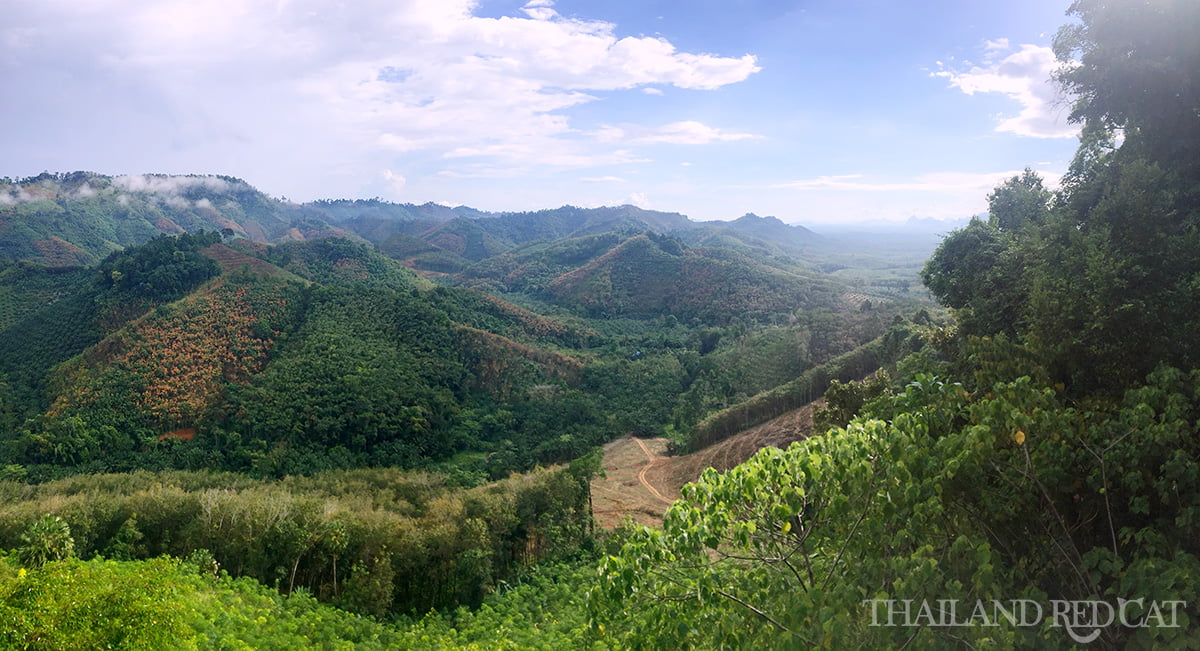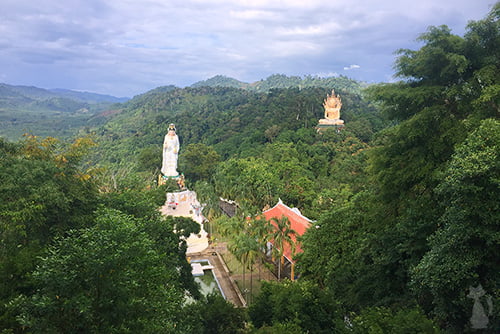 There are quite a few view points in the hilly surroundings of Phang Nga, but in my opinion the most beautiful of all is on top of Wat Rat Upatham, about 35 km north-east of town. On clear days you get to see as far as to the ocean at Phang Nga Bay (top right corner of the picture).
The temple itself isn't that outstanding to be honest, but if you walk around it there is another view point towards a standing Buddha image in the mountains.
Phung Chang Cave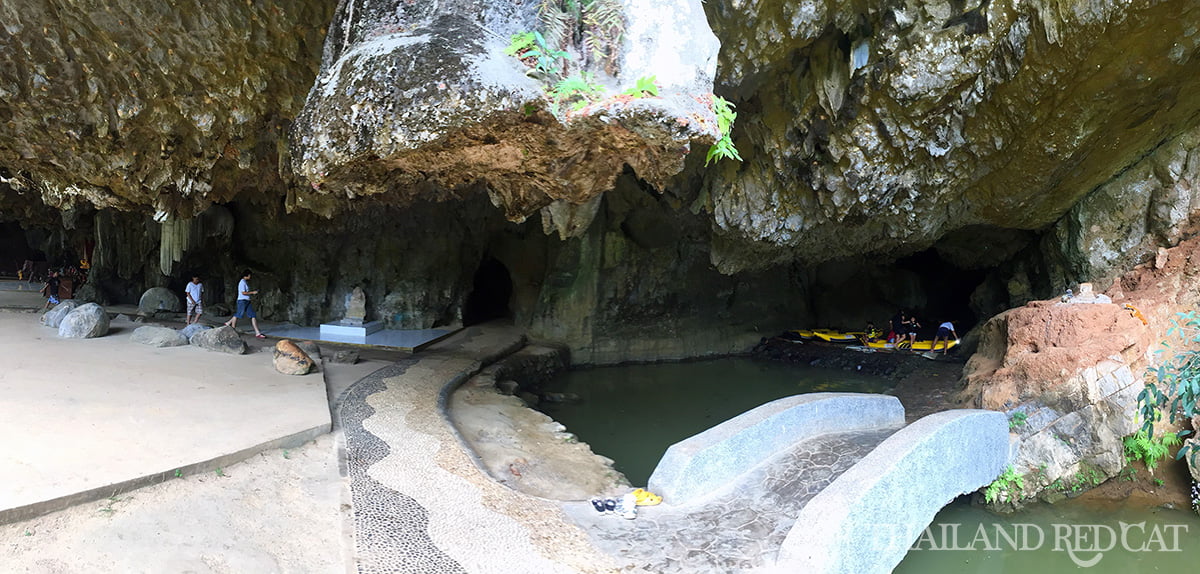 I have already mentioned that the most iconic sight of Phang Nga town is the massive limestone cliff that has the shape of an elephant. And there is actually a cave inside that makes the number one and kind of must do activity in town. There's also a big public park that's worth to go and that offers fine views of the elephant cliff (see first picture of the post) and people-watching opportunities, but the cave is clearly the highlight here.
You will need to join a tour to explore Phung Chang Cave (daily from 9am-5pm). It takes about one hour and costs 500 Baht for foreigners and 200 Baht for Thais. (I talked with them nicely in Thai and bargained 500 Baht for me and my Thai girlfriend).
They take you down a narrow canal by kayak first, before changing to a bamboo like boat and eventually you will walk down the stream until you are about 300 meters inside the cave. Yes, your legs will get wet up to your knees (they provide flip flops as well as head lights when you buy the ticket). Quite amazing that huge cave, you'll not only get to see impressive rock formations (including ones that again look like elephants) but also bats on the high top of the cave.
They don't allow pictures inside so I respected that.
Phang Nga View Point

They call it the "Chiang Mai in Phang Nga". Probably because of the hilly scenery that reminds you of the nature surrounding the biggest town in northern Thailand. Phang Nga View Point is the perfect place to come after a full day of riding the motorcycle. We did just that after coming back from our tour to Bang Pat, Wat Rat Upatham and cruising around the scenic roads through the rainforest out of town.
They serve cool drinks and also food on the view point to make it a popular place for couples (like us) to enjoy a romantic sunset overlooking the hills. And if you want to take that experience even further, you could ride a horse with your girlfriend (400 Baht per hour).
The following day we rode the motorbike from Phang Nga to Khao Lak (59 km).
Khao Lak Beaches

Khao Lak is without any doubt one of the best family retreats in Thailand. It has pretty much everything that neighboring and kind of big brother Phuket has: plenty of beautiful beaches, fine restaurants, great value-for-money hotels and night markets – without a lot of in-your-face sex for sale.
There is still some nightlife and bar scene here, but it's mostly "normal" bars without working girls that have great drink specials like 99 Baht cocktails and are full every night with couples and families.
I wasn't even planning on visiting Khao Lak this year, but then my sister told me that she was going to spend her honeymoon with her husband there, so I took my girlfriend for a 2-nights Phang Nga, 3-nights Khao Lak and 1 night Phuket trip on the motorbike. Make sure you do some beach hopping on the motorbike (the one in the picture is Khao Lak Beach, but there are more) as well as visiting the remaining two highlights – see below.
Tam Nang Waterfall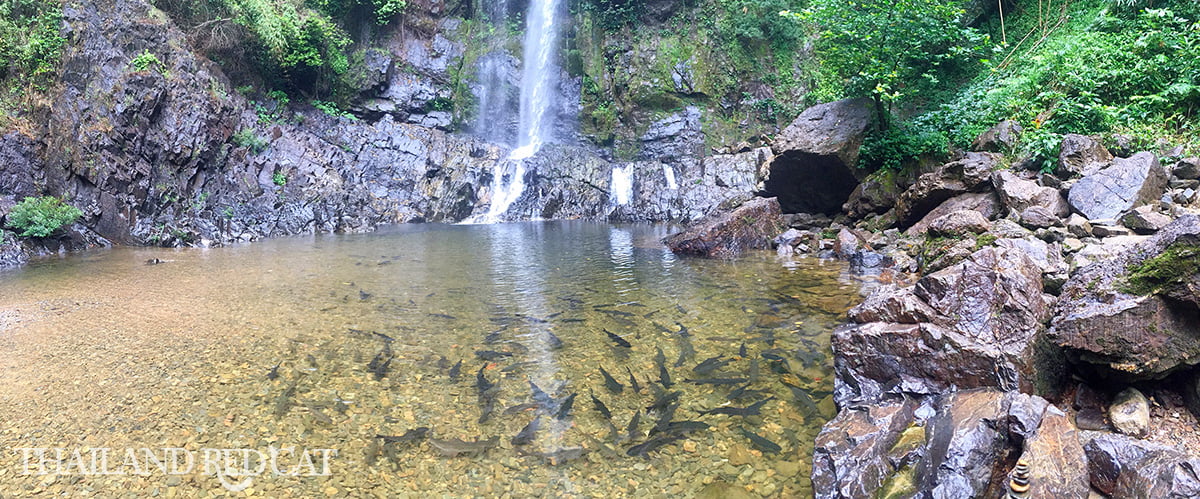 It's quite a distance from Khao Lak to Tam Nang Waterfall (60 km), but this is the most impressive waterfall I have seen in Thailand (even more so than the one on Koh Samui). It's not mainly about the 63m high waterfall itself – even though it also looks beautiful – but especially about the countless amount of big fish in the water. They are not even shy, so you can step in and walk around and you may even be surrounded by them – don't be scared, usually people come to feed them.
There is a 100 Baht entrance fee for foreigners and 20 Baht for Thais at Tam Nang Waterfall.
Similan Islands

Thailand's whitest beaches and clearest crystal blue water? Well, I don't know about some offshore islands, but what I can tell you is that it cannot get better than in the Similan Islands off Khao Lak.
The only downside is that this place has gotten extremely touristic now and you'll meet dozens of Chinese tourists on your trip. We went for a one day trip, but next time I will definitely stay there a night or two so I'll get to experience the beaches without the crowds.
Map of Phang Nga & Khao Lak Highlights
Videos of Phang Nga & Khao Lak Highlights