When I went to Ubon last week to update my nightlife guide there, I thought why not check out the neighboring Sisaket province for a few days? I love to explore the smaller and less touristic places in Thailand and after all, it would also be cool to impress the Sisaket girls I meet in the bars in Bangkok in the future if I told them I've been to their home province.
So I took the train from Ubon to Sisaket at noon (just 1 hour) and walked to the hotel I had booked on Agoda just a few hours earlier – the Boonsiri Boutique Hotel that has bright and tidy double rooms for only 600 Baht per night. It's located very central about 800m from the railway station.
That afternoon I went to a massage salon and luckily the lady there offered me a ride to the popular Chaloem Phrakiat Park, which was further out of the center than I first expected (almost 5km from my hotel). After I took enough photos and videos for my Sisaket Travel Guide, I wasn't sure how to get back to downtown (Grab wasn't available yet) so I asked the drinks vendor by the lake if he knew the number of a taxi driver. And then one of these Thailand-only miracles happened: A local girl standing nearby overheard our conversation and offered to talk to the driver for me. But she asked me first if I've been to a particular temple yet. I said no, not yet – do you want to go there together?
Well, long story short, she took me not only to two famous temples that afternoon on her bike, but also showed me all the different nightlife spots in town over the next two days – not only the places around the railway station in downtown, but also the Thai bars near the university that only few foreigners know about.
Bars in Sisaket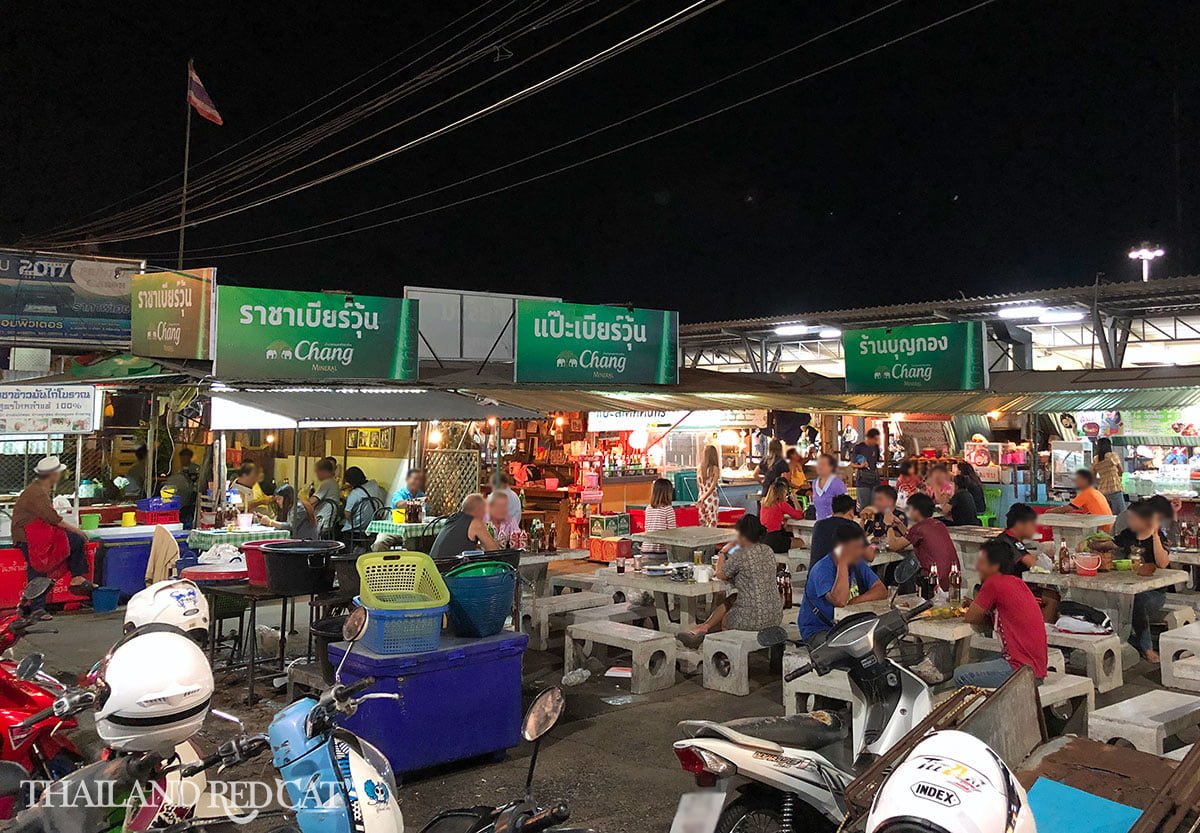 There are a few bars in downtown Sisaket, and especially the atmospheric outdoor bars in front of the railway station (photo) are popular among people of all ages. Cuckoo's Nest Pub & Grub nearby is a popular Farang bar, and Nong's & Frank's Livin' in the Past is popular among foreigners too, but it's more like a restaurant.
However, if you want to meet girls in Sisaket's nightlife, you better head out to this area: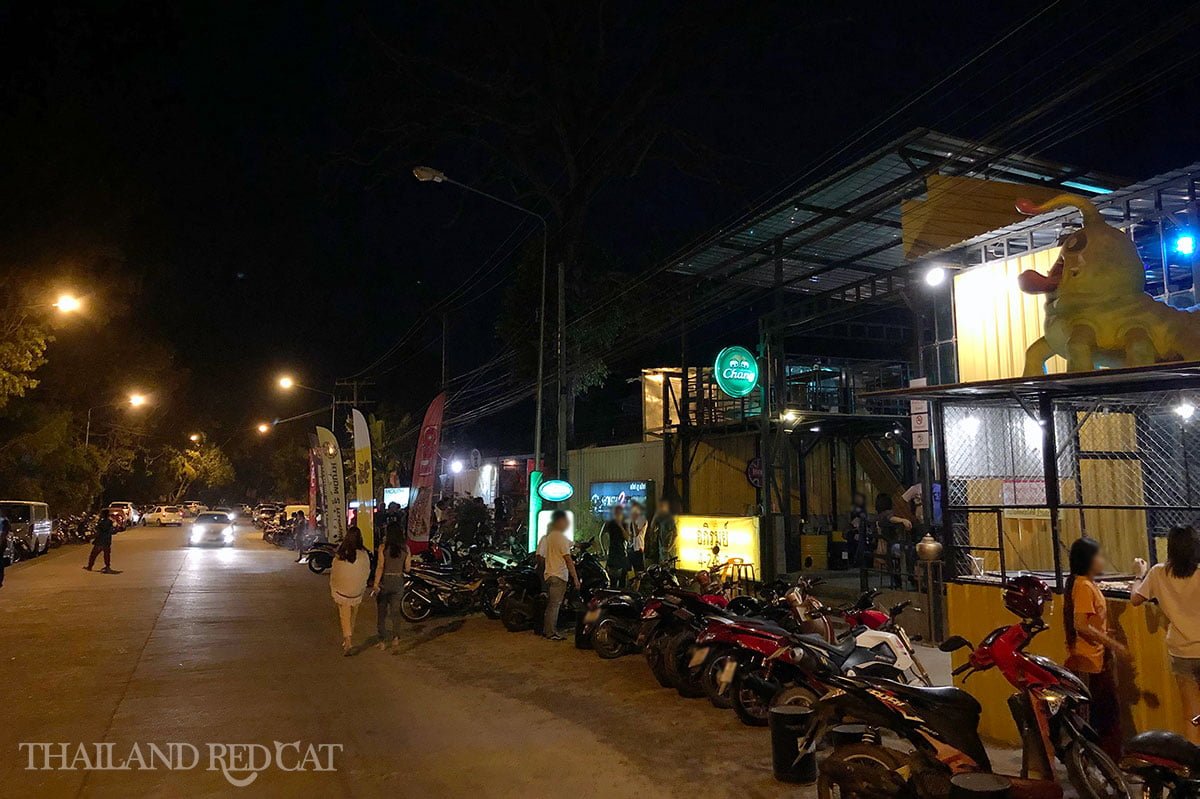 The biggest concentration of bars in town can be found along Thepha Road near the Rajabhat University. There are about a dozen different bars, and I even saw one place with sexy hostesses sitting and drinking with the male customers.
Most of these bars have live music, and sometimes also a pool table. Check out my video down below in one of these places.
Prices: Typical Isaan kind of prices – means a big bottle of beer costs about 70-80 Baht (in some of the fancier bars up to 100 Baht).
Nightclubs in Sisaket
There are two very popular nightclubs in Sisaket. I-Bar in the town center is packed pretty much every night of the week after midnight (it's not as big as the other one). They have alternating sessions of DJ techno music with fun laser shows and live band performances (Thai songs).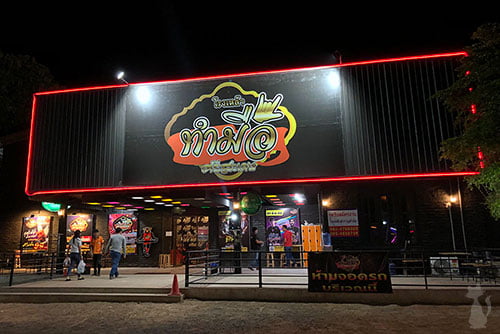 And the other club is Rong Lao Tam Mue (โรงเหล้าทำมือ) on the main road 226. The building is huge – in fact, the place used to be Tawan Daeng, but for some reason the owners changed. Anyway, you won't find a higher number of young and sexy Sisaket girls than here. Try to visit on a Friday or Saturday, because on weekdays most people rather hang out in the bars or in I-Bar.
Prices: Beers cost about 120 Baht (note that I-Bar only has Chang beer as it's their sponsor), and you can also buy a bottle of whiskey, like a Blend for about 800 Baht, plus 40 Baht per mixer, plus 40 Baht for a bucket of ice.
Massage Salons in Sisaket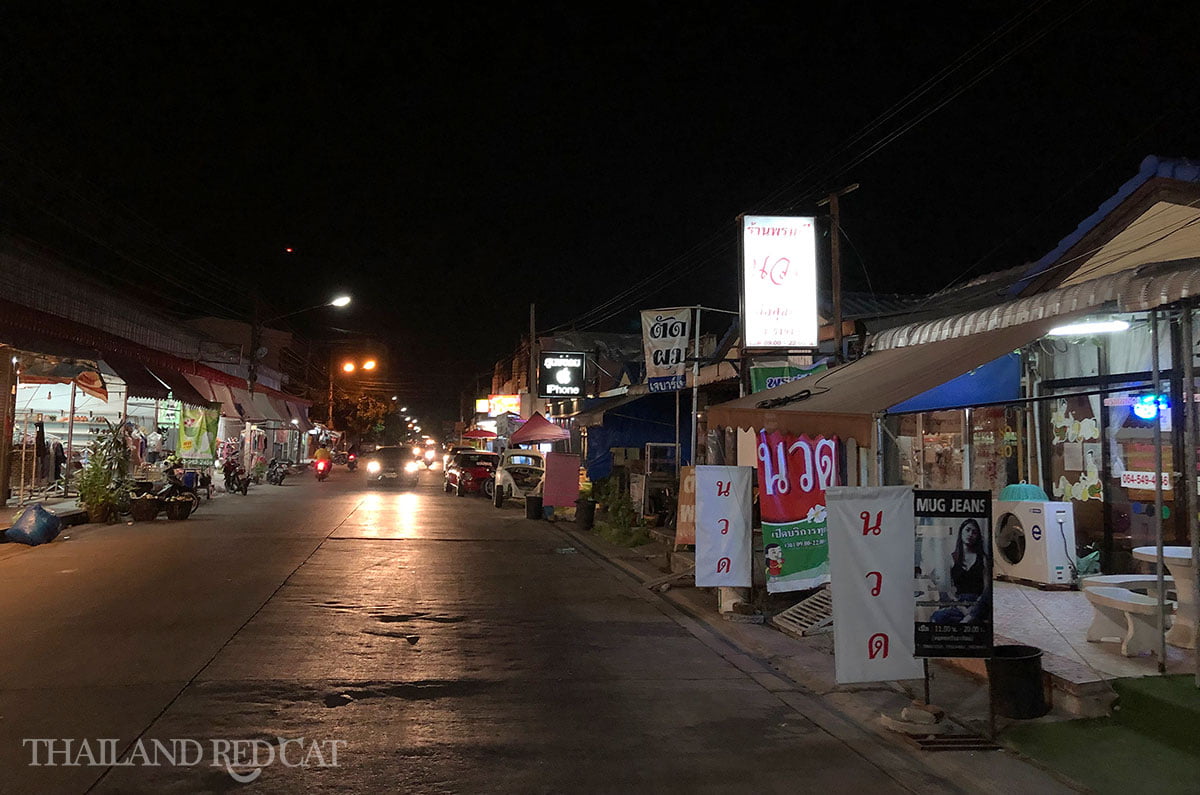 You can find plenty of massage salons by just randomly walking around downtown – that is the area around the railway station. I have marked some of the recommended salons on the map below (yellow pin).
Prices: A Thai massage costs 200 Baht and an Oil Massage costs 300 Baht in pretty much every massage salon in town.
Night Markets in Sisaket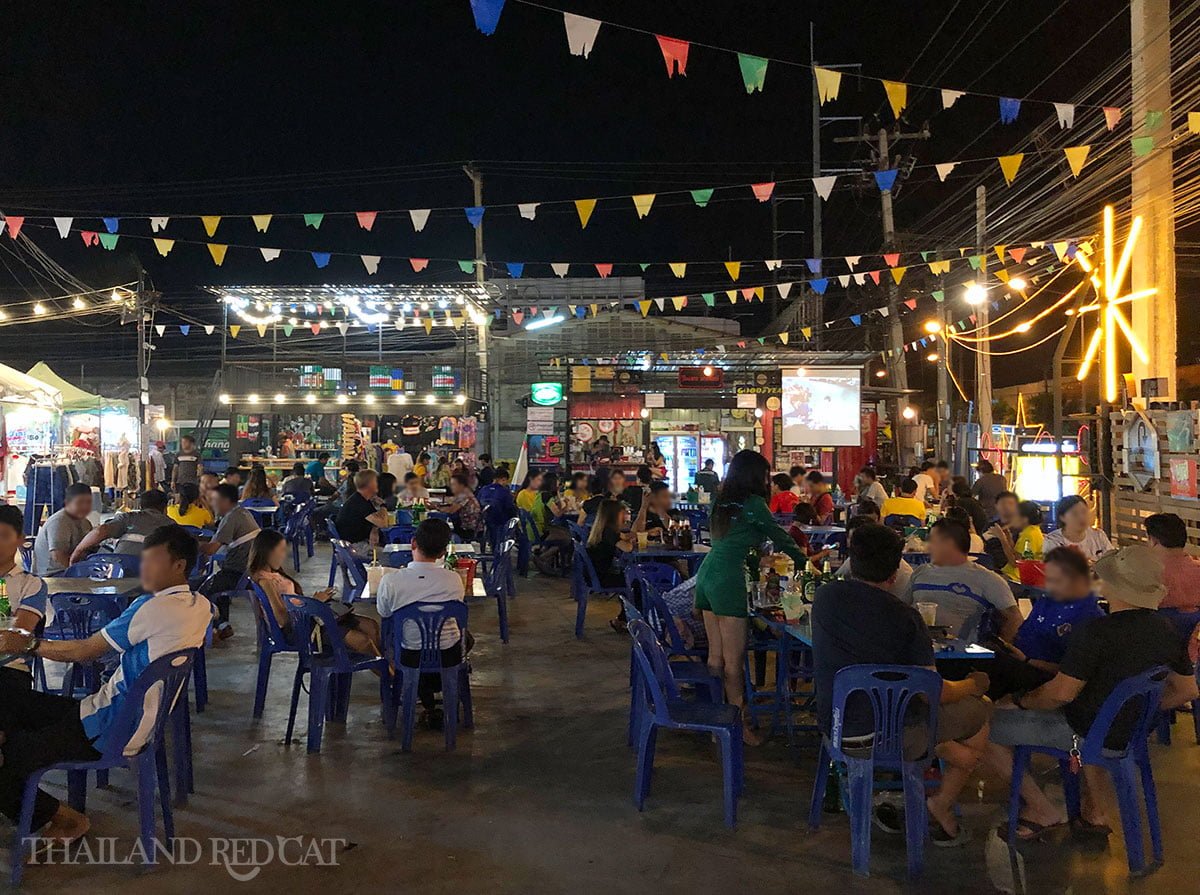 The U-Turn Market (ตลาดยูเทิร์น) on the main road is hugely popular. When I first came here, it reminded me of the Train Market in Ratchada Bangkok, as it has exactly the same setup (albeit smaller): food stalls, fashion shops and plenty of outdoor bars. Great place to start your evening, but better come there with your friend (or date), as it's not really a place to meet women (everyone is just hanging out with their friends).
And the other night market in Sisaket is the Talat To Rung (ตลาดโต้รุ้ง) in front of the railway station. It's smaller, but almost equally as fun, and you'll have better chances to meet some other fellow travelers (or expats).
Map of Nightlife in Sisaket
Videos of Nightlife in Sisaket