Anyone visiting or living in Bangkok comes at least for some part because of the happening nightlife.
So if you are going for a trip to BKK or have been living here not too long and feel a bit overwhelmed by the range of places to hang out, here's the top 3 best nightlife areas in Bangkok to give you a clue at least in which area to head out depending on what you are looking for.
1. Sukhumvit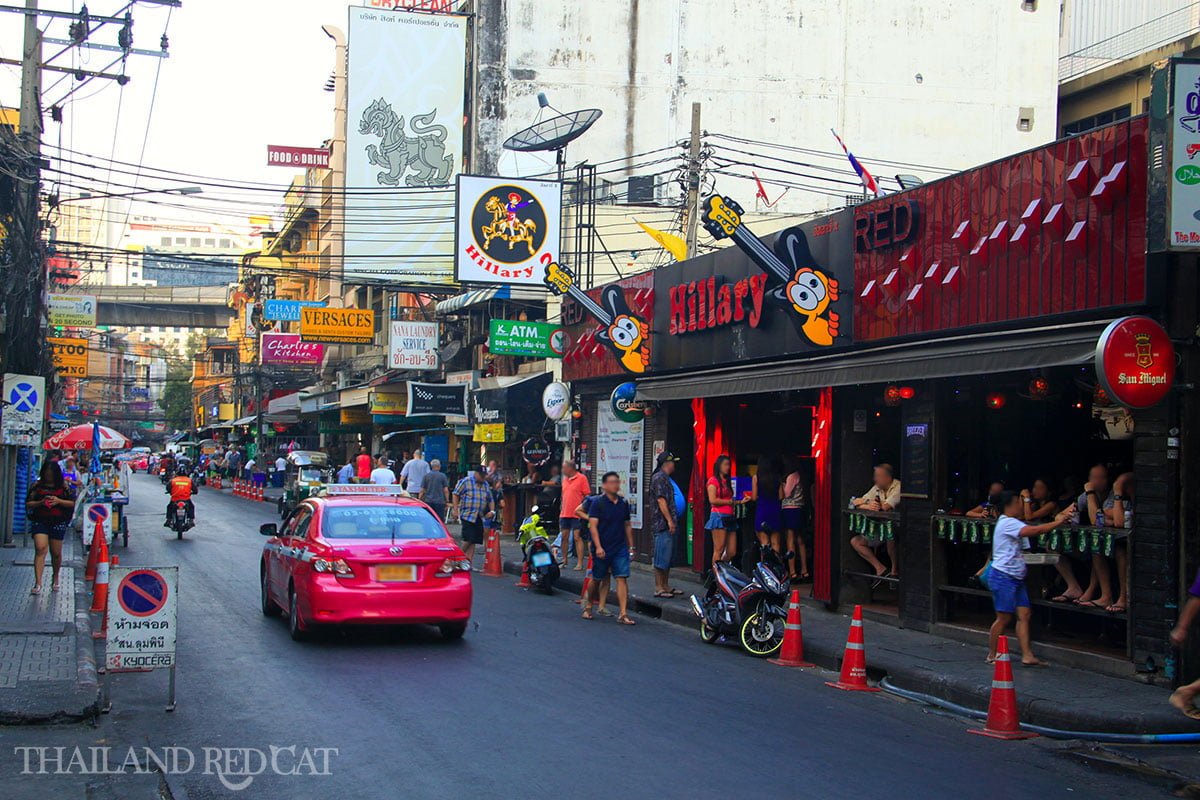 Located right next to Siam, this is Bangkok's most famous nightlife area. To be more precise Sukhumvit is the general area which is divided into several smaller sub-areas which are all conveniently located along the Sukhumvit BTS Skytrain line. The hotspots are
Nana (picture): Lots of beer bars, go go bars including one of Bangkok's three main red light districts, Nana Plaza in Sukhumvit Soi 4, countless of bars also great for playing pool. Nana has Bangkok's highest concentration of hookers. Besides that there are lots of international restaurants and some of BKK's best night clubs especially in Sukhumvit Soi 11.
Asoke: Located right next to Nana, a bit more quiet though still a bunch of good restaurants, girl and beer bars in Sukhumvit Soi 22 (no. 2 beer bar street after Soi 4) and another Redlight district: Soi Cowboy, Bangkok's brightest street connecting Sukhumvit Soi 23 and Sukhumvit Soi 21 (Thanon Ratchadapisek) right outside the Asok BTS / Sukhumvit MRT station.
Phrom Phong: Located right next to Asoke, the main action here is going on in Sukhumvit Soi 33 though more and more Japanese Karaoke Bars here replacing the beer bars (which are concentrating in Nana). Still decent range of pretty good international restaurants in the whole area.
Thong Lor: Bangkok's Hi-So district located right next to Phrom Phong. Every time I come here I seem to spot a super hot and beautiful Thai Movie star (though normally my friend recognizes her as I don't watch Thai TV too much). Here you find not just Bangkok's best wine and cocktail bars but also some of Bangkok's most beautiful women.
Ekkamai: Located right next to Thong Lor. Not too much going on there right now but still a few less known (and pricey) bars and clubs, seems it's trying to catch up as fast as possible these days and being the second Thong Lor in town.
2. Khaosan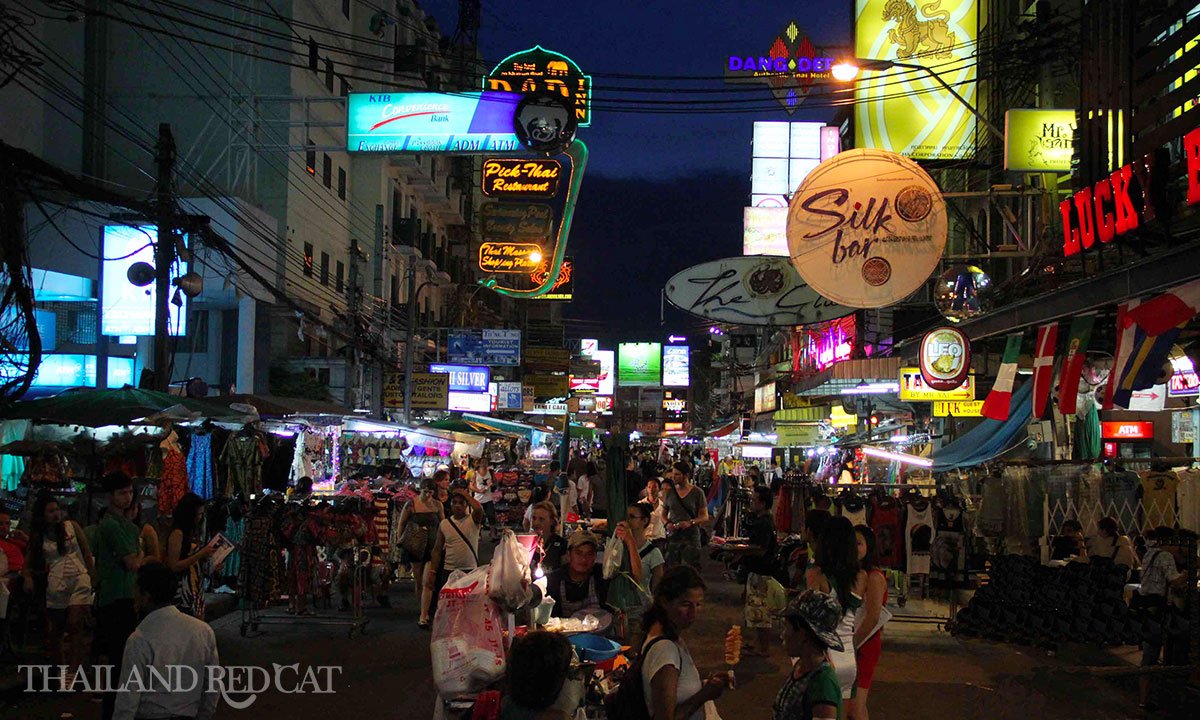 All these three best nightlife areas have their own typical crowd. While Sukhumvit (see above) attracts a lot of expats and tourists and RCA (see below) is the playground for the local boys and girls (though also becoming more and more popular among foreigners) in Khaosan it's mostly the young and hip backpacker folk dancing on the street while sipping Chang Beer they bought in the 7-Eleven or from the street vendors after midnight (when it's not permitted to purchase alcohol in the shops).
Of course there are still a lot of bars (some of the most popular one's being Khao San Center, Lucky Beer and Brick Bar) and a few clubs (The Club, Lava Gold and The Cliff Club).
Note that: Khaosan is quite a lot more than just Khaosan Road. Obviously the most action is going on right on Khaosan Road but this is just the center of Khaosan area and there are many side streets that have a lot more bars and clubs to offer.
Since there are so many tourists in the area it doesn't really matter when you come here. Khaosan is partying hard and wild from sunset to sunrise 365 days a year. Though there are slightly more hot chicks (beautiful Thai girls and women, some hookers, some not) heading to Khaosan on Friday and Saturday nights.
3. RCA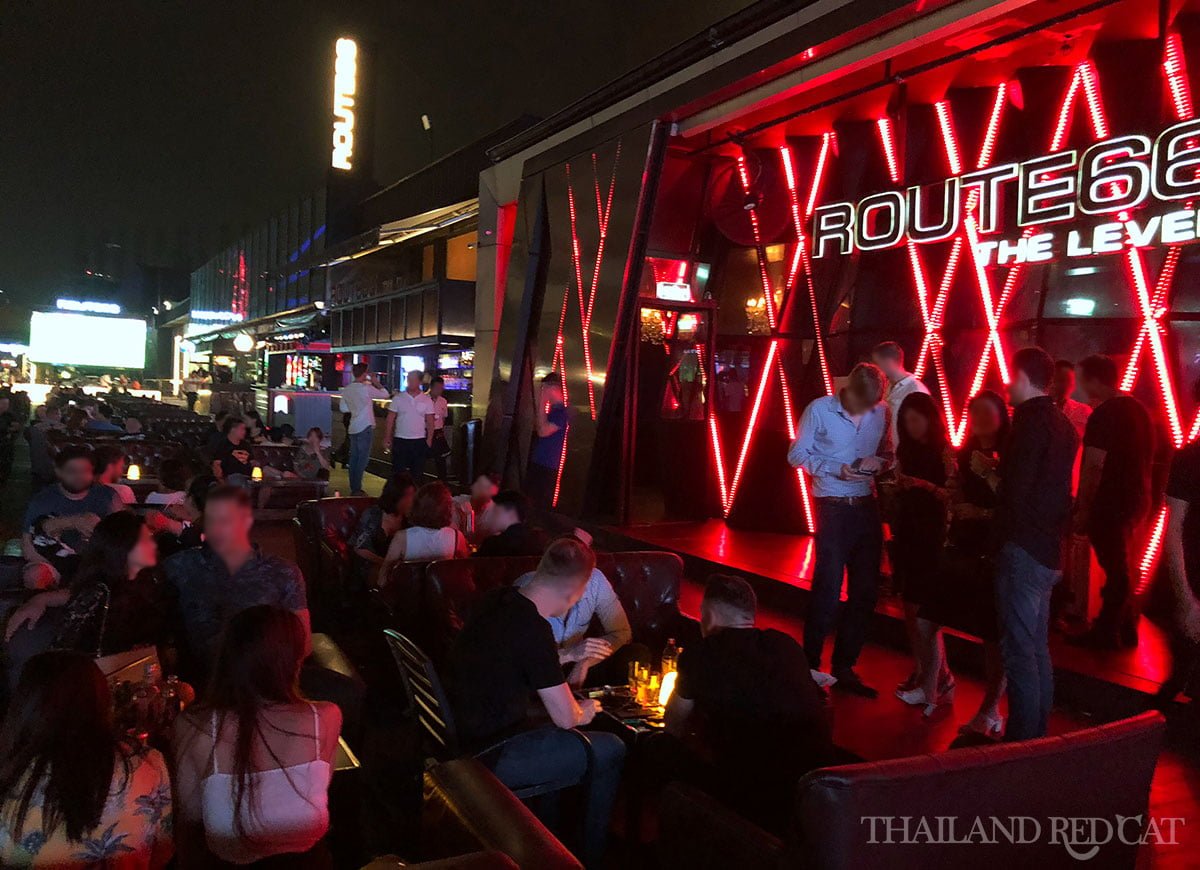 RCA stands for Royal City Avenue. In fact this is Bangkok's largest nightlife area. Though it's still a local favorite, more and more foreigners come here and do how the locals do by opening a bottle of Johnnie Walker (or some Thai whiskey) in some of Bangkok's most famous nightclubs.
The good thing about RCA like with any other local Thai nightlife area is that people are authentic and there are barely hookers around (at least not foreign oriented, what doesn't mean you cannot hook up the normal way with someone), the downside is that the young Thai folk that normally gets sponsored by their rich parents is kind of showing off while standing together in groups and sipping their black label with soda and ice.
The three most popular clubs in RCA are Route 66, Onyx and Tha Beatlounge (in that order). Besides that there are lots of other smaller venues as well as restaurants, bars and lesbian bars.
Note that: While Thai people normally go in the clubs for free, foreigners have to pay a cover charge (usually 200 or 300 Baht including one drink). Also, different from most other nightclubs in Bangkok (with exceptions like the ones in Thong Lor, Ekkamai and a few venues in Sukhumvit Soi 11 like Levels and of course all the five star hotel clubs) all clubs in RCA have a dress code, means strictly no shorts and flip-flops / sandals.
Map of Bangkok Nightlife Areas
Sukhumvit, Khaosan & RCA: Bangkok's best nightlife areas. Of course there are a lot of other happening spots in Thailand's capital and I have barely mentioned BKK's three red-light districts here.
Some other great nightlife hotspots in Bangkok include Ratchada Soi 4 (almost 100% Thai bars and clubs), Huai Khwang area (get off Huai Khwang MRT station exit 4, not just BKK's soapy massage capital but also lots of laid back local bars like Huai Khwang Terrace and The Park) and Ramkhamhaeng area (BKK's main student area, check out the Sois to the southern end of Rajamangala Football Stadium for the best venues).
Video of RCA Nightlife Area in Bangkok