Ao Nang is the second most visited place among foreign tourists in Southern Thailand (after Phuket), and of course that also means that it has an exciting nightlife scene. No matter if you are a couple looking for a romantic bar on the beach, or a single male traveler looking for fun and pleasure with young Thai girls – Ao Nang has it all:
There is no shortage of girly bars, beach bars, nightclubs, massage salons and you can even find a few sexy ladyboys and street hookers in this popular beach town.
However, let me tell you right away that there are bigger and better places with red light districts in Thailand. Yes, Ao Nang in Krabi is somewhat comparable to Patong in Phuket (it's the most developed beach with most of the hotels, foreign restaurants, shops and also bars and clubs), but everything is on a much smaller scale.
Ao Nang Nightlife Overview
There is only one red light district with girly bars in Ao Nang – not two like many other nightlife guides claim. It's called RCA Entertainment and has almost two dozen of bars full with girls. If your plan is to visit beautiful beaches during the daytime and have fun with beautiful girls at night – then you will no doubt find yourself at RCA every night.
There is another popular nightlife area in Ao Nang called Center Point. However, the venues there are no "girly bars" but normal bars where regular tourists and couples have a few drinks while listening to the live music, watching sports on the TV or playing pool. The most popular nightclub in this beach town is also located in Center Point – more on that down in the category.
Apart from RCA and Center Point, there are several more bars, restaurants, night markets and massage salons spread all along the Beach Road, as well as the main road leading up to Krabi Town. The good thing is that everything is within one relatively small area so you can walk and don't really need to rent a motorbike (like in Krabi Town where the distances are much bigger), but the bad thing is that after two or three nights in RCA you might ask yourself: That's it?
Nopparat Thara Beach and Pai Plong Beach are the two neighbor beaches of Ao Nang, but you can forget them in terms of nightlife and girls – there are some scenic and romantic restaurants, but apart from that it's much more quiet than in Ao Nang (no red light areas) where 80% of the hotels are located. So if your priority in the nightlife are young and sexy Thai girls then you should spend all of your time in Ao Nang.
Let's now take a look at each type of place to meet girls in Ao Nang's nightlife:
Girly Bars in Ao Nang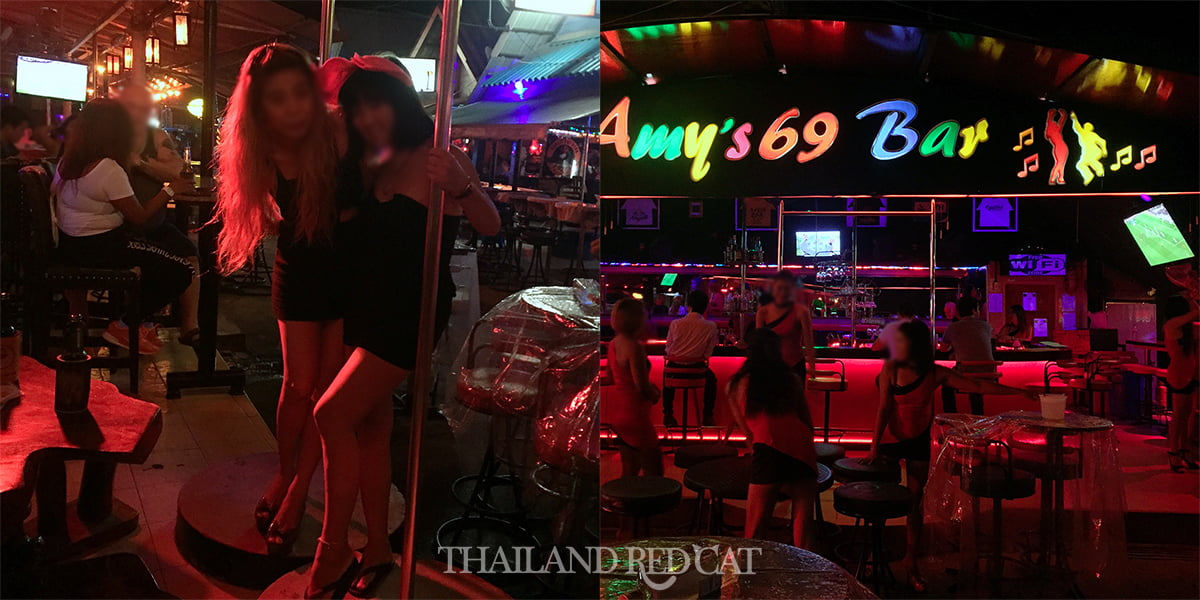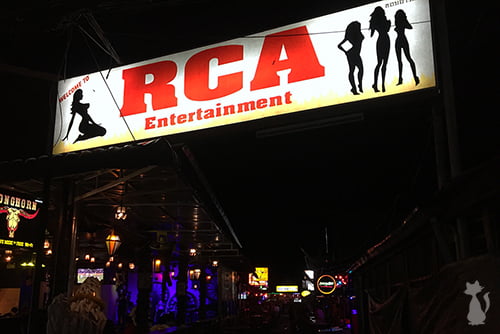 Like everywhere else in Thailand, the girly bars are the best place in Ao Nang's nightlife to find girls, to relax and chat with them for a few hours, to play pool, to get "warm" with them and eventually take them back to your hotel for sex.
There is one girly bar area in Ao Nang: RCA Entertainment. It's a 60m long alley off the main road that connects Ao Nang with Krabi Town. Coming from the beach, walk up 400m along the street and you will see the entrance to RCA to your right (see my picture to the right).
There are about 15 beer bars and each of these bars has many young and attractive Thai girls – like so often in Southern Thailand those are mainly Isaan girls; if you prefer Southern Thai girls then you can ask around, there are always a few of them around (usually from Hat Yai, Surat Thani or Nakhon Si Thammarat). But of course you can also use the popular dating site to meet them.
Take a look around and if you like the girls in a particular bar (Amy's 69 Bar has the nicest design and the highest number of girls, but there are other, smaller bars, with a nicer atmosphere), sit down and order a beer. It usually doesn't take long until a nice girl puts her arm around your shoulder so if you like her, buy her a drink, enjoy your time with her and if you want you can pay her bar fine to "boom boom" her until dawn.
The other popular bar area in Ao Nang is Center Point: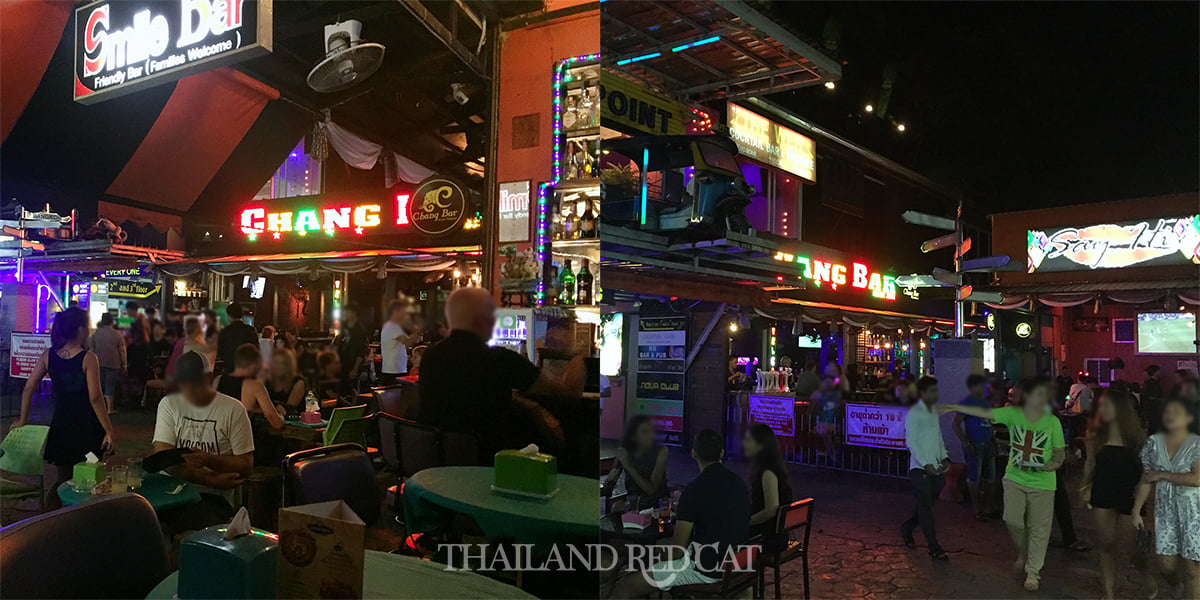 Like I already said earlier, this is not a red light area. Just look at my pictures above and you will see that Center Point has about 10 normal bars. "Normal" means they are fun to sit and drink with friends, but your chances to meet a nice girl are close to zero. Because there are no bar girls (and only very, very few freelancers – most of the Thai ladies here come with their Farang boyfriends).
To be honest I don't really like Center Point. It's just extremely loud, touristic and pushing here. As soon as you walk into the complex you will be surrounded by at least two Thai guys who try to lure you in their bars while waving up and down their signs with "happy hour specials". The first time I came there with my girlfriend they wouldn't stop shouting at us – even though I told them "no thank you" several times. We finally left the place and looked for a more quiet nightlife place to have a relaxed drink (see the info below).
Prices: Beers cost 100 Baht in the girly bars in RCA and around 80 Baht in Center Point. Spirits (like vodka or gin) cost 150-160 Baht and cocktails around 180 Baht in both areas.
The lady drinks in RCA are quite expensive at 200 Baht in almost every place (but they can charge it because the number of bars isn't as high as the daily influx of "hungry" men – even during the low season), and the bar fine is typically 500 Baht. Of course you will need to agree on a price for sex with your girl – you can expect that she asks for 2,000 Baht for short time and 3,000 Baht for long time (negotiable).
Nightclubs in Ao Nang
The two best nightclubs in Ao Nang are Moonshine and Sabina. They are both located in the Center Point complex. Moonshine can be found on the ground floor (see the picture above) and is like a typical Thai nightclub – live music on the stage every night and lots of small tables where people sit together in groups. Do it like the locals do and buy either a bottle of whiskey and soda and ice as mixers, or a beer tower. Moonshine is probably the best nightlife spot to meet girls for free (not only Thai girls, but also Farang girls!).
Sabina is located on the second floor of Center Point and more like a coyote club than a typical nightclub. It looks like a club, but they have a lot of sexy hostesses around who will do their best to make you feel good – if you buy them drinks. These girls are really hot – more attractive than the average girl over in RCA (see above).
Prices: Similar prices for beers and spirits like in the bars – around 100 Baht for a beer and around 160-180 Baht for spirits or cocktails. If you plan on partying for the whole night in Ao Nang's night clubs, you can expect whiskey bottle prices of around 1,800 Baht for Red Label or Vodka and 2,500-3,000 Baht for Jack Daniels. Beer Towers usually cost 600 Baht for Chang and 700-800 Baht for Leo/Singha.
Happy Ending Massage in Ao Nang
The bad news is that there are no soapy massage parlors in Ao Nang. So if you want the all inclusive bath, massage and sex kind of service you will need to go to Krabi Town (but even there the selection of soapies is very limited, Phuket Town is much better in this regards).
However, the good news is that there are many small massage salons in Ao Nang – you can easily find them along the Beach Road as well as along the main road (around RCA). And like you can see in my picture above, even the small Sois have some massage salons.
Prices: The standard rates are 300 Baht for Thai massages and 400 Baht for Oil Massages (one hour). Note that not every massage girl is ready to give you a happy ending. In fact, most of these places are very "traditional" and you will need to be very "lucky" to get "happy". You can offer the girl 500 Baht so that she massages your dick until you get an erection. Sometimes they will do it, sometimes not.
Ladyboys in Ao Nang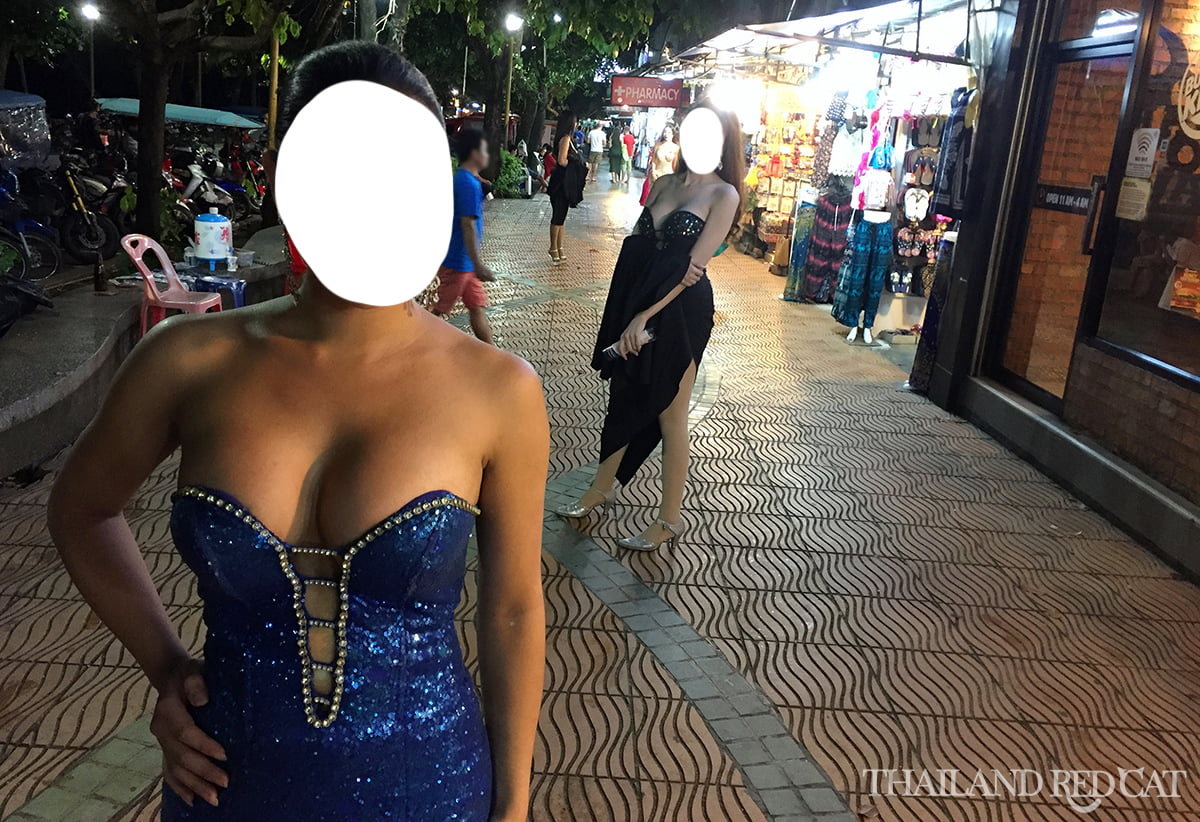 If you are a ladyboy lover (or just a "curious man") then you will have plenty of opportunities to enjoy yourself in Ao Nang. There are several places to meet ladyboys here: The most famous one is certainly the ladyboy cabaret called Blue Dragon in Center Point (2nd floor). Yes, my picture above shows some of the hot transgenders from the show – they are trying to attract customers on the Beach Road for their next show.
There are 3 show times in Blue Dragon – it's roughly at 8pm, 9:30pm and 11pm (they change the times frequently). If you are interested in that you can have a drink in one of the open air bars in Center Point first and then follow the ladyboys up when they start their show. Of course you can also go there anytime and have a few drinks with them – and who knows, maybe more as the night goes on.
And like always, you can also meet some ladyboys in the regular bars and nightclubs, or right on the Beach Road (street hookers) or on the big online dating sites.
Prices: At least 2,000 Baht for short time with a ladyboy from the bars, about 1,000 Baht for a freelancer and probably free if you meet them on the dating site.
Street Hookers in Ao Nang
If you walk along Beach Road late at night you might be able to find some street prostitutes. Those are girls who are not employed by anyone but who are confident enough to find customers by themselves. There are not nearly as many of them as in Patong or Pattaya though.
Prices: Not more than 1,000 Baht for short time.
"Normal" Nightlife Spots in Ao Nang
If you walk along the beach promenade or along the main road (in both directions: towards Nopparat Thara Beach as well as towards Krabi Town) you can find many normal bars like you can see in my pictures. There are not really a lot of single Thai girls in these places – but if you are looking for a more relaxed kind of nightlife spot, then there's certainly no shortage of them.
Regarding beach bars, the selection is quite limited: You can find a few bars with beach views on the eastern end of the beach. Just walk to the end of Beach Road and instead of turning left (towards Krabi), walk straight along the unpaved pedestrian walk. There you can find some smaller and quite romantic bars with nice views.
Prices: Similar prices like in the girly bars (see above), but the beer is a little bit cheaper – means 80 Baht instead of 100 Baht for a small Singha bottle.
Night Market in Ao Nang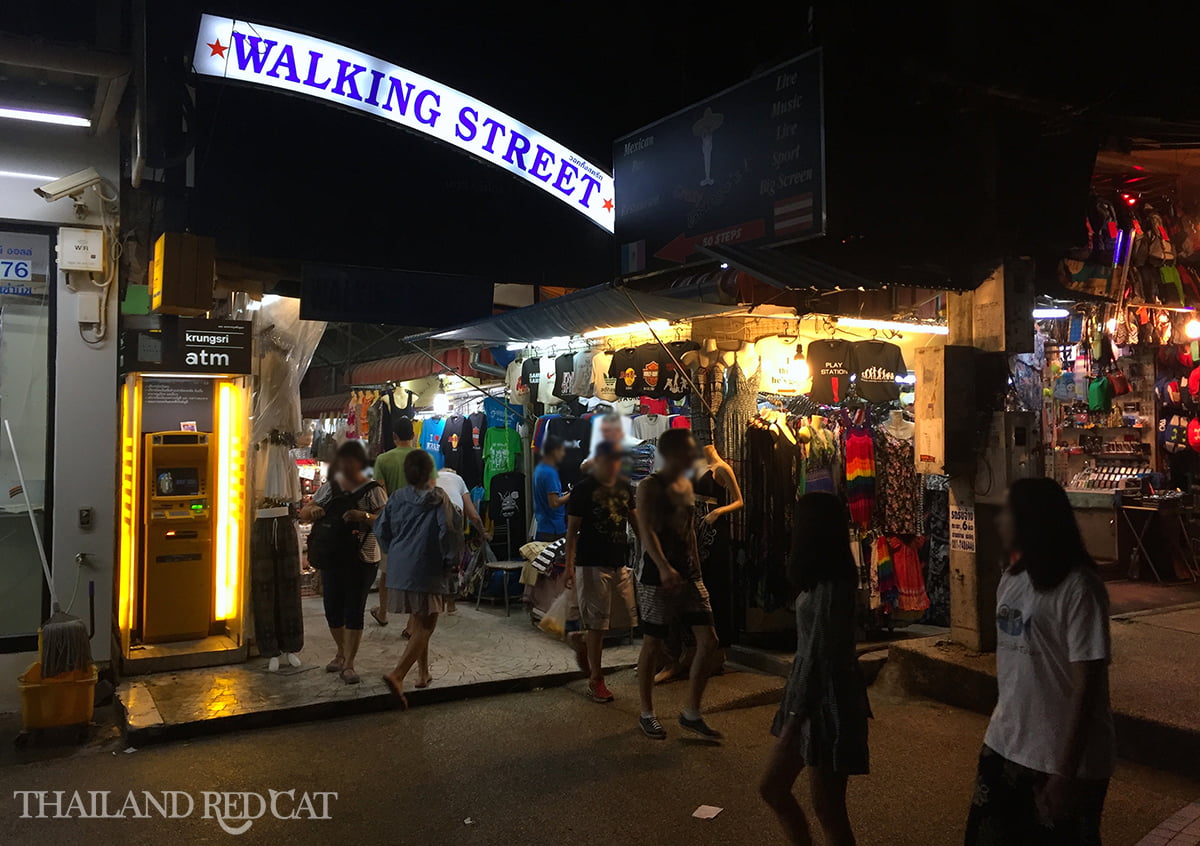 It's not difficult to find places for shopping in Ao Nang – the whole place is really set up for tourists. There are many small vendors on the beach promenade, but the most famous and biggest night market in Ao Nang is Walking Street.
The entrance can be a little tricky to find (it's easier if you come from the main road instead of the beach road), so just look on my map below for the exact location (like you can see it in the picture). Don't expect any go go bars there like in Walking Street Pattaya – this is something completely different – just a small alley with lots and lots of shops selling souvenirs, clothes, accessories, snacks and drinks.
Map of Nightlife in Ao Nang
I think three nights are the maximum amount of time you should spend in Ao Nang. There isn't really much to do during the day – you can do the Koh Phi Phi island tour in one full day, and maybe give Railay Beach a visit or do some rock climbing there. And the beach in Ao Nang is not that beautiful – it's nice to look at, but it's not so good for swimming (many boats, no clear water and the sand is dark).
After three nights you will probably start feeling bored (like me) – because RCA is really the only place Ao Nang has to offer in terms of nightlife for sex tourists.
So after your stay in Ao Nang I would definitely recommend you to spend a few nights in Krabi Town, where the nightlife isn't as tourist-oriented and you can find a lot more girls in the karaoke bars, nightclubs and massage parlors.
Videos of Nightlife in Ao Nang