Koh Lipe is the southernmost island in Thailand, and a true little paradise. Well, the word "little" may not be quite appropriate here – yes, the island itself is only about 3km long, means you can walk all over the place and see everything in one day, but a trip to Koh Lipe is much more than just about relaxing and taking selfies on the beach:
Being one of the 51 islands in the Turatao National Park (arguably the most beautiful one) in Satun province, Koh Lipe offers the perfect combination of beach vacationing, island hopping day trips including snorkeling and kayaking – as well as nightlife and partying.
In this guide you will find the complete overview to Koh Lipe with everything you should check out both during the day and at night.
Koh Lipe Beaches

It makes sense to start with the beaches, not only because they are obviously the main attraction of any island, but also for you to decide where to book your hotel.
There are 3 main beaches on Koh Lipe:
Pattaya Beach

is where most boats from the mainland arrive, and there are mostly tour agents as well as some restaurants and a few hotels.

Sunrise Beach

 (picture above) is the most popular beach on the island with the majority of hotels and the best beach bars and restaurants. I stayed there too.
And

Sunset Beach

 (picture below) is mostly suitable to walk there in the late afternoon for a swim. There are also some hotels but more in the back part because the beach is small, and those are mainly cheap and simple guest houses for backpackers.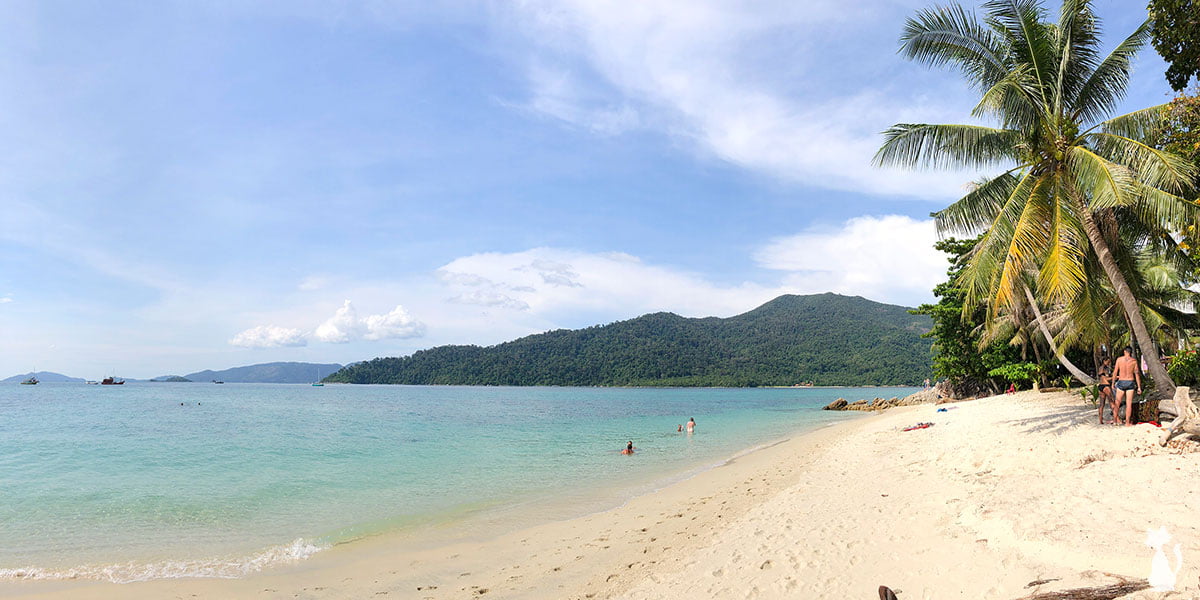 Check out the map at the bottom of the page where you can find all mentioned places in this guide.
Sunset Point
Not to be confused with Sunset Beach (see above), the Sunset Point is basically the very northern tip of Sunrise Beach, but for some reason it got different names, like Karma Beach or Bulow Beach.
This is by far the most beautiful, romantic and picturesque place in all of Koh Lipe.

You may want to go there at around 4pm in the afternoon when it's not so hot anymore, so you can take a swim in the crystal clear water, while enjoying the amazing views all around (and the mighty Koh Adang, a former pirate hotspot, right opposite), take lots of pictures, relax and wait for the sunset, which is between 6pm and 7pm, depending on the time of the year.
Make sure you also check out my video of this gorgeous place down below.
Snorkeling Day Trip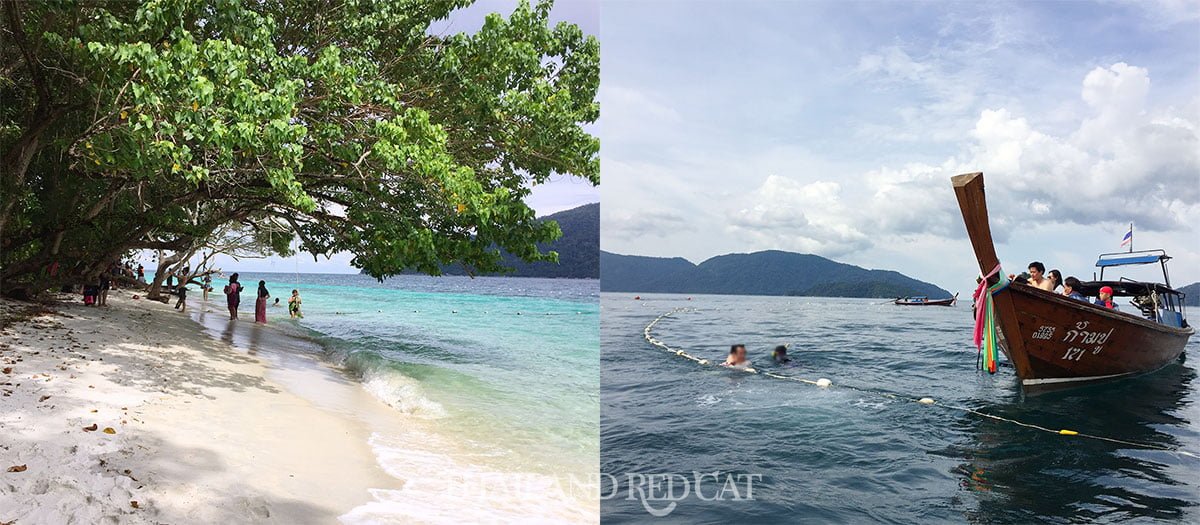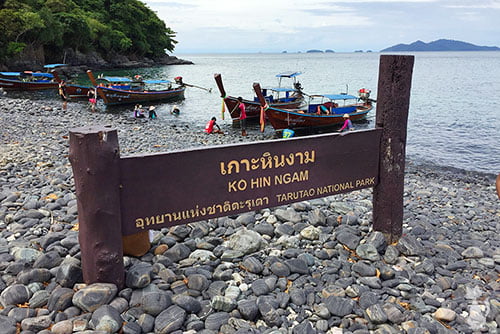 The Tarutao National Marine Park is known for some of the best snorkeling and diving opportunities in all of Thailand.
So most people who visit Koh Lipe book a snorkeling day trip at one of the many travel shops, or simply at the reception of their hotel. The price is just about 600-700 Baht and it includes:
Full Day Trip on the longtail boat (about 10-15 people)
Visit 3 islands & 3 snorkeling spots
Lunch
Snorkeling Gear
Pick up from the hotel
That's an amazing value, and if you stay on Lipe for more than just 2 nights, really a must do. You'll get to swim at Monkey Beach (yes, there are lots of them) on beautiful Koh Rawi (left picture), see lots of exotic and colorful fish and reefs (the highlight is Jabang Pinnacle, a rock formation in the middle of the ocean that peaks 2 meters below the surface, right picture) and step on the mystic Koh Hin Ngam island which is full of black pebble stones (small picture).
Nightlife on Koh Lipe
The nightlife on Koh Lipe is mostly oriented towards friends and couples (which make up the majority of visitors on the island). So if you are a single guy looking for girly bars – you won't find them here. In that case, you should better go to Koh Samui.
Bars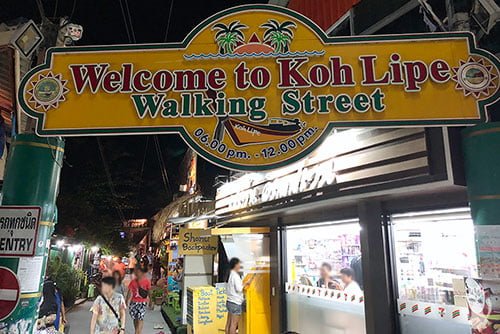 Most bars on Koh Lipe are located on Walking Street, a 500m long alley leading from Pattaya Beach to the interior of the island and full of shops, restaurants, massages, tattoo shops – and bars. Almost everyone goes there at some point in the evening.
If you are traveling with your girlfriend, you'll love the cocktails and atmosphere in the romantic Maya Bar (right picture). The best bar on the island to meet other people is Corner Bar (left picture). If you enjoy live music, check out Pooh Bar, which also has a big screen with live sports. And if you are looking for a bar with pool table that also serves food, then head out to OMG Sports Bar & Restaurant.
And of course there are also a few beach bars on Lipe, with two of the most popular places being Happy Vibe Bar and the relaxing Sea La Vie Bar (picture below) which also has fire shows. Both bars are located on Sunrise Beach.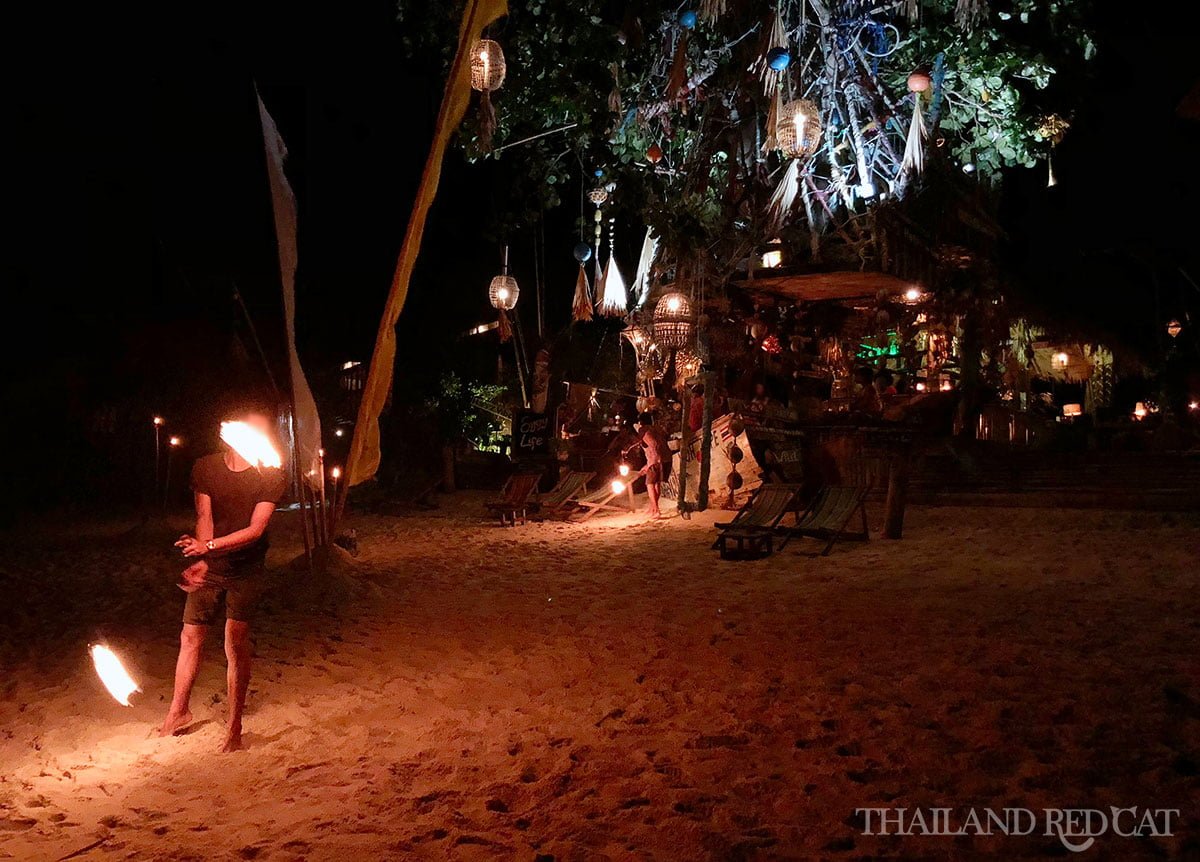 Prices: The drink prices in these bars are very reasonable, especially if you consider that you are on a tiny island almost 2 hours from the mainland. You'll pay about 100 Baht for beers, 140-160 Baht for spirits and 200-250 Baht for cocktails.
Massages

There are plenty of massage salons on Walking Street (right picture) which all offer the usual range of services from Thai Massage, Oil Massage and Foot Massage all the way down to fancier therapies like Hot Stone Massage.
And of course you can also get a massage right on Sunrise Beach (left picture).
Prices: See the picture above – that's the standard prices on the island, means Thai or Foot Massage for 300 Baht or Oil Massage for 400 Baht. All services are for 1 hour.
See also: How to get from Bangkok to Koh Lipe
Map of Koh Lipe Highlights
Videos of Koh Lipe Highlights