Kanchanaburi is one of the most beautiful provinces in Thailand. And the great thing is that it's only 3-4 hours from Bangkok away – either by bus or by train.
You have probably already heard of the main attractions of Kanchanaburi: the Death Railway and the Erawan Waterfall. In this guide you'll find descriptions to both places, as well as a comprehensive overview of the nightlife.
Train Journey from Bangkok to Kanchanaburi
I highly recommend you to take the Death Railway Train from Bangkok to Kanchanaburi (100-200 Baht). There are currently only 2 services per week: Saturday and Sunday at 6:30am from Hua Lamphong Railway Station. Those are actually Tourist Trains, and to my surprise, the majority of the passengers were Thai families doing a day trip.
This train goes all the way to "Nam Tok", the second most famous waterfall in Kanchanaburi after Erawan.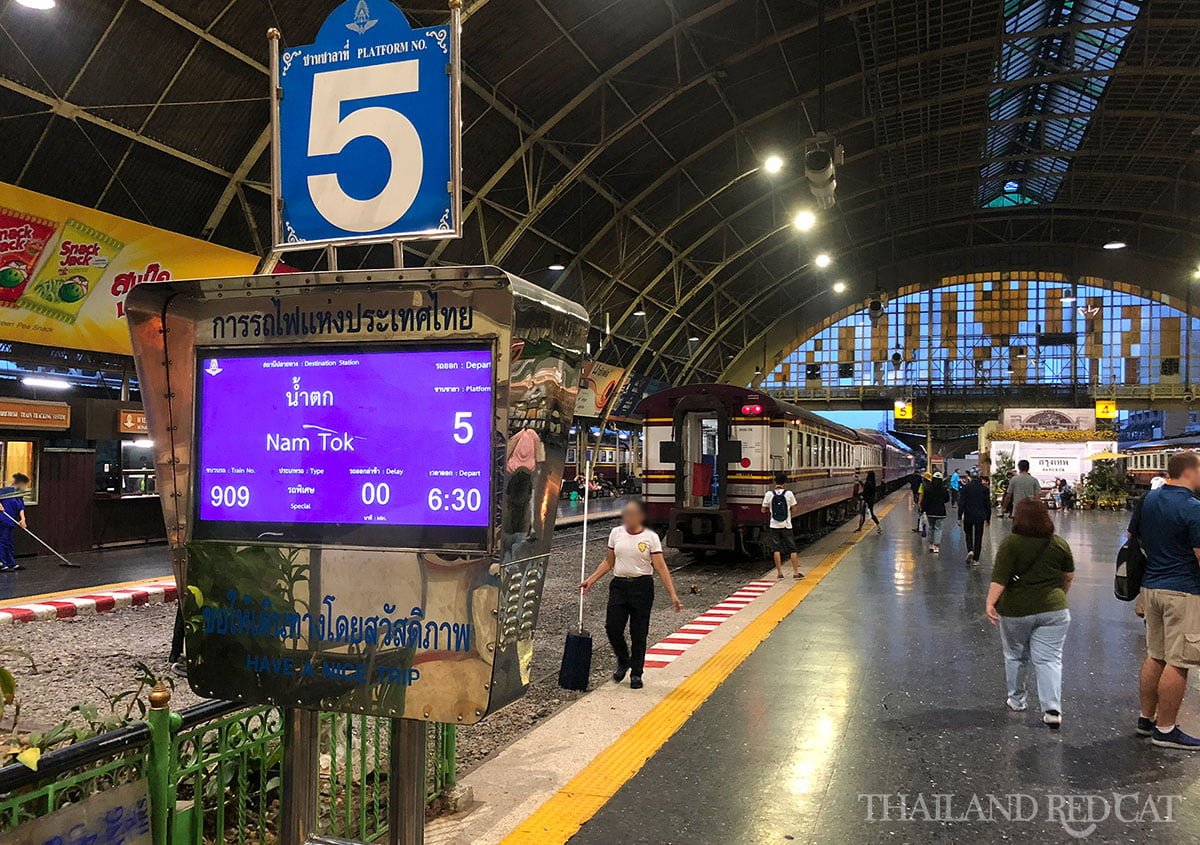 The train stops in Nakhon Pathom about halfway down the track, where you get 40 minutes time to buy some coffee and food and take a look at Phra Pathom Chedi, the world's tallest stupa.
After the breakfast break, the train continues to Kanchanaburi town, where it stops right in front of the famous Bridge Over the River Kwai, which was part of the Thai-Burmese Railway, built by Allied prisoners of war (thousands of them died) under control of the Empire of Japan during World War II.
You have 20 minutes time to take pictures at this historic site.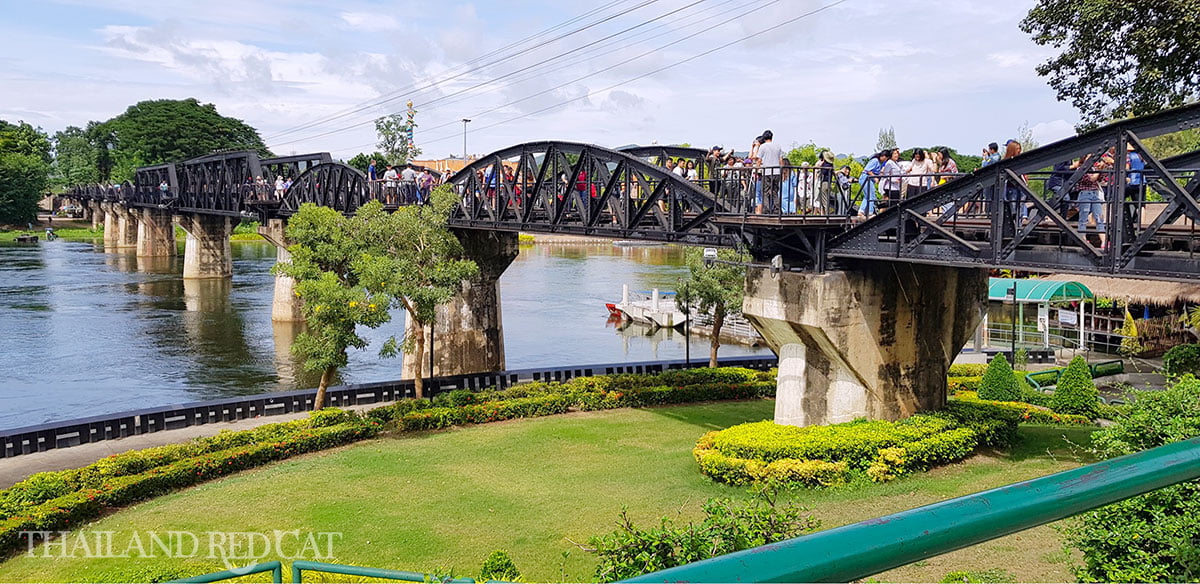 Then you get back on the train and slowly drive over the bridge, before accelerating and cruising out of town, past villages and rice fields, and eventually into the mountainous region of Kanchanaburi along a river.
Amazing scenery, and incredible how people could build the railway track here.

At about 12pm, you will reach "Nam Tok", the final destination.
Here you have another 2.5 hours, so you can visit the Sai Yok Noi Waterfall (a Songthaew takes you there for 20 Baht).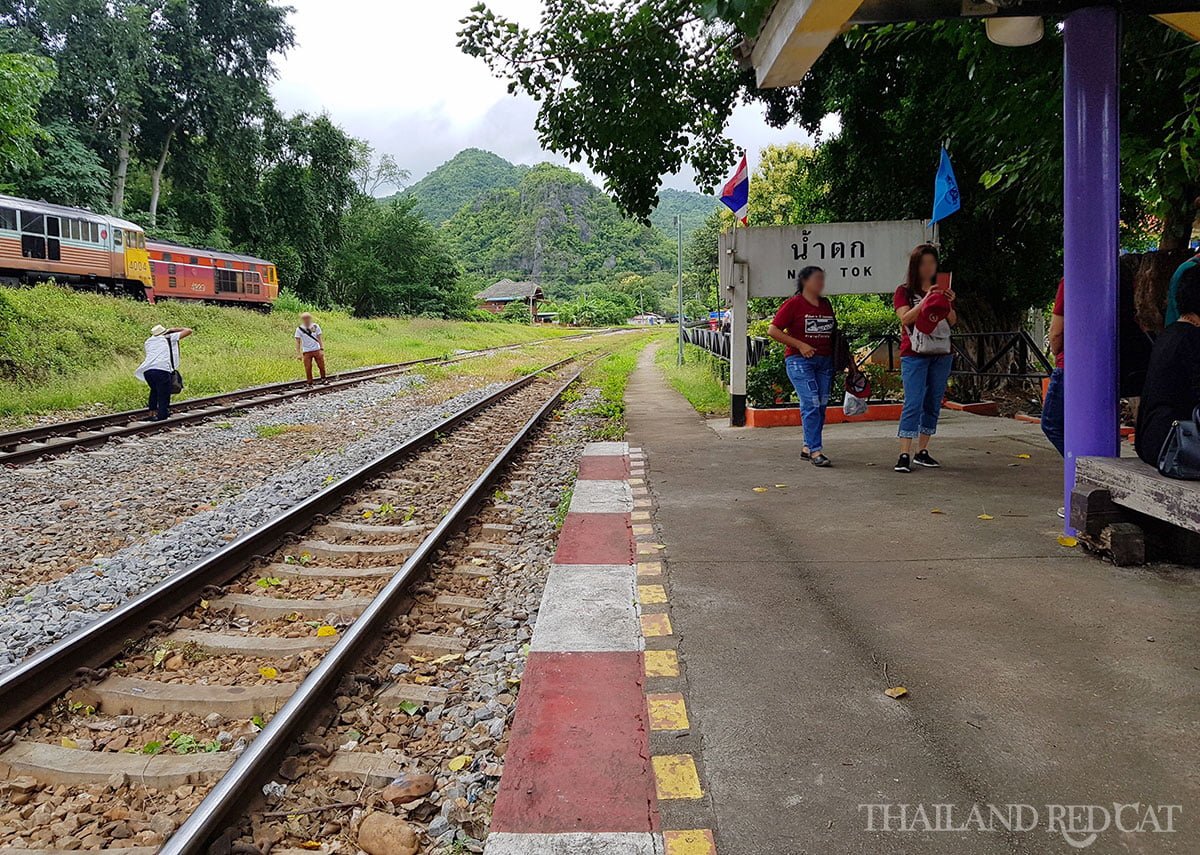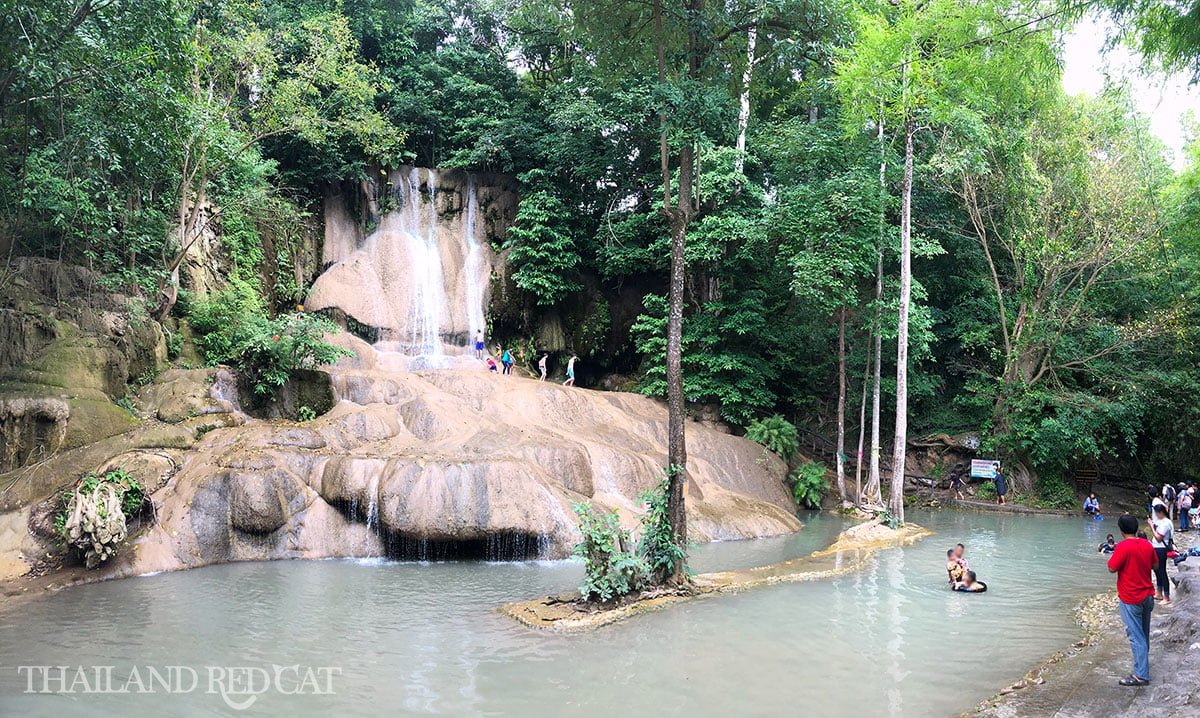 At 2:25pm you will board the train again and drive back south – yes, the ticket includes the trip back to Bangkok – in fact, most Thais make it a day trip, but I decided to stay 2 nights in Kanchanaburi to explore the Erawan Falls and the nightlife scene.
You will reach Kanchanaburi town at 3:53pm.
Erawan Falls
The trip on the Death Railway is an amazing experience, but it's only one of the big attractions of Kanchanaburi. The other must visit here are the Erawan Falls – which are the most beautiful waterfalls in all of Thailand (yes seriously, even more impressive than the ones in Khao Lak, Koh Samui and Koh Phangan).

There are 7 different levels! Each of them looks different, but all of them are suitable for bathing. It's really amazing. There is a trek leading all the way up the mountain to Level 7 – it's quite a hike that takes about 2 hours (assuming you take a break at the different levels and jump into the water here and there).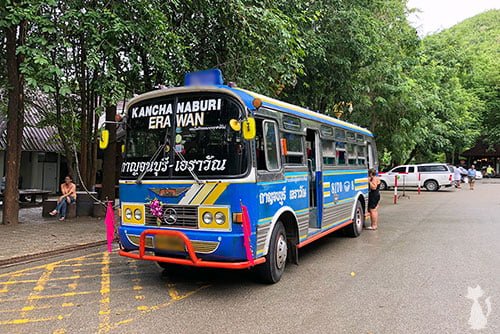 The easiest way to get to the Erawan Falls from Kanchanaburi Town is by bus (picture), which costs only 50 Baht and leaves hourly – both from the Bus Terminal in Kanchanaburi as well as in Erawan. It takes about 1 hour and 20 minutes.
You can also rent a motorbike for 250 Baht per day (that's what I did) and drive there on your own. The views are not too bad (but lots of traffic) and there are some scenic restaurants by the road overlooking Khwae Yai River and the mountains. Beautiful lunch spot (see the food pin on the map below).
There is an entrance fee of 300 Baht for foreigners and 100 Baht for Thais at Erawan National Park. Plus 20 Baht parking fee for motorbikes (or 30 Baht for cars).
From the car park, you can either walk to Level 1 of the waterfall (15-20 mins), or take a golf cart (30 Baht one way).
Make sure to check out my 1.5 minute video at the end of the guide where I show you all 7 floors of the waterfall.
Nightlife in Kanchanaburi
There are two nightlife areas in Kanchanaburi:
Maenam Kwai Road is where all the foreigner-oriented beer bars are located (that's also the main tourist area with the majority of hotels and restaurants as it's within walking distance to the River Bridge).
Downtown Kanchanaburi, especially along Sangchuto Road, is where the local Thais go out.
Bars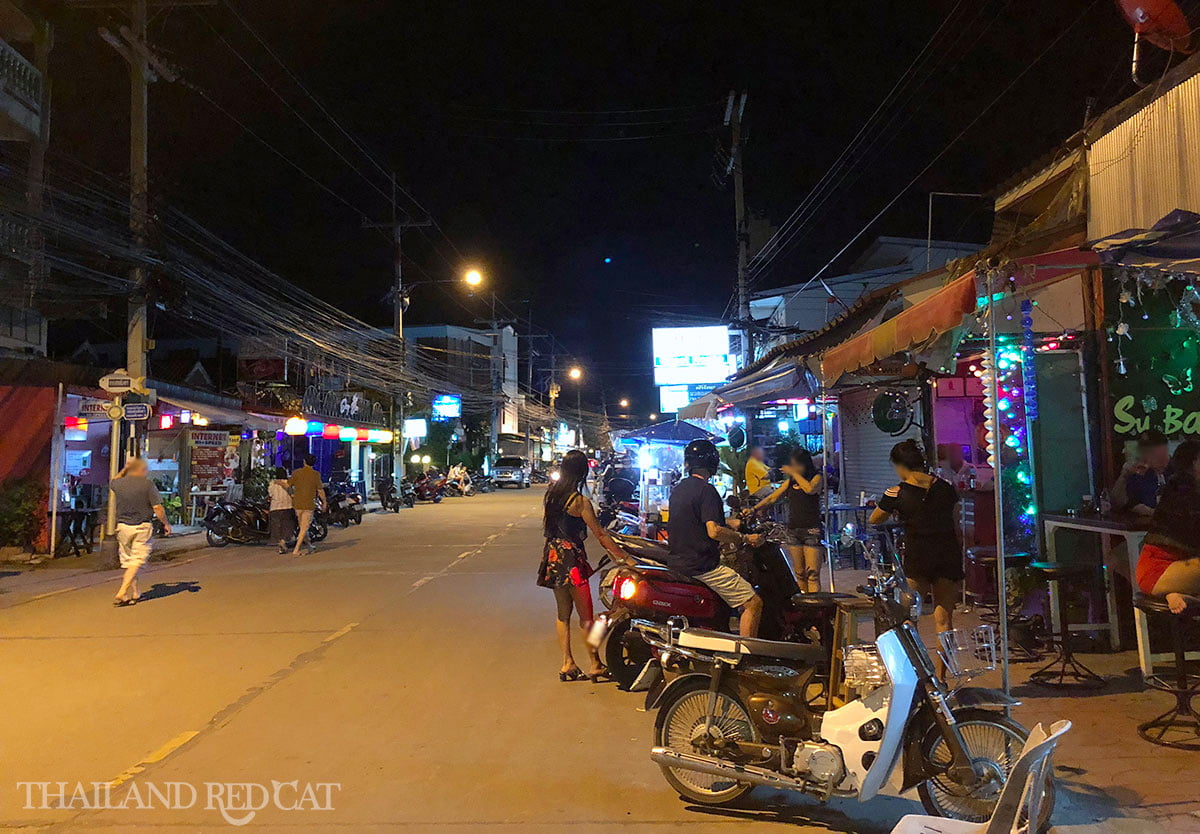 There are more than a dozen beer bars on Maenam Kwai Road, and most of them have employed friendly girls. This is where pretty much every foreigner hangs out at night. If you are used to Bangkok prices, you'll love it here – 85 Baht for a bottle of beer and 120-140 Baht for a whiskey or cocktail is the standard here.
The bars look more or less the same, but Easy Bar and Betty Boop Bar are two of the most popular places (both of them have pool tables). Aussie Rules Bar has lots of expats who live in Kanchanaburi.
Nightclubs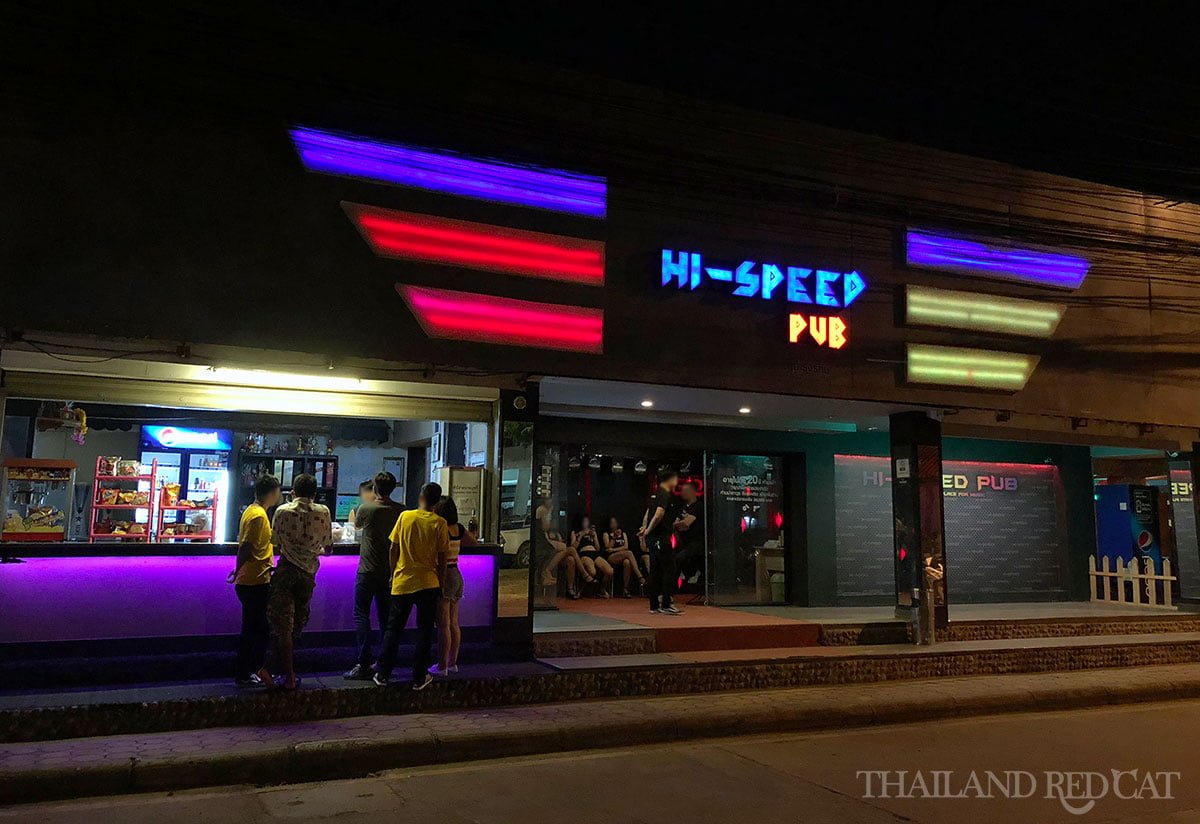 The two most popular nightclubs in Kanchanaburi are Hi-Speed Pub (picture) and Glitzy Pub. Both of them have live music, and Hi-Speed Pub even sexy hostess girls who will sit at your table if you buy them drinks.
Don't go there before midnight though as there won't be many people.
I have marked all places on the map below.
Massages

I counted almost 20 different massage salons on Maenam Kwai Road (left picture, yellow pins on the map). The typical prices are 200 Baht for a foot massage, 250 Baht for a Thai massage and 400 Baht for an oil massage (1 hour).
And there's also a soapy massage parlor in Kanchanaburi: It's called River Paradise (right picture, blue pin on the map) and located on Sangchuto Road opposite Glitzy Pub. The price is 2,800 Baht for fishbowl girls and 3,300 Baht for models.
Map of Kanchanaburi Highlights
Minivans from/to Bangkok

Even though I highly recommend you to take the train from Bangkok to Kanchanaburi (see description on top), you might want to take a minivan back to the capital, because they are quicker than the trains.
Coming from Riverside, a motorbike taxi will bring you to the Bus Terminal for 40-50 Baht, and once you get there, you can buy your ticket for the minivan (120 Baht). They leave when full, and the trip takes only 2 hours and 30 minutes.
They bring you directly to Chatuchak MRT Station – that's also where you can take the same minivan to Kanchanaburi.
Videos of Kanchanaburi Highlights