Let me tell you right away that Koh Lanta is not among the better islands for a single male holiday. There are far better choices if you are looking for a great combination of beautiful beaches and girly bars or all sorts of places to meet local Thai ladies. Especially Koh Samui or Phuket have a lot more to offer in this regards, and if you have never been to those islands before I would really recommend you to check out those places first.
However, if you are like me and have already visited most of the tourist hot spots and are looking to explore some of the more quiet and more authentic islands then you will probably enjoy three or four nights down in Koh Lanta, which is the biggest island in the Krabi province.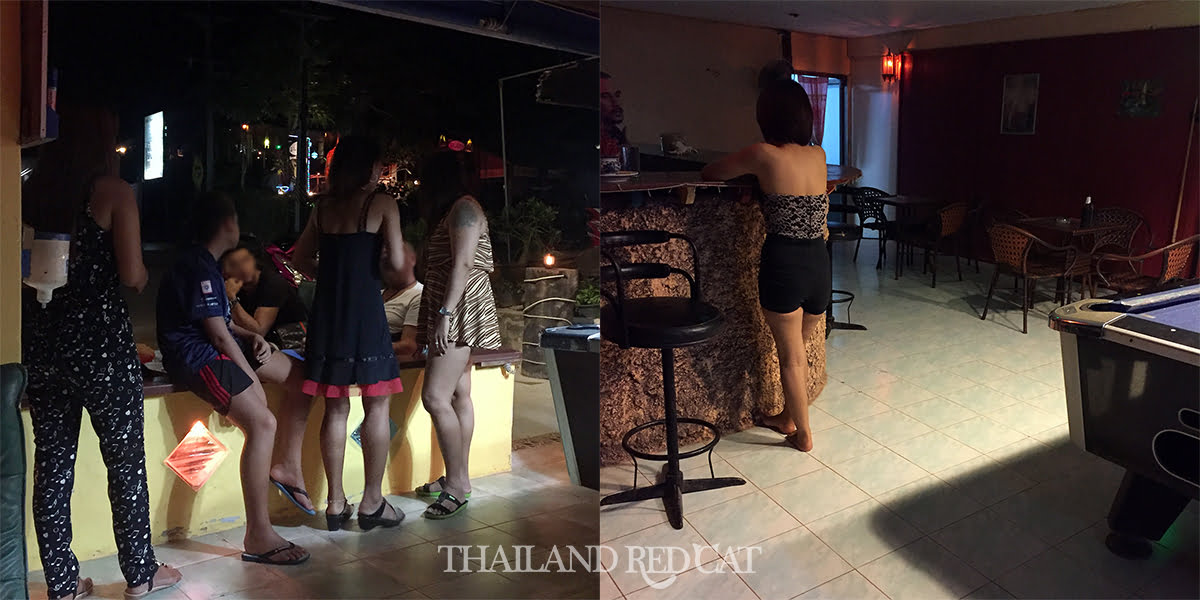 Koh Lanta Nightlife Overview
Before I go into the (limited) selection of places to meet girls on Koh Lanta I think it's a good idea to give you a rough overview on where the main nightlife hot spots are found. Koh Lanta is actually divided into two separate islands: Koh Lanta Noi (noi = little) and Koh Lanta Yai (yai = big).
There is almost nothing of interest on Lanta Noi (mostly farms, forests and small villages) and all transport arriving with the ferry from the mainland drive straight through this smaller island and over the bridge to Lanta Yai.
The beaches on Koh Lanta Yai are located on the west coast and the biggest one with most hotels, restaurants, bars, massage salons and shops is Long Beach (often referred to as Phra Ae Beach). It's the best place to stay if you want to get a happy ending massage during the daytime and drink beer with sexy girls at night.
You can also find a few nice beach bars up on Klong Dao Beach or down on Kantiang Bay, but that's more suitable for couples as you don't really find "open-minded" Thai girls in these places. So it's really a good idea to stay in Long Beach where you have most of the entertainment in one place, and then rent a bike to visit some of the other, more quieter beaches, whenever you feel like.
There is no nightlife on Koh Lanta's east coast (and only a few bungalows and expensive resorts, anyway).
Let's now get into the different types of nightlife and places in Lanta to enjoy yourself – as always with my own pictures, videos, descriptions and exact locations on the map.
Girly Bars on Koh Lanta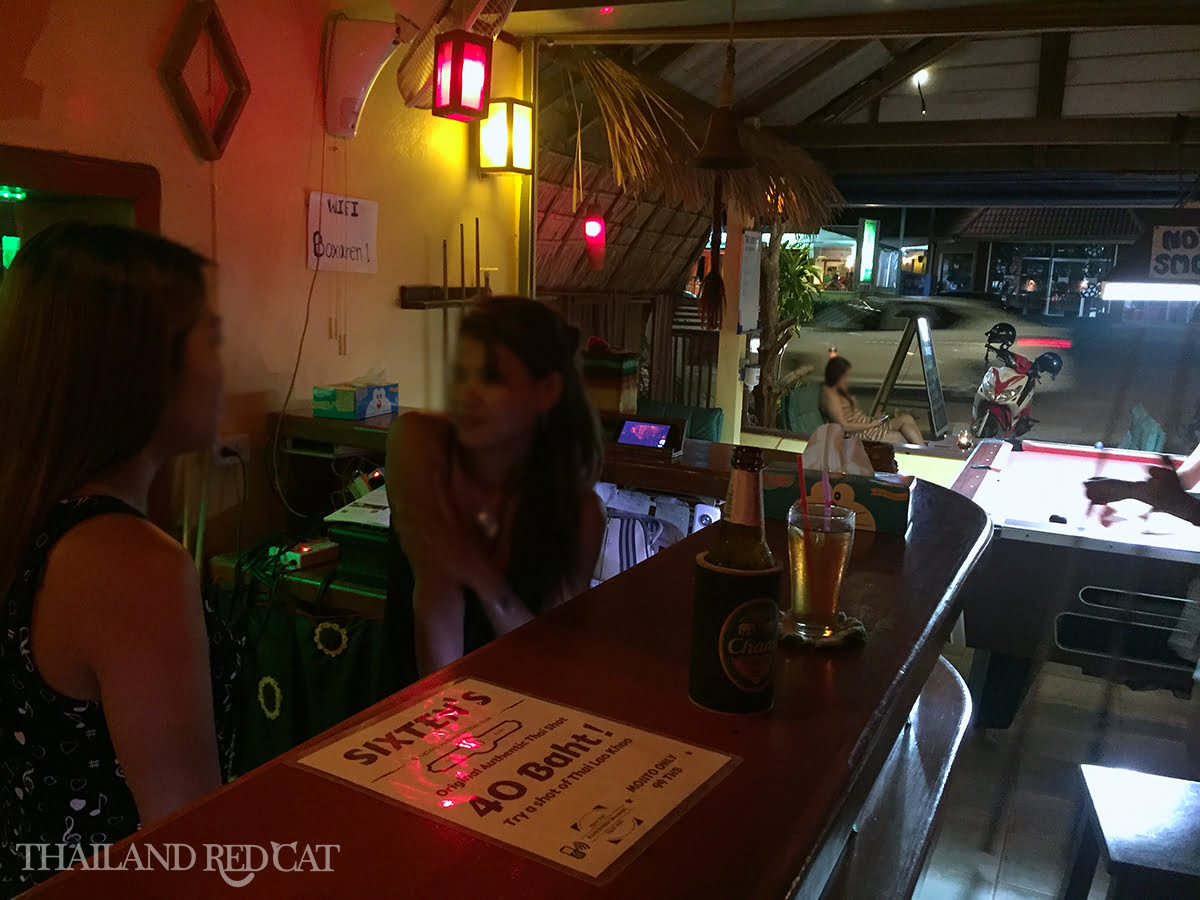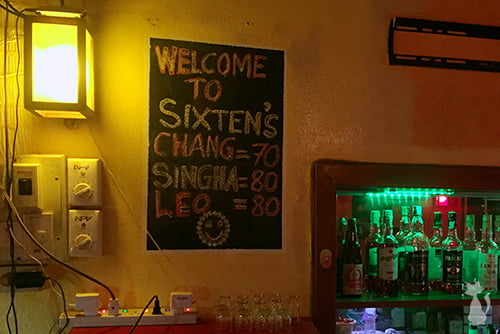 About a dozen of girly bars can be found along the main road on Long Beach. The term "girly bar" may be a little bit exaggerated for most of the places though – like Sixten's, which is among the better bars on the strip, currently has 3 girls employed for the pleasure of the male customers.
There are a few other bars that have more girls, however, they aren't really that attractive to be honest, and not the youngest, either. And I have also found Sixten's as one of the places with the nicest setup, best pool table (which is free to use) and TVs with live sports. Great entertainment and you will probably find yourself revisiting that place because the options are just so limited.
Don't expect local Lanta or Krabi girls in these bars. It's mostly Isaan girls like so often in the foreigner-oriented entertainment venues in southern Thailand. Since there are so few sexpats and sextourists frequenting the bars in Koh Lanta you will find that the supply of girls always exceeds the demand from men – even during the high season. Which is good, because the girls will put in more effort to entertain you, make you feel good and ultimately make you want to take them back to your hotel for the night.
Prices: Like you can see in my picture above, it's always a great deal at pretty much any bar on Koh Lanta – just walk in and order a bottle of beer for about 80 Baht. Lady drinks will cost about 150 Baht and tend to last longer than in the more business-oriented Ao Nang or Phuket.
Of course the girls are available for take-out and they usually make you pay the full price upfront, which is around 2,500 Baht for long time. Yes, it's usually not a good idea to pay anything upfront other than the bar fine, but I was told at Sixteen's that they had customers who refused to pay the day after and so they wouldn't have any other choice than charging upfront to protect their girls.
Nightclubs on Koh Lanta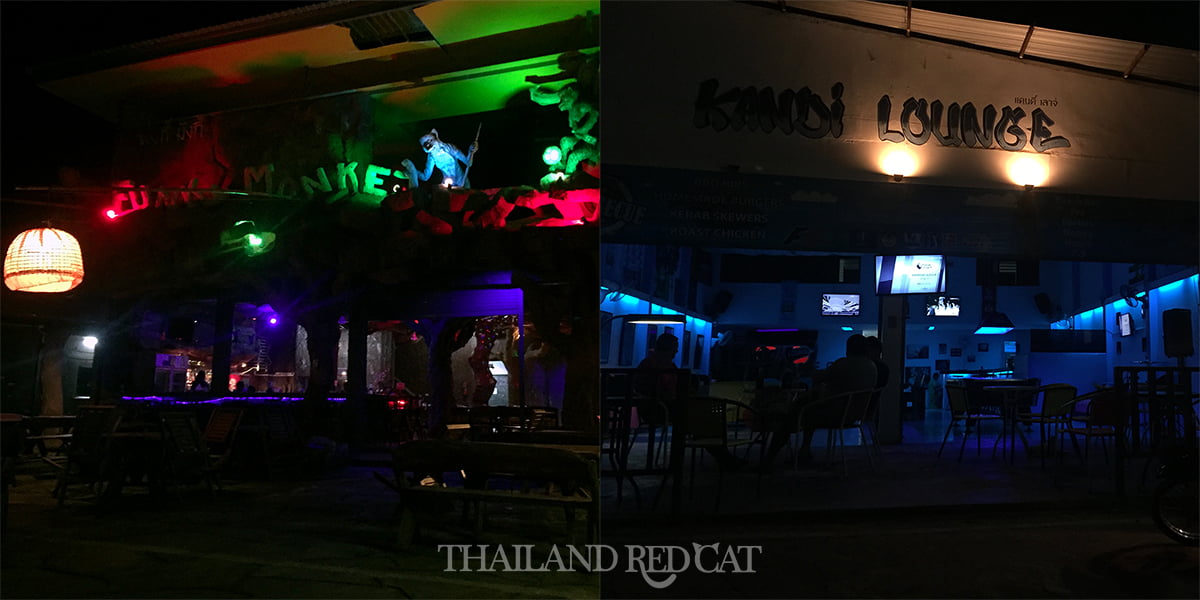 There aren't any "real" indoor nightclubs on Koh Lanta. The place that comes closest to a typical club is Funky Monkey, that reminds you of the Tiger Disco in Patong in terms of the design, but if you walk in there it looks just like a regular bar. On some nights you might find a group of Thai girls partying there, while on other nights you will just find a bunch of hippies drinking cheap 200 Baht buckets.
Another popular party place is Kandi Lounge that looks almost as impressive as Funky Monkey with its blue light and modern setup and furniture (which is quite a rare sight, even in the most developed Long Beach), but again it's not really a typical night club, but they have a few girls employed to hang out with anyone willing to buy them lady drinks.
Prices: Koh Lanta's nightlife options may be very limited, but on the other hand the drink prices are more than reasonable. You normally won't pay more than 80 Baht for a bottle of beer, 100 Baht for a spirit including mixer and 150 Baht for a cocktail.
Happy Ending Massage on Koh Lanta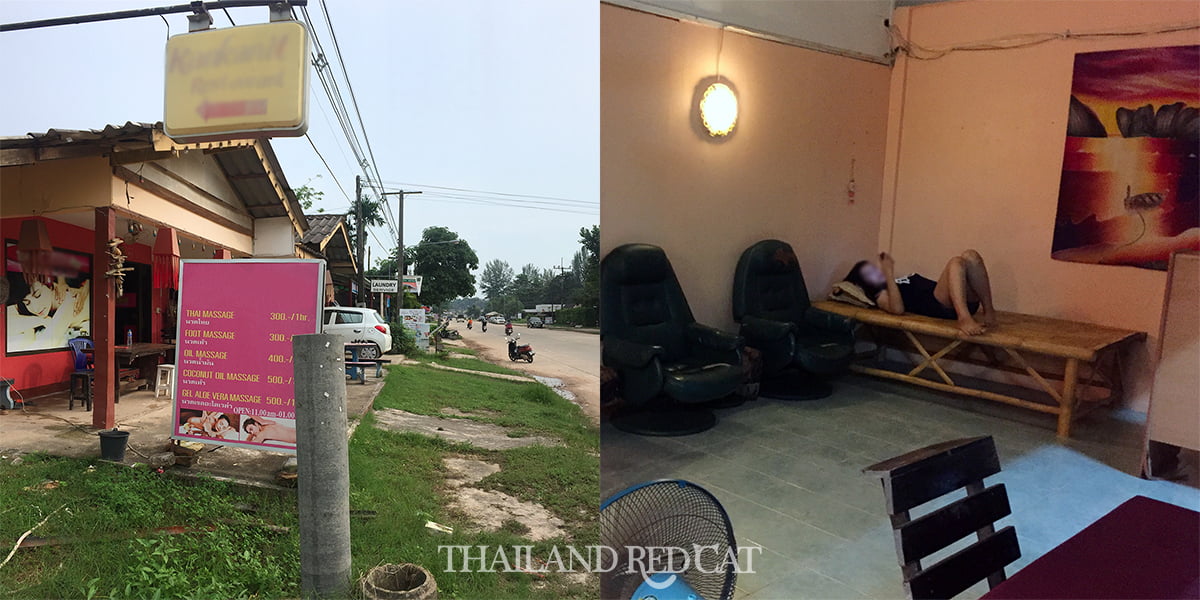 There are more than enough massage salons in every beach town of Koh Lanta, but the places that do happy endings are more or less all located on Long Beach. Just look at the girls and if they wear short skirts instead of traditional Thai massage dresses, then you should be able to safely assume that they are willing to provide you a hand job at the end of the massage in exchange for some tip.
There isn't really much more to say about this category. Yes, these are no nightlife venues, but definitely great places to meet girls in Lanta during the afternoon or early evening. Especially after you have explored the attractions of Koh Lanta during the daytime and you feel like you want to release all your "stress" before heading down to the beach. Just walk (or drive) along the main road on Long Beach and it won't take long until you find some nice massage lady.
Prices: The standard rates in Koh Lanta are 300 Baht for Thai Massage and 400 Baht for Oil Massage (1 hour). A reasonable tip for a hand job would be 300-500 Baht, depending on the age and attractiveness of your masseuse.
Karaoke Bars on Koh Lanta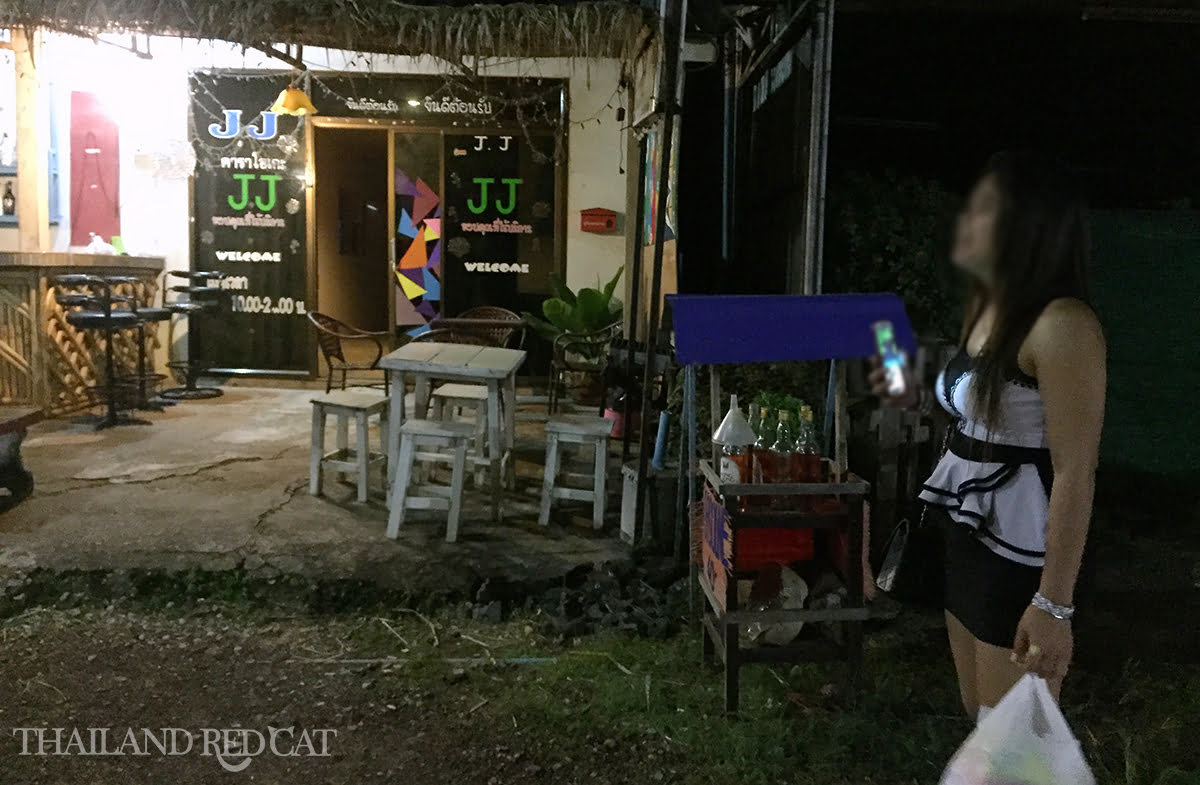 If you take a look around towards the northern end of Long Beach (along the main road) you will find plenty of "shadier" establishments. They usually call them karaoke bars, but the main reason for most guys visiting them isn't really to sing songs, but rather to sit and drink with the girls and maybe take them back to their place later on.
Many of these bars also have "massage rooms" inside, but as you can imagine it's rather nâap (นาบ) than just nûat (นวด). If you don't know what "nâap" means just click on the link (google image search) and it should become quite obvious. Like the girl in my picture above made it pretty obvious that I can expect the full service if I followed her inside that "karaoke bar".
Prices: About 80-100 Baht for beers, 100 Baht per girl to sit with you and about 1,500 Baht for a full service massage.
Beach Bars on Koh Lanta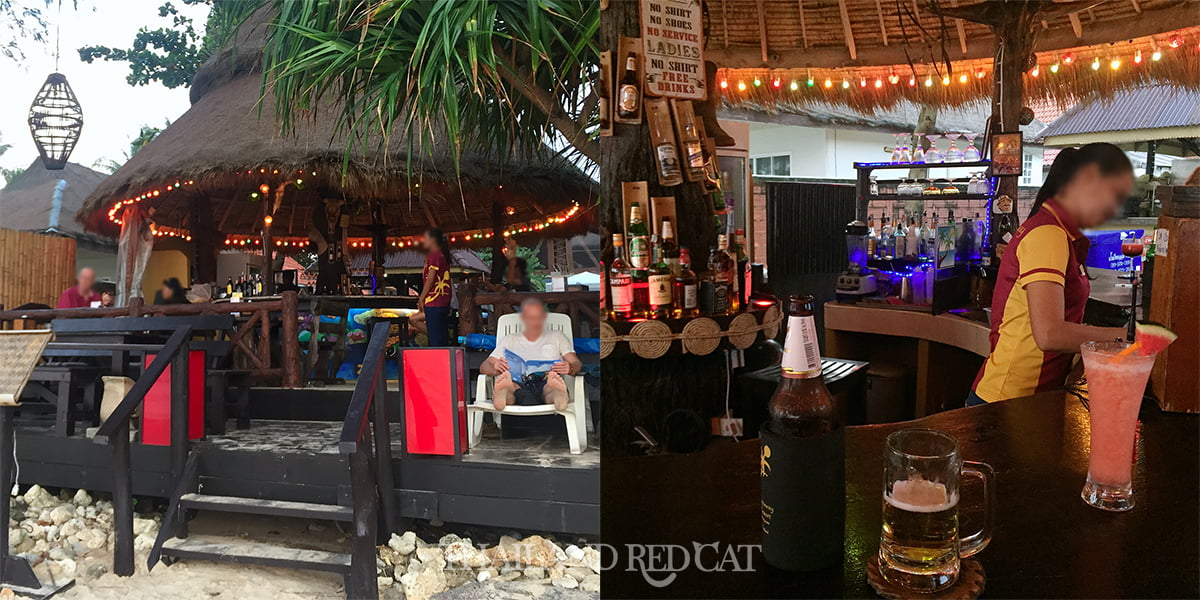 A guide to the nightlife on Koh Lanta wouldn't be complete without mentioning the best beach bars. There are quite a few fantastic places with scenic panoramic views, but you should really know where you want to go in advance. Because it's not like there is bar after bar on one beach and you can just walk down and see which one you like. The distances between the bars can be huge and some beaches only have 1 or 2 bars, while some don't even have any places to drink on the beach at all.
Mad Bull Beach Bar (see the picture above) is the first bar I have ever visited on Koh Lanta and I love to come back there and enjoy a cool Singha Beer or three at 4pm in the afternoon right at the bar, while having a relaxed conversation with other travelers. If you turn your head around you'll see the beautiful Long Beach right in front of you – check out my video at the end of the guide.
Next is The Rock up on the northwestern tip of the island which is one of the most impressive places on whole of Koh Lanta. I would even go as far as calling it an attraction itself, a must visit. They've built a beautiful bar, restaurant, swimming pool and small resort on there and it's one of the most popular places to watch the sunset. Beers are surprisingly not expensive (about 100 Baht) and their pizzas (about 250 Baht) are delicious.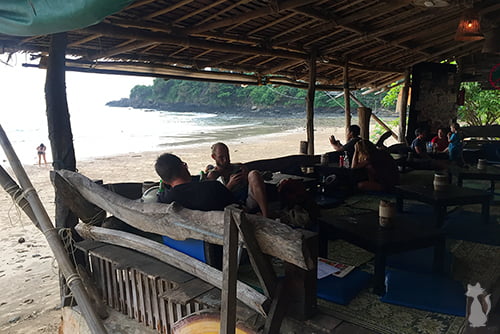 Apart from that, there are two more popular beach bars on Klong Dao Beach, namely Why Not Bar (see the picture to the right) and Same Same But Different (see the map below for the location). However, it's mostly young backpackers and hippies who are frequenting these bars because the drinks are so cheap – similar for the spartanic bungalows. For that type of beach bar I would rather recommend you to hang out at Mad Bull up on Long Beach – nicer seating, nicer atmosphere and nicer beach.
Prices: Similar prices in all of the bars, means 80-100 Baht for a bottle of cool beer, 100 Baht for spirits and 100-150 Baht for cocktails.
Ladyboys on Koh Lanta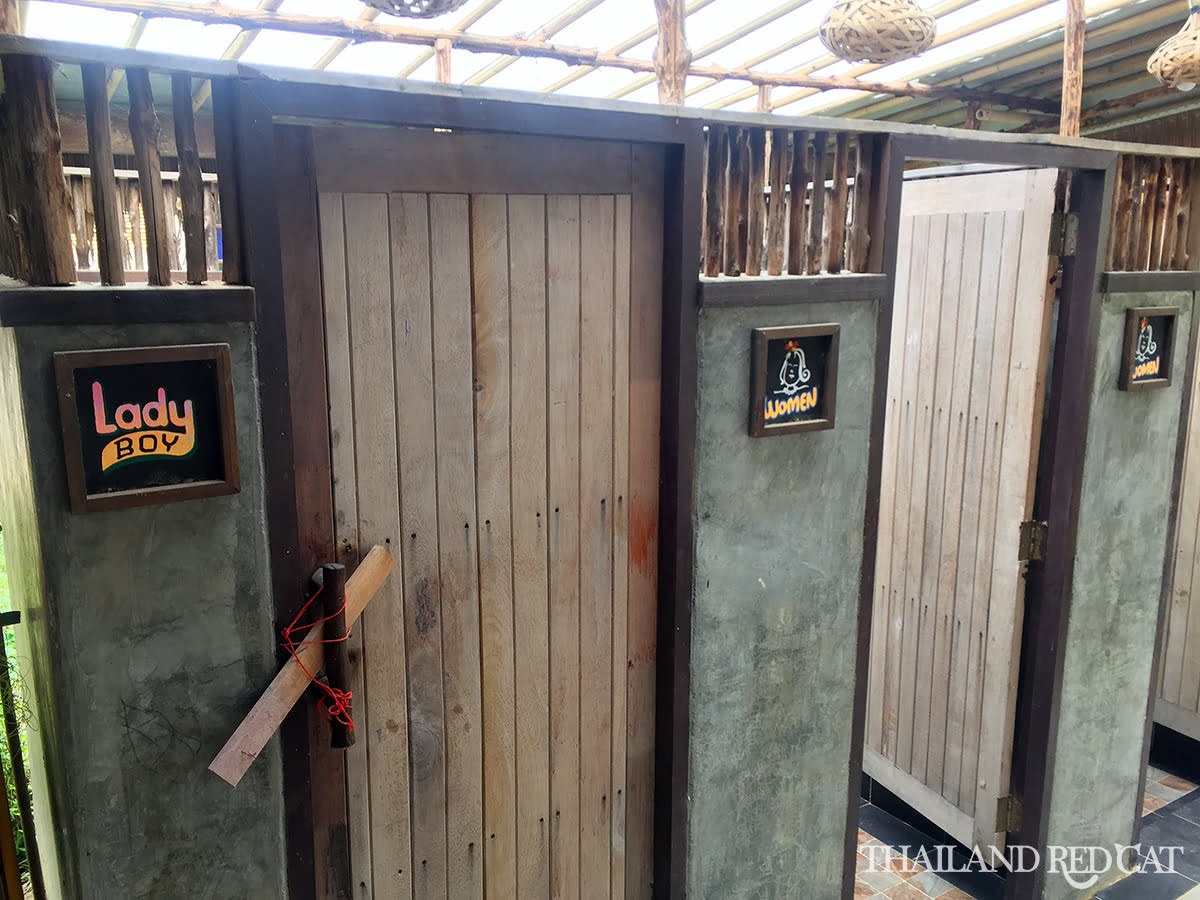 If you are wondering where I took the photo above – these are the bathrooms at The Rock beach bar (see above). I didn't see any ladyboys there though, and since it's locked I assume it's just a joke and they use it as a storage room.
Anyway, there are quite a few ladyboys in the girly bars. Yes that's right, while these types of bars are usually ladies-only, here in Koh Lanta's nightlife you can often find one or two ladyboys among the girls. I wasn't able to get any other photos though (bad light conditions).
Apart from that, several massage salons also have transgenders working. Yes, it does help if you are able to spot them because there are no 100% ladyboy-only establishments on Koh Lanta.
Prices: Same as for the girls.
This is really everything there is to know about the nightlife and girls scene on Koh Lanta. Like already mentioned earlier, I think three or four nights is a good amount of time to spend here, but no longer or you will start to feel bored. You can visit all daytime attractions on the island within one day (by rental motorbike), then do a day trip to Koh Rok and experience all nightlife in three or four nights.
Map of Nightlife on Koh Lanta
Videos of Nightlife on Koh Lanta