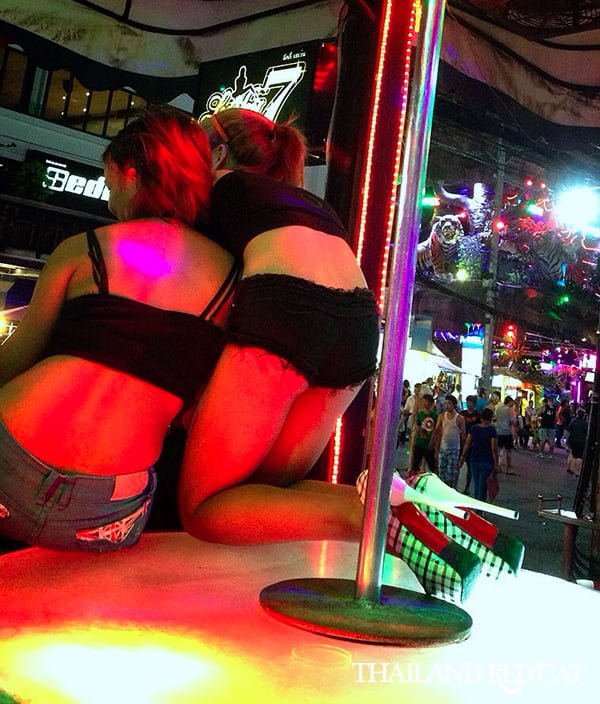 The main reason for most guys visiting Phuket aren't the nice beaches but the nightlife that's among the most exciting in Thailand along with Bangkok and Pattaya. Needless to say that there are countless of options on how to easily get laid in Phuket and visiting the Go Go Bars along Bangla Road on Patong Beach is certainly a popular one.
There are dozens of venues so which one is worth spending your time and money? You are probably reading this article as to avoid bad surprises since it happens a lot that you enter a bar and after ordering a drink you find the girls on stage aren't quite as hot as the chick outside convincing you to come inside. But there are quite a few other factors that make a place worth or not worth visiting.
So what makes a good Go Go Bar?
Sure you can argue it should have a nice and fancy setup, but much more important are the following: The girls should be young and attractive, the girls should enjoy working in the bar and actually dance rather than just moving their legs back and forth while looking at themselves in the mirror and giving you a good time even if you don't take her out and lastly the girls should be naked.
If you haven't visited a strip club in Thailand yet, you will be surprised but the majority of venues have the girls not taking off their underwear. So always have a quick look inside first and if you don't like what you see no problem of course you can leave again right away.
Speaking about money, sure everyone tries to save their bucks, but seriously if money is your main concern you shouldn't think about buying a girl out of a Go Go Bar since this is always your most expensive option of getting laid in Thailand but especially in Phuket where prices for drinks and bar fines are higher than elsewhere in the country, so you'll look at at least 4,000 Baht for the whole adventure (your drinks, her drinks, bar fine, short time price).
Below are the Top 5 Best Go Go Bars in Phuket – no surprise they are all located along Bangla Road or inside one of its side Sois:
1. Suzy Wong's A Go Go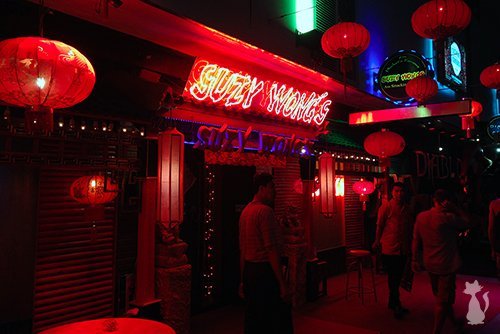 It's fairly safe to say that this is the most popular strip club in Phuket. Even though it hasn't got the best location at the very end of Soi Seadragon (to the right) and the venue isn't quite spacious either – this bar is packed every night of the week. So what makes it so popular? Well you'll find it out quickly since after you took a seat and ordered your drink some hot and naked chick may come over and spank you using a foam bat – it makes a loud sound, but doesn't really hurt and you may grab a bat and spank back – which is a lot of fun. The girls at Suzy Wong's are divided into two groups: The regular staff and models that are super attractive and really deserve that title.
Location: Soi Seadragon
Prices: Great deal with selected drinks for 99 Baht all night long. Whiskey and cocktails from 150 Baht. Most beers 180 Baht. Lady drinks cost 190 Baht – seems pricey, but that's actually among the cheapest in Phuket's Go Go's. The bar fine is 800 Baht for most of the girls while a model will set you back 2,600 Baht – and this obviously doesn't include her ST / LT rate.
2. Devil's Playground A Go Go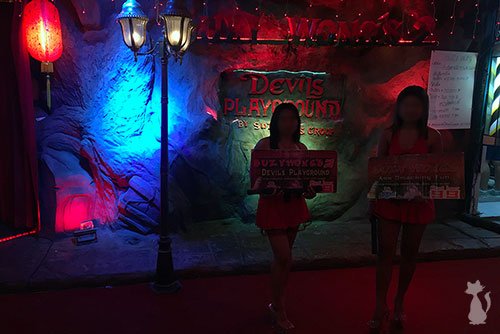 My favorite Go Go Bar in Phuket. It's not just that this joint has the most fancy design with its setup like a cave in hell and girls dressed as angels and devils (not that they wear anything at all most of the time). There is one center stage that has a handful of girls dancing, and even one spot with a foot vibrator. Just opposite is a small stage with a mattress where one or two girls are performing fascinating aerobics. The girls at Devil's are among the hottest in town and they make sure every customer has a good time, the foam bats just add to it: spank and get spanked. To put it all in one sentence: A hell lot of fun and you cannot expect more entertainment from a Go Go Bar.
Location: Soi Seadragon
Prices: Devil's Playground is owned by the same people that run Suzy Wong's means similar drink specials with 99 Baht for a Chang Beer, lady drinks are slightly more expensive at 200 Baht (but fairly reasonable for Patong standard). The bar fine is 2,000 Baht.
3. Harem A Go Go
Harem is the newest and one of the best Go Go Bars in Phuket and it seems the owners have read my original guide, checked out the top venues and combined all good things into their concept: Some of the youngest and cutest dancers of the strip and if you first enter the place you almost get the feeling to be in an upscale lounge: Red velvet sofas surrounding the three stages (one holds three girls and the other two smaller round ones have girls performing lesbian like and solo kind of sexy aerobic shows) amongst fancy and super modern decoration. I'd recommend you take a seat on one of the wooden bar stools first so you can check out the ladies from a 50cm distance and after ten minutes move to one of the sofas and tell the mamasan which one you would like to hang out with. The only thing I don't like here is that when you offer a drink to the ladies they often ask how many – "one or two?".
Location: Soi Seadragon
Prices: Drinks in Harem A Go Go are somewhat pricier than in other venues, but then there's no entrance fee and they offer quite good entertainment. There is a Chang Beer special for 99 Baht, all other beers are at 195 Baht, lady drinks cost 240 Baht (200 Baht for waitresses) and the bar fine is 2,000 Baht for standard dancers and 2,600 Baht for coyotes.
4. Money Night / The Secret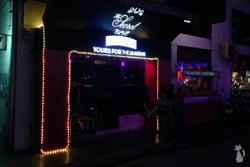 If you are looking for a classic "Ping Pong" show – which apparently is on the checklist of many first time visitors to Thailand – make your way to Soi Easy, another small side Soi towards the eastern end of Bangla Road. Here you can find two quite unconventional bars called Money Night and The Secret with the same concept right next to it. There is no entrance fee but then if you look at the menu you'll figure the cheapest drink is 900 Baht. This price is actually negotiable especially during low season (June – September). Needless to say that people aren't coming here for finding a nice girl to spend time with and bar fine her out (but of course some do) but primarily to watch the show which includes jumping goldfish, snakes and a lot more entertaining (or weird?) stuff.
Location: Soi Easy
Prices: 900 Baht and up for drinks. Lady drinks are cheaper yet not cheap at 250 Baht. The bar fine is 800 Baht.
5. Crazy Horse Circus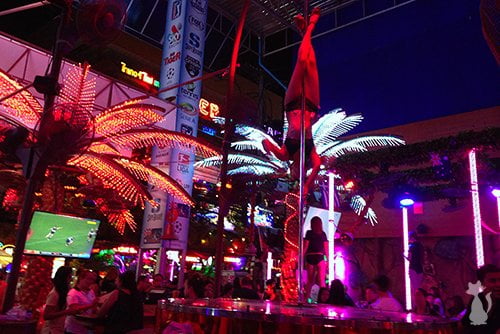 Okay, this isn't quite what you think of a typical Go Go Bar. Crazy Horse Circus is sharing a fairly spacious outdoor venue with other bars right on Bangla Road. And since it's outdoor you won't see any of the dancers taking off their bras. The reason why I'm still listing it as one of the Top 5 Go Go Bars in Phuket is not just the girls there are among the most sexy, stunning and tempting you can imagine, but the way some of them dance is simply incredible. I'm sure they're going to school during the daytime to acquire and train these amazing skills on the rods. You may think I'm exaggerating, but have a look at the video below I recorded there last week.
Location: Bangla Road
Prices: Very reasonable prices given what you get to see at Crazy Horse Circus. Beers from 100 Baht, spirits from 140 Baht, lady drinks 220 Baht (a Patong average), just the bar fine may appear a bit pricey at 1,500 Baht, but then again these are some of the hottest girls on the strip.
Map of the Best Go Go Bars in Patong
Prices for Girls in Phuket's Go Go Bars 2023
2,000 – 3,000 Baht (short time) & 3,000 – 5,000 Baht (long time).
Videos of Go Go Bars in Patong