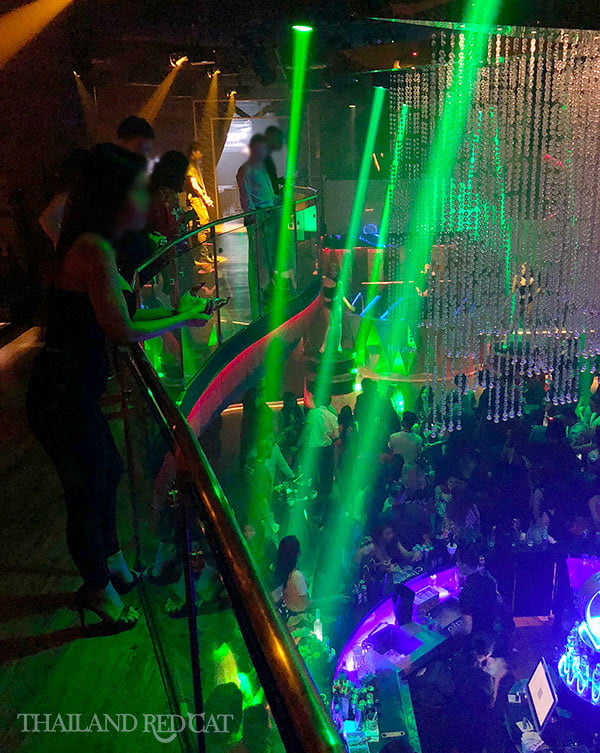 Patong Beach has the widest range of nightlife options in all Phuket and of course it's no different with nightclubs. Just by walking from Beach Road (called Thaweewong Rd) along the bustling nightlife strip of Bangla Road all the way through to Rat-U-Thit Road you will pass about 80% of all nightclubs in Patong (and like 60% of all nightclubs on Phuket Island).
It's not just the high quantity of clubs in the Bangla Road area, but here are also the best ones since this is the big nightlife magnet which attracts most of the tourists, expats and local Thais every single night.
As wide the variety of the nightclubs on Patong Beach is and each trying to offer a unique design and setup – the main concept is the same at most places: Ladies go in for free and are often even given free drinks and then men get attracted but pay a minor entrance fee of 200 or 300 Baht which includes one free drink. So it's more a psychological thing to make the guys stay and don't leave after their first drink as they've already paid the entrance fee.
In order to prevent you from "club hopping" and make a good decision for a place to party the whole night: Below are the top 5 best nightclubs in Patong:
Banana Disco
Just by looking at Banana Disco and its fancy design from the outside you wouldn't assume that this is the longest running nightclub in Patong. It's still as popular as ever and one of the reasons might be the great location on the beachfront right next to Bangla Road. Unlike in most other nightclubs, there is a big dance floor that fills up most of the space while the tables and bar stools are spread around the back and corners of the club. There's a live band playing until midnight and that's about the time Banana starts to get super busy.
Admission: 200 Baht including one drink
Working Girls: 60%
Tiger Night Club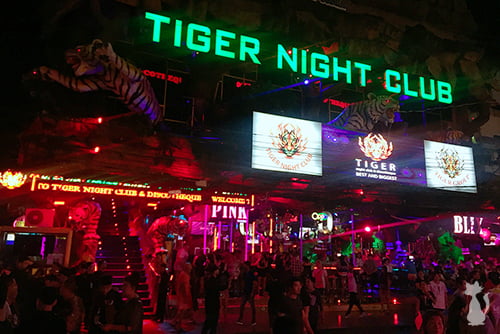 If you only had one night in Patong and look for a place to party after some bar hopping then you might not want to miss Tiger Night Club – the biggest, loudest, busiest and most sophisticated night club in Phuket. You simply can't miss this huge 5,000 sqm complex near the eastern end of Bangla Road that has dozens of open kind of beer bars with girls dancing like in the Go Go Bars on the first floor and the actual night club is located on the second floor. There has been a lot of money invested in the design and décor of this club and so you'll find huge statues of tigers, snakes and other animals among the most modern equipment you can imagine, a very impressive laser show and renowned international DJ's.
Admission: Free entrance until midnight, after that 300 Baht including one drink
Working Girls: 90%
Tai Pan Night Club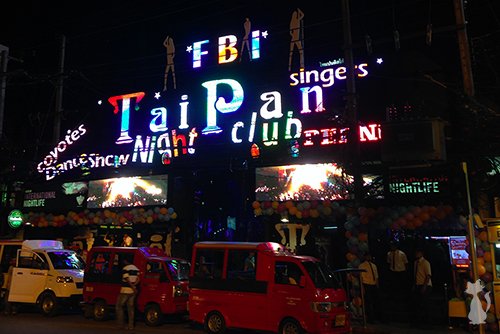 Just like most other places in the area, Tai Pan claims to be the "best nightclub in Phuket". It does get packed during most nights of the week, and there are many reasons for it: The prime location on Rat-U-Thit Road right opposite the eastern end of Bangla Road, the big and bright neon lights that get easily caught by people's eyes, the hot chicks at the entrance distributing "free shot for every drink you buy" vouchers as well as the nice set up inside with two long bar counters, plenty of seating, a small dance floor, live band and coyote dancers (that are keen to hook up with you as long as you pay a lady drink or two at 260 Baht). Needles to say that Tai Pan Night Club also attracts "regular" girls as well as freelancers every night.
Admission: Free
Working Girls: 70%
Illuzion Discotheque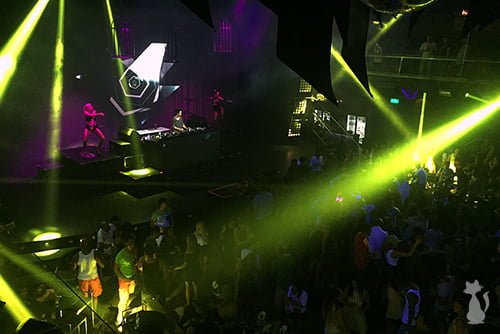 From all the nightclubs in Patong, Illuzion is the most "upscale" and "Hi-So" kind of place. Drinks are slightly more expensive than in all other clubs listed here. Similar for the super modern and state-of-the-art décor, seating and lightening. It's totally foreigner oriented with a huge dance floor in front of the mighty DJ stage and (usually) Russian coyote dancers next to it. Illuzion holds as many as 3,000 people and if you want to party more Thai style with a bottle of whiskey (4,000 Baht for Red Label, 4,500 Baht for Black Label, 3,500 Baht for 100 Pipers) you can do so by picking one of the 150 VIP tables. Beers cost 200 Baht, cocktails 280 Baht and mineral water 120 Baht. This is the best night club to meet "normal" girls – too bad that most of them are Farang women and not Thai girls.
Admission: 300 Baht including one drink (free entrance on Tuesdays)
Working Girls: 30%
Red Hot Club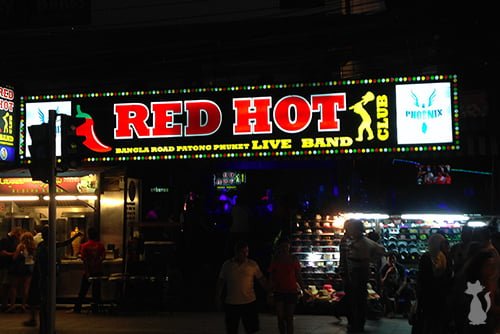 Red Hot Club looks like a typical bar from the outside with its open setting and the loud music from the live band that easily attracts people's attention right on the eastern entrance of Bangla Road. However, if you have a look inside you'll find the setting of a typical Thai night club with no dance floor but lots of round tables and bar stools for groups that are close enough to easily get in touch with your neighbors. There are TV screens all around showing live sports. Red Hot Club is also a great place to just hang out and watch the happening street scene on Bangla Road.
Admission: Free
Working Girls: 60%
Map of the Best Nightclubs in Phuket
Videos of Nightclubs in Phuket