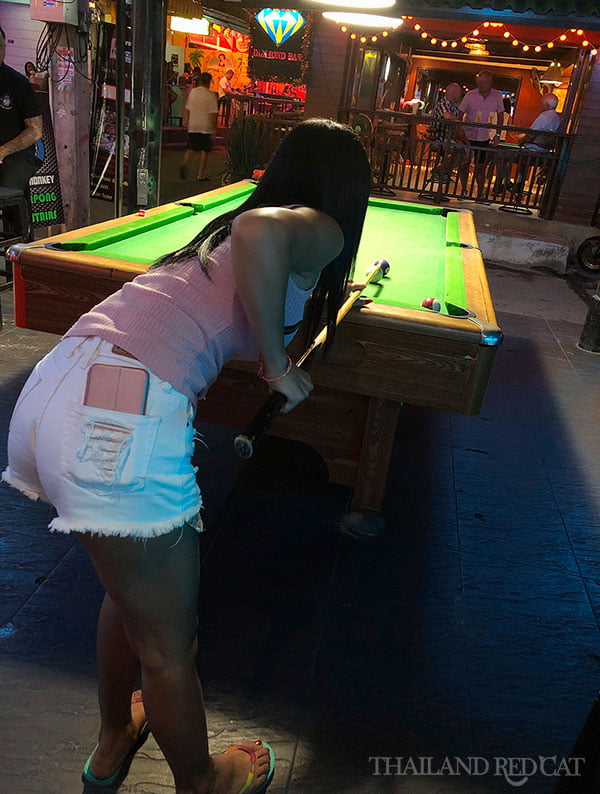 Most people who first get to Hua Hin (including me) are surprised when they find out how beautiful and white sanded the beach is yet by now means overcrowded like in many other parts of Thailand.
The surprise then is even bigger when it comes to the male entertainment of all sorts and you don't even need to wait until sunset – massage shops open in the morning and most bars start promoting happy hours for drinks in the early afternoon.
Everything in Hua Hin might be a lot lower key than the other popular weekend retreat for Bangkokians which is Pattaya, but you still find all the different venues like bars, nightclubs and massage salons clustered in the three to four blocks in the area right behind the Hilton Hotel. Most of the local Thai places like karaoke bars, soapy massage parlors and nightclubs are spread along the main road, Thanon Petchkasem.
One more tip before we get into the description of each category: Make sure that when you book your hotel in Hua Hin, that it's located right in or at least within easy walking distance to the "Farang area" (which again is found behind the Hilton Hotel). There are countless of nice small guesthouses all along the town's coastline, but the problem is there are still no taxis in Hua Hin just motorbikes and it's hard to find one late at night too. Obviously it's also much more convenient if you can just walk with your girl five minutes back to your room instead of thinking how the heck to arrange transport.
So here we go, below is my guide to nightlife & Thai girls in Hua Hin – as always with pictures, a video here and there and most importantly: The exact location on the map for all types of places.
Girly Bars in Hua Hin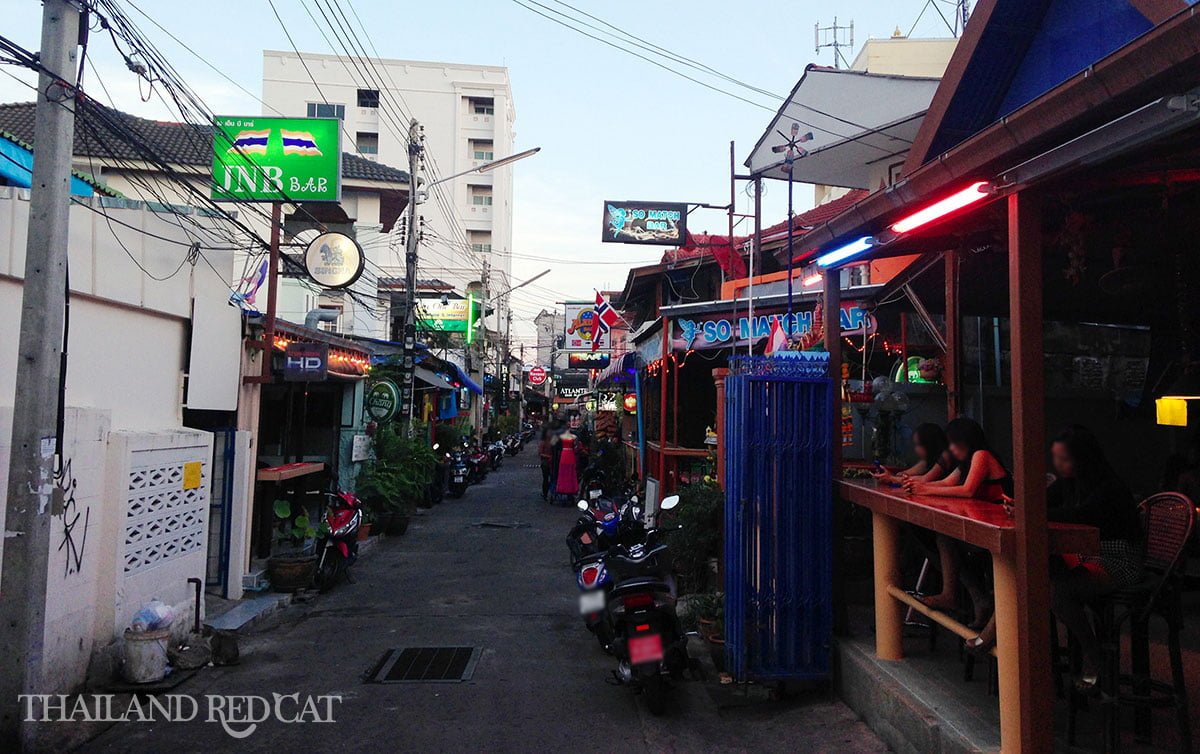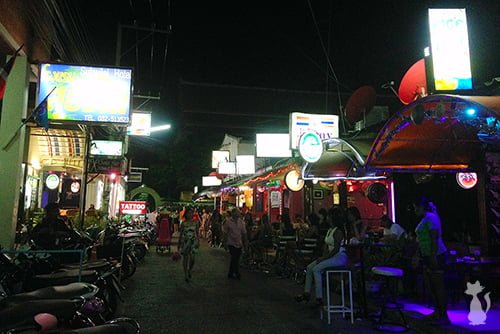 The most popular places to both hang out with the chicks and meet other Farangs are the girly bars (or girl bars call them whatever you like). They're found along Soi Bintabaht (Hua Hin Walking Street) as well as in several alleys north of it – so instead of me writing down the street names which obviously doesn't help you any much just look at the map below. Take the Hilton Hotel as orientation – the nightlife area is right behind it.
Most of these beer bars open in the middle of the afternoon at around 3pm and they're making really nice spots to just relax and have a couple of beers during happy hour while reading the paper, checking your Thai Friendly or whatever before or after going for a dip on the beach which is just a 10 minutes walk away.
The main action starts in the evening at around 9pm when everyone has had their seafood dinner in the night market or elsewhere and then the girly bars make easily the most popular spot for foreigners to party in Hua Hin. Quite nice: Most bars have a pool table and they don't charge the typical 20 Baht a game – it's free as long as your glass isn't empty. Drink prices are also very fair, like beers are in the 80-90 Baht range.
There is another (more relaxed) girly bar area in Soi 80 (Soi Sarawat) with about 30 different bars.
To take one of the girls out (yes I'd say 80% are from Isaan) it's just 300 Baht for the bar fine almost everywhere (very few places ask for 500 Baht before midnight) and that makes it the cheapest in Thailand along with Udon Thani. Short Time or Long Time has to be negotiated with the girl and just like elsewhere except Bangkok and Phuket 1,000 Baht for ST and 2,000 Baht for LT are the going rates.
Happy Ending Massage in Hua Hin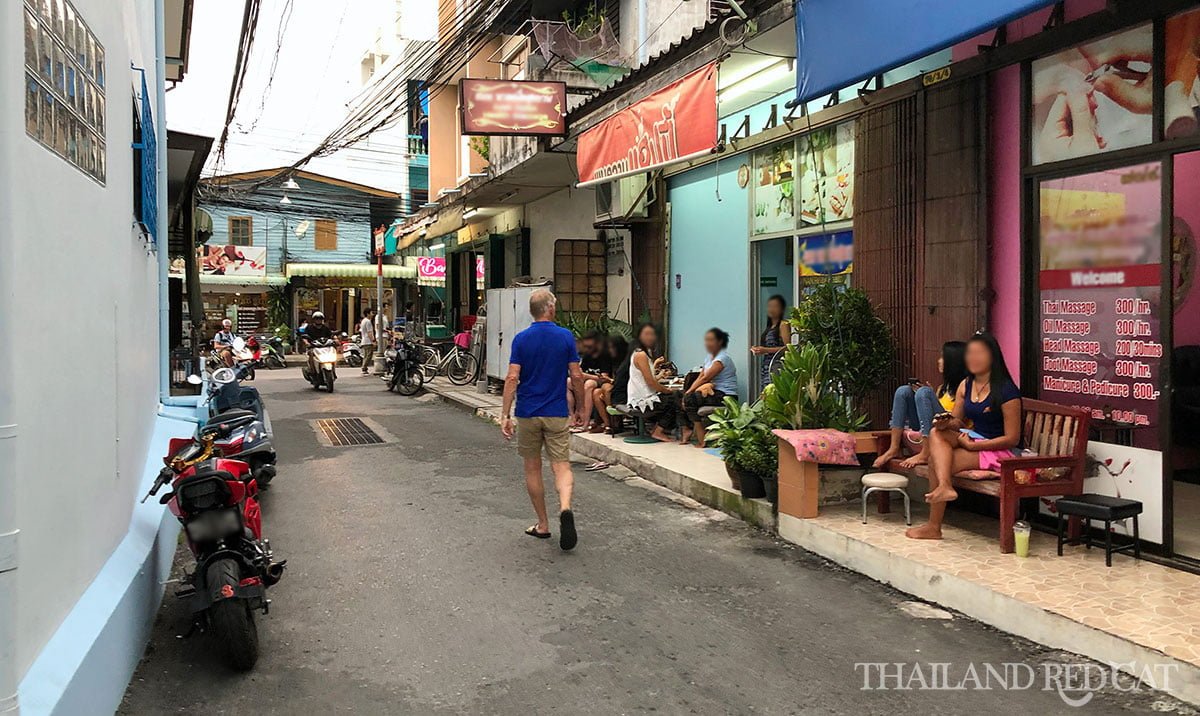 Just like in many other cities in Thailand, the number of small massage salons that offer the special extra service is ever increasing these days and they make a popular alternative for the girls who prefer playing on their phones while waiting for customers rather than drinking beer and doing the same small talk over and over again in the bars all day long and hoping for someone to eventually buy them out.
Small happy ending massage shops are in the same area where the beer bars are found, to be more precise along Selakam Alley and on several Sois north of it. Just take a walk around and you'll find countless of these salons with girls trying to make you come in for a Thai massage (200 Baht an hour) or preferably oil massage (300 Baht an hour).
The typical price for a happy ending is 500 Baht and some of the girls are willing to have sex with you too, then you're looking at about 1,000 Baht. Both is treated like a "tip" that you give the girl in the room itself after you're finished and then you'll go downstairs to pay the 200 or 300 Baht for the massage.
Soapy Massage Parlors in Hua Hin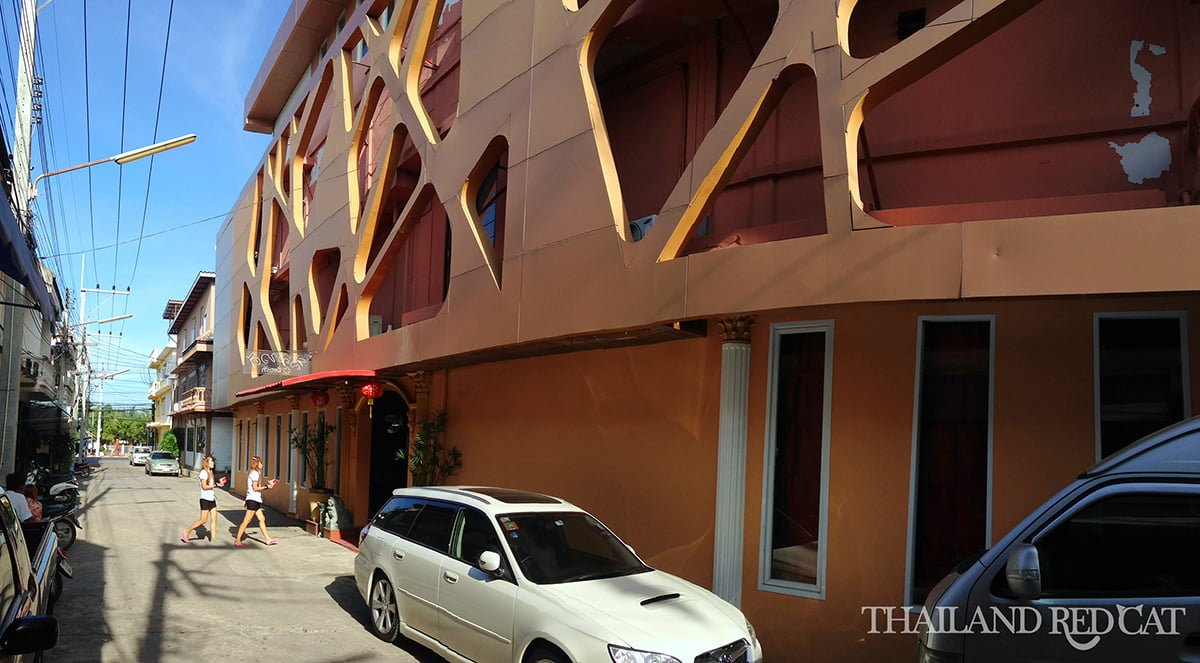 I remember doing some research on this online and someone mentioned there would be no soapy massage parlors in Hua Hin which I couldn't really believe. So what I did is I rode my bike away from the tourist area and asked a motorbike taxi driver if he knew such a place (àap ɔ̀p nûat in Thai, อาบอบนวด) and he said sure follow me.
Lee Lao Dee (ลีลาวดี) is the only soapy massage parlor in Hua Hin and located in a quiet courtyard off the main road (Thanon Petchkasem) a few hundred meters north of the night market. Even though you barely see any foreigners here (probably because I'm the first one who is writing about this place in English) you will not get charged more than the local Thais.
Once you walk in you can have a seat, order a drink (but you don't have to) and look at the selection of pretty damn hot and white skinned girls, all of them sitting on red couches. It's not really the typical fishbowl since there is no glass between you and the fish. They are separated into 3 categories and cost 2,200 Baht or 2,600 Baht and the "models" who are sitting on elevated pink couches have a price tag of 3,100 Baht – all for 1.5 hours including the full program.
Lee Lao Dee opens at around 3pm but the range of girls is much better in the evening at around 7-8pm.
Karaoke Bars in Hua Hin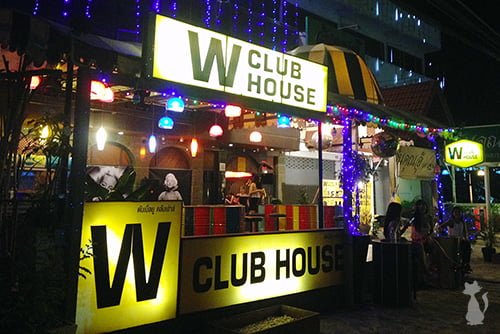 You barely see any of the young local crowd, not even students in the Farang blocks behind the Hilton. There are almost exclusively hookers in the bars, a few "normal" girls can be found in the restaurants with their friends as well as in the "Beer House" (see nightclubs below) however those are mainly Bangkokians out on a weekend trip.
To experience some authentic local nightlife in Hua Hin you need to leave the "comfort zone" which is Soi Bintabaht and its surrounding Sois and head out to the main road, Thanon Phetkasem, where you can find all sorts of different nightlife spots and that's where the local Hua Hin ladies rather than Isaan girls are hanging out at night.
There's not much of a point to name the local bars as they often only have Thai names, just walk (or drive) around and see what you like. There's one huge karaoke place called W Club House, see its location on the map below. The girls there are quite young I'd say 19 on average and maybe that's one of the reasons why money shouldn't be much of a concern for the male guests: The karaoke rooms are 500 Baht an hour plus 180 Baht for 40 minutes per each girl to just hang out with you, not including your or her drinks.
Nightclubs in Hua Hin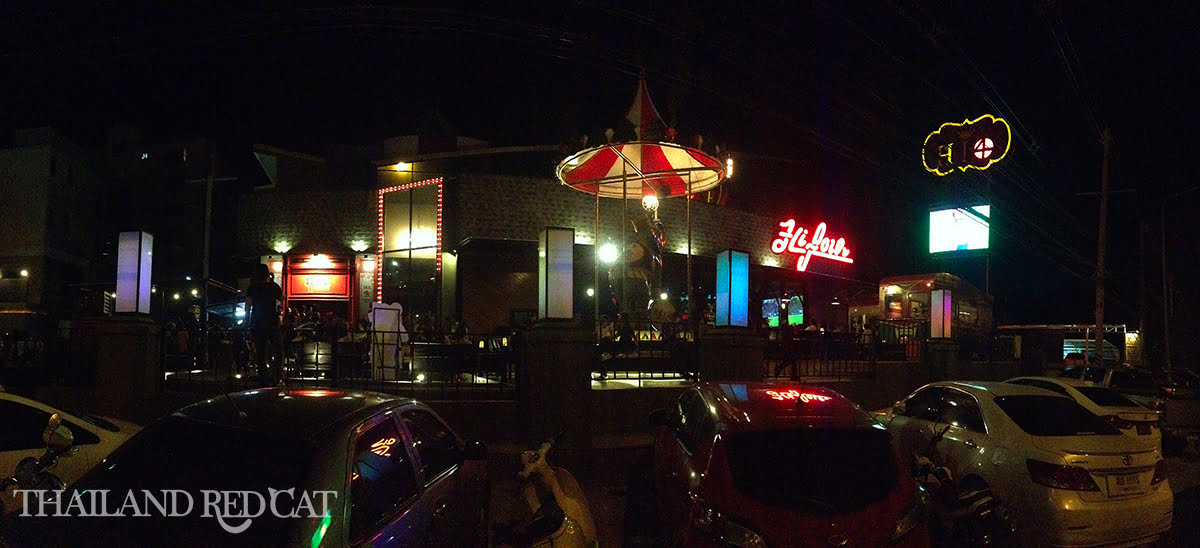 The most popular nightclub for the local Thais in Hua Hin is Hi 4 (Price Range: $$$$$, Working Girls: 10%), located on the main road to Bangkok. This place doesn't only get extremely busy (not just on weekends) but also incredibly loud, well yes just the way Thais like it drinking with their group on the round table sharing a bottle of Blend Whiskey or Johnnie Walker while singing along to the band on stage playing up and down Thai pop music.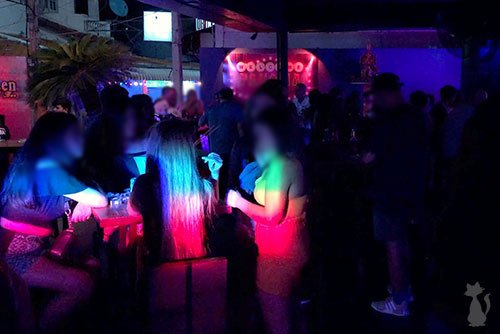 The most popular night club for the foreigners in Hua Hin is Panama Club (Price Range: $$$$$, Working Girls: 80%), and you know why? Because it's the biggest hook-up place in town! If you've been to Club Insomnia in Pattaya before you know what it's about: Countless of freelancing (and also a few regular) girls every single night who are all there for one reason: To meet a nice Farang for the night. Panama Club is located in the heart of Hua Hin's red light area (Soi Bintabaht), and you'll also see many beer bar girls going there once their bar closes and they haven't got a customer yet.
Another foreigner oriented club is the somewhat misleading called Beer House (Price Range: $$$$$, Working Girls: 50%) and is located in the Hilton Hotel. It has the most sophisticated design and set up and a nice outdoor seating area for a break as well. There's daily live music with a spacious dance floor and several sexy coyote dancers all around.
Street Hookers in Hua Hin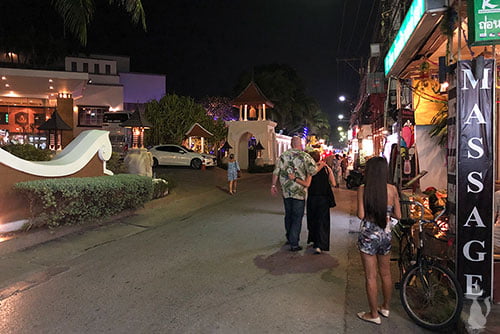 Right in front of the main entrance of the Hilton Hotel you can find a bunch of street hookers. They start hanging out there from about 10-11pm as soon as a regular stream of people is walking to the Beer House.
So it's not too much "in your face" and you might even oversee them if you don't look out for them.
I haven't asked how much they charge, but I'm pretty sure they quote you 1,000 Baht for short time and even that should be negotiable.
Map of Nightlife in Hua Hin
Videos of Nightlife in Hua Hin