There is no place like Pattaya. Even in Thailand, where young female company is easily available for foreigners at cheap prices in every major or minor tourist town: The once sleepy fishing village and now bustling sex mecca of Pattaya is in a league of its own. No other place in Thailand has nearly as many Thai girls and women looking to hook up with Farangs. Not even Bangkok.
Disneyland for adults.
What happens in Pattaya, stays in Pattaya.
Sin City.
There is no shortage of these kind of proverbs. And they are no cliches, but absolutely true! I don't know any other city where you don't get looked at in a strange way if you walk in a normal restaurant, shopping mall or even government office with a bar girl. Pattaya has its own vibe that is quite difficult to describe. It seems that nowhere in Thailand the girls enjoy their work more than they do it here. Does it have to do with the charm of a beach town and the fresh sea breeze? Maybe, but there are many other beach towns in Thailand and the bar girls in Phuket for example are a lot more ruff and focussed on business.
Anyway, it's not just the tens of thousands of sexy Thai ladies you meet in every street and on every corner, but also the many different types of places to meet them. Everyone has heard about the go go bars, beer bars and happy ending massage salons. But there's so much more, from short time bars, soapy massage parlors to freelancers in malls, clubs and on the streets. Not even mentioning all the hot girls with "normal" day jobs that you can easily arrange dates using Thai Friendly like most expats do who don't want to pay for sex every day.
So here we go, this is the complete overview to the nightlife and girls in Pattaya:
Go Go Bars in Pattaya
Walking Street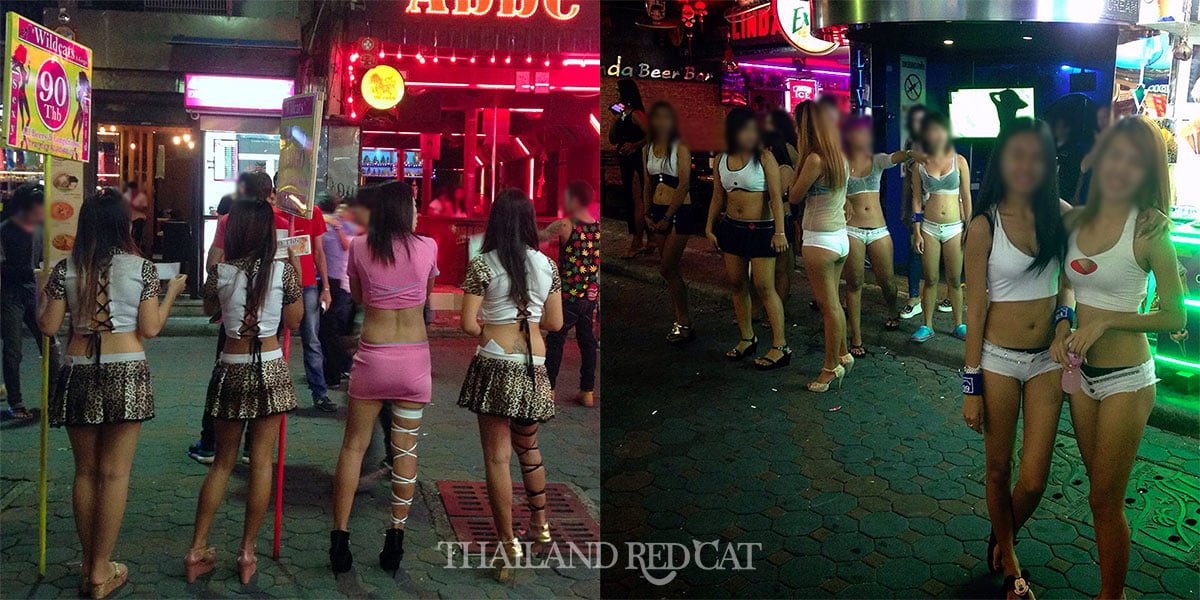 There are currently more than 70 Go Go Bars in Pattaya and the majority of them are located all along Walking Street and its little side Sois. From all the nightlife places it's the Go Go's that have the most attractive girls and that's the reason you need to pay more than anywhere else for buying lady drinks, paying their bar fines and taking them for short time or long time.
It's always a great way to start your evening by visiting a couple of Go Go Bars and if you do so, you might want to come at around 9pm as that's usually the time when the girls start working and traditionally dance on stage altogether. There are huge differences in the quality of girls and the entertainment from place to place, so you might want to have a look at my guide on the 6 Best Go Go Bars on Walking Street.
Soi LK Metro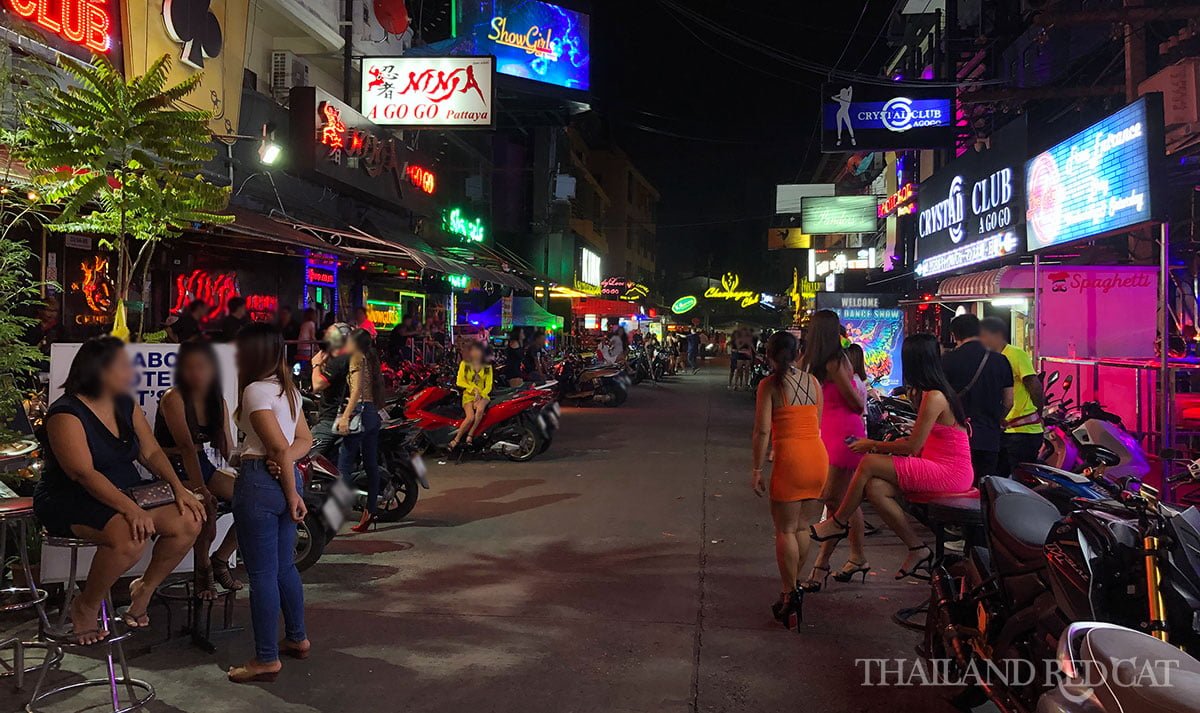 A lot of people have never heard of Soi LK Metro, but this is the second hot spot for Go Go Bars – much smaller than Walking Street of course but still home to about a dozen Go Go's and the atmosphere in these places is a lot more "laid back" and less cheeky than in Walking Street. Soi LK Metro is a 150m L-shaped Soi located in Central Pattaya, connecting Soi Diana with Soi Buakhao.
The biggest and most famous bar is Showgirls A Go Go but my favorite one is called Lady Love that has fun and naughty girls as well as an open shower where the girls are putting lots of soap on their naked bodies while dancing to the music.
Prices: Soi LK Metro used to be a lot cheaper than Walking Street, but these times are over. The draft beer, however, is still incredibly cheap selling for 45-69 Baht at almost all places. Bottled beer, spirits etc. are pricier yet not expensive at around 140 Baht. Lady Drinks are generally 160 Baht (either tequila shots or small glasses of fruit juice). The bar fine will cost you 1,000 Baht at most places.
Girly Bars in Pattaya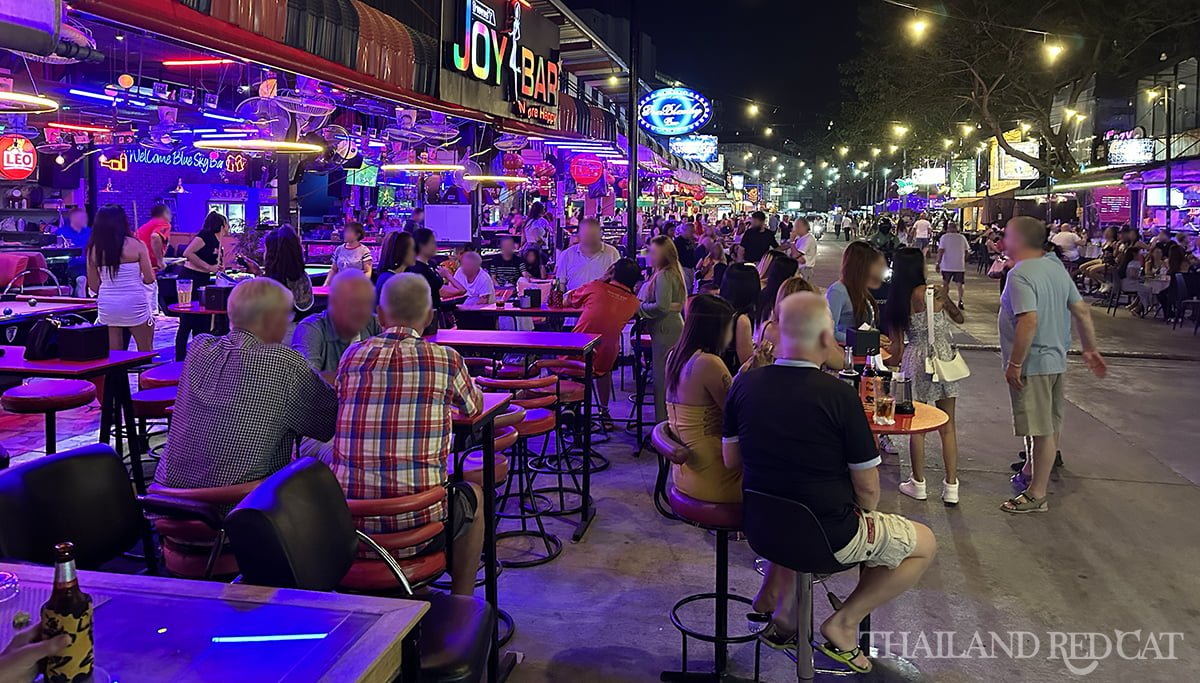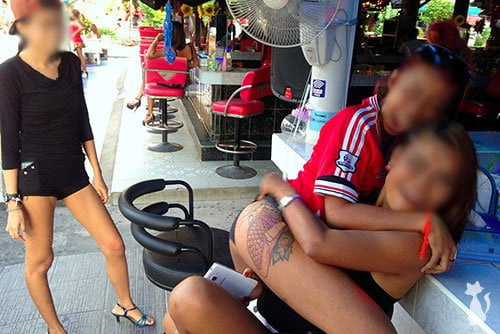 The girly bars are by far the most prevalent entertainment place in Pattaya. It's almost impossible to say how many bars there are as new places come up while others close down all the time, but there are easily more than a thousand lady bars in Pattaya! Why are they so popular? Well, if you are bored and don't know what to do (which happens more quickly than you might think), you just hang out at the beer bars as most of them have cheap beer all day and all night, free pool and live sport on big TV screens.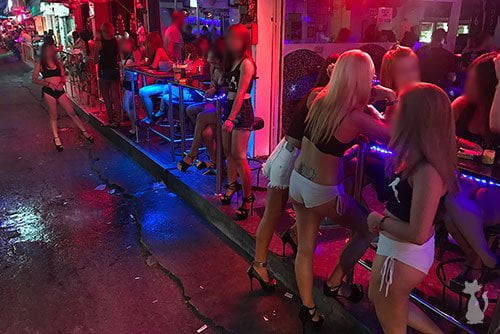 The girls in these beer bars are the most entertaining and fun to hang out with. If you compare them to the go go girls they're a lot more easy going and don't ask you for a lady drink 10 seconds after you sat down (they usually wait until you offer a drink to them). The highest concentration of beer bars can be found on Soi 7, 8 and 9 but there are hundreds more all around town. A special type of beer bars are the so called short time bars on the legendary Soi 6 Pattaya.
Prices: As mentioned the beer bars have the cheapest drink prices, most of them sell beer for 60-80 Baht a bottle. Lady drinks are generally 140 Baht the closer you come to Beach Road, but if you are going out towards Soi Buakhao and Naklua a price of 100-120 Baht is more common. Similar for the bar fines that more and more places charge 500 Baht, however again if you are going beyond Second Road or even Jomtien then 300 Baht is still the standard.
Happy Ending Massage in Pattaya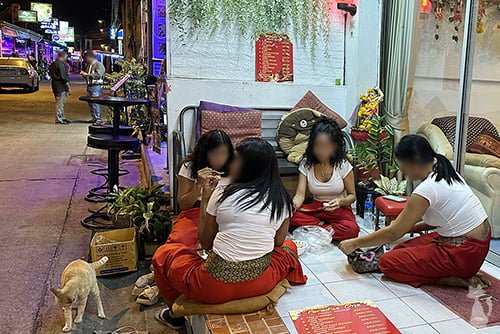 There are hundreds and hundreds of small massage salons and almost all of them have girls in short skirts or tight shirts yelling at you "hello, handsome man! massage!" If you walk around town it feels like for every two beer bars you pass at least one of these little naughty massage shops. The most famous street in this category is Soi 13/2 – a 200m long strip connecting Beach Road with Second Road (see picture). But again, these salons are spread all around town and it really doesn't matter where you go: There are always young, skinny, busty, shy or auntie-kinda experienced massage ladies available virtually everywhere.
Prices: If you are out for a happy ending, then you would choose either a Thai Massage (usually 200 Baht) or Oil Massage (usually 300 Baht). This gives you one hour with the girl of your choice in a private room (or a public one divided by curtains which is quite the same). These prices are lower than in Bangkok where the standard is 300 Baht for a Thai massage. In some areas where there is big competition you can get a Thai massage for as low as 150 Baht! A happy ending in form of a hand job will usually cost you 500 Baht (negotiable).
Soapy Massage Parlors in Pattaya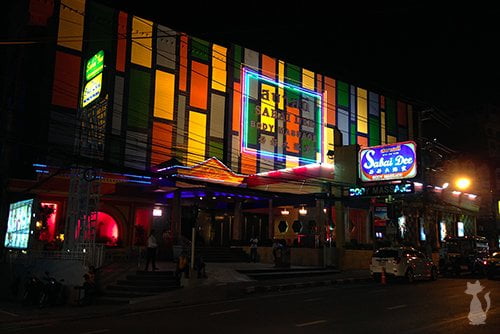 You can find more than a dozen massage parlors spread around town. The word "massage" is actually quite misleading, they're basically brothels with girls being presented behind glass (called a fishbowl). They are usually divided into two groups and prices: fishbowl girls (being employed by the parlor, about 1,500-2,000 Baht) and sideline girls (sometimes also called models, not being employed by the parlor and generally more attractive and white skinned, about 2,500-3,000 Baht). The price includes 1.5 hours with a girl of your choice including bath and sex.
The world of the soapy massage parlors in Pattaya really deserves its own post but to start with, you might check out Sabai Dee, the longest established soapy in town (see picture) and if you don't like the selection then there are two new parlors right opposite (Honey 2 Body Massage & Sabai Room). If you have never visited a soapy massage parlor and wonder what's actually happening inside have a look at this post.
Blow Job Bars in Pattaya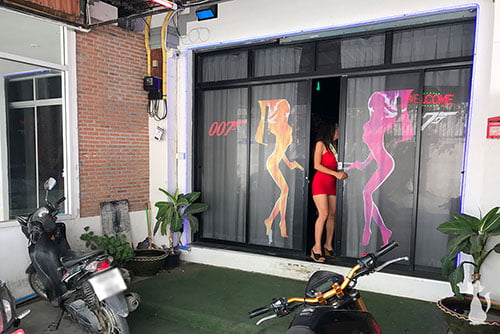 If you are surprised why the girls in the massage salons aren't willing to give you a blow job then you are simply at the wrong place. There are plenty of "blow job bars" where you can walk in, order a beer, and have one of the Thai ladies suck your dick right there. It's up to you though, often they have private rooms upstairs or seating niches with curtains around them for more privacy. Some places even offer full service for a few hundred Baht extra. There are currently 15 bars specializing on oral sex and you can find them all in the guide to blow job bars in Pattaya.
Prices: 90-100 Baht for beers, 140-160 Baht for lady drinks, 800 Baht for a blow job
Gentlemen Clubs in Pattaya
Another category of their own are the so called "gentlemen clubs". These are discrete bars where you cannot see what's going on from the outside: There is a bar with a usually more relaxed atmosphere compared to the regular beer bars, and as soon as you walk in, you will be surrounded by several hot Thai ladies who would love to sit, drink and get intimate with you. But what really differentiates them from the other lady bars is that they have private rooms in the back where you can have sex with the girl of your choice. In some way the whole concept is similar to the short time bars of Soi 6, but again it's more discrete and private in contrast to the open air bars in Soi 6.
Most gentlemen clubs such as KitCat, Passion & Heaven Club are located in neighboring Jomtien Beach.
Prices: Regular beer prices of about 100 Baht, lady drinks 140-160 Baht, short time 1,000 Baht plus 300-400 Baht for the room.
Ladyboys in Pattaya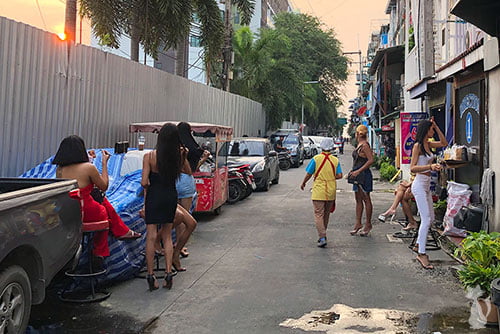 This article mainly describes how to meet Thai girls, but the truth is that more and more guys want to experience what it's like to bang a Thai ladyboy. Well Pattaya is, along with Bangkok, the best place in Thailand to do so with plenty of choices:
There are ladyboy short time bars on Soi 6/1, a couple of go go bars on Soi 13/4, several ladyboy massage salons on Soi 13/1 and street hookers on Beach Road especially in the area right opposite the Royal Garden Plaza. The common price for a short time with a Thai ladyboy hooker is 1,000 Baht. If you want to save that money you may want to use Thai Friendly Ladyboy Dating.
Night Clubs in Pattaya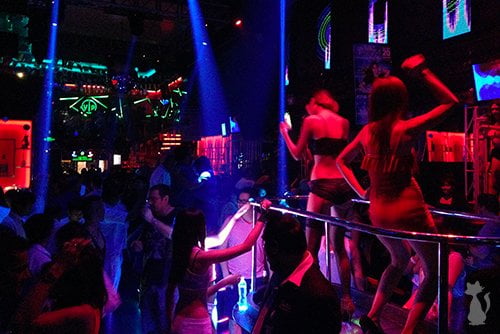 80% of nightclubs in Pattaya are on Walking Street. However, they are full of hookers (especially Club Insomnia), including girls with normal day jobs like 7-Eleven or shopping malls who come here to supplement their salaries.
The most popular Thai night club in Pattaya is Differ off Second Road in North Pattaya, full of locals but even more Thais who come to Pattaya for holiday. Don't expect the girls to look and smile at you right away as they are not sex workers. You would not come here alone but rather with a few friends and share a table as well as a bottle of whiskey (1,500-2,500 Baht) like everyone else. There's a live band playing the Thai hits, every night.
Escort Agencies in Pattaya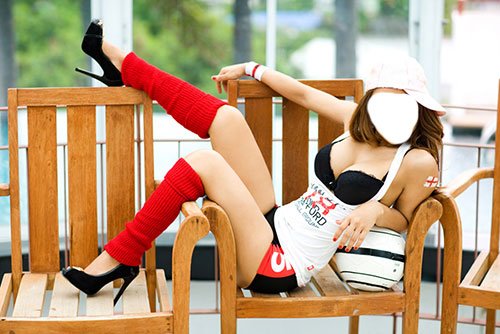 A relatively new way of meeting hot girls in Pattaya is to simply "order" one from an escort agency and within one hour she will knock on the door of your hotel room or apartment. This makes it the most convenient way to get laid but with rates at 4,000 Baht per 2 hours also one of the pricier ones. Still, some of the girls on the escort agencies have bodies like models and if you take a girl from the go go's it will cost you the same if not more. And you get 2 shots which is not really common for a short time. And if you compare it to Bangkok they got a standard of 5,000 Baht for 2 hours. There aren't many escorts in Pattaya yet but the one that has the best reputation is Pattaya Gold Escorts.
Freelance Girls in Pattaya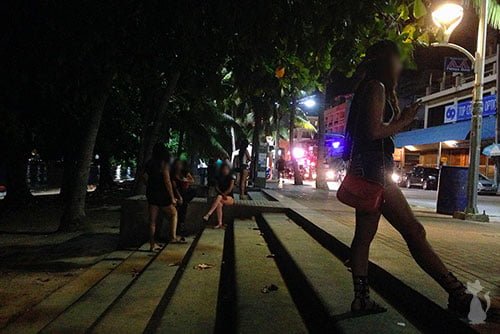 The line between "normal Thai girl with a normal day job" and "the girl who occasionally sleeps with tourists for money" is very, very thin in this city. Those who do usually look for their customers in the night clubs so it's not that easy for their co-workers or employers to see. If they either don't care, don't have a job anyway or need money really urgently – well these are the girls you find all along the Beach Road Promenade, all day and all night. Even though you may get quoted 1,500 or even 2,000 Baht for short time, if you do some small talk for a while and get warm with the girl then the going price is still 1,000 Baht.
Dating Spots in Pattaya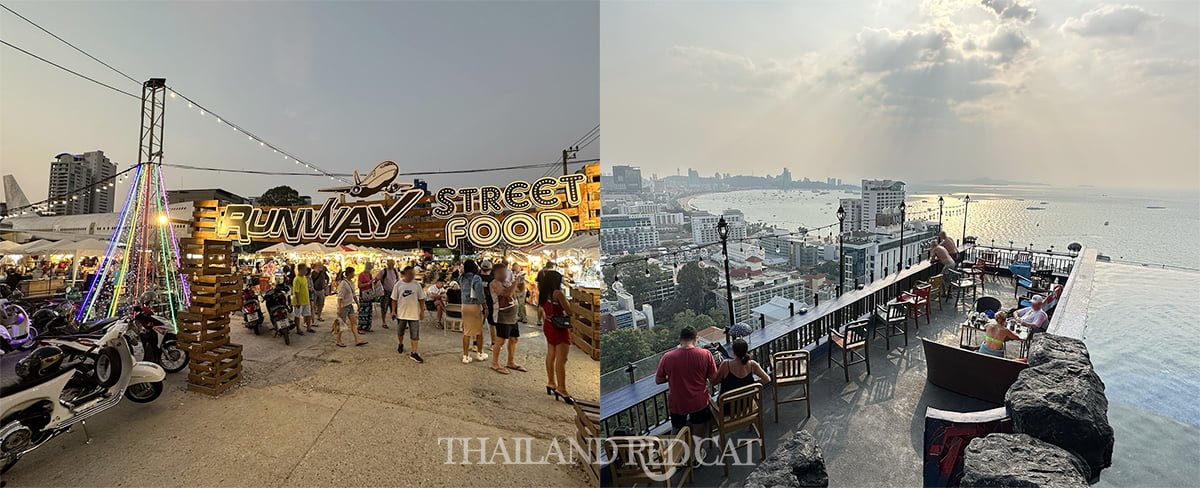 All of the places I've showed you in this guide involve paying for sex. But you can also easily meet girls in Pattaya on the online dating site. They won't be asking for money, but you simply pay for whatever you are doing together: Take them for dinner to a night market like the newly opened Runway Street Food market or for a relaxed drink at a rooftop bar like Sky Bar & Gravity Lounge at the Siam@Siam Hotel.
You'll see, the experience will be even more memorable than if you just pay and bang some random bar lady for 30 minutes. And by doing so, you'll also save money to spend on other things. Like a happy ending massage before your next date.
Map of Nightlife in Pattaya
Video of Nightlife in Pattaya
I hope you now got a good overview of the nightlife and girls scene in Pattaya (I'm sure you have). If you want to stay informed on what is going on in town then I recommend you to check out the Pattaya News section of my friend Andy over at Pattaya Funtown. Have fun guys!