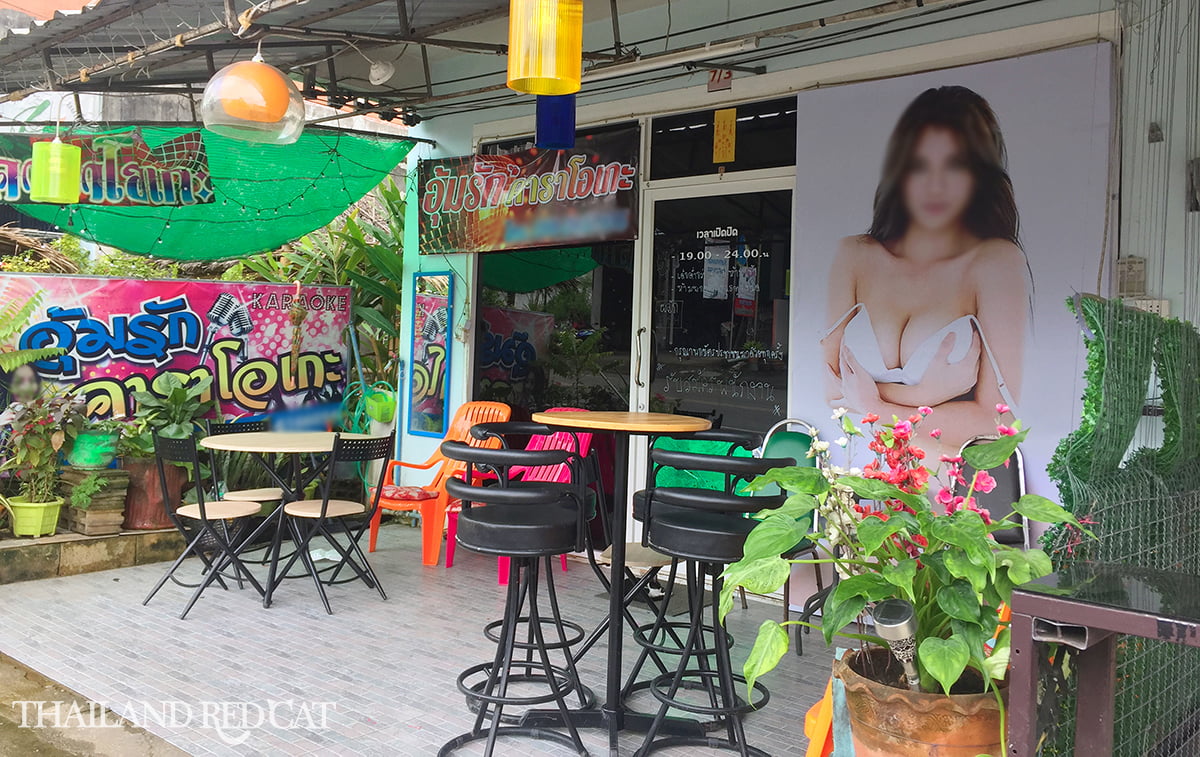 Krabi Town often gets overlooked by guys who land at the airport and take a minivan straight to Ao Nang, which is the most popular and most developed beach town in the region. What few guys know is that there are at least as many fun daytime activities in Krabi as in Ao Nang, especially the Emerald Lagoon and Tiger Cave Temple on top of a hill with 1,237 steps a few kilometers out of town.
And what even fewer guys know: The nightlife in Krabi Town is better than in Ao Nang. Yes, seriously. Ao Nang is a total tourist town and has one area with girly bars (called RCA Entertainment) and that's basically it in terms of mongering options. There is another nightlife area called Center Point, but it's just regular bars and also a ladyboy cabaret (if you're into that). It's even extremely difficult to find a nice hand job massage in one of the massage salons – yes you may be lucky in 1 out of every 5 places you visit, but even then the girls aren't that attractive. And no soapy massage parlors at all.
Different in Krabi Town: When you first get to the main tourist area in riverside you may actually be quite disappointed. There are a bunch of regular bars, massage salons and also the popular Walking Street night market all in this area, and all within walking distance from your hotel. That's it – but only in riverside! What most guys have no idea about is that the "real" nightlife in Krabi Town is well off the tourist area in riverside, to be precise: Along Maharaj Road in the northern part of town.
There you can find more than two dozen karaoke bars, each packed with young and hot girls. And don't worry, it's not like in Bangkok or Pattaya where you need to be careful in most of the karaoke bars that they don't rip you off and add items to your bill you haven't ordered. The karaoke bars in Krabi town are like the beer bars in Pattaya, just mainly catering to Thais. I will explain them in a moment. And apart from that, you can also find three great nightclubs where some of the nicest Krabi girls go out partying. And there's also a soapy massage parlor with fishbowl (if you're into that – I'm sure you are).
Let's take a look at the different places to meet girls in Krabi Town – I will first talk about the riverside area, because this is where all the tourists stay. And then I'll explain the better nightlife areas on Maharaj Road, as always with pictures, videos and map locations.
Nightlife in Krabi Town Riverside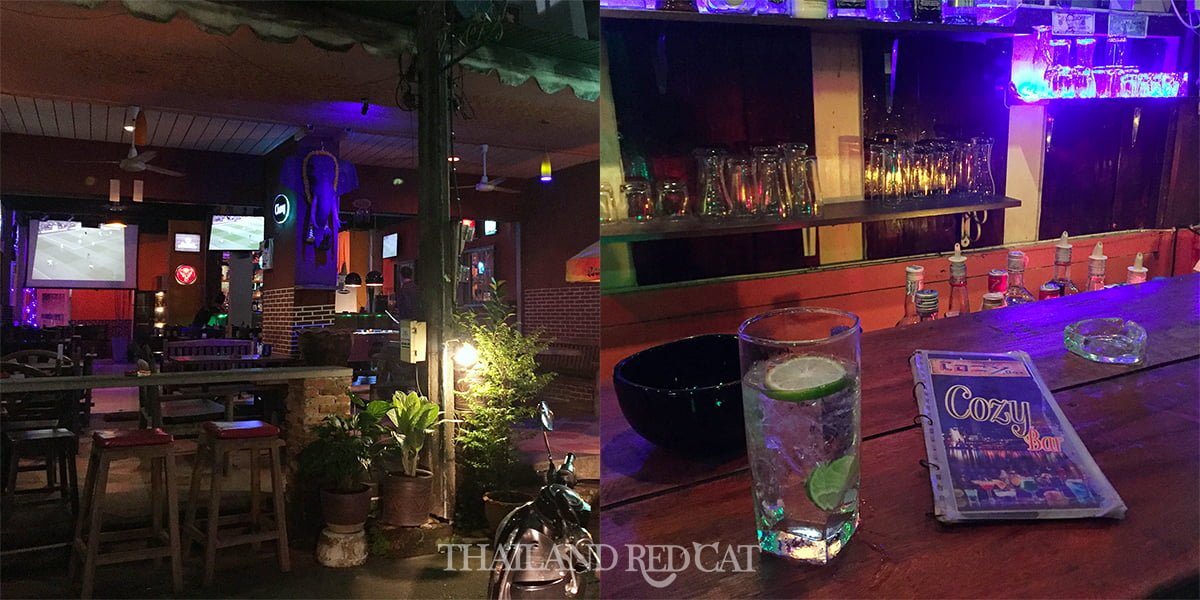 The tourist nightlife in Krabi Town is found in riverside, or to be more precise: in and around Soi Chao Fah, Thanon Isarah and Thanon Utarakit. Don't worry if you have no clue where these streets are – just look on the map below where I have marked the locations of these streets.
In that area you will find several "regular" bars and massage salons in terms of nightlife options. "Regular" means that the bars have no Thai girls employed for the enjoyment of the male customers (unlike the karaoke bars on Maharaj Road, see below) and the massage salons are regular shops where it will be very difficult to get a hand job.
Cozy Bar and Chilling Bar are two of the most popular bars in riverside. They don't just sound like joints full of backpackers and hippies – they are. When I took a seat at Cozy Bar last week to have a quick gin tonic and record a video (see end of the guide) before heading to the karaokes, I was greeted with "what's up brother?" by the 30-year-old or so Thai bartender with thick dreadlocks.
If you are like me and your main focus in the nightlife are young and skinny Thai girls, then do it like me and have one or two cheap drinks in the bars in riverside before heading up to the local nightlife spots in the northern part of town.
Prices: Very fair prices with small beer bottles for about 80 Baht in most bars in riverside. Spirits and cocktails are reasonable priced, too – a gin tonic usually costs about 100 Baht and a Mai Tai or Caipirinha sells for about 120 Baht.
Girly Bars in Krabi Town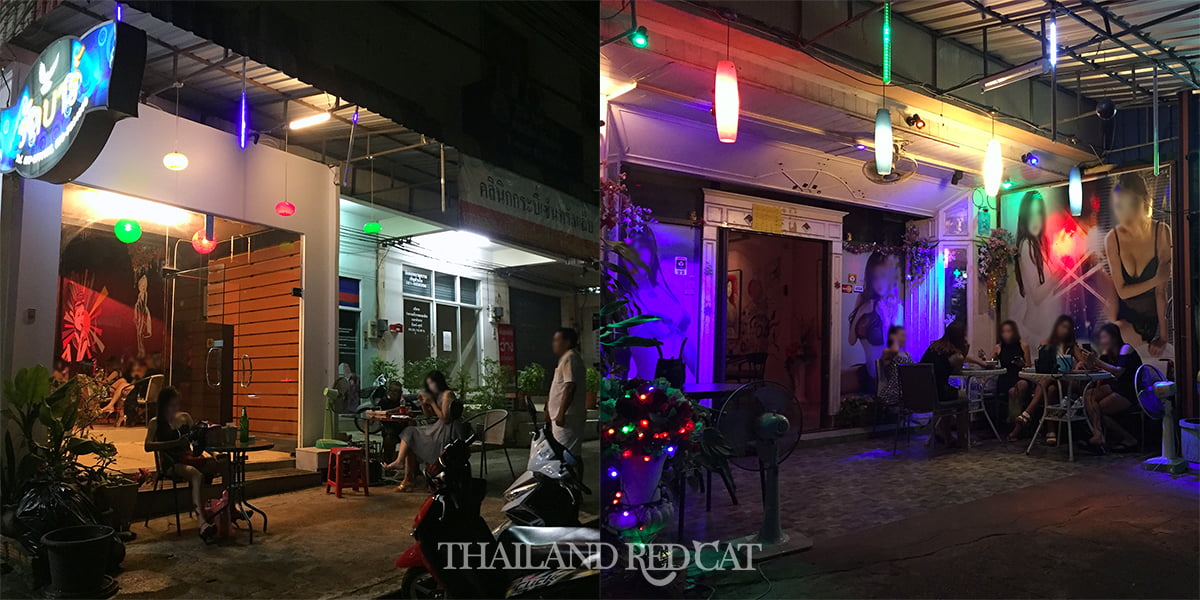 Take a trip up to Maharaj Road in the northern part of Krabi Town, and you will find the real nightlife venues. This is where the local Thai guys go when they want to enjoy themselves with sexy Thai girls, and of course you are very welcome in these establishments as a foreigner, too.
The one reason there are not many foreigners visiting these girly bars is because most of them simply don't know of this area and never really get out of boring riverside (see above). And the other reason is that not everyone has his own vehicle – you will need one in order to get up there, it's too far to walk and there are no motorbike taxis late at night. You can drive to that area in less than 10 minutes, and if you walk it will take you close to an hour.
Like you can see in my pictures above, there are some really hot girls working in these bars. They are officially run as "karaoke bars", but you can also call them hostess bars, or simply girly bars. Most of these places don't even offer karaoke and microphones, but the way it works is that you pick one of the girls and she will sit and drink with you. Some bars don't even do that – you would pay the manager right away to take one of the girls to your hotel.
Prices: The standard drink prices in Krabi Town's girly bars are 100 Baht for a big bottle of beer, 200 Baht per girl to sit with you, and she will usually get herself a glass and just drink from your beer. Short Time with one of the ladies is 2,000 Baht in almost every bar (negotiable). They don't have short time rooms on site – you will have to take her back to your hotel or rent a room in the area for 500-1,000 Baht (they always know a suitable hotel nearby).
Nightclubs in Krabi Town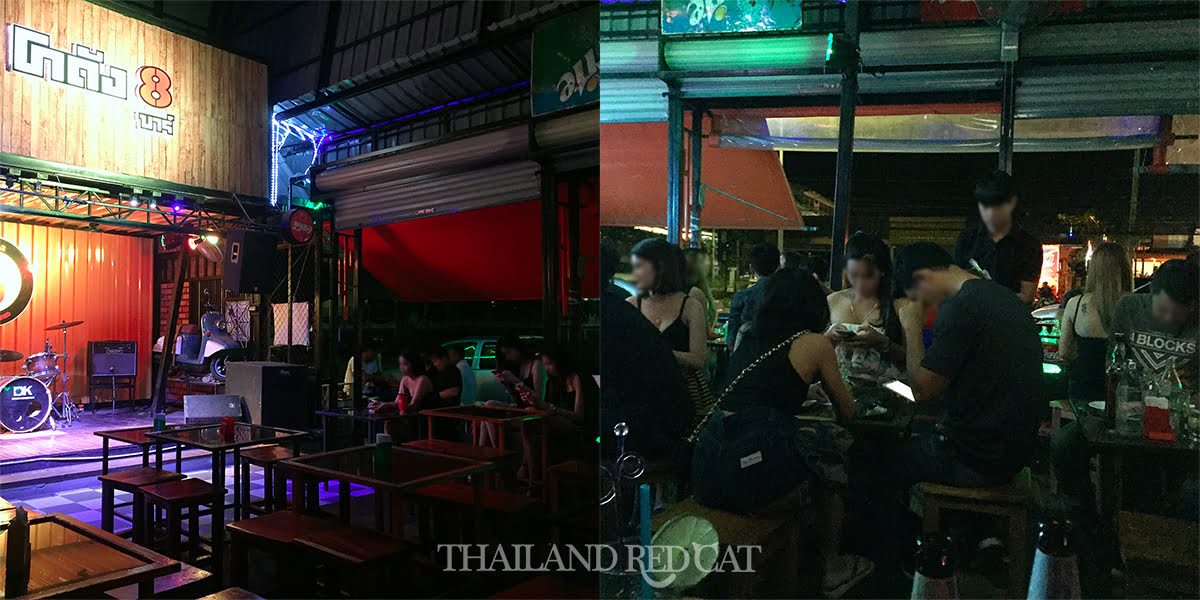 In the same area like the girly bars up on Maharaj Road, you can also find the 3 most popular nightclubs in Krabi Town. Godang 8 (โกดัง 8) is really a mix of hostess bar and nightclub – it has the typical Thai club setup with many small tables where people sit together in groups, usually sharing a bottle of whiskey, and a live band playing the Thai hits.
What makes it special though is that it has lots and lots of young and very attractive Krabi girls employed. They are basically hostesses who will happily sit with you – as long as you let them drink with you and buy them a few shots. One shot costs 120 Baht and they tend to ask for more than one at once. The girls in Godang 8 cannot leave with you before the club closes at 2am, but after that it's totally up to you what you want to do together.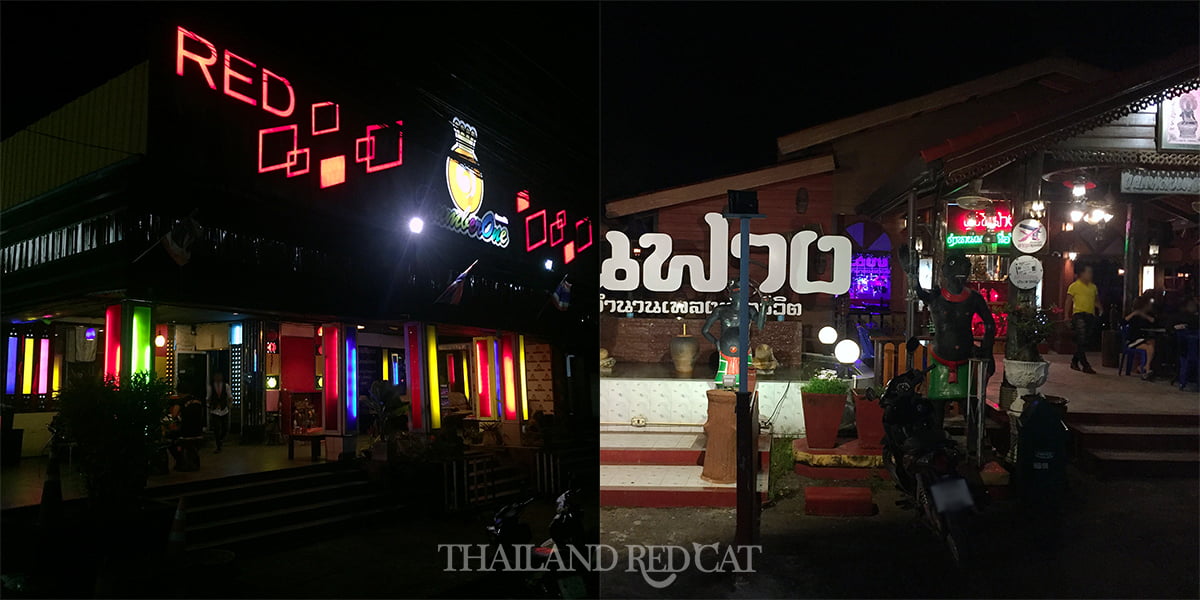 The other two night clubs are Number One, a typical night club with daily live music which is located right across opposite of Godang 8, and Khwuan Fang (ควันฟาง), which is comparable to Tawan Daeng (the hugely popular Isaan type of music hall) and has Phleng Phuea Chiwit (เพลงเพื่อชีวิต) – a type of Thai folk music.
Prices: Typical prices for nightclubs in Thailand's provinces: About 120 Baht for a big bottle of beer, 800 Baht for a Blend and about 1,500 Baht for a Johnnie Walker Red Label.
Happy Ending Massage in Krabi Town
Like you can see on my map below (as well as on my pictures) there is clearly no shortage of massage salons in Krabi Town. The problem, however, is that most of these shops only offer standard Foot, Thai and Oil Massages and no happy endings. You can usually tell when you see the women wearing traditional Thai massage dresses (no skirts and tight shirts). That is not to say that it's impossible to get a hand job in these places, but it's quite unlikely and you will need to try it yourself.
Fortunately, there are a couple of nice exceptions to this rule: If you go to Soi Seebaramee 1 you can find two massage salons right next to each other that have young girls who will yell at you "Hello welcome, massage! Handsome man!" as soon as they see you. A happy ending is almost guaranteed in these shops (one of them even has a small fishbowl) and probably even more than that.
Prices: 200-300 Baht for a Thai massage and 300-400 Baht for an Oil Massage (1 hour). Happy Endings will usually cost you 500 Baht for a hand job and 1,000 Baht for "boom boom".
I have marked the "regular" massage salons with the yellow pin and the naughty massage salons with the purple pin.
Soapy Massage Parlors in Krabi Town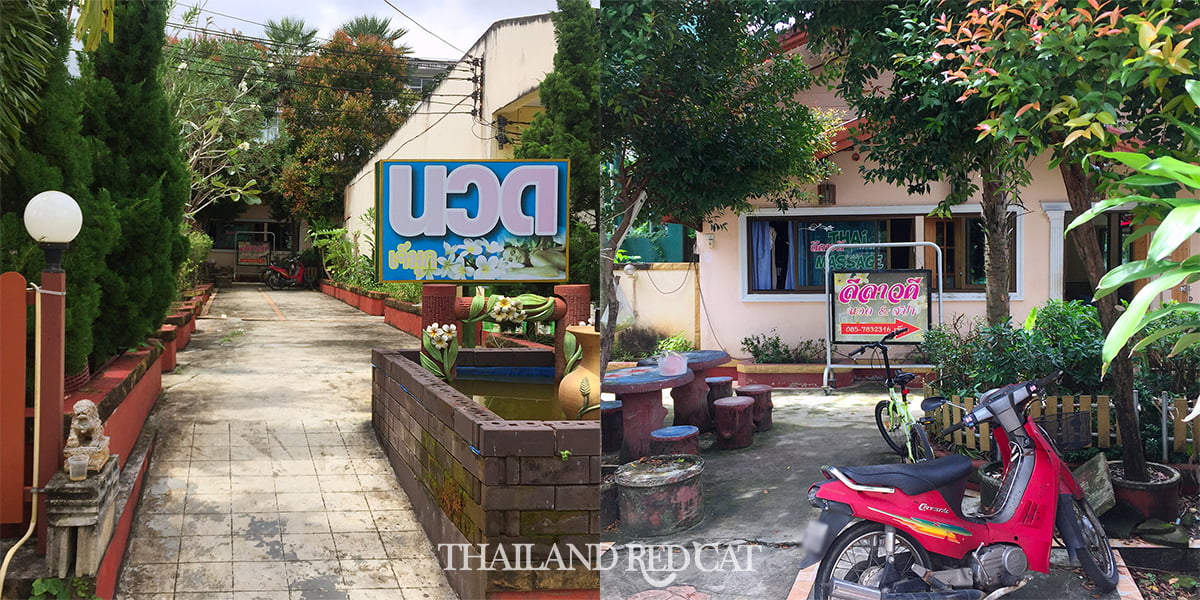 Krabi Town has something for everyone's taste – and if that's a good old soapy massage with fishbowl girls, then you can even find such a place in the northern part of town, right across opposite Khwuan Fang night club (see above). It's called Lee Lao Dee (ลีลาวดี) which is the same name as the famous soapy massage parlor in Hua Hin.
This place is much smaller though, similar for the fishbowl in front of a garden (no joke), where about 7-8 nice, white skinned and mostly beautiful Thai ladies are waiting for their next customer. You can talk to the mamasan and ask her which one she recommends for a good service, how old they are, who already has children etc.
Prices: It's 2,000 Baht for the all inclusive program at Lee Lao Dee (bath, massage & sex), and they even offer hand job massages for 800 Baht, which is quite unusual for a soapy massage parlor.
Night Markets in Krabi Town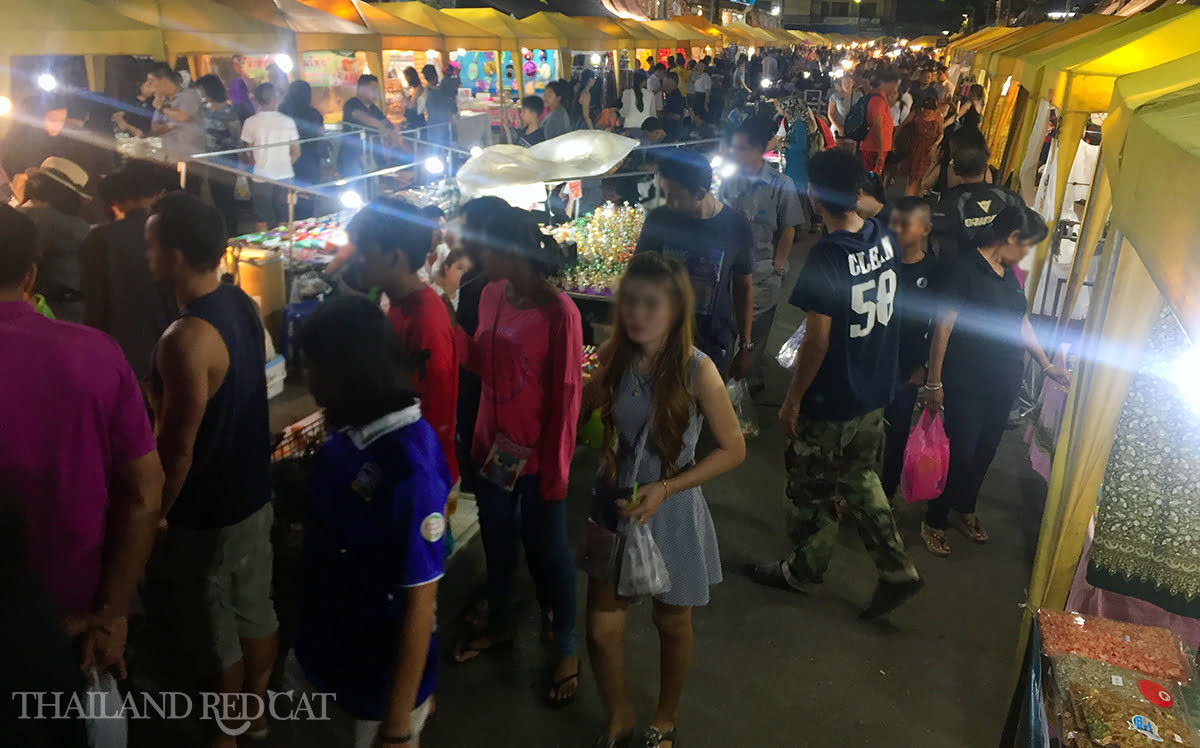 The most famous night market in town is Krabi Walking Street, which is said to be one of the biggest night markets in all of Southern Thailand. It's a great place to start your evening, not so much for the typical selection of clothes, accessories and things you will not really need, but more for the atmospheric outdoor seating area with lots of street food stalls, snack and drink vendors all around. And obviously also great opportunities for people watching and flirting.
Note that the Krabi Walking Street only takes place on Fridays, Saturdays and Sundays, from about 5pm till 11pm.
There are two other daily night markets in Krabi Town: One is located in riverside and popular mostly among tourists, and the other one is located off Vicar Road and mostly popular among the local Thais.
Street Hookers in Krabi Town
If you walk along the river promenade near the Crab Statue late at night (from about 10pm) you might find a few women who will join you to your hotel for sex if you hand them some cash afterwards. Don't expect anything above 5/10 though.
Prices: Not more than 800 Baht for a short time.
Map of Nightlife in Krabi Town
Videos of Nightlife in Krabi Town