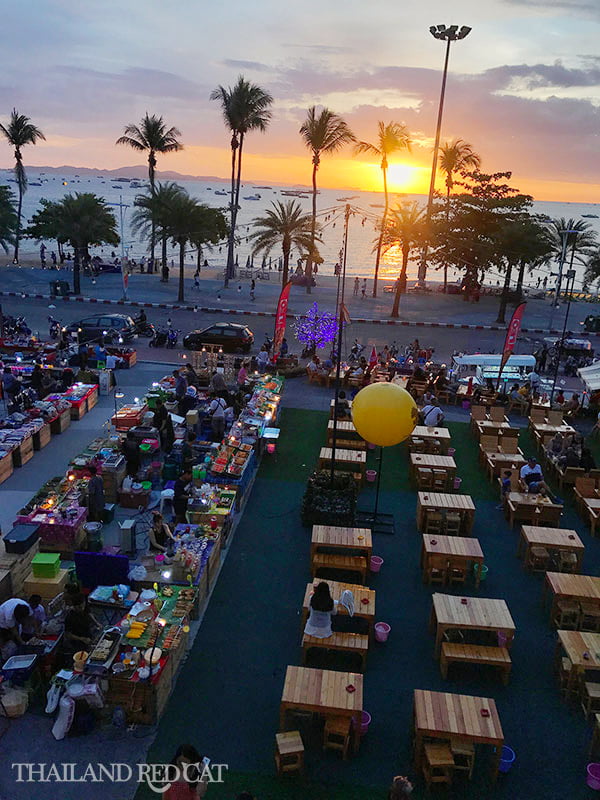 So many people say they don't like Pattaya and they wouldn't go there just because they are told it has the biggest red light district in Thailand.
This is true, Pattaya shares along with Patong in Phuket the reputation of Southeast Asia's sex meccas, with Pattaya being by far the bigger one. But apart from Thai girls looking for Farangs (or the other way around?) there is much more to this city 160km southeast of Bangkok.
In my opinion it actually makes the perfect weekend from Bangkok not just because of its proximity (2-3 hours drive) but also because of the wide range of fun things you can do in Thailand's most famous beach town.
So let's say you have just arrived in Pattaya and the minivan or bus dropped you off… you have no idea where you are. Maybe you haven't even booked a hotel room yet and have no clue which direction to take to the beach.
Now here comes the first great thing about Pattaya, it's the fact how easy and cheap it is to get around town. Songthaews, which are basically pick-ups used as shared taxis, go all around Pattaya and as far as Jomtien Beach.
Now the good thing about them is, wherever you go, the fare is always 10 Baht. If you want to get off you just ring the bell, the driver stops and you hand him the 10 Baht through the passenger window. Don't worry, you will never be overcharged and foreigners pay the same price as local Thais, 10 Baht per trip per person. They have fixed routes so if you are in Pattaya for the first time, ask some people on the street first in which direction you should take the songthaew. Note: Of course you can also rent a motorbike for 200-250 Baht per day and you are even more flexible than with songthaews.
So coming back to our situation, you have just arrived in Pattaya with no hotel room booked and no clue where to go. I would suggest you just take the songthaew to Central Festival, that is the most famous shopping mall in town. From there you can walk in any direction along Second Road (the road that runs parallel to Beach Road) and just look for a room.
The rate for a decent budget room is around 900 Baht per night, however I found a very nice room with balcony, street view, cable TV and aircon for just 700 Baht about 50 meters from Central Festival and believe it or not, I saw a guesthouse that has rooms for 200 Baht while exploring the streets further away from the beach in an area called Karat 9 (กะรัต 9 in Thai). Obviously the general rule is, the further away from the beach, the cheaper the room rates.
Traditional or "non-traditional" massage – it's up to you
Now that you've checked into your hotel, what to actually do in Pattaya? Now there is lots. If you have just arrived in Thailand from a long flight you can go for a massage. Pattaya has a huge range of different massage shops and they are not all as dirty as you might think. If you are out for a serious massage, just look at how the women are dressed: If they wear shirts that cover their shoulders you found a serious massage place. If not, the massage itself might not be the main service you are paying for. The standard one hour rates for most ordinary massage shops are:
Foot Massage: 200 Baht
Thai Massage: 200 Baht
Oil Massage: 300 Baht
Head & Shoulder Massage: 350 Baht
Aroma Massage: From 400 Baht
There are also many spas in town that have a much wider range of services. Check out Sabai Dee Body Massage, probably the most famous soapy massage parlor in town located in North Pattaya. Check out this post for more infos and similar parlors.
Pattaya Beach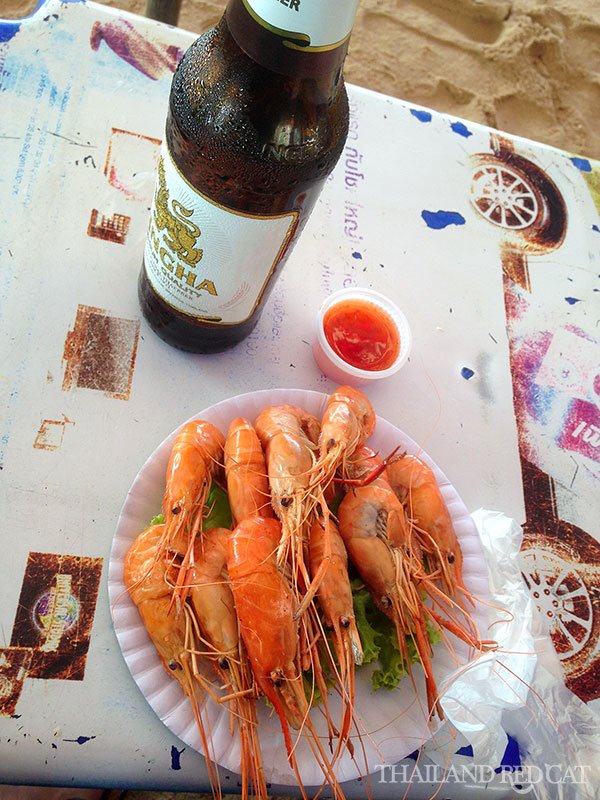 What I love about Pattaya and what you could also do when you've just arrived is hop on a chair at the beach and just relax. You pay 100 Baht per chair anywhere on Pattaya beach and can use it for the whole day.
So what I like to do when I go to Pattaya is to buy a big bottle of beer or two at the 7-Eleven, pick a nice chair on the beach and just chill out, read a book, listen to music or just drink my beer and get some food from the beach vendors like fried chicken (40 Baht) spring rolls (40 Baht) or shrimp (about a dozen for 150 Baht).
Obviously there are a lot of vendors walking up and down the beach, but they are not too annoying and if you just smile and say "mâi ao kráp" (or just ignore) you won't even mind them. There are also women offering foot massages, 100 Baht for half an hour.
If you are out for some more action than just sipping beer and people watching at the beach, you can go for some jet ski cruising or try out paragliding. Prices are negotiable, realistic prices are 1,000 Baht for 30 minutes jet ski / 20 minutes paragliding. Be careful about scams related to jet ski rentals.
There was just another incident in January where a group of four young Russian tourists (aged between 23 and 27) have been asked to pay 113,000 Baht for repairing the jet skies even though they haven't caused the damage. Take a picture of you and the jet ski before you go off riding it to be on the safe side. It also always helps if you speak some basic Thai, so when you talk to the vendors in Thai when arranging the rental you are not going to run into scams like these.
Pattaya Temple & Viewpoint
Another great daytime activity in Pattaya is visiting the Sanctuary of Truth which may not be that culturally significant, but it's really an architectonical masterpiece, the most beautiful temple in Pattaya carved all out of wood and definitely worth to check out.

The admission fee is rather expensive at 500 Baht, but there is a view platform that is free – this is where I took the picture above.
If you have more time then you can also take a trip to the Pattaya Viewpoint up on Pratumnak Hill: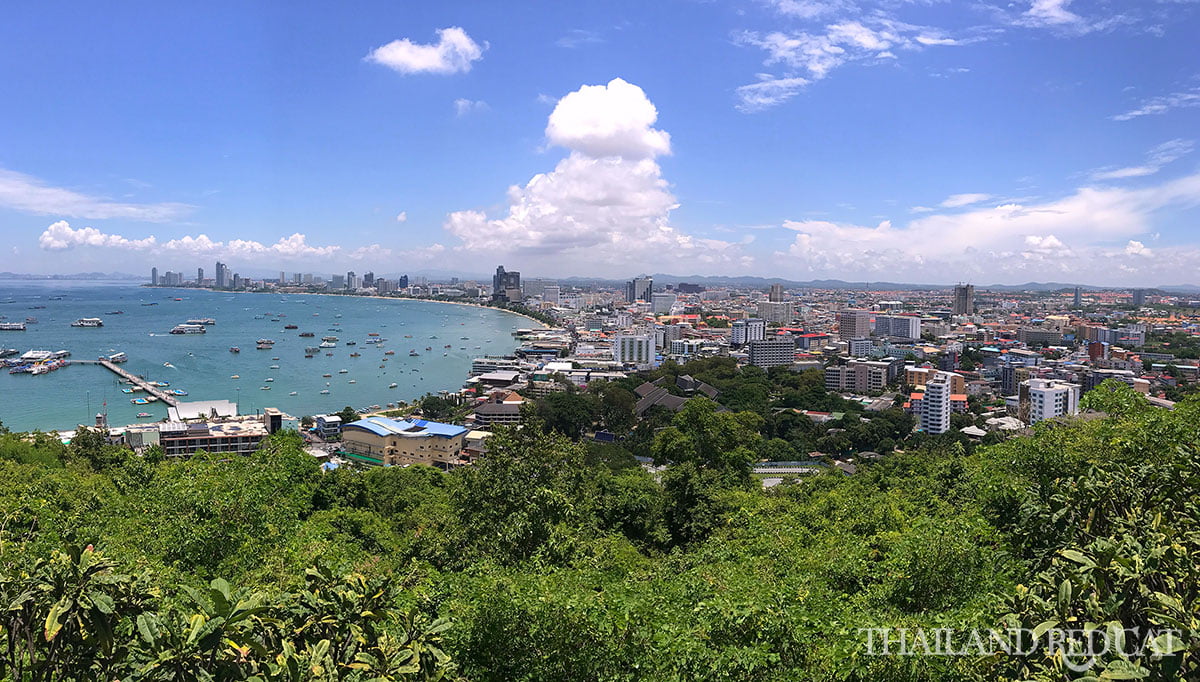 It's in the city and a motorbike taxi will take you there for about 100 Baht.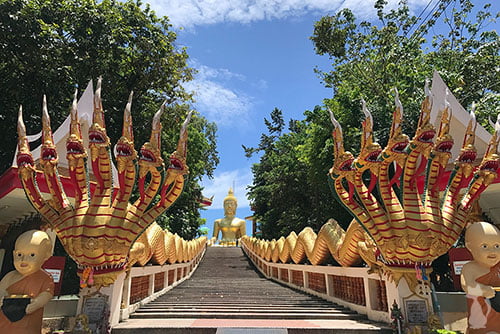 Another attraction near the view point is Wat Phra Yai, also known as the "Big Buddha Temple" on top of a hill. The 12 meter high Buddha is located in the center of the complex and surrounded by 7 smaller Buddhas, each of them representing one day of the week. You will see lots of Thai people there (and also a few foreigners) worshiping at "their Buddha" (depending on which day of the week they were born).
Scroll down to the end of the guide for the overview map of all mentioned places.
Day Trips in Pattaya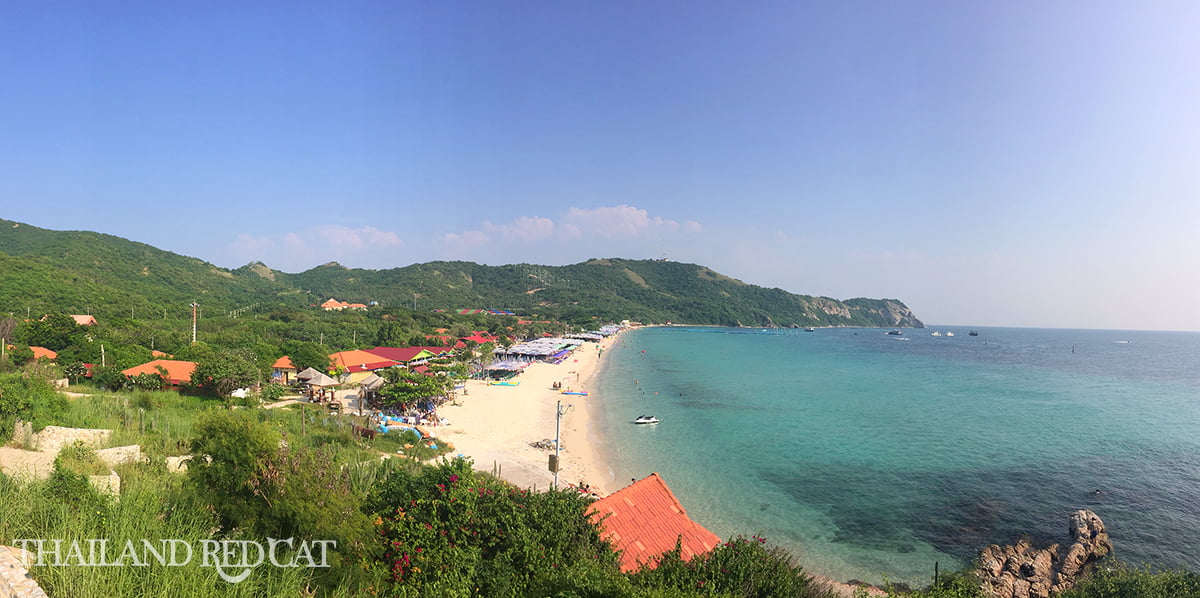 If you have some time, you can do a half day or full day trip to the nearby islands such as Koh Larn or Ko Phai. Both of them are obviously more quiet than Pattaya and have plenty of beautiful beaches.
There are various options for boats. You can take the big public ferry for only 30 Baht or hop on a shared speedboat for 300 Baht to Koh Larn. There are also full day island hopping tours available. Just ask around at the local travel agencies or show up right at the harbor, 1,000 Baht for a full day tour including lunch is a realistic price.
There are some activities and theme parks near Pattaya that are just made for tourists and you may find fun to check out, such as:

Pattaya is also great for shopping. You can find all sorts of useful and weird stuff here. From western standard Central Festival shopping mall over Mike Shopping Mall (brand fashion well copied for a good price, bargaining recommended) to food and handicraft markets right on the streets.
Jomtien Beach
If you want to take a break from busy Pattaya, you can take another songthaew to Jomtien Beach, again for just 10 Baht. The beach there is even nicer and less crowded, and there are also lots of hotels, restaurants, bars and markets around.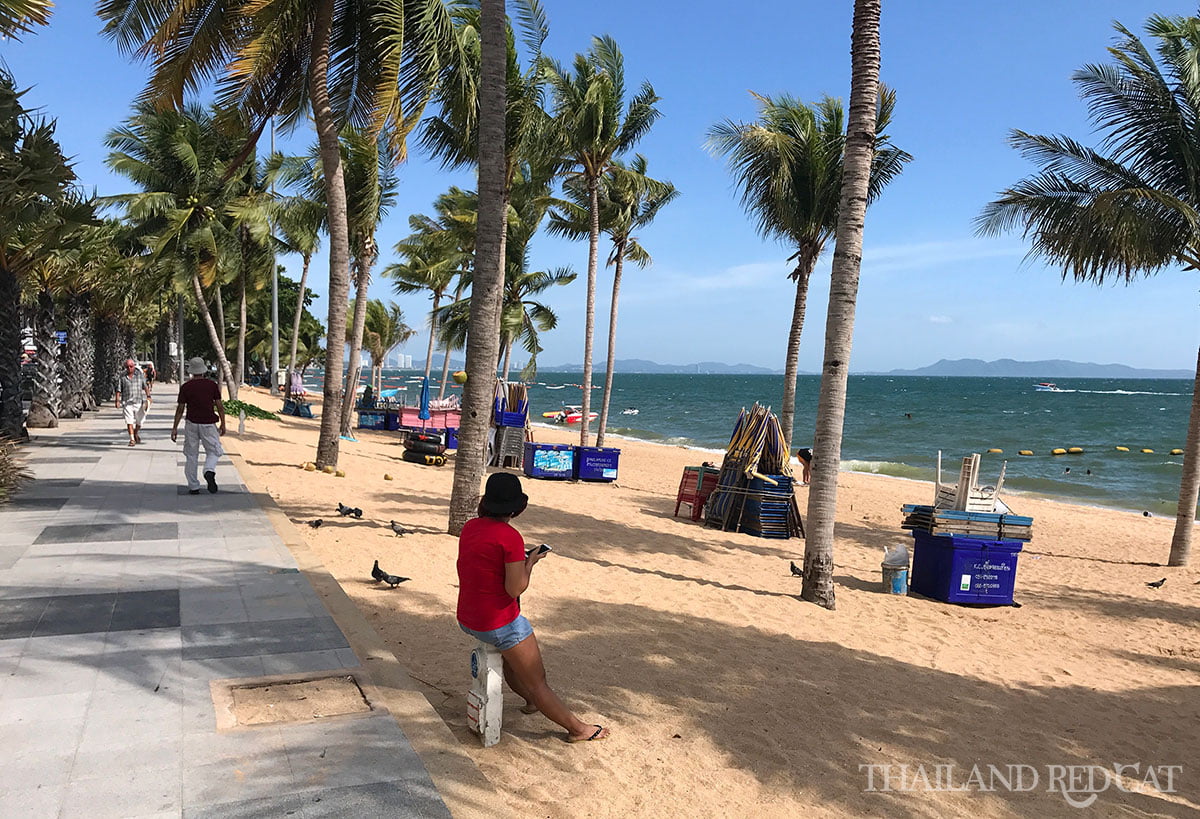 Sunset in Pattaya
Pattaya sunsets can be extremely beautiful, especially during the winter months December to February. The best place to sit and watch is at the popular beach promenade, just look at my picture below and you will know what I'm talking about.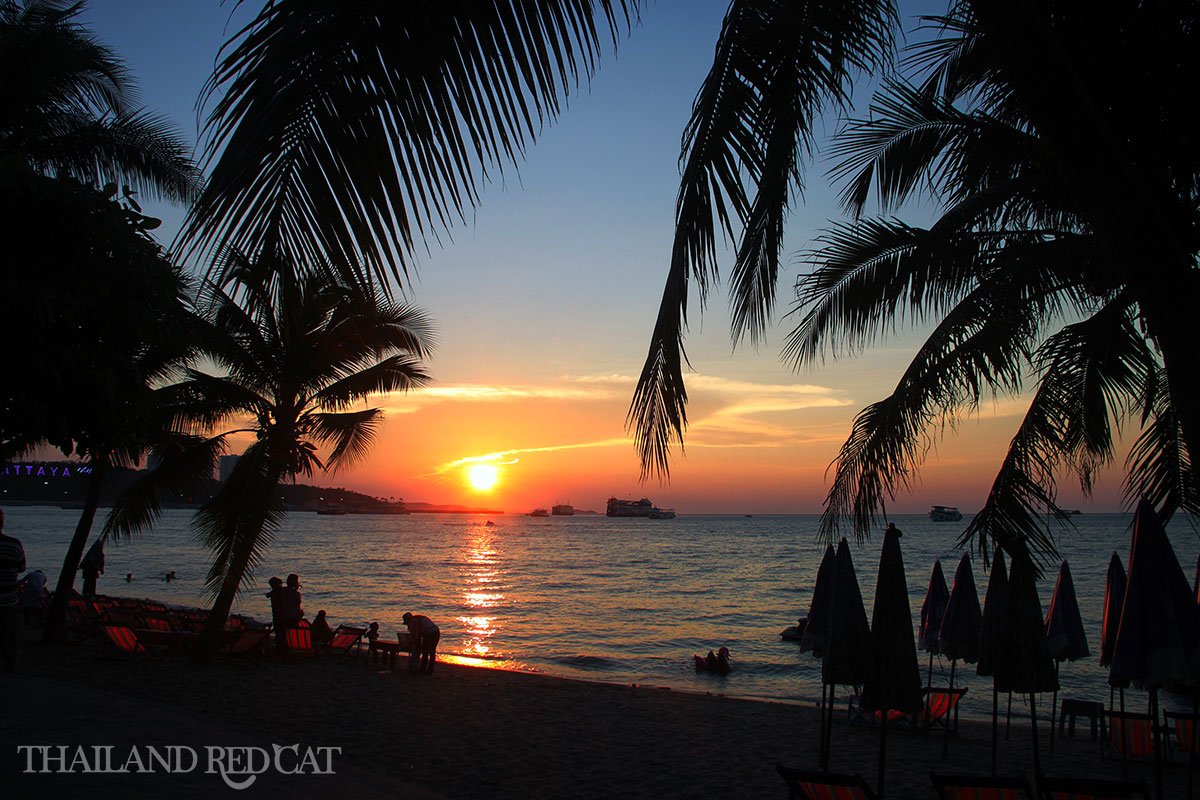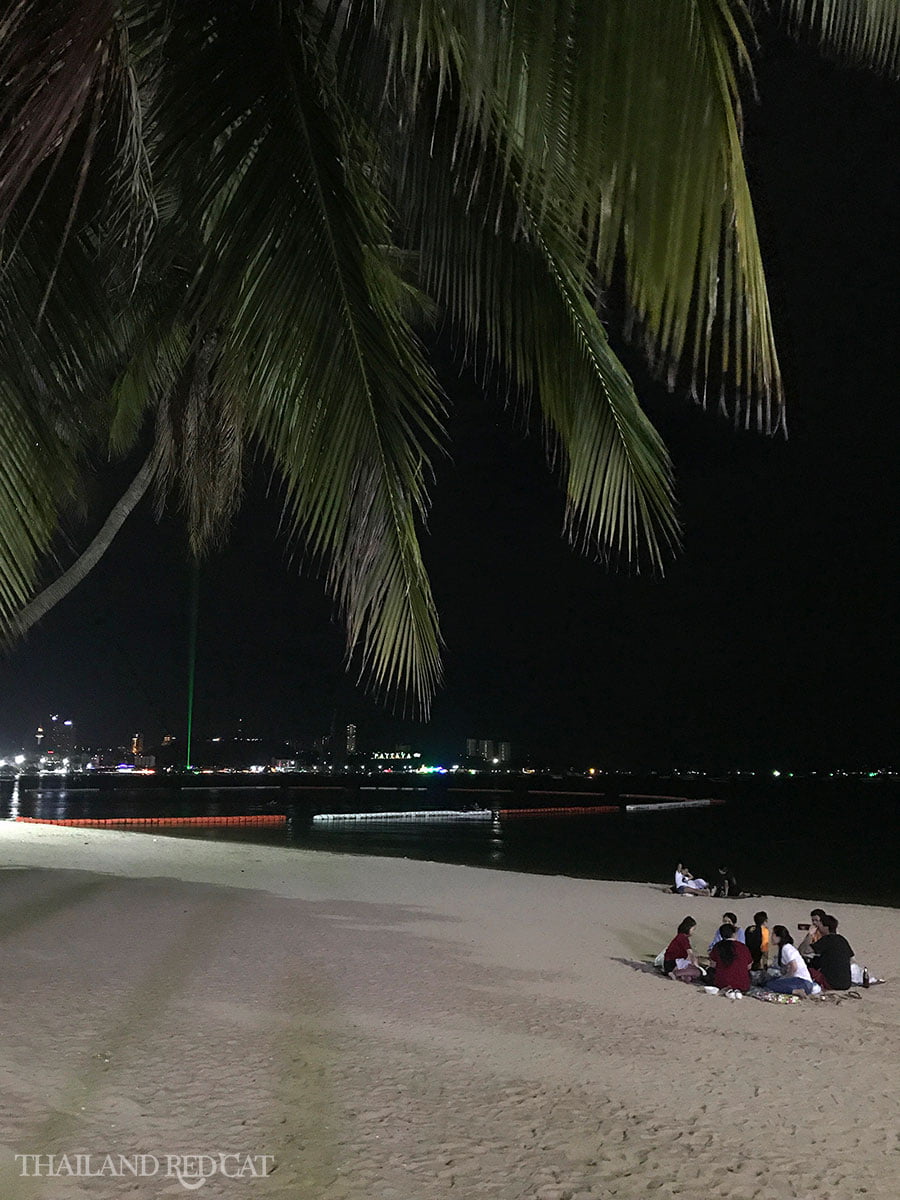 Map of Pattaya Highlights
I hope now you know what I mean when I say Pattaya has so much more to offer than cheap girls and go go bars. Happy planning!
Videos of Pattaya Highlights