Buriram might be one of the best kept secrets in Isaan. While clearly minor to its famous neighbor provinces of Khon Kaen and Korat in terms of economic performance, transportation services, infrastructure, population and size, there are quite a lot of reasons why the 30,000 citizen town also known as the "Town of Happiness" is well worth a visit.
Just to name a few: Buriram is home to one of Thailand's most successful football clubs, Buriram United, the most modern race track, the Buriram Circuit, as well as the most significant Khmer site in Thailand, Phanom Rung.
However the little Isaan province 410km northeast of Bangkok is still far from touristic and it's a great place to experience the typical Isaan way of life and culture. People are very kind and how I learned also good with languages as most of them speak Central Thai, Isaan, Khmer as well as at least basic English.
Below are the best things to do and attractions in Buriram and where they are located:
Khao Kradong Forest Park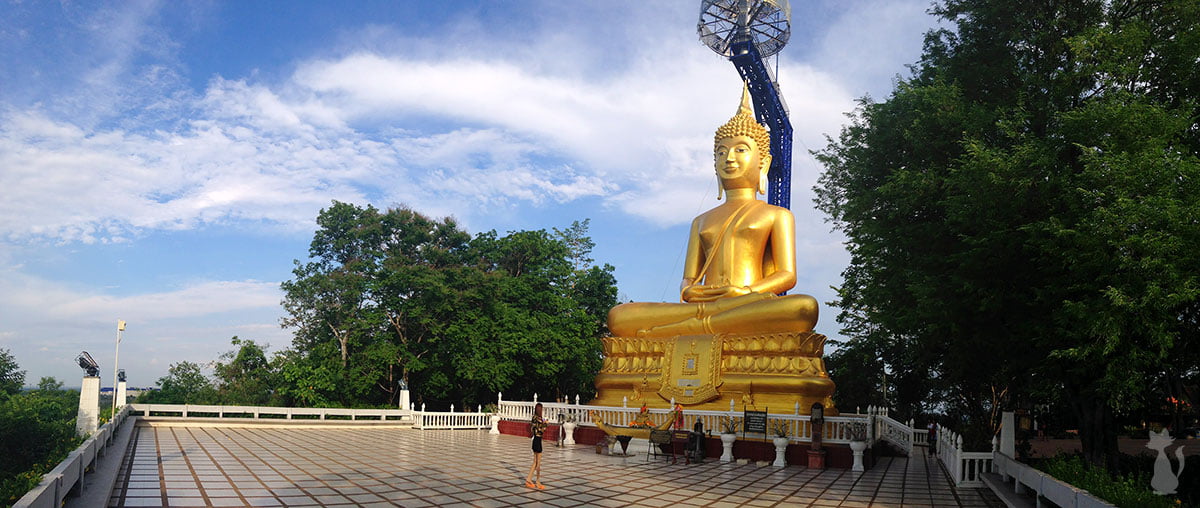 Once an active volcano, the Khao Kradong Forest Park makes a popular relaxation spot. You can either drive up to the top of the 265m high mountain with your own vehicle or take the 297 steps leading to the viewpoint where an impressive sitting Buddha image (Phra Suphattharabophit) is located, as well as a replica of the footprint of the Buddha called Prang Ku.
On the top is also a pool which is believed to be the mouth of the volcano. The views of Buriram town and the province are beautiful. The crater of the extinct volcano can be visited and crossed on a hanging bridge. The park is also home of quite a few interesting indigenous plants, animals and birds.
Watching a Football Match of Buriram United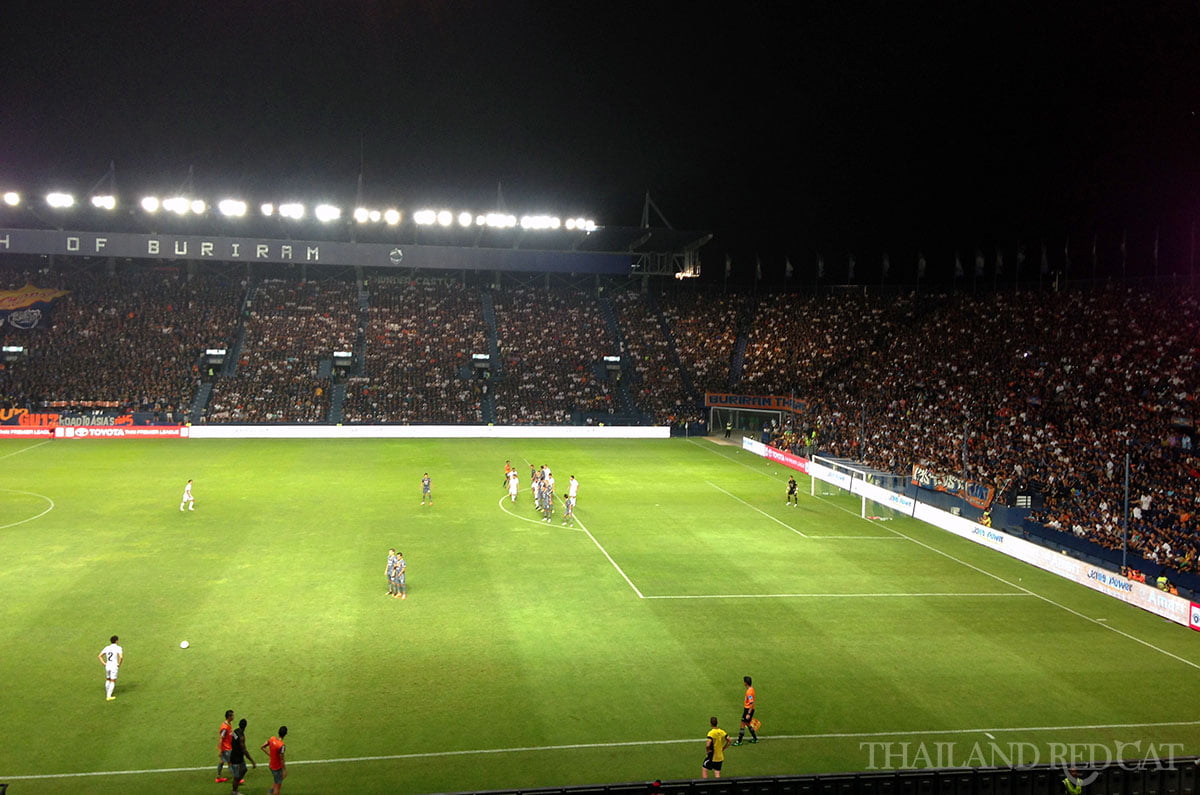 A visit to Buriram without a trip to the Chang Stadium is like a trip to Manchester without a trip to Old Trafford. Even if you can't get a ticket for a Thai League match of Buriram United or there is just no match scheduled while you are in town, there are tours offered daily that allow you to go inside the stadium, the players changing room, the press room and more.
I had the chance to watch the Thai League match Buriram United vs Muangthong United in the "Thunder Castle" and it was a great experience. The stadium is super modern and with its 32,000 seats also the biggest private owned stadium in Thailand. The atmosphere is outstanding as the fans of both sides are enthusiastically cheering for their clubs.
Find the full post about watching a football match in Buriram as well as more pictures and my video here.
Buriram Castle
A perfect place to take your date in Buriram is to visit the new Buriram Castle – a mix of shopping mall and outdoor market. The setting is really beautiful and romantic, and they also have a replica of Phanom Rung (see below). Check out some pictures here.
Khmer Temples
There are 259 Khmer ruins in Thailand, out of which 50 can be found in the Buriram province. Among them are two of the three most significant sites in the country:
Phanom Rung Historical Park
Prasat Muang Tam
Phanom Rung Historical Park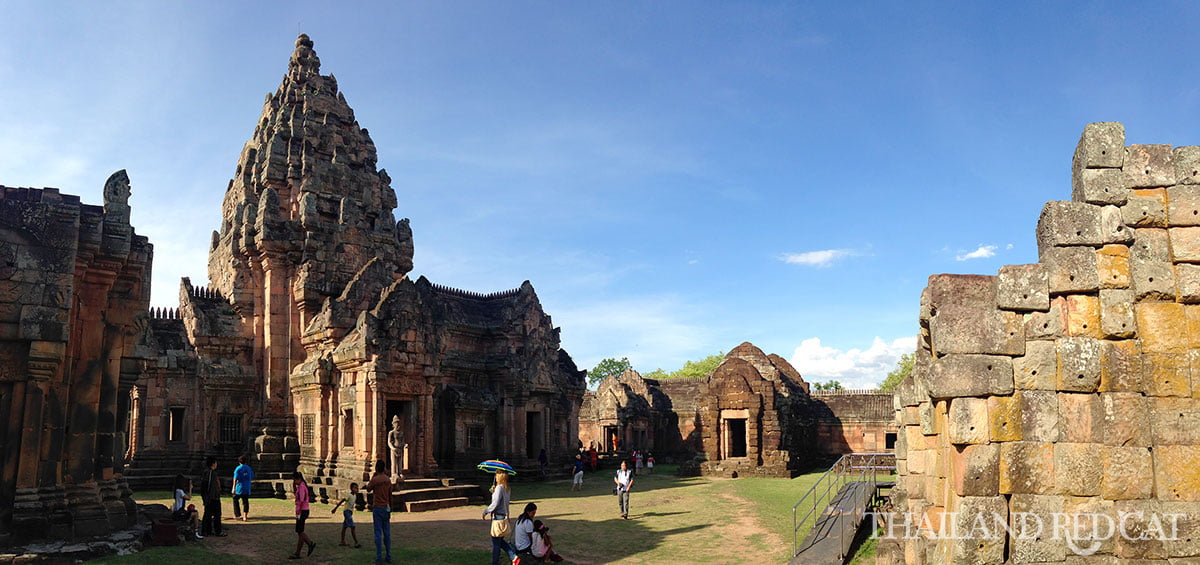 Crowning on top of a extinct volcano 60km south of Buriram town, Phanom Rung is the largest and best restored Khmer site in Thailand. The name of the temple is in Khmer and means "big mountain". It's 400 meters high and offers fine views of the surrounding rice fields, on clear days even the Dangrek Mountains on the Cambodian border are visible to the southeast.
Phanom Rung was built sandstone and laterite between the 10th and 13th centuries during the reign of King Suriyavarman II, a Hindu shrine dedicated to Shiva and symbolizing Mount Kailash.
The temple faces east and the sun shines through all 15 sanctuary doorways four times a year : During sunrise from 3 to 5 April and 8 to 10 September and sunset from 5 to 7 March and 5 to 7 October. Events are being held on these occasions, the biggest one being the Phanom Rung Festival in April.
Phanom Rung National Park is open daily from 6am to 6pm. The admission fee is 100 Baht for foreigners and 20 Baht for Thai people. Parking fees of 10 Baht apply for bicycles, 20 Baht for motorcycles and 50 Baht for cars.
How to get to Phanom Rung Historical Park:
From Buriram town, take a songthaew (20 Baht, 30 minutes, every 30 minutes) on the eastern end of town or a Chantaburi bound bus from the bus station to Ban Ta Pek. From there, a motorcycle taxi costs 200 Baht to Phanom Rung.
Prasat Muang Tam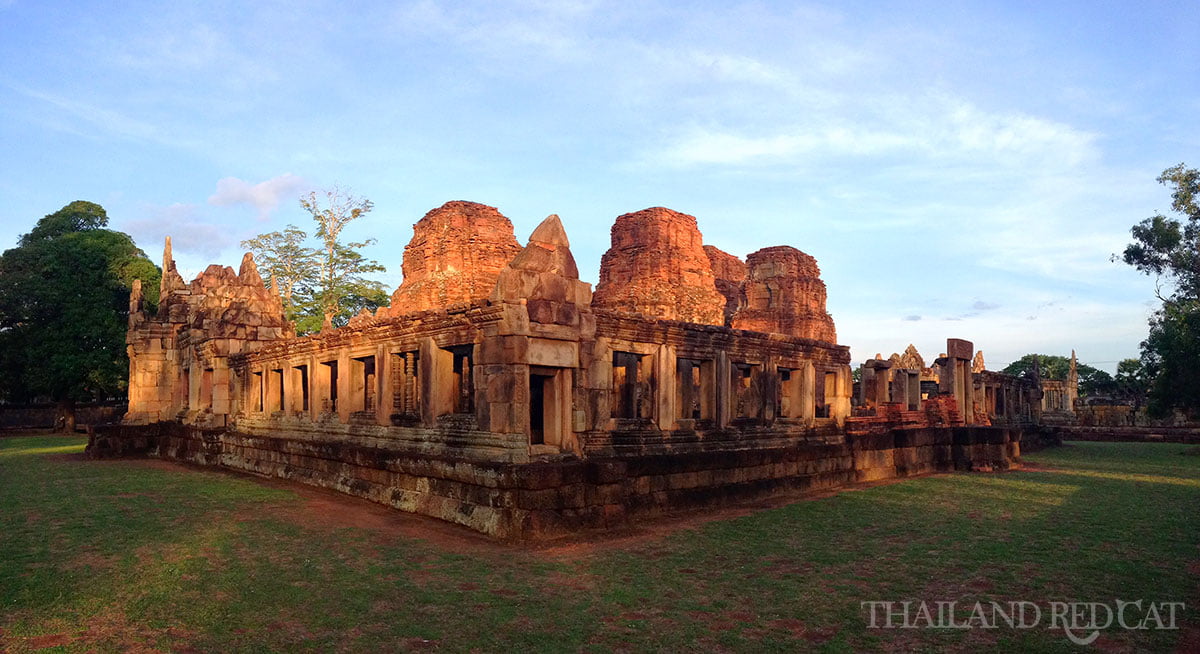 Prasat Muang Tam means literally "stone castle of the humble city" and is considered the third most significant Khmer complex in Thailand in terms of size, sophistication of architecture and quality of restoration. It was constructed during the late 10th and early 11th century under King Jayavarman V with the deities worshiped being Shiva and Vishnu.
Enclosed by laterite walls, the complex consists of a central sanctuary and two libraries. They are surrounded by five prang and four lotus-filled reservoirs, each of them guarded by a five-headed naga.
There is a 510m by 1090m reservoir called Barai Muang Tam just opposite the temple which represents a surrounding ocean while the five prang represent the five peaks of Mt Meru, the home of the Hindu gods. The same concept can be found at Angkor Wat in Cambodia.
Prasat Muang Tam is located 8km southeast of Phanom Rung. It's open daily from 6am to 6pm and the admission fee is 100 Baht for foreigners and 20 Baht for Thai people. Parking is free of charge.
An admission ticket for both Phanom Rung and Prasat Muang Tam is available for 150 Baht at either location.
King Rama 1 Monument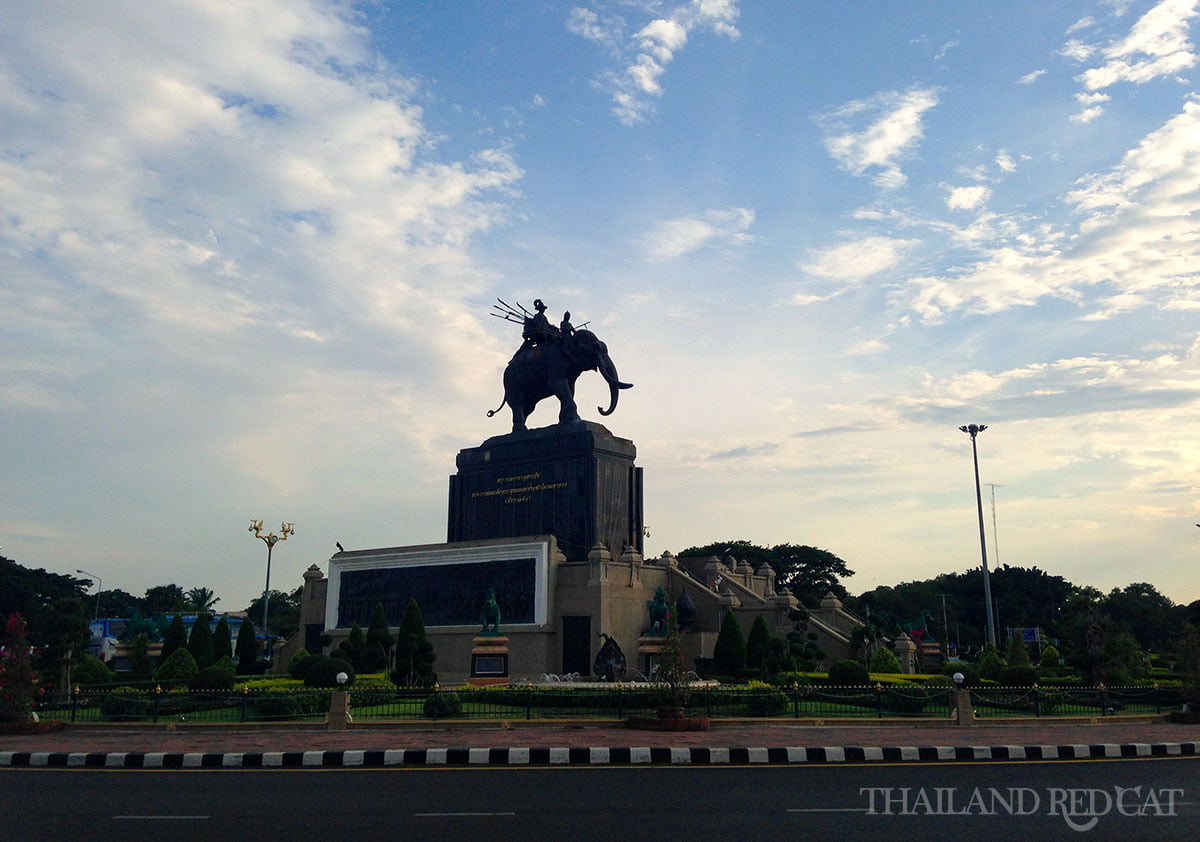 Probably the nicest and most picturesque landmark in town, the King Rama 1 monument called Somdet Phra Phutthayotfa Chulalok Maharat Commemor is located at the southern end of Buriram. King Rama 1 was not only the founder of the Chakri dynasty but also of Buriram town before he became King.
The City Pillar Shrine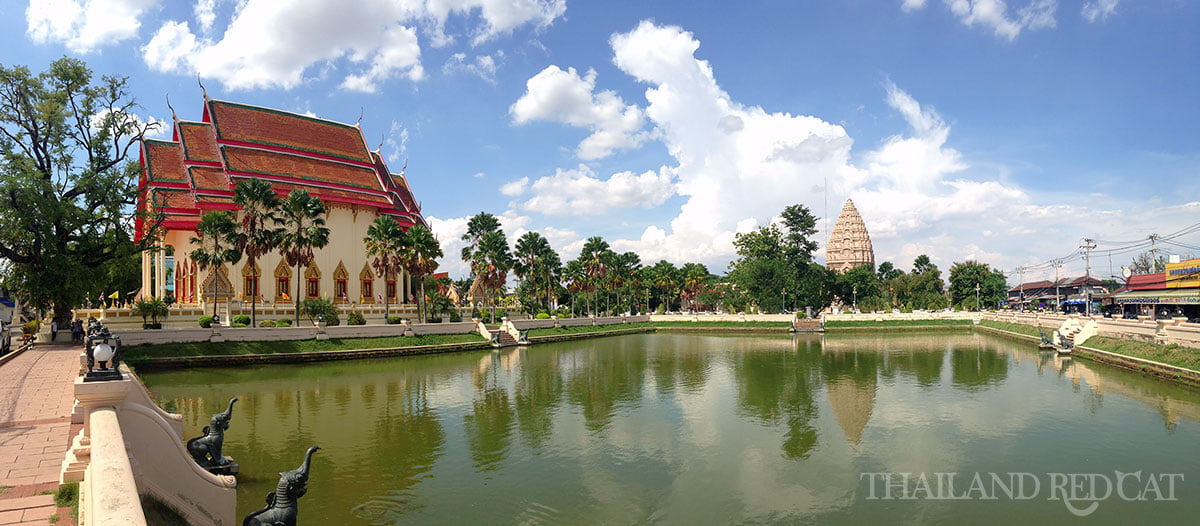 Typical for many towns all over Thailand: The city pillar shrine (in Thai: หลักเมือง, Lak Mueang) located in the center of the town. It's an old Thai tradition that a city pillar has to be built upon the establishment of a new town. It is highly revered by the citizens and considered to be the home of the town's guardian spirit.
In the picture above the city pillar shrine is to the right (Khmer architecture style that relates to Buriram province's history and identity) and right opposite the "central temple": Wat Klang Phra Aram Luang (วัดกลางพระอารามหลวง).
Map of Buriram Highlights
Videos of Buriram Highlights