Koh Tao has a strong reputation for quite a few things. It's marketed as the number one diving spot in Thailand by the southern Thais, and therefore every year thousands of travelers from all over the world come here to do their PADI (the worldwide most widely recognized scuba diving license).
Then there's a huge community of young westerners (hippies, backpackers etc.) on the island, some of them spending most of the time of their gap year here to chill with like-minded people, while others actually work (usually illegally without work permit) as bartenders in the beach bars or as a diving instructor.
You have probably heard about the regular bad news on Koh Tao, when people get brutally killed or mysteriously disappear. And that's obviously partly because of the, well, weird crowd on this island. These young guys and gals, many of them first timers to Thailand, often think they own the island and it's their little paradise and they can do what they want. The local Thais usually don't have a problem with that, as long as they get their share, and maybe they also think that even bad publicity with all the terrible incidents is good promotion.
But you know, I wouldn't let the above influence your decision on whether to visit Koh Tao or not.
I'm not a backpacker, I don't smoke weed, I'm not a diver, and I don't let the news scare me to visit one of Thailand's most beautiful islands. Because that's what it is: A little tropical wonderland with gorgeous beaches. If you think I'm exaggerating here – I don't. The beaches here are better than anywhere on Samui and Phangan, and most of the islands in the Andaman Sea as well. Just scroll down and skim through the post to verify that before continuing reading.
And no, I'm obviously not talking about Sairee Beach here: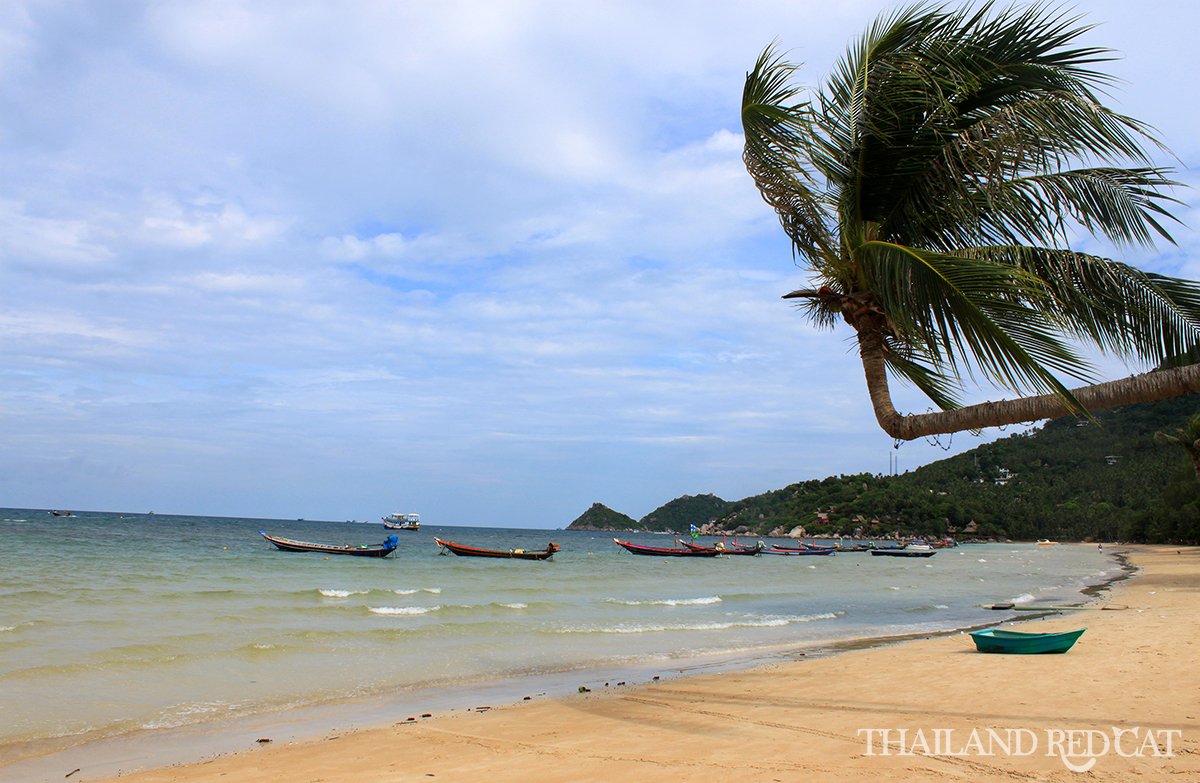 That's the main tourist beach and probably where you will be staying, but the beach itself isn't that nice (well, nice to look at from the bars, but not nice to swim). It's great to be based here though as there are many restaurants, beach bars and shops, you can get boats to Koh Nang Yuan and easily rent a motorbike to explore the other parts of the island I'm about to talk about. Oh, and it also has by far the best nightlife on Koh Tao.
By the way, you don't need to take a taxi (songthaew) from the pier to your hotel on Sairee Beach. There is a nice beach promenade leading from the pier to Sairee Beach. So you can walk there in about 20 minutes, and save up to 100 Baht for the overpriced taxis.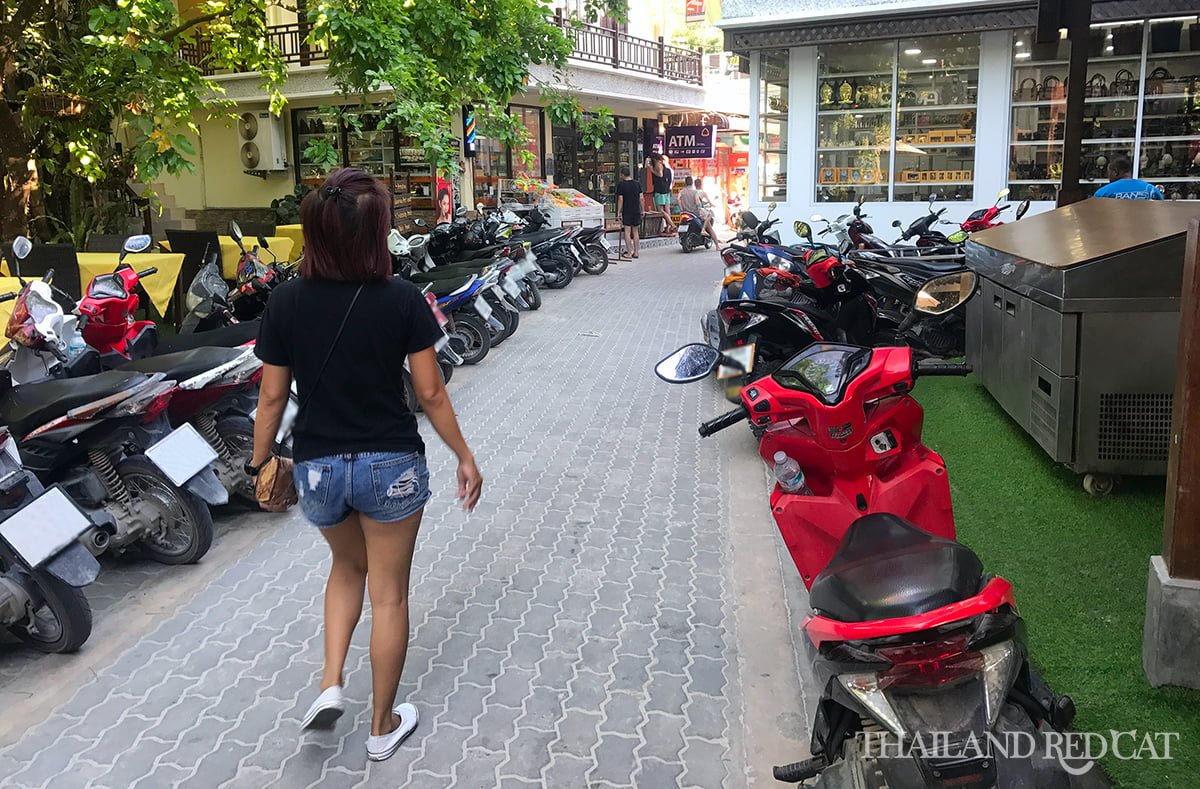 I stayed at Ban's Diving Resort which is the biggest accommodation on Sairee Beach with all different types of bungalows and rooms.
I got a nice room there for just about 1,500 Baht per night.
Let's go through the different places (and activities) you should not miss on your trip here:
John-Suwan View Point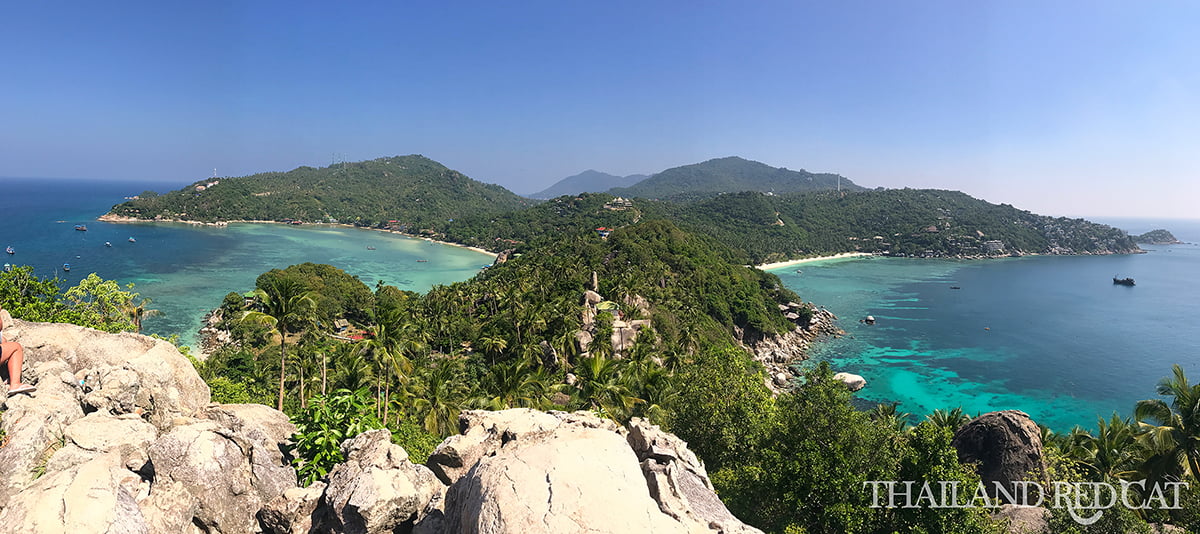 No, that's not Koh Phi Phi, but Koh Tao. It looks very similar to the famous view point on Phi Phi, but this is even more beautiful (and you can actually swim in these beaches!). The John-Suwan View Point is located in the southern tip of the island, and provides magnificent panoramic views over Chalok Baan Kao Beach on the west and Shark Bay on the east.
You will definitely need a motorbike to drive there. Well, you can also take a songthaew taxi, but I inquired and they quoted me 500 Baht for a return trip. It's just 300 Baht for 24 hours to rent a bike, and like that you can go to the other highlights on Koh Tao, too.
Important: Don't trust the GPS on Google Maps. It led me on the wrong route. The location on the map below is correct, but you need to drive to Freedom Beach, and from there walk up the trek to the viewpoint (15-20 minutes).
There is an entrance fee of 100 Baht, which includes a daily access to Freedom Beach, John-Suwan View Point and Chalok Baan Kao Beach (see below).
Beach Walk from Freedom Beach to Taa Toh Lagoon Beach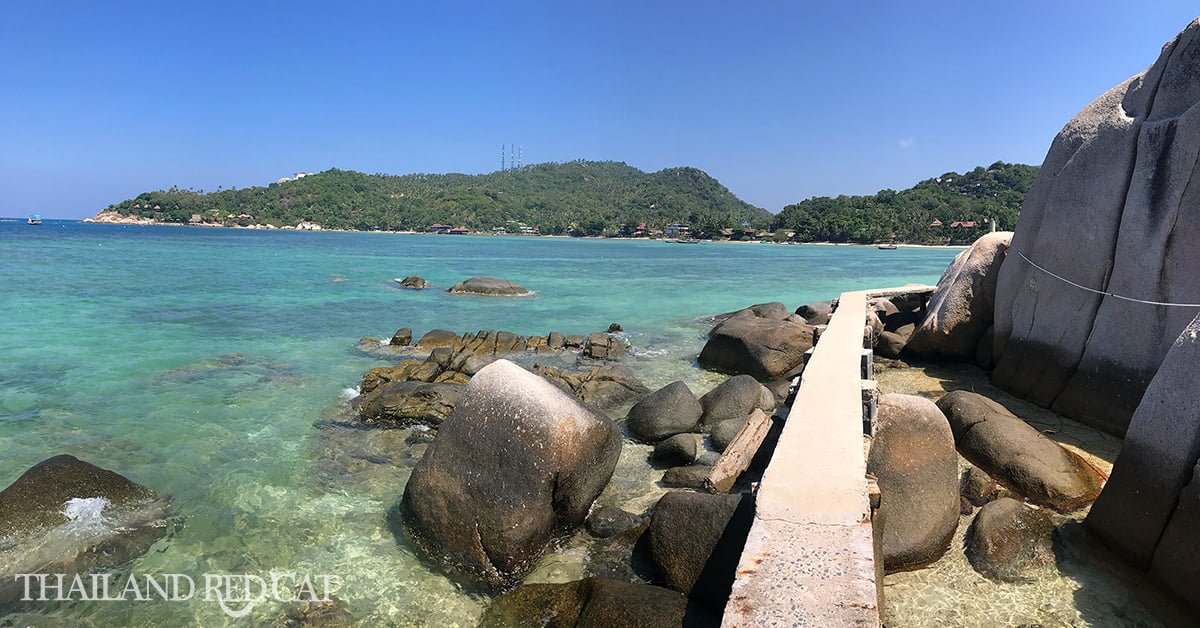 After you have soaked in the fantastic views at John-Suwan View Point (see above), you can just walk all the way down to Freedom Beach. That beach itself is pretty awesome and worth to relax on your towel for a while.
From there you can walk on the narrow, concrete walk that the locals have build, all the way to the neighboring Taa Toh Lagoon Beach. Again the views are superb, and it's really tempting to just jump into the crystal clear water and walk there. You will even see lots of fish in that area.
Make sure to check out my video of that beautiful walk at the end of the guide.
3 Best Beaches on Koh Tao
Freedom Beach

After you have completed the paved walk over the water (see above), you will reach one of the most beautiful beaches on Koh Tao: Freedom Beach.
There are surprisingly few tourists, and it's a great spot to take a swim, before you cruise to the next beach for lunch.
Benjamin Baer Beach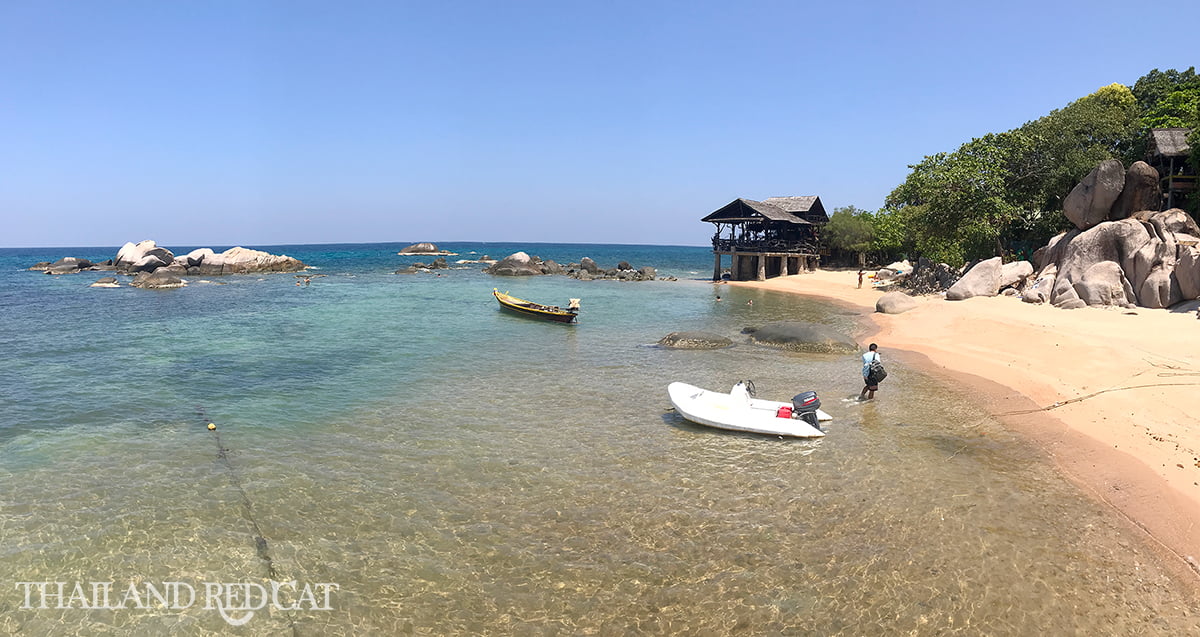 The road to Benjamin Baer Beach is extremely steep, so you really need to be an experienced driver. Not like most of the Farang women who want to "learn driving" on the Thai islands.
Benjamin Baer Beach has 3 very scenic restaurants right on the beach. My girlfriend and I stopped here for a seafood lunch. Similar like on Freedom Beach, there are not that many tourists here. This is also a nice snorkeling spot, especially around the rocks you can see in my photo.
Ao Tanot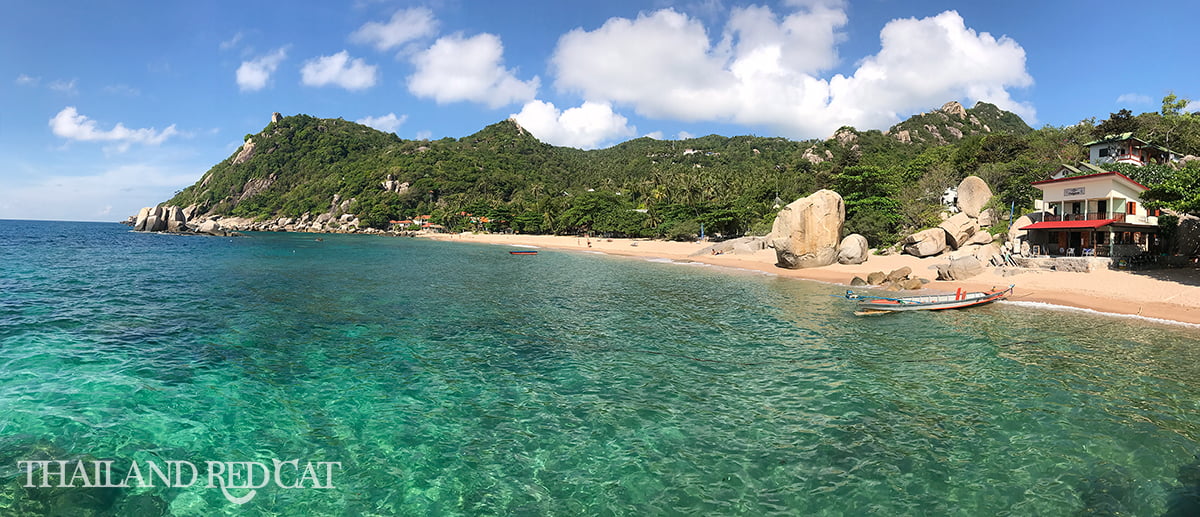 This beach on the east coast of Ko Tao looks better on the picture than in reality (unlike the girls pics). We just visited it quickly on our second morning. People don't usually come here to relax and swim, but rather to stay in the resort that offers diving courses.
(Half) Day Trip to Koh Nang Yuan
The number one highlight of every trip to Koh Tao is to take a trip to the small island of Koh Nang Yuan.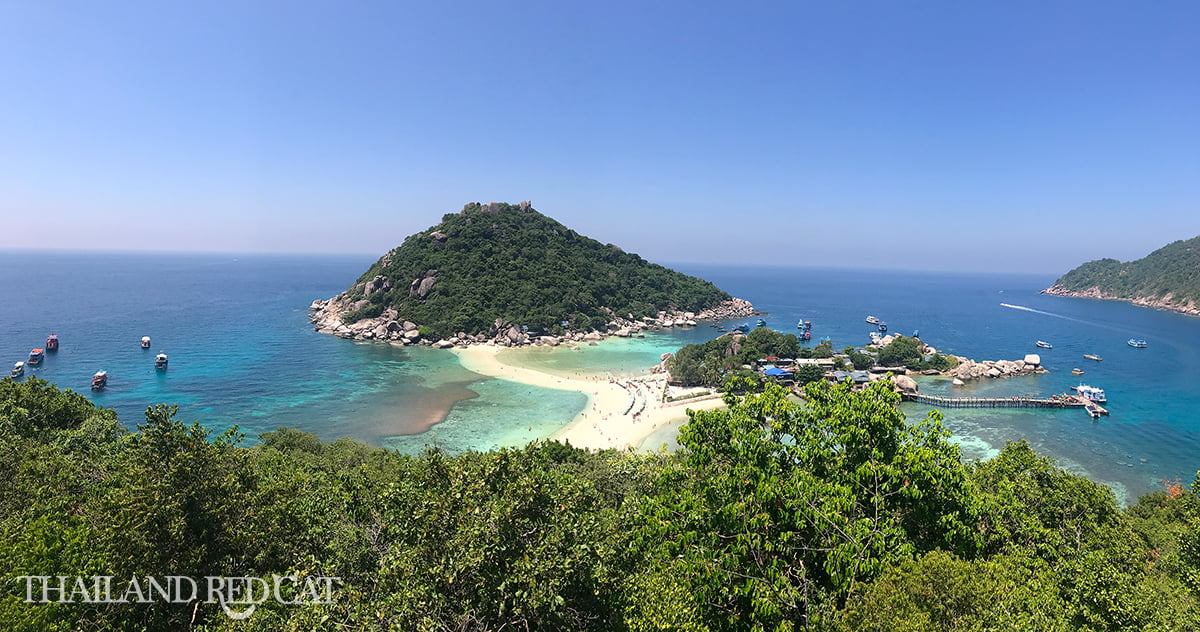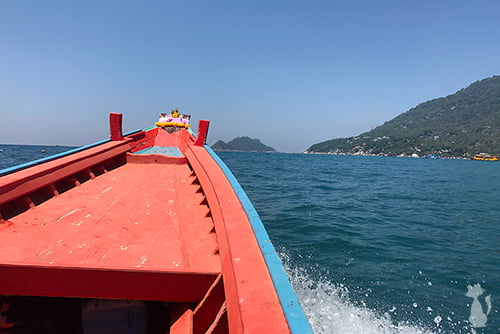 To get there, you have to take a longtail boat on Sairee Beach. The standard price is 300 Baht per person (return), but I and my girlfriend bargained it down to 500 Baht for the two of us. And it was a private cruise, no other people. Romantic and fun 10-15 minute cruise.
Once you have arrived at the pier on Koh Nang Yuan, your captain will probably offer you to rent snorkeling equipment. It's just 50 Baht per person, and really worth it since the water here is crystal clear and the fish are plentiful.
Additionally they charge a 200 Baht entrance fee to the island, and bottles are not allowed on the island. You will need to buy your water in one of the expensive shops (50 Baht for a small bottle).
Yes, that all adds up so you can expect to pay about 600 Baht per person – but of course it's really worth it.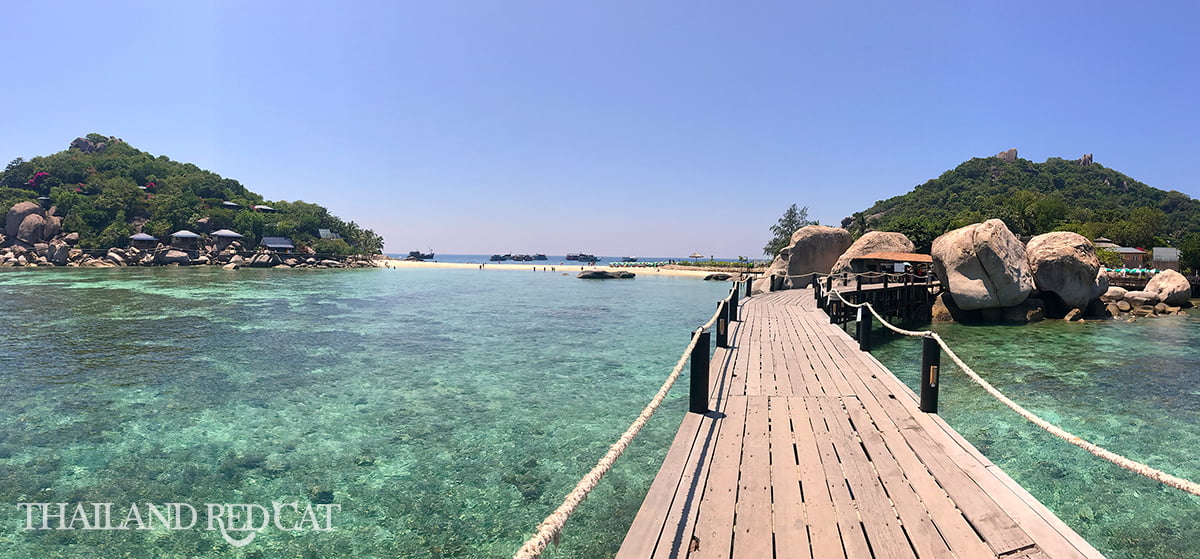 We first walked along the scenic board walk and up to the famous view point (first photo above).
After we got back down, we found a nice and shady spot on the beach and jumped into the water for swimming and snorkeling.
Paradise.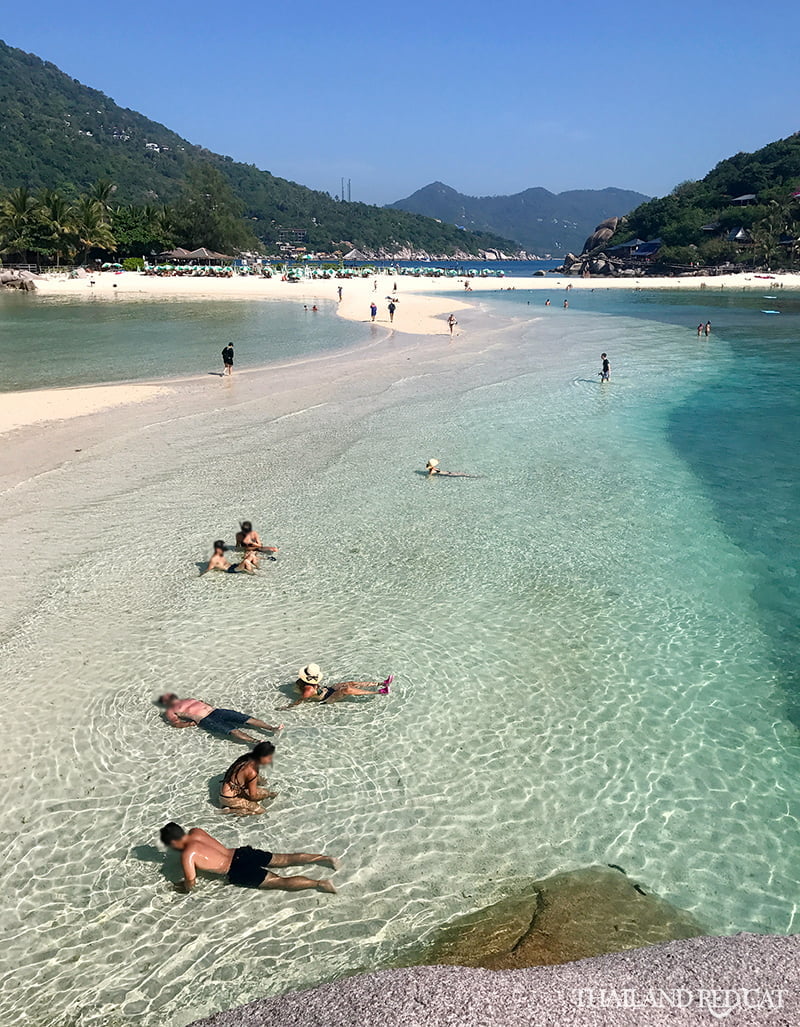 We spent almost 4 hours there, and apart from the beach, there were also other nice "things" to look at.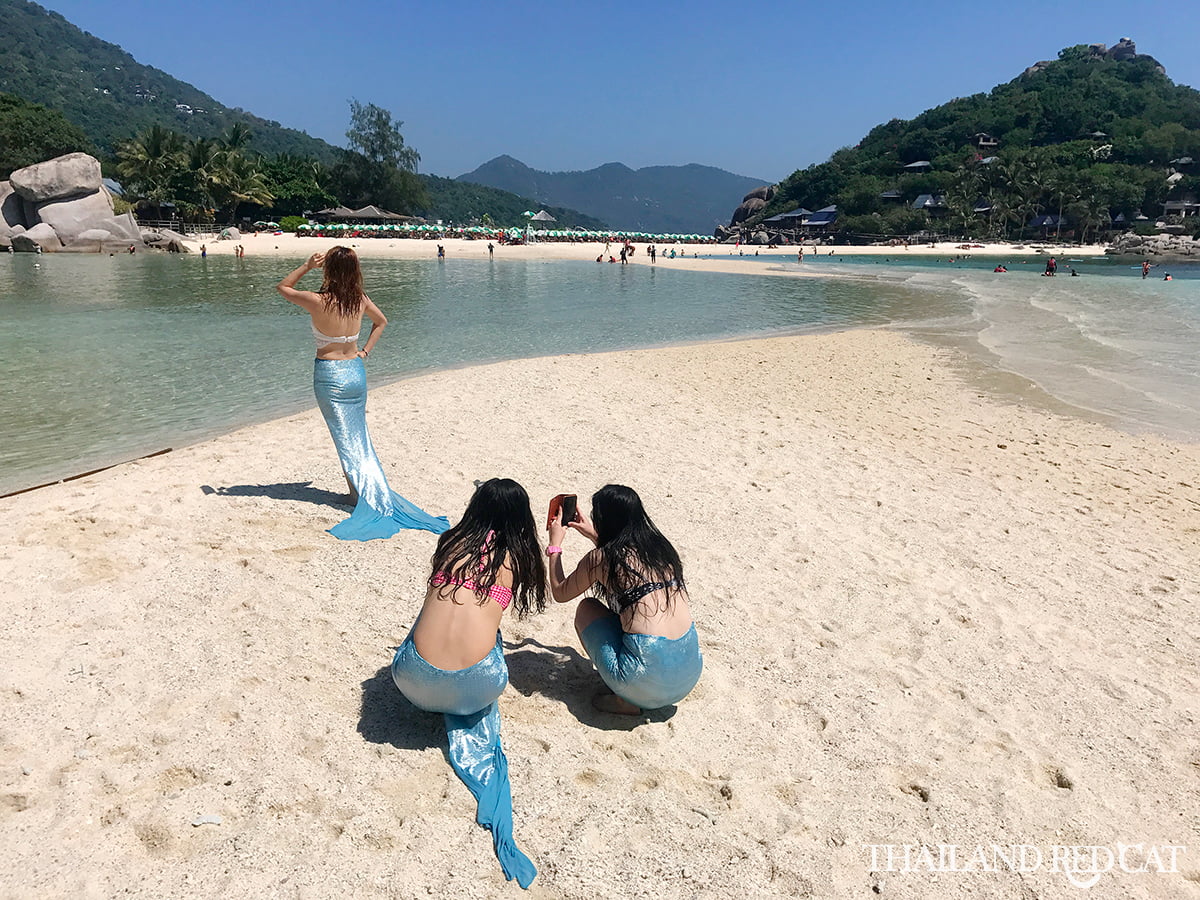 Even though there are a lot of tourists in that place, it's surprisingly easy to find a quiet and romantic spot somewhere in the water.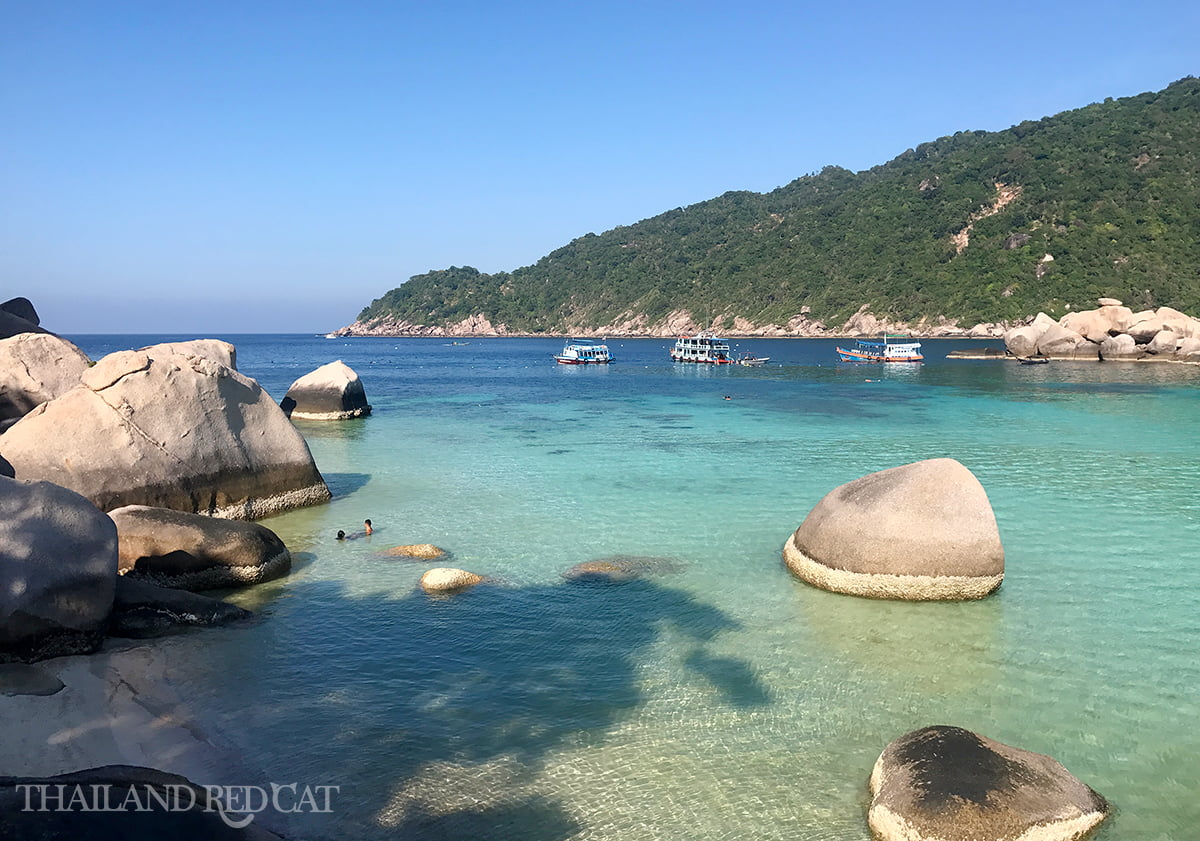 Note that Koh Nang Yuan "closes" at 5pm, so you cannot watch the sunset here. Not a problem though, just cruise back at 5pm and enjoy the sunset on Sairee Beach at one of the many beach bars and restaurants: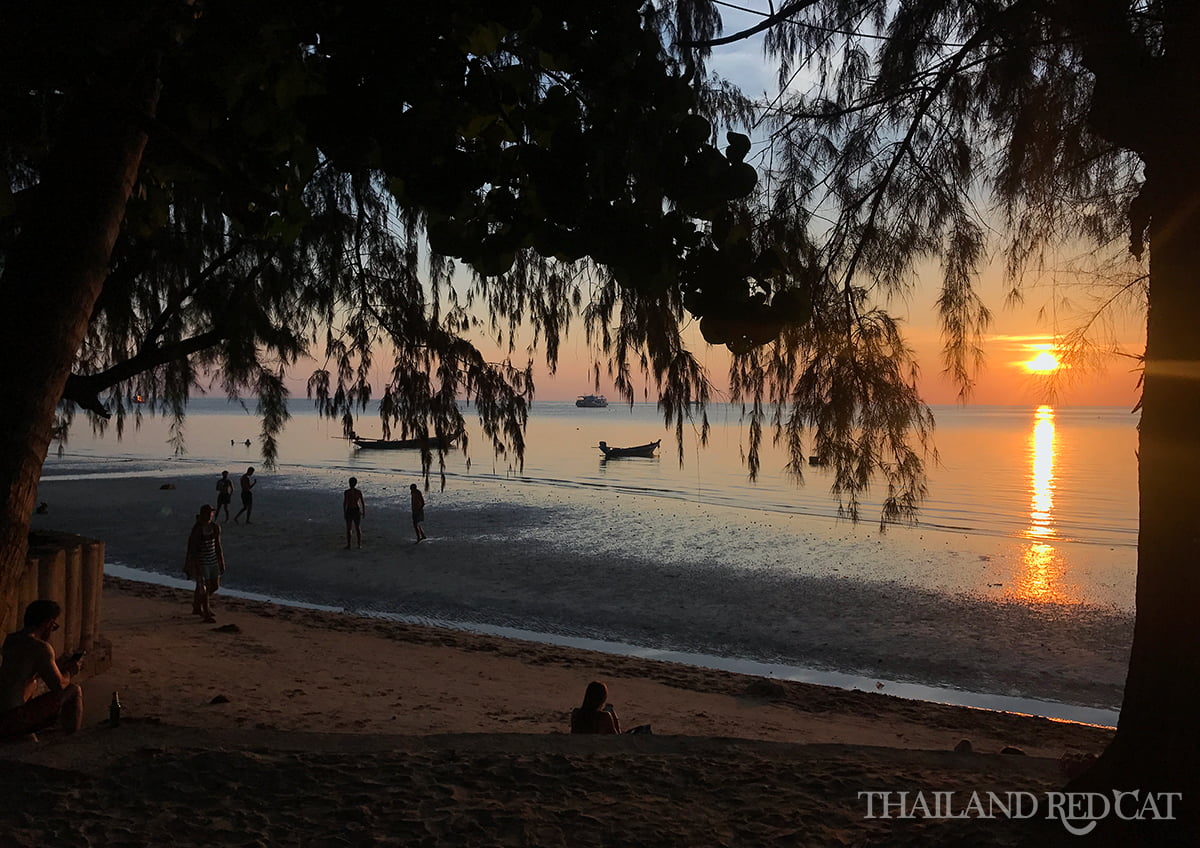 Scuba Diving on Koh Tao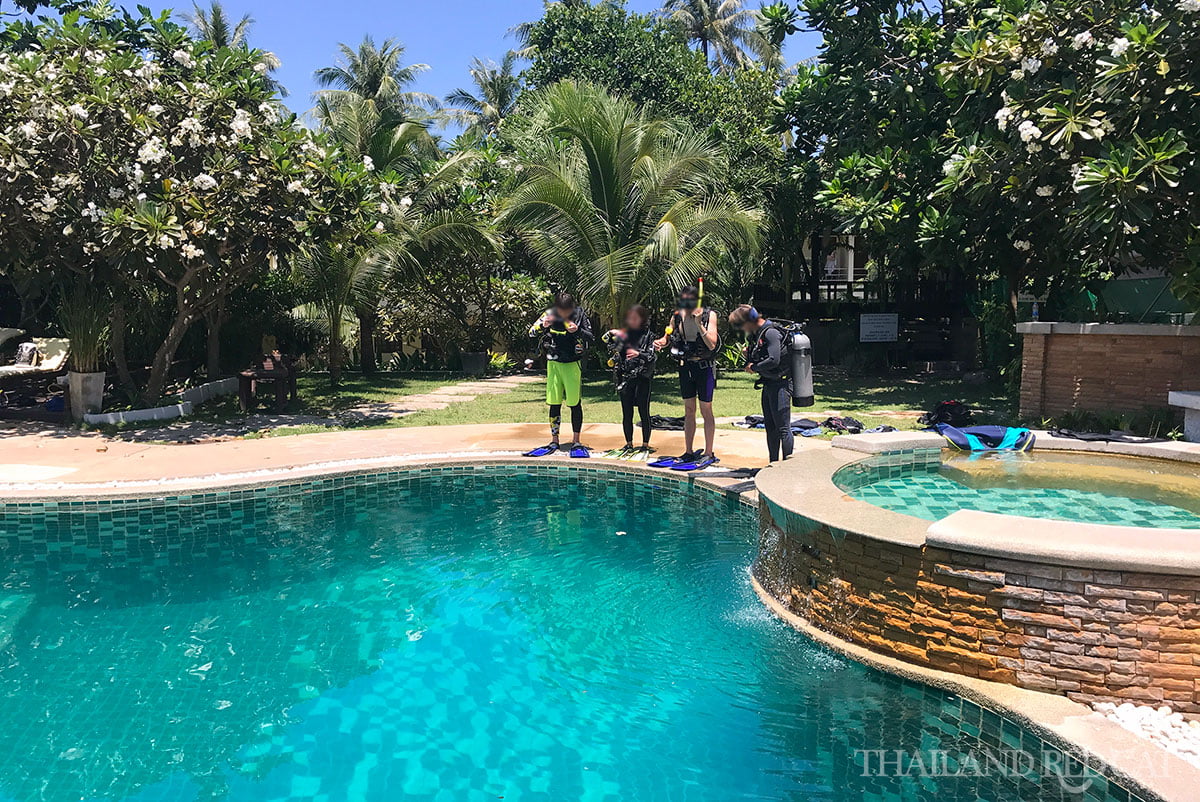 For about 8,000-9,000 Baht you can do a 3 day open water scuba diving course on Koh Tao, including the PADI certificate that allows you to dive all over the world.
But that's all I know about it, I haven't done this myself yet. For more info you can check out Ban's Diving Resort, Big Blue Diving or Simple Life Divers, which are some of the most popular tour operators, or read through the reviews on TripAdvisor.
So that's the highlights on Koh Tao, have fun!
Map of Koh Tao Highlights
Videos of Koh Tao Highlights