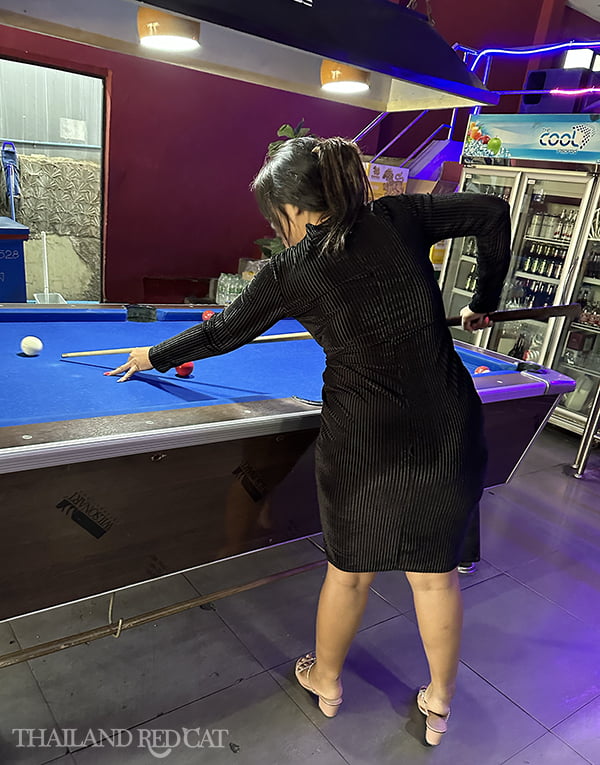 The pace of life in Buriram couldn't be more slow during daytime, but once sun has set and temperatures drop a little you will see that the 30,000 citizen town really comes to life.
While there aren't nearly as many nightlife areas and venues as compared to the neighbor provinces of Khon Kaen and Korat, the couple of night clubs, bars and karaoke places are well visited every day.
Thai girls in Buriram are beautiful and easy going. If you walk around town as a single foreign guy you get smiles from the girls all the time and breaking the ice with them happens in no time. Even the beautiful white skinned girls that could work as models in Bangkok aren't arrogant at all and do try to make eye contact with you in the bars.
Most of the nightlife action in Buriram takes place around the Victoria Entertainment Complex on Thani Alley, 300m south of the railway station.
What is going on in Victoria, what are the best bars, clubs, karaokes and naughty massage places and where they are located – below is the guide to nightlife in Buriram:
Victoria Entertainment Complex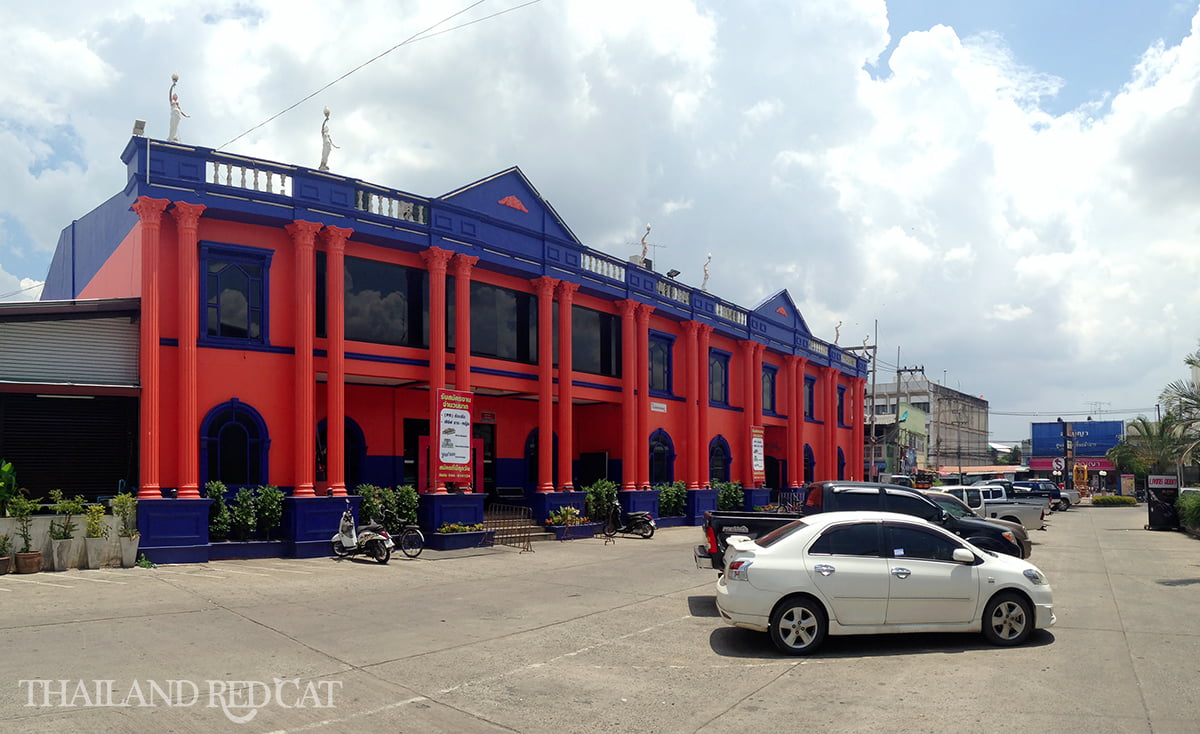 This complex built in neoclassic style is home to Buriram's most famous karaoke bar: Victoria. It's divided into two floors. There are standard karaoke rooms for you and your friends downstairs, but if you walk up the stairs you will find a wide selection of girls available for company. There are some really beautiful white skinned girls even though they aren't the tallest.
The rate for the karaoke rooms downstairs is 135 Baht per hour downstairs and 150 Baht per hour upstairs. There is an additional charge of 200 Baht per hour for the girl. Note: You may either have a good time with her in the karaoke room or take her out to sit and drink at another place – if she likes you she will also go to your hotel for short time. The standard price they ask for is 2,000 Baht, but of course that's negotiable and 1,000 Baht is quite a common bargain.
A big bottle of beer in Victoria costs 90 Baht plus 30 Baht for the ice. One thing to be aware of, the mamasan will usually try to choose a girl for you and then it's another 100 Baht extra on the bill for the service of her recommendation (Kaa Nae-Nam, ค่าแนะนำ).
Victoria Karaoke is open daily from 11am to 2am. If you want to take a lady from the second floor don't come too early as most of them start working at around 8pm.
There is also a snooker bar on the first floor as well as a dancing school upstairs (next to the karaoke rooms, but you have to use the right entrance of the building instead of the left one for karaoke).
Small Karaoke Bars in Buriram
A couple of small karaoke bars can be found along Injannarong Road. If you pass them the girls will even try to lure you in talking to you in English. There is no charge for the girl to sit with you, but they ask for lady drinks. Big beer is 100 Baht, ice extra 20 Baht. Drinks for the girls starting from 80 Baht for a coke. The karaoke itself is around 100 Baht per hour or some places charge 10 Baht per 2 songs. You don't have to do karaoke if you don't want to.
Most girls will offer you short time for as low as 800 Baht. There are also a few street hookers hanging out on the street offering the same for similar prices. The karaoke bars open at sunset and close at midnight.
Nightclubs in Buriram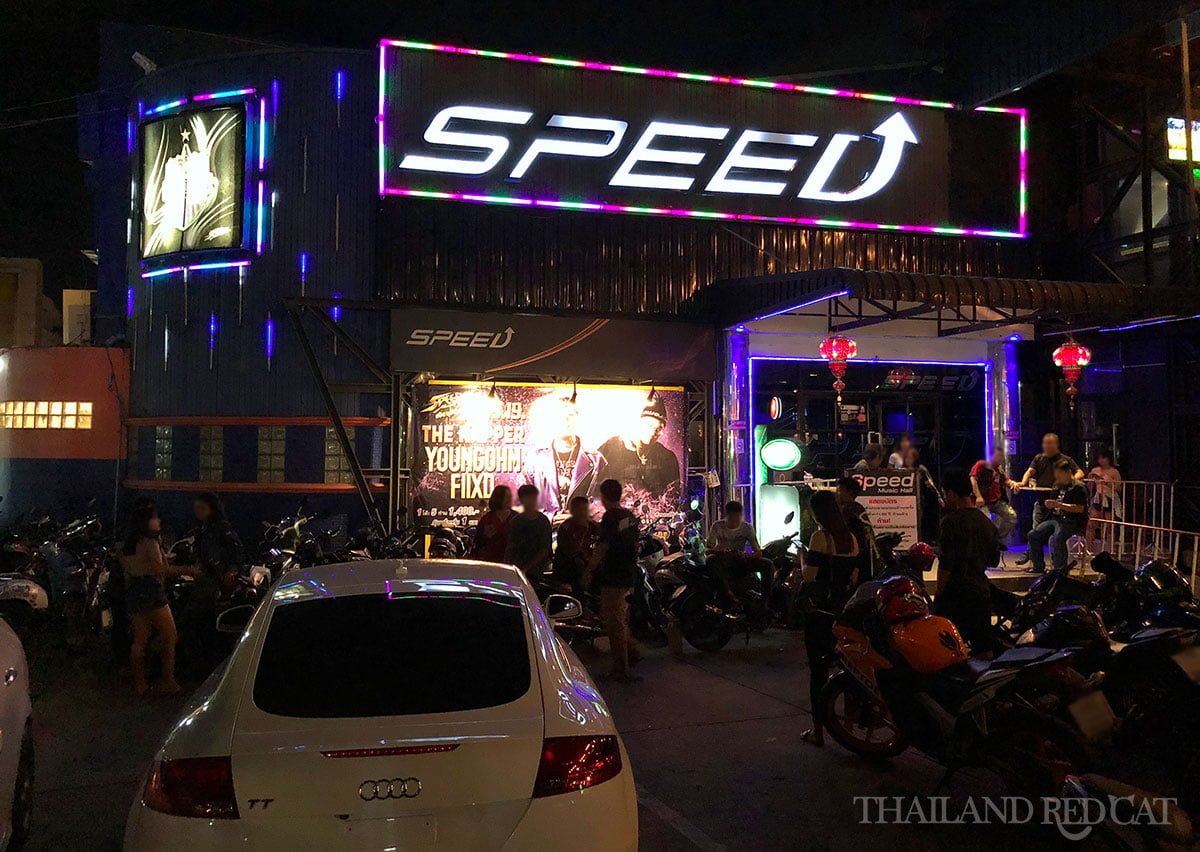 There are two nightclubs in Buriram and they are both located opposite Victoria. Speed Music Hall is the typical Thai club with people gathering around small tables and almost all of them sharing a bottle of Blend Thai whiskey or Red Label.
This place is packed every single night and especially during the weekend you will see some of the best looking Buriram ladies you can imagine. There is a live band playing Thai hits and once they are finished a group of sexy dancers enters the stage (see the video below). Note that since this is a Thai club it gets quite loud after midnight.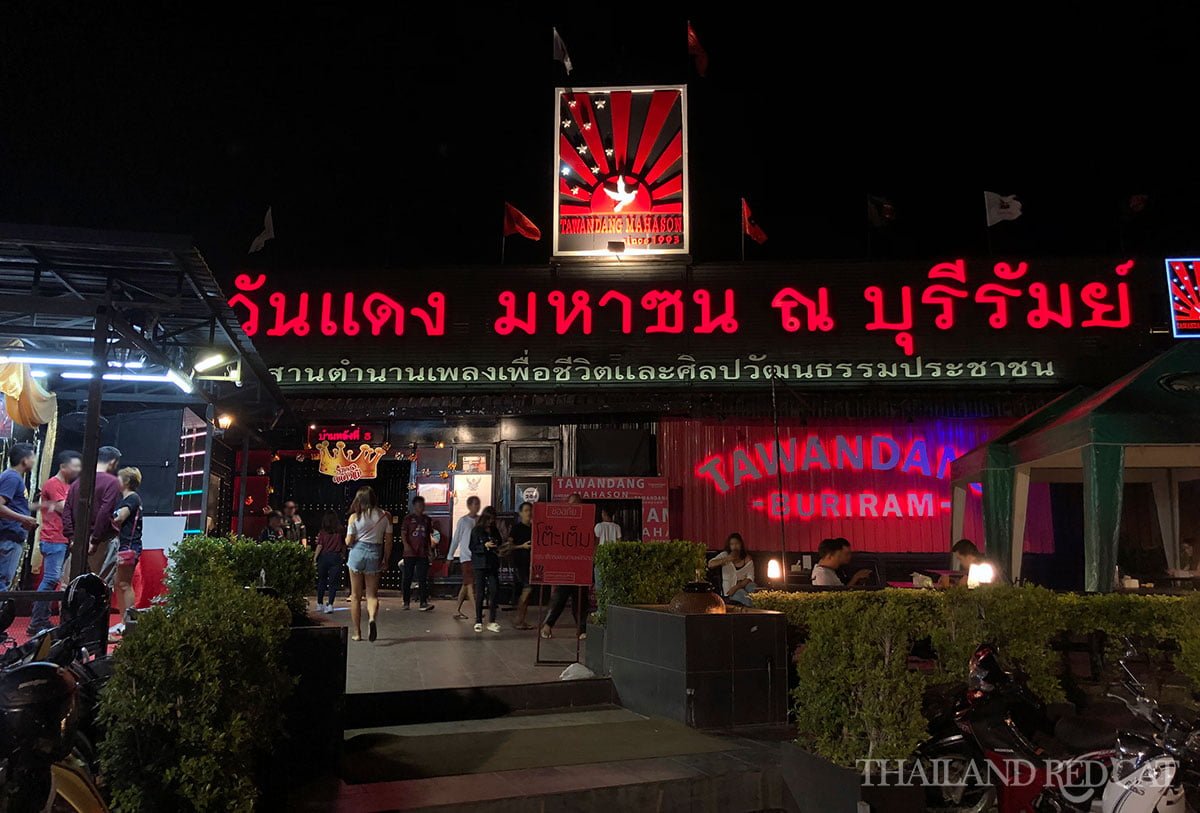 The other night club just 50m from Speed Music Hall is Tawan Daeng. You wouldn't think of it as a night club if you come here before midnight as most people are just having dinner while watching the live music show with young local girls in traditional Thai dresses dancing to Isaan folk music on the big stage.
It is not as dark and loud as the neighboring Speed, instead you sit together with your group or go to the small dance floor in front of the stage from time to time. The Thai waitresses are pretty hot, by the way.
Both Speed Music Hall and Tawan Daeng are open daily from 10pm to 3am.
Bars in Buriram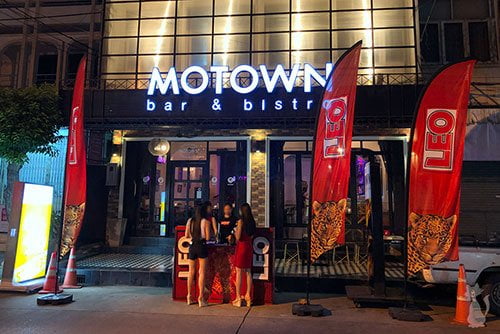 There are about half a dozen of bars clustered on the square opposite of Victoria (left picture) and the two night clubs (see above). Some of them have big TV screens showing live sports, pool tables and live band performances.
Just 2 minutes walk around the corner from Victoria is Motown Bar & Bistro. Very popular bar especially for the locals with live music and they serve food, too.
The best kept secret of bars in Buriram might be Nekromantix, a small but neat place that is somewhat hidden away on Thani Road just opposite the railway tracks. They have more than 30 different international beer brands on the menu and probably the only live band in town that plays international music.
There is a new nightlife area with about 15-20 bars in a horseshoe shaped street off Jira Road (right picture). It's mostly young Thais drinking and partying there but can be quite fun to go as a foreigner as not many have heard about this place (yet).
Farang Bars in Buriram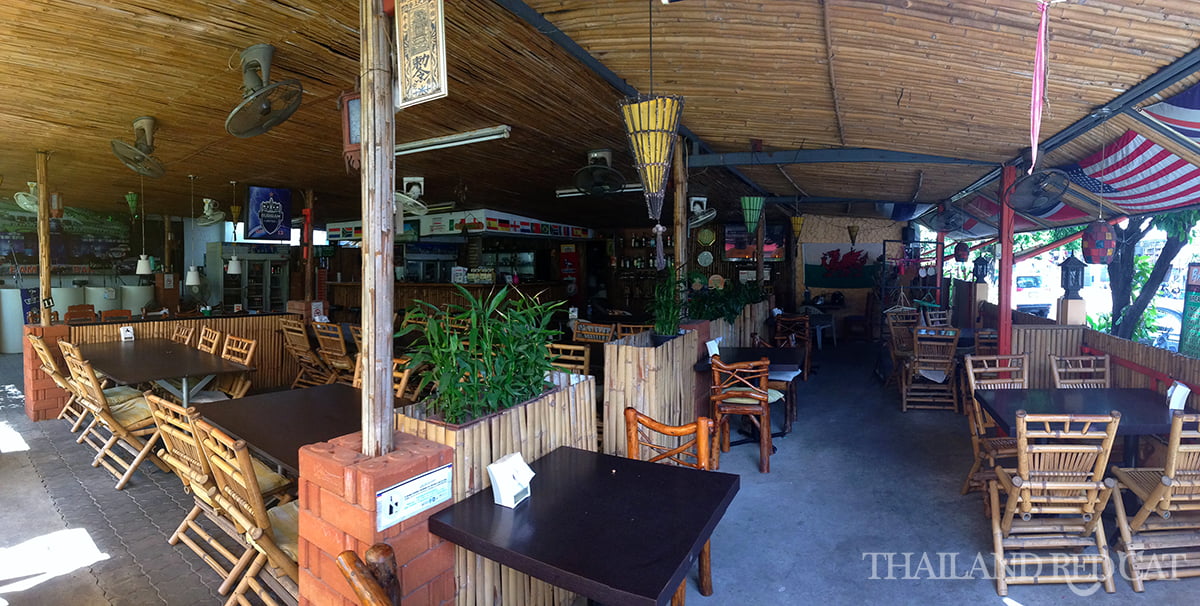 Just 50m around the corner from Victoria is the Farang owned Bamboo Bar. They also serve food and it's a popular hangout spot for Farangs watching live sports on the big TV screens while being accompanied by local Buriram ladies. Some of them are freelancers, some are not.
There is another popular Farang hang out on Anuwat Road called Paddy's Irish Bar. It's popular among foreign expats sitting together and chatting about Isaan and the world.
Soapy Massage Parlors in Buriram

Buriram's only soapy massage parlor is at the Thep Nakhon Hotel, it's called Taramanee. The entrance is on the right side of the building, stairs with red carpet are leading up to the parlor. The price is 2,800 Baht for 1.5 hours including everything (I found out this price is exclusively for foreigners while Thais pay 1,800 Baht). The girls in the fishbowl couldn't be more white skinned and stunning.
Taramanee is open daily from 1pm to midnight.
Happy Ending Massage in Buriram
Quite a few small regular massage salons can be found on Bu Lamduan and Nivas Road. Rates for the services are generally 150 Baht for a foot massage, 200 Baht for a Thai massage and 300 Baht for an oil massage. If you are lucky and the girl likes you, she might give you some special treatment in the area between your legs.
Night Markets in Buriram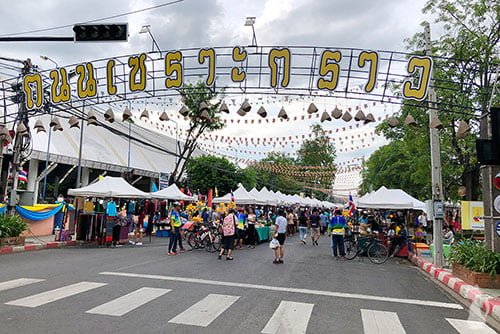 The Buriram Night Bazaar is a nice place to come for cheap but tasty local street food, shopping of fresh fruits and all different kind of snacks. Right next to the food stalls are vendors selling clothes and other fashion products at bargain prices.
And if you are in town on a Saturday or Sunday, make sure to check out the hugely popular Buriram Walking Street on Rom Buri Road. It's open from 4pm to 10pm and you'll find some of the most delicious street food, drinks, Thai deserts and even some fashion and more surprises. The perfect place to start your night in wonderful Buriram.
Map of Nightlife in Buriram
Videos of Nightlife in Buriram