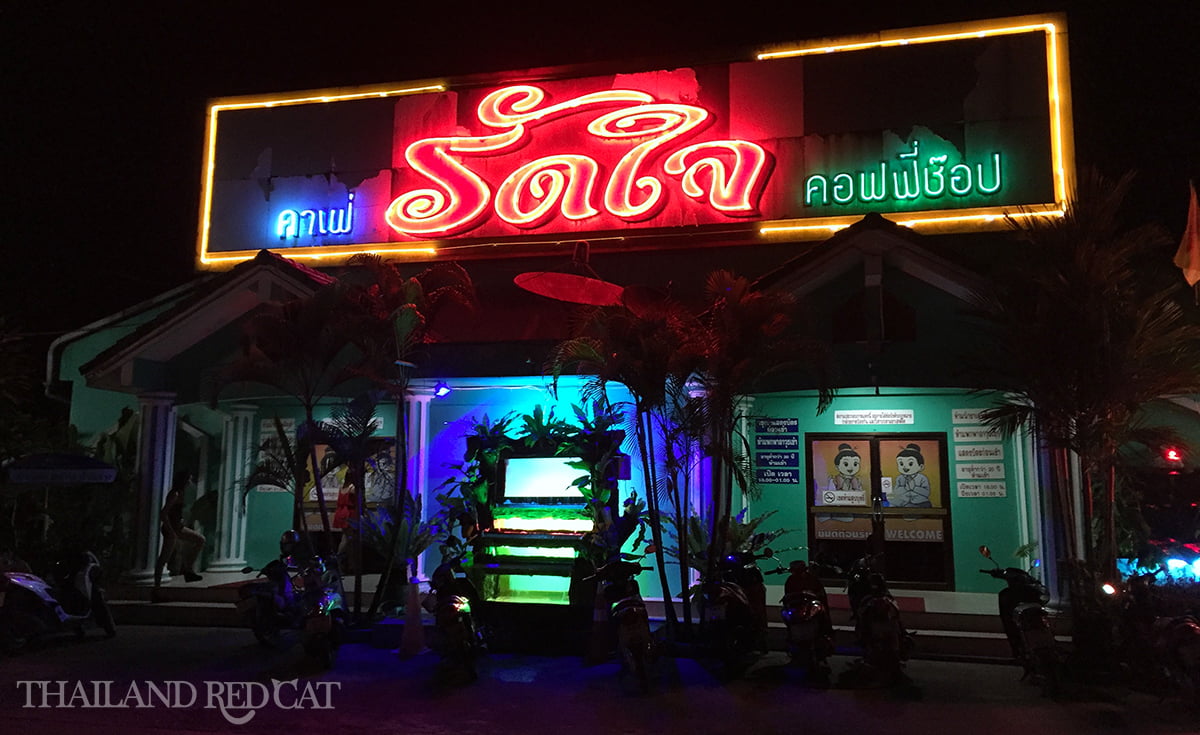 Khao Lak is one of the most popular family destinations in Thailand and therefore the nightlife is completely different to Phuket some 80km further down south: Less bars, less massage salons, less mongers, less hookers.
I wasn't even planning to visit there this year until my sister told me that she and her husband had booked their two week honeymoon stay in Khao Lak, so I thought let's join them for a few days and put together this guide for the nightlife section.
Before I went to Khao Lak I spent a few days exploring the capital province of Phang Nga of the same name, about 60km east of Khao Lak and 1-2 hours by motorbike, depending on how fast you cruise along the scenic road leading up and down the hills covered with rainforest, plenty of limestone rocks all around and a couple of restaurants with fine views over tea plantations.
Anyway, the topic of this guide is quite unrelated to tea but more to beer, whiskey and who you can drink it with. Plenty of 20-year old, skinny and light skinned chicks from Udon, Ubon and Surin? Rather not. There are some girls from Isaan frequenting the bars in Khao Lak, but most of them are far from top-notch – if they were they would rather go down to Phuket where they can get two customers a day, which is just not possible in this rather quiet beach town. The exception is the town of Takua Pa, about 35km northeast of Khao Lak that has surprisingly many hotties to offer for single male travelers.
Therefore, I will divide this post into two main parts:
One is about the nightlife in Khao Lak and the other one about the nightlife in Takua Pa. You better rent your own motorbike (from 250 Baht per 24 hours) as there are no taxis in Takua Pa and otherwise you'll have to pay the driver a premium so he waits for a few hours until you are "finished" in the massage salon, karaoke bar or night club.
Girly Bars in Khao Lak
To get to the point right away: There are dozens of bars and restaurants in Khao Lak, but 99% of them have no bar girls employed or frequented by freelancers. Since the demand for such girly bars is so low (again most of the foreigners here are families or couples) there are only a couple of such places in town. The most popular one is called Tha Bar that has the typical beer bar setting with pool table (quite an old one but free), TVs with live football or movies, bar stools and comfortable chairs around half a dozen of tables towards the front side that is half open air, so you have nice views of the street and the ladyboy bar across opposite (see below).
Tha Bar has about a dozen of bar girls employed and to be totally honest, they are not the politest ones you meet here, but 3-4 of them are quite attractive (including one fairly smart and diligent one from Roi Et). You can buy them a lady drink for 150 Baht (beers are low priced at only 90 Baht) and it usually won't take long until they ask you if you would like to take them upstairs to the short time room for some boom-boom. In that case you'd have to pay 500 Baht to the bar (which is the same price as for the bar fine) and then negotiate with the girl how much she wants for the ride (usually 1,000 Baht).
The second best lady bar in Khao Lak is Rose Bar, but it's more like a trial-and-error type of place, because one night you would go there at prime time (10pm) and find only a 35-year old or so mom with beer belly smiling at you, while the next day you have five younger girls hanging around. Similar for The Sparrow Bar which closed at 11:30pm the first time I tried to visit and the following night while driving past it about the same time I saw at least four Thai girls (probably freelancers) hanging out and playing pool with their middle aged Farang customers.
Ladyboys in Khao Lak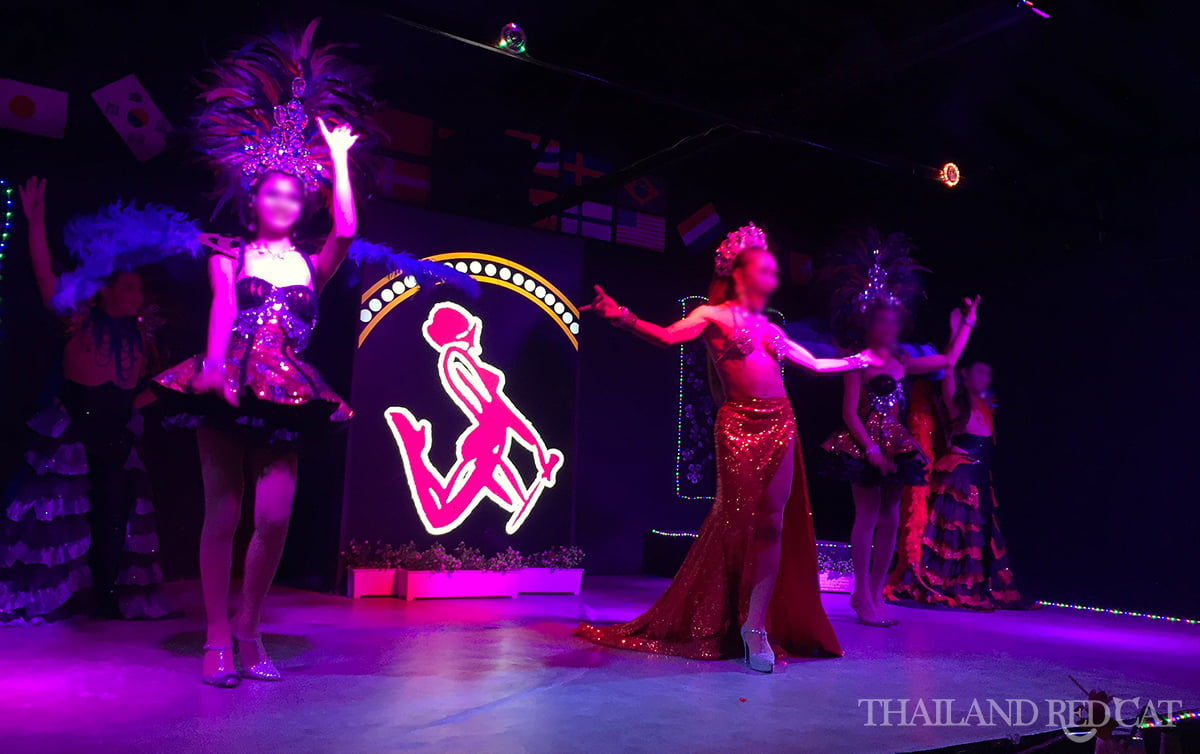 The only place to meet ladyboys in Khao Lak (along with the dating sites of course) is Moo Moo Cabaret Bar. They have a show going on every night at 10pm (1 hr and 20 minutes) and the entry is free. You only need to order drinks and they are surprisingly cheap at 120 Baht for a beer, 150 Baht for spirits and 200 Baht for cocktails. This place is well managed, they are very polite (both the ladyboys and staff) and if you have never visited a cabaret show in Thailand you should really check it out.
Taking photos and videos is not always permitted in these kind of bars, but thanks to the owners of Moo Moo they have no problem with it, so I'm happily promoting it. You can find my video at the end of this guide. The bar outside is open until 1am so you can have a drink with one of the ladyboys after the show (most of them are rather average looking, but there are 2-3 very attractive ones) and maybe more after they finished work.
Nightclubs in Khao Lak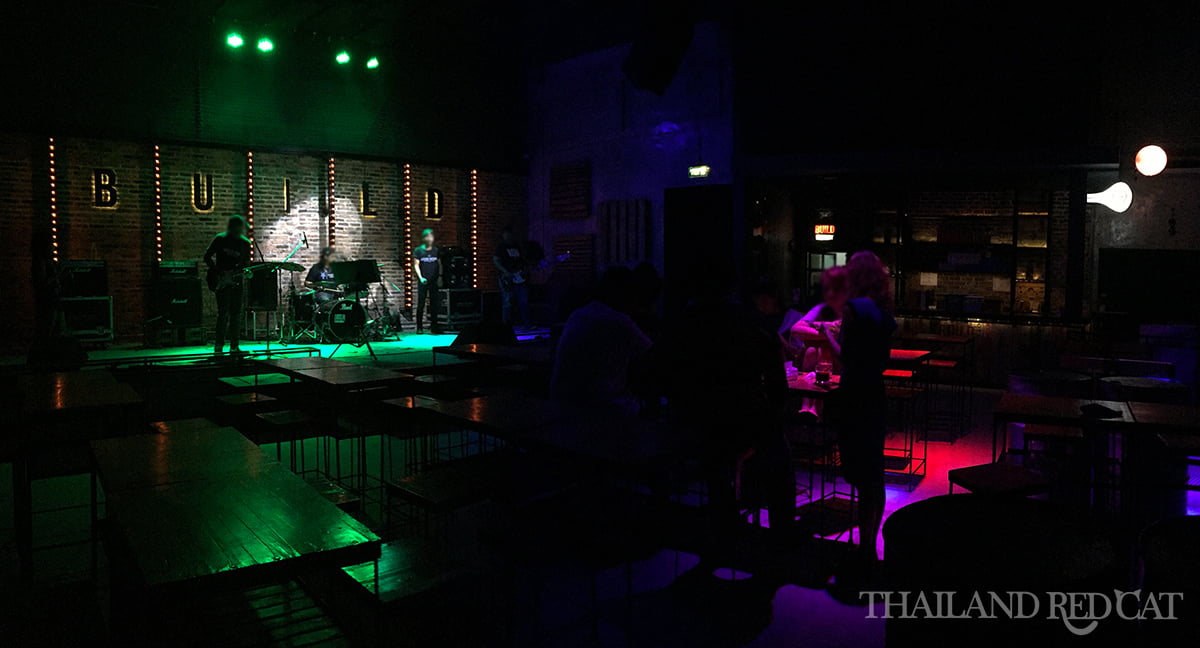 There are two nightclubs in Khao Lak. Zantika Pub has been the number one party place among the locals for many years with an unusual high stage for the live band, two floors and a relatively young crowd. However, they kind of lost most of their regular customers to the recently opened Build Factory about one kilometer further down north the main road.
This nightclub looks, as its name suggests, like a factory and so you'll find plenty of barrels that serve as tables. What doesn't remind you of a factory, however, are the female Thai guests: This place attracts some of the hottest local Khao Lak girls you can imagine. White skinned, slim and they usually completely ignore you as a Farang while drinking whiskey with their friends. Do you know how to play the game in a Thai nightclub?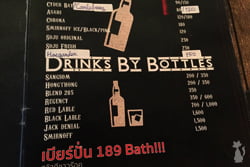 Bottle prices are ridiculously cheap, like a big Red Label (1 L) goes for 1,000 Baht. In the night clubs of Patong it would set you back between 3,000 and 4,000 Baht for the same bottle. While I uploaded the picture to the right I also noticed that they have "Beer Shakes" (Bia Ban) for 189 Baht (not Bath). That might be worth trying next time. Anyway, Build Factory tends to get busy well after midnight, before that most people would hang out in the atmospheric (almost romantic) outdoor seating area that is also popular for watching English Premier League.
Happy Ending Massage in Khao Lak
Even though there are no body to body massage parlors in Khao Lak, there is no need to get desperate as you can rely on plenty of "traditional" dirty happy ending massage salons. Walk past one of the many places I have highlighted on the map below, and if you get turned on by one of the massage ladies in tight shirts and skirts, follow her inside and say "yes, please" to "oil massage mai ka?" (300-400 Baht) or alternatively a Thai massage (200-300 Baht).
About half an hour later you can say "yes, please" again when she asks you if you want special (= hand job) and as usual the maximum you should tip her for that is 500 Baht.
One thing to note with the massage salons in Khao Lak is that they close no later than midnight (usually around 11pm) so don't think you can drop by for a quick hand relief after your night out at the club.
Map of Nightlife in Khao Lak
Nightlife in Takua Pa
Believe it or not, but you can find more "guys" nightlife and hotter girls in Takua Pa, a 48,000 citizen town some 35 km northeast of Khao Lak. It's also in the Phang Nga province and has surprisingly more going on than in the capital.
I wouldn't recommend you to book your hotel there though as there is pretty much nothing to do during the day except for the most beautiful waterfall in the area. If you hook up with a girl in one of the places described below you can just book a short time (or long time) hotel for 500 Baht or less.
Kraoke Bars in Takua Pa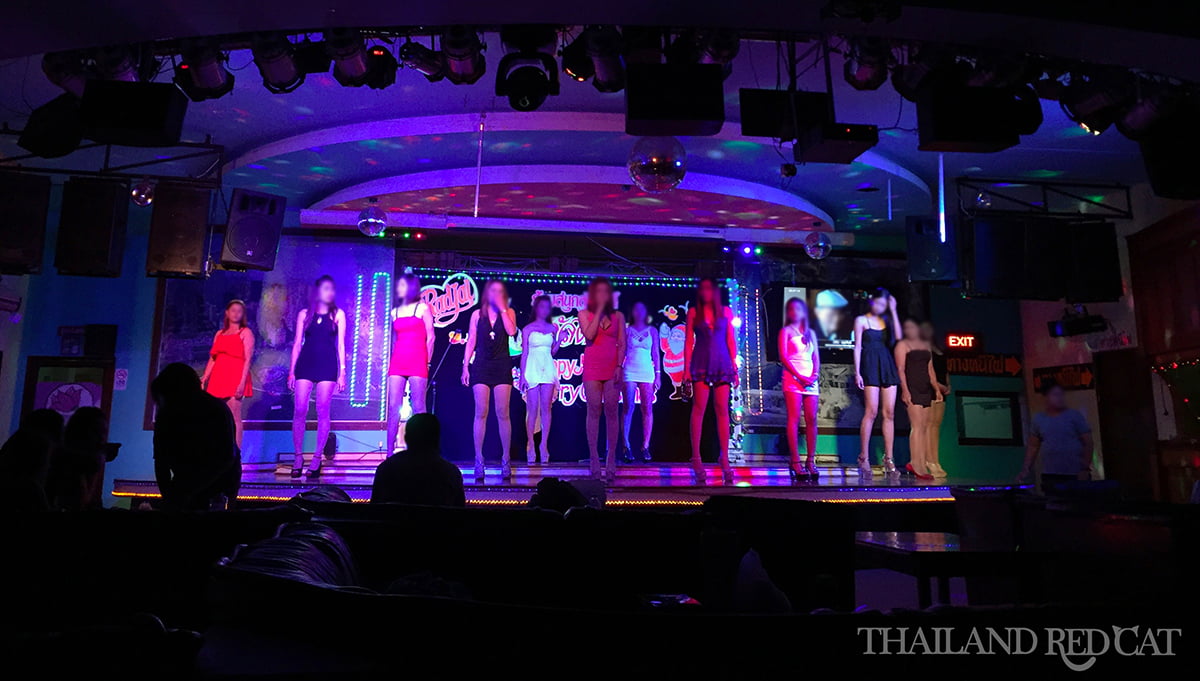 Rat Jai is one of the best karaoke bars I have ever visited. It's really a mix of hostess, show and karaoke and when you step into this place you will first be delighted to see some of the most attractive and young girls singing and performing on stage (rotating after each song).
You can sit down on one of the many comfortable black couches, order a beer (130 Baht a big bottle) enjoy the show and feel free to pick one of the girls to either join you there or to take her into one of the private karaoke rooms located on both sides of the building (200 Baht per hour). You can also order a coyote couple to perform sexy lesbian shows and that's going to cost 300 Baht for 2 songs.
The girls are also available for take out and that's usually going to cost 3,000 Baht, not including the rental of a short time room (300 Baht) close by. Enjoy my video at the end of the guide, the last 14 seconds were taken just before the wild coyote show started (check it out yourself).
There are plenty of other, smaller karaoke bars along the main road from Khao Lak to Takua Pa.
Nightclubs in Takua Pa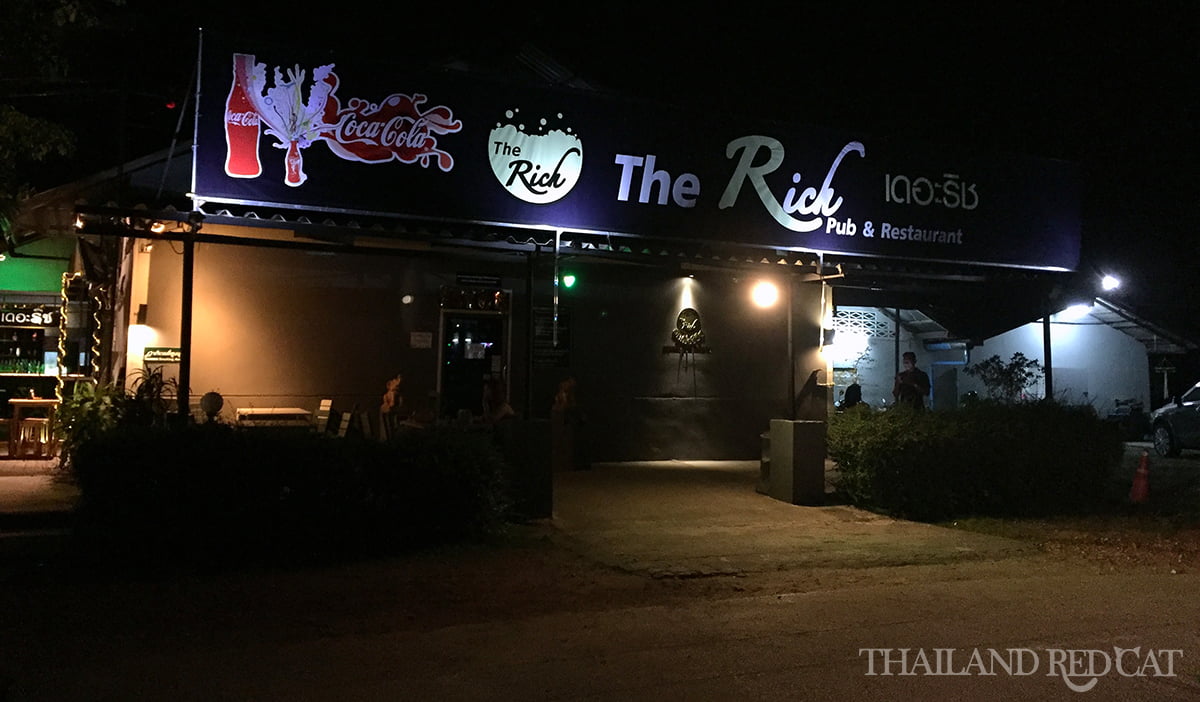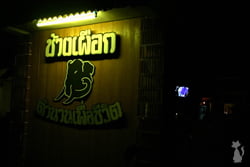 The Rich is the place to see and be seen in Takua Pa. Of course there's daily live music and it tends to get extremely loud after midnight, just normal for a Thai nightclub. They also have plenty of sexy hostesses in red shirts and black skirts all around that will entertain you as long as you buy them drinks for 240 Baht per shot / glass.
Similar to the nightclubs in Khao Lak, whiskey bottle prices are extremely cheap like 930 Baht for a big bottle of Red Label (1 liter), 650 Baht for 100 Pipers and 1,450 Baht for Jack Daniels. A big bottle of beer costs 120 Baht. Another popular party place is Chang Pueak, but that's rather a bar with live music than a typical night club.
Happy Ending Massage in Takua Pa
There are about as many massage salons in Takua Pa as there are in Khao Lak (yellow pin on the map below). Similar prices 200-400 Baht for a Thai/Oil massage and specials need to be negotiated separately.
Map of Nightlife in Takua Pa
Videos of Nightlife in Khao Lak