There are so many places in Thailand that are completely off the radar of most Farangs yet have so much more to offer than they can imagine. Ubon Ratchathani is such a place. Quite strange actually, since it's one of the big four cities in Isaan (along with Khon Kaen, Udon Thani and Korat).
Now, what do I mean by "so much to offer"? Well, first there are some nice activities to do during the day, especially the area along the Mekong river that makes the natural border to Laos is pretty sweet to cruise around on the motorbike. And then obviously there are some really nice and unique temples and the "Grand Canyon of Thailand", but more on that in this post.
Being Thailand's 3rd largest province in terms of population and home to four large universities, you should really just start imagining how many hot Isaan girls are hitting the karaoke bars, nightclubs and massage parlors every night. Or maybe you just want to continue reading and let me help you get the full picture of nightlife in Ubon.
Bars in Ubon Ratchathani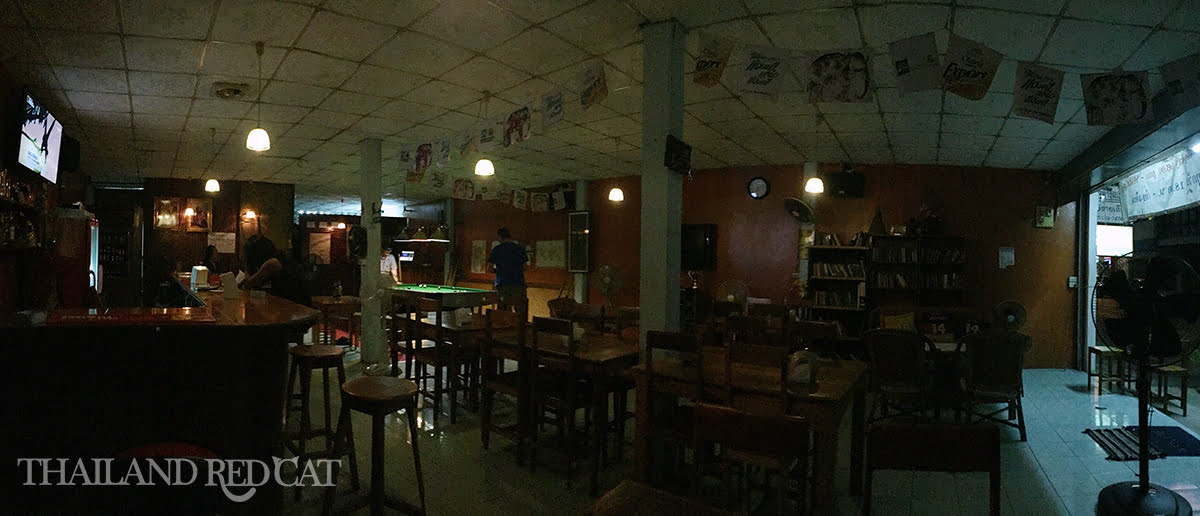 I think it makes sense to divide this section into two categories: Farang oriented bars and local Thai bars. There are only two such Farang bars in Ubon. The Wrong Way Café (picture) in downtown is, unlike its name suggests, a mix of restaurant and bar and run by the kind hearted Ting (who originally opened the place with her ex-husband from the US). Make sure to try their signature dish, the Wrong Way Burger that is made with whole wheat bread. They also got a pool table (10 Baht per game) and the busiest day is Saturday when they regularly host big parties.
A little off the town center in West Ubon is the N-Joy Bar that makes, along with the Wrong Way Café, the best place in Ubon to meet other Farangs as well as to enjoy cheap drinks (beers from 65 Baht) and western dishes, especially their Pork Schnitzel with chips or mashed potatoes and veggies is yummy (and huge!). Note that both places are no hook up joints, if you are looking for that then that is what the rest of this guide is about.
And then there are plenty of Thai Bars that I don't want to describe all in detail, I'd suggest you just ride your motorbike (you can rent one from 200 Baht a day) from place to place and see which one is busy on a particular night or has some nice girls to hit on. You can find all locations on the map below (Thai Bars = Red Pin, Farang Bars = Beer Marker).
Karaoke Bars / Hostess Bars in Ubon Ratchathani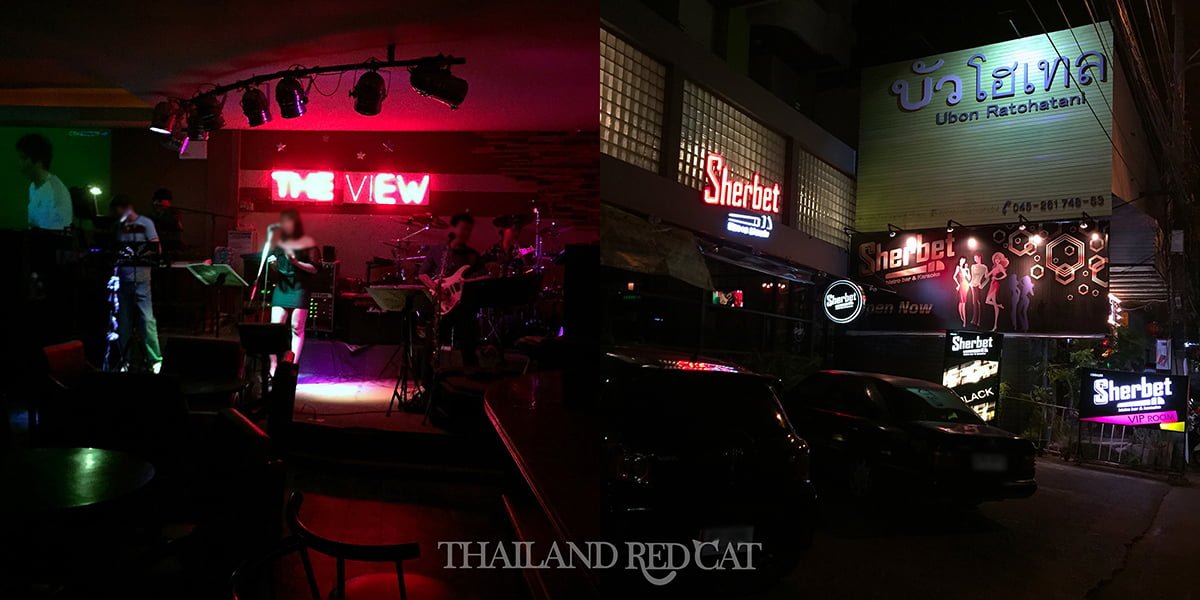 If you want to enjoy some female company in Ubon, then this might be for you. There are both karaoke bars and hostess bars with girls even more attractive than those in the massage parlors (see below). What is the difference? Well, it's simple. If you take The View in northern Ubon, that would be a typical hostess bar, with plenty of girls that will sit with you as long as you buy them drinks and they also got a live band (the only one in town that plays Western music). A similar joint is Alive, located in downtown.
Things are obviously a little different at Starlight Karaoke, where you would pay 200 Baht per hour for the rent of a private karaoke room plus 200 Baht per hour for one of their super hot and white skinned girls plus drinks (beer 150-180 Baht, Red Label 1,900 Baht). My personal recommendation though is the brand new Sherbet, a mix of hostess bar and karaoke means you can first hang out with the girls downstairs which looks like an ordinary bar with live music and then later on (if you feel like) sing songs on the second floor.
Go Go Bars in Ubon Ratchathani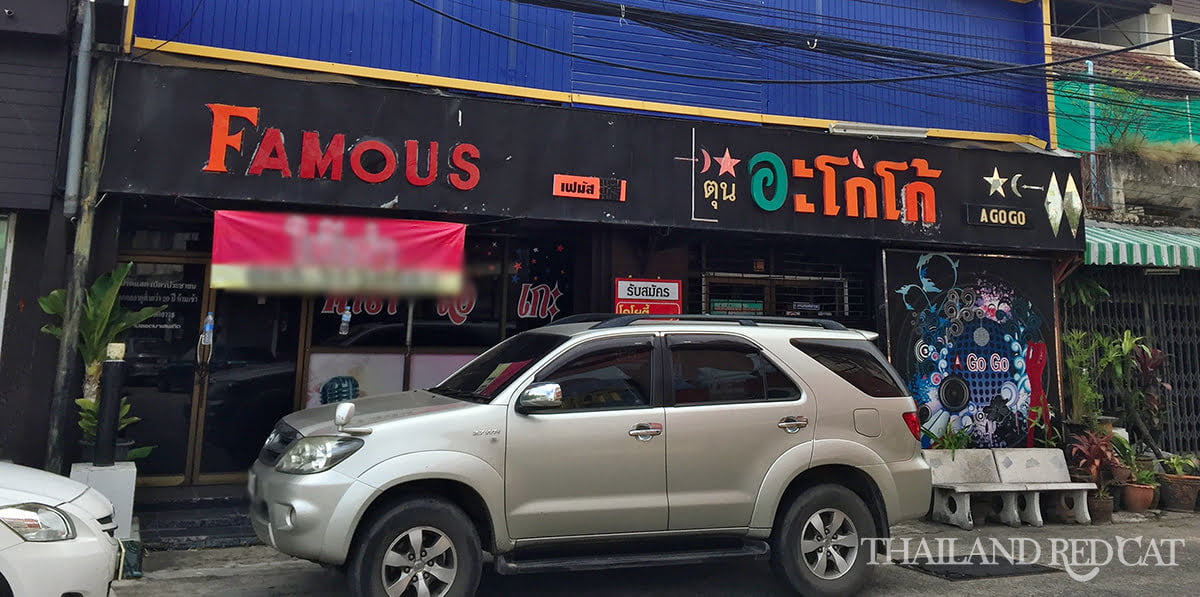 Ubon's only Go Go Bars (Famous & Dun) have closed their doors last year and so there are currently no such strip bars in town.
Nightclubs in Ubon Ratchathani
The young local crowd in Ubon loves to party and share a bottle of whiskey with their friends in one of the town's nightclubs. And what's quite amazing is that most clubs are well visited on every single day of the week.
Tawan Daeng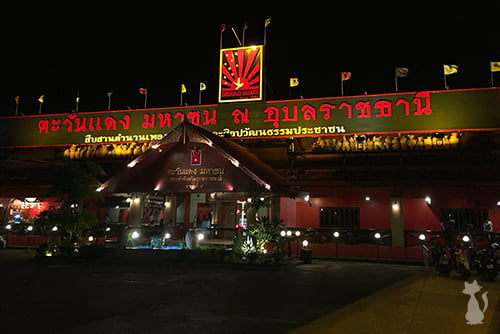 Tawan Daeng is an institution all over Isaan and northern Thailand, pretty much every province capital has its own branch of this hugely popular franchise. It's the perfect place to bring your girlfriend, enjoy some dinner and watch the show on the huge stage with Isaan style Molam Music. Very nice and attentive staff and unlike some other branches like in Buriram, the Tawan Daeng Ubon starts getting busy pretty much every single night from 10pm onwards.
Country Club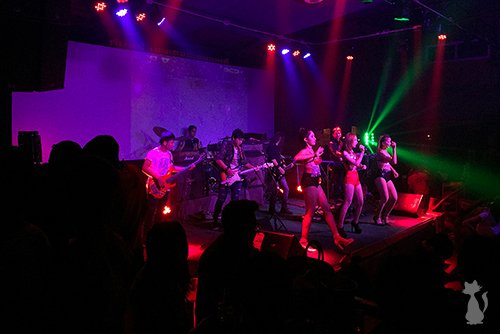 The most popular nightclub in Ubon Ratchathani. And if you want to hit on some local girls, then this is the place to do it as, unlike most other Thai style night clubs, the tables are very close to each other and people walk and look around a lot to meet and greet new people. No cover charge in Country, like in all other clubs in town, so you can just have a look if you like it. Beware of (or look out for) the ladyboys who typically like to hang out right in front of the stage but aren't too shy (unlike the girls) to come over to your table and say hi.
U-Bar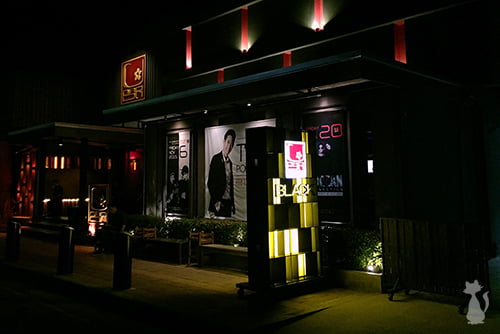 I was surprised when I found out they have U-Bar in Ubon, since the club of the same name is the most popular club in Khon Kaen. It obviously has the same owner here, but it's significantly smaller and the best days to party here are really Fridays and Saturdays. On weekdays, it tends to stay half empty and then the whole atmosphere is somewhat dull. Still, U-Bar is one of the best night clubs in Ubon and it's also the newest and most modern one with the coolest design, thus attracting the Hi-So Thais of the province.
There are a few more night clubs in Ubon Ratchathani, such as Warp Club, D-WA, Fuse Pub and Shark.
Soapy Massage Parlors in Ubon Ratchathani
There are three soapy massage parlors in Ubon. They all have the typical fishbowl arrangement, however, there's no glass and you can invite a girl to have a drink with you before you decide on whether to go for the full program.
Atami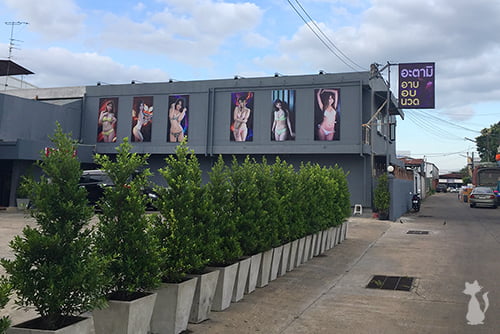 The best massage parlor in town. The location is quite typical for that type of place, very central but still somewhat hidden in a narrow alley connecting Uppalisan Road and Suriyat Alley. You can't miss it with the huge posters of girls in bikinis on the wall of the building. Upon entry to Atami, one of the polite papasans will sit down next to you on a sofa and make useful recommendations of the girls. They are divided into three categories, depending on age and attractiveness: 1,500 Baht / 1,800 Baht / 2,000 Baht. You may, if you want, arrange a tip with your girl of like 500 Baht for the second round and then follow her into the modern and friendly room that has a big bed, TV and a super nice and big jacuzzi.
Palace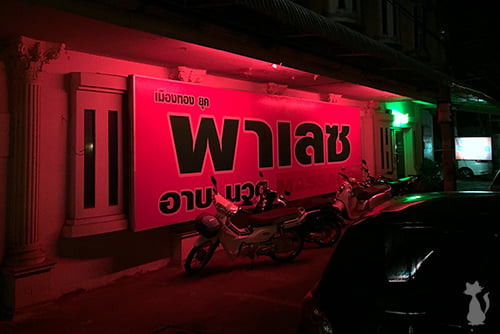 Bright red light is illuminating the entrance to Palace Aap Nuat in the otherwise relatively quiet Phalochai Road. While the place as such has definitely seen better times, the same cannot be said of the massage girls most of whom are attractive and light skinned. Two categories and prices at Palace: 1,500 Baht and 1,800 Baht. The atmosphere with the narrow lobby and small and old rooms isn't that great at all, but if you pick the right girl it can still be very enjoyable. Oh, and they have Japanese porn running nonstop in the rooms and even better: mirrors on the walls.
Long Beach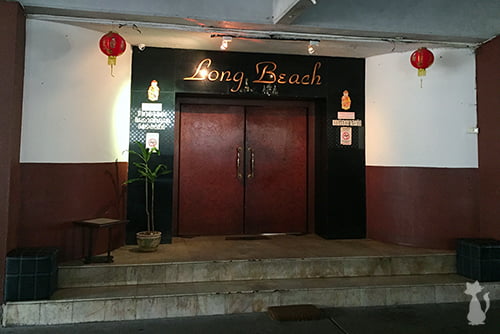 Located right behind the Pathumrat Hotel, Long Beach is the third massage parlor in Ubon Ratchathani. I came there twice, once in the afternoon and once in the evening at 9pm. It has the biggest fishbowl of the three, but strange the selection is the worst. The papasan said they are all on duty, but I doubt that since there was only one car in the parking lot before the entrance. Three girls were sitting inside, one was playing on her phone and ignoring me, the second one looked like she just finished her third round that day and about to fall asleep, and the third woman was easily over 40 years old. Maybe times change again or you just get more lucky than me. The four different prices at Long Beach are 1,000 Baht, 1,400 Baht, 1,700 Baht and 1,900 Baht.
Happy Ending Massage in Ubon Ratchathani
I guess you aren't surprised when I tell you that there are plenty of traditional Thai massage salons in Ubon. Your best choice for one with a happy ending is Z-Through Spa where they tell you right upon entry that it's 1,700 Baht for a body to body massage with hand job by one of their sexy young girls. I have marked that particular salon with purple color on the map, as well as another three places that offer happy endings, for the rest it really depends on the massage lady and if she's willing to give you the special extra for some tip. Prices for massage: 300 Baht (Thai Massage), 400-500 Baht (Oil Massage).
Map of Nightlife in Ubon Ratchathani
Videos of Nightlife in Ubon Ratchathani