There are still so many places in Thailand that see only few foreign visitors despite their huge cultural and historical significance.
Phitsanulok is such a place.
The capital city of the province of the same name in lower northern Thailand has more to offer than even I thought when I bought my train ticket from BKK's Hua Lamphong railway station last week. I thought it was time to explore some of Thailand's most remarkable historical towns instead of another weekend trip to Pattaya or Hua Hin.
It took me about five hours with the "Special Express" from Bangkok and as I reached Phitsanulok in the afternoon, it started to rain. No problem though since I brought my girlfriend's umbrella. I walked down a few blocks from the train station, looking for a guesthouse. The first impressions of Phitsanulok were pretty unspectacular, seemed just like a typical provincial town, but I knew it had a lot more to offer.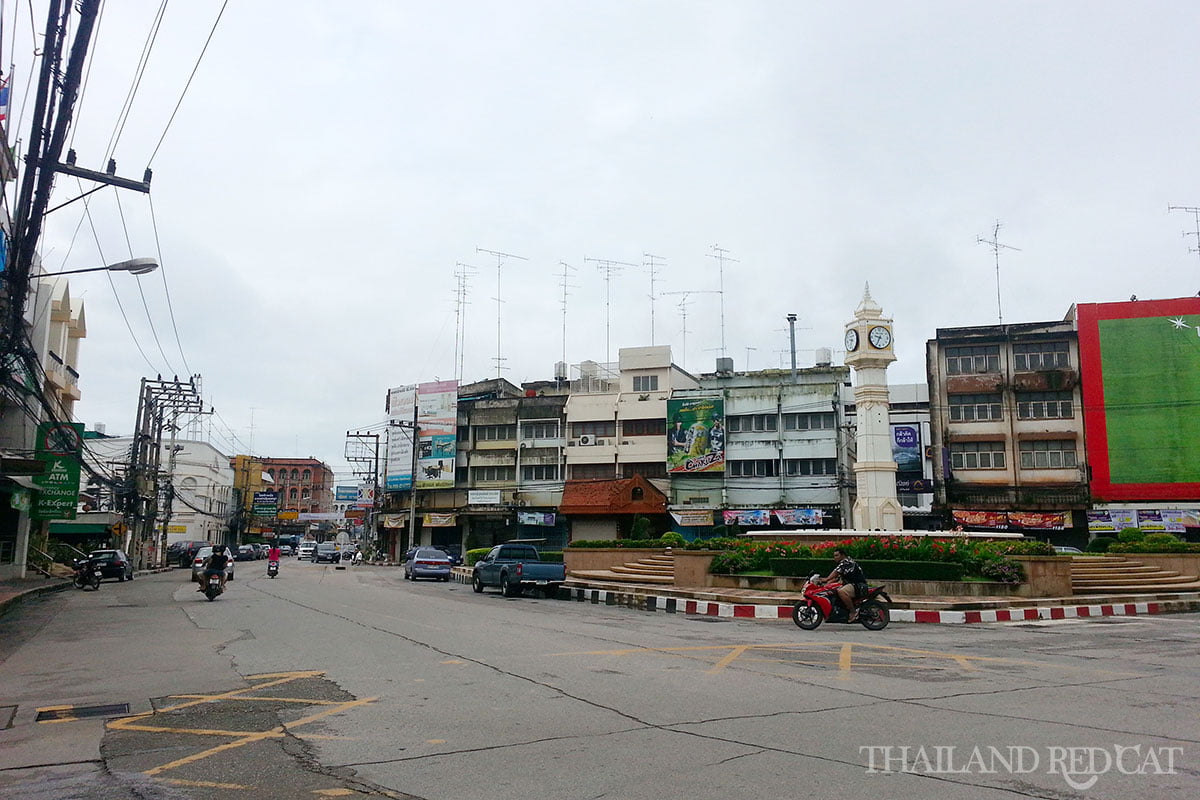 It didn't take long until I found a place to stay, it's called Bon Bon Guesthouse, located in 5-7 min walking distance from the riverbank. They had fan rooms for 400 Baht and aircon rooms for 500 Baht. I took the fan one as it wasn't that humid at all here, or maybe it just felt so coming from Bangkok.
There is another very popular budget hotel right next to it, called Lithai Guest House, with similar room rates. If you are looking for something on the top end, the Grand Riverside Hotel is maybe the most famous hotel in town.
I had a shower and just took it easy during the rest of the day with a walk along the riverbank, which is pretty calm and relaxing during the day but the place to come for shopping (night market) and partying during the night. But more on that later.
The main purpose of my visit to Phitsanulok was exploring its three remarkable temple complexes and that's what I did the next morning. The good thing is they are located within short walking distance from each other and also just about 20 mins walk from the railway station or the night market (river bank).
Wat Phra Si Rattana Mahathat (Wat Yai)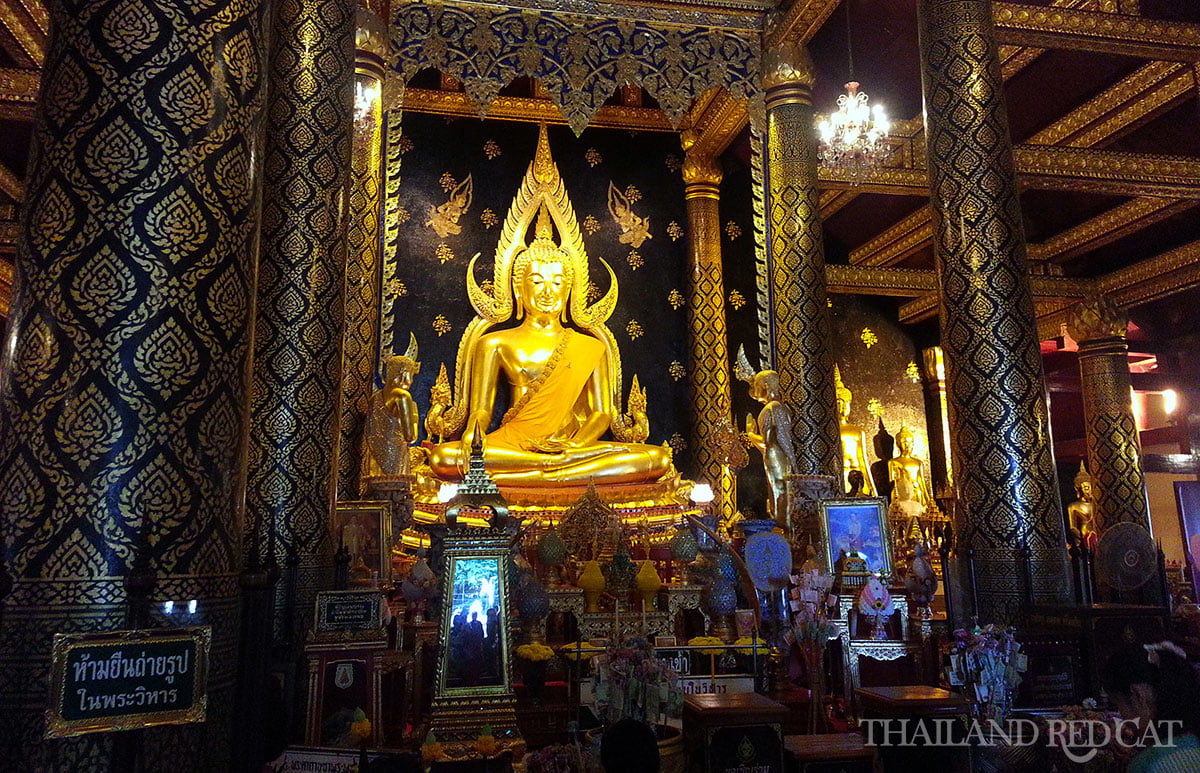 Locals just call it Wat Yai and not just because it's the biggest, but also because it's the most important temple in Phitsanulok and the province: Wat Phra Si Rattana Mahathat.
The temple was built in 1357 and is famous for holding one of Thailand's most copied Buddha images, Phra Phuttha Chinnarat, second in importance only to the Emerald Buddha in BKK's Grand Palace. It was cast in the late Sukhothai style, however the head of this Buddha is a little bit wider than standard Sukhothai and therefore the statue makes a very solid impression.
Admission: 100 Baht for foreigners, though I wasn't asked to pay anything and just put 40 Baht in the box to do the usual worship practice with lotus bud, joss sticks and small sheets of gold leaf.
Wat Nang Phaya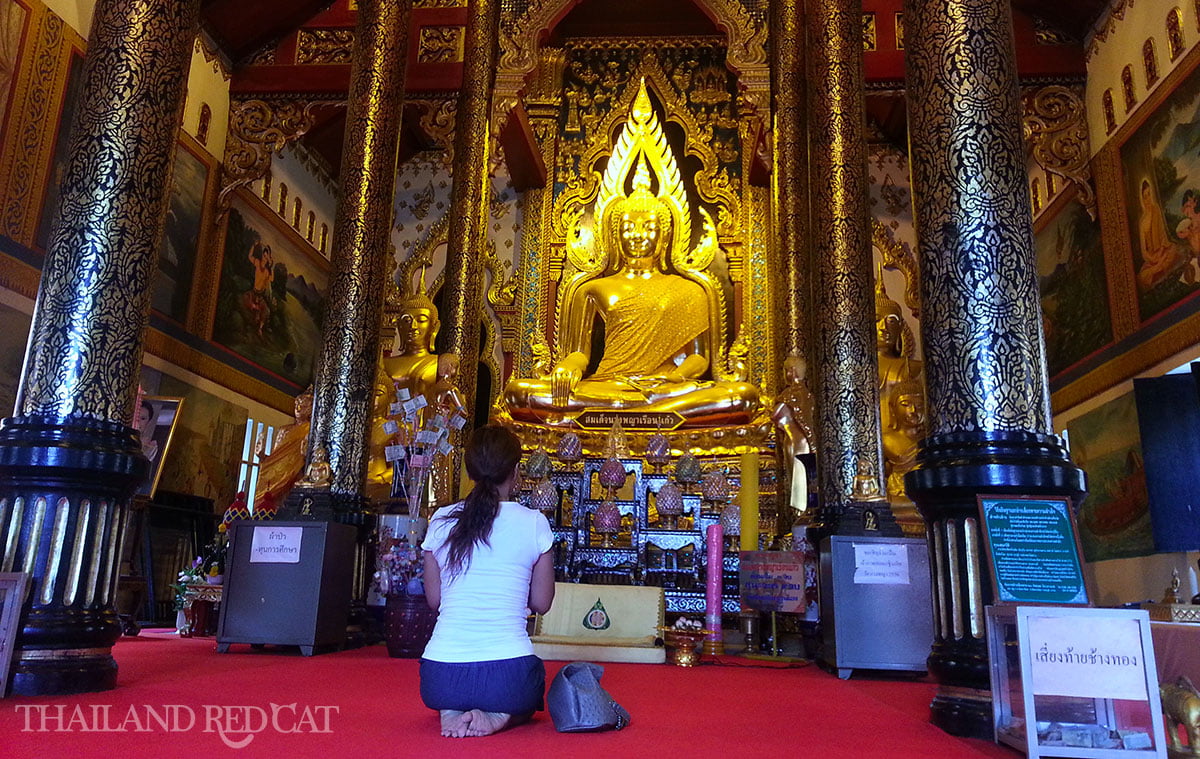 Almost looks like Wat Yai, doesn't it? Located right next to it, Wat Nang Phaya was built during the reign of King Borommatrailokkanat (1448-1488). This temple is slightly smaller than Wat Yai. I really loved the calm and quiet atmosphere here, as well as the beautiful paintings on the walls.
Wat Ratchaburana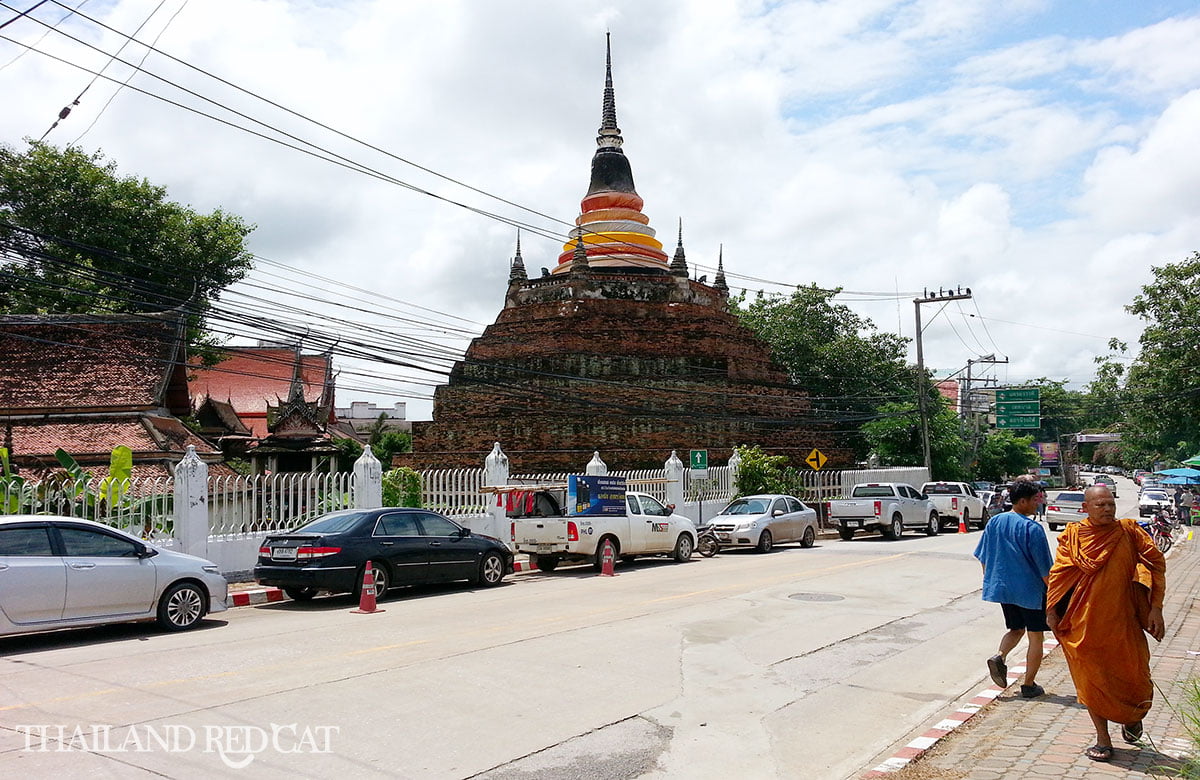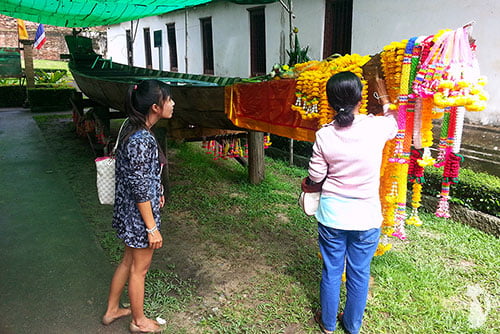 Wat Ratchaburana (or Wat Ratburana) doesn't see a lot of visitors, but you shouldn't miss it out on your tour as there are quite a few interesting monuments and replicas in this temple complex. It was built in 1463, when King Trailokanat of Ayutthaya moved the capital of his empire to Phitsanulok. Today, only the chedi is what remains from the original construction (picture).
There is a 700 year old golden Buddha in the wi-hahn, next to it a sacred tree with ladders that visitors climb up, leave an offering, ring a bell and descend (repeating this three to nine times), an ubosot chapel with beautiful murals and a large wooden boat decked with garlands that formerly served to transport King Rama V on a visit to Phitsanulok.
Phitsanulok Annual Long Boat Racing Festival
I had just finished my tour around these temples when I discovered a boat racing event in the Nan River just in front of the Wat Phra Si Rattana Mahathat. I was pretty lucky to experience that and watch a few races from the bridge as the Long Boat Racing Festival is held only once a year during the Thai Buddhist Lent Period in September or October when the river tide is highest.
There was Thai TV but not that many spectators, however women in traditional Thai dresses on the opposite side of the stands dancing nonstop. Most of the people were walking up and down the huge outdoor market that was set up at the scene and around Wat Phra Si Rattana Mahathat.
Below is a clip I took from the bridge:
Nightlife in Phitsanulok
I was surprised by the action Phtisanulok puts on after sunset.
While there aren't any Farang-oriented beer or go go bars, there is no lack of great nightlife options in Phitsanulok at all. Especially along the riverbank near the night bazar there are heaps of cool outdoor bars and quite a few indoor bars and pubs at different corners in the city.
Bars & Girls in Phitsanulok
The best option for hip and comfy indoor partying is definitely Wood Stock bar with its funky 60s and 70s era furniture and live music daily from 9:30pm. They also got two TV screens showing live sports, Thai food and pretty hot local Chang Export, Tiger and Heineken beer-girls. It's just a 5-7 min walk from the train station, you'll pass a typical Thai snooker bar.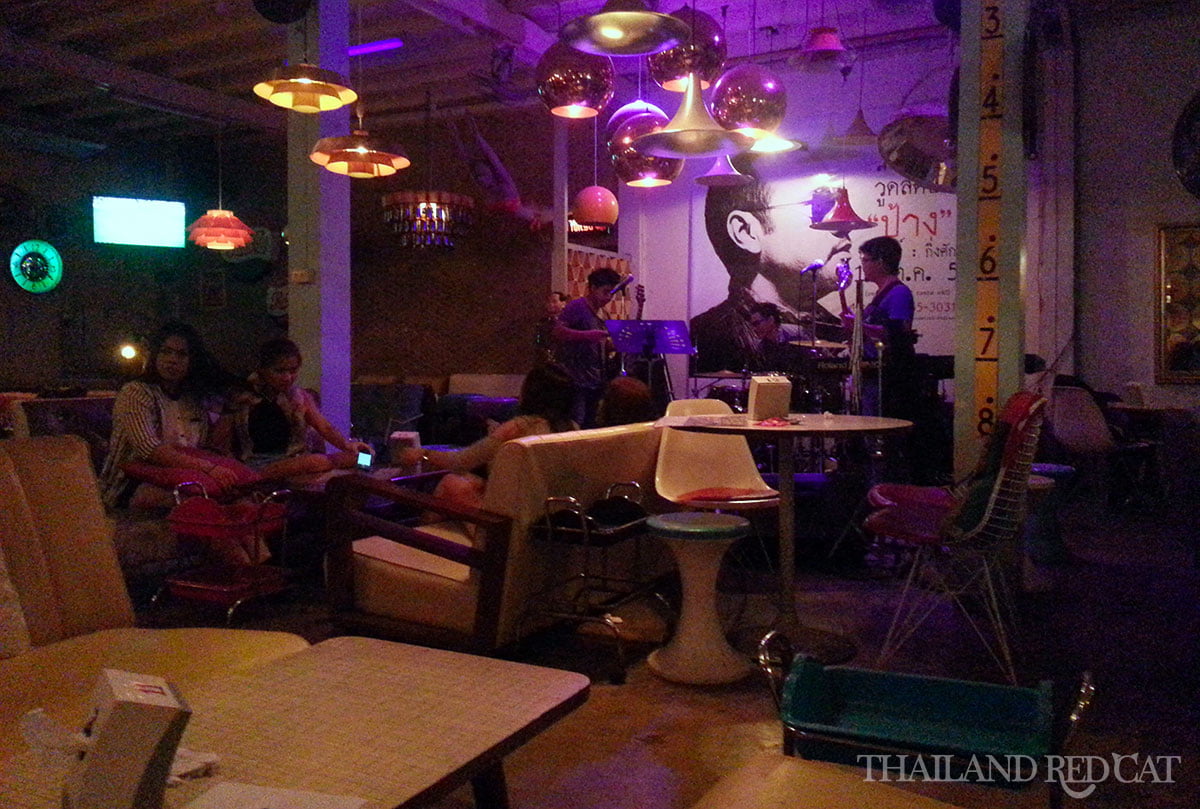 Most of the town's young folk comes to the riverbank near the night market to hang out at night. There are more than a dozen bars on the eastern side of the river alone (around the night market) all of them outdoor seating with great views of the Nan River.
If you cross the Naresuan Bridge you find two more places built right in the river. One is called Sabai Boat (though it was closed when I was there) and the other one Calito, that's where I had quite an awesome time.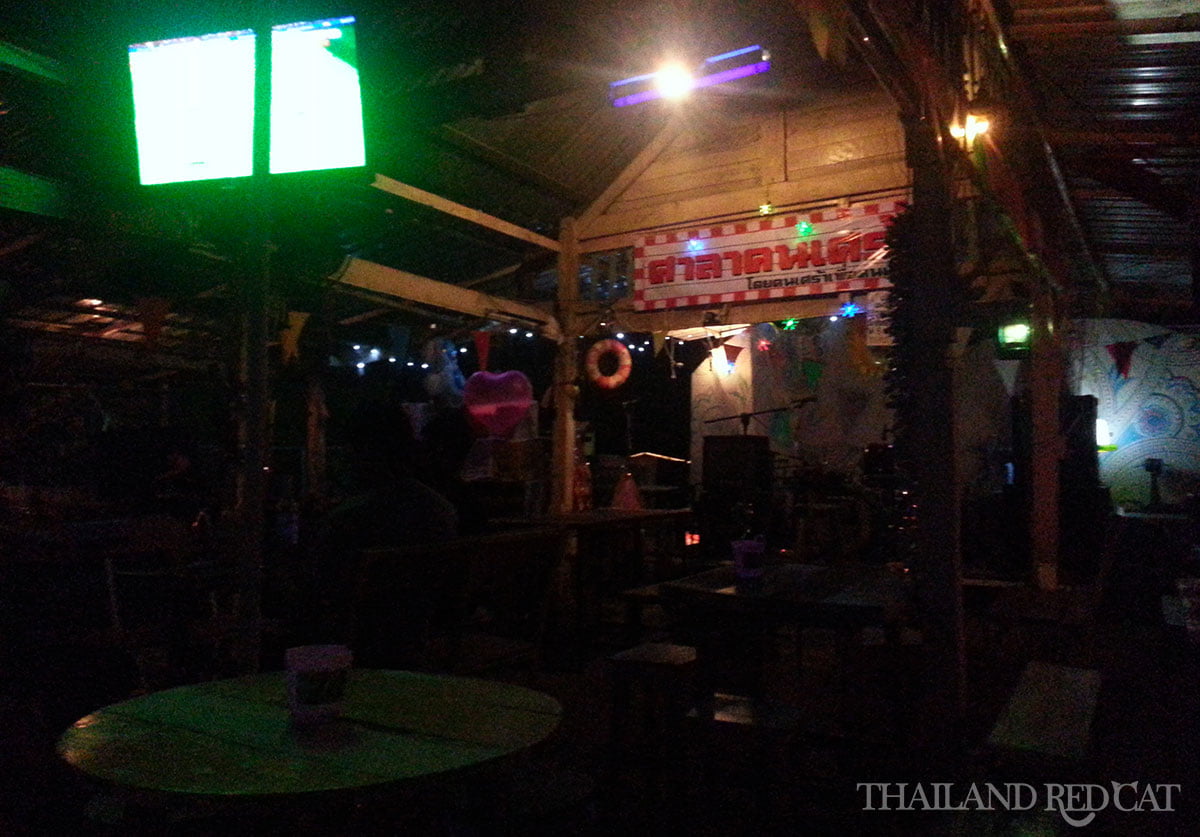 This place has live music (Thai rock and pop songs) and some of the most beautiful girls in Phitsanulok, hanging out with their friends. Yes, it is that kind of typical Thai place where most of the people sit together chatting in groups and sip their whiskey with soda and ice, but it's not like in some places of RCA in Bangkok for example where it's hard to get in touch with them.
Most of the locals there are pretty easy going, but you should do the first move and talk to them, don't just expect they invite you to sit and drink with them straight away.
Map of Nightlife in Phitsanulok
You see quite a lot of cool things to do and discover in Phitsanulok, it was definitely worth giving this off-the-beaten-track province capital a visit.