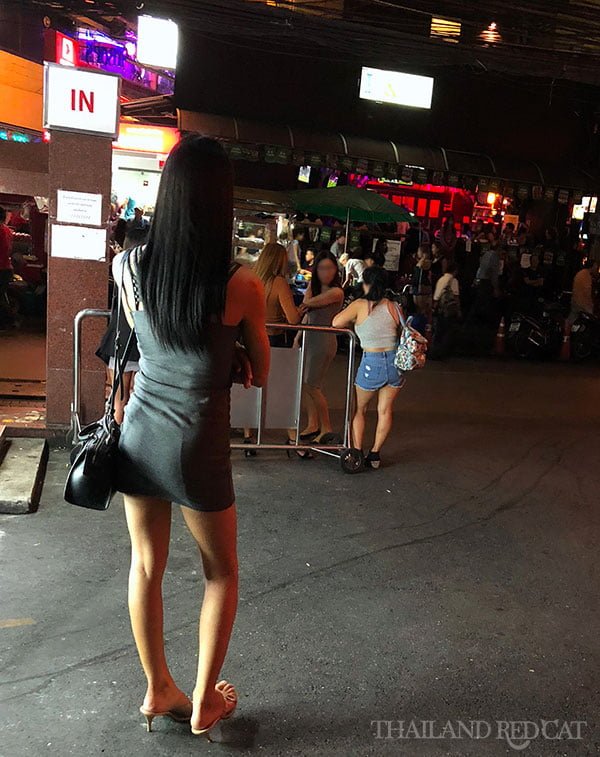 Every guy coming to Thailand at least thinks about having a sexual experience with a Thai ladyboy. In a lot of cases you may even take one back to your room assuming she's a girl.
If you don't want to follow the obviously stupid rule of "if she's too beautiful to be a girl she must be a ladyboy" check out this article for some easy ways to figure out the difference between a Thai girl and ladyboy.
The Thai word for transvestite is kàtoey (กะเทย). So if you want to ask her in Thai if she's a ladyboy, you would say: "kun bpen kàtoey mǎi" (คุณเป็นกะเทยมั้ย). As always, adding the particle kráp (ครับ) at the end of the sentence would make your question more polite.
You might also learn another useful phrase if you want to ask her if she has already been undergoing a genital reassignment surgery: "kun tam sàláyá-gaam bplɛɛng pɛ̂ɛt rʉ̆ʉ yang" (คุณทำศัลยกรรมแปลงเพศหรือยัง). If she answers "tam lɛ́ɛo" (ทำแล้ว) it means she has done the surgery (literally: do already) and if she goes "yang mâi dâai tam" (ยังไม่ได้ทำ) it means she hasn't (literally: yet not done). Like this you avoid facing a dick instead of a pussy (if you do try to avoid it).
You probably won't be surprised if I tell you that Bangkok in general and Sukhumvit in particular has the highest concentration of foreigner-oriented ladyboys in Thailand. There are hundreds of single Thai ladyboys in Bangkok that are ready for a sexual adventure with you on a daily basis.
If you do decide to give the supposedly world's most beautiful transvestites a try, you might be unsure about how you go about arranging your date, how much it costs (if at all) and which risks are involved in banging a Thai ladyboy. Continue reading, below are the answers to all of your questions.
There are generally five different ways of getting laid with a ladyboy in Bangkok, all with its own advantages and disadvantages: Ladyboy bar girl at one of Bangkok's three red light districts, street hooker in Sukhumvit, massage ladyboy, online escort service or you arrange your own date, for example on a Thai Online Dating Site.
Ladyboy Bar Girls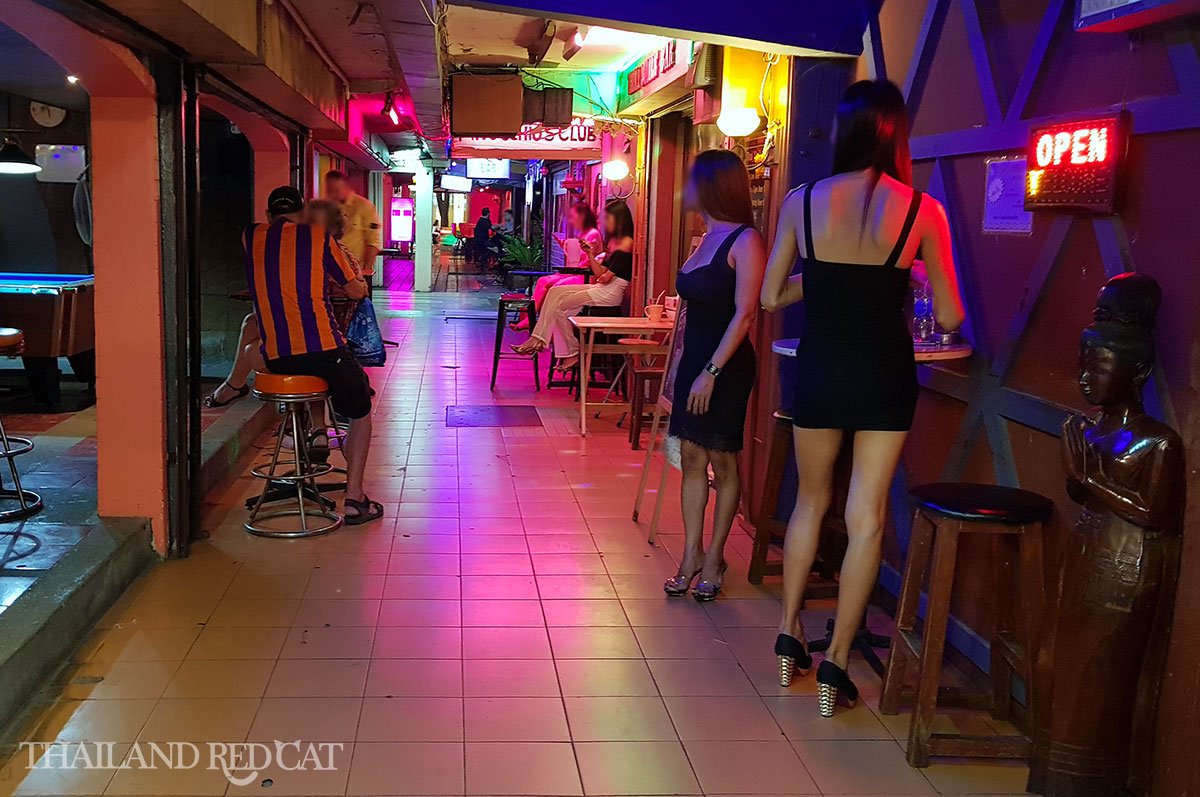 I have done some field research on a couple of evenings this week to check out the vibe a the ladyboy go-gos as well as the costs for taking one back to your room.
I'm not the biggest fan of Patpong (mainly because there are so many scams and rip-offs, a lot of them related to pingpong shows) but there's the famous King's Castle 3 go go bar (next to Pussy Collection on Patpong 1) that has also been a film location of the Hangover Part 2 movie, it has a few dozen hot ladyboys, some of them pre-op and some of them post-op so ask if you are about taking one home.
Nana Plaza has still the most ladyboy go go bars and the best ones include Obsession on the ground floor and Temptations and Casanova on the second floor. Obsession is probably the best ladyboy go go bar in Bangkok, the dancers are pretty damn hot, and almost all off them got huge and stunning boobs.
There is only one ladyboy go go bar on Soi Cowboy and you can imagine that it draws a lot of attention: Cockatoo. It's rather small with just one medium-sized stage that has five ladyboys dancing. As I walked in there last night the ladyboys were literally running towards me, three of them were jumping down from the stage so I was quickly surrounded by about a dozen of half-naked ladyboys, all of them enthusiastically fighting for me allowing them to hang out together. Definitely fun.
Prices: Drinks are usually 140 or 145 Baht (beers and spirits), and it's the same price for lady drinks. The standard bar fine is currently 600 Baht and the Ladyboys charge between 1,500 and 2,000 Baht for short time. At Nana Plaza, they even offer rooms (350 Baht) on the top floor of the building. If you are interested, you can ask if she does both "passive and active" services – usually she will do, if she can.
See also: 5 Best Ladyboy Go Go Bars in Bangkok
Ladyboy Massage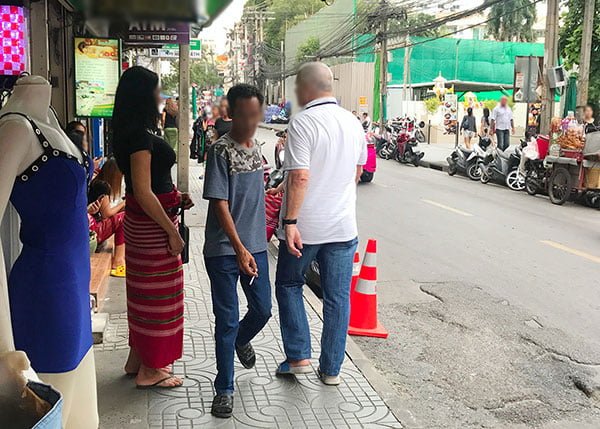 The next way to meet Bangkok ladyboys for paid pleasure is to go to the massage salons. It's important that you know where these are located as most places have only girls employed. The main areas with massage ladyboys are Sukhumvit Road between Soi 5 and Soi 7, Suhkumvit Soi 4 and Sukhumvit Soi 7/1. They aren't usually as attractive as in the go go bars or dating sites but if you look around for a while it's quite possible to find a gem.
Prices: The standard rates for ladyboy massage in Bangkok are slightly higher than for the girls: It's usually 400 Baht for a Thai Massage and 500 or even 600 Baht for a Oil Massage – of course you should choose the latter one if you want a happy ending, means hand job, for an additional tip. They can be quite hard to negotiate with and demand 1,000 Baht for the hand job and it can take some work to bargain it down to the standard 500 Baht. Blow jobs and sex are also frequently offered for a tip of 1,000 to 2,000 Baht.
Ladyboy Street Hookers
If you walk down Sukhumvit Road (Thanon Sukhumvit) any day of the week from around 7pm on the right hand side (where the night market is) from Asok BTS past Nana BTS to Sukhumvit Soi 3, you will pass by countless of street hookers, most of them are women and I'd say around 20% are ladyboys. Even if you are not interested and just look in their eyes, usually they try to touch and talk to you. Most of them are gathering on darker spots on the side of the walkway but then you even have like a dozen of street hookers right in front of the fountain at the main entrance of the famous five-star Sofitel Bangkok luxury hotel.
However the highest concentration of ladyboy street hookers you can find all along Sukhumvit Soi 4, probably Bangkok's most sinful street. It's known as the beer bar capital of Bangkok and there's also Nana Plaza about 50m down the Soi on the left hand side. Just as if there wasn't anymore space to stand for the girls and ladyboys inside the bars, there are easily more than a hundred street hookers hanging out on the walkway. Means you can just walk down from the Sukhumvit road junction for about 300m to Hillary Bar 1 and see what you like.
Prices: The going rates are 1,000 or 1,500 Baht for short time, usually they will also offer you a short time hotel room for 350 Baht which makes it more convenient for both of you – you will not have to worry about your belongings in your room and she can return to the street quicker, continuing working.

Ladyboy Escorts
The most convenient option to get laid with a ladyboy in Bangkok: You just book a girl and she comes to your place. It takes between 30 minutes and 2 hours for her to arrive, obviously depending on the distance between your and her place as well as the traffic situation. Simply go online and open one of the ladyboy escort sites, such as Smooci.
Just as with women escort sites, they have a very nice design and are easy to navigate. The most two important pages are usually very easy to find: Girls (some even put the full gallery on their homepage) and Rates. Both pre-op and post-op ladyboys are available, so check on her "status" before booking.
Prices: You are generally required to book a ladyboy escort for at least 2 hours and the price includes 2 shots. The standard rate for this is 6,000 Baht (and yes, slightly more expensive than women escorts where rates often start at 4,000 Baht for 2 hours). Obviously the longer the service is, the cheaper the rate gets per hour, means 4 hours cost 8,000 Baht and a full day 15,000 Baht. You are usually required to pay the "service fee" directly to the girl once she arrives. Advance payments via PayPal or credit card are usually possible, too. Tips of a few hundred Baht are not mandatory, but appreciated.
Arrange your own date
If you haven't used an online dating site in Thailand yet you wouldn't believe how many hot chicks there are waiting for your message. It is super easy to arrange dates with Thai girls and ladyboys online. The best online dating site for arranging a date with a Thai ladyboy is definitely Thai Friendly. It is not just extremely well structured with filter searches like ladyboys only, age, weight, city, education and last active, it also doesn't have any fake profiles means the admins really make sure you don't receive any spam messages.
Prices: Usually free if you arrange a normal date like dinner, sometimes they do ask you to pay them like 500 or 1,000 Baht. Don't pay if you haven't talked about it in advance. If she does get mad even though you haven't talked about money, hand her a few hundred Baht to chill her down, but not one thousand or more.
What's Your Best Option?
You see each method has its own advantages and disadvantages. While renting a ladyboy from a go go bar is generally the safest option its also quite costly as you have to pay the bar fine, her own charge as well as a couple of (lady) drinks in the bar itself. You will save a lot of time and effort by just ordering a ladyboy via online escort, but then that's your most expensive option and you don't get to see her in real until she's booked and standing in front of your door.
The other two ways are a lot cheaper, but then also riskier as you might not know where to find her in case there are some problems like she steals from you. You can definitely find a pretty good deal by looking for a street hooker or massage ladyboy but if you aren't into prostitutes at all, you can easily arrange a date via an online dating site or just go in a regular nightclub in Sukhumvit and see what's available.