If you are traveling around southern Thailand, then you should make sure to plan at least 3 days in Krabi Town.
For many guys that sounds a bit much, and that's partly because everyone's got limited time and there are so many other great places in the region like Ao Nang, Koh Lanta and Koh Phi Phi, but also partly because they have no idea what to actually do in Krabi Town.
Krabi Town is the capital city of the province of the same name with a population of about 360,000 people. That makes it one of the biggest towns in southern Thailand, but of course it's in no way comparable to the hustle and bustle of Bangkok. It has an idyllic location on the Pak Nam River: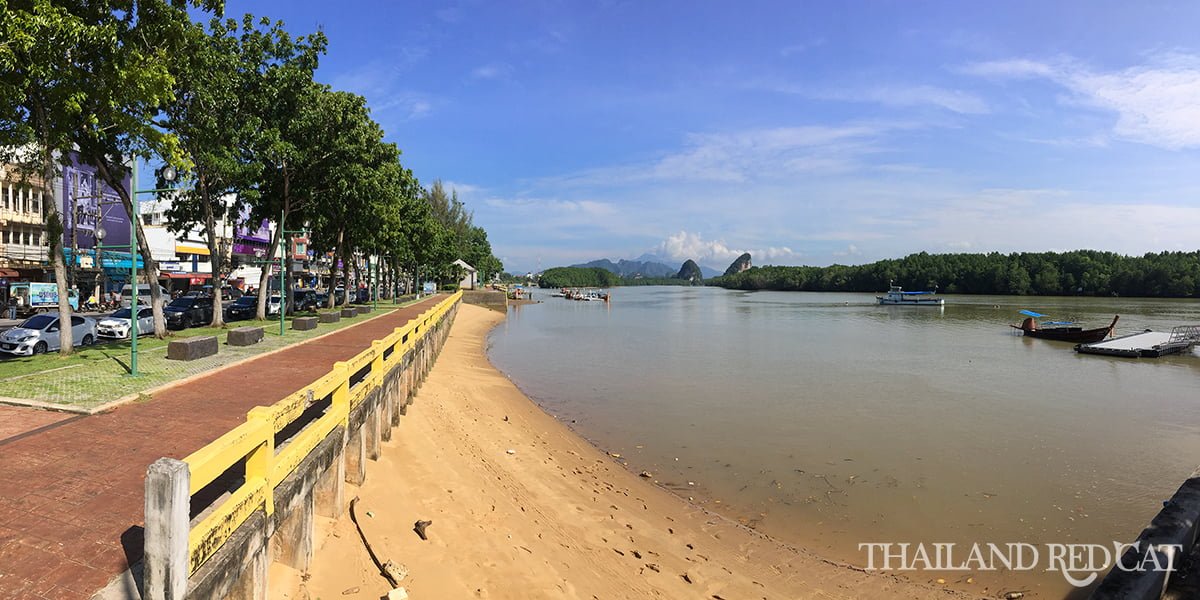 The first good news is that the tourist area in Krabi Town is located in the nicest part of town: Riverside. That's where I took the photo above. It really has a great atmosphere, there are many neat and well-run hotels, foreign restaurants, bars and of course also massage salons.
The next good news is that there are several attractions within short walking distance from all hotels in riverside, especially the hugely popular Krabi Walking Street Night Market (Fridays, Saturdays & Sundays from 5pm-11pm, one of the biggest open air markets in Southern Thailand). I have already talked about it in my Krabi Town Nightlife Guide.
And even just randomly walking around Krabi Town while looking for a nice place to eat can be a lot of fun. You will sooner or later discover one of the many decorated traffic lights – the most famous ones are the Cavemen Traffic Lights: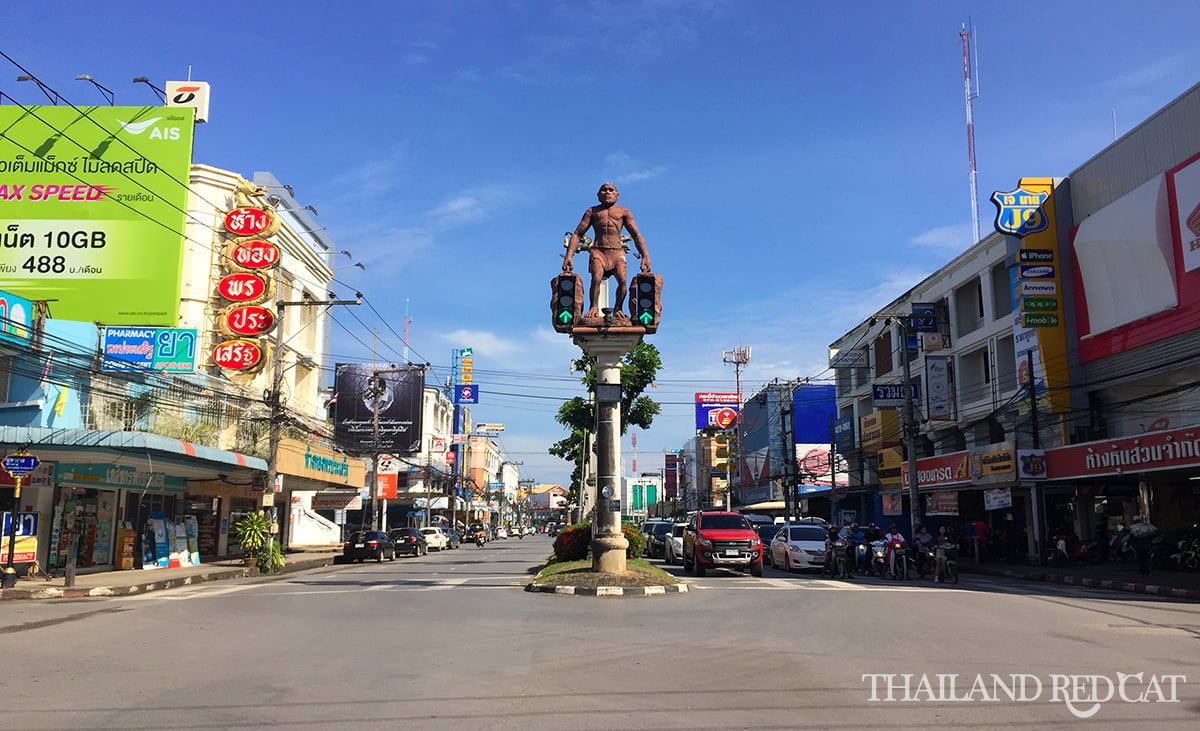 Krabi claims to have the longest history of continuous settlement in Thailand. It's said that due to the massive limestone cliffs surrounding today's city suitable as dwellings, it has attracted cavemen and Neanderthals from as early as 30,000 BC. But not just cavemen are featured at the traffic lights, but also various different animals like elephants and tigers. You can see my other picture in my guide on how to get from Bangkok to Krabi.
That's probably the first time I write an introduction on the daytime highlights of a place in Thailand and have already covered two of its attractions – riverside and the traffic lights. But don't worry, we will now move on to the usual structure of my guides. I just wanted to show you right away that Krabi Town really has a lot more to offer than most people think.
So here we go – these are the main highlights and best things to do in Krabi Town during the daytime:
Riverside & Crab Statue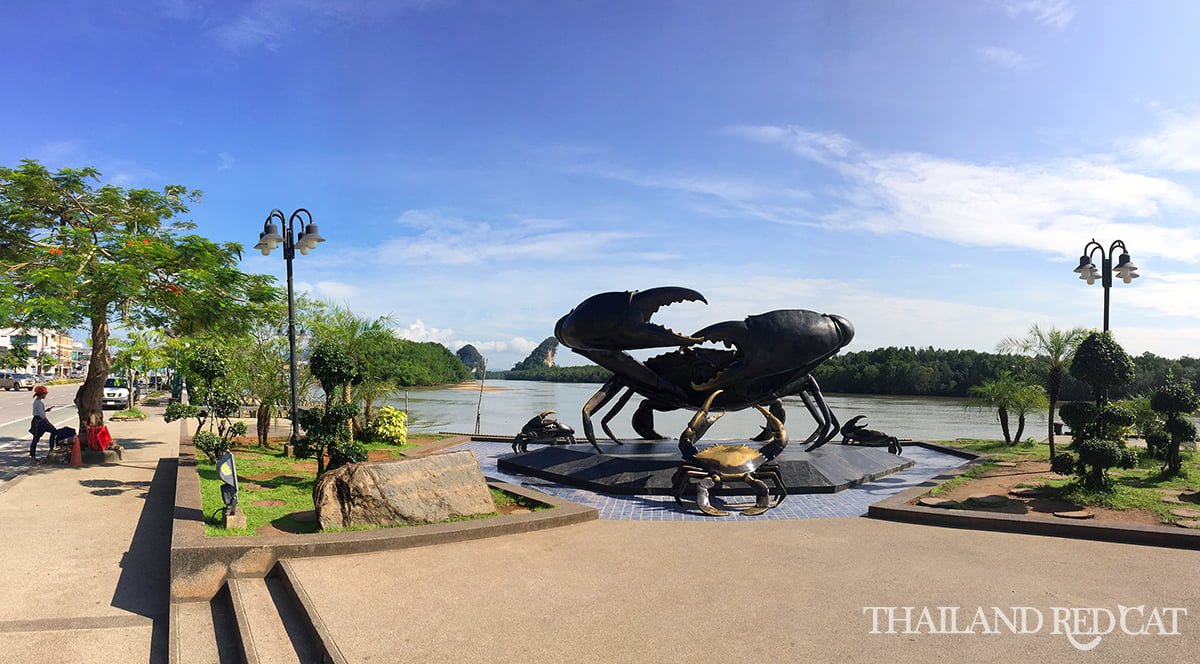 You should start your tour in the riverside area. I have already mentioned three of the highlights there: the Cavemen Traffic Lights, the Walking Street Night Market and to just try the nice restaurants and massage salons in the area.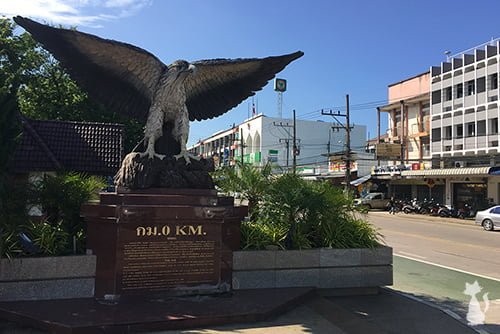 What you should not miss out on is to stroll along the river promenade. There you can find the main landmark of Krabi Town: The Crab Statue (see the photo above). That's the reason why this city is named Krabi!
There are many other animal sculptures spread all around town symbolizing the connection and dependence of the region with the natural environment. Such as the Sea Eagle Sculpture (see the right photo) that stands right opposite of the Crab Statue.
All these nice animal sculptures emphasize the friendly and relaxed atmosphere here in Krabi Town.
Tiger Temple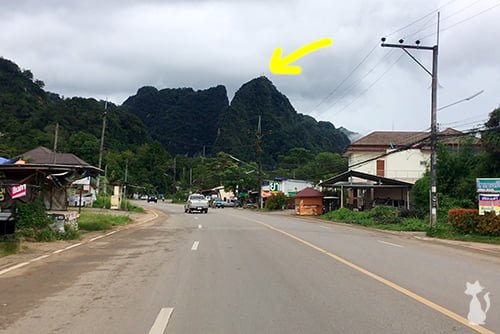 If you have only one day to spend in Krabi Town (hopefully not), then I would recommend you to explore the riverside area in the morning and in the afternoon drive out to the Tiger Temple.
It's just about 9km from riverside and you should get there in less than half an hour. Yes, I would strongly recommend you to rent a motorbike (250 Baht a day in riverside), because you will also need it to get to the next highlight on this list.
Sure, you can also book a minivan tour to get to these places, but it's not as much fun when you always depend on your Thai tour guide. And also, you surely want to check out the girls in Krabi Town at night, don't you? Then you will need your own vehicle anyway, as the best bars (and soapy massages) are well outside the tourist area.
There is no entrance fee at the tiger temple, but if your girl wears a sexy short skirt then she will need to rent a scarf down at the entrance (20 Baht).

Yes, you read right: There are 1,237 steps leading up to the Tiger Temple on top of this massive limestone cliff. It is a little challenge, not only because it's obviously very steep but also because it's quite humid. Like you can see in my video (at the end of the guide) it was drizzling when I and my girlfriend walked up there last week – lucky us, so it was cooler.
When we reached the temple at the top there was just fog everywhere. But again we were lucky, because half an hour later it started to clear up (late afternoon at around 4pm) and we had terrific views all around.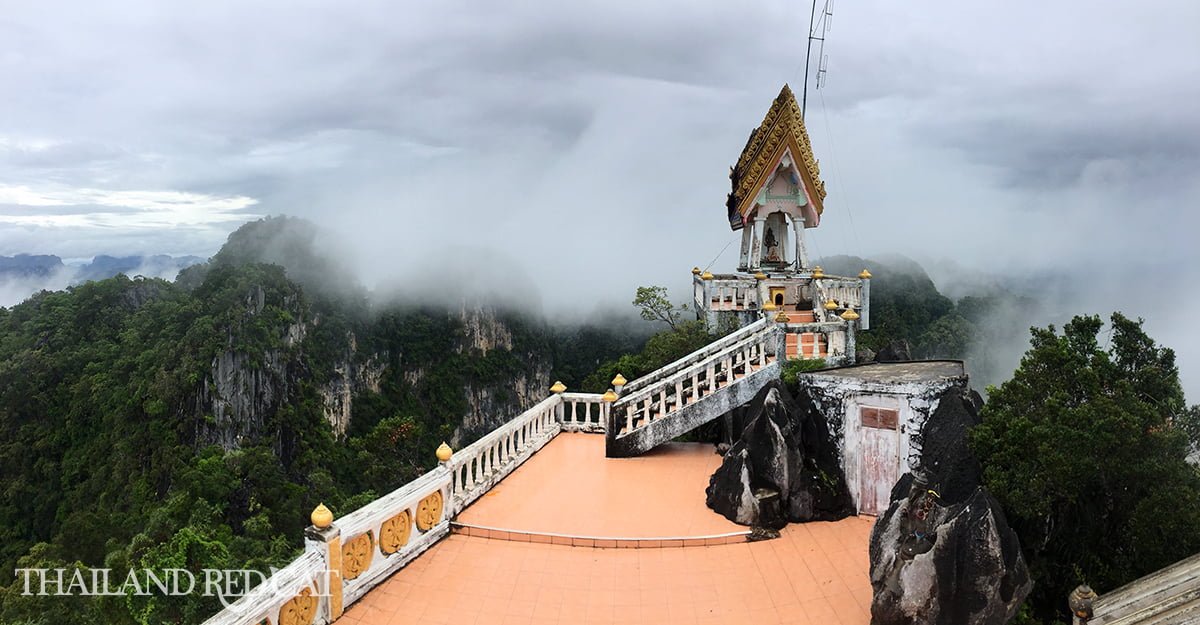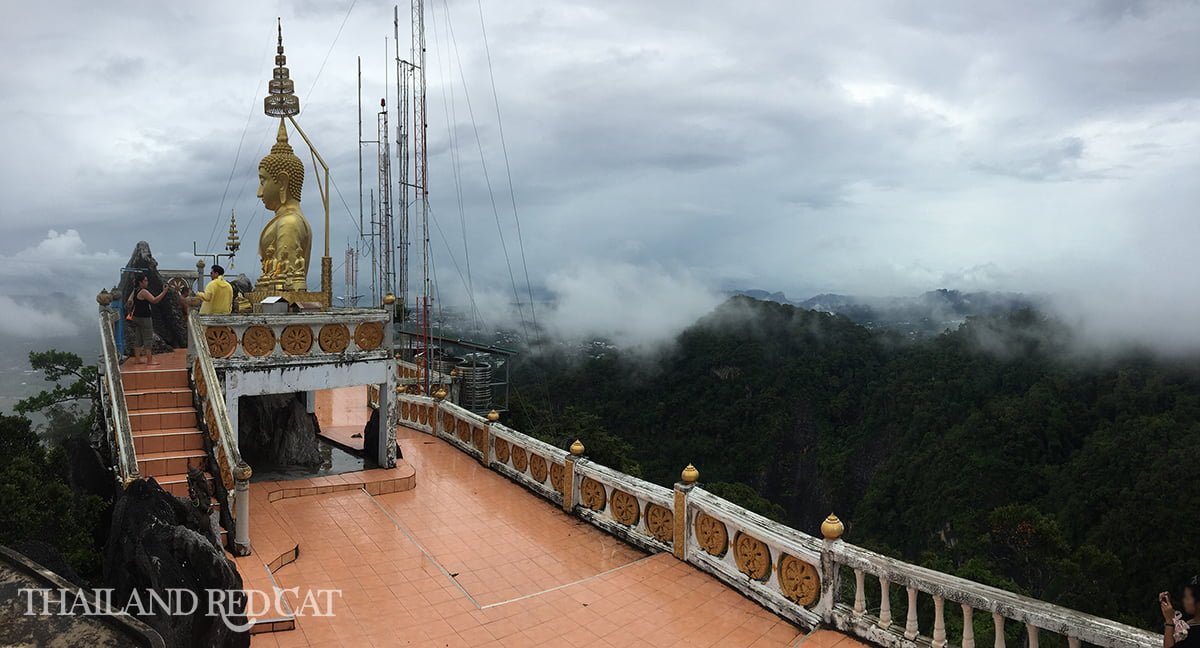 Make sure you wear proper shoes when hiking up there (or at least sandals) and also bring some water. There is no one selling drinks along the way or at the temple. And I also recommend you to go there in the late afternoon – at this time it's not so hot anymore, and the views are usually the best.
Hot Springs & Emerald Pool
My favorite place in greater Krabi Town. These hot-tub jacuzzis with water temperatures of 35-42°C are a true natural paradise. The water comes from thermal springs which origin underground in volcanic chambers.
There are two main sites in this area. First are the hot springs: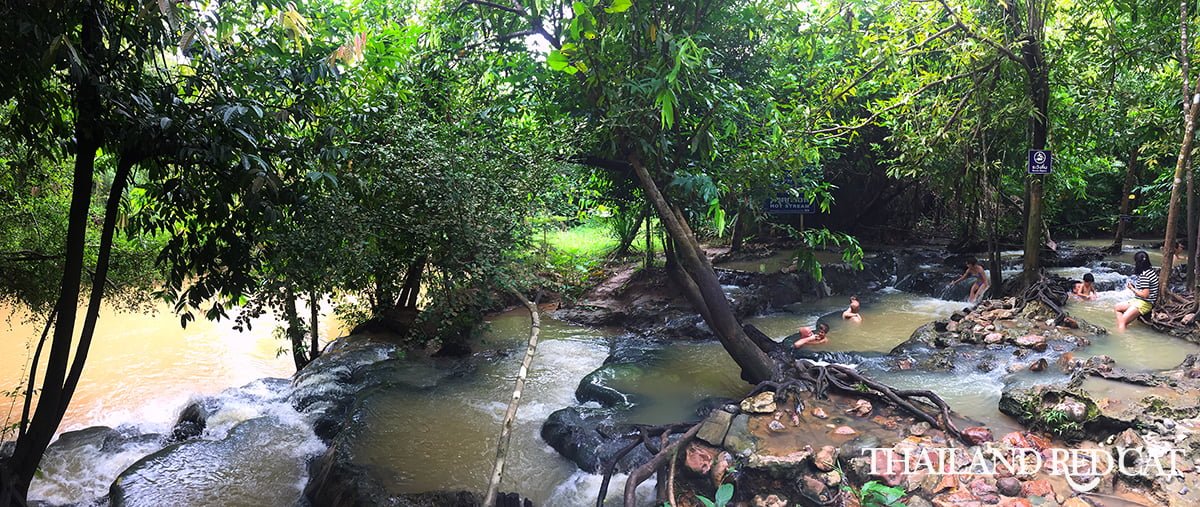 It's so much fun to just sit and relax in one of these jacuzzis while the water flows down the hot waterfall (in Thai: náam-dɔ̀k rɔ́ɔn – น้ำตกร้อน). And it's really hot – in fact they recommend to stay in there for no longer than 20 minutes.
And the other site is the main attraction: The Emerald Pool (10km from the Hot Springs).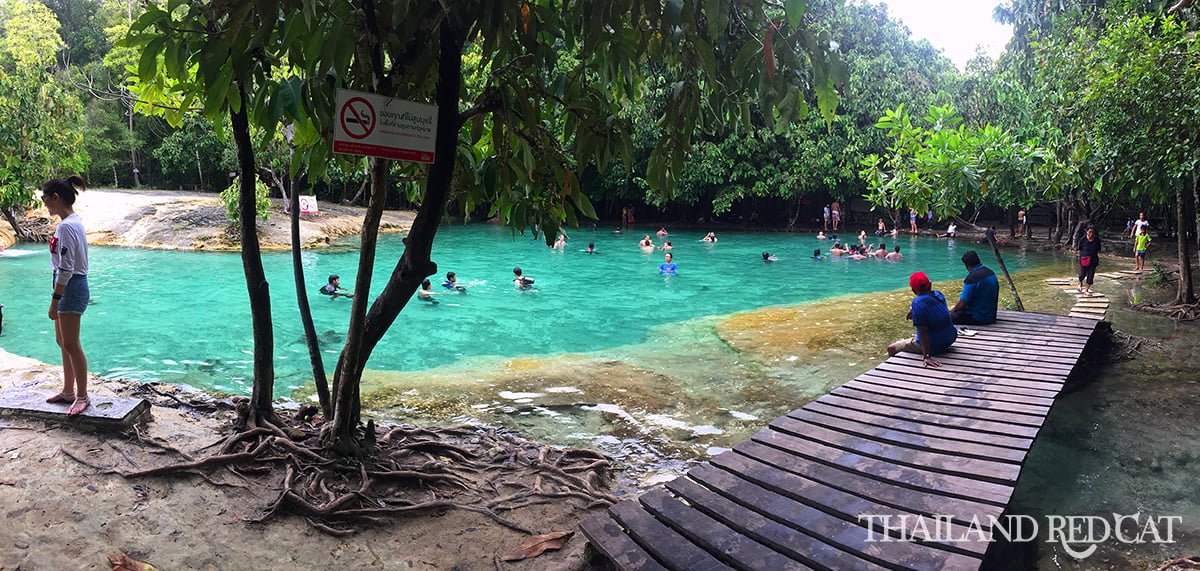 The water is not only warm but also crystal clear. It's one of the most beautiful natural sites in Southern Thailand, if not in all of Thailand. Make sure you don't miss to take a swim in the Emerald Pool when in Krabi.
There's actually one more attraction a few hundred meters from the Emerald Pool: The Blue Lagoon. It's not suitable for swimming though and not really worth visiting.
Useful tips & info:
The entrance fee to the Hot Springs is 90 Baht for foreigners and 20 Baht for Thais. Plus a parking fee of 5 Baht for motorcycles and 20 Baht for cars. They also have a shuttle bus service from the car park to the hot springs for 10 Baht per person – or you can walk there in 10-15 minutes.
The entrance fee to the Emerald Pool is 200 Baht for foreigners and 20 Baht for Thais. And no, they won't give you the Thai price if you show them your Thai driving license (typical for Southern Thailand).
The Emerald Pool & Hot Springs are located 60km southeast of Krabi Town. Yes, you can drive there, but be really careful because you will mainly drive along the main road and there are lots of vehicles on the road – most of which drive really fast. It will take you about 90 minutes to get there.
The best time to visit the lagoon is allegedly in the early morning when there are not many people yet. But we came there in the late afternoon at about 3:30pm when most of the tourists already left! We drove back to Krabi at about 5:30pm and reached riverside just after sunset at 7pm.
That's the highlights in Krabi Town! And if that's not enough then you can also book different day trips such as Rock Climbing in Railay or exploring some of the caves inside the limestone cliffs (the most famous one is the Khao Khanap Nam Cave) – just inquire at one of the many travel agents in riverside.
Map of Krabi Town Highlights
Videos of Krabi Town Highlights