The problem with the nightlife on Koh Tao is that there are too many fat and ugly Farang girls, and not that many attractive and easy-going Thai girls. The island is one of the last retreats in Thailand for backpackers and hippies from the western world, and so it's not unlikely that a rough looking British girl takes your order at the bar on Sairee Beach.
But don't worry, if you come here alone and are looking for some fun with Thai girls, you can still find that in a few places:
In this nightlife guide to Koh Tao I will give you the complete overview of places to meet Thai girls both during daytime and nighttime, but before that you probably want to get some orientation of the main nightlife areas:
Koh Tao Nightlife Overview
The main tourist area on Koh Tao is Sairee Beach. It's the longest beach on the island and that's where most of the hotels, bars, restaurants, massage salons and shops are located. Unfortunately the beach itself is not nice at all, at least not for swimming. Well, it's nice to look at if you sit in one of the many beach bars and restaurants, but definitely not good for swimming (dark water, dark sand and lots of seaweed and even rubbish).
The nice thing about Sairee Beach is that there is a beach promenade. So you can just stroll along the path, past street vendors, bars and restaurants and don't be bothered by any cars.
Pretty much all Thai hookers on Koh Tao are working on Sairee Bach. Again, the selection isn't that big, but you are probably here only for 2-3 nights (unless you do a diving course) and then it should be just fine to find some nice company every night.
Apart from Sairee Beach, there isn't much in terms of nightlife and Thai girls. Mae Haad Bay is where the ferry piers are located. There are mostly restaurants and shops in this area, and very few low-key bars and massage salons. Means usually no hookers, and no happy endings there.
Haad Sai Nuan, Ao Chalok Ban Kao and Freedom Beach are great places to swim in the afternoon (white sand, crystal clear water), but have nothing to offer in terms of nightlife and entertainment for the single male traveler. There are mainly resorts on these beaches and all you can find there are romantic (but quiet) bars and sea food restaurants.
Now that you have an overview of the different nightlife areas on the island (again, it's mostly Sairee Beach and that's what I will focus on in this guide) let's take a look at the different types of places you can meet girls on Koh Tao:
Girly Bars on Koh Tao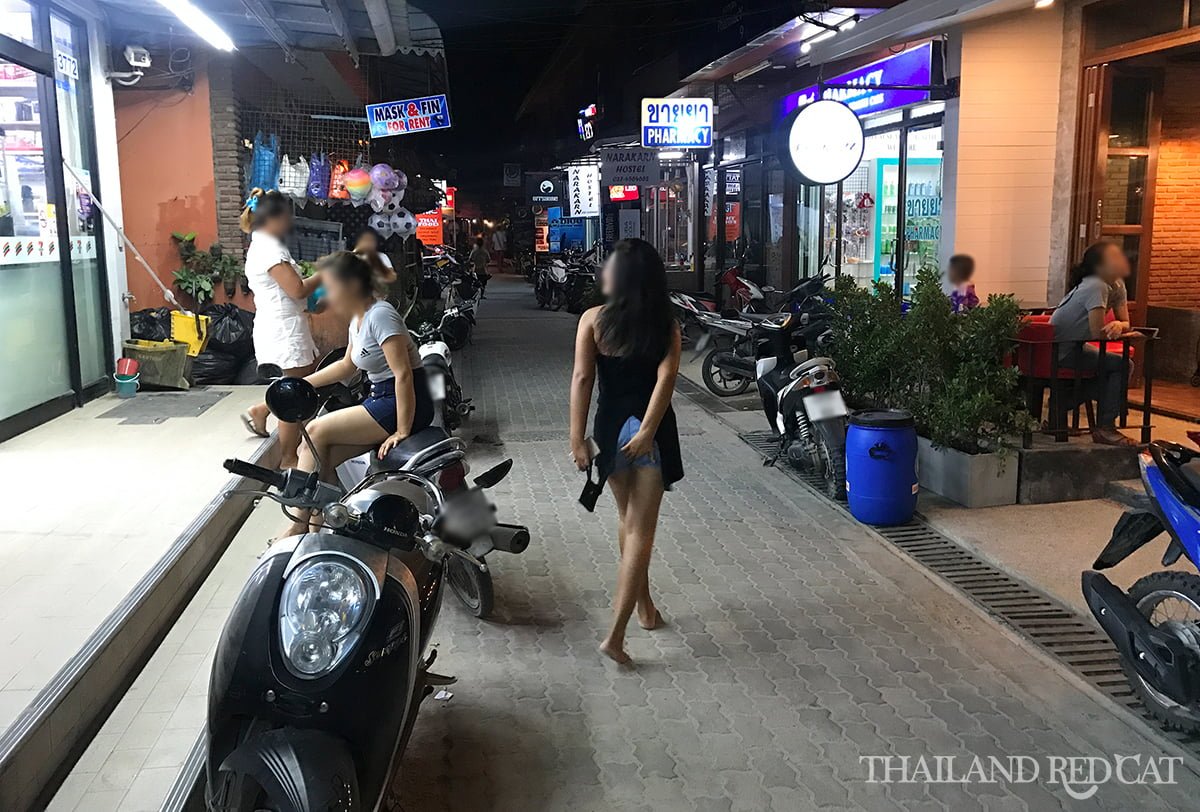 Believe it or not, but there is only one "real" girly bar on Koh Tao. It's called Dream Bar (photos above) and located near the northern end of the beach promenade on Haad Sairee. It's a really nice and relaxed place with about 8-9 girls working every night. You might think that's ridiculous and there will be too many guys fighting for the girls – but that's not the case. Since there are mostly backpackers on the island and only few sex tourists, you will find the competition not high at all.
Most of the girls are rather average looking, but they also got 2-3 young, cute and thin girls (like you can see in my photo). And yes, if you are wondering: They are mostly from Isaan. So don't expect any local Koh Tao girls working in the bar.
Another place nearby is Jam's Mini Bar (photo on the right). Unlike in Dream Bar, they don't have bar girls employed for the pleasure of foreign men, but you can often find freelancers, and some of the staff girls are pretty hot, too. But you cannot pay the bar fine for them.
Prices: It's 70 Baht for a Leo or Chang, and 80 Baht for a Singha or Tiger in Dream Bar. Vodka Coke or Gin Tonic are reasonable priced at 130 Baht. Premium spirits from 150 Baht. Soft Drinks 40 Baht. Free pool. Lady Drinks 150 Baht. And if you want to take out one of the girls for sex, then the bar fine is 500 Baht. Expect to tip them 1,000-1,500 Baht for short time, and 2,000 Baht for long time.
Night Clubs on Koh Tao
The best night club on Koh Tao is LEO Beach Bar by the Rock (photos above). It's the only club where you can find lots of young and hot Thai girls partying every night. It's like 50% hookers and 50% "normal" girls who just want to have fun. Check out my video at the end of the guide, this is probably the best place on Koh Tao to meet a nice Thai girl for the night.
Nearby Fishbowl Beach Bar has even more people partying, but like in so many other places, it's usually only Farang boys and girls there, many of them playing drinking games. Sometimes you see a Thai girl here, but then she is usually with her boyfriend. The setting of this half open-air club is nice, but it's not good to meet a girl for sex here (unless you like drunk western girls).
BND Club is between LEO and Fishbowl, but every time I went there it was dead empty. Check it out yourself, maybe you are more lucky than I. Diza Bar is more popular, has the typical beer pong tables and also TVs with diving videos, but again there are mostly Farangs and no Thais.
Prices: Very similar to the girly bars (see above), means beers for 70-80 Baht, spirits and cocktails for 100-150 Baht and LEO has a great happy hour: Buy 1 get 1 on all drinks until midnight. There is no entrance fee in the night clubs on Koh Tao.
Happy Ending Massage on Koh Tao
Don't expect 20 year old Isaan girls in short skirts yelling at you "hello, handsome man! massage!". You won't see these types of places on Koh Tao, and not even on Koh Phangan. Koh Samui has a much better massage scene.
However, if you don't mind ladies in their mid thirties who give you a good massage, and maybe a hand job as a happy ending, then that's possible to find on Sairee Beach. Sometimes it's tricky to tell which one will provide a "special service", because they all wear traditional massage dresses, but if you look at the expressions on their faces, it usually becomes quite obvious. There are also a few salons on Mae Haad Bay (near the pier).
Prices: Most massage salons on Koh Tao have the same price for Thai and Oil Massage: 300 Baht. Expect to leave a tip of 400-500 Baht for a hand job. Blow jobs or sex are almost impossible to get in these places.
Street Hookers on Koh Tao
If you walk along the beach promenade from about 9-10pm, you may be able to find a few freelance prostitutes (or street hookers, whatever you want to call them). Some of them are on their way to the clubs, others are just hanging out and waiting for a customer. They can be surprisingly attractive.
Prices: Usually 1,000 Baht for a short time. But if they are young and confident, they may ask for 2,000 Baht. Don't pay that much, maximum 1,500 Baht is fair, but only if she's really hot.
Ladyboys on Koh Tao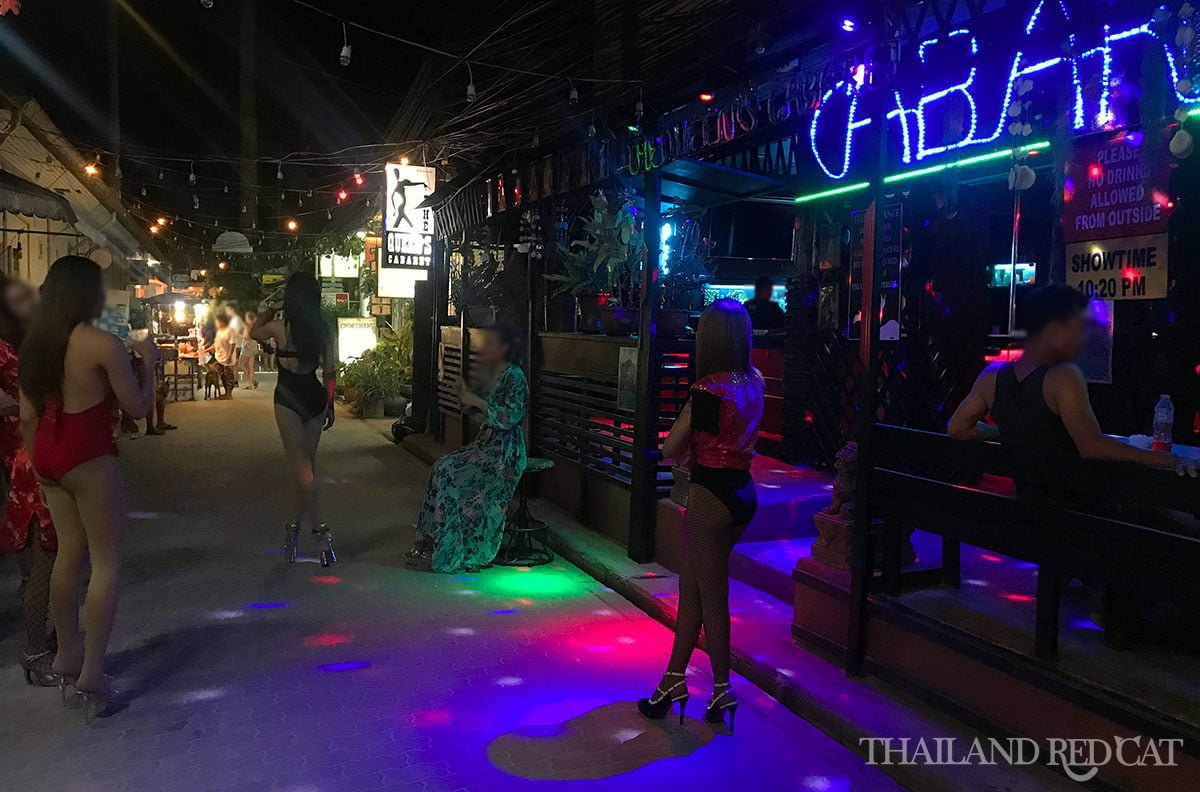 There is a ladyboy bar on Sairee Beach called Queen's Cabaret. Like the name suggests, they have daily shows (cabarets) at 10:20pm. The entrance is free, but the drinks are more expensive than elsewhere, and before the last song they walk around with a bucket, expecting you to tip.
If you like ladyboys, you will probably love Queen's, as most of the shemales here are pretty hot.
Prices: 1,000-2,000 Baht for short time (negotiable). You would have to wait until the bar closes though (2am).
"Normal" Bars on Koh Tao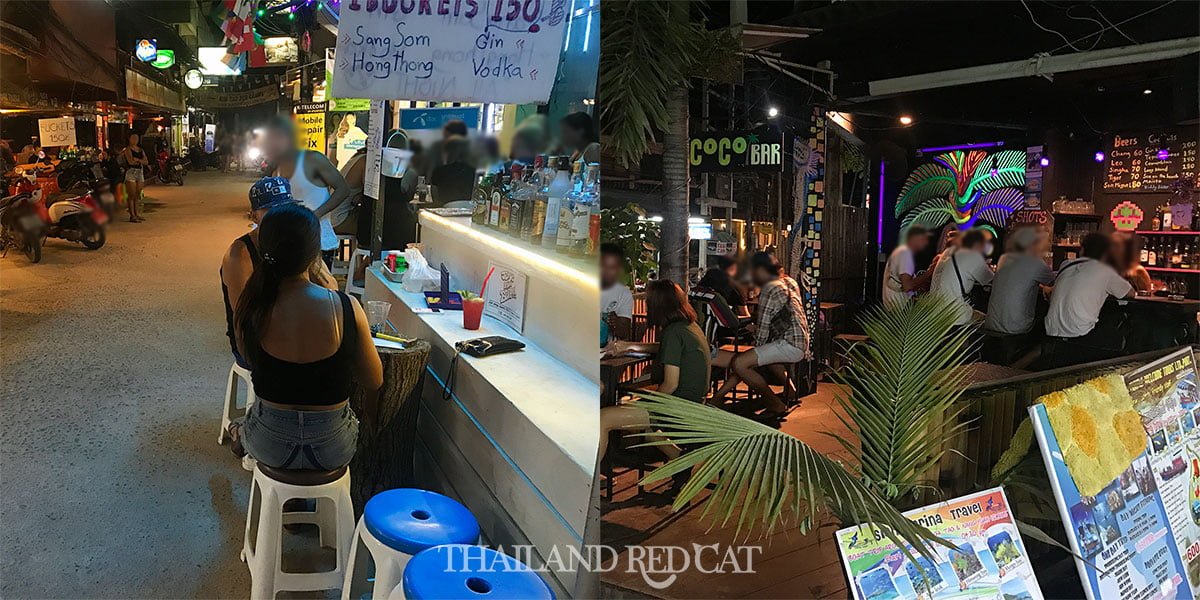 Of course there isn't a shortage of "normal" bars on Sairee Beach. Coco Bar, Maya Beach Club and Lotus Bar are among the most popular places to sit down with your friends or girlfriend and have a relaxed drink, and Lotus Bar also has fire shows every evening from about 9pm. I took a video there last month, check it out below.
Prices: Similar like in the girly bars and night clubs – beers about 70-80 Baht, spirits 100-150 Baht, and cocktails 100-150 Baht as well.
Night Market on Koh Tao
There is no designated area with a big night market or "Walking Street" on Koh Tao, but if you walk along the beach promenade on Sairee Beach, you can find plenty of vendors, selling all sorts of crap from clothes, handicrafts, souvenirs to coconuts.
Usually though, the vendors are much nicer to look at than the things they are selling.
Map of Nightlife on Koh Tao
Do I like Koh Tao? Yes, I do. But definitely not because of its nightlife. I think you noticed that while reading through this post. There are just too many backpackers here, and it seems like they take up so much space that there's little room left for sexy Thai girls. Just joking, it's probably because they know they can't get much money out of the backpackers.
What I like about Koh Tao are the gorgeous beaches. You have probably heard of Koh Nang Yuan, but how about Freedom Beach and the incredible John-Suwan Viewpoint? Check them out in my daytime guide.
I think 3 nights is the maximum amount of time you should spend on Koh Tao (unless you come for the diving), similar for neighboring Koh Phangan. The best nightlife in the region has obviously Koh Samui, where you could easily spend a week on Chaweng and Lamai and still not feel bored.
Videos of Nightlife on Koh Tao