The nightlife on Koh Phangan is very different to its big neighbor Koh Samui: Less Thai girls and less girly bars, but more backpackers and more beach bars. The island is mainly known for the full moon party, that's when thousands of young Farang boys and girls get drunk and crazy on Haad Rin.
When it's not full moon (or half moon) it's much more quiet and more like a romantic dating spot than a good place to meet girls for sex.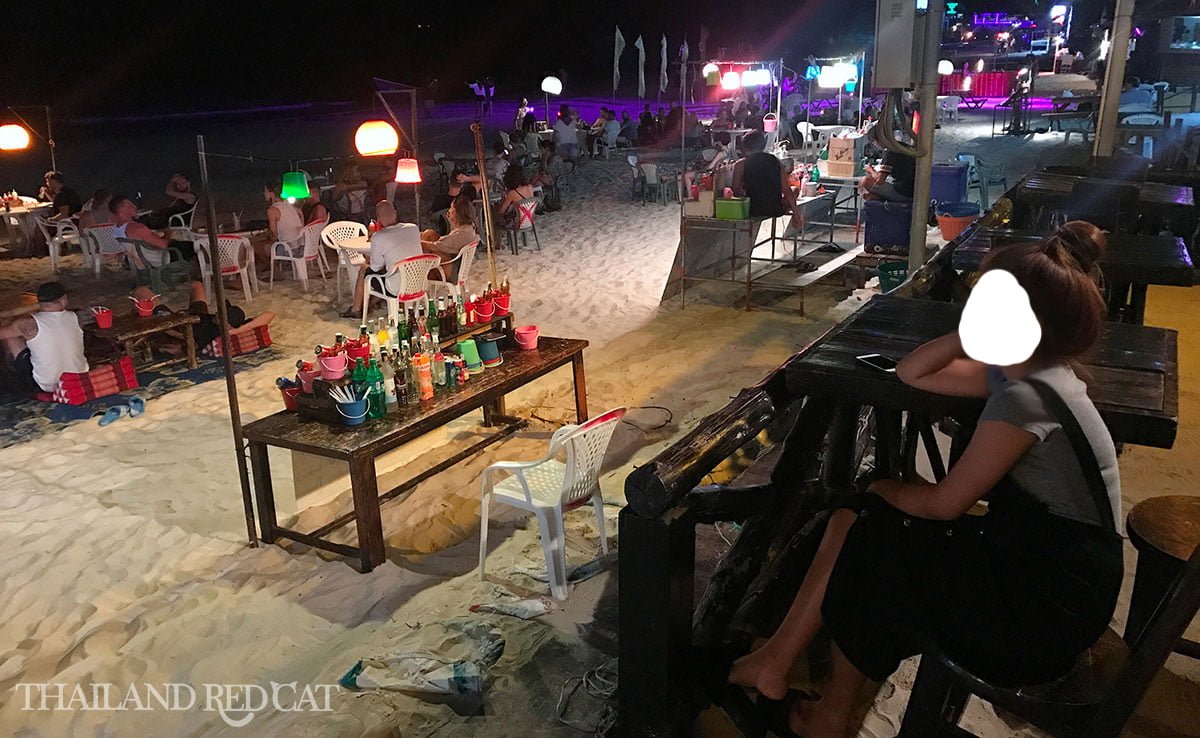 No, that's not a bar girl in my photo. She's not even Thai, but Burmese. The truth is that Koh Phangan is not the best island if your priority is on meeting Thai girls at night, but it's still possible at some places.
In this guide I will show you where you can find these places, and a little more.
Koh Phangan Nightlife Overview
Haad Rin is the most famous and developed beach on Koh Phangan, this is where the famous full moon party takes place every month. There are many nice beach bars and clubs, and if you walk around in the streets behind the beach, you can find some more bars and massage salons. Important: There are no such girly bars or beer bars in that area, but a few massage salons with girls who will give you a hand job for a small tip.
There is one red light area on Koh Phangan, and that's located on the main road near Thong Sala (the main town of the island). There you will find about 10 girly bars within a stretch of 2-3km, as well as several (happy ending) massage salons and even a Thai style karaoke bar.
The beaches on the northern part of the island, like Thong Nai Pan Noi Beach, Thong Nai Pan Yai Beach and Malibu Beach, also have the standard tourist setup with small hotels, restaurants, shops, bars and massages, but it's much more quiet there and there's absolutely no red light scene. There aren't even many Thai girls at all, as most of the workers are from Myanmar.
I would recommend you to either stay in Haad Rin or on the main road behind Sunshine Beach. The nightlife in all other areas is much more quiet and really only suitable for couples, girls or men who aren't looking for ladies and sex. Which I assume you are.
So let's now get into the different types of nightlife on Koh Phangan:
Girly Bars on Koh Phangan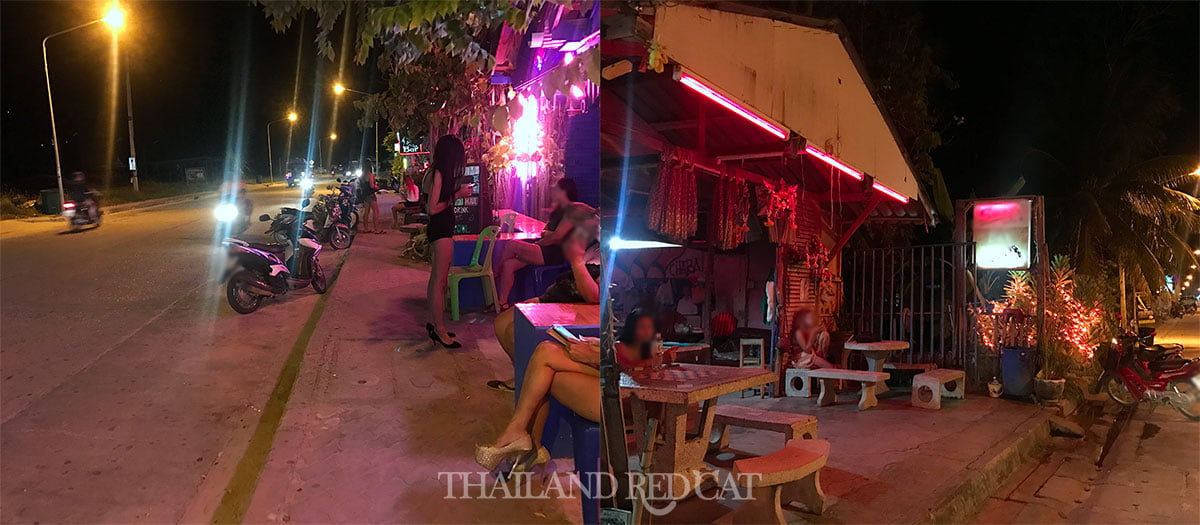 There are no girly bars in Koh Phangan's beach towns, but if you go to the main road between Haad Rin and Thong Sala you can find about 10 bars with half naked Thai girls waiting for customers (see the map below for the exact locations). Most of them aren't that attractive compared to Bangkok or Pattaya, or even Koh Samui, but like you can see in my photos – there are always some nice exceptions.
The most popular bars during most nights are Smile Bar, Oscar Bar and Jinis Bar. But it's really the best idea to just park your motorbike in front of Oscar and then walk down the street to take a look at the girls yourself. Most of them will stand outside, trying to drag you in (and later out).
Prices: Very fair prices with beers for 80 Baht in most bars. Spirits are pricier (like a Gin Tonic will cost you about 160-170 Baht) and the lady drinks are in the 130-140 Baht range. Some bars, like Smile Bar, have a great system and just add an additional 30 Baht for any drink you buy a girl – that will come cheaper as you can just buy her a beer or other regular drink. Many bars have pool tables which are free to use for customers.
If you decide to take one of the bar girls back to your hotel, then you would have to pay the bar fine (500 Baht in most bars) and 1,000 Baht for short time, or 2,000 Baht for long time. Don't let them overcharge you – a lot of these girls think that all Farang men here are newbies in Thailand and have no idea about the prices (that's because there are so many young backpackers here who indeed have no idea about how much to pay for Thai hookers).
Beach Bars / Nightclubs on Koh Phangan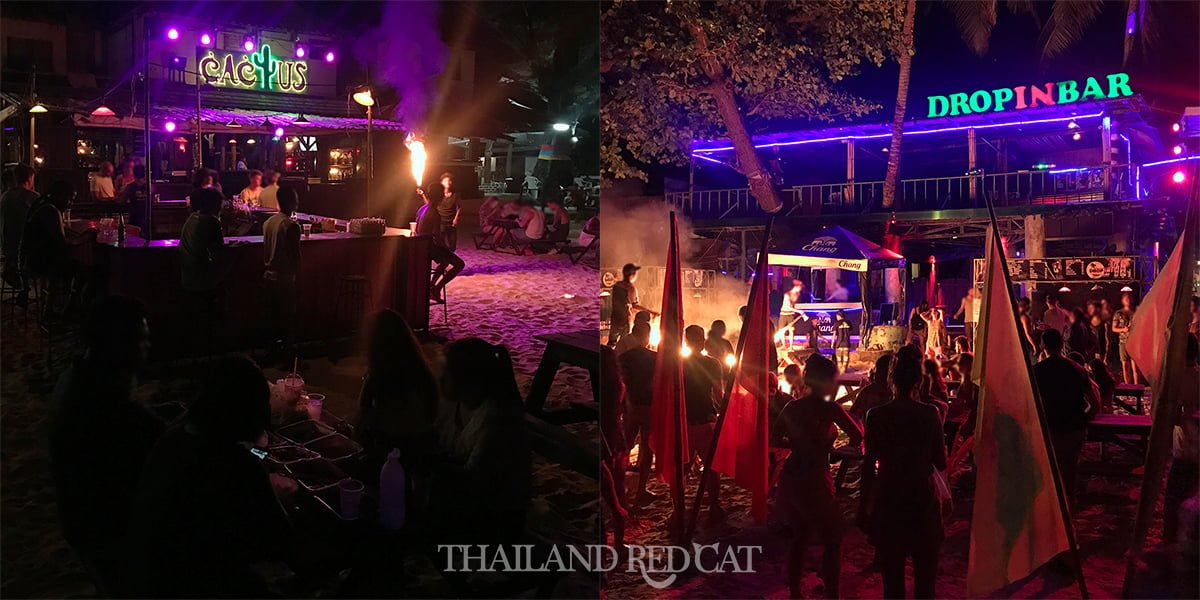 The good news is that there are many nice beach bars on Haad Rin with cheap drink prices all night long (see below). However, the bad news is that there usually aren't any Thai girls in these bars – it's mostly fat and/or unattractive western women. It will be more fun if you meet a girl in one of the beer bars (see above) and then take her to a bar on the beach to have a relaxed drink together.
The two most popular beach bars on Haad Rin are Cactus and Drop In Bar. They have fire shows going on each night from about 8pm. During the full moon party there are people inside the bars, too, which gives them like a nightclub feeling. But when it's not full moon, everyone is sitting or standing outside on the beach.
Mellow Mountain Bar is a nice open air disco on top of a hill overlooking the beach, but it only gets busy during the full moon party.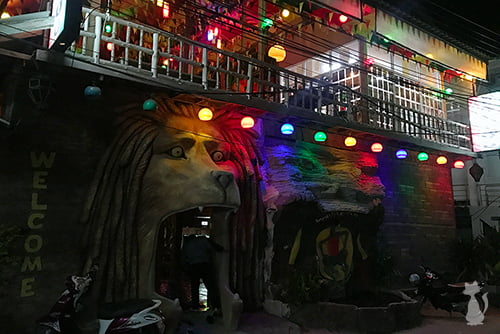 And if you walk around in the town of Haad Rin, you will find several more bars – they all look really nice, but again the problem is that there are no Thai girls. Even the staff are usually Burmese boys and girls, and they will probably not be flirting with you (most of them have boyfriends).
Prices: That's why Koh Phangan is such a huge magnet for backpackers and hippies from all over the world: You can buy a bucket of whiskey, mixer and ice for 150-200 Baht. I don't really drink Thai whiskey anymore, so I have bought a Gin Tonic bucket (original Gordon's Gin, 300ml) for 300 Baht. That's cheaper than at the 7-Eleven! There the same small bottle of gin costs 290 Baht – no tonic and ice included.
Most bars on Haad Rin also have "happy hours" all night long with beers for 60-70 Baht and cocktails (strong ones!) for 100-120 Baht.
Full Moon / Half Moon / Black Moon Party on Koh Phangan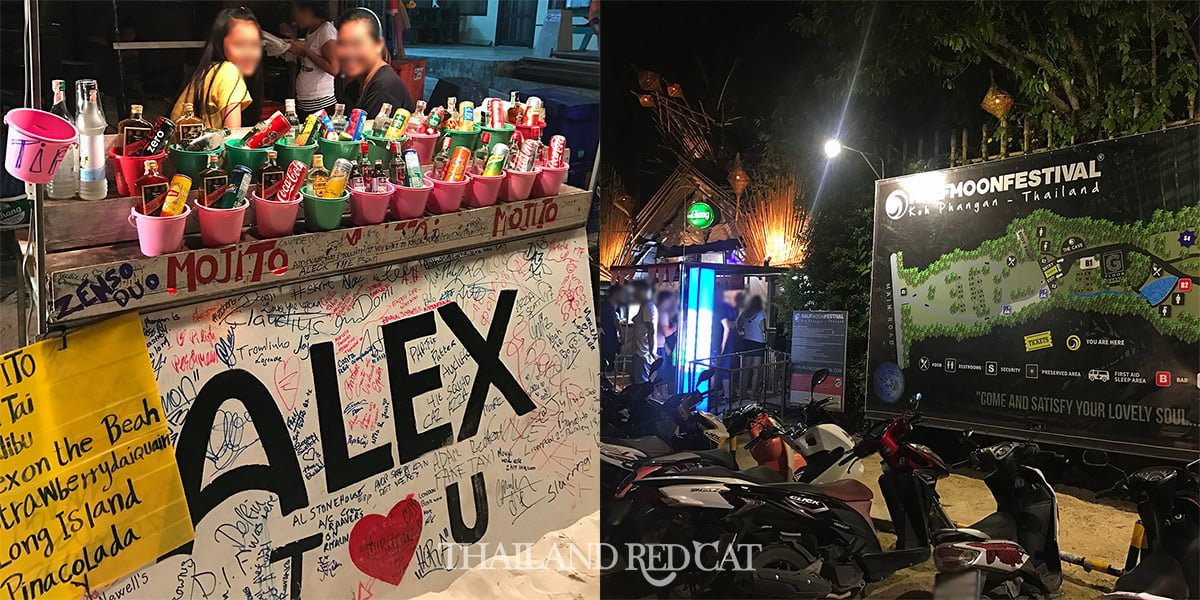 The full moon party is probably the most overrated tourist event in Thailand. When I first heard about it, I thought it was a nice party on the beach with a good mix of expats and tourists, and hundreds of sexy Thai girls in bikinis dancing in the moonlight. I imagined getting a free blow job in a dark spot on the beach and walking back to my hotel hand in hand with two hot Thai ladies.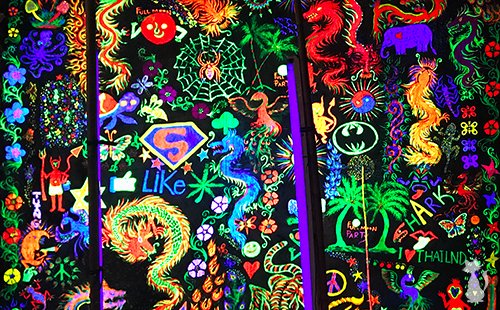 It's nothing like that.
Every month during full moon, Haad Rin is cramped with thousands of people, and 90% of them are Farangs aged between like 16-35. It's a huge booze-up, people take drugs, people buy drugs and get arrested, and people die on the hilly road driving drunk on their rented motorbikes. Yes, there are also some "open-minded" Thai girls attending the full moon party, but for the most part you will feel annoyed by all these drunk and hyperactive kids.
Nevertheless, they do a great marketing for the full moon party and since it's so popular among all the kids visiting Thailand for the first time, they have decided to host another three regular events: The Half Moon Festival in the jungle in the center of the island, the Black Moon Party on Ban Tai Beach, and the Waterfall Party 2 days before and 2 days after the Full Moon Party. To make it short: Different location, same crowd.
Entrance fees:
Happy Ending Massage on Koh Phangan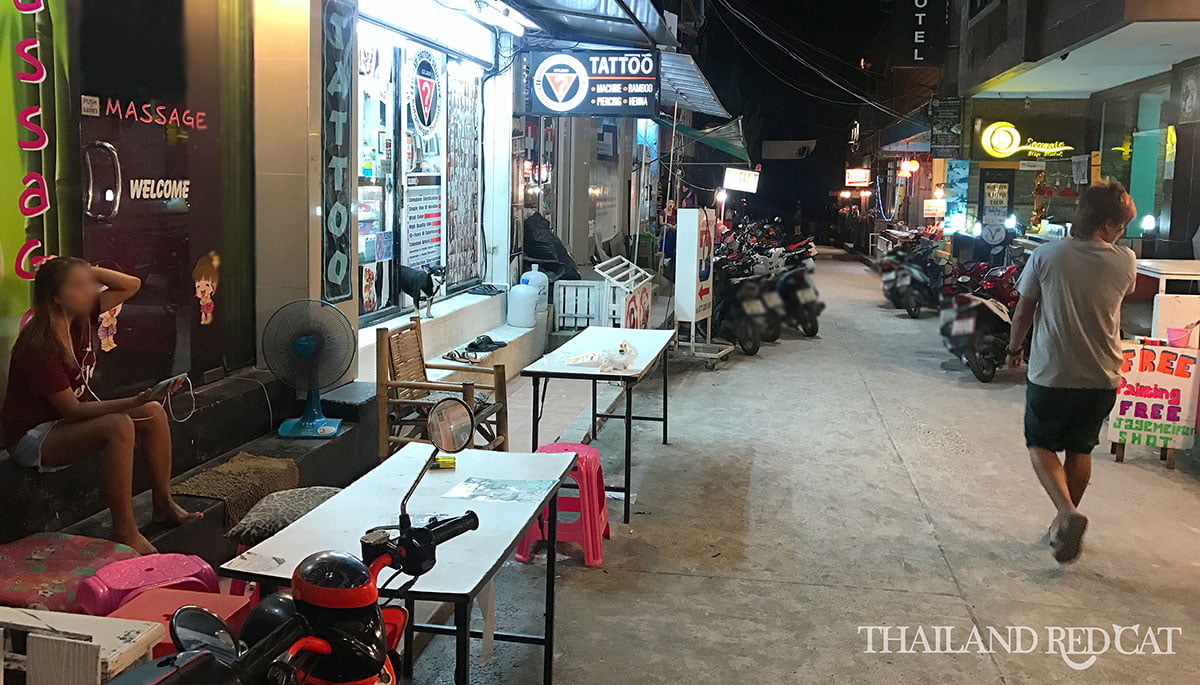 The massage salons are, along with the girly bars, the two best places to meet Thai girls on Koh Phangan. I usually also recommend the dating sites to meet girls for free, but there aren't many members on the islands (apart from Phuket and Koh Samui).
While you can find several massage salons in every beach town on Phangan, the better ones with young and attractive Thai girls are on Haad Rin (photo) and on the main road near Thong Sala. Happy endings are not always provided, so it's usually a good idea to just ask "special massage mai?" before you take their service. I have marked the main clusters of massage salons on the map below.
Prices: The standard rates are 300 Baht for a Thai Massage and 400 Baht for an Oil Massage. That's for one hour and doesn't include the happy ending – if you want a hand job then your girl will likely ask for a "tip" of 500 Baht. It's uncommon that they do blow jobs or even full service (sex) in the massage salons on Koh Phangan, but you never know – it really depends on the girl, time of the day and probably also on the phase of the moon.
Ladyboys on Koh Phangan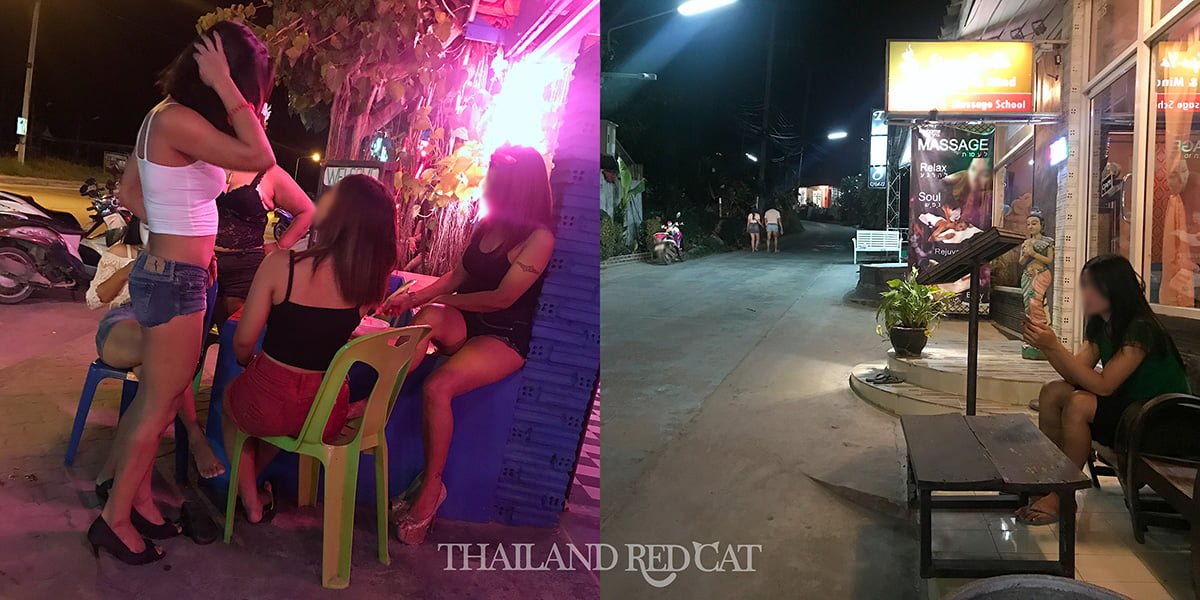 This might not be for everyone, but you can find quite a few ladyboys on Koh Phangan. Most of them are working in the girly bars near Thong Sala and in the massage salons of Haad Rin. Yes, they are working together with the girls so you will need to be able to tell the difference between girls and ladyboys (like on my photo above, the ladyboy there is the one in the white shirt). There are no cabaret shows like on Koh Samui or Koh Tao (yet).
Prices: Similar prices as for the girls (maybe 100-200 Baht cheaper in the massage salons, or 200-300 Baht cheaper in the bars, because there aren't really that many guys on Koh Phangan who are interested in ladyboys).
Beach Hookers on Koh Phangan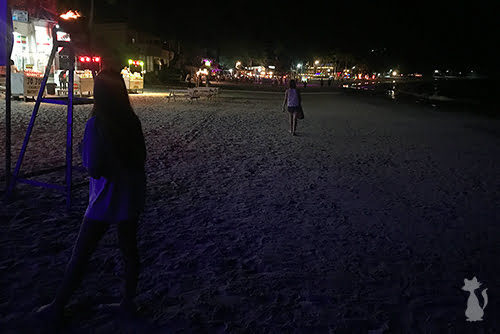 If you come to Koh Phangan a few days before or after full moon, you may be lucky and find a few "beach hookers" on Haad Rin. Means Thai girls who are sitting in one of the beach bars, either alone or with a few other girls, or just hanging out in random spots on the beach, waiting to meet a nice foreigner for "boom boom".
Some of them will want to drink and party with you first, while others care mostly about some quick cash and will join you to your hotel for sex right away.
Prices: 500-1,000 Baht for a short time.
Map of Nightlife on Koh Phangan
So how much time should you spend in Koh Phangan? I would say two, maximum three nights. During your first night you can check out all the beach bars on Haad Rin (maybe have a happy ending massage there before). Then the next day you should rent a motorbike (250 Baht per 24 hours) and explore the daytime attractions, and then at night visit the girly bars on the main road.
That's all there really is to Koh Phangan.
I would even say you can skip Koh Phangan on your travels, but since it's just a short ferry ride from Koh Samui, it makes a nice island hopping trip – 4-5 days on Koh Samui, 2-3 days on Koh Phangan and another 2-3 days on Koh Tao. I have already linked to my nightlife guide to Koh Samui right on the top of the guide (or just look in the menu) and the nightlife guide to Koh Tao you can find here.
Videos of Nightlife on Koh Phangan