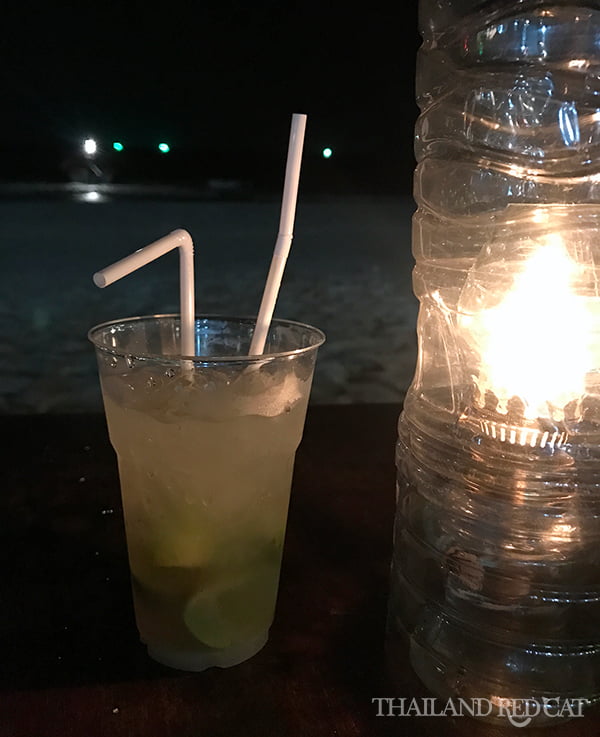 When I say Koh Phangan, the first thing you probably think about is the full moon party. I have already told you my opinion about it in my nightlife guide – I don't like it and that's because there are mostly young and drunk Farang boys and girls, and only few Thai girls you can have fun with.
So last month I went on my second trip to Koh Phangan, and I avoided the full moon period to experience what the little neighbor of Koh Samui has to offer when most of the backpackers and hippies have left. I have already written the guide on Koh Phangan girls and where you can meet them, so today it's time for the second part of the series: The daytime highlights on Koh Phangan.
Just so you get a quick orientation: There are two main tourist areas on Koh Phangan: Thong Sala and Haad Rin. Thong Sala is the name of the main town on the southwestern part of the island, that's where the ferry pier of the same name is located. Most guesthouses, restaurants, shops and also the popular night market is found here. Thong Sala Beach is just 200-300m from the main road away.
And Haad Rin is the most famous and popular beach on Phangan, this is where the full moon party takes place every month. There are almost as many hotels and restaurants as in Thong Sala, and of course also lots of atmospheric and romantic beach bars (unless it's full moon, then you probably won't find a place to sit anywhere).
Apart from these two main tourist areas, there are also a few other beach towns in the northern part of the island, such as Malibu Beach, Bottle Beach and Thong Nai Pan Noi Beach, but they are much more quiet and rather suitable for couples or families. Only few bars in these beaches and like 0 Thai girls (most of the shop workers on Koh Phangan are actually from Myanmar).
If you have read some of my other travel guides already, then you probably already know my structure and what will follow now: The best things to do in Koh Phangan before sunset, divided into different categories.
I will start with the most obvious.
4 Best Beaches on Koh Phangan
There are more than a dozen of beaches on the island, and here are the best ones:
Haad Rin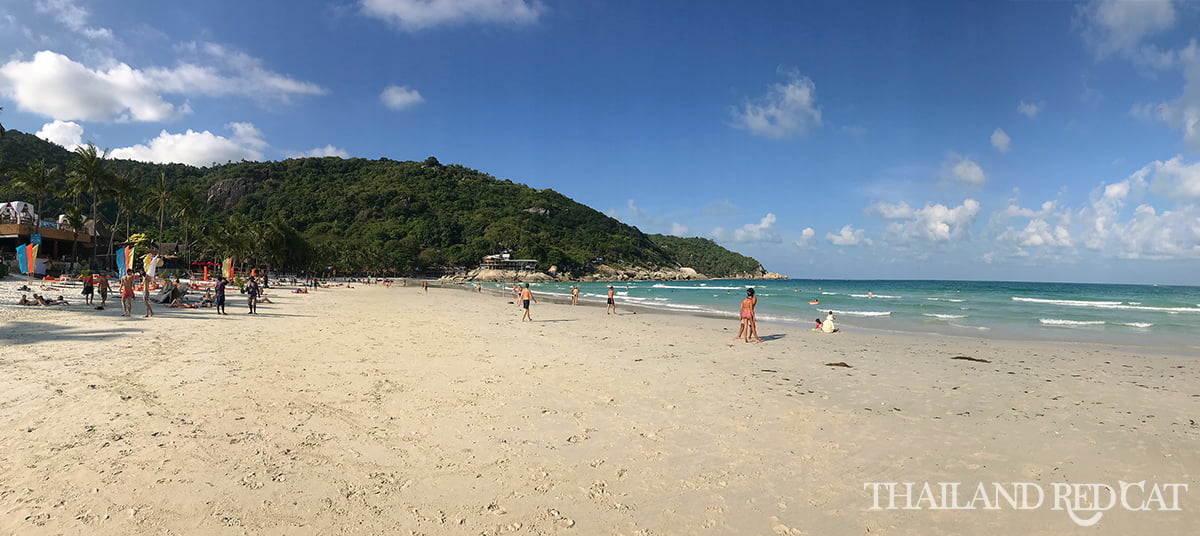 The "Full Moon Beach" and most famous place on Koh Phangan. It's like comparable to Chaweng Beach on Koh Samui – most first time visitors stay there because it's the nicest and most developed beach town.
I personally really like Haad Rin (when it's not full moon). Unlike other beaches, it's really fun to swim here, because the waves are not as rough as on Haad Than Sadet and the water not as shallow, calm and boring like on Malibu Beach (see below).
Great place Haad Rin, I love to swim there in the late afternoon (around 4pm) and afterwards enjoy a cool Singha for like 70 Baht at one of the many atmospheric beach bars while watching the people, paragliders and beautiful beach among the hills covered with dense rain forest.
Check out my video of Haad Rin at the end of the guide, I took it at about 4pm and you can see how great the atmosphere is at that time.
Malibu Beach
After Haad Rin the most beautiful beach on Koh Phangan.
Malibu Beach is located in the northern part of the island, and it's best to rent a motorbike wherever you stay (250-300 Baht per day) and cruise up there by yourself. It's a hilly, but fun ride through the center of the island, and on the way you can also check out another highlight: Phaeng Waterfall – see below.
There is a nice bar on Malibu Beach, and you will see mostly couples who hang out here for several hours. There's not really much to do here, so just relax, take a swim, bring a book, buy a cool beer and maybe take a massage in the open air salon right on the beach.
Thong Sala Beach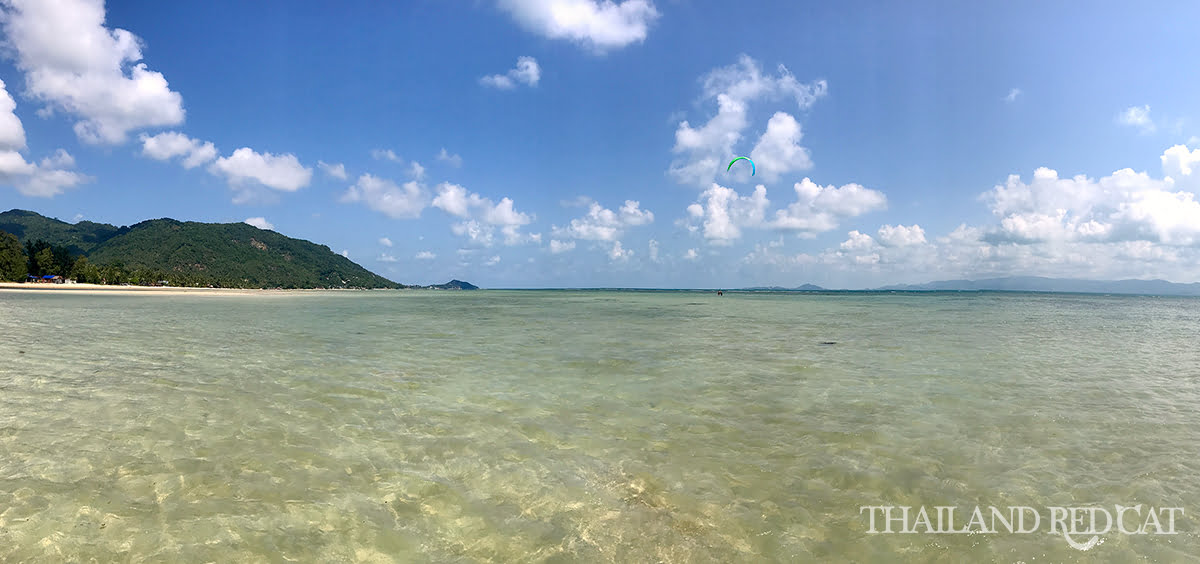 The biggest and widest beach on Koh Phangan. The water here is incredibly shallow and calm, making it perfect conditions for kitesurfers. You can rent the complete kitesurfing equipment from one of the tour operators there, prices are about 1,000-1,400 Baht per hour, 3,000 Baht for half a day and 4,000 Baht for a full day.
If you don't have any experience in kitesurfing, then you can also take lessons: Some schools offer private lessons for 4,000 Baht per day, or 11,000 Baht for a full 3 day course.
That said, Thong Sala isn't really suitable for swimming (because the water is so shallow), but again there are lots of nice beach bars to enjoy a drink at – and you can soak in the great views with Koh Samui visible not far away (you can even see it in my picture).
Thong Nai Pan Noi Beach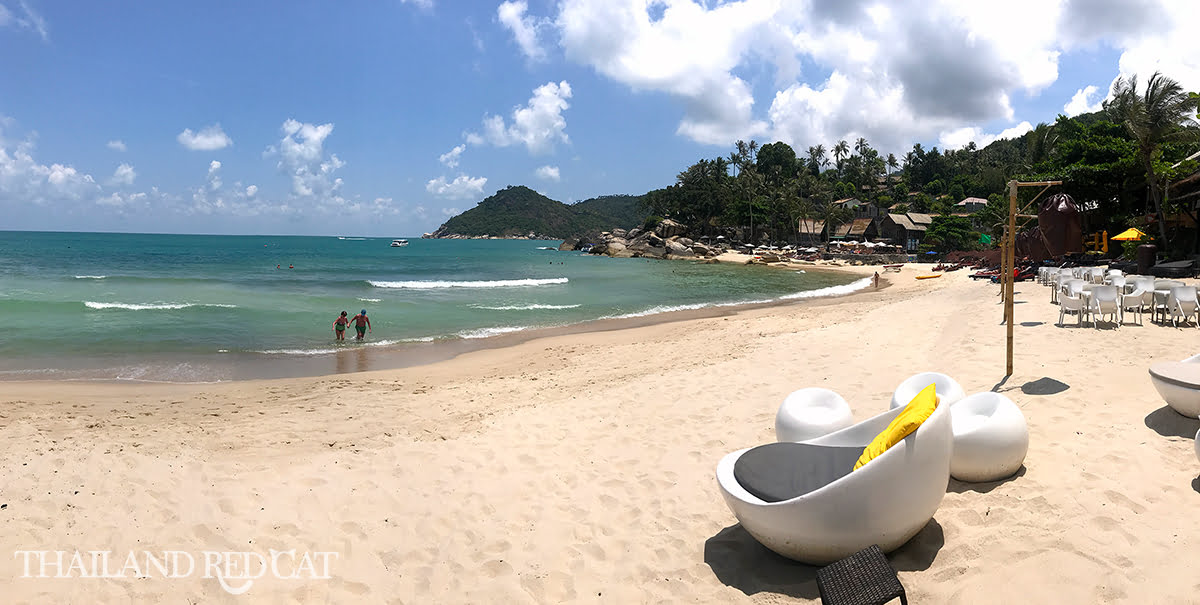 One of the nicest beaches on the northern coast, but like I mentioned already, there isn't much going on after sunset (no Thai ladies, just married Burmese migrants), so I wouldn't stay here. Yes, there are a few beach bars, but they are quite expensive, even the local restaurants charge about 150-180 Baht for standard Thai dishes.
I would even say you can skip Thong Nai Pan Noi if you are on a tight schedule.
View Point & Phaeng Waterfall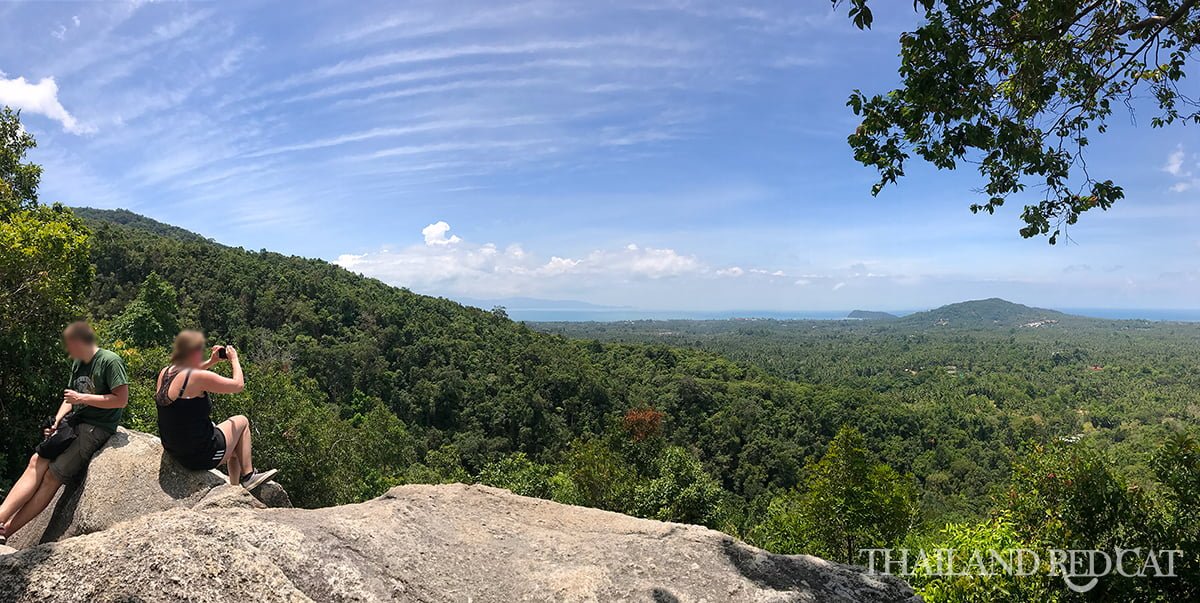 Sooner or later you will be bored of all those beaches, and want to see something different. Just like on Koh Samui, there is a really nice waterfall in the center of the island. And even better: There's also a view point on top of the hill.
Great panoramic views all around, you can see how most of the interior of the island is still covered with dense rain forest and just a few construction sites starting to show up. I'm sure you won't get that same, natural view in 10 years from now, so check it out soon.
There is a fairly steep trek leading up to the view point, and you will pass several waterfalls.
I would recommend you to do the 20-25 minute hike first, and then when you go back down take a refreshing bath in one of the cool waterfall lagoons.
Sometimes the views there are almost as good as on the top of the hill.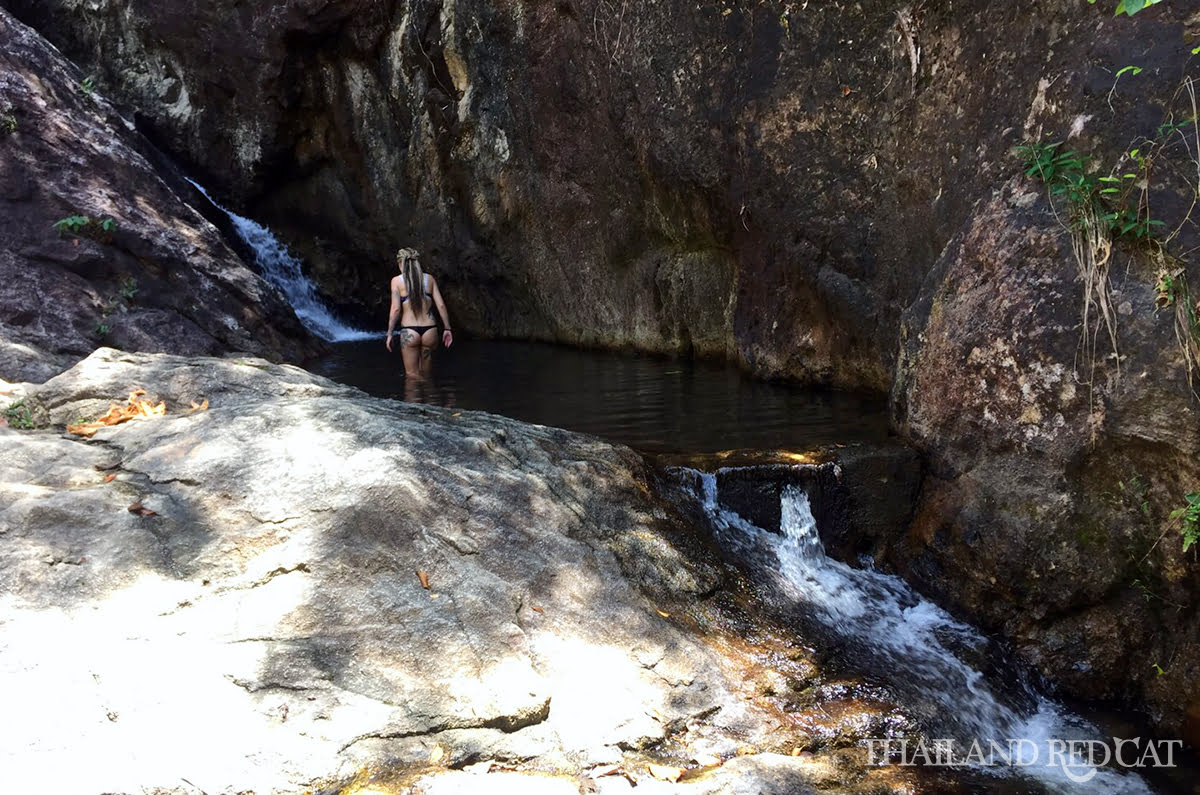 Not sure why they call it Phaeng Waterfall (náam-dtɔ̀k / น้ำตก = waterfall, pɛɛng / แพง = expensive), because there isn't any entrance fee here (yet). Quite untypical for southern Thais – they usually like to get as much money out of the tourists as they can, you see that when they charge entrance fees for several "private" beaches on Koh Tao or the infamous 400 Baht national park entrance fee on Koh Phi Phi (10 times more than Thais who pay only 40 Baht).
You just need to "register" at the park office down at the car park, means just write your name, nationality and time of visit down in their book.
Great, beautiful and refreshing place, Phaeng Waterfall, make sure you don't miss it.
Koh Ma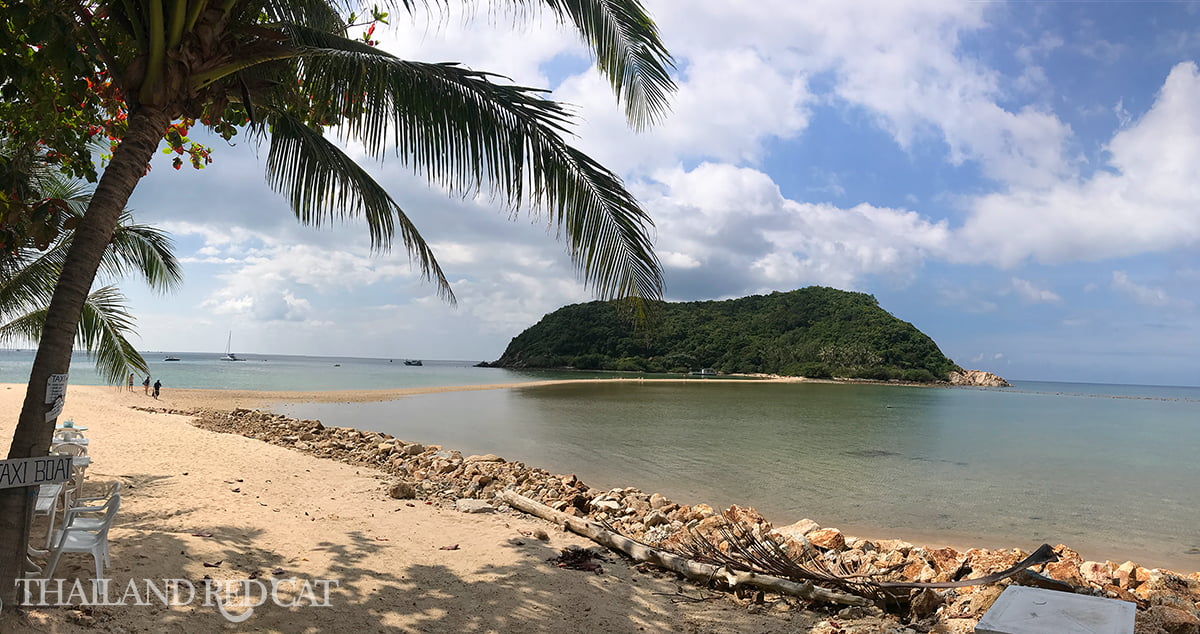 There are these places that get marketed by the locals, and everyone visits and posts about them, even if they are less than average. Koh Ma is such a place.
It's a small island connected to Koh Phangan by a sandbar. Don't confuse it with Koh Nang Yuan on Koh Tao – that is paradise. But Koh Ma, no, just overrated.
However, the good thing about Koh Ma is that it's conveniently located off Haad Mae Haad Beach, so if you do a day trip on the motorbike and visit Phaeng Waterfall (see above) and Malibu Beach (see above), then this is the next logical stop along the scenic loop.
Check it out, take a few pics, and then head to the final highlight of Koh Phangan – see below.
Wat Phu Khao Noi & Minigolf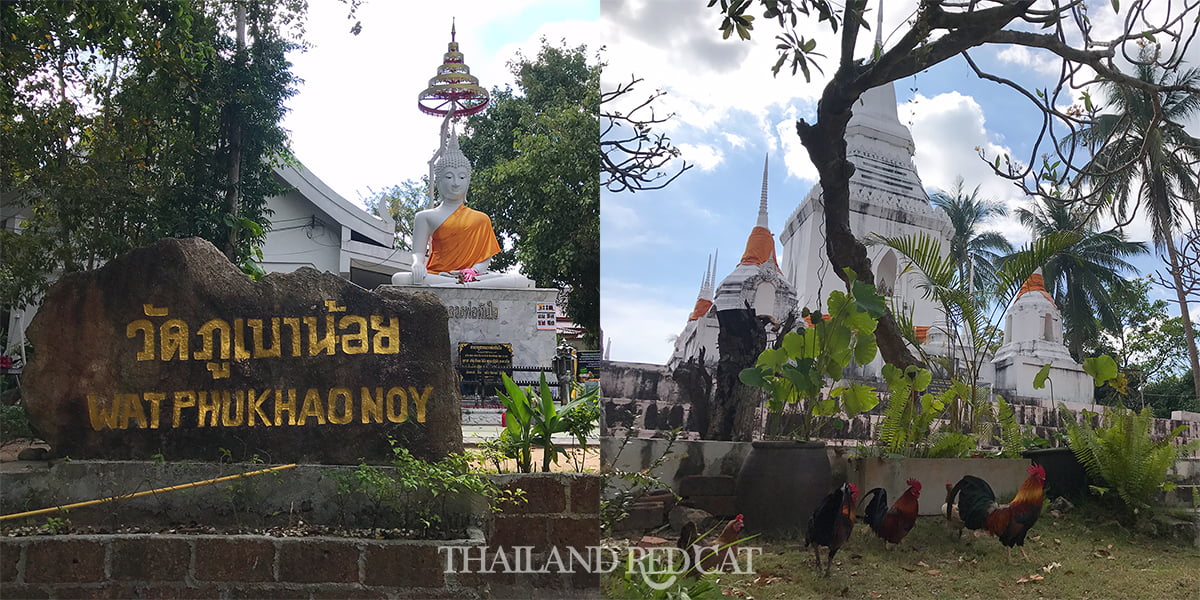 Wat Phu Khao Noi is one of the nicest temples on Koh Phangan, but I think it really needs some restoration. When I think back of my visit there, the first thing that comes into my mind is not the architecture of the temple, but all those chickens walking randomly around. Free entrance.
Just 100m down the road from the temple is a mini golf course. It's run by a Thai-Swedish couple, very well maintained and they also have bungalows for rent.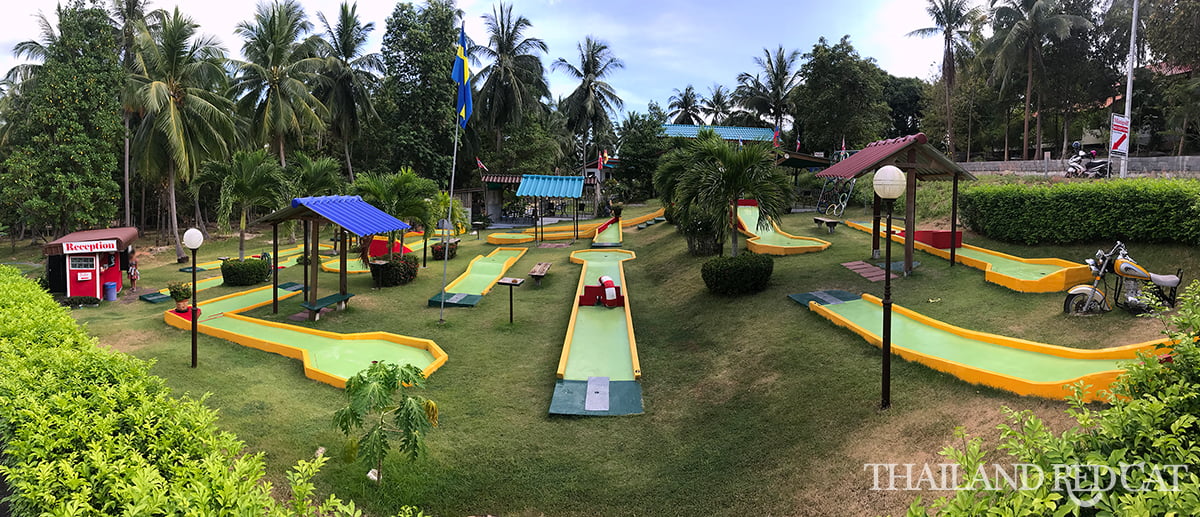 The price is 150 Baht per person, and there are 12 holes on the course. A pleasant place to round off your day in the middle of the jungle.
Map of Koh Phangan Highlights
Koh Phangan often gets reduced to the full moon party only, but as you can see, there are quite a few other fun things to do / nice spots to visit.
However, given that the nightlife there is quite lame in terms of Thai girls, I would really recommend you to come here with your girlfriend and spend the days together exploring, and then at night chilling and drinking cheap cocktails at the nice beach bars on Haad Rin.
Because this is what Koh Phangan really is: A smaller version of Koh Samui, with facilities and prices from 10 years ago. Authentic, but low key.
Videos of Koh Phangan Highlights