Chiang Mai is a small paradise for single male foreigners not just for its attractions and things to do during the day but especially for its bustling nightlife scene that comes fourth in Thailand after Bangkok, Pattaya and Phuket. Being not just the cultural but also economic center of Northern Thailand, Chiang Mai attracts young Thai girls from all over the region to either study there or to find work in one of the big or small companies or in the male-oriented entertainment industry.
It's almost impossible to write a complete guide to nightlife in Chiang Mai as there are just too many venues worth mentioning, so what you find here is a summary of the hotspots in each category: nightclubs, go go bars, beer bars, karaoke bars, soapy massage parlors and small happy ending massage shops as well as their exact locations on the map. It's not just one area where all the nightlife venues are clustered in, but they are spread all over town so it's a good idea to rent a motorbike (going rate 250 Baht per 24 hours).
Here we go, these are the highlights of nightlife & Thai girls in Chiang Mai:
Nightclubs in Chiang Mai
Zoe in Yellow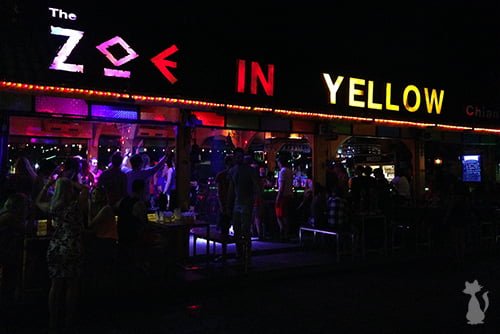 Probably the best place in Chiang Mai to hook up with Thai girls. Zoe in Yellow is packed every night with both young foreigners and local girls that come here to drink and party. The main action is going on at the outdoor bar and dance floor (see the video below) but they also got an indoor club just opposite. Drinks are surprisingly cheap or maybe that's one of the reasons why it's so popular, you can get a bucket for 300 Baht and most of the cocktails go for 140 Baht. Beers 80 Baht! All night long.
There are quite a few small bars clustered around Zoe in Yellow but none of them gets even half full while Zoe is packed already at 11pm when people start partying on the street.
Spicy Club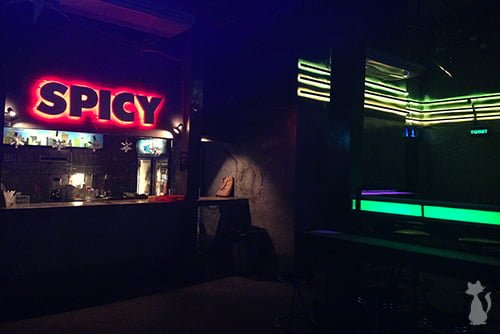 By the time Zoe in Yellow closes at midnight, a lot of people head to Spicy Club that's open until 6am. The scene of this indoor club is quite similar to Zoe and has almost as many Farangs as local Farang-oriented Thai girls and it's just as easy to get in touch with them. Drinks are slightly more expensive with beers around 100 Baht. If you don't have your own vehicle, there are motorbike taxis available from Zoe in Yellow to Spicy (50 Baht).
After Bar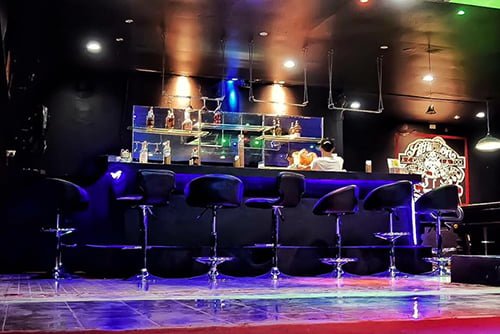 After Bar is a new meeting point for both Westerners and Thais looking for drinks, a game of pool, entertainment or just a place to hang out late at night. It's really a mix of bar and night club and still taking shape, but there's no doubt that it will soon become one of the hottest places to go out in Chiang Mai. Quite popular are also their shishas. The whole team and management are working hard on giving this place its own identity and making sure that all customers have a good time.
Thai Nightclubs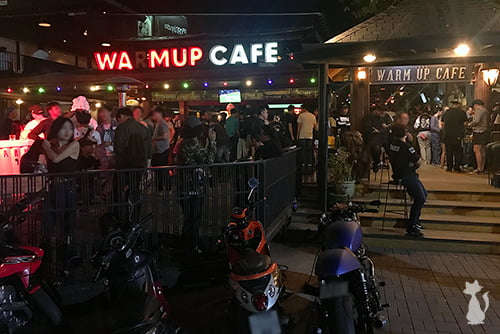 Apart from Zoe and Spicy, Chiang Mai also has a lot of Thai nightclubs. It's the kind of places where you go in a group, pick a table, open a bottle of whiskey and dance to the live band playing the Thai hits. Some of the most popular Thai nightclubs in Chiang Mai include Warm Up Cafe (photo), Hotshot Pornping and Bubble (just opposite). Going to any of these clubs can be a lot of fun, but don't expect the girls to make the first move like in Zoe or Spicy.
Go Go Bars in Chiang Mai
You can't compare the go go bar scene in Chiang Mai to that in Bangkok, Pattaya and Phuket that have so many venues and even areas that it's not easy to make up your choice. But there are a couple of go go bars in Chiang Mai as well as a Thai style coyote club.
Foxy Lady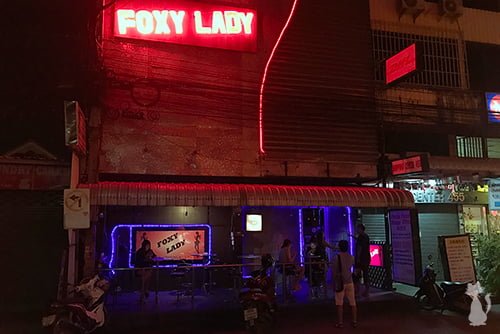 Foxy Lady is not just the best go go bar in Chiang Mai, but also one of the best go go's I have seen in Thailand. There are about six girls on the stage and they are dancing really good, not what you see in a lot of other places where they are just moving their ass back and forth, but here they really enjoy being on stage. Even better the girls are young and super hot, almost all of them which is kind of unusual too. The place seems brand new with all equipment nice and modern, comfy red bar stools and couches and there are more seats on the second floor that offer nice views down to the stage.
Prices: Happy hour until 9pm with beers for 99 Baht. Lady drinks are 130 Baht / 140 Baht for tequila (which most of the girls prefer), the bar fine is 600 Baht and girls ask for 2,000 Baht for short time (negotiable).
Spotlight A Go Go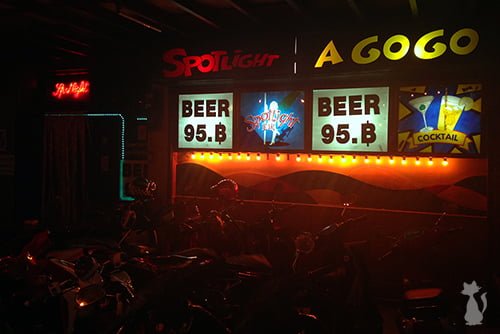 Even though the girls are more average looking at this go go compared to Foxy Lady, Spotlight A Go Go can be a lot of fun too as it has a more relaxed atmosphere. It almost looks like an Irish Bar so you can have a relaxed drink with the girls not being too pushing. The stage has space for maximum eight girls dancing though most of them are quite lazy and just look at themselves in the mirror or try to make eye contact with one of the customers.
Prices: Some drinks make a great deal here with the cheapest beer (Chang draft) just 95 Baht, lady drinks are 120 Baht / 135 Baht for tequila, the bar fine is 700 Baht and the girls ask for 1,500 to 2,000 Baht for short time.
Sugar Beat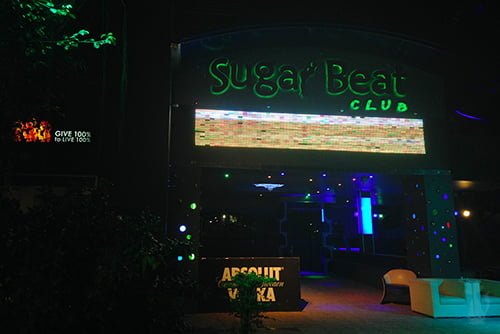 Sugar Beat is a Thai style coyote club that has not just stages for the beautiful white skinned coyote dancers (outside they have banners saying they are models from Bangkok) but there is also a big stage for the live band playing Thai songs. Comfortable couches and almost like a night club feeling. The place gets busy only after midnight and if you come before you'll see the girls just sitting around playing games on their phones.
Prices: Money shouldn't be your main concern when visiting a coyote club like Sugar Beat. The charge for one of the coyotes to just sit with you is 200 Baht per 30 minutes.
Girly Bars in Chiang Mai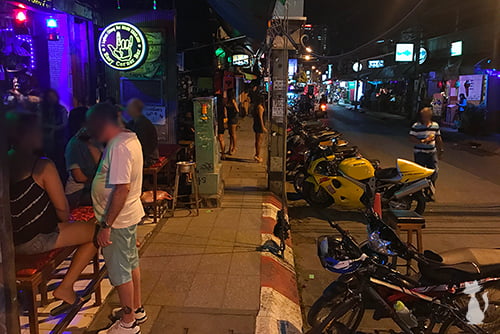 The majority of girly bars in Chiang Mai are located all along Loi Kroh Road, there are dozens of bars and the closer you get to the main road (Kotchasarn Road) the higher the concentration. There is even a beer bar complex called Chiang Mai Entertainment Complex that has even more beer bars and also a boxing ring. The girls in the bars are there for customers to hang out with them, play pool together (usually for free) buy them lady drinks and bar fine them out.
Prices: Drinks here are cheaper than in the go go bars, e.g. beers around 80 Baht, but the girls' quality is also more average. Pool games are usually free when buying drinks, just a couple of places charge the standard 20 Baht per game. Lady drinks go for around 140 Baht and the bar fines are 400 or 500 Baht. Girls will ask 1,000 to 2,000 Baht for short time if you take them to your place straight away. You can also be lucky and just take her drinking at another place or for some food and she doesn't ask for anything more than you paying the bills.
See also: Guide to Girly Bars and Bar Girls in Chiang Mai
Soapy Massage Parlors in Chiang Mai
If you are looking for 1.5 hours in heaven bathing, massage and dirty fun with a beautiful white skinned northern Thai girl – Chiang Mai will be your paradise. The city has the 2nd highest number of soapy massage parlors both in northern and northeastern Thailand, second only to Korat!
Sayuri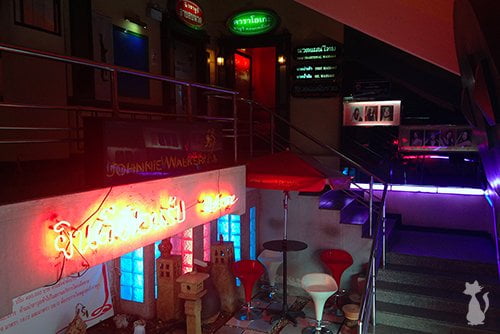 The biggest and most popular soapy massage parlor in Chiang Mai. You can walk in there even in the middle of the afternoon and have a selection of easily 30-40 girls in the fishbowl. They are divided into four groups: 1,000 Baht / 1,300 Baht / 1,500 Baht and for a handful of models sitting on couches on the top row 2,000 Baht. It's not just the huge selection that makes Sayuri so popular, but most of the girls are stunning hot even the ones for 1,300 Baht. The rooms are quite small, but what's nice here they have several mirrors including one on the ceiling.
Ping Payom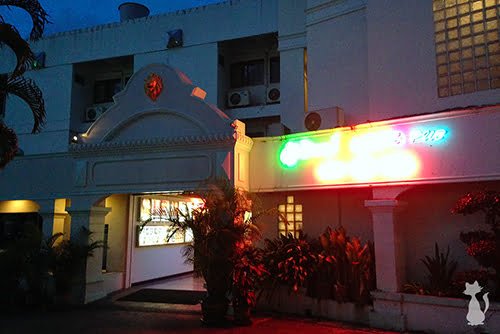 Adjacent to the Ping Payom Hotel, this soapy massage parlor is another local favorite. Even though there aren't as many girls as in Sayuri, some of their models are really tempting. It has the biggest seating area of all soapies in Chiang Mai, so you can just relax and have a couple of beers somewhere in the back and make up your choice. Of course you can also walk out again without paying any more than the bill for your beverages (beers around 100 Baht). The girls are divided into three groups and they charge 1,800 Baht / 2,200 Baht and 2,500 Baht for the prettier ones. Seems a bit expensive as compared to the other places, but that's what I got quoted when I asked in Thai.
Celeb @CNX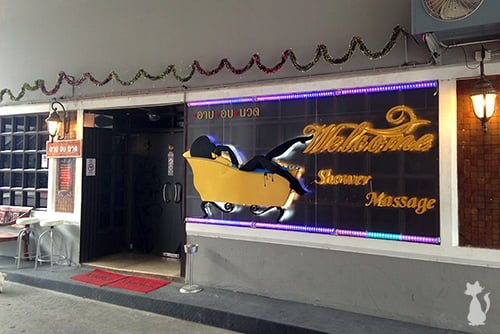 The newest soapy massage parlor in town. Everything at this place is super modern and of highest standard, they just made one mistake: The fishbowl is somewhat too small as even in the middle of the afternoon there are so many girls they are almost sitting on one another. They are divided into two groups: The majority sits on the right and is priced 1,400 Baht and the rest sits on the left and is priced 1,800 Baht. Again, it depends on how white skinned and beautiful they are and if they have a baby or not. Celeb @CNX also has the nicest and most spacious rooms even equipped with flat screen TVs showing porn movies.
Pandora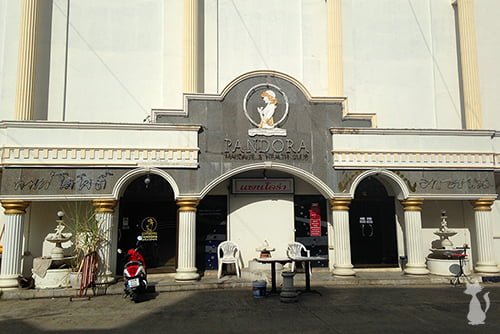 Pandora is somewhat hidden near the railway station so look carefully on the map. It's about 300 meters down a small side Soi of Charoen Muang Road on the right side. The huge white building looks like an ancient Greek temple and the impressive entrance with black glass doors make you feel quite excited when getting there, but once you walk in you'll only find a handful of rather average looking girls to choose from. Pandora must have had better times. They seem to divide the girls into two groups: "Young" (1,500 Baht) and "Not Young" (1,800 Baht), as always 1.5 hours including everything.
Chiang Mai Massage Parlour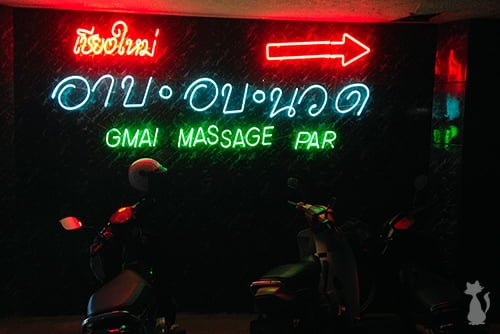 Housed in the Phucome Hotel at the northern end of Chiang Mai University, the Chiang Mai Massage Parlour is the least visited of all soapies in town. The reason for this is the girls' quality isn't that great, but they do have some cuties and if you come in the evening, there are about a dozen of girls in the fishbowl all of them priced 1,400 Baht. The best thing about this place are the rooms which are spacious especially the bed where the "massage" is performed. The entrance is at a dark corner in the car park to the left of the main entrance. However it's not difficult to find, just look for the bright neon lights (photo).
Happy Ending Massage in Chiang Mai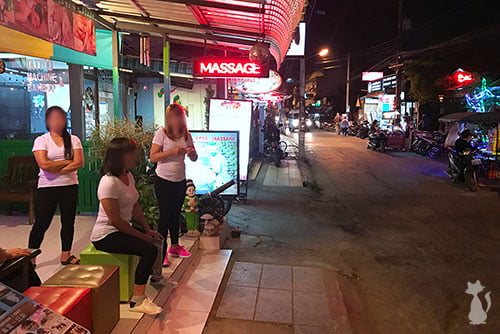 There are countless of small massage salons all around Chiang Mai that offer happy endings. The highest concentration of them can be found along Loi Kroh Road. It's like one massage shop per two beer bars. Standard prices are 200 Baht for Thai massage and 300 Baht for oil massage. Additional services most of the girls offer are hand job (500 Baht), blow job (700-800 Baht) and sex (1,000 – 2,000 Baht). Prices are, as always, negotiable.
See also: Guide to Happy Ending Massages in Chiang Mai
Karaoke Bars in Chiang Mai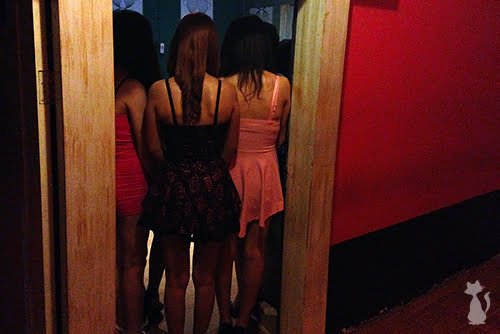 The karaoke bar business in Chiang Mai is huge and most foreigners don't even know about it. One of the reasons is because these places are along Chang Klan Road well off where most of the tourists go and even by discovering them often they are unsure what to expect when walking in one of the bars. You can have a hell lot of fun in the karaoke bars with some of the most beautiful white skinned northern Thai girls you can imagine partying with you in a private room, drinking, singing, chatting, petting etc.
But you should inquire what are the charges or you might get scammed badly, especially as a foreigner. There is the hourly fee for the karaoke room (200-400 Baht), the hourly fee per girl to sit with you or more generally to spend time with you in case you want to take her out (300-400 Baht) and then obviously your and your girl's drinks. A good idea is to just open a bottle of whiskey that you can have them keep for your next visit if you don't finish it. One more info, most of the karaoke bars in Chiang Mai close at 6am, so they don't just make a great way to start but also to end your night out.
Ladyboys in Chiang Mai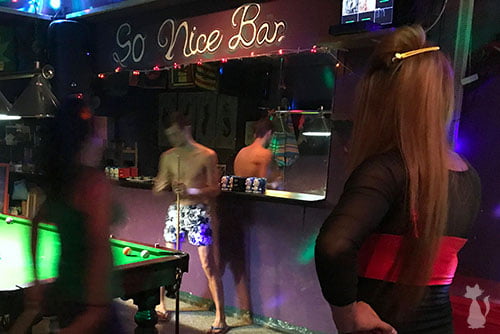 If you are one of the guys who wants to try out sex with a ladyboy, then of course that's also possible here. In fact, Chiang Mai is one of the best places to do it in all of Thailand, because it has such a great mix of hookers and "normal" ladyboys who will not ask for any money. There are obviously different ways to go about meeting and sleeping with a ladyboy in Chiang Mai and I think that's really a topic on its own, so I have written a guide that you can find here:
See also: 5 Best Places to Meet Ladyboys in Chiang Mai
Street Hookers in Chiang Mai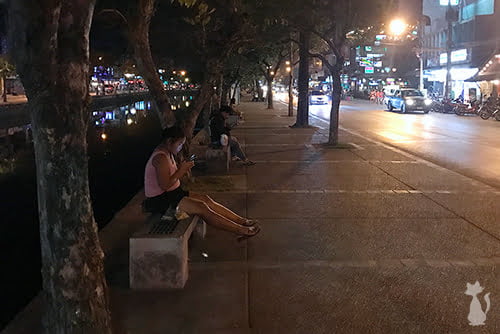 If you don't want to spend a lot of money like in the massage parlors or a lot of time like in the night clubs hitting on girls, then you can also find the most traditional type of hooker in Chiang Mai: The prostitutes on the streets. They are usually not as attractive as elsewhere, but then their price tag is also significantly lower (usually less than 1,000 Baht for a short time). The main hot spot for street hookers in Chiang Mai is the area around the Tha Phae Gate, especially along the canal just south of the gate (see the photo and the map below for the location).
"Normal" Nightlife Spots in Chiang Mai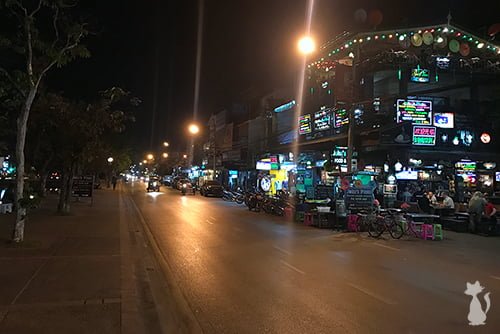 If you want to take a break from all the red light areas and places full of naughty Thai girls, there is no better city in Thailand to have a relaxed drink with atmospheric surroundings at incredibly reasonable prices. One bar I love to hang out at is The Moat House (photo) across opposite of the Tha Phae Gate. It's just a great feeling to sit on their rooftop bar with a friend and chat, drink cool Singha beers (big bottle for 135 Baht, or Leo draft for 100 Baht a pint) and enjoy the view over the street, canal and Tha Phae Gate in the late afternoon sun and early evening.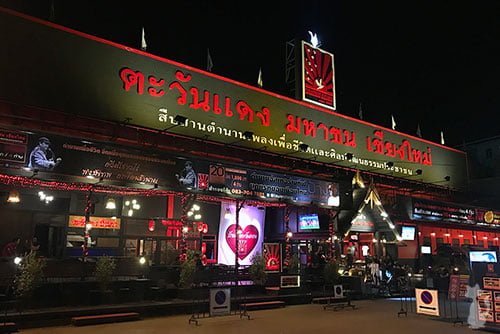 Another great area with "normal" nightlife spots is Nimman: You can find a cluster of nice bars off Chonprathan Road including the local favorite Tawan Daeng (photo – music hall, mix of bar and night club) and Maldives (open air lounge with fountains and daily live music).
And lastly, I would recommend you to check out Myst Sky Bar on top of the Maya Shopping Mall. Great atmosphere and surprisingly fair priced drinks (like a small bottle of Singha for 100 Baht – in Bangkok that would cost you at least 180 Baht excluding VAT and service charge at a similar venue).
Of course there are many more great bars in Chiang Mai to have a relaxed drink or two without being surrounded by young Thai girls in short skirts one minute after you sat down, but the above mentioned ones are my favorite places and should give you a good start. From there, just start exploring the city yourself – you'll find so many nice little bars all over town.
Map of Nightlife in Chiang Mai
Videos of Nightlife in Chiang Mai