When you come to visit Thailand's capital it's probably not just for checking out BKK's main tourist attractions and the electronic shopping malls, but to experience the city's infamous red light districts. There are three of them namely Soi Cowboy, Nana Plaza and Patpong that I explain in great detail here.
If you come to any of BKK's red light districts you can get quickly overwhelmed by the huge range of go go bars. It's hard to make a decision what place to give a try not just because there are so many bars around but also because at most places the hottest girls are trying to get you inside while inside the dancers are a lot more average and you might be disappointed just after having ordered your drink.
To make you avoid such bad surprises here is the ultimate list and description of the Top 6 Best Go Go Bars in Bangkok and their exact location on the map:
1. Billboard – Nana Plaza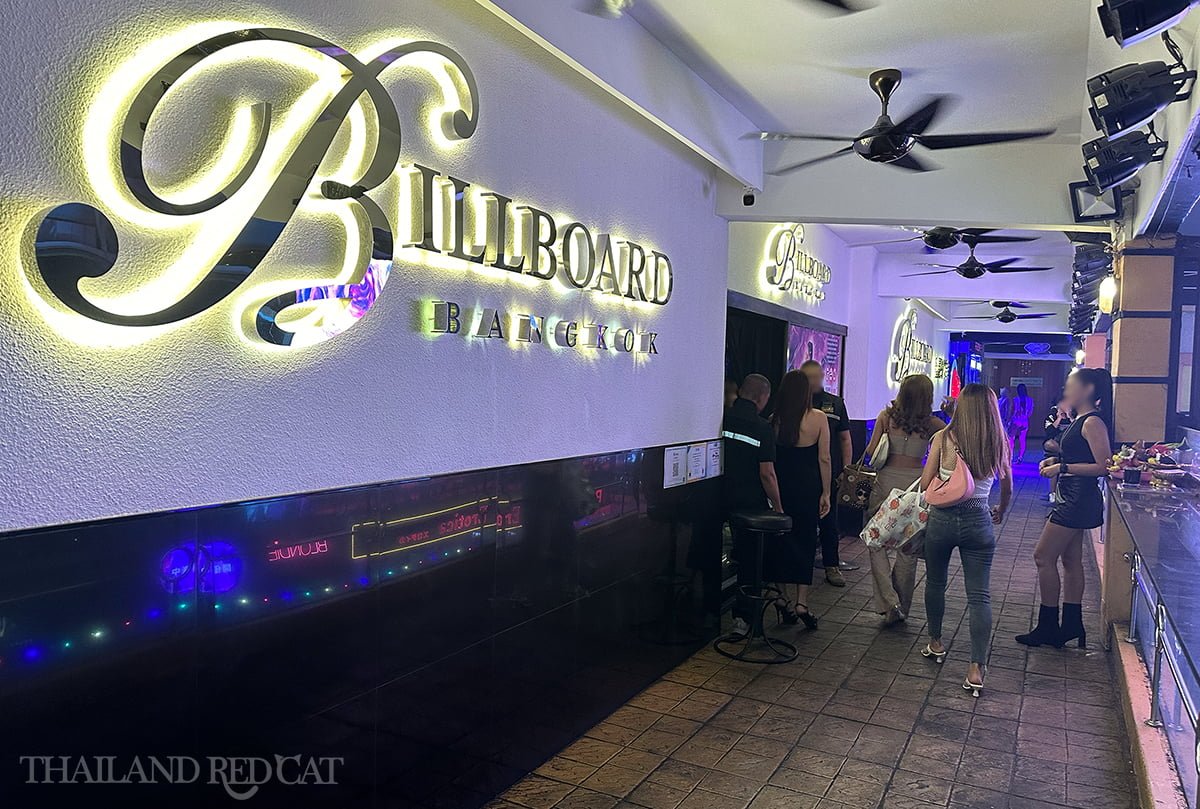 The best Go Go Bar in Bangkok is located on the third floor of Nana Plaza, if you walk into the courtyard take the stairs up to your left. If you've never been to a strip club before, it's difficult not to get overwhelmed when you walk into Billboard as there are dozens of super attractive girls competing for your attention and company.
Billboard is one of the few bars in the Plaza that are packed with expats and tourists alike every day of the week. There is a big rotating stage on the left with almost 50 hot ladies on it at any time, and on the right side a huge bathtub where the girls shower and passionately showcase their sexy bodies – topless, which isn't as common in red light Bangkok as it used to be.
Again, the quality of girls in Billboard is among the best not just in Nana Plaza, but in all of Bangkok. They are young, light skinned and what's really striking there are so many girls with nice and big breasts, partly natural, partly self made. And on top of that, they have a big screen with live sports, an even bigger screen showing the video to whatever song is currently playing and a fantastic sound system (yes, it's loud, but your ears don't hurt like in many other bars).
Prices: No cover charge, prices for drinks are between 145 and 190 Baht for beer and whiskey, cocktails cost 200 Baht. Lady drinks sell for 200 Baht as well (different options) and the bar fine is 700 Baht for short time and 1,000 Baht for long time. On top of that comes the price for sex with the girl – 2,000-3,000 Baht for short time and 4,000-6,000 Baht for long time (that's the standard range in BKK, and it's often somewhat negotiable). There are also short time rooms nearby for 400 Baht (your girl will know them).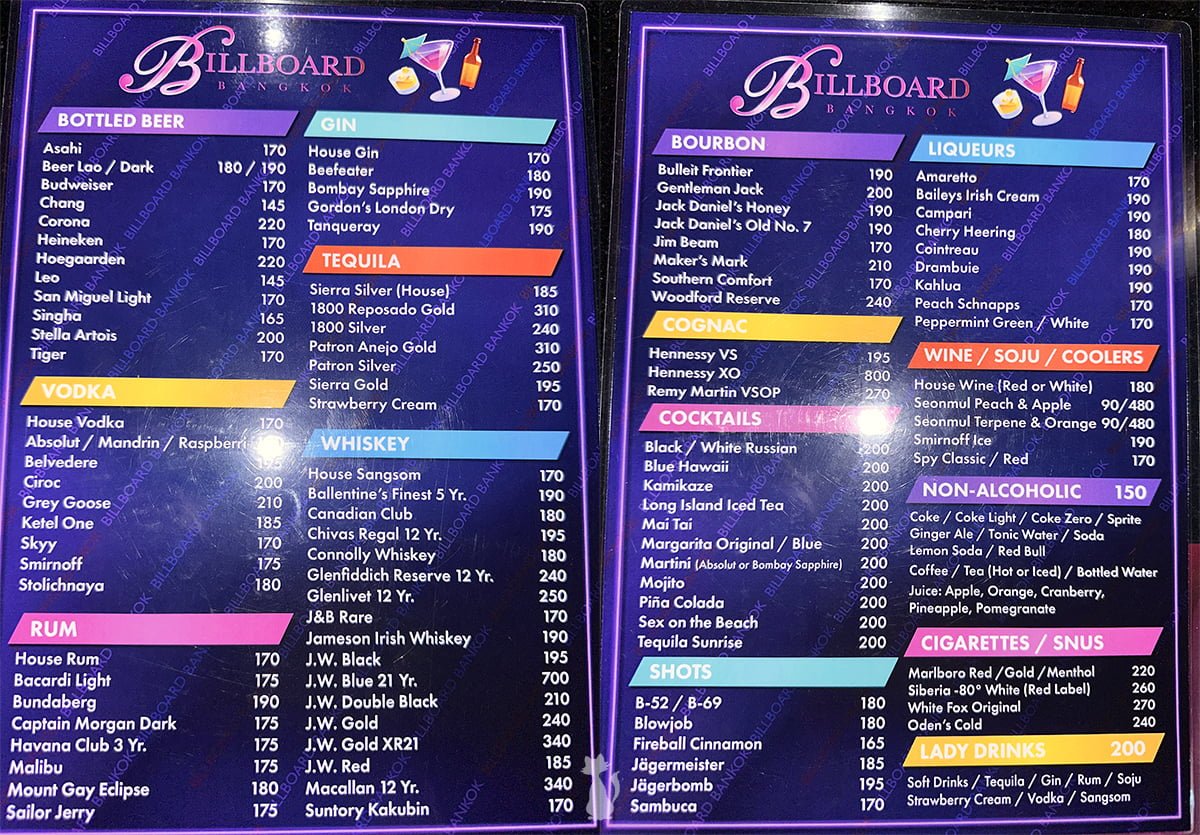 2. Baccara – Soi Cowboy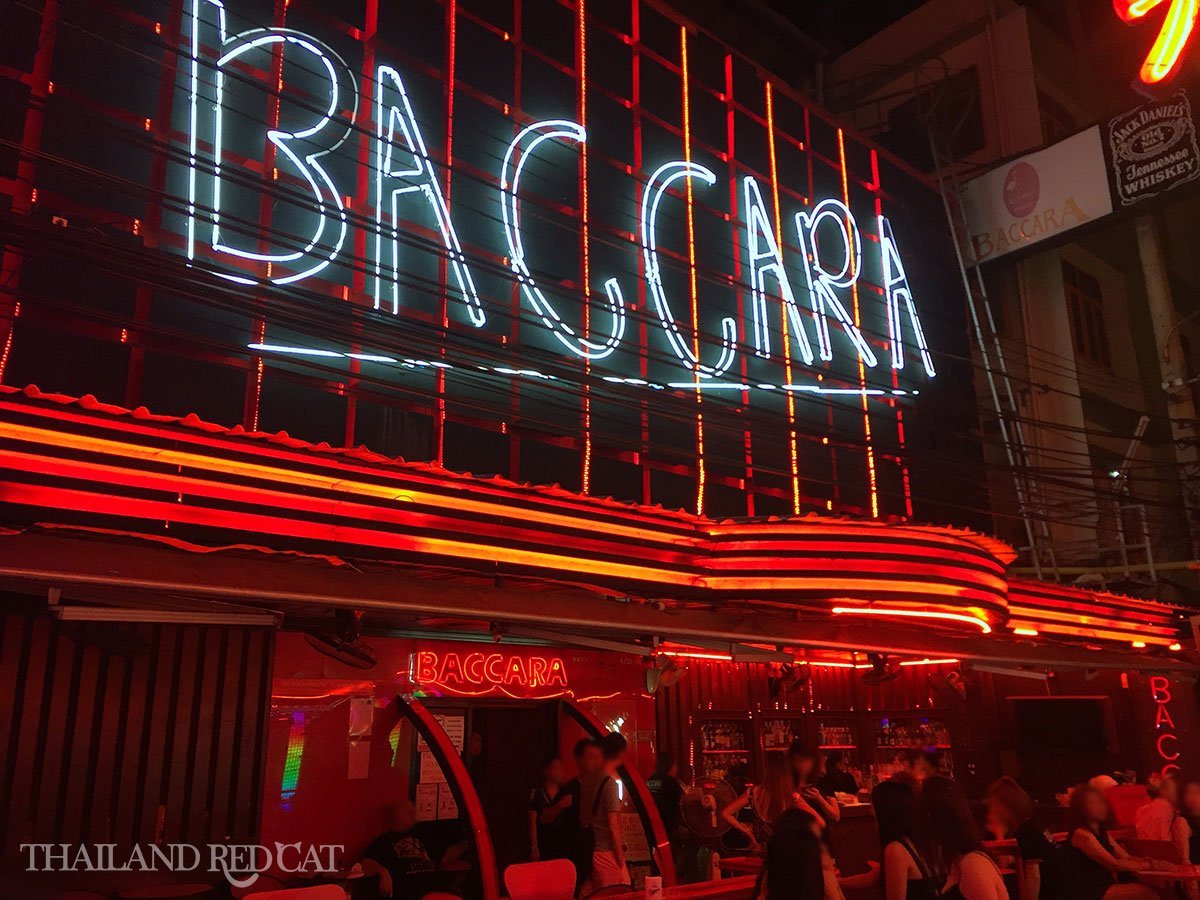 Baccara is an institution not just on Soi Cowboy but in all of Bangkok. It's packed every night and if you come after 9pm you might have difficulties to find a place to sit down. Unlike a lot of other strip clubs the girls inside are as hot and beautiful as the ones outside trying to get you in (not that they need to put in a lot of effort).
There are two floors in Baccara with stages surrounded by red couches and a bar on the black wall, on the second floor the floor is of glass so if you sit downstairs you can enjoy the best views in Bangkok.
Baccara doesn't only have the hottest dancers, it also seems to have the most dancers on the Soi which is part of its huge popularity. The girls usually wear school skirts and that may be one of the reasons why it's especially popular among Japanese and Korean men.
Prices: No cover charge like in all other A Go Go's in Bangkok, but you should buy drinks (most drinks including beers and spirits cost 180 Baht) to stay and watch. Lady drinks cost 200 Baht and the bar fine is 700 Baht for all girls at all times.
3. Cowboy 2 – Soi Cowboy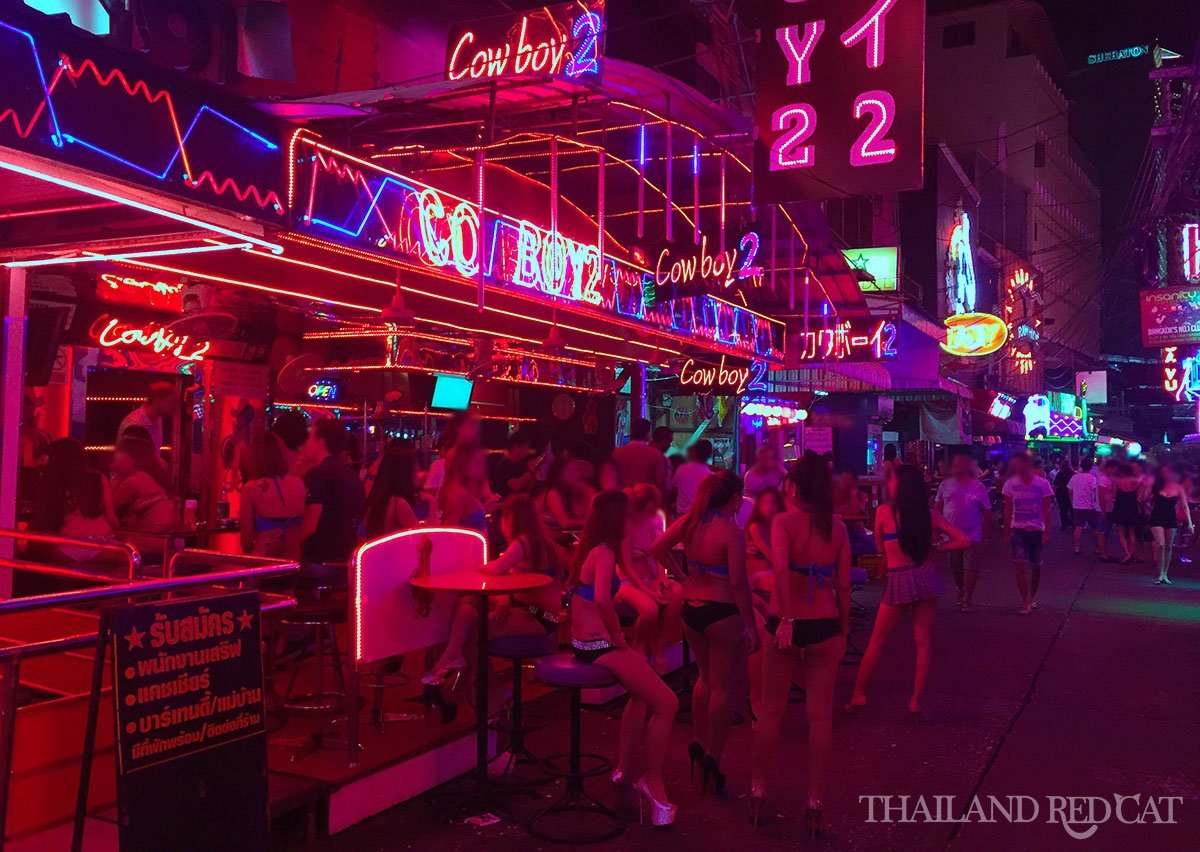 It's almost impossible to miss this place right in the center of Soi Cowboy as it doesn't only have a huge number of girls but also some of the youngest and sexiest ones on the strip. Cowboy 2 is a true paradise if you like "fresh" girls and that means not only in terms of age but also that many of them have just recently started to work in the bar.
The girls are divided into 2 categories: Go Go Girls and Coyotes. The latter ones are more attractive and have a higher bar fine (see below). Cowboy 2 must be the only bar where it's more fun to sit outside because of the great views all around.
There's one big stage inside with about 10 girls dancing at all times. Unfortunately they have a no-take-off policy here but that's typically the trade-off you have to make when visiting a Go Go Bar: Either beautiful girls in bikinis or average girls naked. The next bar on this list is an exception though and combines both advantages – see below.
Prices: 150 Baht for beers which is relatively cheap compared to other bars. However, the lady drinks at Cowboy 2 are quite expensive at 200 Baht (tequila) and 230 Baht (beer/whiskey-cola). The bar fine for the Go Go Girls is 800 Baht and for the Coyote Girls it's a whopping 3,000 Baht. Are they 3.75 times more attractive? Of course not.
4. Crazy House – Soi Cowboy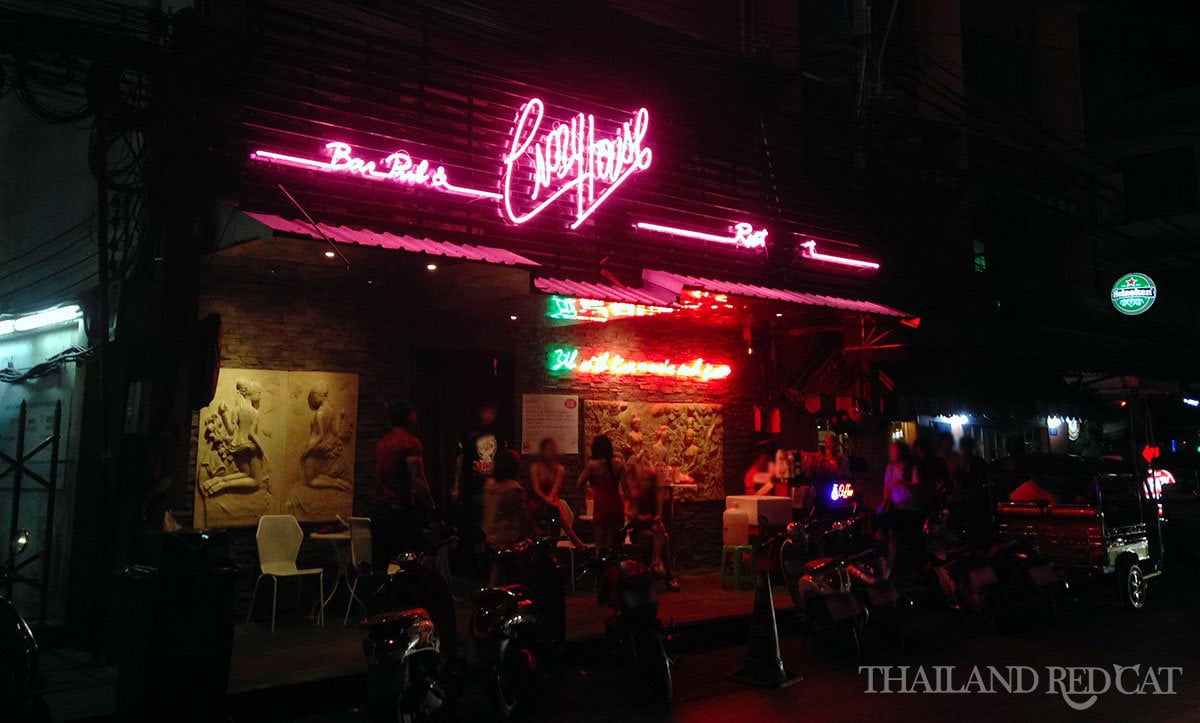 My favorite Go Go Bar in Bangkok. It just can't get any better. There is a large 8-shaped stage on the ground floor that has more than ten naked girls dancing at any time. They really enjoy being on stage dancing and even better: The girls in this place are way above average, most of them are really stunning hot, young, skinny, nice boobs, you will not leave here saying I'll go check another place because I couldn't find a girl that I like.
Make sure you don't miss visiting the second floor. What you get here is entertainment pure. It's not the classic "ping pong show" but you'll have the girls performing incredibly sexy scenes on two square-shaped glass floors like putting oil on each other then rubbing on each others body before taking a bunch of candles and sprinkling wax all over their naked bodies. There is even an elevator connecting the floors though it's mainly the girls taking it when too lazy walking up and down the stairs.
There is also a third floor though for now it's just the area where the girls are getting dressed and eating. Crazy House is the newest establishment in the area, it's just around the corner from Soi Cowboy on Sukhumvit Soi 23.
Prices: Without doubt the best value-for-money joint in this category. Beers are 170 Baht, cocktails 200 Baht and lady drinks 160-170 Baht. The bar fine is 700 Baht for all girls at any time.
5. Tilac – Soi Cowboy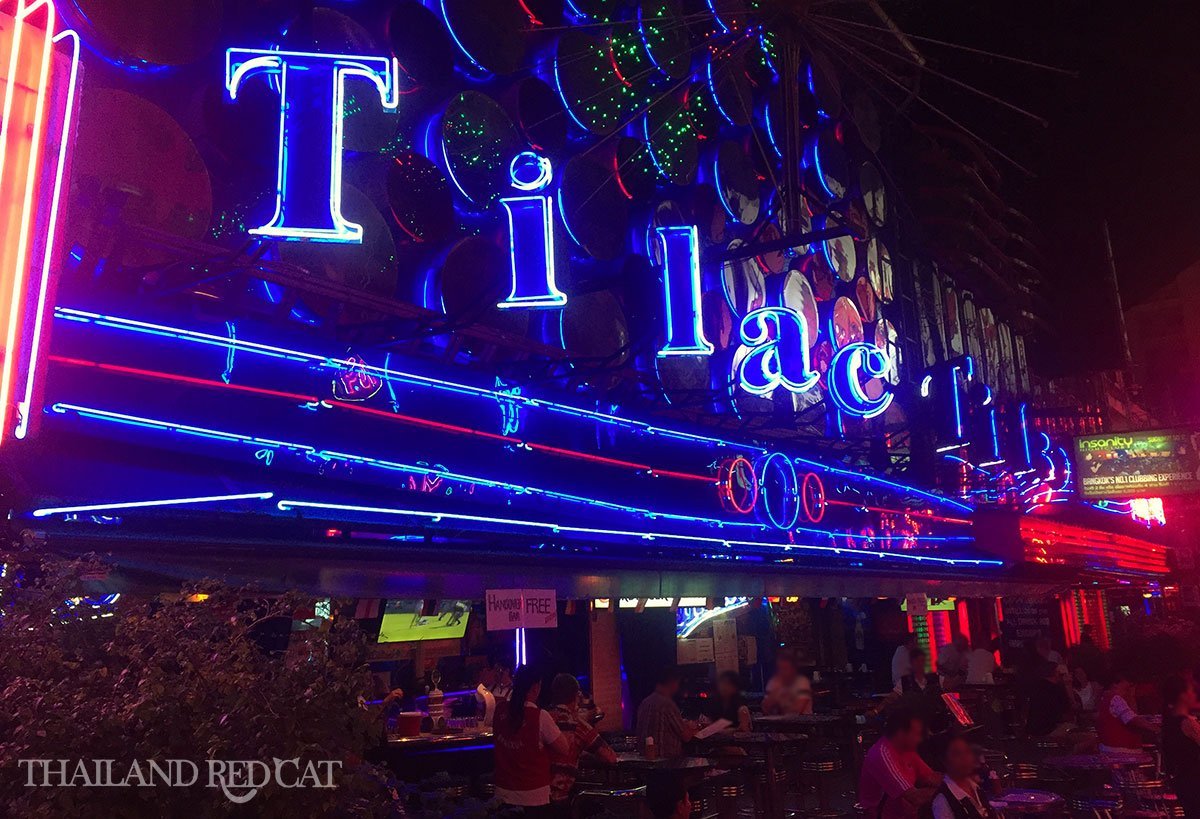 Tilac is not just the biggest Go Go Bar on Soi Cowboy, it's also the most modern one with fancy lighting, countless mirrors and large TV screens in case you get bored watching the dancers. There is one big main stage and six smaller stages spread around the room.
The bar has become famous in the Hollywood movie "Hangover Part 2" which is one of the reasons why a lot of money has been invested to ensure everything in this bar is of high quality and design.
The girls in Tilac are super hot and thin, however a bit overactive at times which makes it hard to just sit down and relax. No take off here but you can look under their skirts.
Prices: Standard prices for this great Go Go deal with beers at 165 Baht and lady drinks cost 160 Baht. The bar fine is 800/1,000 Baht depending on the girl. There is a daily happy hour until 8pm with beers for 80 Baht.
6. Shark – Soi Cowboy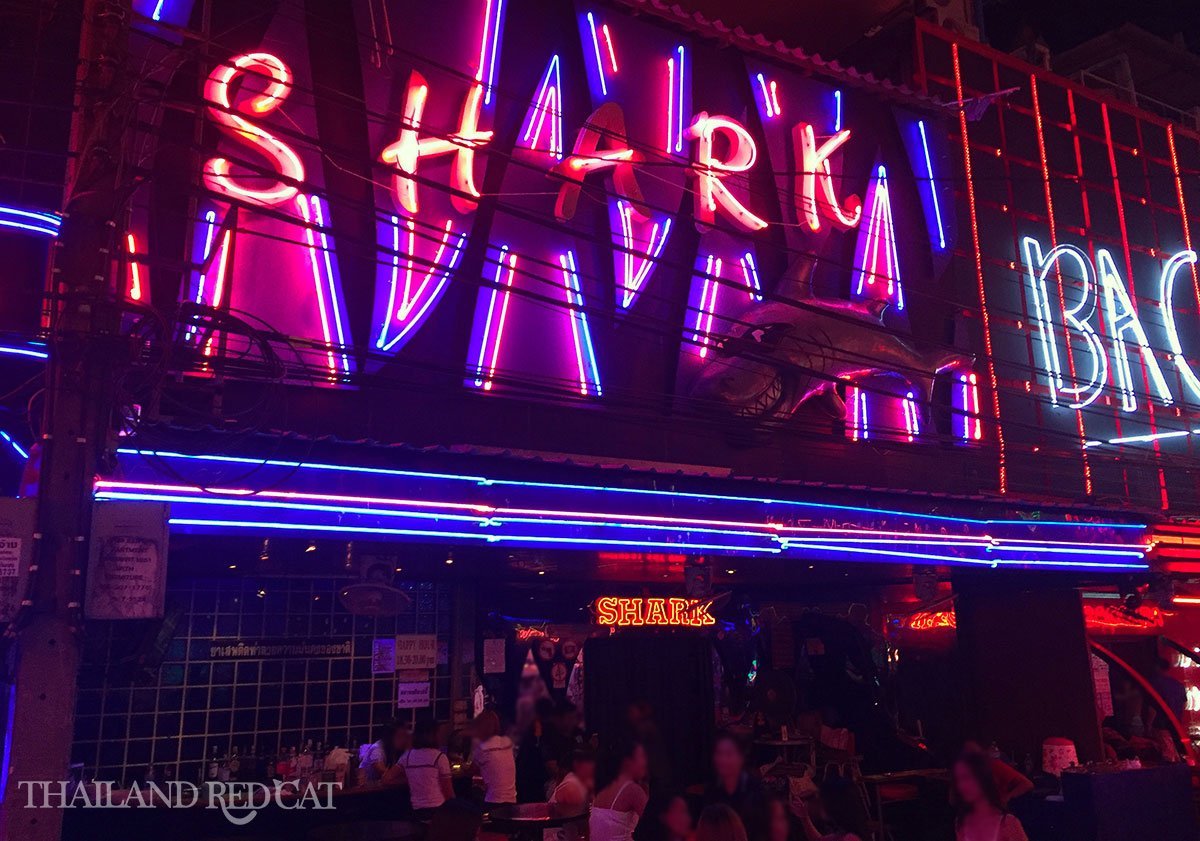 Located right next to Baccara on Soi Cowboy, this is another hot spot packed with some of BKK's most sexy go go girls who wear some of the hottest outfits of the whole Soi (see-through bras!). The interiors of Shark is almost identical to Baccara with big central stages on two floors surrounded by comfortable couches.
The ceiling is transparent so you'll enjoy sitting right at the stage on the ground floor. Of course that means the place is packed every night of the week but if you have a look upstairs there are surprisingly few people around and you can enjoy your time in a much more quiet atmosphere. However note that the girls are not getting naked at Shark.
Shark has decent techno music but sometimes the girls seem to be more enthusiastic dancing when the boss is around. Maybe the best strip club choice in Bangkok if you are out for a relaxing drink in the bar and don't fancy being surrounded by three girls that ask for lady drinks two minutes after you sat down.
Prices: Prices for drinks are at 165 Baht for beers, 180 Baht for lady drinks and the bar fine is 700 Baht for the Go Go Girls and 1,500 Baht for the Coyote Girls. There is a daily happy hour until 8pm which makes a great deal to start your night with all drinks for only 80 Baht.
Soi Cowboy vs Nana Plaza Go Go Bars
You might be wondering why most of the Go Go Bars listed here are in Soi Cowboy. Well, that's just because Soi Cowboy has the best bars by far. I'm not a big fan of Nana Plaza, by now almost half of the building is filled with ladyboy bars and also the atmosphere is a lot more hectic and sometimes kind of rude. Similar to Patpong, BKK's oldest red light district but with most Thai guys trying to hook you up for a Ping Pong Show Scam in Bangkok.
If you still want to give those areas a try I recommend Spanky's and Angelwitch in Nana Plaza for fun and free Ping Pong shows (just order a beer for 160 Baht) and King's Castle 1 and Black Pagoda in Patpong.
What's a Good Time to Visit the Go Go Bars?
The bars obviously try to lure in customers well before the main action starts. That means most bars have happy hours until 8 or 9pm with all drinks for 80 or 90 Baht. That's certainly a good deal, but you better just sit outside and watch the scene. The girls start dancing either at 8 or 9pm and that's exactly when the happy hours end. I recommend you go to the bar of your choice at 9pm, that's usually the time when all go go girls step up on stage to present themselves before the rotation starts. Otherwise no later than 11pm or the most attractive ladies will already be taken.
Do the Girls get Naked in BKK's Go Go Bars?
There are fewer and fewer A Go Go's in the capital where the girls take off everything. They are mostly wearing bikinis nowadays. There are plenty of exceptions though. Like mentioned in the article you will normally make a trade-off between very attractive and light skinned girls who wear bikinis or "decent" girls who get naked once they start dancing. Baccara is the best example for the first type and Spanky's for the second type of bar. And then you have bars like Tilac where you can see the girls' pussies (no panties underneath their skirts) and Shark where they wear see-through bras.
Map of the Best Go Go Bars in Bangkok
Prices for Girls in Bangkok's Go Go Bars 2023
2,000 – 3,000 Baht (short time) & 4,000 – 6,000 Baht (long time).