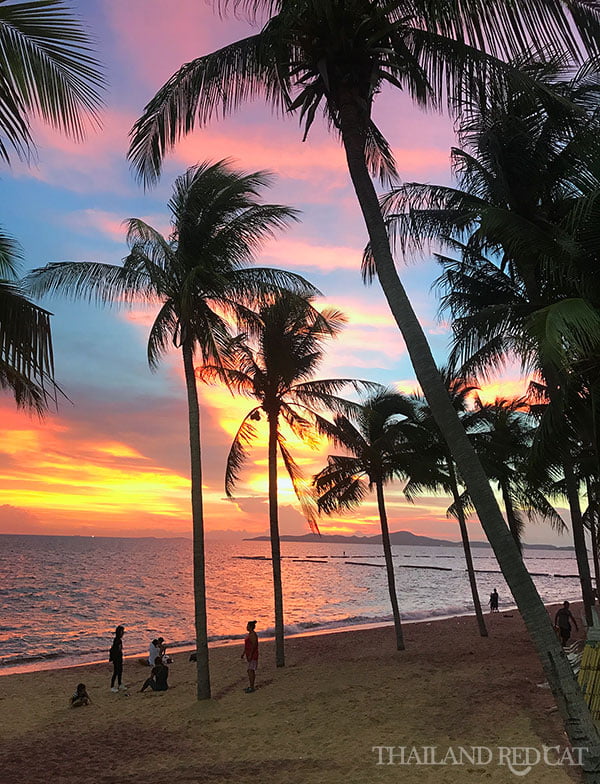 If you are looking for a more relaxed alternative to Pattaya without giving up all the nightlife, then you will probably find your dream holiday destination in neighboring Jomtien.
It would not be fair to call Jomtien the "little brother" of Pattaya – the beach and total size of this town is more than 3 times as big as Pattaya, but it's just not as full with hotels, restaurants, shops and nightlife spots – yet.
I have no doubt that this place will be the next big hotspot in Thailand, since property developers (and entrepreneurs in the entertainment industry) are soon going to run out of space to build and get new business in Pattaya.
Jomtien has developed a small but very fine nightlife scene during the last few years.
You can now choose from dozens of beer bars, gentlemen clubs, sophisticated restaurants run by foreign expats who want to receive good ratings on TripAdvisor (I recommend "Indian by Nature" and "Natan's"), massage salons, freelancing girls on the beach promenade, and even a go go bar and a sky bar – all at much lower prices than in Bangkok.
And you can easily get to Jomtien by taking the 10 Baht Songthaew from Pattaya.
Jomtien Nightlife Overview
Most of the nightlife in Jomtien is happening in the northern part of town, that is, all the way from Thappraya Road and Soi 1 to Soi 7. In that area you can also find the Rompho Complex, a huge square with about 40 beer bars. This is kind of the only centralized red light area in Jomtien.
Here are the different types of nightlife venues and places to meet girls in Jomtien:
Girly Bars in Jomtien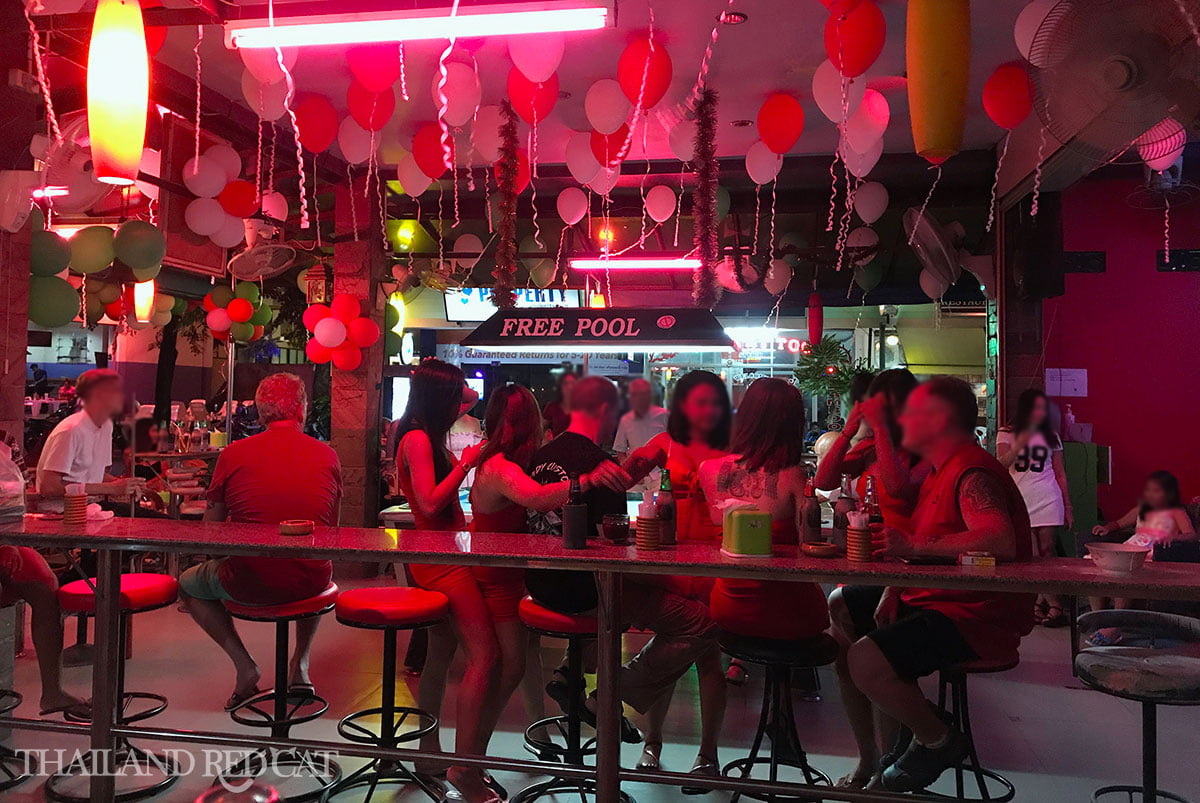 There are now more than 100 girly bars (= beer bars) spread all around Jomtien, and the densest concentration of them is in the Rompho Complex – a huge square with more than 40 such bars that have young and lovely Thai ladies employed to entertain the men (90% of them are Farangs of course).
Most of these bars look quite the same – there are about 5-10 girls working in each place, comfortable bar stools and couches, TVs with sports or YouTube music videos, and almost every bar has its own pool table.
Two of the best bars in the Rompho Complex with the nicest girls and usually most customers are "Party Girls" and "OK Bar". They even have free pool tables – in Pattaya it's usually 20 Baht per game.
More beer bars are found mainly on Jomtien Soi 2, 3, 4, 5, 6 and 7. These are more popular among older Farang friends though (lots of Scandinavians and Germans here), and not so much if you are alone and look for real fun with the ladies – in that case you better go to Rompho Complex.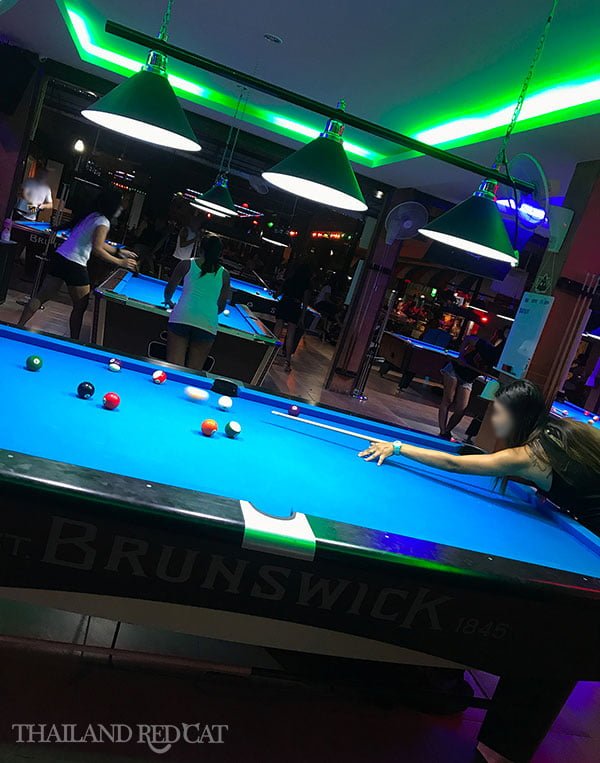 Thappraya Road also has a few girly bars – including my favorite bar to hang out and play pool in Jomtien: "Country Road 3" (right picture). Great and laid back atmosphere, there are also some nice girls you can play pool, drink and chat with, but they are not as pushing or business oriented as elsewhere. Check it out, it's an all time favorite.
Prices: The prices for drinks and girls in Jomtien are a little cheaper than in Pattaya, that's why it has become so popular among expats (but also more and more tourists now): Beers usually cost 70-80 Baht (as low as 60 Baht during happy hour), lady drinks between 100-140 Baht, and the bar fine is only 300 Baht in almost every girly bar in town.
And even better: Regarding the sex prices, most of the girls are happy if you give them 1,000 Baht and will spend the whole night with you (long time).
Go Go Bars in Jomtien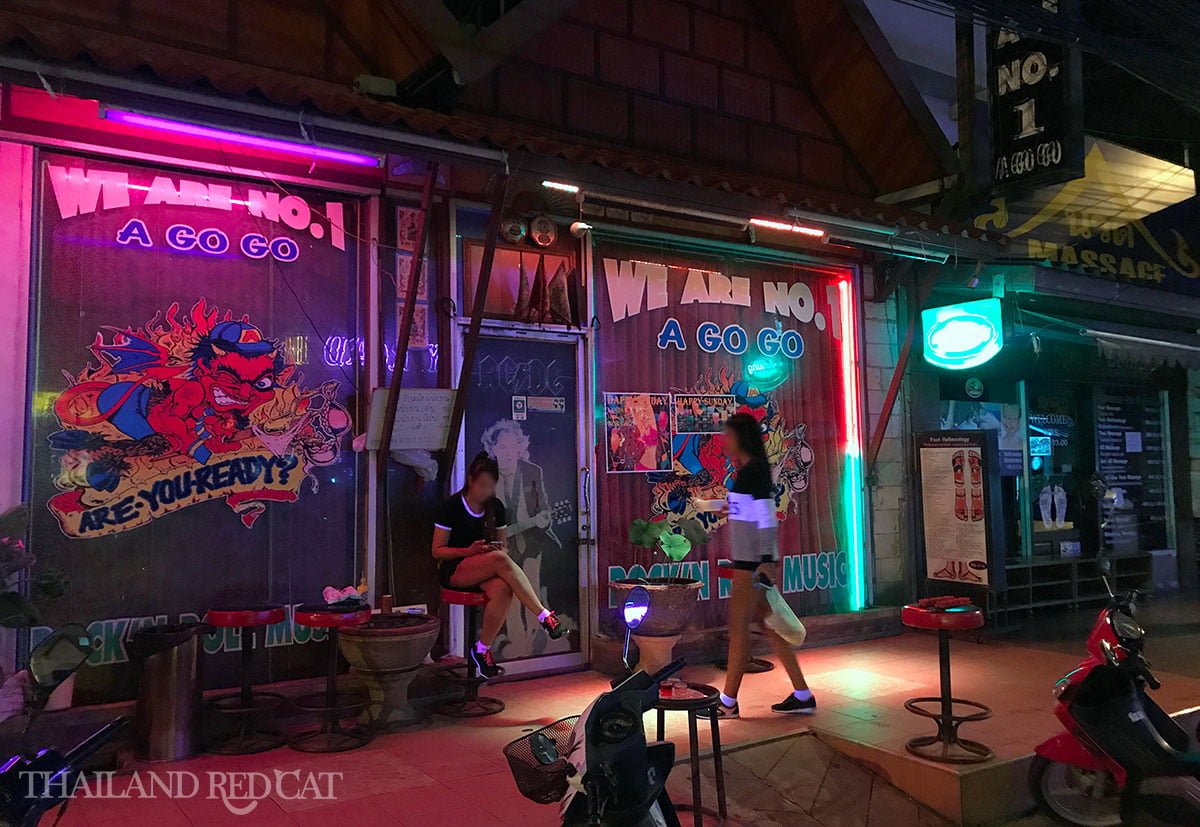 Believe it or not, but there is only one go go bar in Jomtien called "We Are No. 1 A Go Go".
Well, it's not a big surprise really, because the most attractive girls obviously prefer dancing on Walking Street, where they get much more customers compared to the relatively sleepy Jomtien.
"We Are No. 1" is the weirdest go go bar I've ever been to. First, they play rock music which feels strange, almost funny when the girls don't really know how to dance to that on the stage (always 3 girls rotating). And then you have mostly older women with big bellies, but also a few young hotties from Isaan, and even two ladyboys are working here (they are quite attractive, too). It's that unique mix, in combination with the relaxed atmosphere, that make this place worth a visit.
The bar is located on Thappraya Road, right opposite Country Road 3.
Prices: Beers cost 100 Baht, spirits 130-150 Baht, lady drinks 150 Baht, the bar fine is at 700 Baht, and the girls will ask for 1,500 Baht for sex – short time or long time, that's up to your negotiation.
Gentlemen Clubs in Jomtien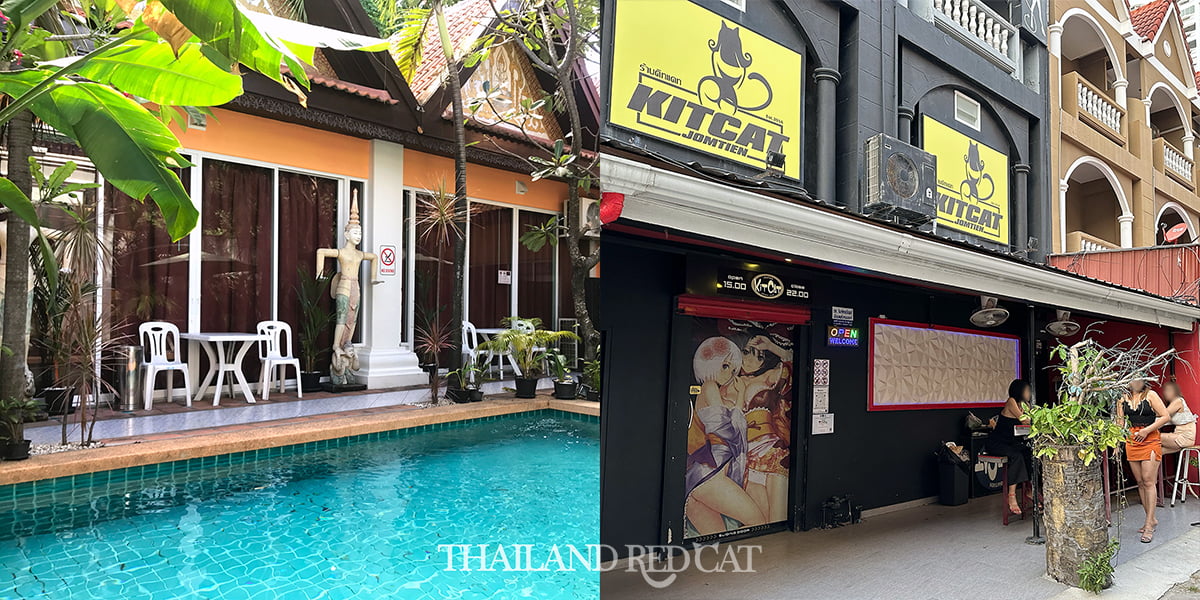 "Fuck and go" is quite a popular concept in Pattaya's entertainment industry (I'm referring to Soi 6 of course), and now you can even find such bars here in Jomtien.
However, they go with a more clean approach, calling them "Gentlemen Clubs", because their buildings are much nicer, they don't even look like bars from the outside. Most of them are hidden away in residential areas, and you would never discover them by just walking around town.
They work the same way as the beer bars – no entrance fees, you can drink beers and also buy the ladies drinks, often they even have some sort of buffet lunch, but what makes them unique is that they have rooms in the back that can be rented to have sex with the girls.
The best short time bars, aka gentlemen clubs in Jomtien are Passion (left picture), KitCat Lounge Club (right picture), Kinnaree Place, Heaven Club, Camel Toe and Rioja.
Prices: About 80 Baht for beers, 120-140 Baht for lady drinks, 400 Baht for the short time room rental (yes, that's 100 Baht more expensive than on Soi 6, but these places are nicer and cleaner), and usually 1,000 Baht for the sex.
Nightclubs in Jomtien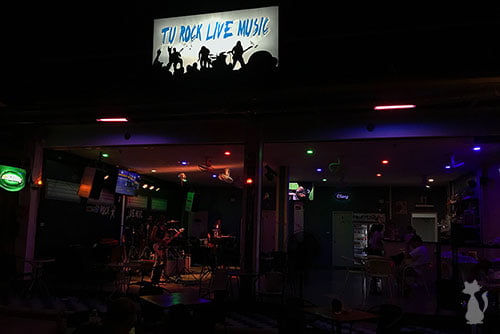 It's really strange, but there are no real nightclubs in Jomtien (yet). I'm sure that will change in the near future as the town continues to develop and attract more and more tourists, but for now you will have to stick to the bars in the Rompho Complex. Yes, they are technically all bars and no clubs, but the venue that comes closest to a night club is "Tu Rock Live Music". They have, like the name suggests, daily live music and it's one of the few places to meet girls in Jomtien's nightlife who are not employed by the bar.
Prices: Similar like in the girly bars (see above).
Happy Ending Massage in Jomtien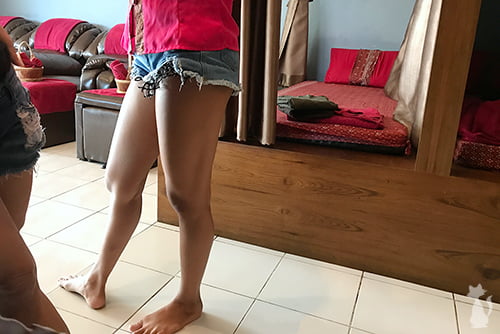 Of course you can also find plenty of massage salons in Jomtien that offer "extras" towards the end of the session.
Most of the salons are located on the same streets as the beer bars, but there are also quite a few on Thappraya Road – the main road connecting Jomtien and Pattaya.
Prices: 200 Baht for Thai Massages, and 300 Baht for Oil Massages. A fair tip for the happy ending (= hand job) is 400-500 Baht.
Beach Hookers in Jomtien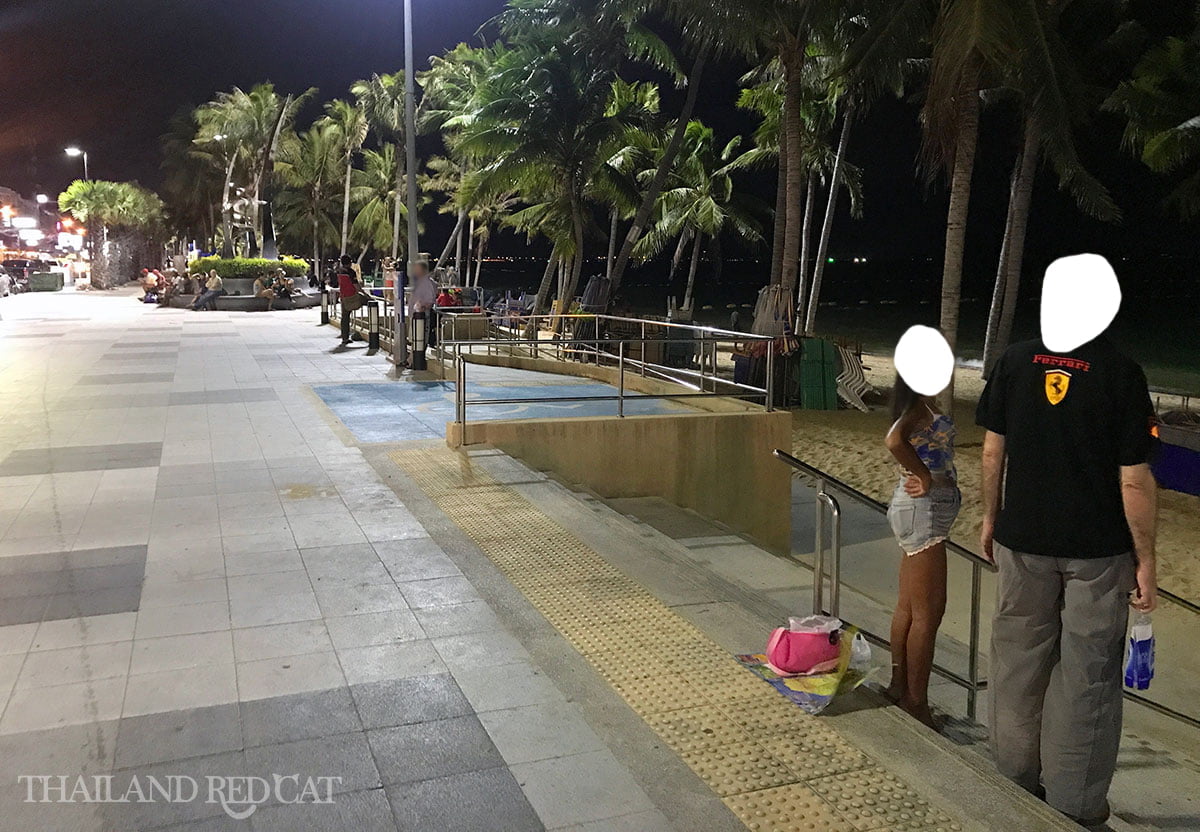 Even though not nearly as many, you can also find quite a few "beach hookers" on the beach promenade in Jomtien, means freelancers who are just standing or sitting around, and waiting for a customer to join him for short time.
They usually come out there after sunset, and mainly in the northern part of the beach promenade near the intersection with Thappraya Road (that's where I took the picture above).
Prices: 700-1,000 Baht for short time (negotiable).
Sky Bars in Jomtien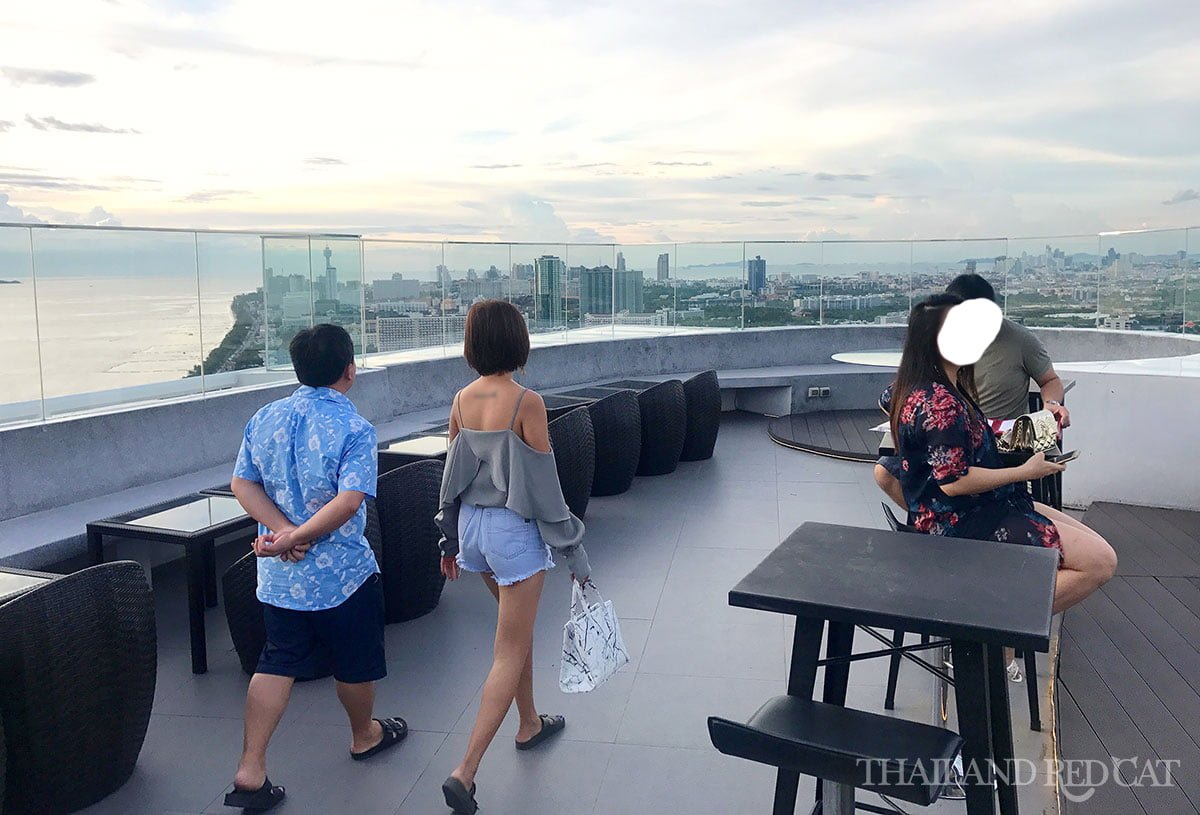 If you want to take a break from the red light scene in Jomtien, or impress your date from Thai Friendly, then you should really check out D.I.B Sky Bar.
It's the best sky bar in town with awesome views all around as far as Koh Larn, on top of the D Varee Jomtien Beach Hotel (38th floor), and owned by the same group that also runs the world famous (but much more expensive) Lebua at State Tower sky bar in Bangkok.
Prices: They have great happy hours from 6-10pm with "Buy 1 Get 1" cocktails for 150 Baht. But even for other drinks and during regular hours, you will pay something between 100 and 180 Baht – which is more than reasonable for a place like this.
Ladyboys in Jomtien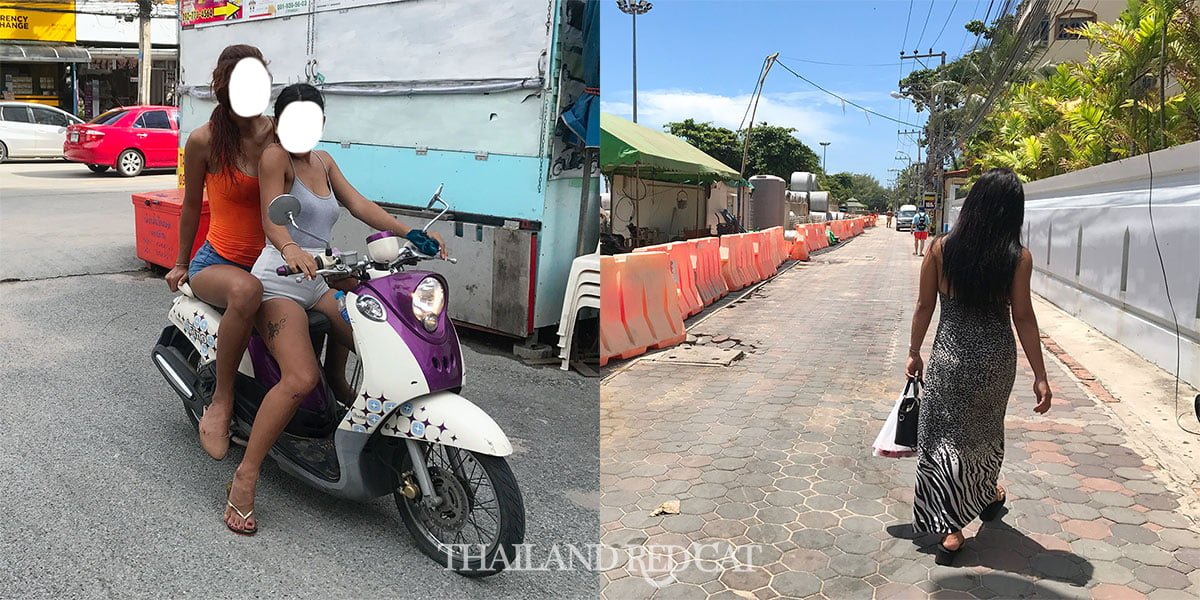 I didn't plan on writing about ladyboys in Jomtien, because it seemed like they all hang out over in Pattaya, but then I saw quite a few during the daytime while walking around town.
However, there aren't any ladyboy bars in Jomtien, so if you are really keen on meeting one, you can either take the songthaew to Pattaya, or simply use the dating site.
Gay Scene in Jomtien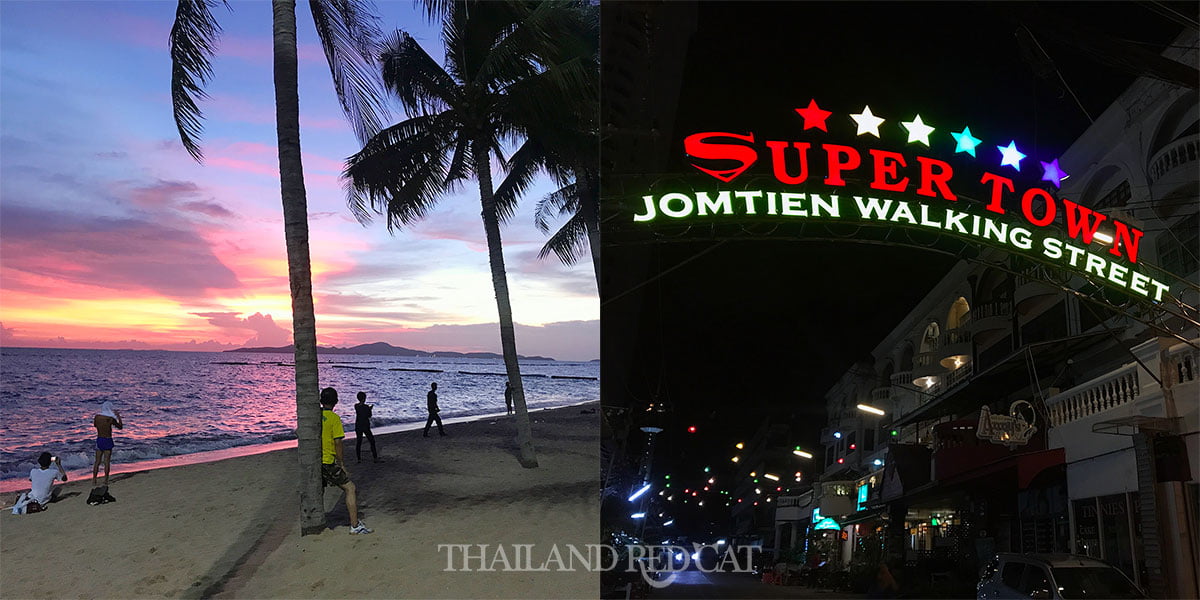 Just so you are "warned", Jomtien Beach has one of the most thriving gay scenes in all of Thailand.
There are several gay bars and massage salons, mainly along Thappraya Road and in the Jomtien Walking Street, so be prepared to get plenty of looks when walking around these areas (especially when you are alone).
Map of Nightlife in Jomtien
Alright. I'm quite exhausted now, this Jomtien nightlife guide has gotten longer and more extensive than I first thought. But I think you now have a really good overview of the (surprisingly) many different places to meet and have fun with Thai girls in Pattaya's neighbor.
Make sure to come visit here for at least a night – even if you stay in Pattaya, you can just take the 10 Baht songthaew from the intersection of Second Road / South Pattaya Road, and it will take you just 10-15 minutes to get there. Or you just book your hotel here, the prices are also cheaper.
Videos of Nightlife in Jomtien