You haven't been to Pattaya if you haven't visited at least a couple of Go Go Bars. Even though Thailand's hip beach town 160 km southeast of Bangkok more and more becomes a family retreat, the red light districts with go go bars, beer bars, soapy massage parlors and ladyboy cabaret shows are all over the place. You simply can't escape it.
The offer is so huge that you might not just get lost and overwhelmed on Walking Street (the center of the red-light action in Pattaya) but on simply every corner in Pattaya that has bars, bars and bars. In order to help you avoid bad surprises I have picked my six favorite strip clubs and their exact location in Pattaya to make things easier for you:
1. Peppermint – Walking Street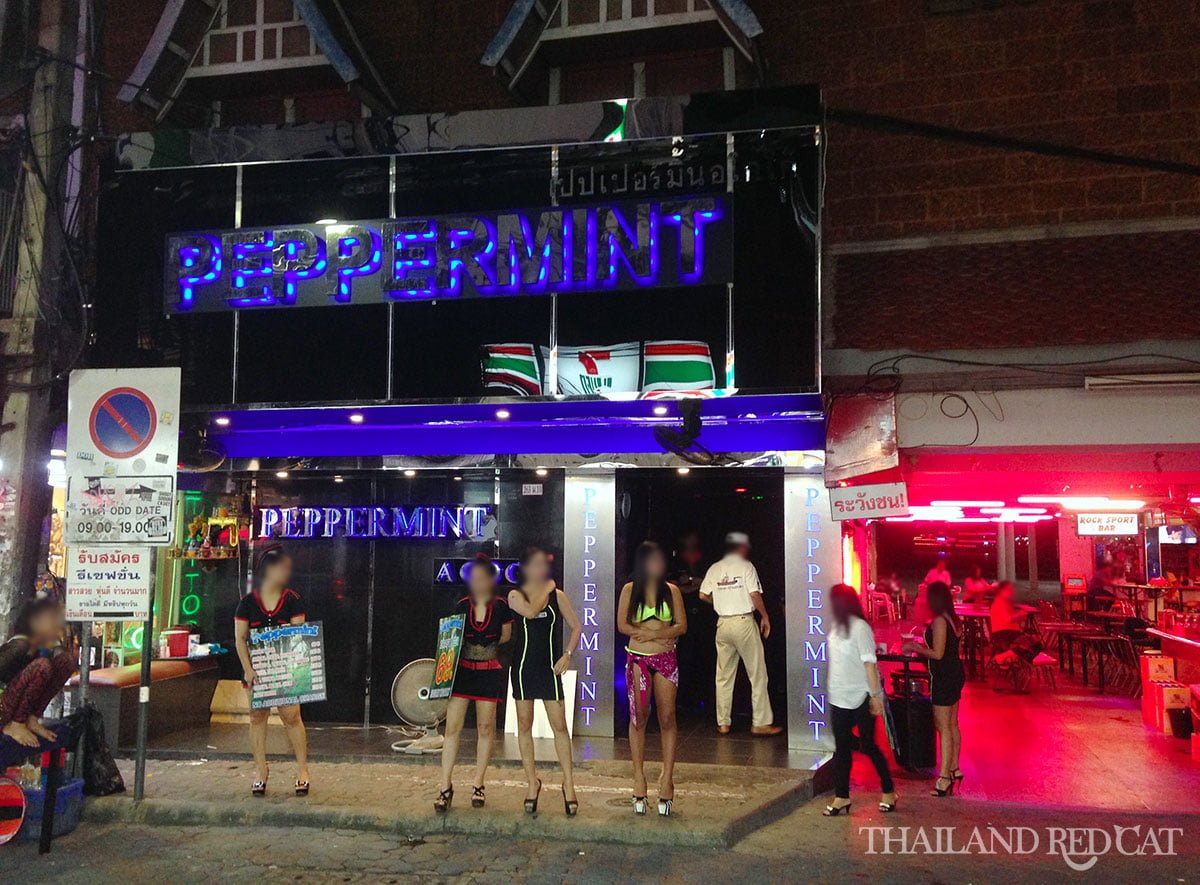 There are a lot of Go Go Bars in Pattaya that lure in customers with their hip, modern, special theme design, like Moon Bar, Airport Club & Iron Club. Peppermint is not one of them, their concept is pretty basic but to me this is the best go go bar in town.
It's not just that the place has some of the hottest dancers on the strip, they are also enjoying to dance enthusiastically and wild. You come in a lot of go go's in Pattaya and find the girls just more or less moving their legs a little but at Peppermint it's just great to watch how much fun the girls have. Great atmosphere in Peppermint.
There is a large center stage with seven girls and three single stages with one girl each dancing nonstop (rotating). The red couches and bar stools are so comfortable that you might stay longer than planned (well, and the ladies of course).
Prices: Great deal with draft beer for 80 Baht all night long. Happy hour until 9:30pm with draft beer for 69 Baht and spirits for 85 Baht. A lady drink in Peppermint costs 155 Baht. The bar fine is 1,000 Baht like at most other Go Go's on Walking Street, but they usually try to give you a fixed price being 4,000 Baht for short time all included and 6,000 Baht for long time all included.
2. Baccara Pattaya – Walking Street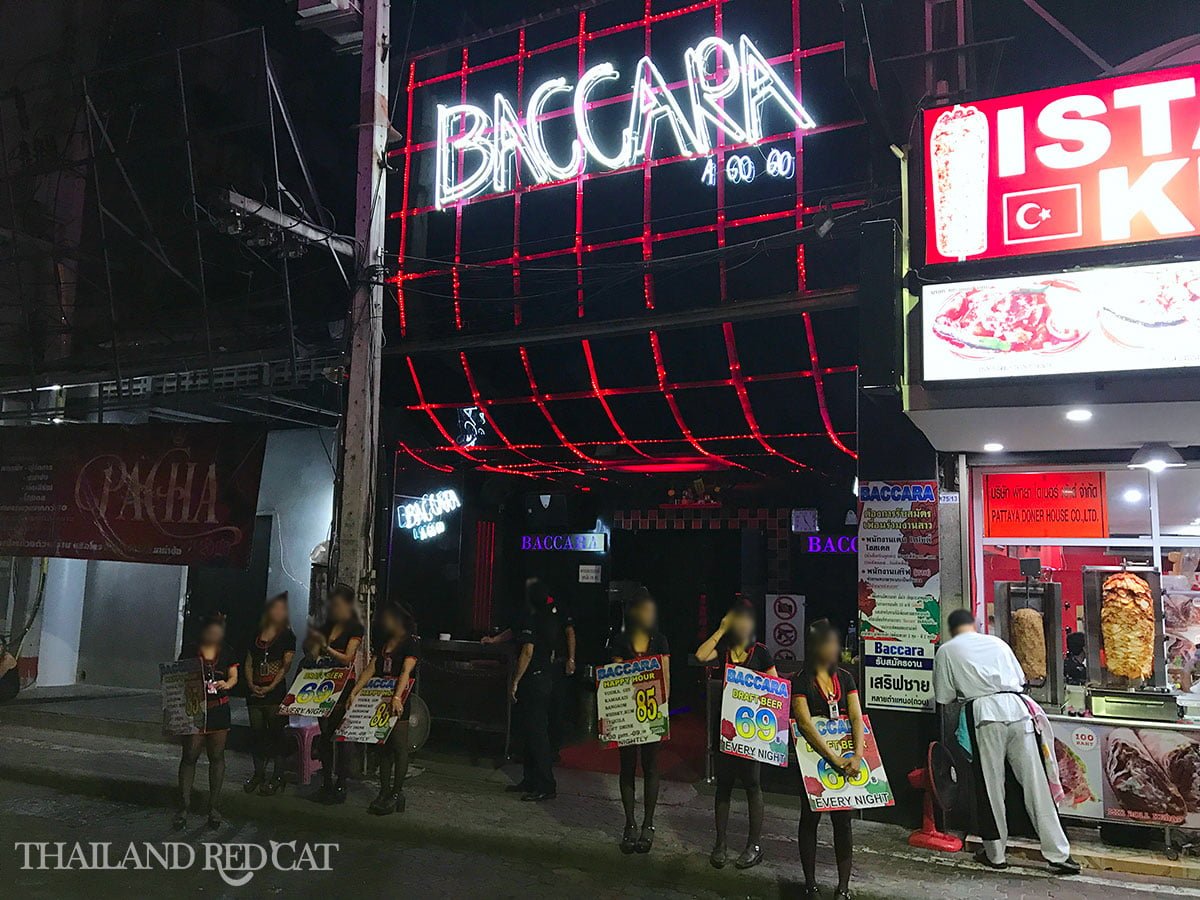 If you had to pick only one go go bar in Pattaya to visit, I would recommend you Baccara. It has a prime location right in the center of Walking Street (see map) and yes, the girls inside are as hot as the ones outside at the doors.
It's not just that Baccara has some of the hottest chicks in town, it's also how many girls it has. At this place you don't really need to worry coming too late because the best girls are taken.
The design of the bar is similar to Baccara in Bangkok, with a large center stage on the ground floor and girls in bikini outfits. If you look upstairs the center stage has girls dancing in micro skirts and basketball style boots on a glass floor, means you have fantastic views looking up from the ground floor.
Prices: Same happy hour like at Peppermint with draft beer for 69 Baht and spirits for 85 Baht until 9:30pm. Lady drinks are at 165 / 200 Baht (shot / long drink). They have a separate menu that says 800 Baht for the bar fine, 2,500 Baht for short time and 5,000 Baht for long time. The bar fine is fixed as always, the other price may be negotiable, depending on the girl.
3. Happy A Go Go – Soi Happy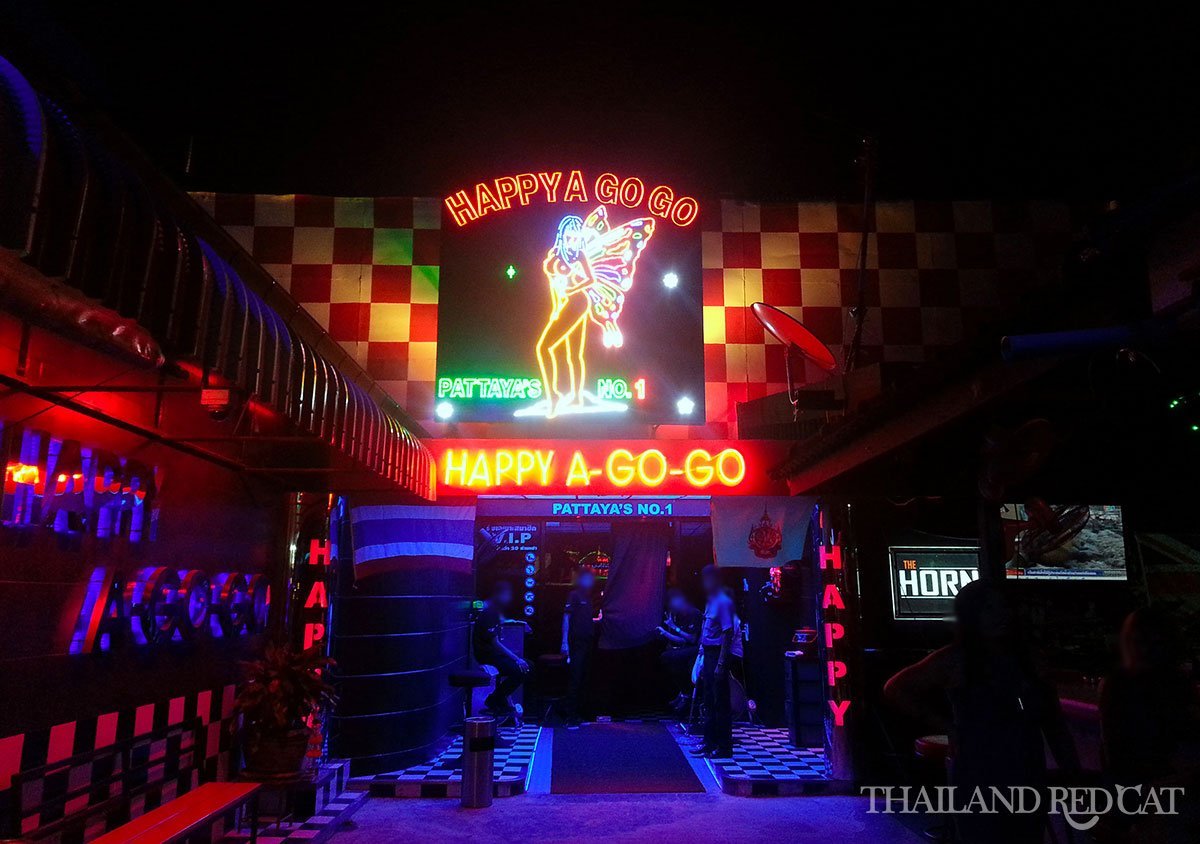 Happy A Go Go claims to be Pattaya's No. 1 go go bar. It is located at the end of Soi Happy, just off Walking Street. While walking there you will pass a lot of beer bars with pool tables so don't get distracted.
The bar has a main stage surrounded by comfortable benches and bar stools as well as a smaller stage with show girls that perform in school uniforms. Even though the bar is pretty busy every night, the overall atmosphere is laid back and the service is great.
Happy has a lot of 10s – super attractive, white skinned and thin girls many of them with nice big boobs. And even better they get all naked, not just topless. Just like in the other strip clubs it's not permitted to use mobile phones in Happy A Go Go and if you carry a camera you might be asked to leave it with the staff outside.
Prices: There is a daily happy hour until 9:30pm with spirits for 85 Baht. Draft beer for 69 Baht all night long. There couldn't be a better choice to start your wild night out in Pattaya. If you invite one of the dancers for a drink that will cost 155 Baht (cola or tequila). The short time bar fine is 800 Baht and the long time bar fine is 1,500 Baht.
4. Airport Club – Walking Street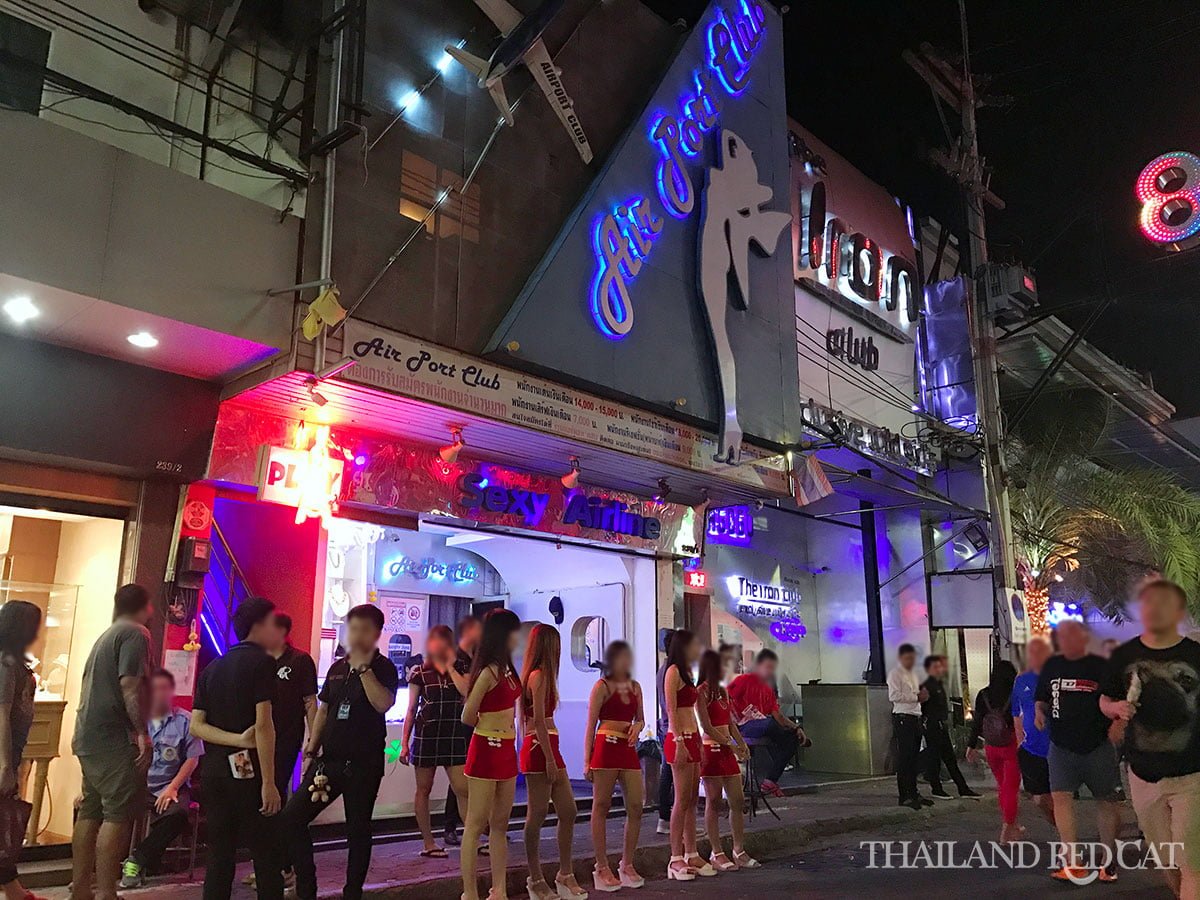 Airport Club is small but neat, and always packed with people. This is one of the best go go bars in Pattaya and part of its success are the dancers and service girls that are among the hottest in town, wearing bikini style air hostess outfits (outside their dresses are blue, inside red).
There is one big main stage that has dancers at any given time, surrounded by comfortable benches, which gives it rather a lounge than a club feeling. If you should get bored (or no seat) have a look at the back of the bar that has a play stage with girls doing erotic shows and a Jacuzzi pool.
Airport Club is located in the center of Walking Street, right across the entrance to Soi Diamond. It's hard to miss with its blue neon lights and, well, super hot girls standing outside.
Prices: Heineken draft for 85 Baht all night long, all sorts of bottled beers for 90-110 Baht. The bar fine is at 700 Baht relatively cheap for Pattaya standards.
5. & 6. Most Naughty Go Go Bars in Pattaya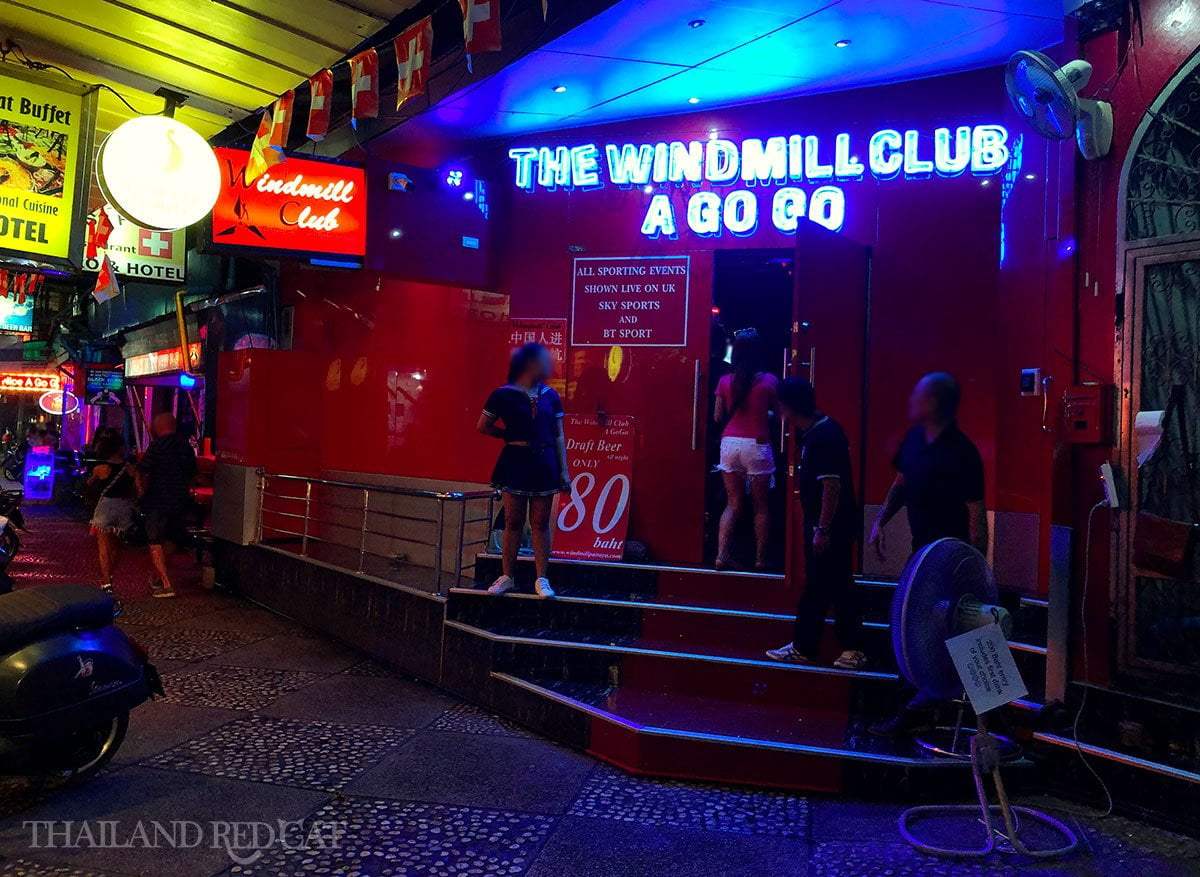 I would like to separate number five and six from the other four. Usually the girls in the Go Go bars only take off their bras – if at all (they do take them off at number 1-4). However there are a couple of places where you see the girls taking off everything.
Not just that, you see them petting each other and the best part is the pool with comfy couches around it at the end of the bar that has one or two girls showering and cleaning every part of their bodies. After fifteen minutes or so, they change and a couple of new girls hop in. The girls are more average than in other Go Go's, but then this is true entertainment.
Check out Sugarbaby on Walking Street and The Windmill just two minutes walk from there in Soi Diamond – you won't regret it.
Prices: It's 75 Baht for a draft beer and house spirits (happy hour 7:30pm-10pm) at both Sugarbaby and Windmill. Otherwise draft beer for 80 Baht and spirits from 150 Baht (like I had a Red Label with ice and soda for 150 Baht at Sugarbaby). Ladydrinks are a bit more pricey but still standard at 160 Baht in both venues. They also got a special: 10 lady drinks (shots) for 1,000 Baht. If you want to take out a girl, then you need to pay her bar fine of 1,000 Baht for short time or 1,500 Baht for long time – not including her price that needs to be arranged separately (see below).
Map of the Best Go Go Bars in Pattaya
Prices for Girls in Pattaya's Go Go Bars 2023
1,500 – 3,000 Baht (short time) & 2,000 – 5,000 Baht (long time).
And this is the drink menu of Baccara: