Most guys who visit Ayutthaya make it a day trip, partly because it's just 1 hour by minivan from Bangkok, and partly because they simply don't know that there's quite an interesting and happening nightlife scene in the former capital of Siam.
Sure, while you won't find nearly as many (girly) bars, (happy) massages and nightlife spots in general compared to other tourist hotspots in Thailand – it's still more than enough to spend one or two nights here, have a lot of fun and meet a nice girl by the end of the night, if that is what you want.
Ayutthaya Nightlife Overview
There are 2 main nightlife areas in Ayutthaya: Grand Street and Soi Farang (I have marked both on the map below – black flag pin – as well as all other places mentioned in this guide). They are too far from each other to walk between them (about 4.7km) so I highly recommend you to rent a motorbike (about 300 Baht per 24 hours).
Grand Street is the unofficial red light area of Ayutthaya. You'll first notice all the Japanese oriented karaoke bars with lots of young ladies sitting and waiting for customers outside. Plus several happy ending massage salons, beer bars and also the best night club in town.
Soi Farang, officially called Naresuan Soi 1, is located in the Old City (near all the famous temples of Ayutthaya), has currently 8 different bars with 80% of its customers Farangs (and around 70% of them backpackers below the age of 30). If you want to meet Thai girls, go to Grand Street instead, but if you want to relax and drink good and cheap cocktails with your girlfriend, then that's the place to go (hotspots: Jazz Bar, Planet Earth & Chang House).
Farang Bars in Ayutthaya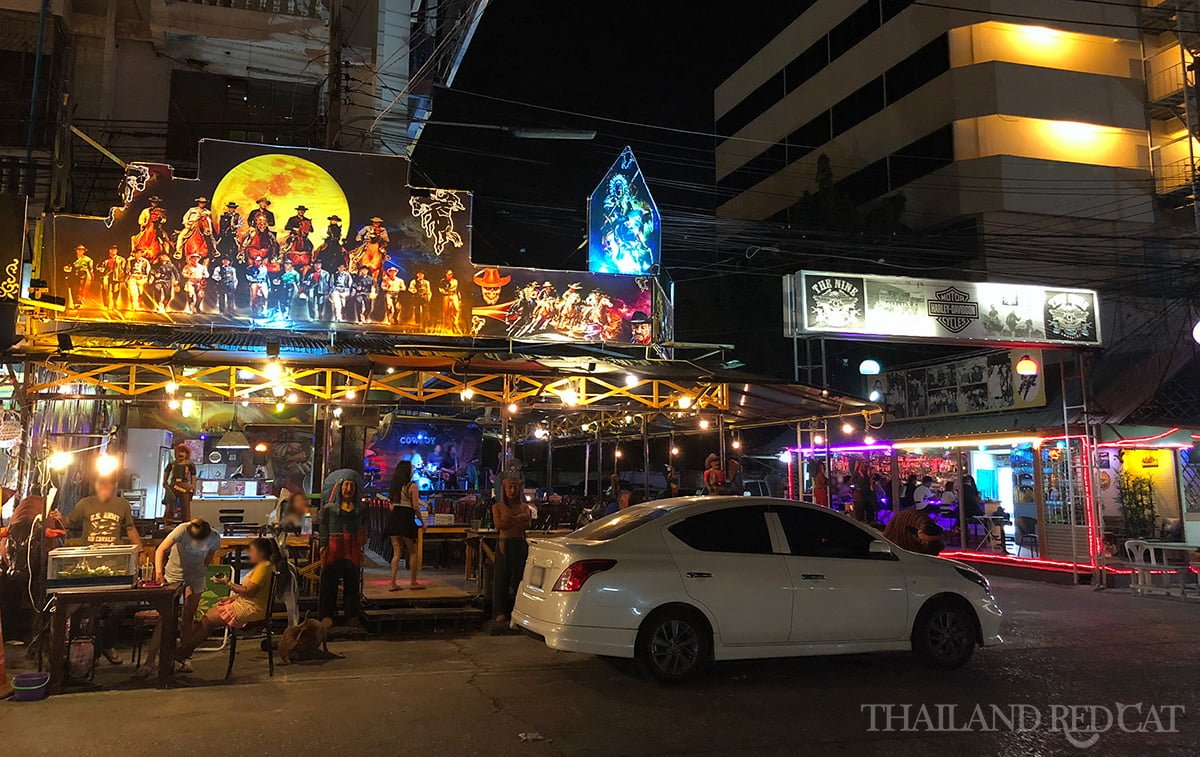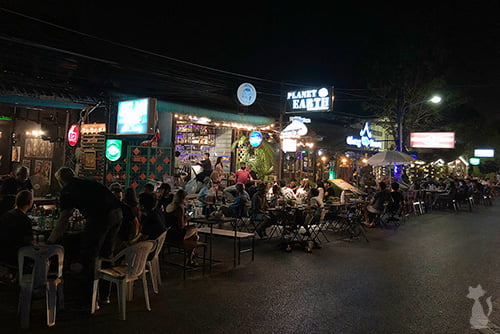 Cowboy Bar on Grand Street (photo above) is the most popular Farang bar in Ayutthaya. They have a great setting, half open air, live band every night from 9pm, a pool table (which is always a great opportunity to meet other people) and super friendly staff.
Lady Sexy Bar is right opposite of Cowboy, with lovely and talkative girls behind the bar. I took a short 1-minute video of both bars during my visit there last week, check it out at the end of the guide.
There are several more, smaller bars in the same Grand Street area that can be fun for a beer too, such as Farung Bar (indoor with aircon) and Bar Rin, but the main action is really going on in Cowboy and Lady Sexy Bar.
Prices: Most bars have very reasonable prices – small beers about 70 Baht and big beers about 110 Baht. Spirits (like Gin Tonic or Red Label Soda) just about 100 Baht as well. That's like 50% less than in Thailand's main tourist places like Bangkok, Pattaya or Phuket.
Karaoke Bars in Ayutthaya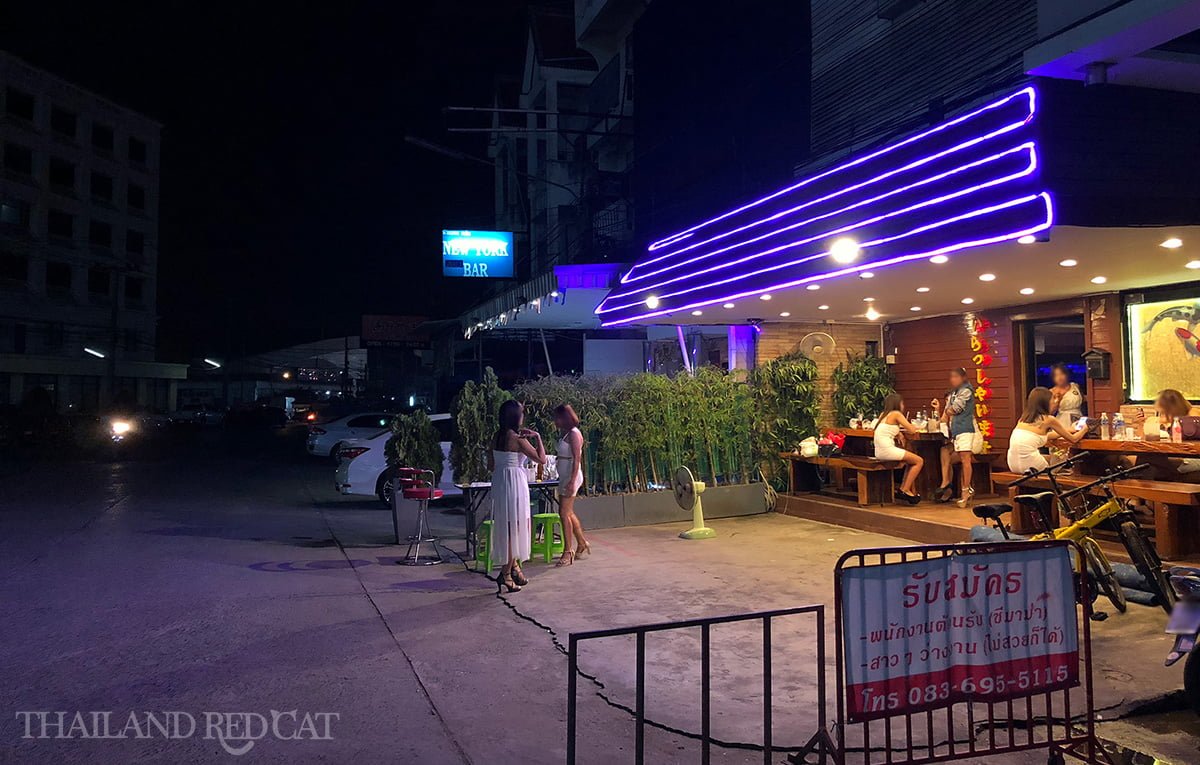 If you want to enjoy yourself with the hottest and most attractive Thai girls in Ayutthaya, the karaoke bars are the place to go. Even though they are mainly oriented towards Japanese men (there are lots of expats here who work for the Japanese companies in the area), you are also very much welcome as a white guy.
Most of these girly bars are located right on Grand Street (photo) as well as several smaller and more "naughty" ones in Talat Grand Soi 8, which offer "boom boom" (sex) right away – just negotiate a certain amount for the "bar fine" with the manager, and you can take the girl of your choice to your hotel.
Prices: About 120 Baht for beers, 180-200 Baht for lady drinks, 500 Baht for the karaoke room rental, and around 1,500-2,000 Baht for short time with the girls (not in the bar, but in the hotel).
Nightclubs in Ayutthaya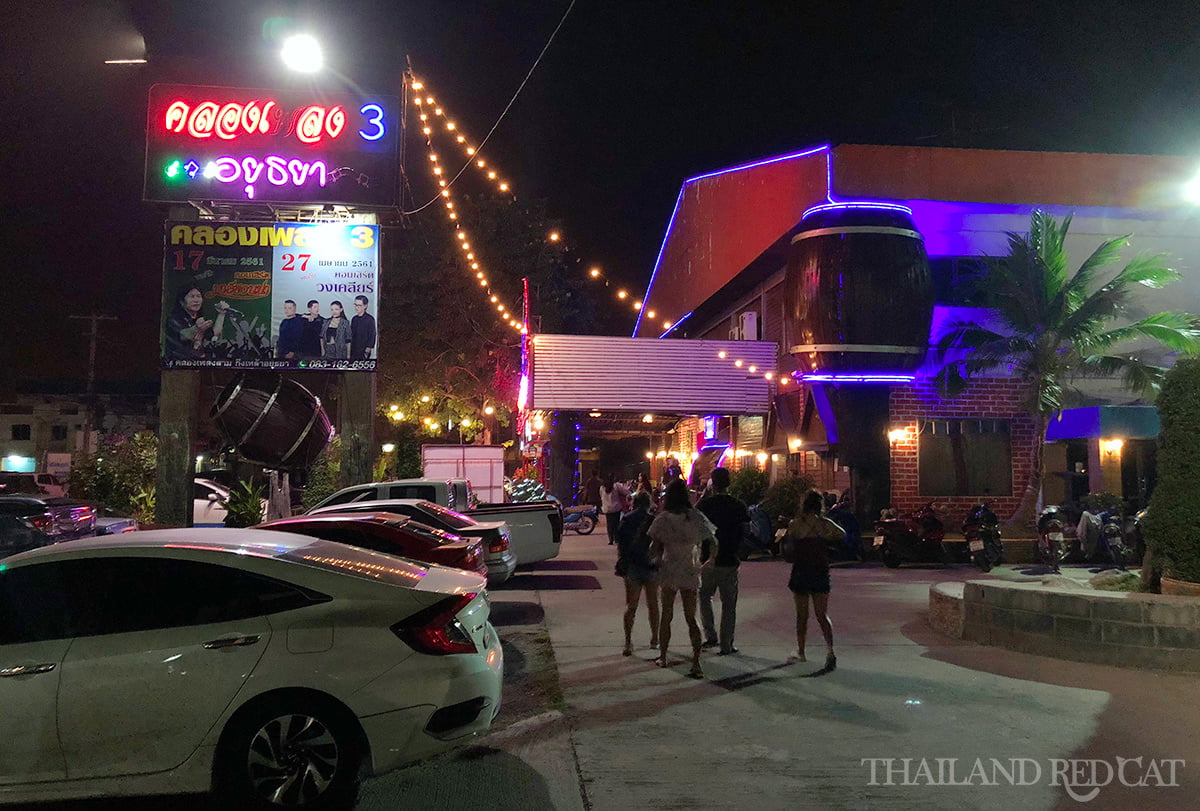 Klong Pleng 3 is the most popular nightclub in Ayutthaya. If you speak some Thai and have enough money to afford a bottle of whiskey to make impression on the girls, you will probably have fun in there.
Prices: No admission fee, beers about 140 Baht, bottle of Johnnie Walker Red Label 1,700 Baht (plus mixer like soda 50 Baht, ice 30 Baht).
Happy Ending Massage in Ayutthaya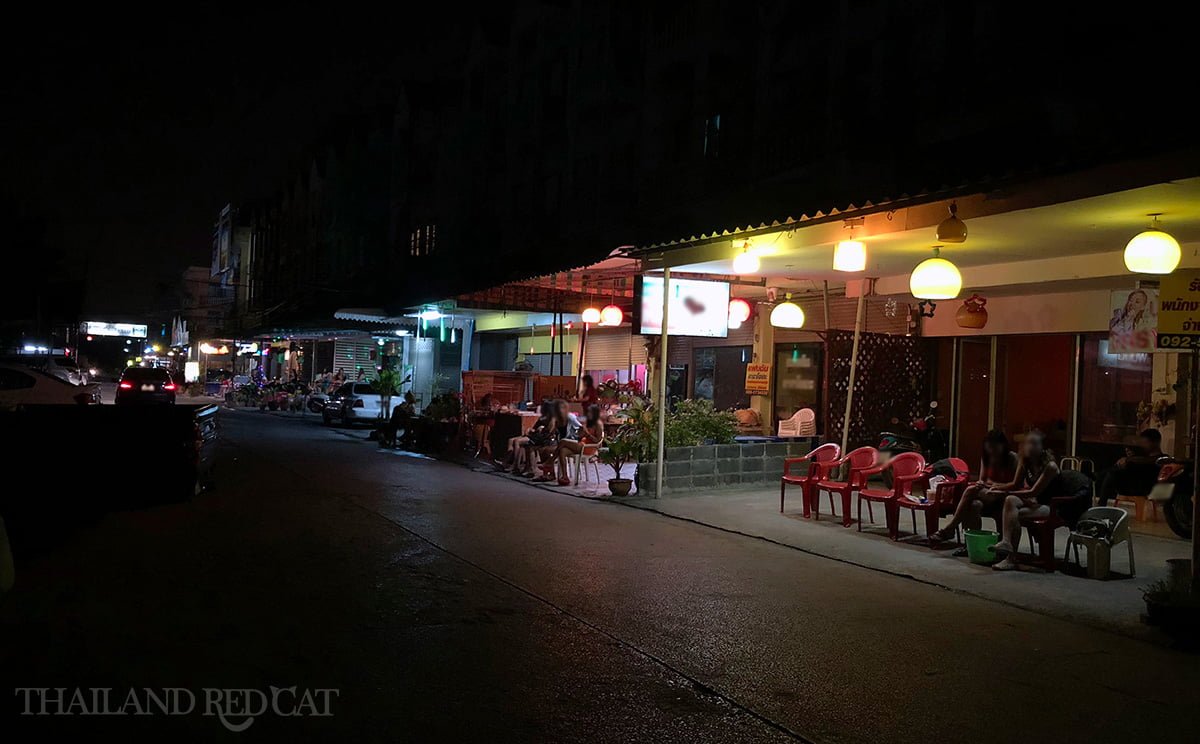 The small side streets of Grand Street are full of small happy ending massage salons, I counted more than a dozen of them (see the yellow pin on the map below). Like everywhere else in Thailand, most of these ladies are not local but come from all different provinces of Isaan.
Prices: Most salons charge 200 Baht for a Thai Massage and 400 Baht for an Oil Massage. Hand job is usually 500 Baht, sex is not allowed.
Ladyboys in Ayutthaya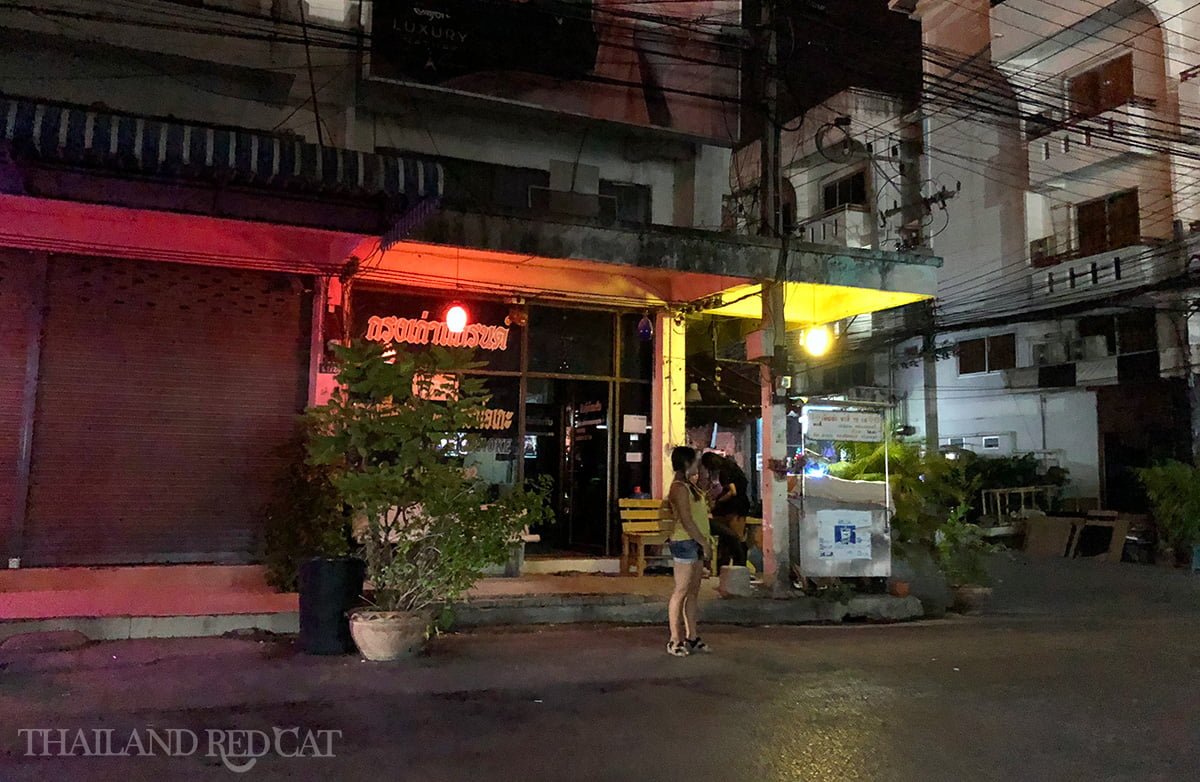 I hadn't planned to include ladyboys in this Ayutthaya nightlife guide, because I saw none of them in the bars, but then on my last night I spotted a very attractive transgender in front of one of the massage salons in the Grand Street area. I assume she gives excellent massages.
Otherwise, a more reliable way to meet some nice ladyboys in this city (like everywhere else in Thailand) is the dating site.
Local Bars in Ayutthaya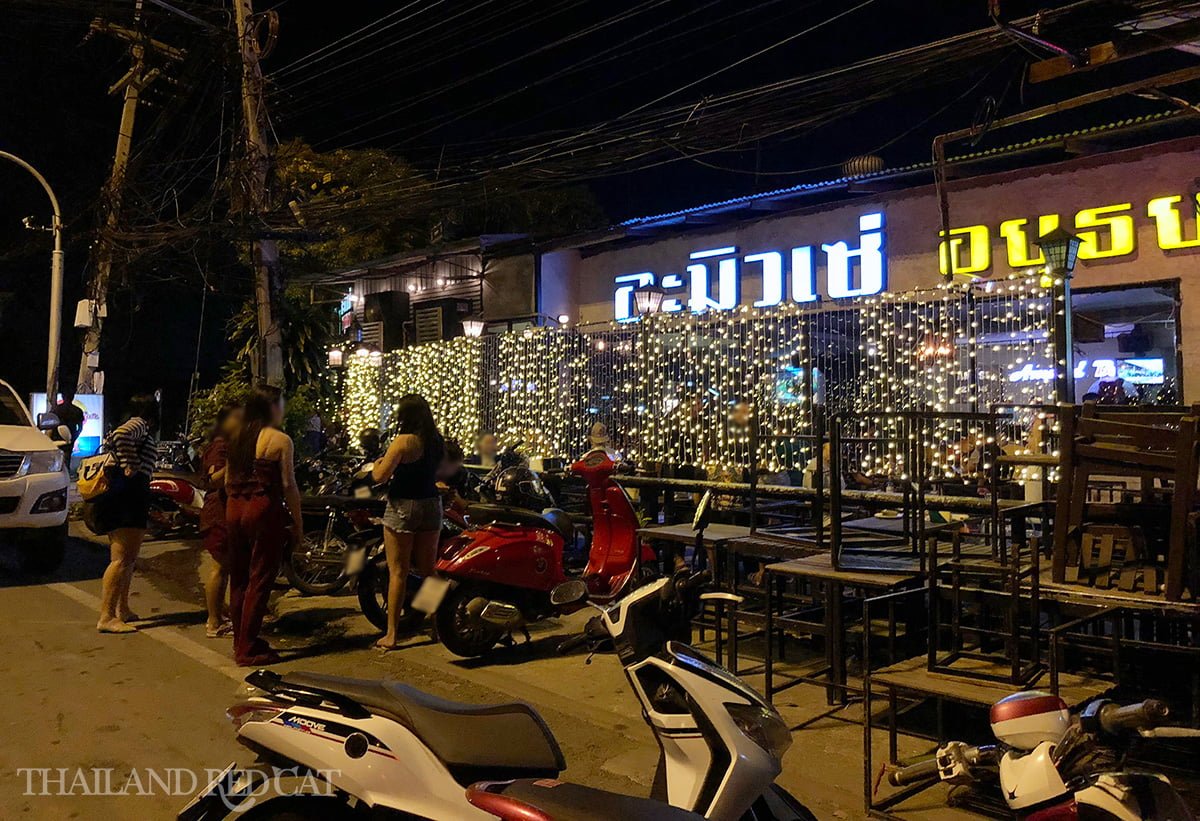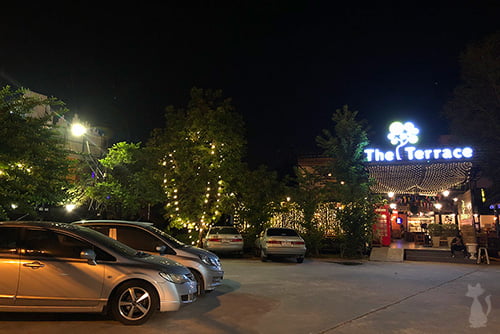 So far I've only talked about the nightlife for the tourists (well, except the night club). But of course there are also lots of really cool local bars spread all around Ayutthaya.
Amuse Bar and The Terrace are two hugely popular night spots among the local Thais – you'll see some very beautiful central Thai girls in there (but most of them are rather shy to flirt with a foreigner, especially in front of their friends). Great dating spots though, similar to the bars on Soi Farang.
Map of Nightlife in Ayutthaya
Videos of Nightlife in Ayutthaya