Pattaya is without doubt the all-time favorite for short time trips from Bangkok. So how to get there?
Bangkok to Pattaya by Bus
Take the BTS Skytrain to Ekkamai station. Leave the station at Exit No. 2 and you are right at the Ekkamai Bus Terminal.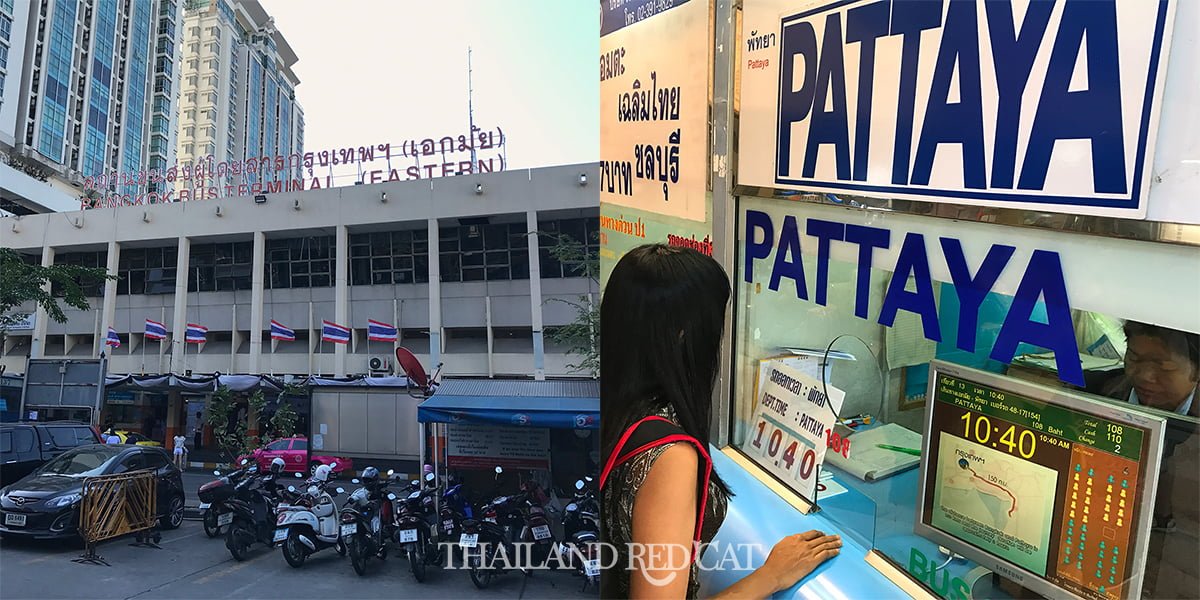 There are buses to Pattaya every 30-60 minutes from 5am to 11pm. Just go to the ticket booth and buy your ticket. There is no need to pre-book your bus, even during weekends and holidays, because there are so many services frequently leaving for Pattaya, and also minivans are available as an alternative (see below).
The one way bus fare from Bangkok to Pattaya is 119 Baht (new price).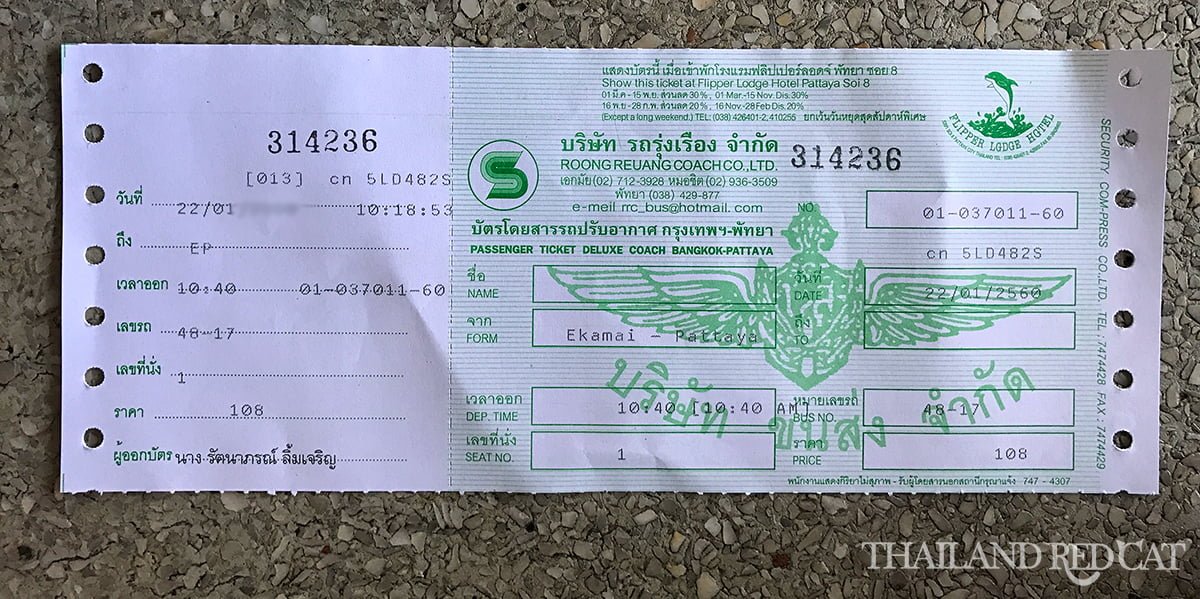 Since there are so many departures, your waiting time should be less than 20 minutes. Enough time to grab a small bottle of water from one of the shops (10 Baht) and do some people watching before boarding the bus.
There are lots of hot and tanned ladies taking this bus, so sometimes it's hard to not get a boner in anticipation of your next sex trip to Pattaya.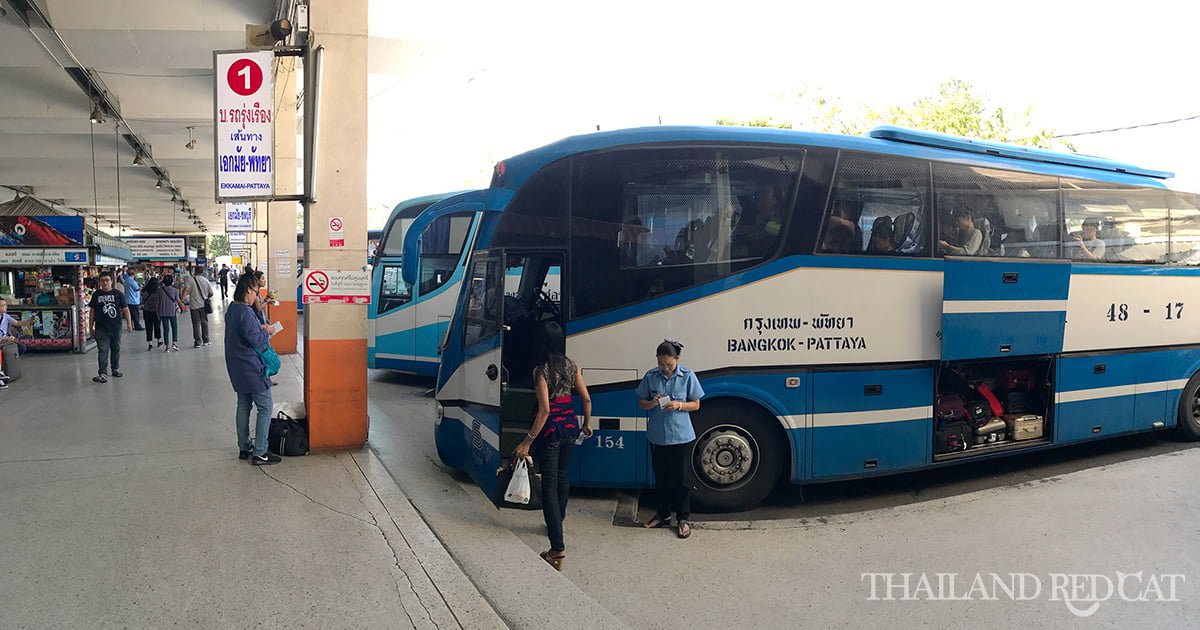 The bus ride takes 2-3 hours. It used to be just under 2 hours, but recently the traffic got worse.
It's quite an unspectacular trip, but if you are interested how the scenery looks like along the way – check out my video at the end of the guide.
The bus will stop at Pattaya's Bus Terminal in North Pattaya: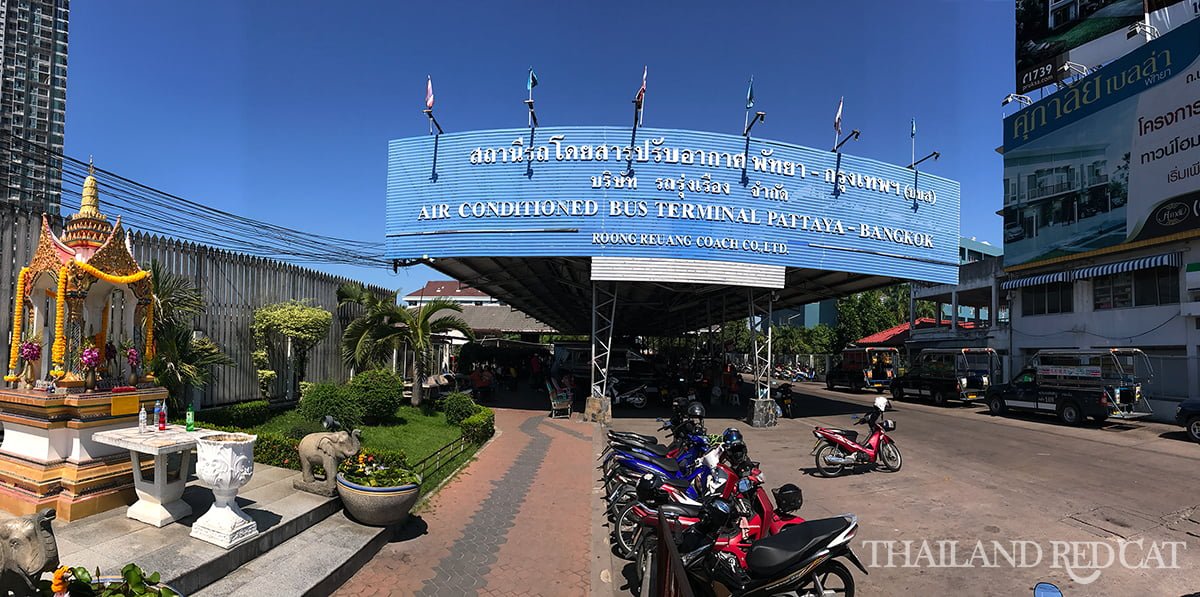 Once you have reached there you can hop on a shared songthaew (shared pick up taxi) that takes you to your hotel or Beach Road (50 Baht).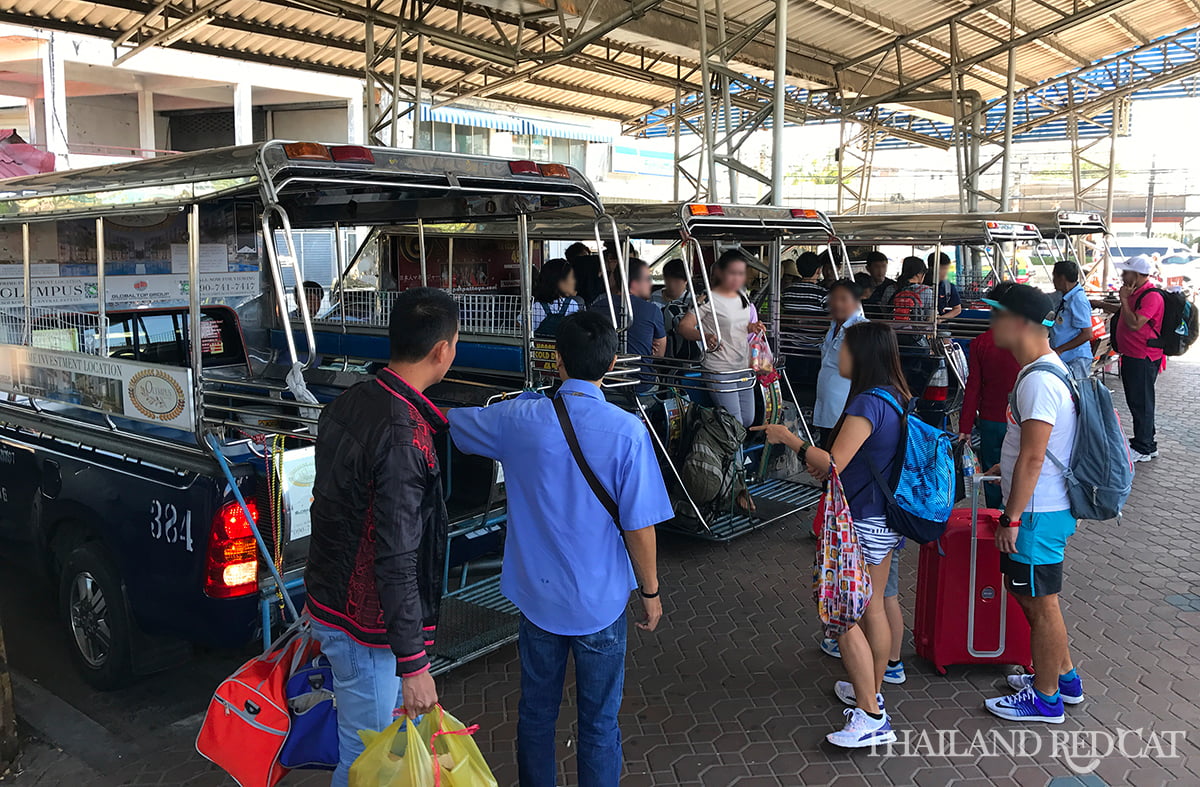 Alternatively you can take a motorbike taxi that will take you to any place in Pattaya for 80-100 Baht. Or a Grab of course, but they tend to be more expensive in Pattaya than in Bangkok.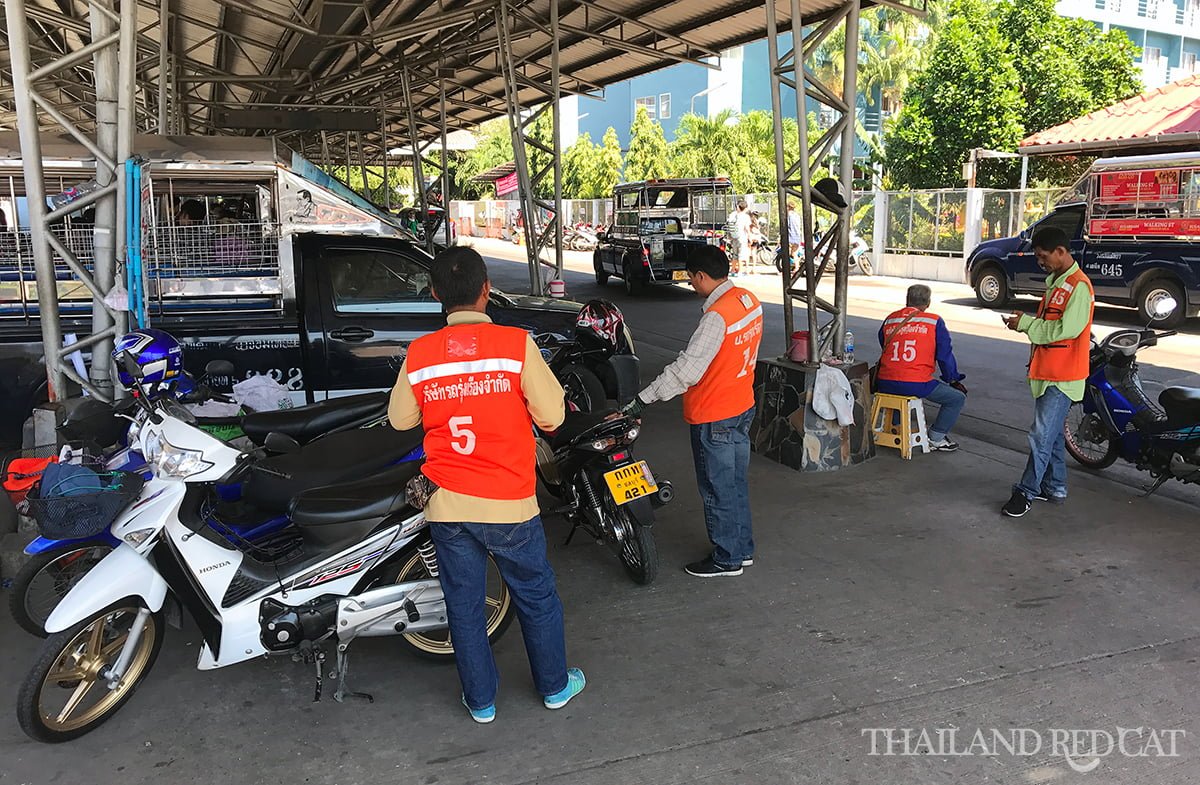 Bangkok to Pattaya by Minivan
The alternative to the big busses (see above) are the minivans. They used to leave from Victory Monument – but not anymore (they caused a lot of traffic problems).
The minivans from Bangkok to Pattaya leave at the Ekkamai Bus Terminal – correct, the same place where the big busses leave as well.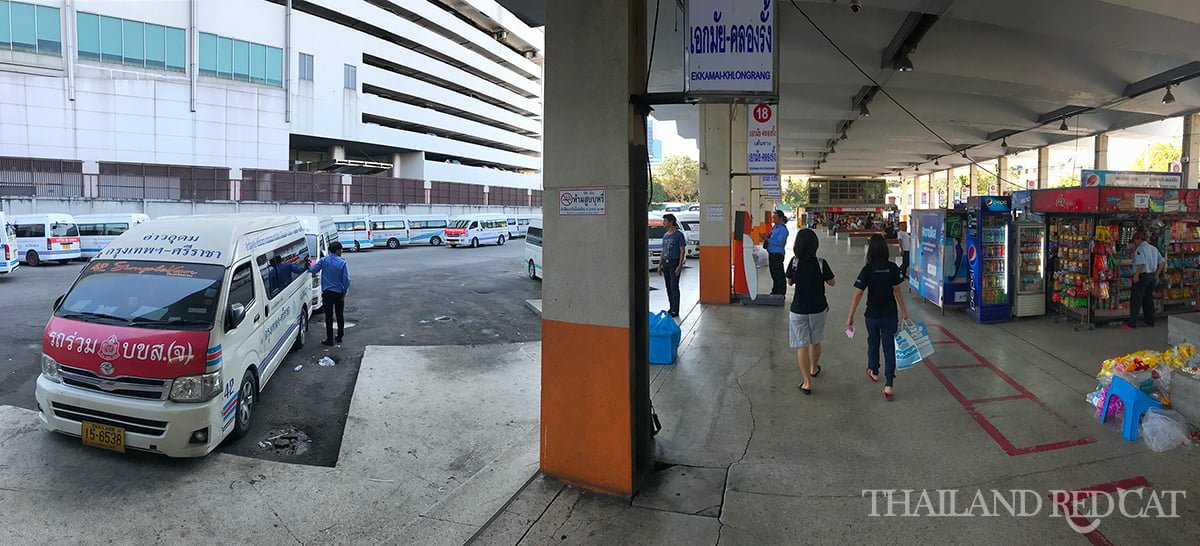 No matter which minivan you take, it will cost no more than 130 Baht. Which is quite a good deal considering that's like a taxi ride from downtown Bangkok to Khaosan. By the way:
Foreigners pay the same price as local Thais.
The trip takes around two hours, obviously depending on the traffic. Normally the driver will ask you where in Pattaya you want to get off. Often, they don't speak English. So you might tell him "chai hàat" (ชายหาด) for beach or "Central" (เซ็นทรัล), the popular shopping mall in the heart of the city. There are tons of hotels and guesthouses located near the beach and the further you go inland, the cheaper they get. There are decent rooms for 700 Baht on Second Road, which is the road that runs parallel to Beach Road. From there it's a short 5-10 minute walk to the beach.
Note: Space for luggage is quite limited in the minivans and if you carry more than a small backpack, they may have you pay for a second seat.
Bangkok to Pattaya by Taxi
Of course you can go from Bangkok to Pattaya by taxi as well, however this will set you back ten to twenty times as much as the minivan (around 1,500-2,000 Baht).
Now that you know how to get to Pattaya, check out this post if you want to know what to do in Pattaya other than hanging out in the beer bars.
Bangkok Suvarnabhumi Airport to Pattaya
In case you want to get from the airport in Bangkok to Pattaya on the quickest way possible, good news: There is a new and modern airport bus connecting Suvarnabhumi Airport and Pattaya (choice of 3 drop off points).
This bus leaves roughly hourly from 5:30am to 10pm on Level 1, Gate 8 at the arrival hall. The fare is only 130 Baht.
In case you arrive at BKK's other airport, Don Mueang, there is a free shuttle bus connecting Don Mueang and Suvarnabhumi.
How to get from Pattaya back to Bangkok?
You obviously have the same 3 options to get back to BKK: Bus, minivan & taxi.
If you choose the most popular option – the bus – then you will need to take a motorbike taxi to Pattaya's Bus Terminal (80-100 Baht). Once you are there, buy your ticket (120-130 Baht). Then take a seat and relax until it's time for departure.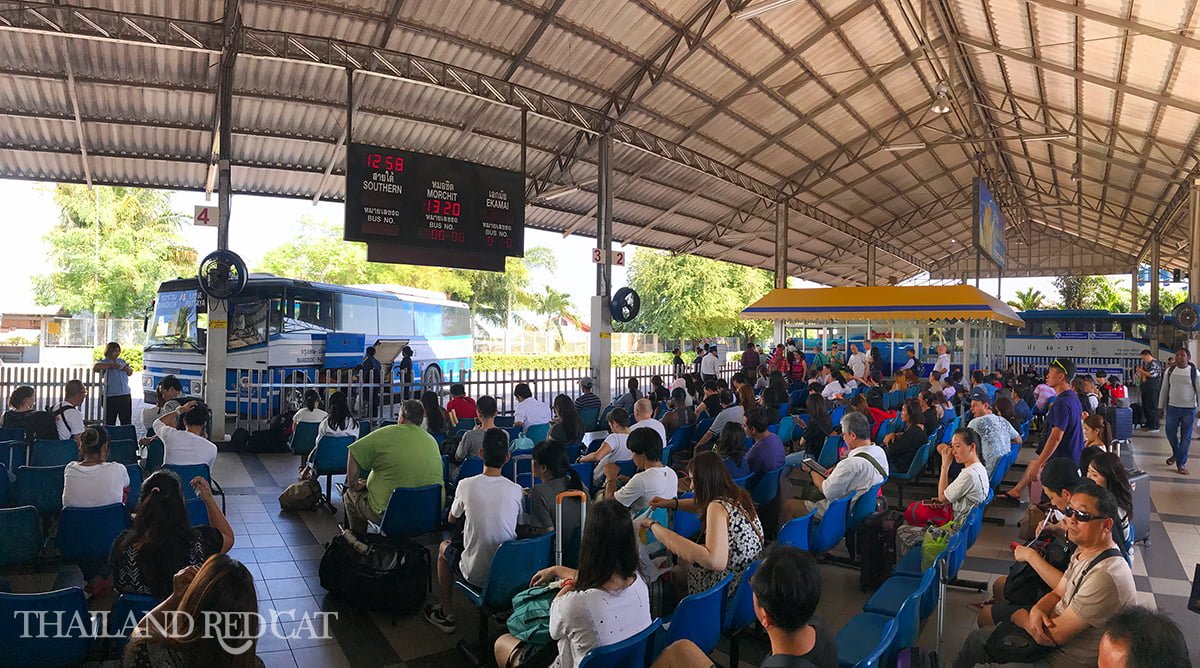 If you choose to travel back by minivan, then just go to Central Festival Pattaya. You can find the minivan station in front of the back entrance on Second Road. I have marked the location on the map below. The fare is 130 Baht and there are departures every 30-60 minutes from 6am-10pm.
And if you choose to travel back by taxi, that will cost you around 2,500 Baht (usually more than if you come from BKK, because the supply of taxis is not nearly as big in Pattaya as it is in Bangkok).
No matter which option you choose, the travel time will again be 2-3 hours. If possible, try to avoid Sundays and early evenings for your travel back as the traffic will be much worse than during other times.
Map of Bangkok & Pattaya Transport
Video of Bus Ride from Bangkok to Pattaya