These days you hear more expats in Thailand than ever complaining about all different sorts of things: The uneasy visa situation for long time residents. Increasingly tougher to set up companies (especially if you don't want to rent a physical office). Unreasonable prices for condos given the generally poor building standards. Increasing number of both road accidents and criminal rates. And so on, and so forth.
I don't want to comment on all these points as I personally think life in Thailand is as good and fun as ever if you weigh off all the pros and cons (and the fact that the US Dollar to Thai Baht exchange rate is currently very attractive). But how about traveling to Thailand with little focus on sunbathing on crowded beaches and riding elephants in humid rainforests, but rather on happy ending massages in air-conditioned parlors during the day and adventurous visits to the various red light establishments during the night?
There has never been a better time for a single guy's holiday in Thailand than now.
Before I receive comments from readers claiming that the cost of sex in other Southeast Asian countries like Cambodia, Vietnam or even the Philippines is cheaper than here in Thailand, let me say this: It's true that you can generally get a hooker in Phnom Penh slightly cheaper for 50 USD for the whole night (that's actually more than most people think before first going there) compared to generally 2,000-3,000 Baht for a long time with a Thai bar girl (55-83 USD). However, in Thailand you get a much better value for money if you look at the bigger picture, your whole sex holiday, because it has the best infrastructure and overall entertainment in the region.
Leave alone all the super modern shopping malls and western restaurants that you can barely find in the neighboring countries and if you do, then the quality usually sucks. And when you eventually leave your hotel room after another session rubbing up and down that smooth-like-silk skinned hot Asian thing, you might not want to get a view like this in downtown Phnom Penh (literally 50 meters from the river promenade):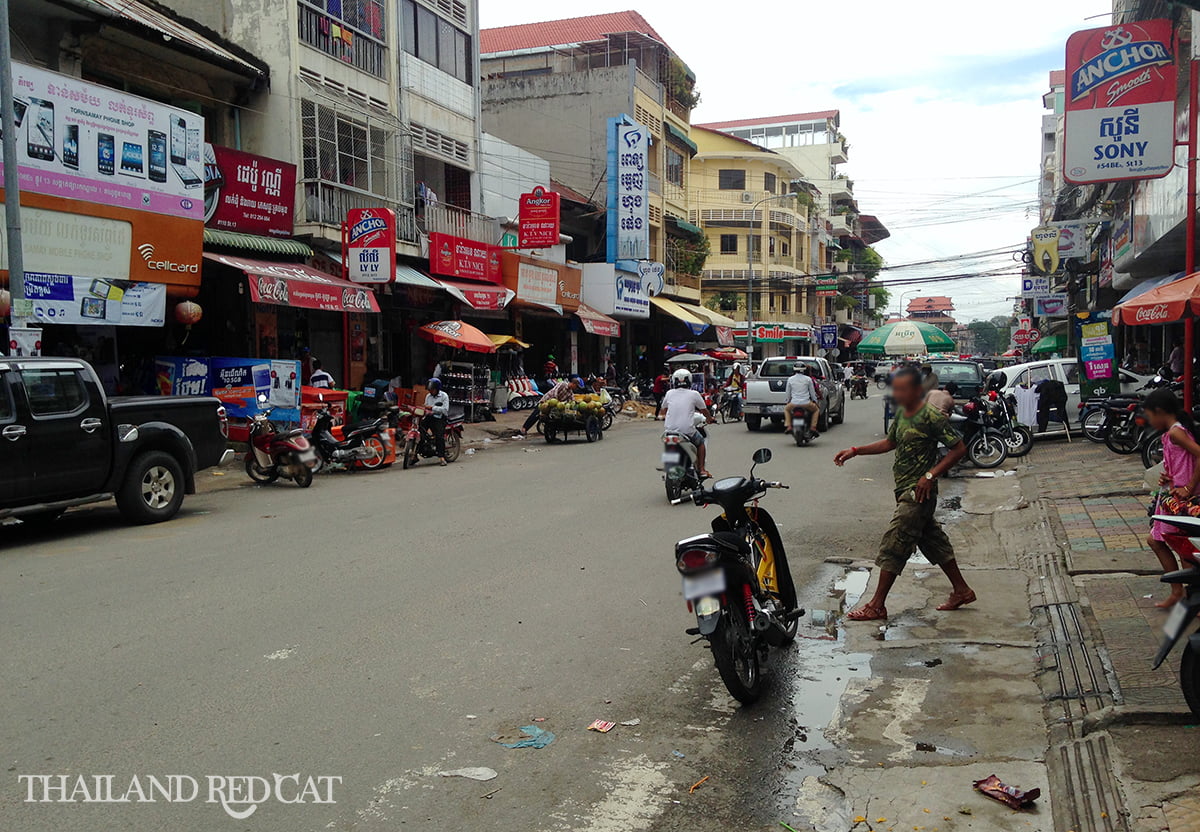 But more like this, a (mostly) clean environment and a (more or less) well organized and easy to navigate public transport system like in Bangkok: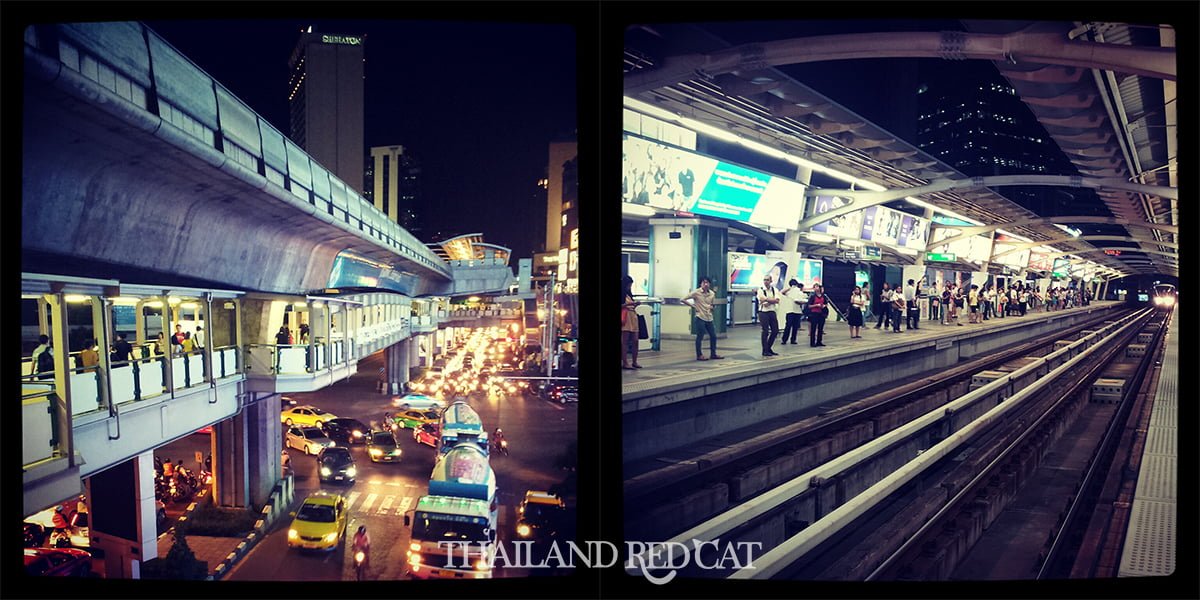 Cost of a Single Guy's Holiday in Thailand
I have already touched some price aspects in the introduction and I guess this is also one of the things you are most curious about while planning your trip and making a reasonable budget. So let's assume you are going for a two week sex vacation and let's also assume that you want entertainment on average once a day, means you want to be either jerked or sucked off in a happy ending massage salon or blow job bar during the day and/or rent a hooker from one of the bars at night.
Don't think I'm exaggerating here when I say once a day, because when you sit in your hotel room on your fifth night after taking a shower you will start asking yourself what other things you can do than hit the bars and "just see what happens". Sure, you can go to the cinema or stay in your hotel and read a book – but you can do that at home too, can't you? Chances are that you go checking out the girls or otherwise feel like you are wasting your time or "missing out" while everyone in town seems to enjoy themselves.
There are 4 typical daily costs for your single guy's holiday in Thailand:
Hotel: 1,000-2,000 Baht for a decent 3-4 star hotel room per night, and in this price range they should always include buffet breakfast (for more detail continue reading). We'll budget with 1,500 Baht a day.
Food and drinks: From 200 Baht a day if you eat only Thai food at street stalls and food courts to 2,000 Baht a day if your hotel doesn't include breakfast and you'll eat three times a day at quality Western restaurants only. Let's suppose you do a fair mix of both local Thai and Western food and that makes a convenient budget of 800 Baht a day.
Transportation: Let's assume 3 taxi rides a day on average (sometimes by car, sometimes by motorbike). And let's also assume you spend your whole 2-week holiday at one location, e.g. Bangkok, Pattaya or Phuket (continue reading for recommendations on the best places for your sex holiday). Therefore, no costs for domestic long-distance bus, train or airplane travels (even if you were to take a bus from Bangkok to Pattaya, that'll just be 124 Baht and that's what you often pay for a 30 minutes taxi ride in Bangkok). Makes 100-300 Baht in transportation costs around your chosen city. Let's take the average of 200 Baht a day.
Entertainment: Now this is where it gets really interesting as this section you won't find on most sites on the internet. And even if you do, the prices stated are often outdated or simply unrealistic.
I'd like to split the entertainment costs into two parts: Drinking and mongering. The easier one is

drinking

and prices range from 70 Baht during happy hour at the beer bars, 140 Baht a drink at a night club, 165 Baht at a Go Go Bar to 390 Baht for a cocktail in one of Bangkok's better sky bars. It's obviously quite difficult to make an estimate as I don't know about your drinking habits. Maybe you don't drink alcohol at all then your budget here wouldn't be more than 150 Baht a day, maybe you drink 2-3 beers a day then 250 Baht would do, but maybe your plan is to get wild and party hard and open a bottle of whiskey on some nights then your daily budget would rather be around 800 Baht. Again, let's take an average cost for drinking of 400 Baht a day.
And then there is the

cost of sex with Thai girls

during your holiday. Now again, if you take any type of Thai bar girl you generally have two options: Short time means you spend one to two hours with her either in your hotel (make sure it is guest-friendly, see hotel section below) or in a short-time-hotel (standard rate is 350 Baht for 1-2 hours). Or you take her long time and that means you would spend the whole night together until breakfast the next morning or not uncommon until she starts working again the following day. Don't believe guys who tell you it's so expensive now as the standard price for a short time in Thailand is still 1,000 Baht and long time 2,000 Baht (yes, sometimes more than that like if you talk to an especially attractive coyote in the Go Go Bar). Note that you also have to include the costs for buying lady drinks (140-240 Baht) as well as the bar fine (unless she is a freelancer) and here the spread is even bigger, but a very common price is 800 Baht. For a complete overview of the 14 (!) different types and costs of Thai hookers check out this post. This is the most difficult position to make an estimate for, but I'll still do that and assume you spend 2,000 Baht a day on Thai girls during your holiday (some days you might just have a happy ending massage for 800 Baht all inclusive and some other days you might buy a girl a couple of lady drinks and pay her bar fine as well as the price for long time).
Let's sum up your average daily costs: 1,500 Baht (hotel) + 800 Baht (food & drinks) + 200 Baht (transportation) + 2,400 Baht (entertainment) = 4,900 Baht per day. I'm not going to list all the current exchange rates here, I guess most of you guys already know how much this is and otherwise you can use a currency converter.
Important Note:
Of course you can do it cheaper than that if you replace the 2,000 Baht a day for Thai girls with 1,000 Baht a month by signing up on one of the popular online dating sites instead of paying a hooker for sex.
On top of your daily budget obviously comes the price for a return flight ticket from wherever you are living. And if you decide to spend your sex vacation outside of Bangkok then you might want to book a couple of domestic flights that are quite cheap, especially when flying with AirAsia (like I just checked the fare for a Bangkok-Phuket trip for 2 months from now and I get offered promo fares at 888 Baht one way).
Plus health insurance, visa costs (many nationalities including Americans, Western Europeans and Australians receive a free 30 day visa on arrival) and costs for any souvenirs you buy like a handbag for your new girlfriend or dried mangos for your mom.
Where to Meet Thai Girls on Your Single Guy's Holiday?
Before you get overwhelmed here with too much information, let's have a look at the bigger picture first before going into the detail. You can meet Thai girls either online or offline. Online means you would sign up on one of the dating sites. The most popular one for both Thai girl and ladyboy dating is Thai Friendly.
You can then conveniently have some chat and arrange several meetups with the girls from your home – before you even started your holiday. The great thing about the dating sites is that the girls usually only expect you to pay for dinner, ice cream, coffee, movie ticket or whatever you are doing together and don't want money for sex. It's pretty much like "take me out and treat me for some fun and I'll return the favor".
And then you can also go the traditional way of meeting Thai girls during your sex holiday and that is by approaching them offline. That means you would either talk to girls in everyday situations like when you like a girl in the coffee shop or a waitress in the restaurant you can try to flirt with her a little and see how she reacts. The second way would be that you simply pay a hooker for an agreed amount of time of fun and pleasure. Or thirdly, you would go out to the bars and nightclubs and try to hit on the girls there (however, the problem here is when you go to the Farang-oriented nightclubs in Thailand it's often quite hard to find non-working girls, means most of them are freelancers and go with tourists for money).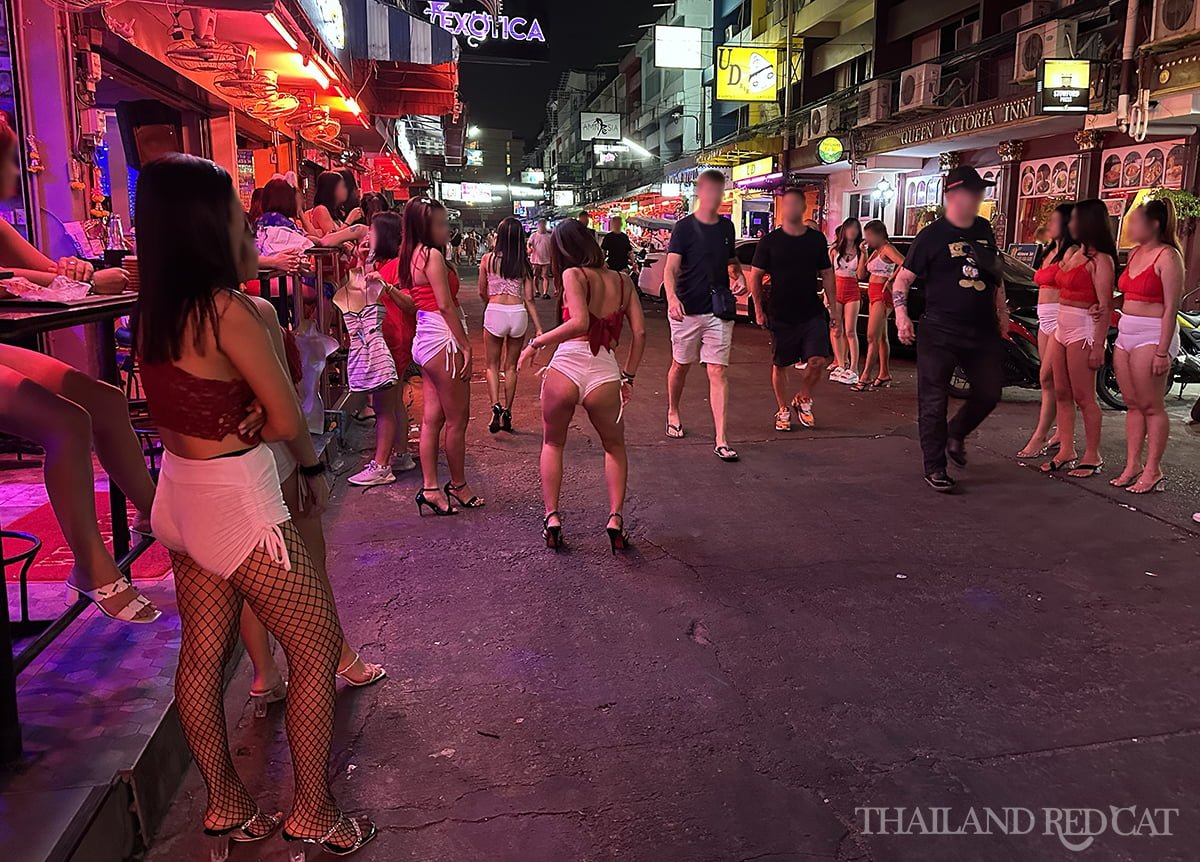 I recommend you to try a mix of everything, simply because if you only focus on one of the four methods it can either get expensive or you just don't score.
So for example if you only pay for hookers twice a day, every day, it will eat up your budget very quickly. If you only focus on the dating sites you might have bad luck with the girl cancelling the date on a short notice. If you only try to approach girls in everyday situations you might often find out that she has already got a Thai boyfriend after you spent a lot of time (and maybe money) hitting on her. And if you only try to look for girls in the bars and clubs you might also find it hard to spot the difference between working and non-working girls.
Put your eggs into all four different baskets and you'll be fine. Arrange dates through the online dating sites for every other day, get on the playground by experimenting with approaching normal girls around town and in the nightlife venues and go for the bargirls on the days you haven't much success with the other methods.
I have written a separate post on the 4 different ways to meet girls in Thailand that you can find here.
What's the Best Place for a Single Guy's Holiday in Thailand?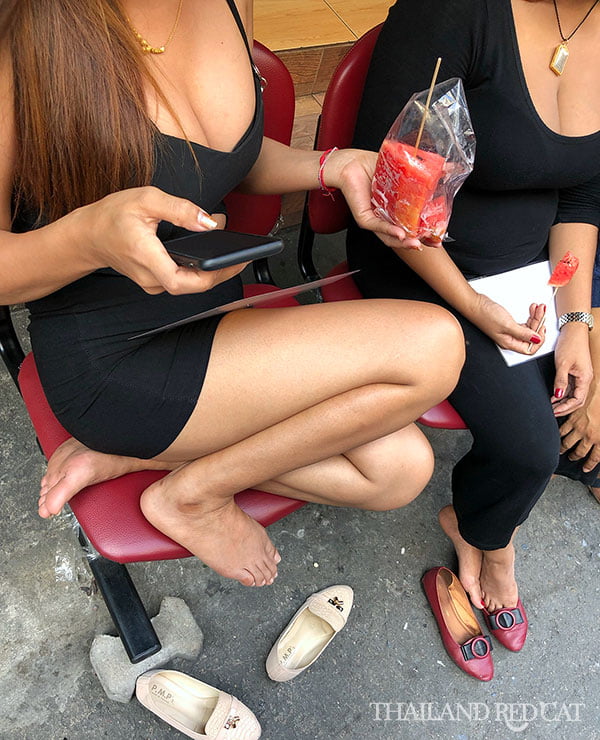 If you have like two weeks for your vacation then I'd say either Bangkok, Pattaya or Phuket. Why? Because these three places have both by far the highest number of Thai sex workers in all of Thailand as well as the best infrastructure including great value-for-money hotels, modern shopping malls, excellent restaurants and easy-to-navigate public transport.
In either of these cities you can find dozens and hundreds of beer bars, go go bars, happy ending massage salons, soapy massage parlors, freelancers, escort girls and more.
You could also consider spending two to three nights in Bangkok to experience the city life, do the sightseeing and visit a few sky bars, before heading to either Pattaya or Phuket for a more relaxed stay on the beach.
Pattaya has the highest number of western-oriented bargirls in all of Thailand, but Phuket is more attractive for day trips to beautiful islands (e.g. James Bond island, Koh Phi Phi, Similan Islands etc.). Koh Larn near Pattaya is also really nice – but that's about it.
You can't go wrong with any of these three places for your sex holiday, but I wouldn't recommend going to more than two places if you have only two weeks to spend as it takes a few days to get some orientation and feel for a place as well as to know where to find the best bars, restaurants etc.
If you have a longer holiday, like three or four weeks, then I'd say you shouldn't spend all that time in one location or you'll get bored during the day (unless you are an alcoholic and start drinking in the morning).
There are just so many beautiful places in Thailand and you can well combine island hopping or any kind of fun touristy stuff during the day and get laid at night virtually everywhere – not just in the big tourist hubs. If you haven't checked out my nightlife guides for places all around Thailand yet, you might want to do that while planning your sex trip. My guides include all the relevant information for single male travelers that you can only find here in that much detail.
Choosing a Hotel for Your Single Guy's Holiday in Thailand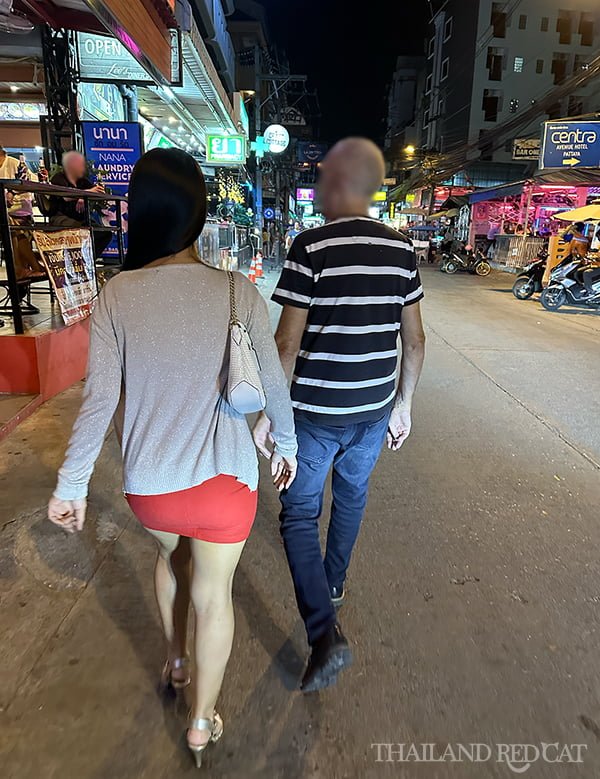 There are usually two things you need to look out for when booking a hotel: Value-for-money, means the room should be fairly priced depending on how nice and comfortable it is as well as the amenities, like how does the swimming pool look like, how about the views out of the window, is there a rooftop bar, how about the WIFI, how about the breakfast etc.
The second thing that's obviously important, not only in Thailand, but anywhere in the world: The location of the hotel. However, while a lot of couples would book their hotel in Bangkok in the Khaosan area that's close to major sights like the Grand Palace or Chao Phraya River, as a sex tourist you really shouldn't do that. Yes, there are a few freelancers on Khaosan Road, but that's about it for the Thai girls scene there. Instead, you should be booking your hotel in downtown Bangkok like in Sukhumvit where you have more go go bars, beer bars and night clubs than you can visit during your entire stay all within walking distance.
And then for sex tourists there is a third criteria for booking a hotel: Whether it is "guest-friendly" or not. That means if they allow you to bring in Thai women into your room. That's always a yes or no question and you should be clear about that. Sometimes even if they are guest-friendly they may charge a so called "joiner-fee" of 300 up to 1,000 Baht (quite random really) so they get out something of the business, too. But maybe you don't plan on bringing girls back to your room and only "do it" outside like you go to a massage parlor, bring a bargirl to a short time hotel, go to her place instead of yours after meeting at the club etc.
I have compiled lists of great value-for-money, location and guest-friendly hotels for the "Big 3" that you can find here:
That was quite a lot of information on how to plan your single guy's holiday in Thailand. I think this post was long overdue as I constantly receive questions from guys who come here for their first time and are unsure about the costs and the best place to spend their vacation.
If you are one of those guys, then I hope you have a good overview now.