When you think of Bangkok, what's the first picture that comes into your mind? Spicy food? Traffic jam? Shopping malls? Quite possibly yes – if you were reading some other sort of Thailand related blog. But right now you are on Thailand Redcat and I bet the first thing you think of when you hear someone saying "Bangkok" are young Thai girls in short skirts who eagerly smile at you in front of a massage salon.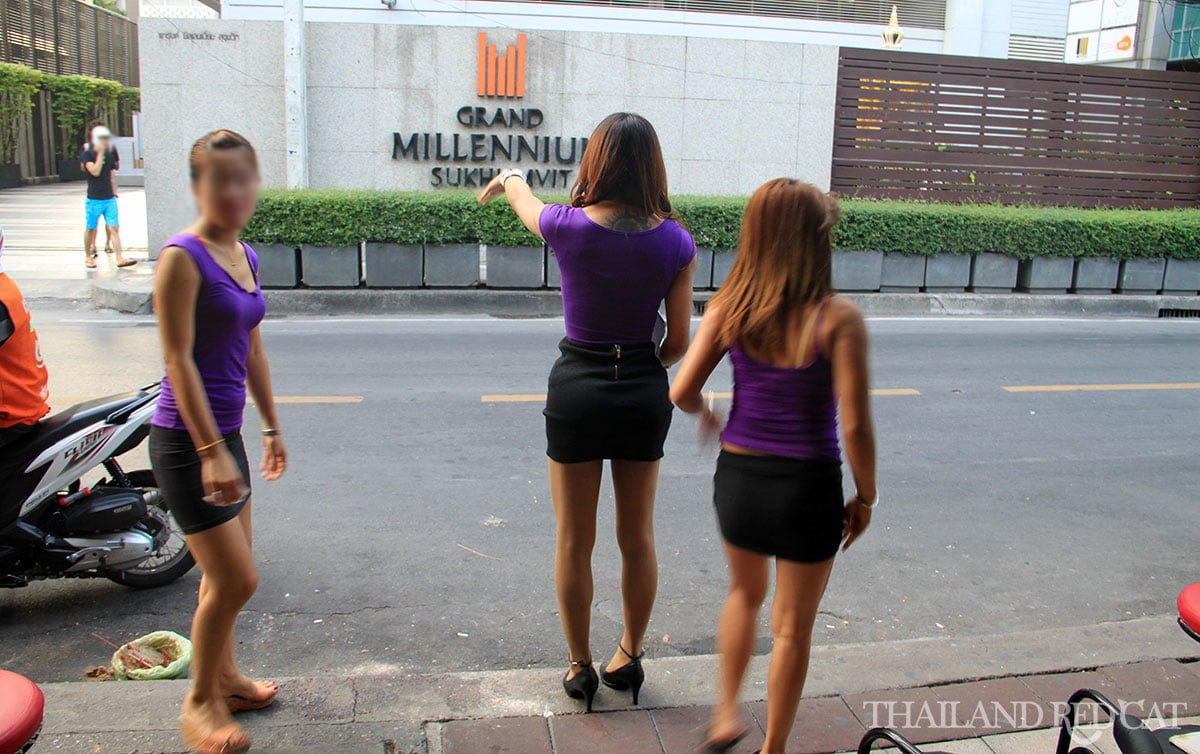 The red light scene in Thailand is undergoing changes these days, with many foreigners complaining that the service, attentiveness and entertainment especially in the beer bars isn't quite what it used to be.
Different to the massage industry where business is thriving, maybe the prices have gone up a little but the ever increasing number of tourists (and most expats) are happy to pay 800 Baht for an hour of very healthy entertainment. It's quite safe to say that there are more happy ending massage salons in Bangkok than ever before.
Average Prices in Bangkok's Massage Salons:
Foot Massage: 200-300 Baht (don't take one if you want a happy ending as you don't get a private room)
Thai Massage: 300-400 Baht
Oil Massage: 400-500 Baht
Hand Job: 500 Baht
Blow Job: 700-1,000 Baht
Sex: 1,000-1,500 Baht
The massage salons are usually also the places that most western men make their first experiences with paid sex. So the way of thinking is like "I don't want to be jerked off or anything like that, but she seems really nice so let's just try out a Thai massage." And it's a lot more discrete to spend an hour in a private massage room instead of walking down the street hand in hand with a bar girl.
In this guide to happy ending massages in Bangkok I'll give you the complete overview of the best streets and areas in this category. You can find the exact locations of all mentioned places on the map at the end of the article.
Sukhumvit Soi 4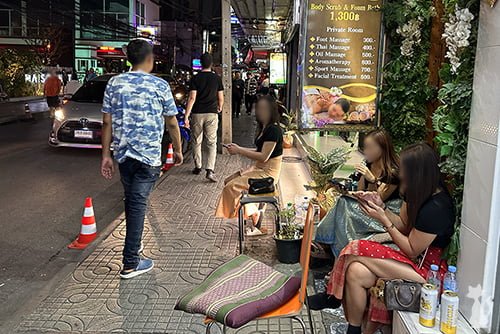 The area most frequented by sex tourists and sexpats in Bangkok is Nana, and the biggest clusters of massage salons are found all along Soi 4. Since there are so many different types of entertainment places in this street, it's not uncommon that you change your mind while looking for a massage and head into one of the dozens of beer bars or go go bars instead or pick up a street prostitute for the same price as an hour of massage with happy ending.
If you don't like any massage girl in this area, a good place to sit down and have a beer is Stumble Inn.
Sukhumvit Soi 5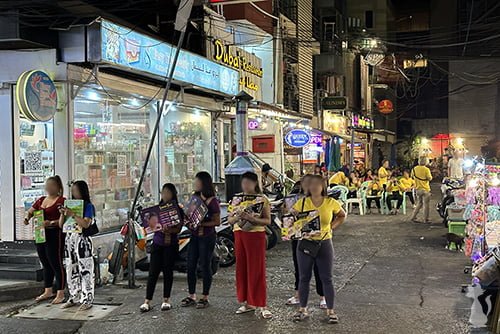 Even though you can find massage salons here and there all along Sukhumvit Road, it just makes more sense to visit one of the few "clusters" that have several shops right next to each other so you have a wider selection of girls to choose from and don't have to walk for hours in the heat until you find one you like. The courtyard of Soi 5 across opposite of Foodland is one of these typical clusters. The massage girls there tend to be more naughty than usual, dressed in a different way and also have some really unique body shapes.
If you don't like any massage girl in this area, a good place to sit down and have a beer is Gulliver's.
Sukhumvit Soi 23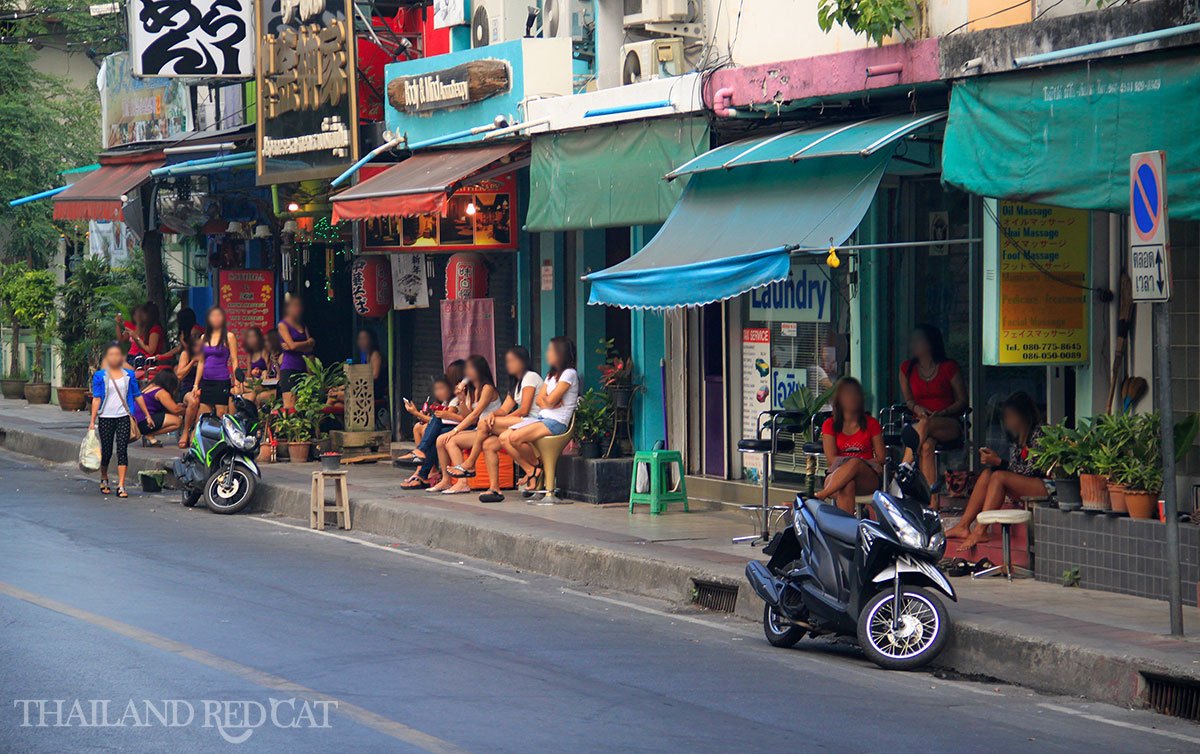 This cluster of happy ending massage salons in Soi 23 is not just great because the girls tend to be younger and more attractive than in a lot of other areas, but it's also super convenient to reach both by MRT (Sukhumvit Station) and BTS (Asoke Station). Just leave the station and walk down Soi 23 for 50 meters and you'll find the first three massage salons (two on the right, one on the left) and then another 100 meters down the street there are even more shops with even better looking girls.
If you don't like any massage girl in this area, a good place to sit down and have a beer is Soi Cowboy.
Sukhumvit Soi 22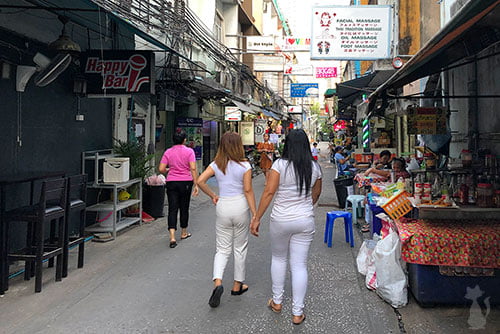 If you are wondering why I'm mentioning Soi 22 after Soi 23, well that's because we started with Soi 4 (Nana) in lower Sukhumvit and while Soi 23 (Asoke) is located further "up" Sukhumvit Road, it comes before Soi 22 that's located on the opposite side and another 300 meters further up. If you have no idea what the heck I'm talking about, it doesn't really matter, just look at the map towards the end of the article. What does matter though is that you can find literally dozens of naughty massage salons all along Soi 22, among them some truly extraordinary places offering services like prostate and tantra massage (see below).
If you don't like any massage girl in this area, a good place to sit down and have a beer is The Hangover Bar.
Sukhumvit Soi 33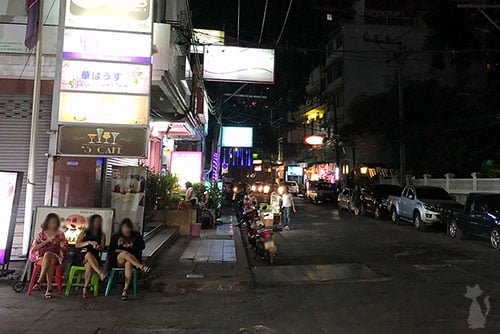 Just off Phrom Phong BTS Station is Sukhumvit Soi 33. It's full of Japanese style karaoke bars and Japanese oriented massage salons (not to be confused with massage parlors). But don't worry since the mostly young, cute and innocent looking girls are more than happy to welcome you as a Farang as well. Especially during the afternoon on weekdays when everyone seems terribly bored and playing the latest Line game on their phones.
If you don't like any massage girl in this area, a good place to sit down and have a beer is Robin Hood.
Sukhumvit Soi 24/1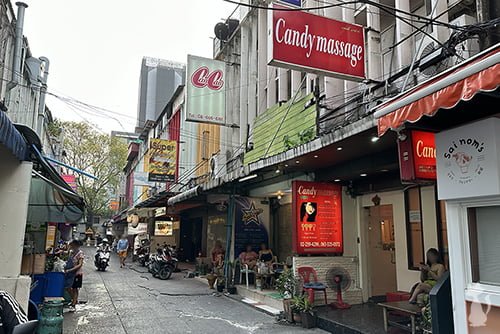 The last massage hotspot on Sukhumvit Road is Soi 24/1. If you've never come here you'll be quite surprised because there aren't many bars in this area and you feel like you reached the dead end. But then you enter that small 50 meter alley and find one massage salon after another. Most of them are actually massage parlors offering the full program from 1,600 Baht upwards for 1 hour. They all kind of target Japanese customers and many of the places are Japanese owned, too. Still open to everyone so just check it out for yourself.
If you don't like any massage girl in this area, a good place to sit down and have a beer is Queen Bee (Soi 26).
Patpong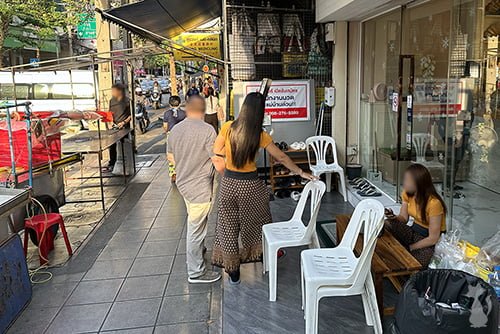 The Patpong area isn't that famous for its massage salons, but more for its Go Go Bars, the town's biggest gay bar area as well as two of Bangkok's best blow job bars. The average massage girl in Patpong isn't nearly as young or attractive as down in Sukhumvit so I don't really recommend you this area unless you just happen to stay over there, then sure just walk down Silom Road and Surawong Road where you will find 90% of the massage salons in the Patpong area.
If you don't like any massage girl in this area, a good place to sit down and have a beer is Shenanigans.
Ratchaprarop, Huai Khwang & Bang Rak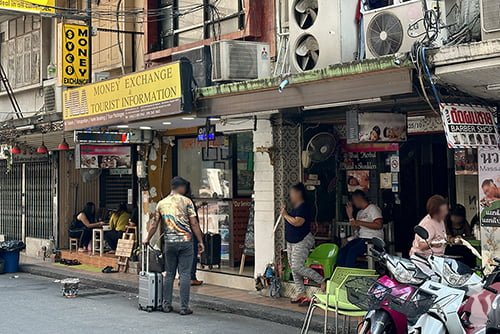 With most people looking for their special massage in Sukhumvit and Patpong, there are also a few massage hubs only known to few foreigners. It's usually areas that have big and renowned hotels, but are somewhat off the city center and tourist radar. The best examples for these little known massage hubs are Ratchaprarop Soi 8 (Ratchaprarop Airport Link Station), Pracha Rat Bamphen Road (Huai Khwang MRT Station) and Soi Charoen Krung 42 (Saphan Taksin BTS Station).
If you don't like any massage girl in these areas, good places to sit down and have a beer are The Roof Top Bar (Ratchaprarop), Huai Khwang Terrace (Pracha Rat Bamphen Road) and Sirocco Sky Bar (Bang Rak).
Prostate, Testicle & Tantra Massage in Bangkok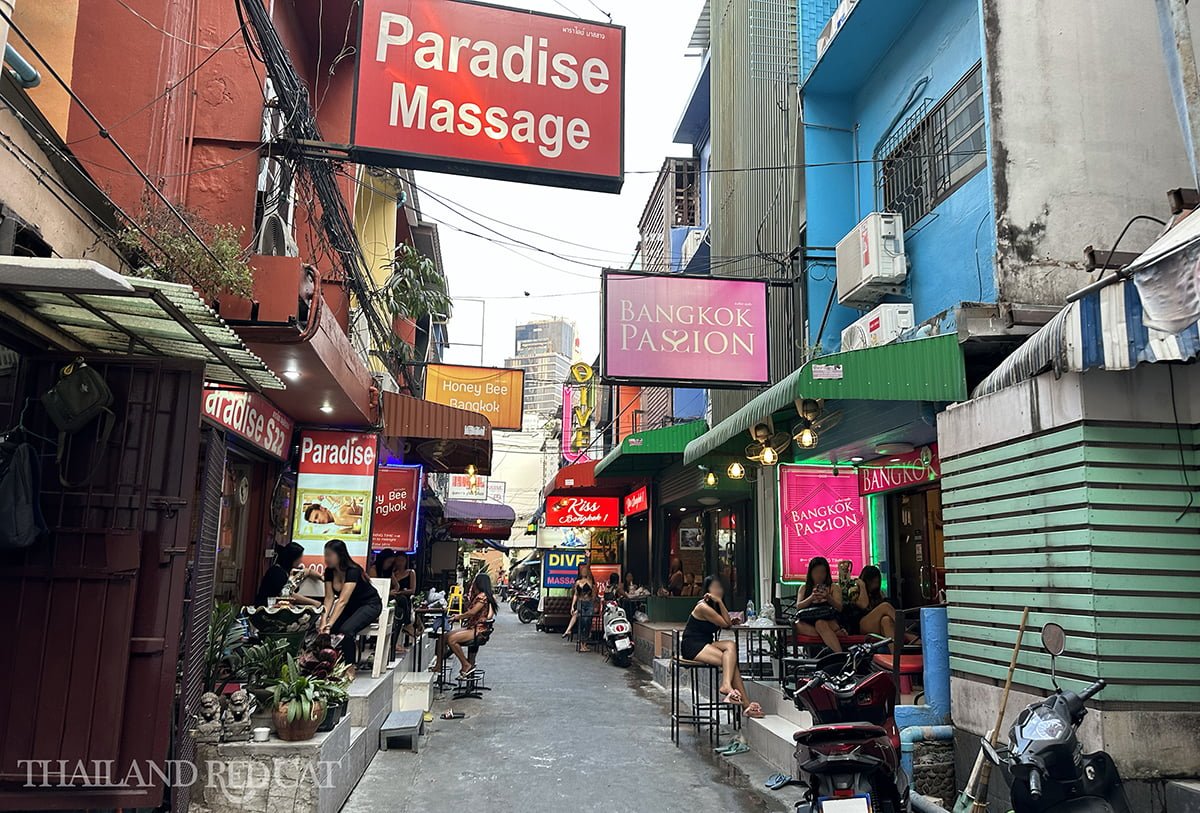 Yes, you read it right. Since the massage industry in Thailand is booming, there are now opening salons who specialize on these special type of erotic massages in Bangkok. Analisa Massage in Sukhumvit Soi 6 and Akane in Sukhumvit Soi 33 are such places, they've got some attractive girls and Akane even mirrors on the walls of the rooms.
And then there are also Paradise Massage, Bangkok Passion, Honey Bee and more in Sukhumvit Soi 22 (picture) which all have the same owner and they do it smart by renting a few shops and sending over the girls wherever there is demand.
Upon entry you'll be presented with a menu and offers like Testicle Massage (1,000 Baht), Prostate Massage (1,300 Baht), Naked Body to Body Massage with Hand Job (1,400 Baht) or with Sex (1,800 Baht), Nuru Gel Massage including PM and Toys (1,800 Baht) or Tantric Massage (2,200 Baht). It's a whole different experience than your standard massage with happy ending as these ladies really know what they do, want to pleasure you and there is no need to bargain with them for a price as you pay the money upfront.
I have marked these special massages with the purple pin on the map below (and all others with the yellow pin).
Map of Happy Ending Massage Salons in Bangkok
How about Happy Endings on Khaosan Road?
If you are a young backpacker and reading this then you are probably wondering why I have completely ignored Khaosan here. Well yes, there are plenty of massage places in Khaosan, but they are all totally "normal" and don't provide extras. The average massage woman in that area is also well beyond the age of 30 and they all wear traditional Thai massage dresses. You are better off to just have a few cheap beers in the bars (80-100 Baht for a big bottle) and then look for a girl in one of the night clubs.
How about Ladyboy Massage Salons in Bangkok?
All the places mentioned in this guide have employed (mostly) young and middle aged Thai women. However, if you are looking for something new and are curious if ladyboys do their jobs really better than the girls as "they know what a guy wants" then you might check out my guide to the ladyboy massage salons in Bangkok.
Video of Massage Girls in Bangkok