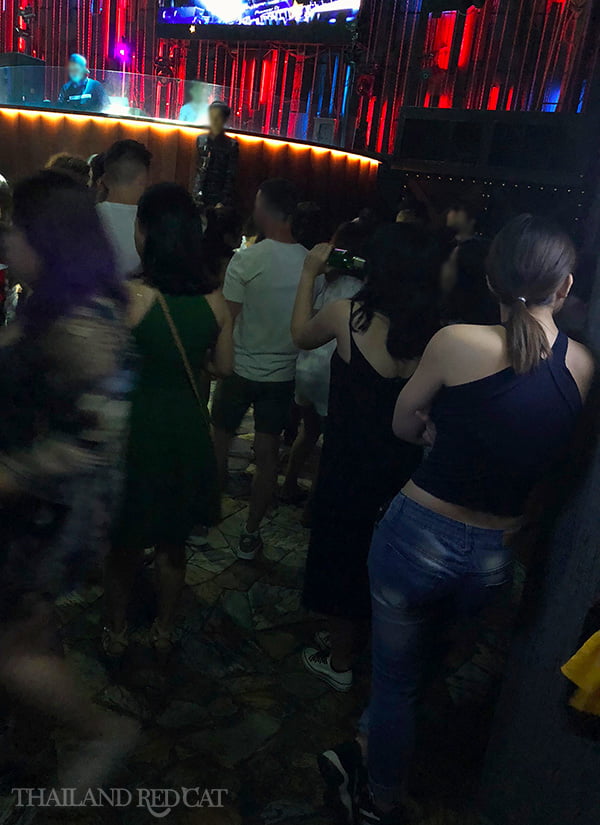 Last weekend a few friends of mine from Germany came to Thailand for the first time and of course they chose Bangkok to spend the first and final days of their three week trip. Unfortunately they arrived on a Friday and I was just headed down to Hua Hin for a long weekend and so they used my website to make the most out of their first couple of days and nights in Bangkok.
All of them being guys, they found my recommendations useful, not just about the sights and things to see during the day but especially about the male entertainment like what are the most popular Go Go Bars in Bangkok, where to go for a hand job for 500 Baht or how to hook up with a Thai Ladyboy.
But then my friend said: "You still haven't got any information about the best nightclubs in Bangkok on your site." He was right so this week's post will be just about that topic. In fact, in preparation for this guide I have revisited all of the following places to take pics and even more important videos to give you some idea what's the vibe, set up and typical crowd in each club.
The problem with most guides about the "best nightclubs in Bangkok" is that they include places like Mixx Discotheque or Demo which are indeed hugely popular for people who go out partying in groups and empty a bottle of Johnnie Walker on their round tables very similar to the Thai clubs, but they make by no means good pick up places to meet Thai girls for a one night stand. So here we go, below are the currently five best clubs in town you are really looking for:
The Club Khaosan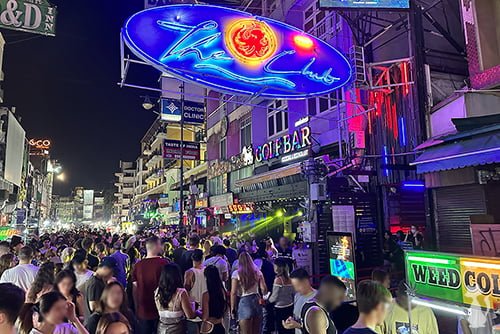 A lot of expats don't like Khaosan because they think it's too touristy and full of young and drunk backpackers. However the truth is, unlike in most places in downtown Bangkok, Khaosan is still the best area to meet young Thai girls for absolutely free one night stands. Especially student girls and young office workers like to come here to meet foreigners who are on holiday mode. Gulliver's on the northern end of the road was my long time favorite, but unfortunately they just recently closed. The best nightclub in Khaosan is simply called "The Club" located halfway down the strip. You can't miss it with its huge blue neon lights. It usually gets busy well before midnight (even on weekdays). There are a few tables around but people rather come here to drink, dance and meet on the big dance floor.
Entrance Fee: 150-200 Baht including 1 drink
Price Range: $$$$$
Working Girls: 50%
Levels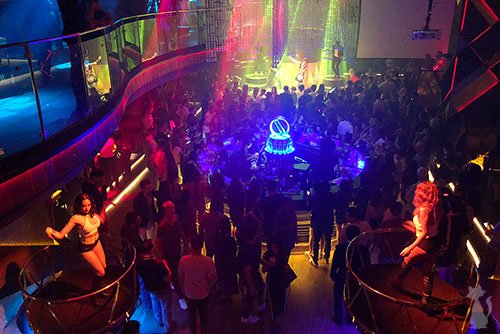 When my friends asked me for one club to check out during their first night I recommended Levels in Sukhumvit Soi 11. That's one of the most liveliest streets in Bangkok at night with dozens and dozens of foreign owned bars, restaurants and night clubs. You can find Levels on top of the Aloft Hotel (they have an elevator outside with a desk that functions as the entrance). There are two floors – the main floor downstairs with the big bar, DJ stage, 4 stages for sexy coyote dancers, dance floor and also an atmospheric outdoor area overlooking the skyline, and upstairs with mostly VIP tables but you can also stand by the rail to check out the ladies – there are lots and lots of hot Thai girls, most of them freelancers looking for a Farang.
Entrance Fee: 400 Baht including 1 drink
Price Range: $$$$$
Working Girls: 80%
Insanity Nightclub
Honestly I'm not the biggest fan of it, but you just have to include Insanity Nightclub in Sukhumvit Soi 11 in this top 5 because it really is one of the best places to hook up with Thai girls in Bangkok's nightlife. Yes, the majority of them are working girls but just like with the other places listed here the supply of girls by far exceeds the demand of guys at most nights so even if you hit up a working girl and pay her a couple of drinks chances aren't too bad that she takes you to her own place just for fun by the time the club closes (and that's currently at 3am). Again, you usually don't see me partying at Insanity maybe because there's no live band and the overall atmosphere is somewhat cool. If you're down in Sin City I'd say Club Insomnia Pattaya (same owners) is one of the best places to go and maybe that's because they have a beautiful outdoor ocean view terrace, pool tables and generally better (more fun) girls.
Entrance Fee: 300 Baht including 1 drink
Price Range: $$$$$
Working Girls: 90%
Route 66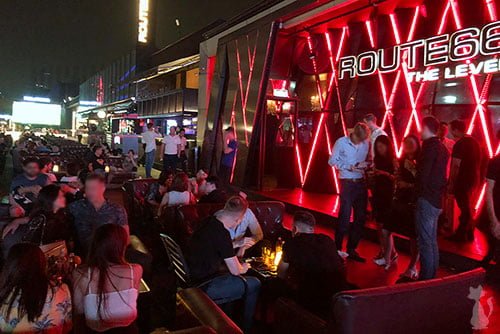 Route 66 in RCA is the only Thai night club on this list, means it's not oriented towards tourists. However, you'll still see a lot of foreigners there, mostly expats and well informed tourists. It's also the only of the top 5 clubs with live band (there are actually 2 separate buildings, one with live music and one with DJ). I recommend you to party like a Thai and buy a bottle of Red Label with soda water as mixer and ice (see photo below). The great thing is that you can even store the bottle at the club and continue drinking it next time. And in regards to the girls – countless of young and super attractive Thai women, just don't expect them to make the first move like in the Farang clubs.
Entrance Fee: 300 Baht for foreigners, free for Thai people
Price Range: $$$$$
Working Girls: 10%
Sugar Club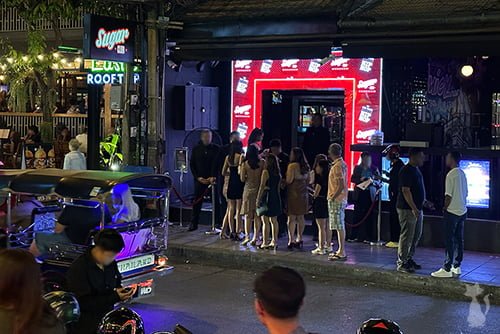 The newest nightclub right in the center of Sukhumvit Soi 11 party strip is Sugar Club. Like most tourist clubs in BKK these days they have coyote dancers, but of course it's the other girls you are coming here for: Sugar is a typical hooker disco, but they've also got a really good sound system, music selection and overall ambience. That said, you won't find a big dance floor here but mostly standing tables, so it's one of those places where you will probably have to make a move to another girl's table to say hi and start a conversation. Shouldn't be too difficult though as you'll get lots of smiles by the outgoing Thai ladies as a foreigner.
Entrance Fee: 500 Baht including 1 drink
Price Range: $$$$$
Working Girls: 90%
Map of the Best Nightclubs in Bangkok
How much are Drinks in Bangkok's Clubs?
As you've probably noticed already, I have highlighted the price range of every club by using $-signs. So if you take The Club Khaosan as an example, it has a $$$ ranking means it has medium prices, to be more precise 160 Baht for a small bottle of Chang Beer – pretty standard for most night clubs in Bangkok.
If you come with your friends you might consider buying a full bottle of whiskey starting at around 2,000 Baht. Below is the drink menu of The Club Khaosan, again keep in mind that this is an average priced club, but still that place is packed every night with tourists, young expats and even younger Thai ladies.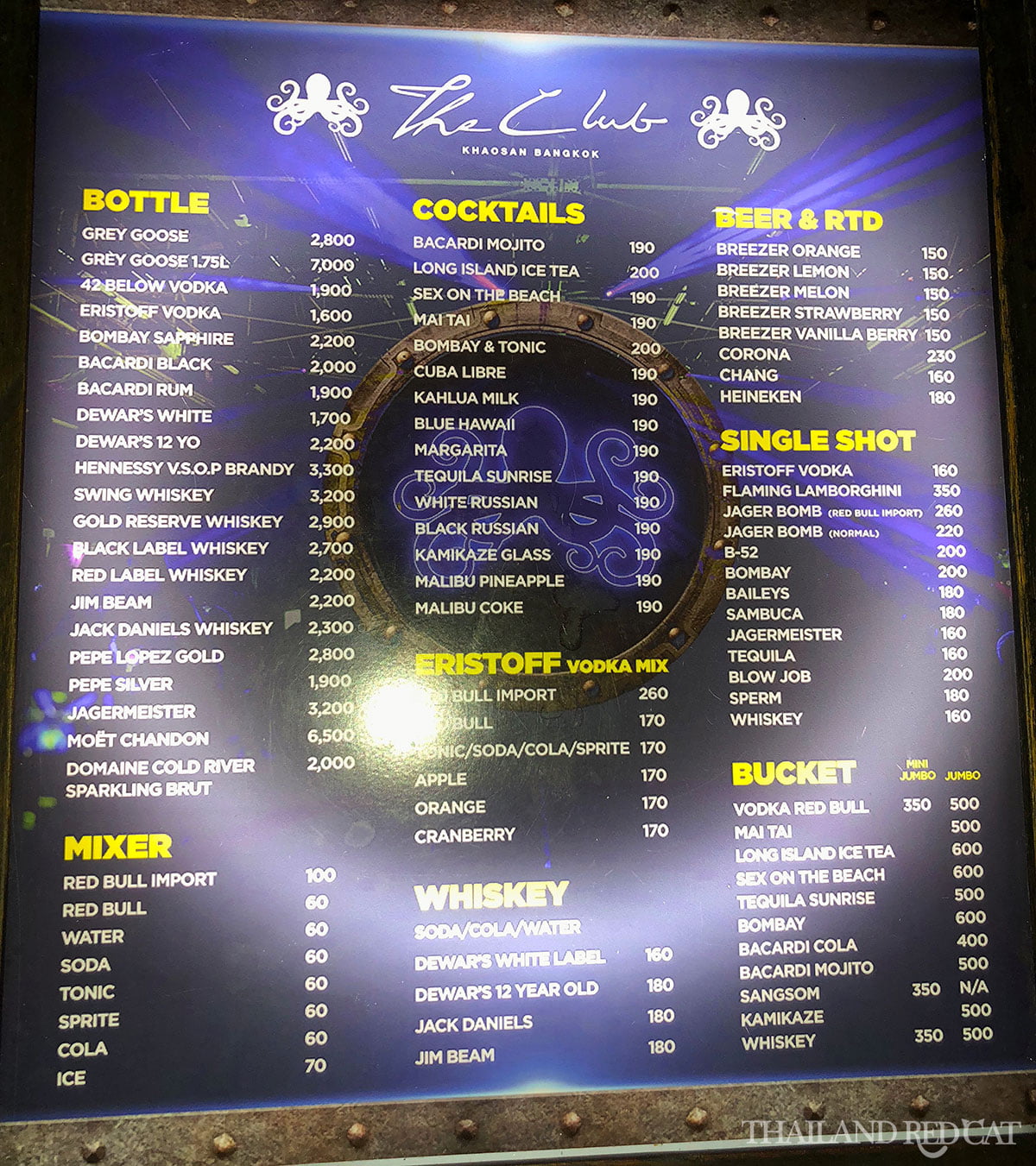 And here is the menu of the slightly pricier Levels: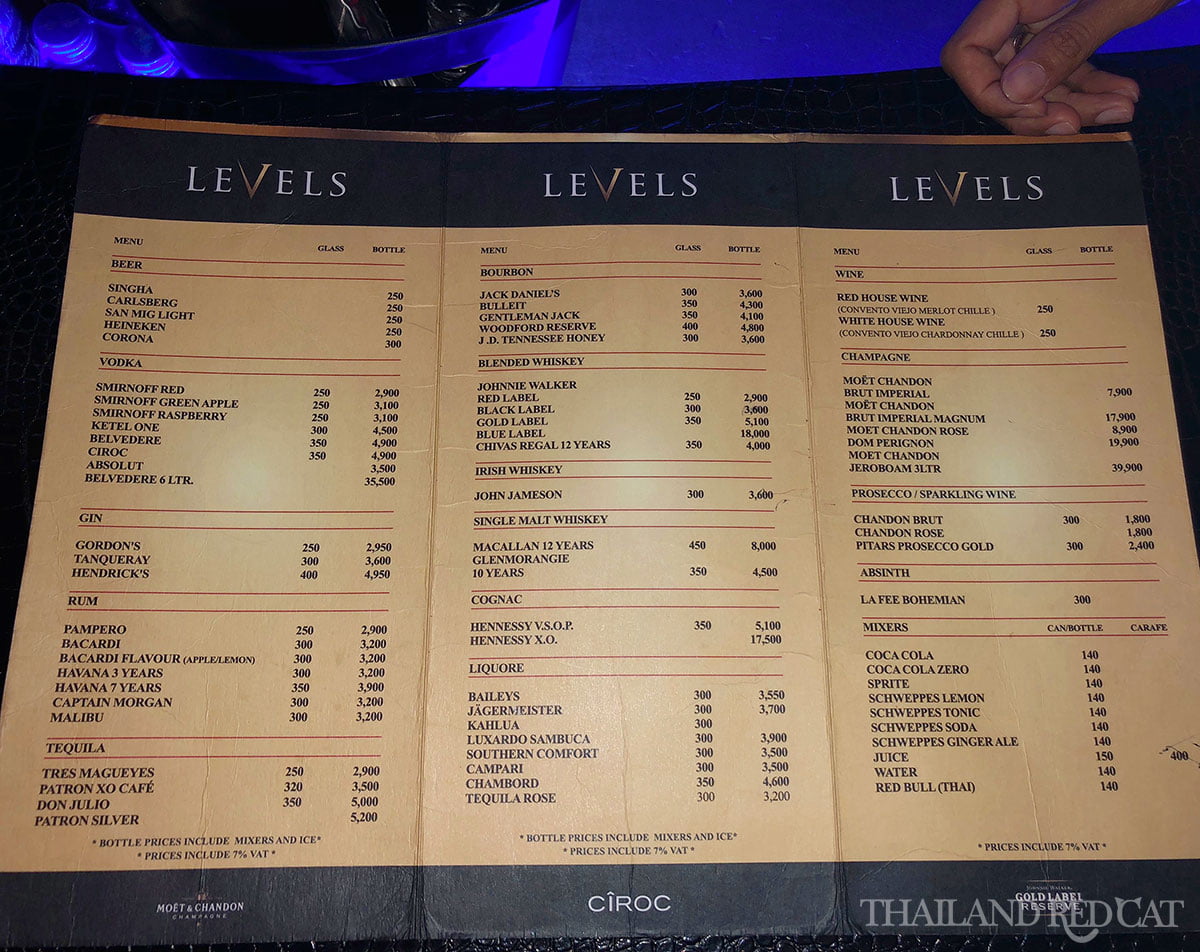 Partying Thai style at Route 66 in RCA: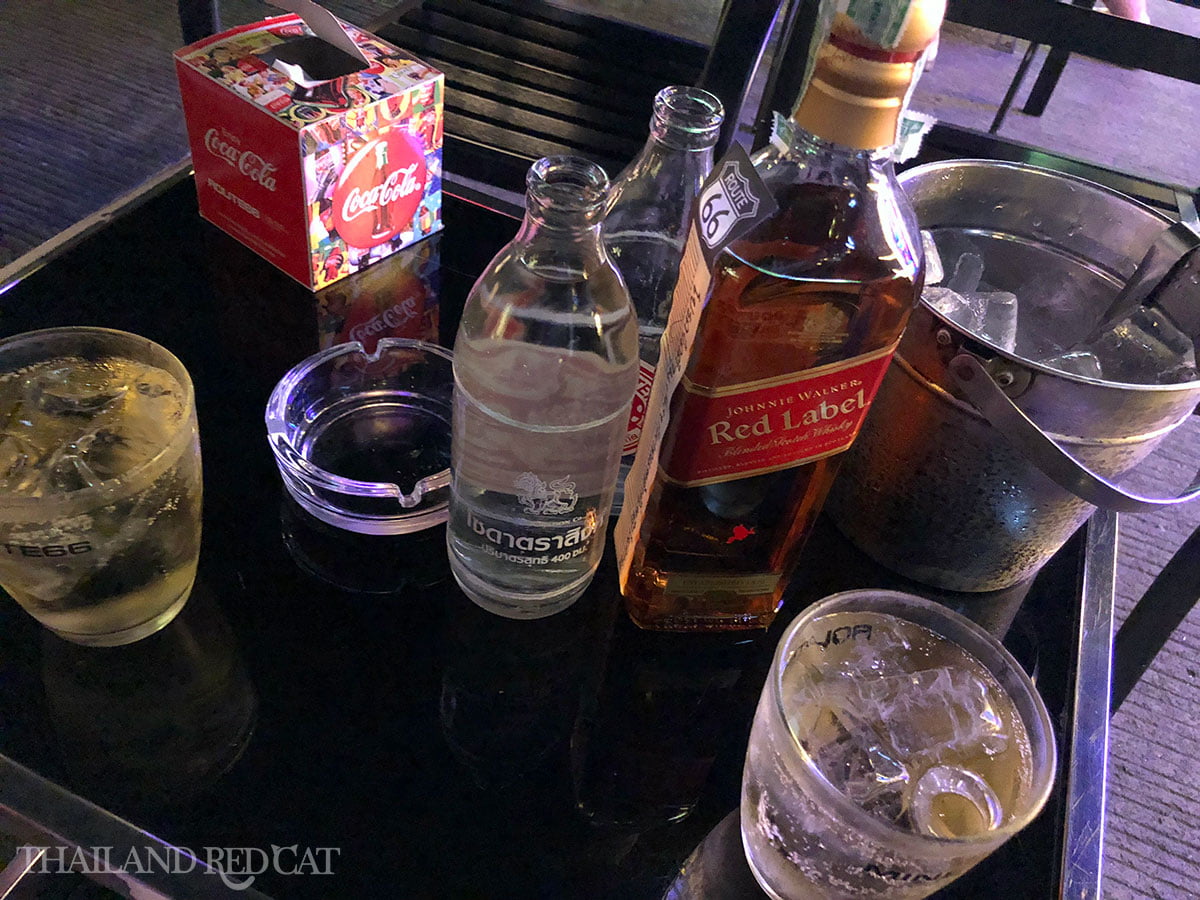 Videos of Nightclubs in Bangkok