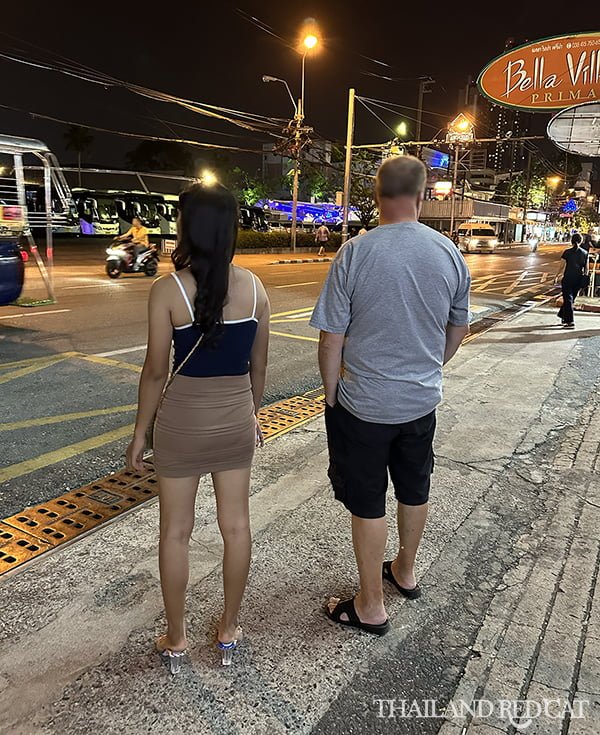 A common expression on whether a hotel allows you to bring bar girls to your room is "guest friendly".
Therefore, you need to be very careful when booking a hotel as Agoda just doesn't tell you whether a certain place is guest-friendly or not and so it can happen that you paid the bar fine for a girl and upon entering the lobby the receptionist tells you with a smile on his face that your room is "for one person only" or simply that they don't allow guests to enter the room.
Pattaya is different.
There isn't one hotel that I know of which isn't guest friendly, and with Pattaya being a total sex town that wouldn't do any good for their businesses either.
The receptionist may only ask for the National ID Card of your Thai girl, either as a deposit for your own security or he will take a photo copy and hand it back to her right away. It's also not very common that they ask for a "joiner fee" in Pattaya's hotels like they love to do it in Bangkok and charge 300 or even 500 Baht for your guest.
Now, what makes a good hotel for sex in Pattaya?
The hotel should either be in walking distance from Walking Street (the center of nightlife with the best go go bars and night clubs) or within five minutes walking distance from Beach Road or Second Road where the 10-Baht Songthaew can drop you off (Pattaya girls don't like walking long distances).
The hotel should have a safe for you to lock away your valuables (to prevent the hooker from stealing).
The hotel should be "guest friendly" and charge no "joiner fee".
With that being said, today I have some time so I thought I put together a list of accommodations that are not only great value-for-money but also fulfill all the requirements of being great hotels for sex with your hookup:
That's the hotel I usually recommend to my friends visiting Pattaya. The Siam Design Hotel has a perfect location right on Second Road and it's a 10-minute walk to both Soi 6 and three Soapy Massage Parlors, plus countless of beer bars all around. Like you can see in the picture, the rooms have a super friendly and colorful outfit as well as superb views of the ocean. You should book your room in advance as they tend to sell out quickly, especially during the high season.
Your girl will be super happy if you tell her you stay at the Dusit Thani Hotel. Not only because of its fantastic and super-modern rooms but she might also agree to stay "long time" until the following day just to hang out at the famous pool that has stunning panoramic views over the Pattaya Bay. The Dusit Thani is probably the five star hotel with the cheapest room rates, from as low as 115 USD per night. Regarding the location: It's a short five minute walk from the dolphin roundabout and that's the final drop off point for the 10-Baht Songthaews (public pick-up taxis) that take you there all the way from Walking Street. Just perfect.
3 minutes walk to Pattaya's most popular shopping mall (Central Festival Pattaya), 5 minutes walk to the beach, 3 minutes songthaew ride to Walking Street (10 Baht) and dozens of beer bars all around – the Page 10 Hotel in Central Pattaya is the perfect choice for single male travelers. Awarded as the best "lifestyle designed hotel in Pattaya", it has 79 rooms, all of them with well-appointed bedrooms, large bathrooms, private balconies, LCD TVs with international channels, minibars, safes and more. Oh, and it also has a lovely outdoor pool.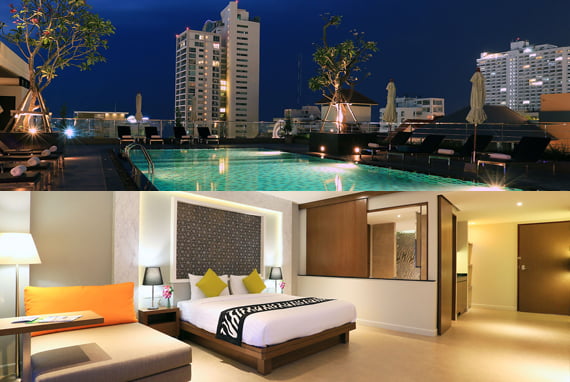 If you are looking for a perfect hotel in the 50-70 USD a night range within five minutes walking distance to both the beach and the short time sex heaven of Soi 6, then the Season Five Hotel in Soi 5 has to be your choice. From all the hotels on this list, this is the newest place and the main reason why the room rates are still so cheap is because they need to build their reputation and customer reviews first. Another great thing about the Season Five is that all rooms include a breakfast buffet, which is not always the standard at hotels in Pattaya.

This hotel would be my preferred choice if I wanted to stay close to Walking Street. Wanted to? Well, maybe I've been to Pattaya way to often (weekend trips from Bangkok) and I think it has gotten somewhat too touristic for me with all the hordes of Chinese package tourists walking through and taking pictures while a lot of the bars are actually half empty. I usually go there on my first night to check out the vibes and see what has changed, but the rest of the time I hang out more in Central and North Pattaya, like Soi LK Metro, Soi 6 and Naklua. Anyway, if this is your first or second trip to Pattaya, then the Siam Bayshore Resort is just perfect – probably the only 4 star hotel at the sea with rooms below 80 USD a night.
Wow, putting this list together makes me want to book a hotel and go on another weekend trip to Pattaya very soon! Anyway, I hope you found it useful and make sure to also check out my overview guide to the best places to meet girls in Pattaya (if you haven't done so already).