It may be hard to believe for the common tourist, but Bangkok can be such a boring city to live in. At least until it gets dark. And at least if you don't have something to work on that keeps you busy during the day. Partly because it's always bloody hot, but mainly because there aren't that many fun things to do during the day that don't cost money, apart from walking around in one of the malls and doing people watching. Staying at home and reading a book seems less appealing than back at home because you always have the feeling to miss out something in this exciting city.
In other words: If you live in Bangkok on a budget and don't have an activity that keeps you busy, it's not that fun at all. Because you will need money to really enjoy life here and don't get terribly bored. Because there's no beach and no mountains that provide outdoor activities and quality of life for free.
So what's happening similar with the travelers after they completed their three days of sightseeing is the guys are just checking out the various entertainment venues around town when they've got nothing to do. Sure a happy ending massage is always good, but that only takes one hour (usually less than that) and then you'll find yourself again randomly walking around town with no plan really. And that's when you may decide to go to a beer bar.
Among all the different monger places in Bangkok, the beer bars are definitely your best choice to kill the time. Sorry, to spend your time of course. Even if you don't want to talk to anyone, you still feel happy and entertained by both watching the scene in the bar and on the street. You may bring your book or answer your mails on the phone here rather than at home, and no one will bother you if you don't want to.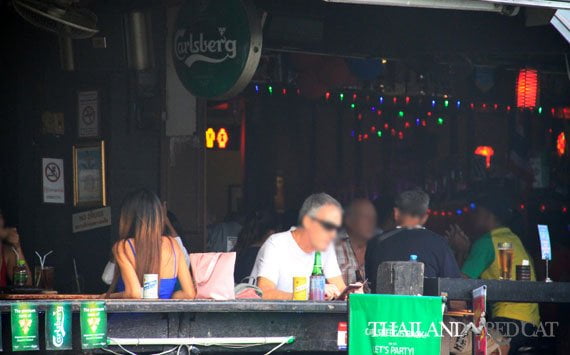 But the beer bars also make a popular place to socialize. Sure, the main attraction may be the ladies, but there's also good opportunity to meet other foreigners and that usually happens while playing pool. So if the place is well visited and there are more players than tables you would write down your name on the white board and when it's your turn you can play, pay the 20 Baht for the game and if you win you can stay while the next guy or girl enters the table and that's usually a great way to get in touch with new people.
Nevertheless, a fair share of the guys visits these places mainly for one reason and that's to hook up with sexy Thai girls. From all the working girls in Thailand who end up having relationships with Farangs every year, most of them are coming from the girly bars. The reason why is quite simple. If you compare how the girls dress and behave in these places as compared to the Go Go Bars and Massage Parlors, they seem more innocent and most guys just wouldn't put them in the category of prostitutes, especially when she says she has been working in the bar for only a couple of weeks and dresses up with jeans instead of skirt and casual shoes instead of high heels.
And then you've also got plenty of girls who have more than just a couple of weeks experience working in the bar and like to show what they've got. Many Thai women enter the red light scene by working in the bar as they aren't really committed to do or to show anything at all and as soon as they gain confidence (and qualify) they're trying some other places like Go Go Bars where a lot more money can be earned, i.e. charging 2,000 Baht instead of 1,000 Baht for short time.
Again, other guys or foreigners with farang girlfriends just come here to relax or watch live sports on the TV. Take the guys in the picture below. If you'd ask one of them to go for a river cruise on the Chao Phraya, chances are that he would say something like "Ah not now mate, it's quite hot, far and also much traffic. Give me another San Mig Light."
That's an easy way to spot expats by the way who often drink San Miguel Light which apparently contains less calories (105 in comparison to 130 of the standard version, so not that much of a difference really and the alcohol percentage is the same at 5%).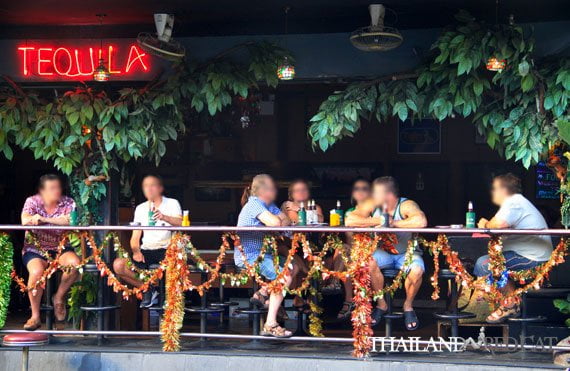 What is a Thai Beer Girl?
Look at the picture below. What do these two girls have in common? Well, they're both quite hot. But apart from that, they both work in beer bars. But they're still different. Why? The girl on the left is actually called a beer girl (sǎao bia in Thai, สาวเบียร์) while the one on the right is simply a bar girl working in a beer bar (sǎao baa, สาวบาร์).
But the more significant difference is the girl on the left cannot be taken out of the bar (in other words bar-fined out) since her only job is to promote the sales of a certain beer brand, in this case Chang Beer. The girl on the right however is the one who wants to hook up with you.
Even though both girls sell drinks and get commissions out of it, the base salary of the beer girl (on the left) is significantly higher as she's usually more attractive and doesn't go with customers. She also changes her work place more frequently as she's often paid by the day (kâa wan, ค่าวัน) and you can find them in normal bars as well and sometimes also in restaurants.
It's not that you can't take the beer girl around after she finishes work – which is a lot more difficult to achieve in Thai places than it is in Farang places as the beer girls there are even more hot and attractive and usually not that fond of Farangs either.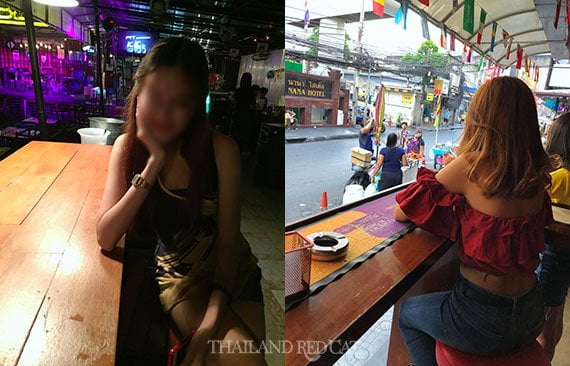 Where to find Beer Bars in Bangkok?
You can find 90% of all beer bars with sexy Bangkok girls all the way along Sukhumvit Road from Soi 22 to Soi 4 and the closer you get to Soi 4 the higher the concentration of bars. The remaining 10% or so are located in Patpong.
BKK's 3 Best Beer Bars
You might think all those joints are more or less the same with comfortable bar stools, pool tables, TV screens and plenty of hot ladies all around. But there are still a few places that have something unique to them and worth mentioning here:
Nana Beer Garden
One typical place for the category "same same but different" is the Nana Beer Garden, an open air bar right in the courtyard of Nana Plaza. It hasn't nearly got as many beer girls as the other bars in Soi 4, but most people come here to have a chilled drink anyway while watching the scene in the epicenter of Red Light Bangkok. People watching at its finest. You might even find yourself taking a seat here if you can't make up your choice right away on which go go bar to give a visit – you may check out my BKK Best Go Go's guide for some recommendations. The bar fine for the girls is 600 Baht and they ask for 2,000 Baht for short time, but that should still be negotiable as they certainly aren't the crème de la crème of the Entertainment Complex.
Soi 7 Beer Garden
Another beer garden but located indoors is the Soi 7 Beer Garden (officially called Bier Garten since it's German owned). What makes it kind of unique is that the girls aren't employed by the bar (it's actually a mix of bar and restaurant with authentic German food) but they're all freelancers so you don't need to pay a bar fine to leave the place with her and when buying her drinks you pay the same price as for your own drinks. The Soi 7 Beer Garden is also one of the best places in Nana to watch live sports as they've got the biggest screen in the area (along with Gulliver's on Soi 5).
Hillary 2
Hillary 2 in Soi 4 is always worth a visit as they've got a great live band and excellent pool tables. They recently finished renovating and restructuring the whole place and unfortunately with the additional bar and modernized fittings comes the removal of a couple of pool tables, so there are only two left and a queue of more than 20 people at most times. The drink prices went up too, means a small Singha beer will now set you back 190 Baht. The consequence is you see mainly tourists here amongst the freelance girls while most expats prefer places like Hillary 1 across opposite with similar concepts but significantly cheaper drinks and a more relaxed atmosphere.
Current Prices in Bangkok's Beer Bars
Beers: 100-150 Baht (happy hour 70-90 Baht)
Spirits: 140 Baht up
Soft Drinks: 60-80 Baht
Lady Drinks: 140-200 Baht
Bar Fine: 500-700 Baht
Short Time: 1,000-2,000 Baht
Long Time: 2,000-4,000 Baht
Pool Game: 20 Baht (some small bars make it free as a way to bring in customers)
Losing a board game: Lady Drink
As always there are exceptions. Like in Soi 22 there are a couple of bars that sell beer relatively cheap at 105 Baht but then the lady drinks are rather pricey and go go standard at 190/200 Baht (Beer/Shots) and the bar fine is 800 Baht (Rumour's Bar). And then there's the tiny Platinum Bar nearby that has beer for 100 Baht, Lady Drinks for 150 Baht and free pool games all night long.
The above prices are very similar in other major cities like Phuket, Samui, and Chiang Mai and slightly cheaper in places like Udon Thani, Hua Hin or even Pattaya where you can easily find happy hours all day long for 60 Baht a beer simply because the competition is so high and everyone is fighting for customers.

Thailand Beer Bars – An Endangered Species?
The fact that everyone has got a smart phone now and prefers talking to people who are somewhere else rather than making friends and communicating with people who are right in front of them and thus getting less sociable – puts the whole bar scene in Thailand at the risk of slowly disappearing in the upcoming years when customers complain that the girls stick to their phones rather than making them feel good and have a nice time. At least that's what we should expect when paying 140 Baht or more for a tiny glass of coke with lots of ice.
Of course you can't stop the trend of technology and that people get addicted to Facebook status updates and taking ten selfies a day, but the only way to prevent a disaster in this industry (apart from stopping the kind of insane increase of prices at many places) is to simply prohibit the use of phones when the girls are at work. You see that in some Go Go's where many owners have already reacted to unhappy customers and banned phones completely for all staff to use while on duty.
And then there's also the threat of lucrative alternatives for the girls to work at instead of the girly bars. Massage salons and parlors have started mushrooming in the Farang areas all around Thailand with girls receiving a much better return on their time working. So instead of getting beer bellies and doing the same small talk over and over again they just do their one hour (if at all) special massage and then wait for the next customer while playing games on their phones. Similar if not more growth potential have the escort agencies where the girls just sit at home and wait for their next booking.
It will be interesting to see how the beer bar scene performs in the upcoming years and cops with the increasing struggles that arise with technological progress and alternative working opportunities for Thai bar girls. I personally don't think that the beer bar industry will completely disappear, but we will certainly see a shift of workers to different industries to some extent and that could result in a more relaxed and sociable atmosphere in the bars.