Prostitution is illegal in Thailand and still there are estimated 500,000 sex workers, if you include all the freelancers and sideline girls it gets close to a million. There are many reasons why most types of prostitutes are still tolerated (e.g. go go bars, massage parlors, karaoke bars), but that's a topic for another day.
Here is the complete list of hookers in Thailand and how much they usually charge. Keep in mind that for any of these types of girls you only have to pay them if you have talked about a price in advance.
Thai Go Go Girls
You sit in a go go bar and like a girl, smile at her and make her know she can come sit next to you. You talk a bit, at some point she will ask you for a lady drink or two and if you want to take her to your room you ask her for the bar fine and how much she wants.
Prices: 150-220 Baht for a lady drink, 500-1,000 Baht for bar fine (most places around 600 Baht), 2,000-3,000 Baht for short time, 3,000-6,000 Baht for long time. Especially the price you ask the girl is negotiable of course but these are the current standard rates and if you ask her in the bar (advisable) the girl will most probably tell you these prices.
Thai Bar Girls
Typical Thai bar girls who work in the so called beer bars are dressed sexy but don't have labels like the Go Go girls who have a number attached on their shirts. Thai bar girls are normally no dancers but play pool in the bar or just hang around and try to sell drinks or bar games that they are good in (like Connect Four). Bar girls are a little bit cheaper than Go Go girls as the dancers have (generally) nicer curves.
Prices: 120-160 Baht for lady drinks, 500-600 Baht for bar fine, 1,000-2,000 Baht for short time, 2,000-3,000 Baht for long time. Again, it depends how much she will charge you and if you are lucky you can even get laid for free (still have to pay bar fine).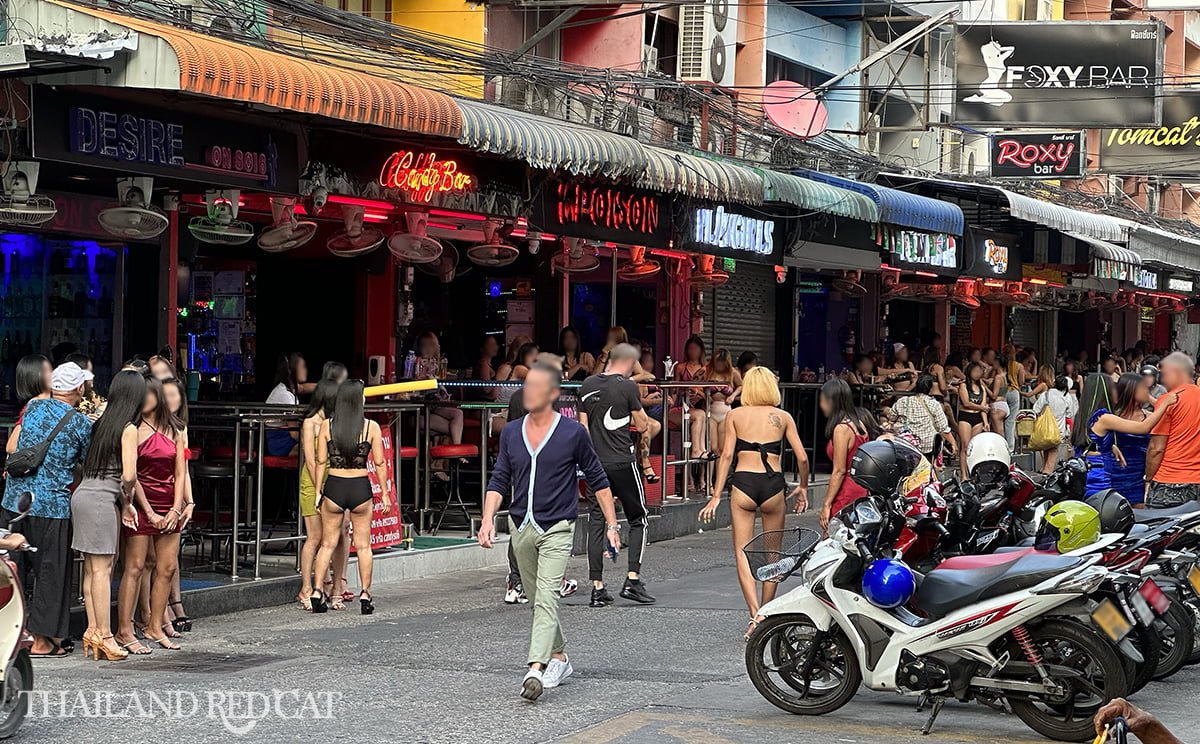 Thai Blow Job Girls
The next type of Thai hookers are those who specialize on performing oral sex on their customers. There are more than a dozen of so called blow job bars both in Bangkok and Pattaya. Many of them look like normal beer bars and you can have a drink first while making up your choice if you want one of the girls to suck you off either right in the bar, behind a curtain or upstairs in one of the small private rooms.
Prices: The standard price for a blow job in these bars is 700-800 Baht. They often also offer sex if you prefer that for about 1,300 Baht (room included). Drinks tend to be slightly cheaper than in the beer bars, about 100 Baht for a beer and 130 Baht for a lady drink.
Thai Street Freelancing Girls
You just walk down Sukhumvit Road from Terminal 21 shopping mall to Sukhumvit Soi 4 (on the right hand side) any day of the week from around 8pm and you will meet countless of street hookers that are asking you for short time straight away. Similar to the promenade along Beach Road in Pattaya. Those two places are currently Thailand's areas that have the highest concentration of street hookers.
Prices: The times where you can get a street hooker for 500 Baht are over, more realistic is 800 Baht and up for short time. The going rate for a street hooker in Sukhumvit Soi 4 (Nana) is 1,000 Baht for short time and 350-400 Baht for a short time hotel room.
Thai Bar / Club Freelance Girls
This type of girl is often hard to identify as she hangs out in normal bars and clubs just like everyone else and clearly has no label that tells you she is working. However, they are often more dressed up than non-working girls and show what they've got. The good thing about freelance girls is that there is no bar fine, but there is a certain risk as they are totally on their own and you don't know what they have in their mind if they are just about to leave town.
Prices: 500-2,000 Baht for short time, 2,000 Baht and up for long time. More if you go to upscale bars and clubs.
Thai Massage Girls
Normally it's obvious which massage salons offer extended services by just looking at the girls and how loud they yell at you.
Prices: Depending on the massage, Thai massage 150-300 Baht per hour, Oil Massage 300-400 Baht per hour. Happy endings cost 300-500 Baht for a hand job, 500-1,000 Baht for a blow job and 1,000-2,000 Baht for sex.
Thai Soapy Massage Girls
A soapy massage is significantly different from the normal massage salon as you get to spend two hours with a beautiful white skinned model-kind-of girl that gives you the full program. I wrote a separate post on the soapy massage in Thailand that you can find here.
Prices: The going rate for a soapy massage all over Thailand is 1,500-2,500 Baht for one-and-a-half hours. Bangkok is the exception where most places are Asian oriented and some places make Farangs pay a bit more.
Thai Girls on Online Dating Sites
The best way to hook up with Thai girls for free is by using the Online Dating Site like thousands of tourists and expats do every day. While the majority of them isn't out for money but just fun, you do also find these so called Sideline Girls who are mostly university students that look for a source of income if they don't have a "real" part time job or their parent's funds are not sufficient to pay all the bills. Sideline girls are like Giks (mistress) with the difference that you pay them a fixed amount per month and can call them whenever you feel like.
Prices: Negotiable and depending on the girl from 3,000 to 5,000 Baht a month, often more if she is white skinned and more than decent looking.
Thai Escort Girls
The most convenient way to get a Thai girl to your place is to simply book one online on a website like Smooci.com. The girls are stunning and extremely beautiful. They provide very clear information about how everything works (you can even track them on a map to see where they are) and also provide great pictures of the ladies that are available.
Prices: The typical prices for escorts are 5,000 Baht for 2 hours, 7,000 Baht for 4 hours, 9,000 Baht for 10 hours and 12,000 Baht for 24 hours. The standard additional charge for A-Level (anal) is 2,000 Baht.
Thai Karaoke Girls
Most of the karaoke bars cater to Thai clientele but then if you show up as a foreigner, especially in rural areas and even in some parts of Bangkok (Huai Khwang is such a district) they are happy to take care of you. Be warned though karaoke girls barely speak English – another good reason to learn Thai. Karaoke girls are very young, usually between 18 and 24 years.
Prices: Ordinary prices for drinks (usually no lady drinks) but you pay for the time she hangs out with you in the bar itself, say 200 Baht per hour. Not all karaoke bars have girls to take home but if they do, short time is 1,000 to 2,000 Baht. Plus the hourly rate payable to the bar, or even a fixed bar fine agreed on with the mamasan (female manager who looks after the girls).
Thai Brothel Girls
The lowest category when it comes to prostitution in Thailand. Tricky to find and normally not located in tourist areas. Very average looking girls often coming from Cambodia, Laos or Myanmar. Cheap and dusty places.
Prices: About 500 to 700 Baht per shot, means 20-30 minutes in one of their private rooms.
Thai Girls in Gentlemen's Clubs
The highest category when it comes to prostitution in Thailand. While most of the Gentlemen's Clubs still cater to Thai and Asian clientele, there are more Farang friendly places opening these days, by now one of the most popular ones being The Pimp in Rotchanamin, Bangkok. The girls at G Clubs couldn't be more beautiful and white skinned.
Prices: Money shouldn't be your concern when visiting a Gentlemen's Club in Thailand.
Thai Tomboy Girls
Niche market in the Thai sex industry. "Tom" is called the girlfriend of a Thai lesbian that almost looks like a guy and has short hair. There are some Thai and Farang guys who like that type of girl and that's why they built up some Tomboy clubs in Bangkok and Pattaya.
Prices: 500 Baht bar fine, 1,000 to 2,000 Baht for short / long time.
Thai Mia Nois
A Mia Noi is more than just a Gik which is a normal kind of "fucking friend" that you see from time to time. If you have a serious relationship or are even married to a Thai woman and get yourself a kind of second wife that your first wife often even knows about and is fine with it, that's what is called a Mia Noi.
The first wife has the name Mia Luang, the more important of the two wives or in other words the wife with the higher rank. The name of the second wife Mia Noi, comes from Mia = slang word for wife and Noi = little, in this context the second wife or in other words the wife with the lower rank.
Prices: 10,000 Baht a month and up.
Thai Ladyboy Hookers
Obviously you have also countless of ladyboy hookers in Thailand and the three most common types are go go dancers, freelancers and escort girls. The whole ladyboy scene really deserves its own article and that one can be found here.
Also, make sure to check out the great post about the same topic, the different types of hookers in Thailand written by my friend Chris, founder of the blog Living Thai.