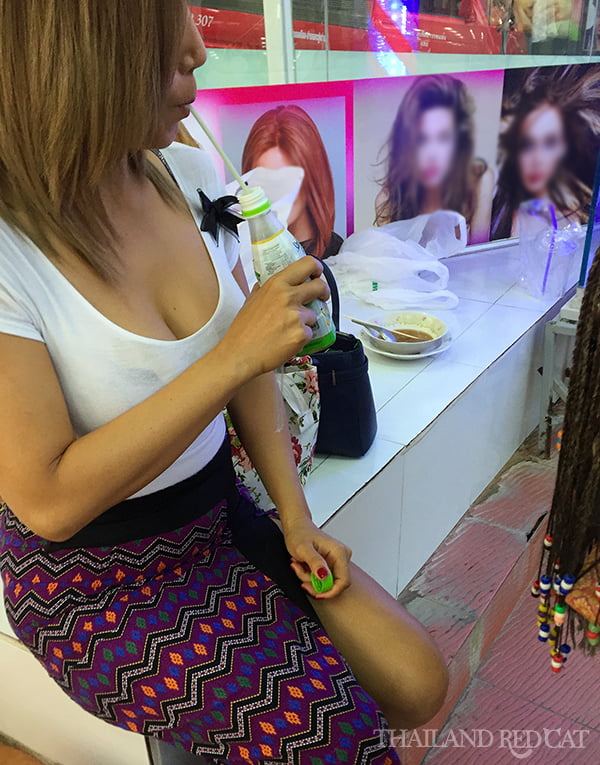 What's your idea of a perfect day in Pattaya? Maybe you wake up late at around 11am because you had a night out at the bars and night clubs.
So the first thing after you took a shower is to head to one of the restaurants for a big brunch. One hour later it's just noon and really too early (and hot) to go anywhere, so you relax in your room for a couple of hours, watching the news channel of your home country.
Then at around 2pm you decide to take a walk around, and since you don't want to start drinking that early and have plans to go for a swim at around 4pm, followed by a stroll around the beach promenade at 5:30pm for sunset, a few drinks and pool games in the girly bars at 6:30pm, in between some dinner, checking out a couple of new go go bars at 9pm and hitting the night club at midnight:
So what's the perfect thing to do during the "lame" hours between like 2pm and 4pm? Right, visiting one of the many, many happy ending massage salons around Pattaya.
Average Prices in Pattaya's Massage Salons – extras are negotiated with the girl in the room, usually during the second half of the massage after you turned around:
Foot Massage: 150 Baht (no private space – no happy ending)
Thai Massage: 200 Baht
Oil Massage: 300 Baht
Hand Job: 300-500 Baht
Blow Job: 500-1,000 Baht
Sex: 1.000-1,500 Baht
Interesting fact: The standard massage prices are about 100 Baht cheaper here than in the happy ending massage salons in Bangkok.
It's quite important to note that most of the girls in the massage salons are only offering hand jobs these days. So if you are out for sex then you should know which area to visit (for example Soi Buakhao would be good) and if you are out for a blow job or sex then Soi 6 would be the best place to go (or simply one of the many blow job bars). On the other hand, you may find yourself in a shop on Beach Road with your masseuse in a long traditional dress and not willing to provide any happy ending at all.
So in this guide I will give you the full overview of the different areas with massage salons in Pattaya, so that you can visit the right places depending on what you want. As always I will include a map with the locations of all places mentioned.
Second Road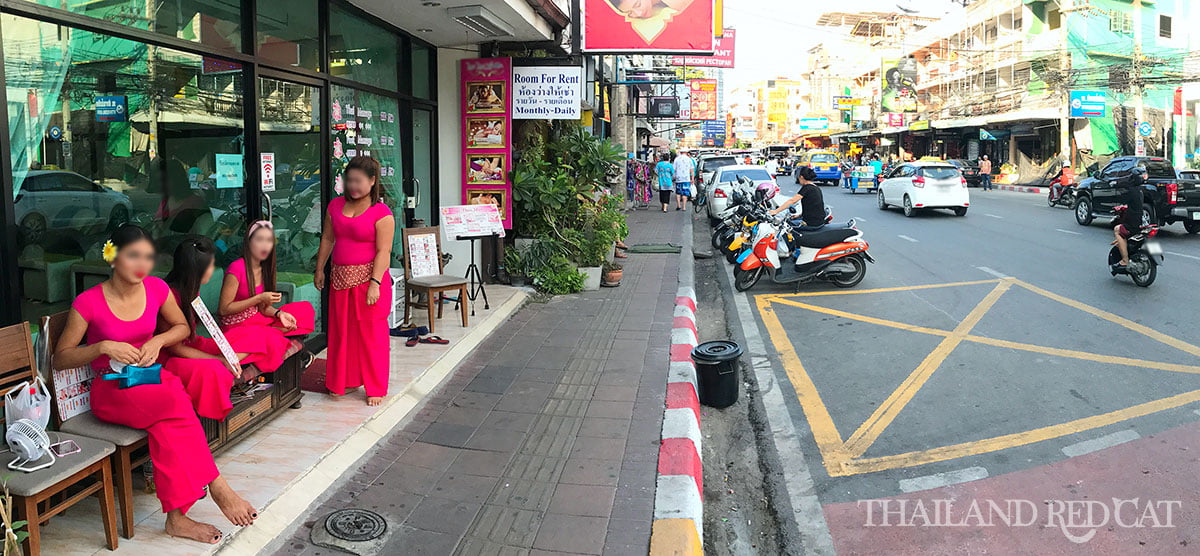 What makes a perfect area for naughty massage salons? First, it should be frequented by a lot of tourists. Second, it should not have too many bars around that distract the street walkers. And third, the rent should be still moderate (which is not the case on Beach Road). So guess where this area in Pattaya is located: Second Road. You could easily walk up and down this street for one hour and pass more than 50 massage salons with girls in tight tops and short skirts sitting outside and yelling at you "Hey, handsome man, welcome massage!" One of the best areas in Pattaya to get a happy ending and I'd recommend you to check out this one first.
If you don't like any massage girl in this area, a good place to sit down and have a beer is Wonderful Beer Bar.
Soi Buakhao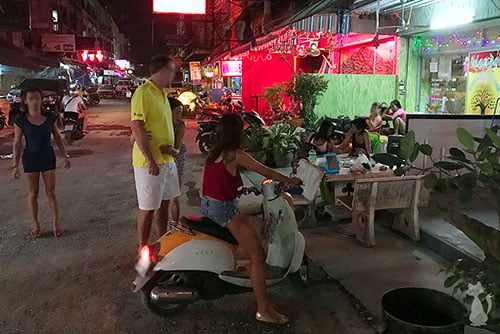 You could easily spend several days in the Buakhao area alone and not get bored. There are so many neat bars, restaurants and guesthouses around, not to forget the second biggest go go bar area in town: Soi LK Metro. And on top of that, you will find some of the best happy ending massage salons in all of Pattaya. When I say best I mean that the girls are among the youngest and most attractive ones, in some shops not even bothering to wear any massage uniform at all but their own sexy outfits. And even better: Massages are as cheap as 150 Baht for Thai and 200 Baht for Oil. The best area in Buakhao in this category is Soi Chaloem Phrakiat 25 just south of Soi Excite (see the map at the end of the guide) where you will find a real massage paradise.
If you don't like any massage girl in this area, a good place to sit down and have a beer is The Triangle Bar.
Walking Street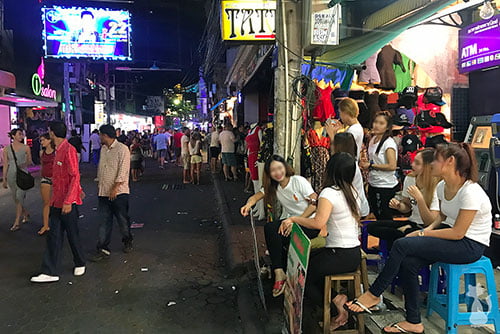 When you think about Walking Street it's probably not massage salons that come into your mind but rather the famous go go bars. And so most of the masseuses in this area aren't really the creme de la creme of this industry, simply because the majority of the people come here for the go go bars and night clubs. It's not that many salons on Walking Street anyway, about half a dozen, so you can just take a look while walking around and see if you find someone nice.
If you don't like any massage girl in this area, a good place to sit down and have a beer is Pattaya Beer Garden.
Beach Road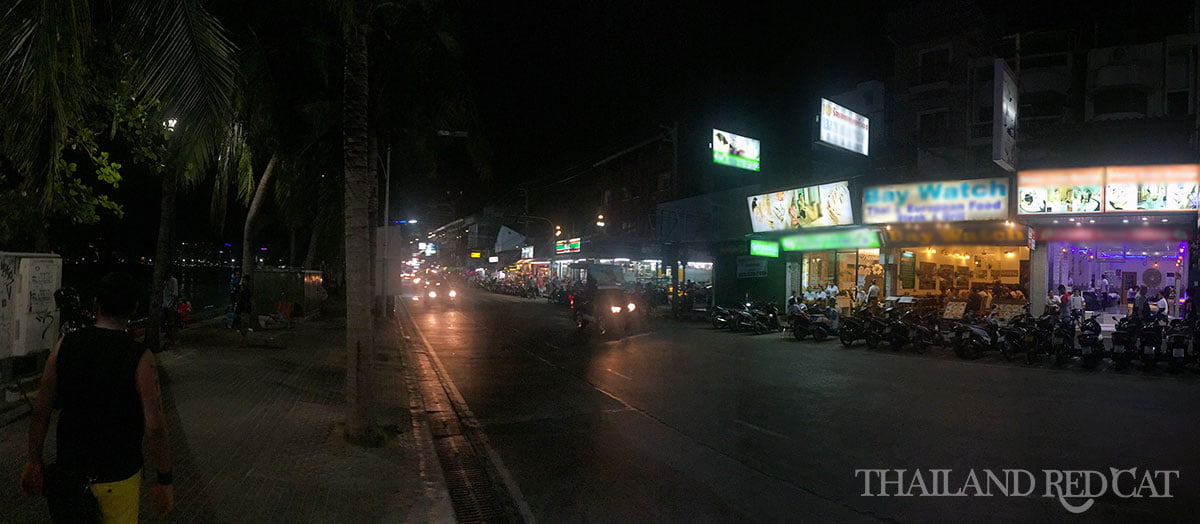 Seriously not the best area for a happy ending massage in Pattaya. You won't find a lot of salons here since the rents are the highest in town and so it's simply not very profitable for a small shop on Beach Road. What you will mostly find are higher priced spas and from the very few "traditional" massage salons the quality of the ladies is rather average, most of them wear traditional Thai dresses and might not even be willing to give you that hand job in exchange for some tip.
If you don't like any massage girl in this area, a good place to sit down and have a beer is Hooters.
Soi 13/2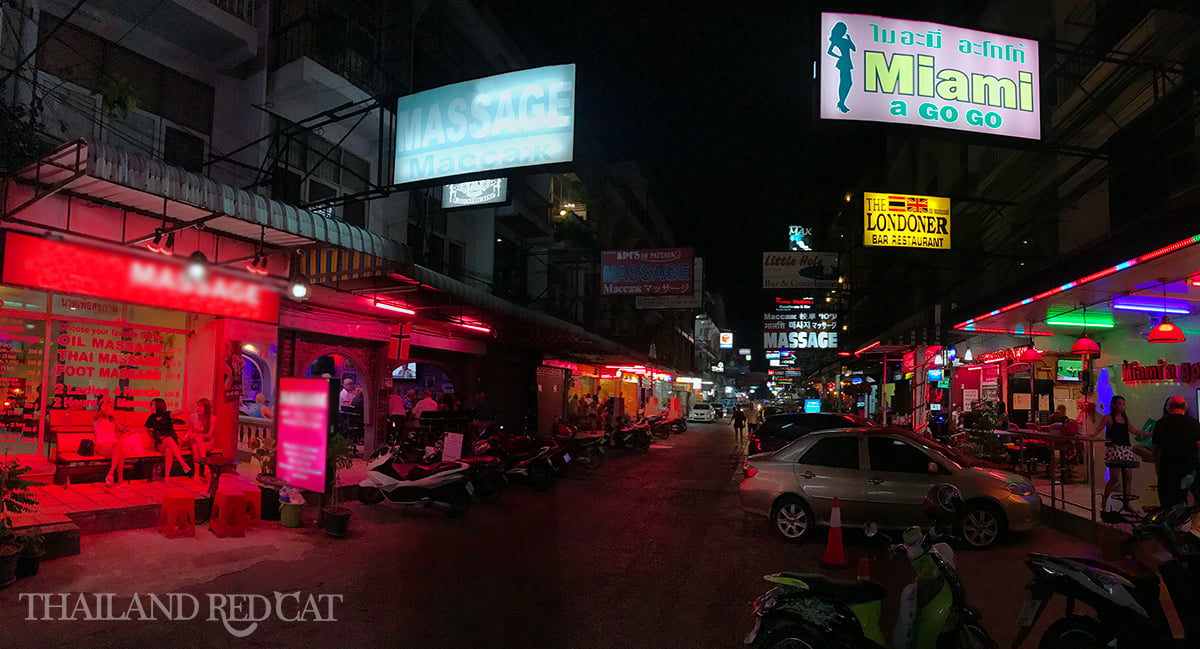 There are plenty of Sois connecting Second Road with Beach Road, and Soi 13/2 is the one that catches everyone's eyes in terms of massage salons with huge and colorful signs above the street. There are also some beer bars and even BJ bars (Kittens & Pump Station) in here, but when you walk though it it's probably the massage girls that will get your attention – they are among the hottest and naughtiest you can find in Pattaya.
If you don't like any massage girl in this area, a good place to sit down and have a beer is Bodega Bar.
South Pattaya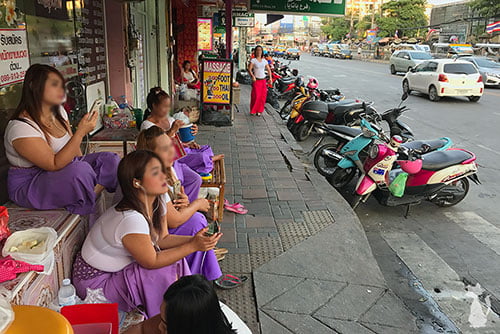 Several dozen of massage salons can be found all around South Pattaya, and especially along Second Road just down from the intersection with South Pattaya Road. It's those places where 90% of all ladies are sitting outside and smiling at pretty much every Farang passing by. You will find more shops (though not so concentrated) if you walk along South Pattaya Road all the way towards the intersection with Third Road. And if you haven't found anything nice, then there's also one very popular bar right on this intersection with great views all around:
If you don't like any massage girl in this area, a good place to sit down and have a beer is Walkabout Creek Pub.
Soi 6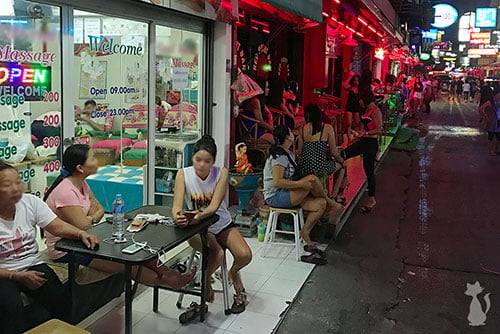 Most people think of short time bars when they hear "Soi 6" and maybe also ladyboys, but there are also quite a few massage salons spread along the 400m long strip (mostly on the western part though). And what makes them so special: The girls in there are usually more than ready to give you any happy ending you wish, be it hand job, be it blow job or be it sex. As already mentioned, this is quite uncommon at most salons around Pattaya these days that mostly only offer handjobs.
If you don't like any massage girl in this area, a good place to sit down and have a beer is Lisa Bar.
Nakluea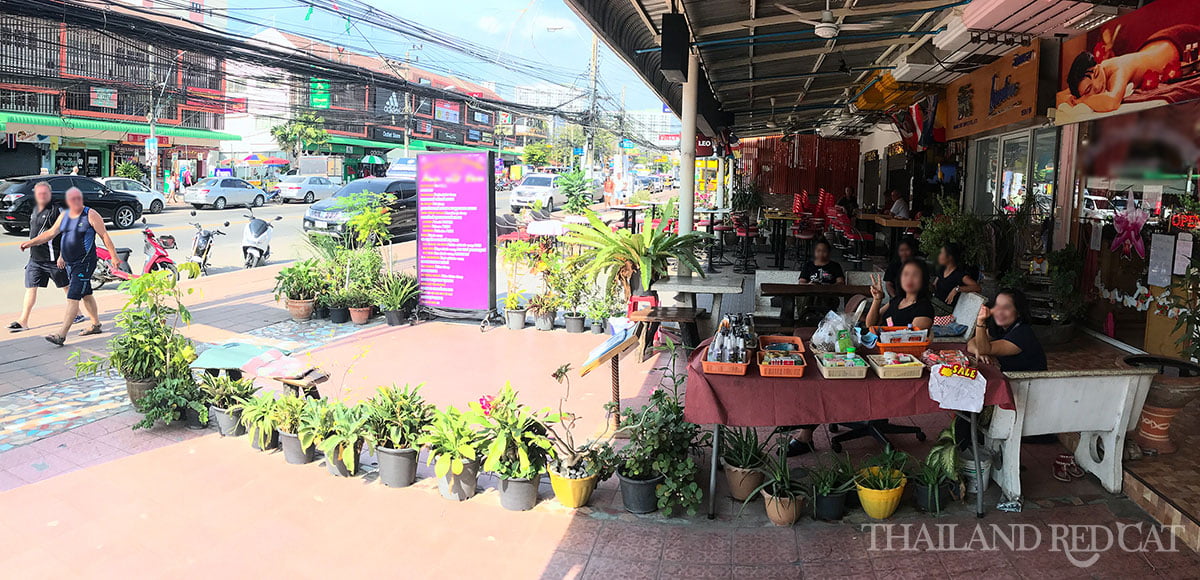 Nakluea is how they refer to North Pattaya. If you haven't heard about it: Take a songthaew (10 Baht shared pickup taxi) on Second Road all the way up to the dolphin roundabout. Many passengers get off there because it's going back south on Beach Road. From there you just need to cross North Pattaya Road to the other side of the dolphin roundabout and you will get to Pattaya-Nakluea Road that's very, very long. There is a new promenade with restaurants and bars right there (among them many Germans), but the further you go down this street the more quiet it gets – still with many cheap massage salons here and there. The girls may not be the hottest around, but this is actually one of the places where you can still get hand jobs for 300 Baht if you do some negotiating.
If you don't like any massage girl in this area, a good place to sit down and have a beer is Barracuda Bar.
Jomtien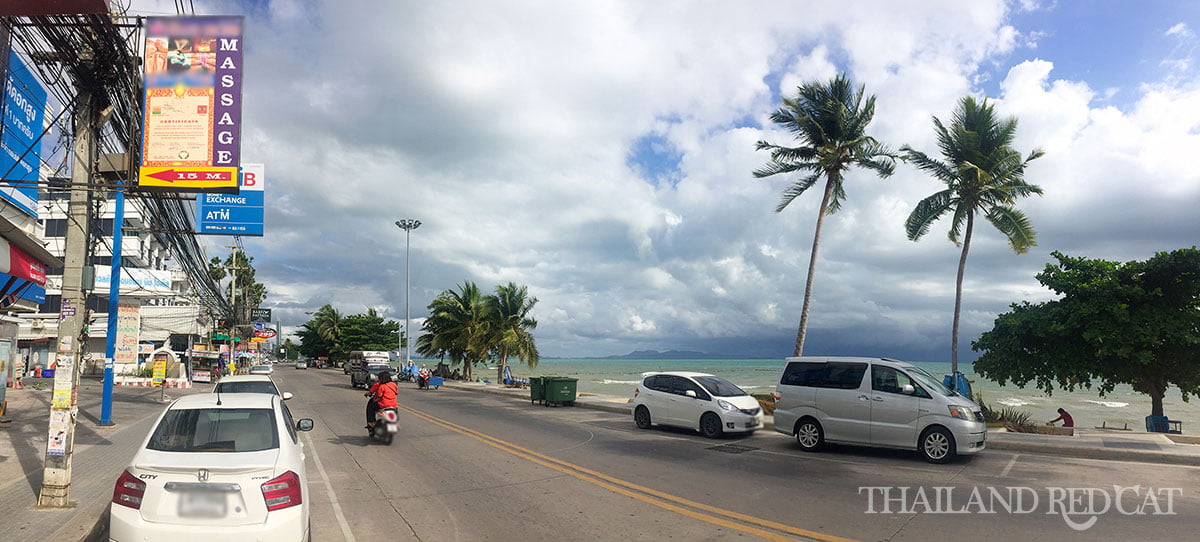 Jomtien is technically a different city 5km south of Pattaya. But since it's so easy, quick and cheap to get there from the South Pattaya Road / Second Road Intersection with one of the 10 Baht Songthaews I thought it's better to just include it on this list. Just get off on Jomtien Sai Neung (which means Jomtien First Road) and is basically the Beach Road of Jomtien. Not sure why they don't just call it like that. Anyway, there aren't really that many massage salons right on this main road (as you can see on the picture) but rather inside the countless of side Sois. It's really just about strolling around and taking a look at what's available. Don't expect the most attractive masseuses here who would mostly work in Pattaya because of better business. But still, there are always exceptions and prices for the happy endings also tend to be a little cheaper than elsewhere.
If you don't like any massage girl in this area, a good place to sit down and have a beer is Country Road Bar.
Map of Happy Ending Massage Salons in Pattaya
I hope you have a good overview now of the happy ending massage industry in Pattaya and where to find the best areas depending on what you are out for (I'm sure you have).
One thing to note is that some salons have a queue, means basically a piece of paper with the names of all masseuses and a checklist showing how many customers they had so far today. So don't expect that they ask you to choose a particular girl like in the soapy massage parlors.
However, that doesn't mean that you cannot just demand one of the ladies you like – just be polite, tell them and it is usually fine. In many areas (especially Soi 13/2, Soi Buakhao and Soi 6) it's completely different though and it's usually the girl who does a good job in calling in customers than the one who is next on the list.
And one final note: Of course there are even more areas than the ones mentioned in this guide – but these are the main and best ones. If you have visited all of them you could also take a look on 3rd Road and the many alleys connecting Second Road with Beach Road (Pattaya Soi 1 to Soi 13/4). Have fun and stay happy.
Video of Massage Girls in Pattaya